Hobonichi Techo Weeks Review – new for 2023!
This post may contain affiliate links which means I make a commission if you shop through my links.
 Disclosure Policy
One of my favorite weekly planners is the Hobonichi Techo Weeks. Here is my review of the all new 2023 version.
This past January I added the Hobonichi Weeks to my planner line up and despite it's small size, it quickly became my main planner.
Today I want to show you the new version for 2023, explain how I use it to stay organized, and go over some of my favorite features.
What is the Hobonichi Techo Weeks Planner?
Let's start with Hobonichi.
Hobonichi is a Japanese company that makes the Techo planners.
These planners have an almost cult like following – because they are that good.
The Hobonichi Techo comes in a few different styles. The main ones being:
The Hobonichi Techo Weeks is the only weekly planner in the lineup.
It is slim enough to slide into a pocketbook and is printed on the thin Tomoe River paper that Hobonichi is famous for.
The 2 page per week layout has your Monday through Friday on the left side and a blank, grid lined, notes page on the right.
New for 2023 is that the Weeks book now comes in an English version, in addition to the traditional Japanese book.
This is just a quick overview – so I will go into more detail about the features below.
New for 2023 and The Planner I Am Reviewing
One main thing that is new for 2023 is that Hobinichi has introduced an English version of the Weeks.
In previous years they only published a Japanese version.
The major difference is that the quotes at the bottom of each 2 page spread are written in English and the supplemental pages (which I will get to in the Walk Through below) are also written in English instead of Japanese. I also believe that there is one cover that is unique to the English version that is not available on the Japanese Weeks planner.
For purposes of this 2023 review I will be showing you the English version. So, I cannot confirm whether the Japanese version is laid out exactly the same way.
Also my planner is for the calendar year of 2023. I believe that Hobonichi does come out with planners that have a different start date – but I am not familiar with those.
What Size Is the Hobonichi Weeks?
The Hobonichi Weeks book is a rather unique size.
It is a tall and thin book – similar to the shape of a standard checkbook.
This wallet size planner measures 3.75 inches wide by 7.4 inches tall by .4 inches thick.
Cover Options
Unlike the other Hobonichi Techo planners, the Weeks comes in a variety of cover options.
My 2023 Weeks book sports the Happiness Pink cover, which is a layflat design and is a fabric covered cardboard.
To me the color looks more like a coral or a salmon than it does pink – but I love the color just the same.
There are many covers to choose from – some of which I have displayed below. Just note that all of the covers are not "lay flat" in nature. So if this feature is important to you, make sure to read the description of the one you choose to confirm that it is, indeed, lay flat.

Hobinichi Techo Weeks Walk Through
To help you see the Hobinichi Weeks, I will walk you through each section.
Mini Months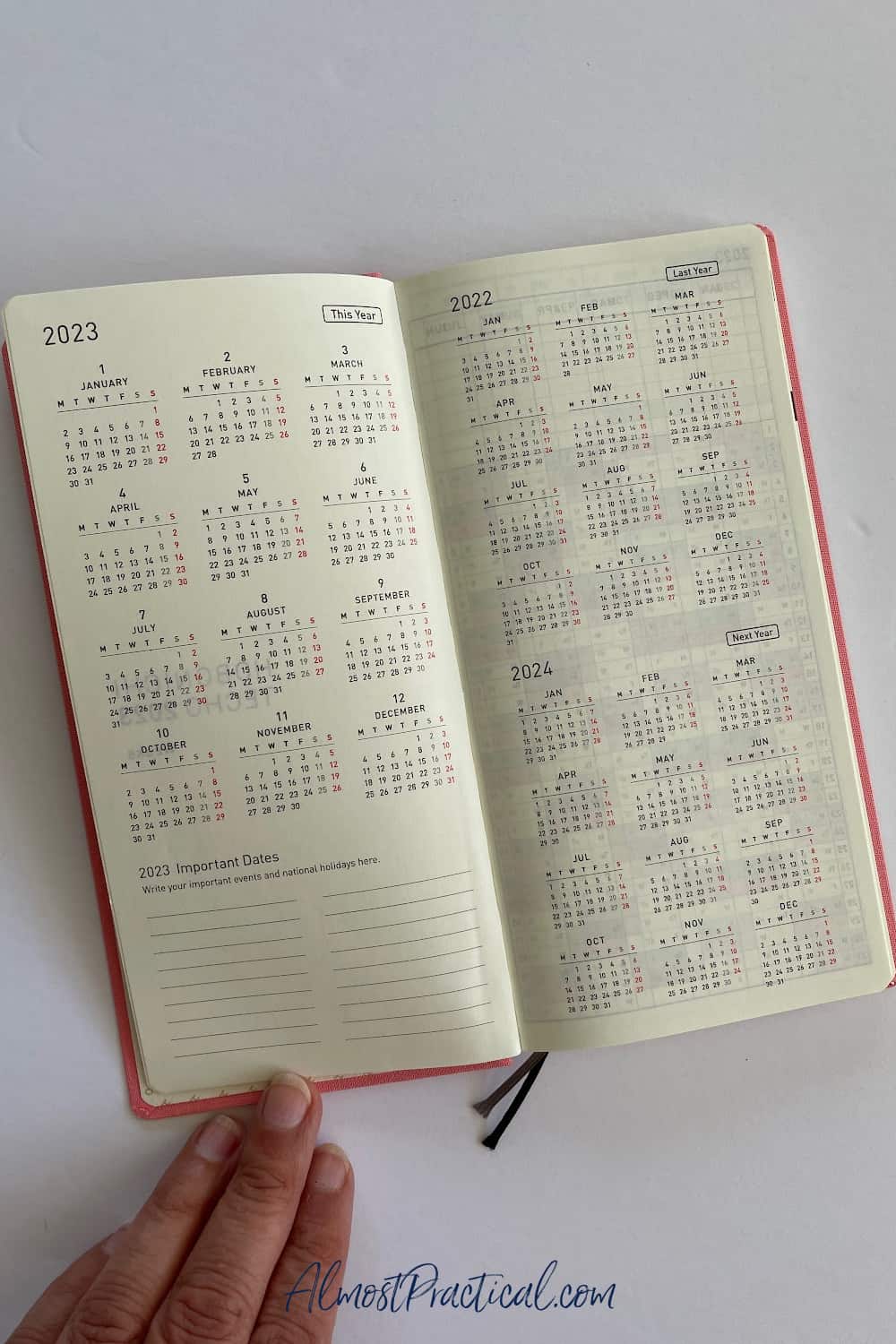 The first pages you come to are the mini months. These include the full year of 2023, the previous year of 2022, and the next year of 2024.
There is also a space to jot down any important dates for 2023.
Year at a Glance 2 Page Spread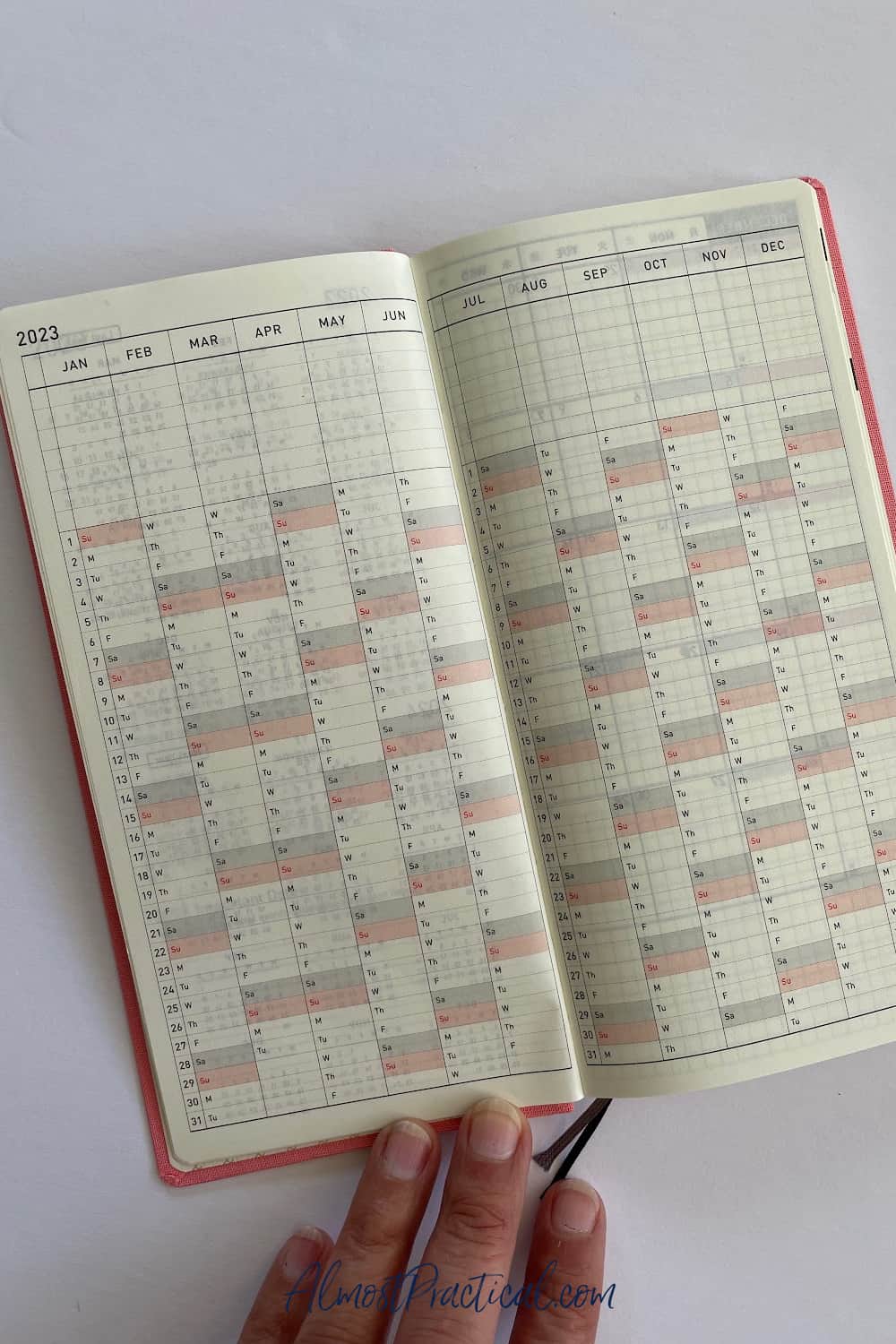 The next pages are a year at a glance 2 page spread. It is set up kind of like a spreadsheet.
This is divided into 12 columns – one for each month. Within each column are lines for each day of the month – stating both the day and the date.
The space to write in for each is date is a bit small, so if your handwriting is small, you might use this space differently than someone who has a larger script.
Certainly you can keep track of important dates here but if you think outside of the box, you can use it in different ways.
For example, if you travel for business and have to keep track of the days that you spend in different states – this spread is ideal. Simply put the state abbreviation in on each line.
If you are trying to do something daily (exercise, read, take vitamins etc) – you can place a checkmark next to each date where you accomplish your goal.
2 Page Monthly Spreads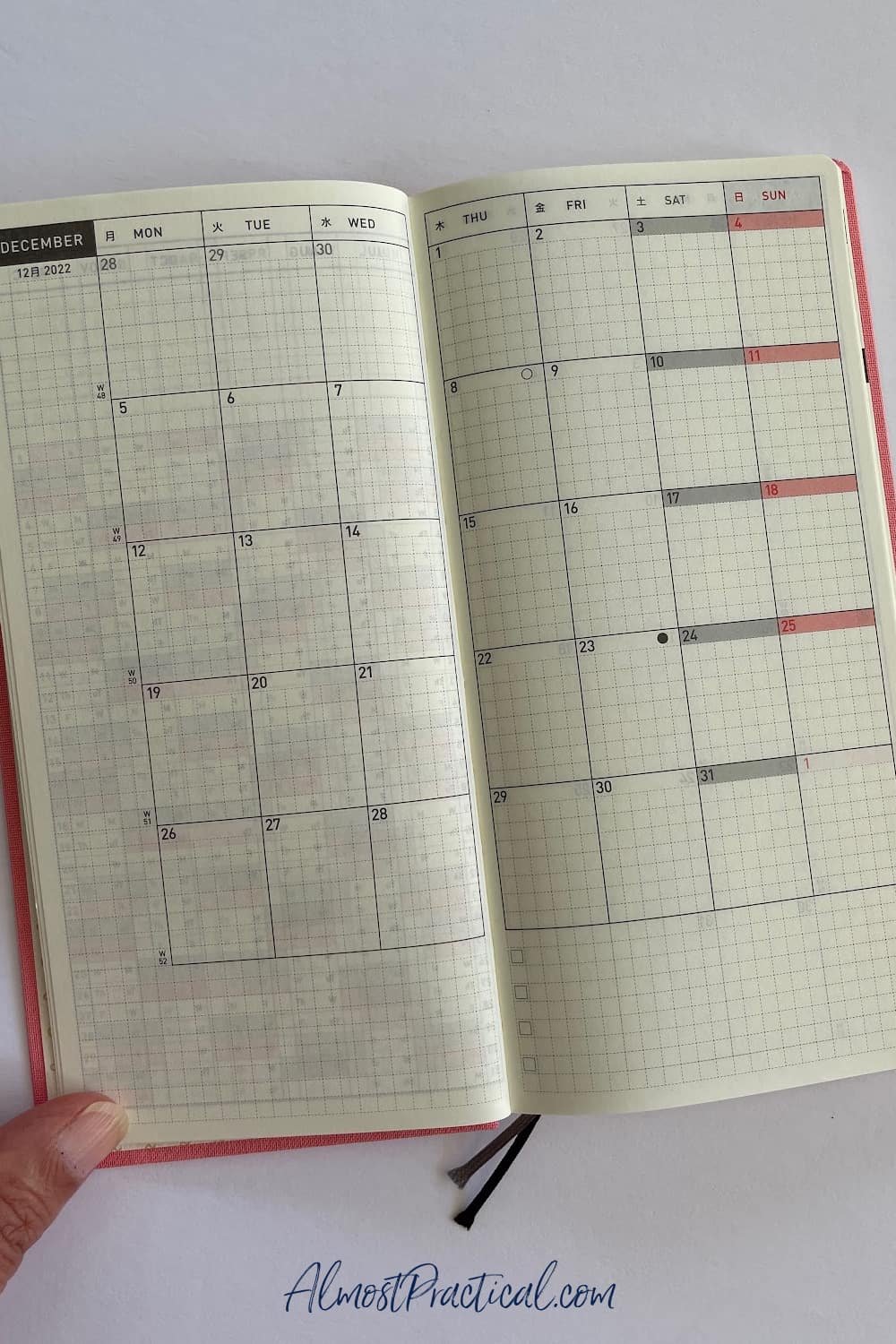 The next section contains your standard 2 page monthly spreads.
These go from December of 2022 all the way through March of 2024 – so you can start using this planner a little early and plan well into the following year.
One thing to note here is that the monthly spreads are all grouped together at the beginning of the book (as opposed to having the monthly spread followed by the corresponding weekly spreads).
Personally, I love this feature.
I use the monthly spreads to note down any appointments that I make – so I can flip one page to go from one month to the next instead of having to hunt for the monthly spreads throughout the planner.
2 Page Weekly Spreads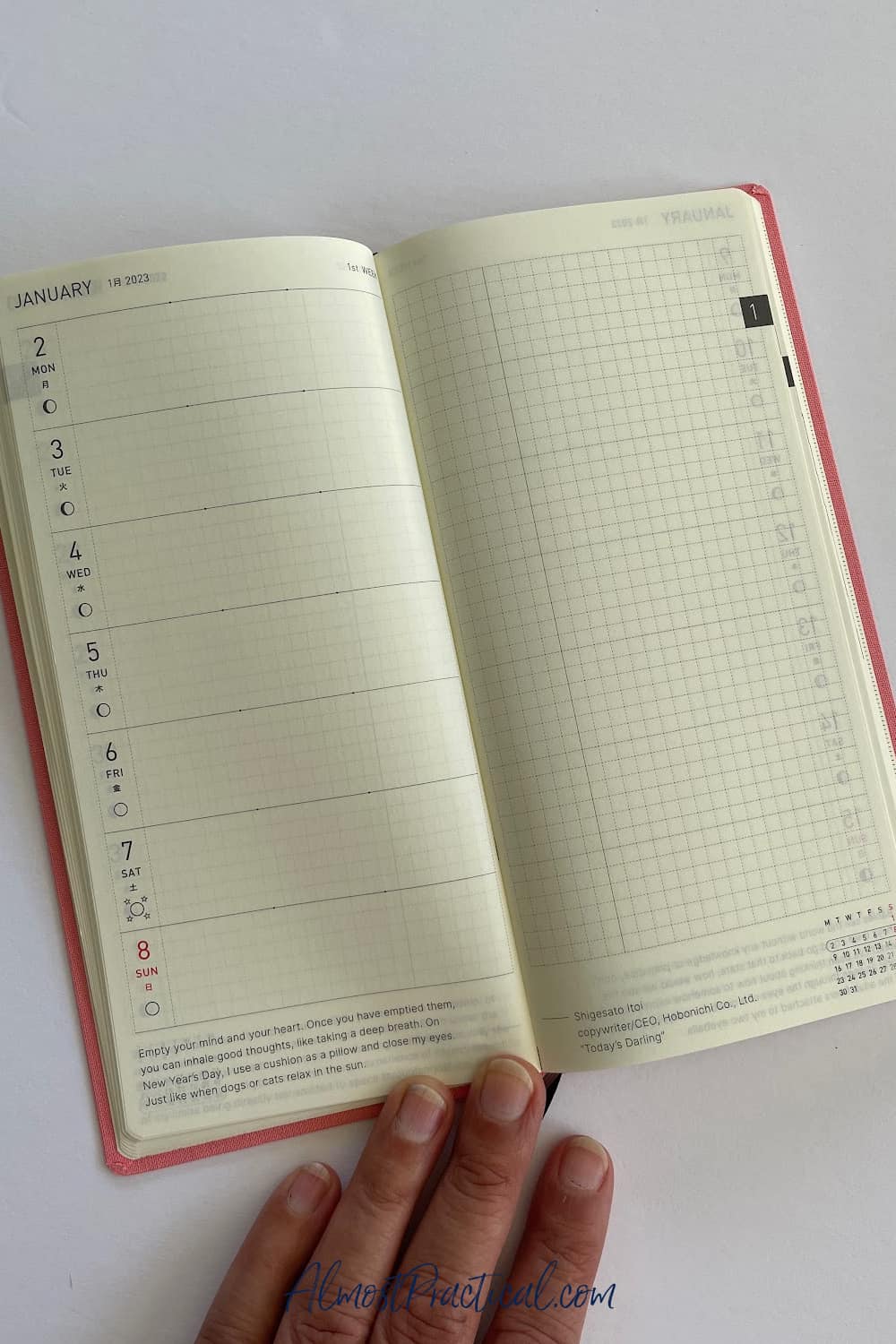 The next section is made up of your 2 page per week Weekly spreads.
These begin on Monday November 28, 2022 (which is the first week of December) and run through Sunday December 31, 2023.
Yes! You get an entire extra month of weekly spreads – so you can truly start using this 2023 planner one month early in December 2022.
Each weekly spread has the days of the week listed in a columnar format on the left hand page with Monday at the top and Sunday at the bottom.
The right hand sports faint grid lines but is otherwise mostly blank space where you can write whatever makes sense to you.
I use the left side to enter my appointments and plans for each day. On the right hand side I keep my To Do list for the things that I want to accomplish during the week.
Every morning, I assign myself some to do's for the day and review the things that I have on my schedule.
At the end of each week I carry forward to the following week any to do items that I did not get to.
At the bottom of each two page weekly spread is small quote – which is written in English in the version of the planner that I have.
Notes Section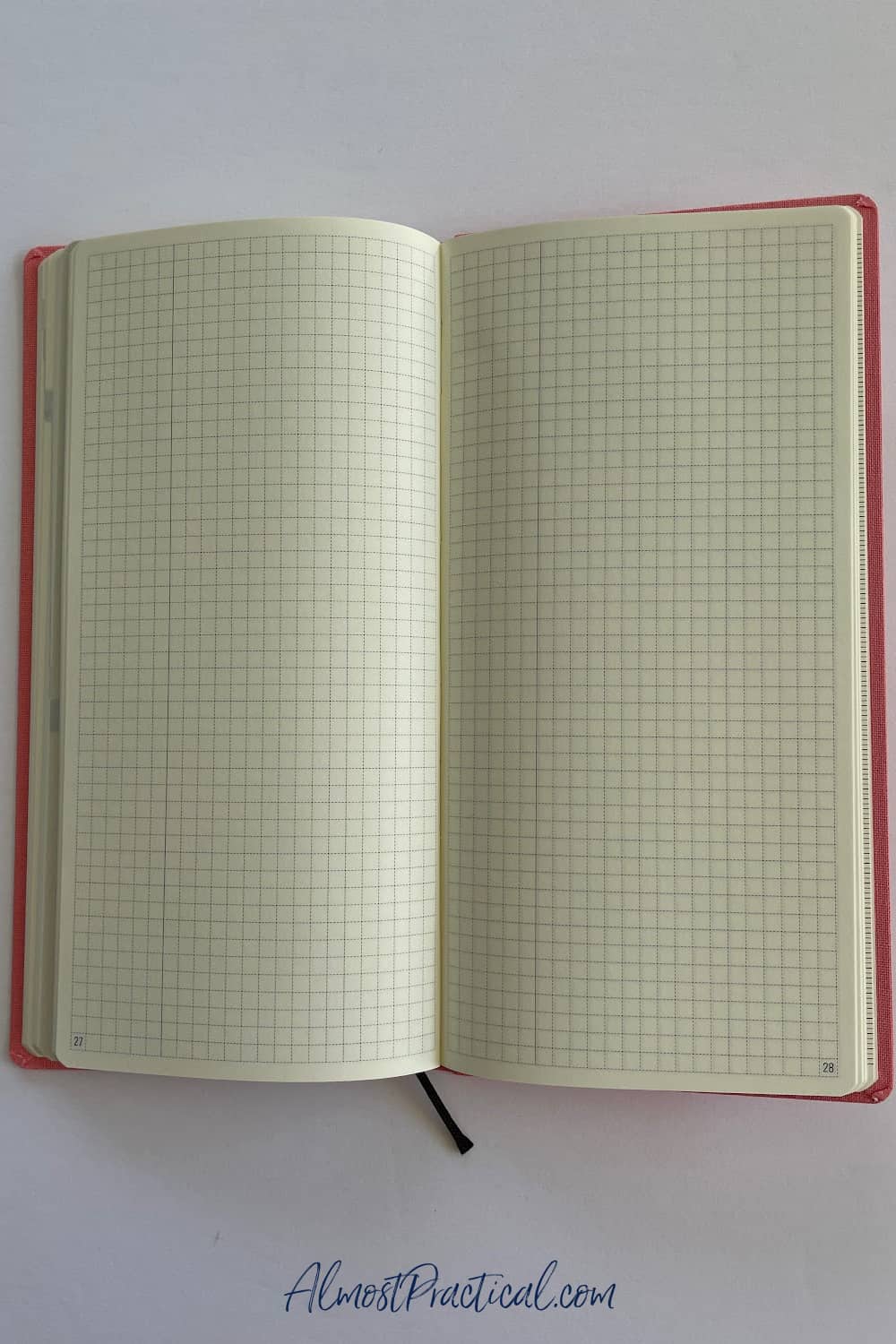 In the 2023 Hobonichi Techo Weeks, the weekly spreads are followed by a generous Notes section comprised of 75 pages – counting one page for each side (or approximately 37 double sided pages).
The notes section begins with a page of standard abbreviations and then a page that you can use as an index for your notes.
I use this section to document any conversations or important tidbits that I don't want to forget.
These notes can be as simple as jotting down the date of a call to customer service at any company I deal with – so that I have documentation of my interactions.
Random Information Unique to Hobonichi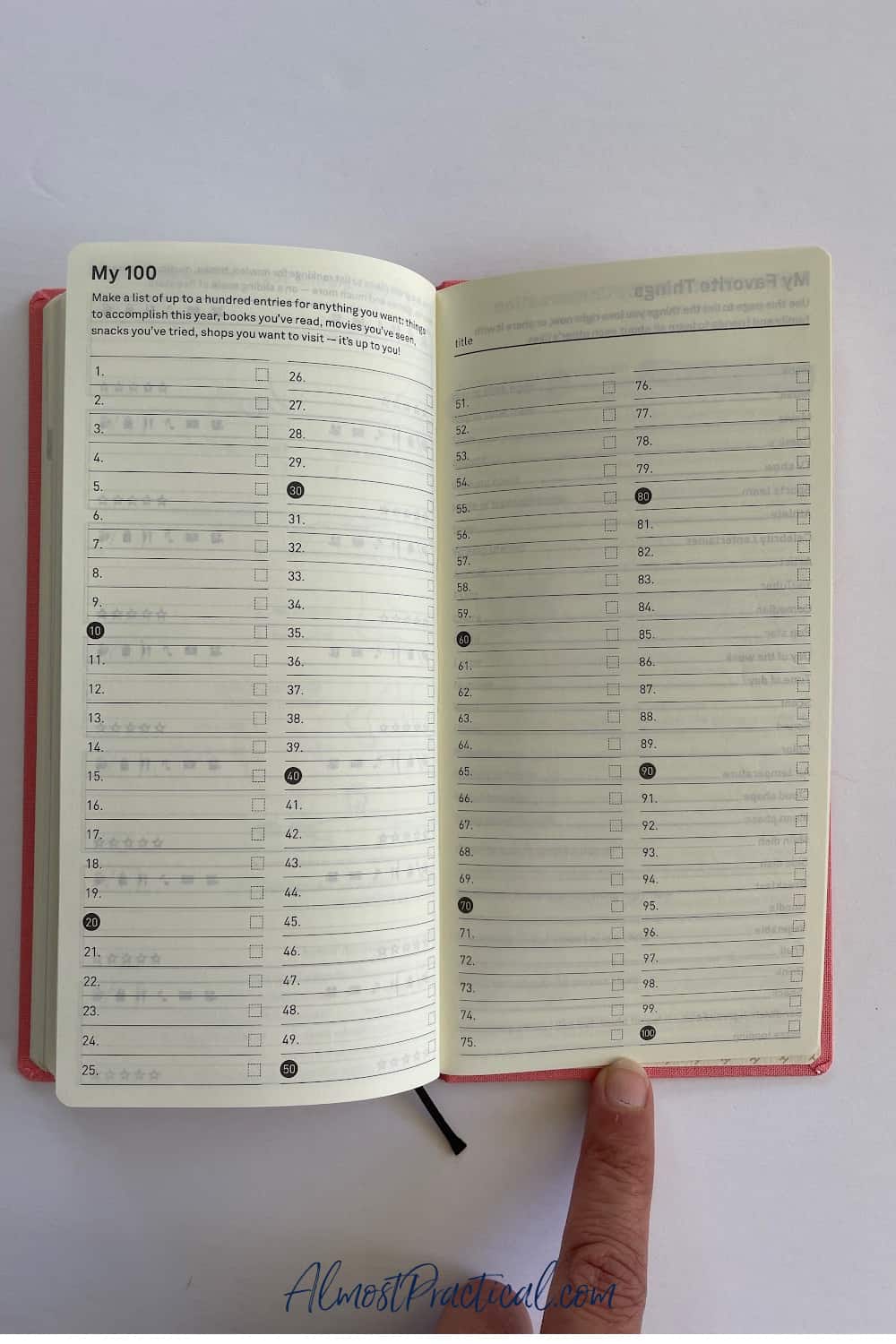 The last section in the Hobonichi Weeks 2023 planner consists of random pages that are very unique to this company.
This year you will find a page for "Using Things Around You to Measure Size" – which is actually super useful.
There are 2 spreads to jot down some of your favorite things that encounter throughout the year.
Of course, there is the unique "Top 100" section where you can keep track of your Top 100 of anything at all.
And then there are tips on how to enjoy better conversation as well as a new 365 Days Check Off Sheet.
Finally, there is a page to jot down addresses of people you meet.
In the new English version of this planner these ending pages are written in – well … English.
Since I don't read or speak Japanese, it is nice to be able to read through these and make better use of them this year.
I also want to mention that the Hobonichi Weeks comes with a stick in plastic pocket flap that you can place wherever you like.
Hobonichi Weeks Pros and Cons
The Hobonichi Weeks is one of my favorite planners for three main reasons.
First, it's slim profile makes it quite portable. I can slip it into my handbag or backpack easily.
Second, I love the 2 page per week spreads! These allow me to look at my whole week at once – so I know what is coming up on my schedule. And keeping my running to do list on the left hand side helps my productivity and keeps me on task.
Third, I also like that all the monthly spreads are grouped in the front which makes it really easy for me to schedule new items confidently because I can flip through each month without having to dive into the whole book.
As far as disadvantages – there are not many.
First, the slim profile and 2 page per week layout means that you don't have a lot of space to time block or plan out your hourly details of each day.
Second, the cover is a fabric covered cardboard so it is a little flimsy. I use a clear plastic cover combined with a leather Moterm cover to keep my planner looking good and to give me some extra storage space.
Third, and this rings true with any of the Hobonichi planners – the Tomoe River paper that the planner is printed on is super thin. This is key to keeping the slim profile. So, if you use a lot of stickers, stickies, or washi tape – your planner will start to bulk up over time.
Will You Be Getting a Hobo Weeks?
The Hobonichi Techo weeks is a great weekly planner that packs a lot of space to plan into a slim, portable design.
Which Hobonichi planner is your favorite? Will you be getting the Weeks for 2023?
Let me know in the comments below.