Counter Height or Bar Height? Which Style Countertops are Right for Your Kitchen
This post may contain affiliate links which means I make a commission if you shop through my links.
 Disclosure Policy
Recently, I had the opportunity to tour a ton of model homes. They were all stunning. But one thing I noticed throughout was that most of these new homes had an open floor plan on the main floor.
This open floor plan featured a great room with a kitchen on one side or the other.
The kitchen itself was almost part of the great room – with the stove and ovens along the back wall and the sink on a large center island that was all one level at counter height.
While I loved the open and modern feel of these spaces because they seem to encourage gathering with family and friends – I personally am not sure I am on board with the one room concept, especially if the countertops are all at counter height.
In this post I will outline what I see as pros and cons to the open floor plan trend in home design with counter height countertops.
I would also love to hear your thoughts and experiences in the comments below. Any insights that you have, I am sure would be helpful to others who are either building a new home or undergoing a kitchen renovation.
An Picture of an Open Floor Plan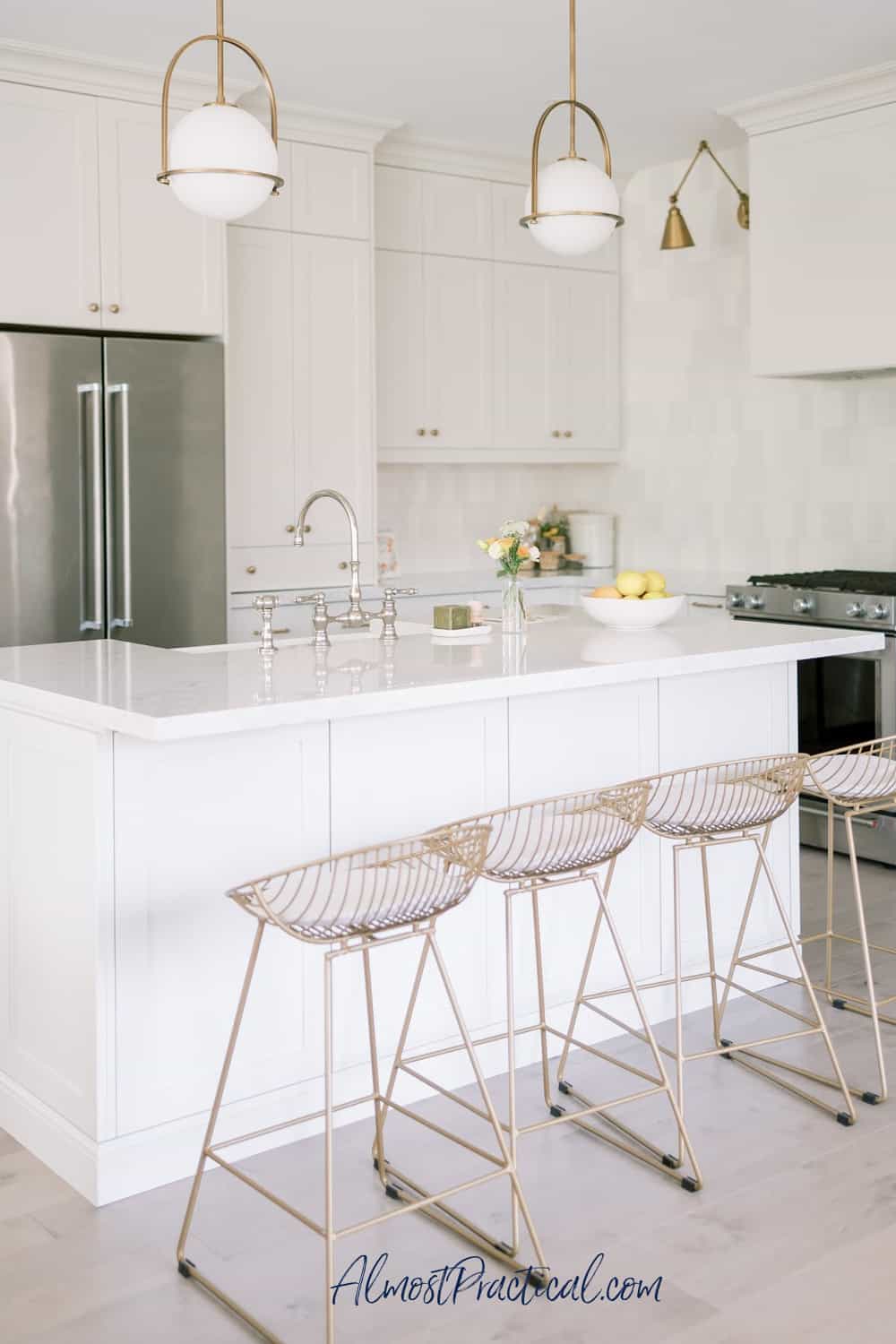 Before I get started, here is a photo of what I am referring to as an open floor plan. Sometimes it is easier to see what I mean because my written description may not do it justice.
In the picture above you can see that the kitchen features a large, single level, center island where the kitchen sink is located.
On the opposite side of the island are barstools at counter height.
Presumably, when you are standing at the kitchen sink you would be looking out over your great room, which pretty much shares the same space as the kitchen.
Counter Height Countertops – The Advantages
The biggest advantage of an open floor plan with counter height countertops is that you can easily interact with other people in your household.
If you like to cook or if you spend lots of time in your kitchen, then an open floor plan still keeps you in the middle of the action.
You can supervise your children as they play in the great room or family room.
Conversation with people in the main rooms of your home is easy.
Entertaining is fun because you can interact with your guests while you finish the preparation of your meal.
Another advantage is that you have a large flat surface on which to work.
Counter Height Countertops – The Disadvantages
On the other hand, an open floor plan with counter height countertops has a few downsides.
It Can Be Noisy
Let's talk about the noise – especially these days when lots of people are working from home.
If someone is on a conference call or a zoom call – everyone else in the home has to keep the noise level down. This can be tricky if you are trying to cook.
The opposite is also true, if you want a few moments of peace and quiet – this can be hard to find if others are watching TV or having animated conversations.
It's Hard to Hide the Mess
Another downside is that is hard to hide a mess.
I'll be honest here, my kitchen is rarely magazine worthy.
I keep a drying rack next to my sink (and it is rarely empty) along with pumps for dish soap and hand soap.
My kitchen countertops are clutter magnets, and though I do declutter periodically – things can pile up.
You May Have to Sacrifice Outlets
In an open floor plan the big kitchen island takes center stage.
In most of the model homes that I looked at, this island was home to the main kitchen sink.
Of course, there are some lower cabinets on this island and typically an outlet on the side panels on either end.
Depending on the length of your island, you may find that you need more outlets than that.
Bar Height Counters Can Be the Compromise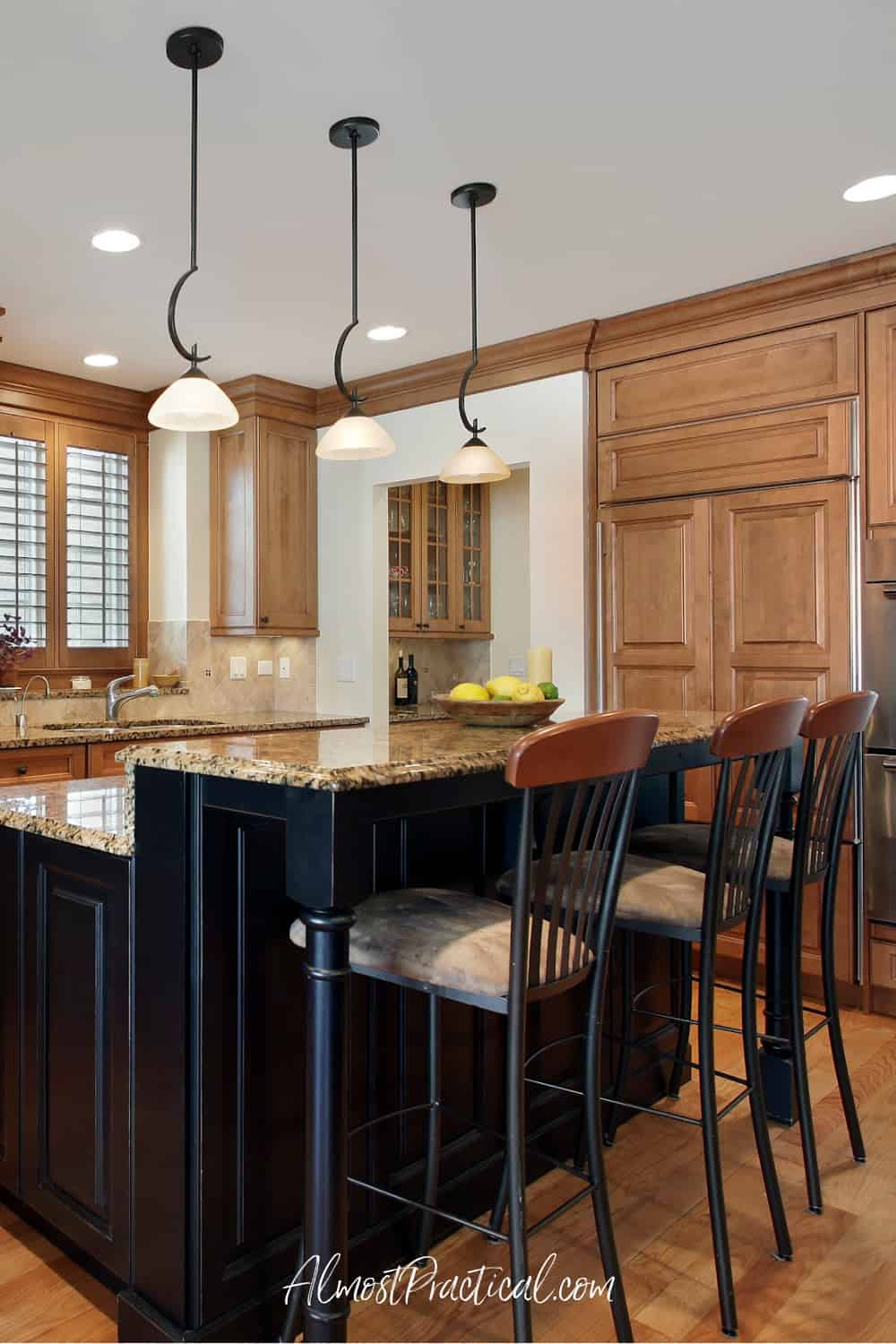 One way to solve some of the issues with an open floor plan with counter height countertops is to use bar height counters instead of a single level counter height set up.
With bar height counters, the workspace inside the kitchen is at counter height, while the seating on the opposite side is at bar height – so there is a bit of a delineation between the two spaces.
Bar Height Counters – Advantages
There are a few advantages to this set up.
First, that small wall between the two heights can act as a shield and hide some of the counter clutter that might be in your kitchen.
Because they are a bit higher than counter height, they also serve to define the separate spaces a bit more.
You can also place outlets in that small wall so you have more places to plug in your small kitchen appliances.
Bar Height Counters – Disadvantages
As with an open floor plan featuring a counter height island, a bar height set up also has it's downsides.
Because the counter is two levels, you don't have one big swath of counter space on which to work. When you are working inside the kitchen you have roughly half the space that you would have if the entire counter was counter height.
As for seating, bar height stools are a bit harder to navigate than counter height stools.
Elderly persons, young children, and those on the shorter side will have a harder time getting seated on the taller bar stool and pulling it up close to the counter. You can make it a little easier by getting stools with swivel seats – but still, it won't be as easy as settling onto a counter height stool.
Another disadvantage is that bar height counters can feel a bit dated. The new trend seems to be the open concept with all countertops at counter height.
The Counter Style that I Prefer
Personally, if an open floor plan was in my future, I would lean towards the dual level bar height countertops IF my main kitchen sink was on the island.
I like that it will hide my kitchen clutter a bit better, and I love the idea of having plenty of outlets – you can never have too many!
If you use countertop materials like quartz – and maybe even incorporate some waterfall edges, then you can give your kitchen a modern look and feel.
However, if the island was purely an island – with no sink or range top located there, then I would probably go for all counterheight countertops.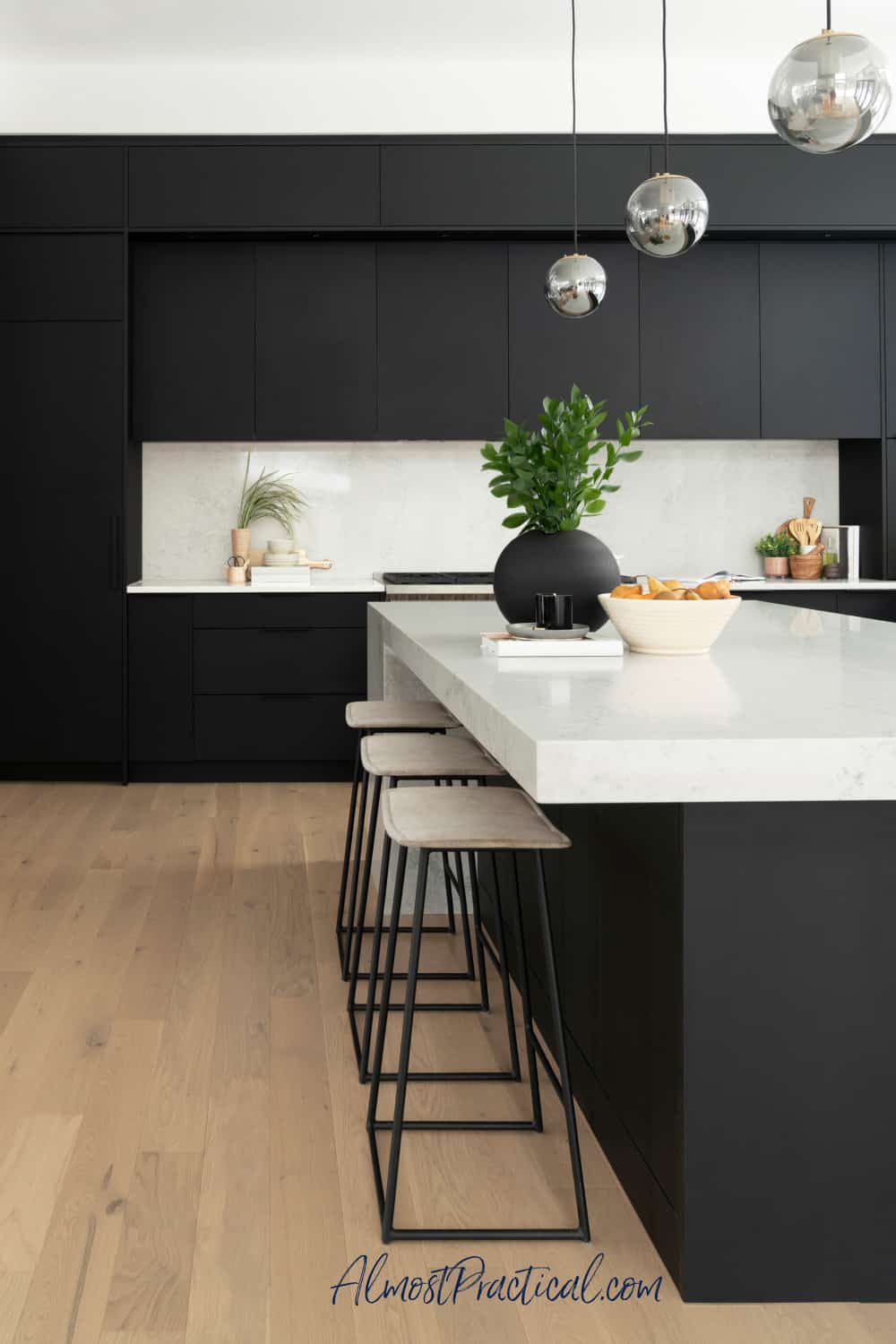 What Do You Think?
A kitchen with an open floor plan and counter height counters gives you plenty of workspace in your kitchen and allows for easy interaction amongst people in other areas of the home.
However, this set up can be noisy, limit the number of outlets that you have, and can showcase the clutter that you might have in your kitchen.
A two level bar height counter setup can serve to hide some of the mess and give your more outlets. But your workspace will be a bit more limited, the seating can be tricky for some people, and can look a little dated.
If your kitchen has either type of set up I would LOVE to hear what you like and dislike about the arrangement.
Please leave a comment below – your insights would be so helpful to me and to others that are trying to decide between these two styles in their kitchen remodels or new builds.