Moon Pod Beanbag Chair Review
This post may contain affiliate links which means I make a commission if you shop through my links.
 Disclosure Policy
Disclosure: Product for this post was provided by Moon Pod. All opinions are my own.
I have always been intrigued by bean bag chairs – and Moon Pod has been on my radar for a while. So, when they reached out to me to give these chairs/relaxation pillows a try, I was excited to do so.
The Moon Pod is a new take on the old bean bag chair concept. It is a "zero-gravity beanbag designed for stress relief and relaxation".
There are also several accessories that you can order along with your Moon Pod to make it your ultimate go to destination when you want to kick back at the end of a hectic day.
In this review, I will show you the Moon Pod and some of the accessories and let you know how I felt when sitting in this beanbag chair.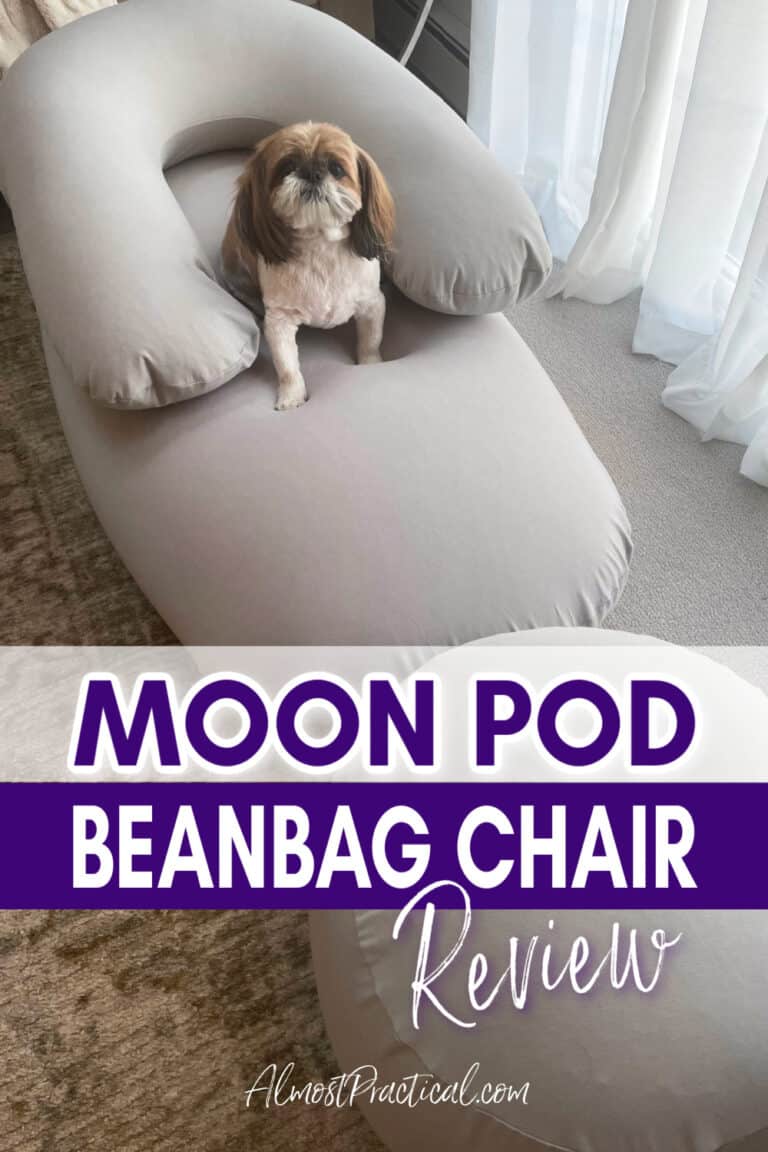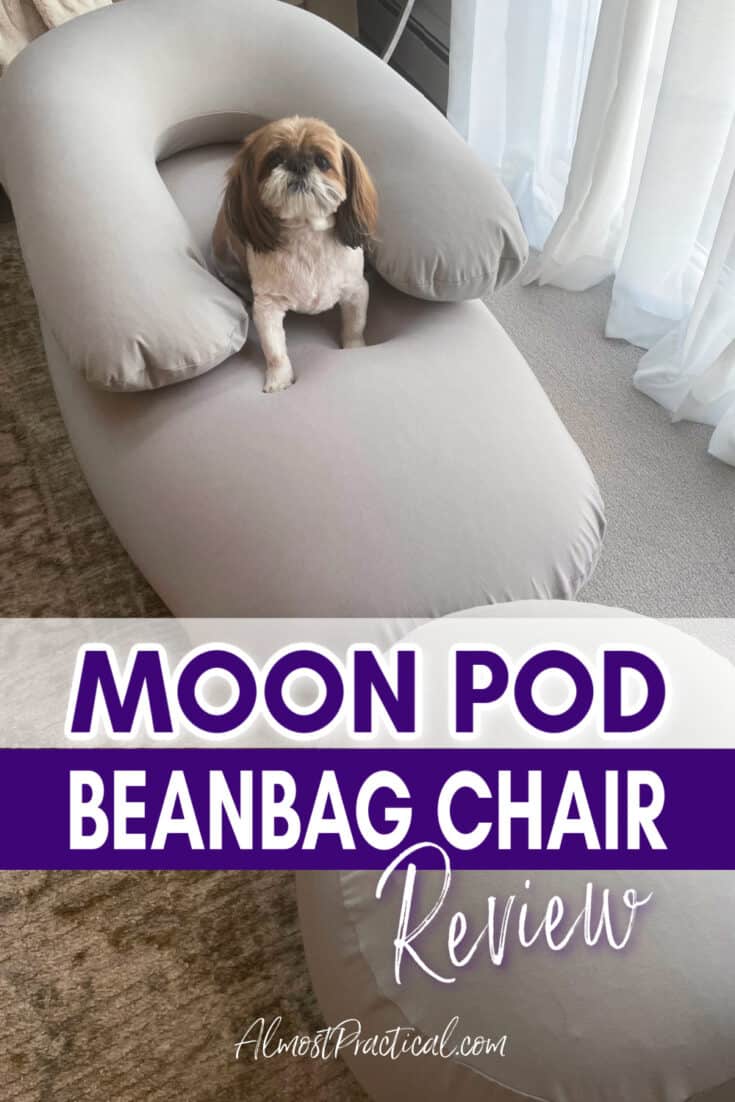 About the Moon Pod and Accessories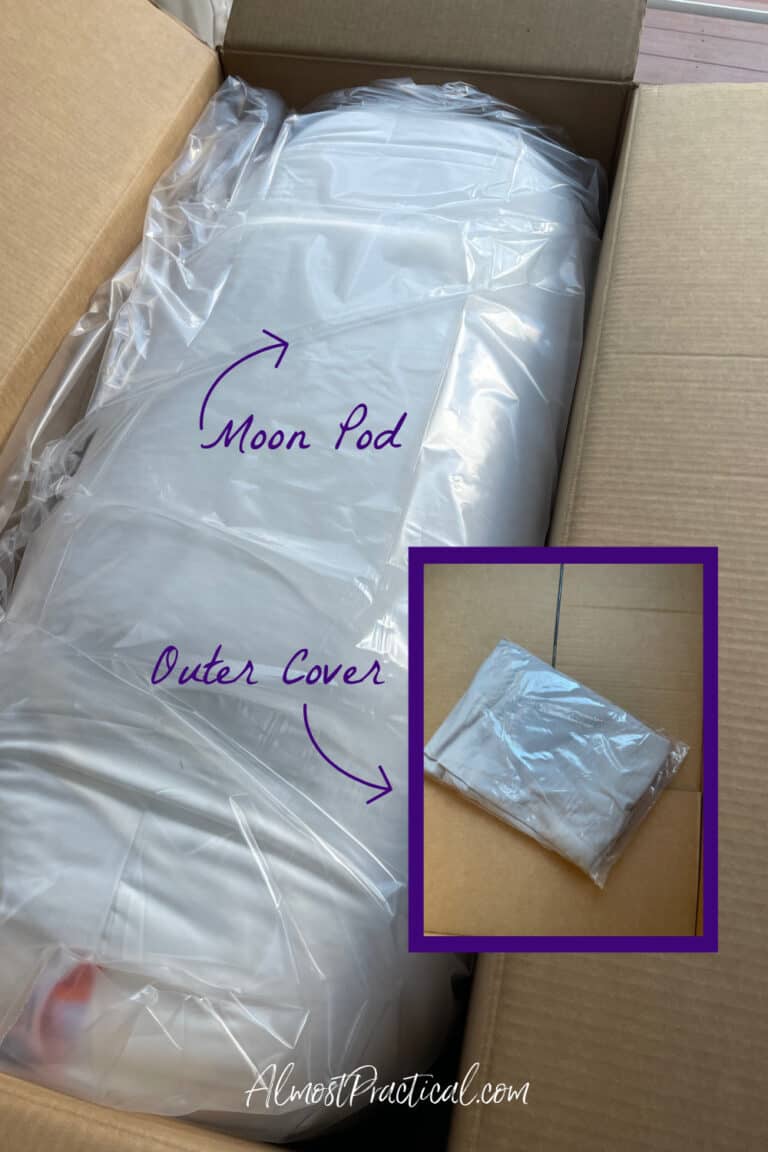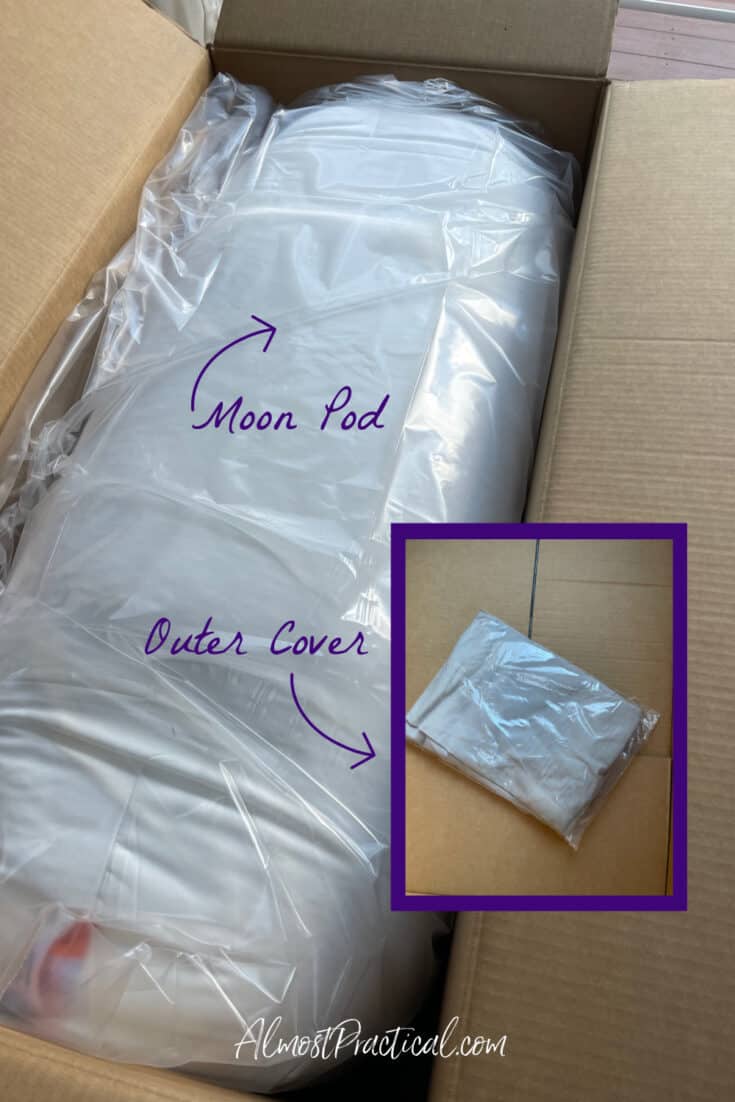 The original Moon Pod and its various accessories are filled with custom density beads that are designed to not become compressed over time.
When you receive your order you will receive both your Moon Pod (or your accessory) as well as a washable outer cover in the color that you chose.
The box that it comes in is pretty big, but the Moon Pod is so light weight that you can easily move it around so you can use it in any room in your house.
The Moon Pod or accessory contains the beads and you stuff this "pillow" into the outer cover.
For my order I chose the Space Gray color, and I received:
All 3 of these pieces are also sold together in one money saving bundle.
The Original Moon Pod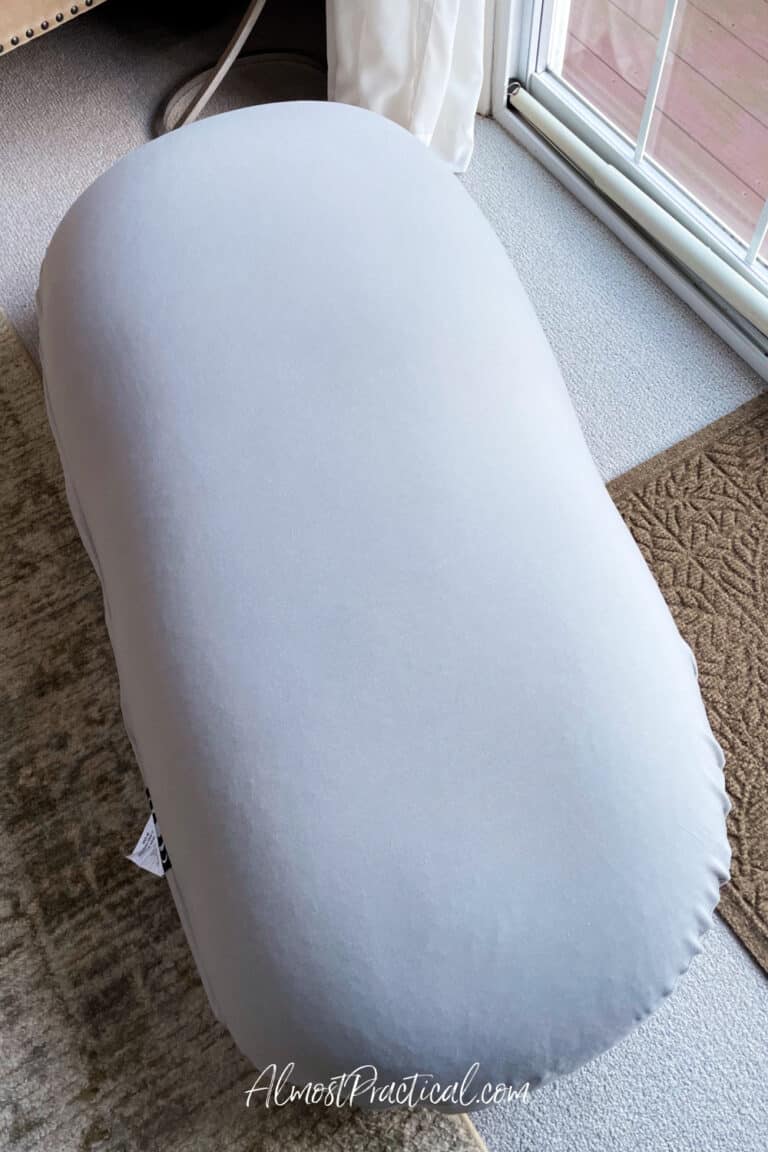 The original Moon Pod is a beanbag chair that makes you almost feel like you are floating when you sit in it.
On its own – it kind of looks like a big oval pouf.
There are 3 ways to use the Moon Pod:
It is hard to believe that something without much structure can give you so much wonderful support – but it really does!
You can sit on it like a chair.
You can recline on it.
You can lie down on it.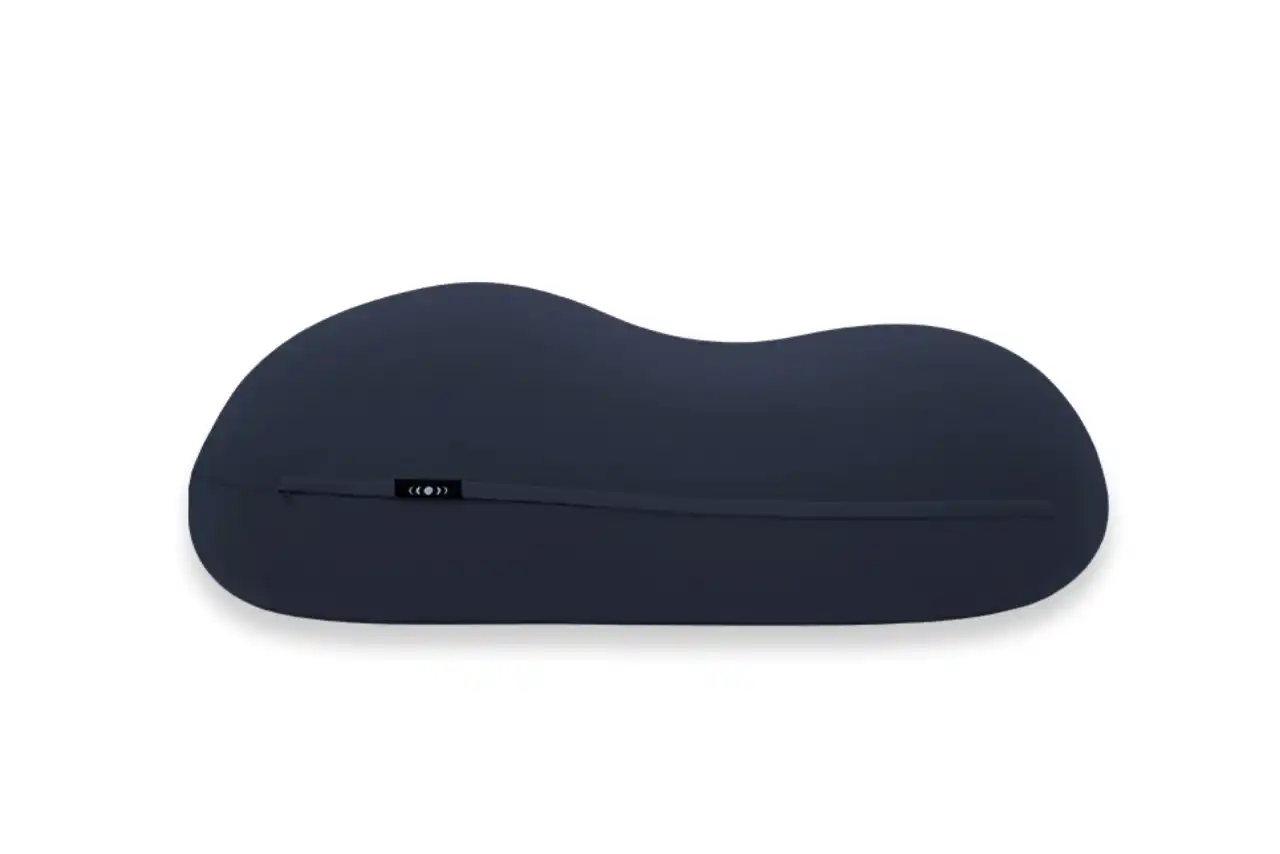 Moon Pod Original Beanbag
The Moon Pod is a zero-gravity beanbag chair that is so comfortable. You can use it to sit, recline, or lie down. It is a great spot to relax and lounge at the end of a busy day.
Buy Now
How to Sit On The Moon Pod
The easiest way that I found to sit on the Moon Pod was hold it up vertical next to you while standing.
Then slowly ease yourself into a sitting position with your behind hitting the Moon Pod somewhere in the center.
As your body folds into a sitting position, the Moon Pod sort of melds with your body and creates a seat right under you.
How to Recline on The Moon Pod
To recline on the Moon Pod you would follow the same procedure as sitting but lean back a little further as you settle in.
The beauty of the Moon Pod is that it will conform to your body – so you can sit the way you want.
Lie Down on the Moon Pod
If you want to lie down on the Moon Pod, you can do a couple of things.
Follow the procedure for sitting but just lie your upper body flat as you settle in.
Or lie the Moon Pod flat on the ground and then just settle yourself on top of it.
The Moon Pod Crescent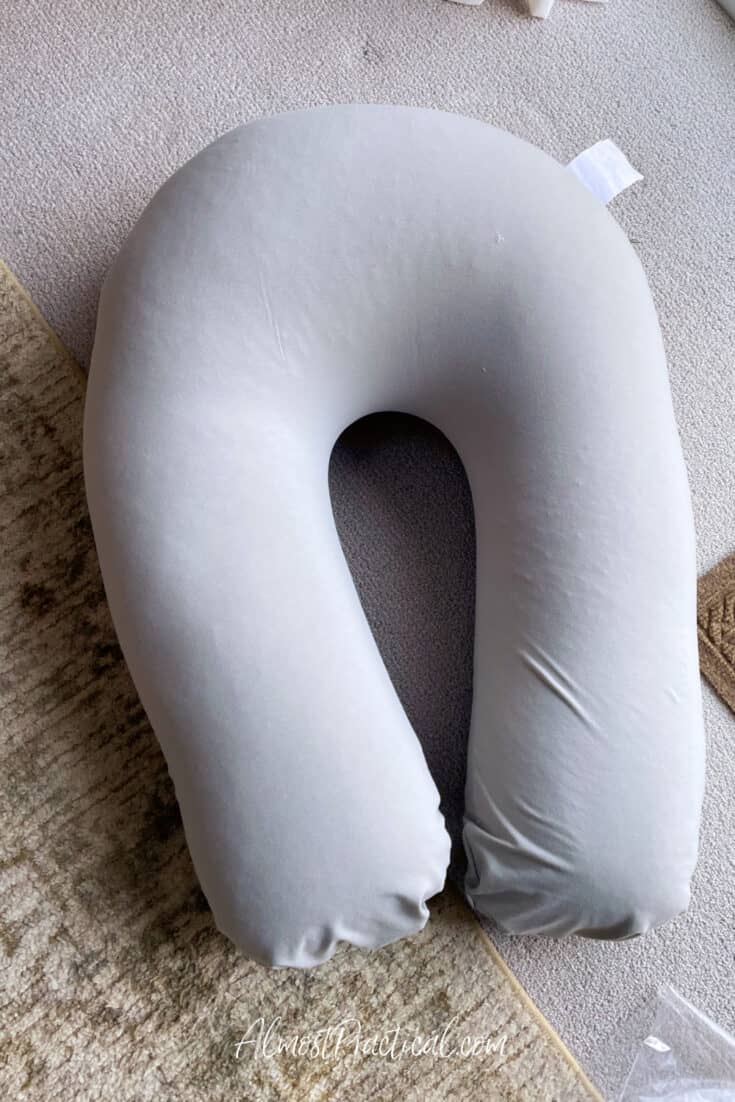 While the Moon Pod by itself is pretty comfortable all on its own – you can make it even better by adding the Crescent pillow/arm rest.
Having tried the Crescent, I don't think I could do without it! It really elevates the whole Moon Pod experience.
The Crescent is basically a horseshoe shaped pillow that has the same fill in it as the Moon Pod.
To use it, simple place the Moon Pod flat on the ground and put the Crescent at the top end.
Now sit down in the middle of the Moon Pod and lie back.
The back of the Crescent provides support for your head and either side of the Crescent serve as arm rests.
Moon Pod Crescent
The Moon Pod Crescent Pillow / Arm Rest is the perfect accessory for the original Moon Pod. This unique shaped pillow adds support for your head and arms making the lounging experience even more comfortable.
Buy Now
The Lunar Lift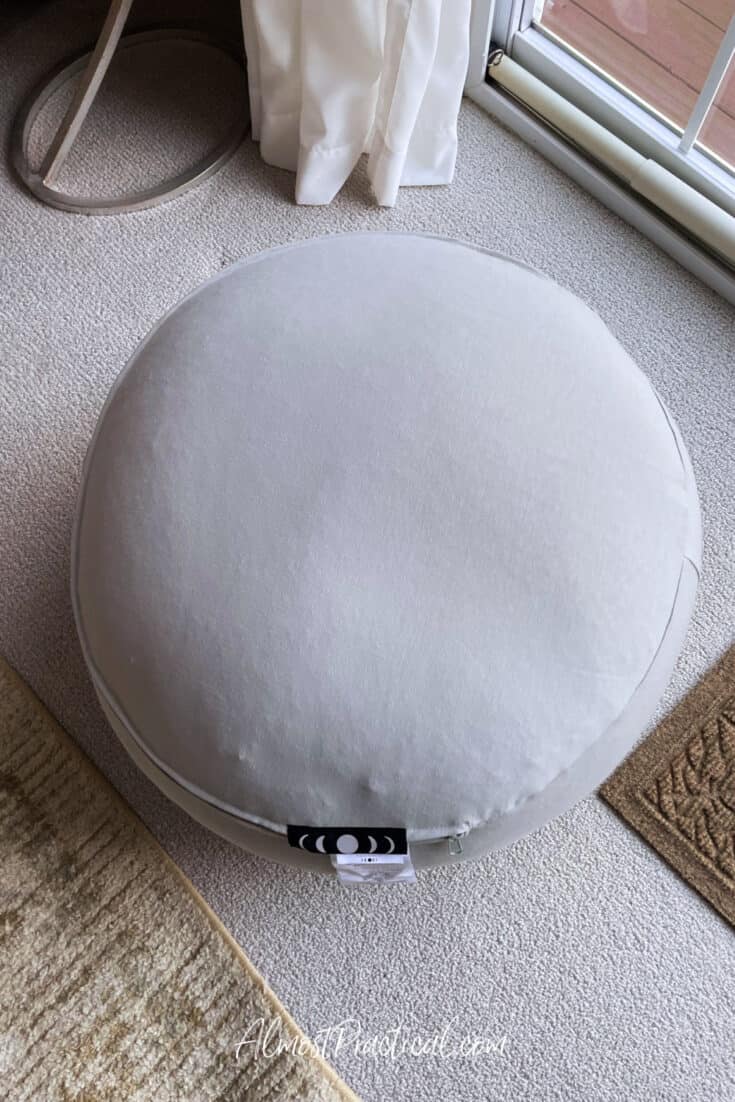 The Lunar Lift is the cherry on top when it comes to having the complete Moon Pod experience.
It is basically an ottoman that is filled with the same custom density beads as the Moon Pod.
When you are lounging on your Moon Pod with the Crescent supporting your head arms, you will find that you really want to put your feet up too.
The Lunar Lift completes your set up and I could honestly sit on this combination for hours.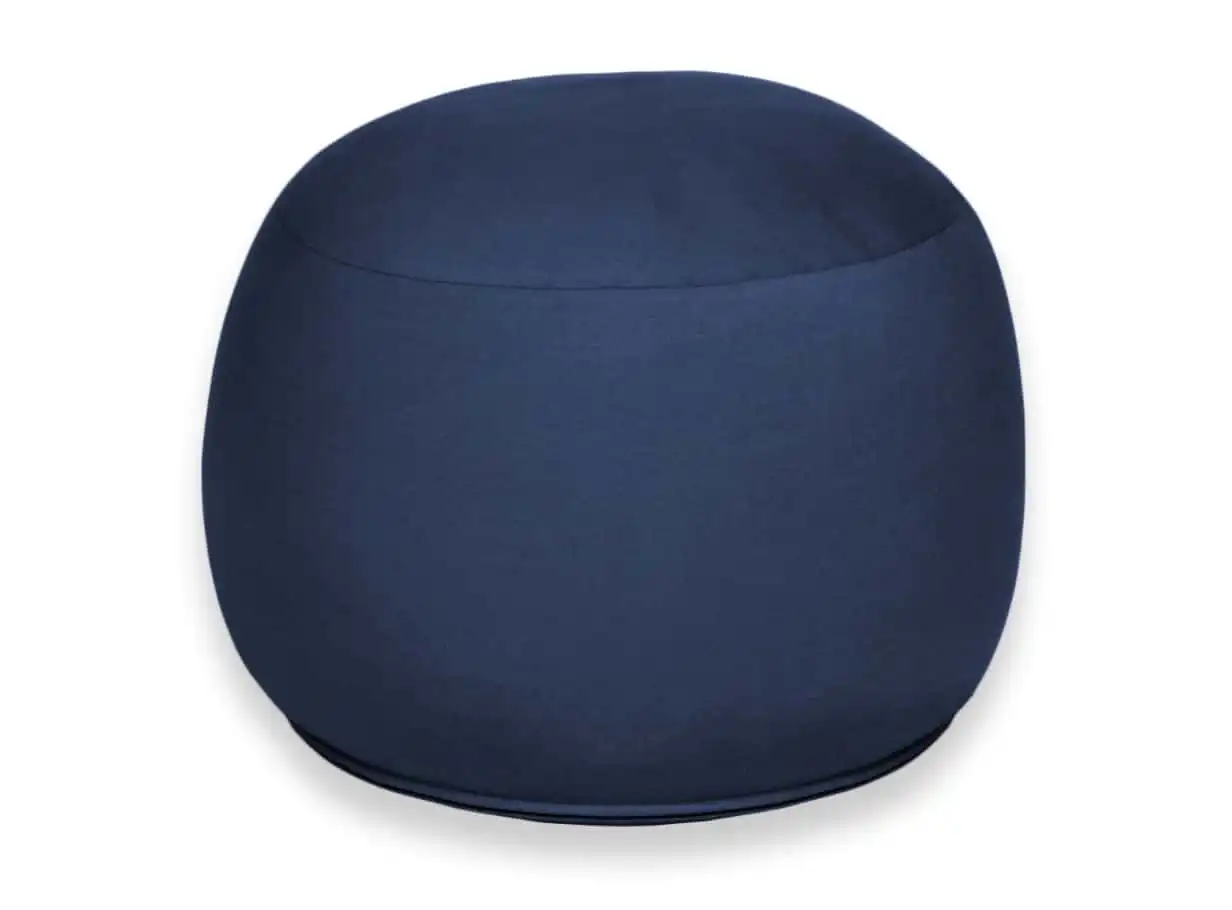 Moon Pod Lunar Lift
The Moon Pod Lunar Lift is an ottoman for your beanbag chair. Whatever your height, the Lunar Lift gives you a place to put your feet up and relax.
Buy Now
Moon Pod Pros and Cons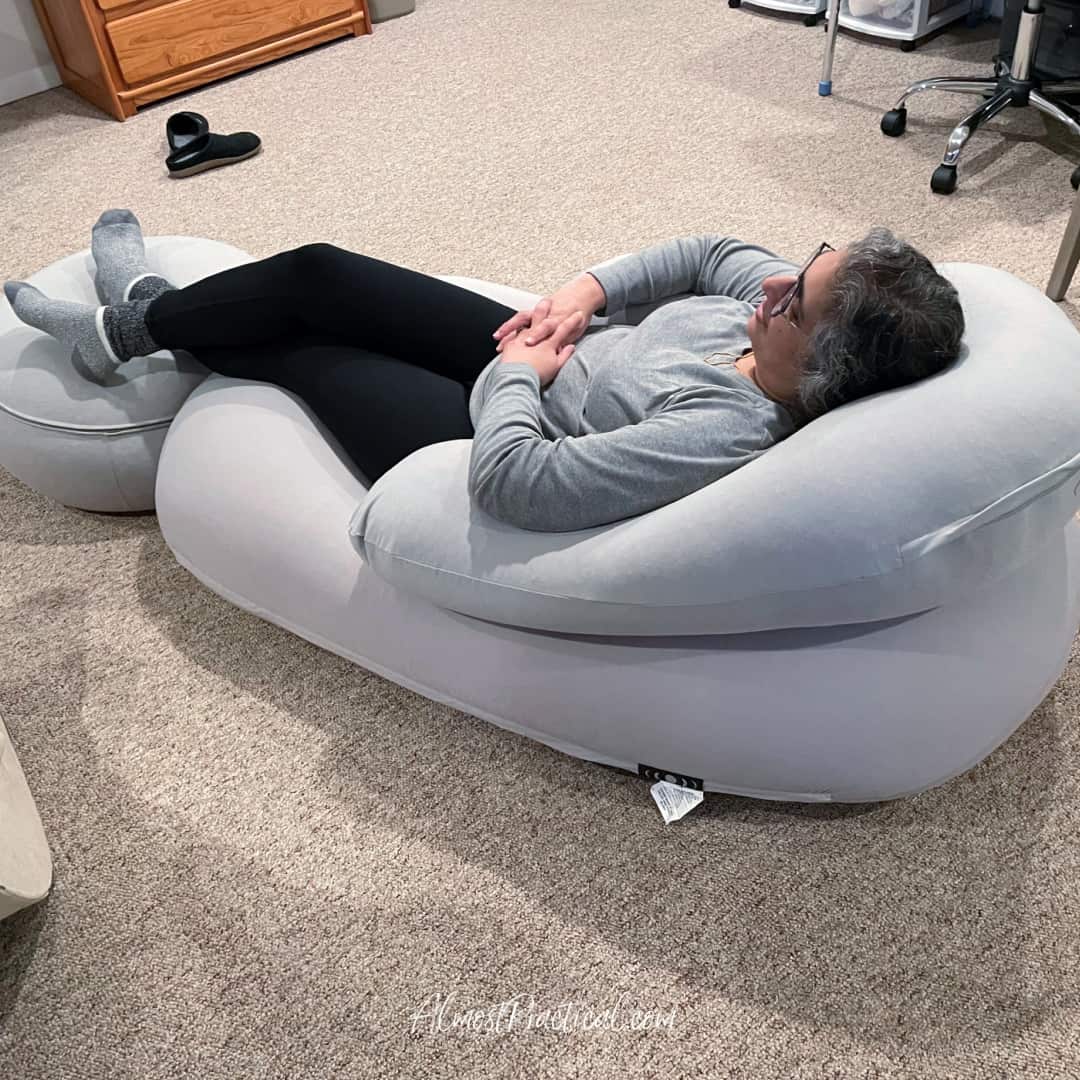 Overall, I like the experience of relaxing in the Moon Pod.
Our Pick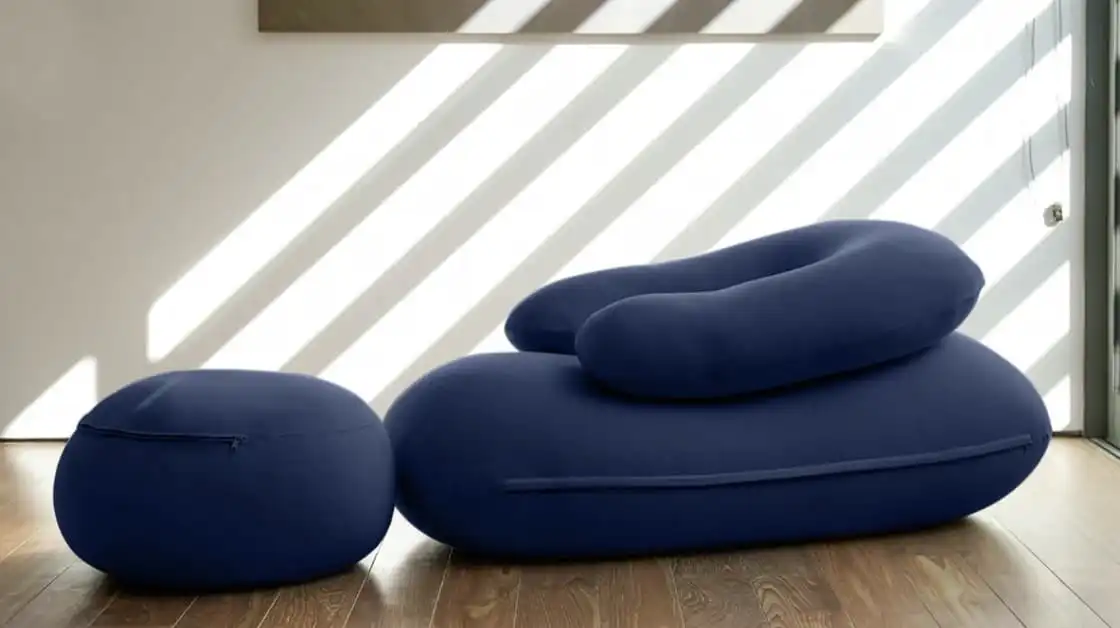 Moon Pod Full Moon Bundle
Get the complete lounging experience with the Full Moon Bundle from Moon Pod. This collection includes an original Moon Pod, a Crescent, and the Lunar Lift and costs less than buying all three pieces separately.
Buy Now
Pros
It is so comfortable and you really do feel supported.
My son loves sitting in it when he plays video games and there have been a few Friday nights where we have had to toss a coin to see who gets to use it. (I think I see a second Moon Pod in my future!)
The Moon Pod is also really light weight, so you can easily move it to a different room or out of the way if you need the floor space for something else.
Another feature that I like is that the outer cover is machine washable.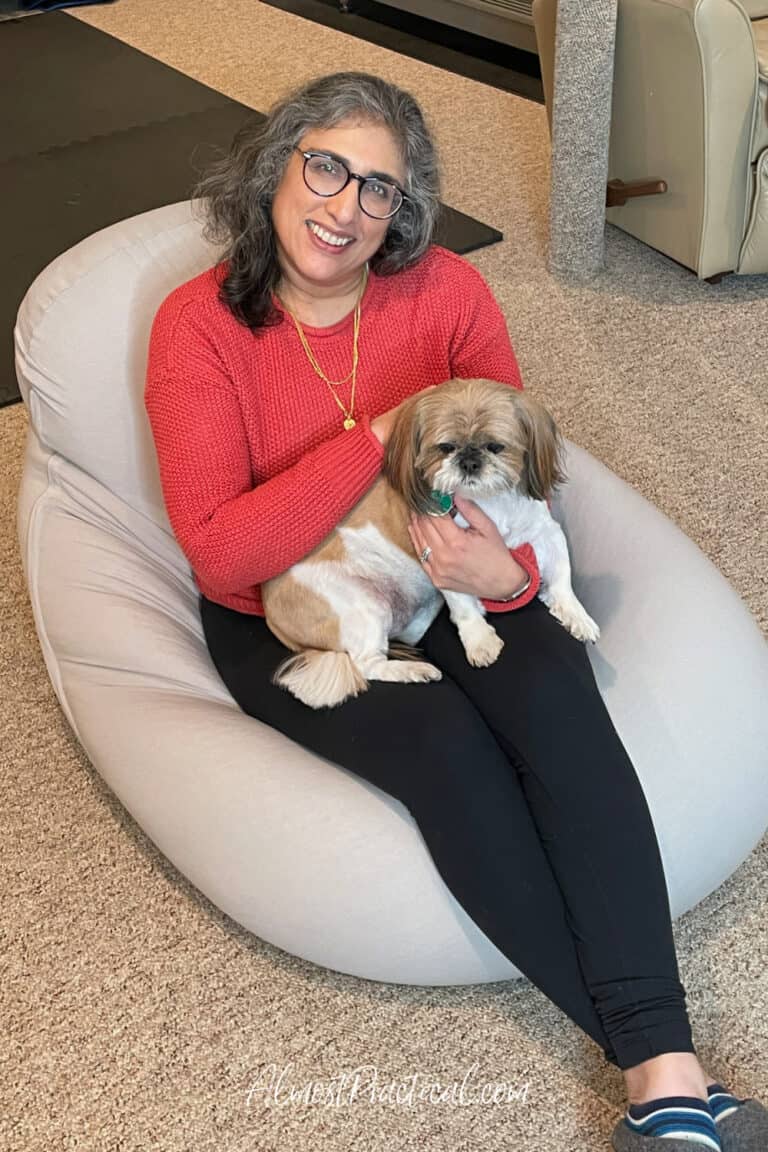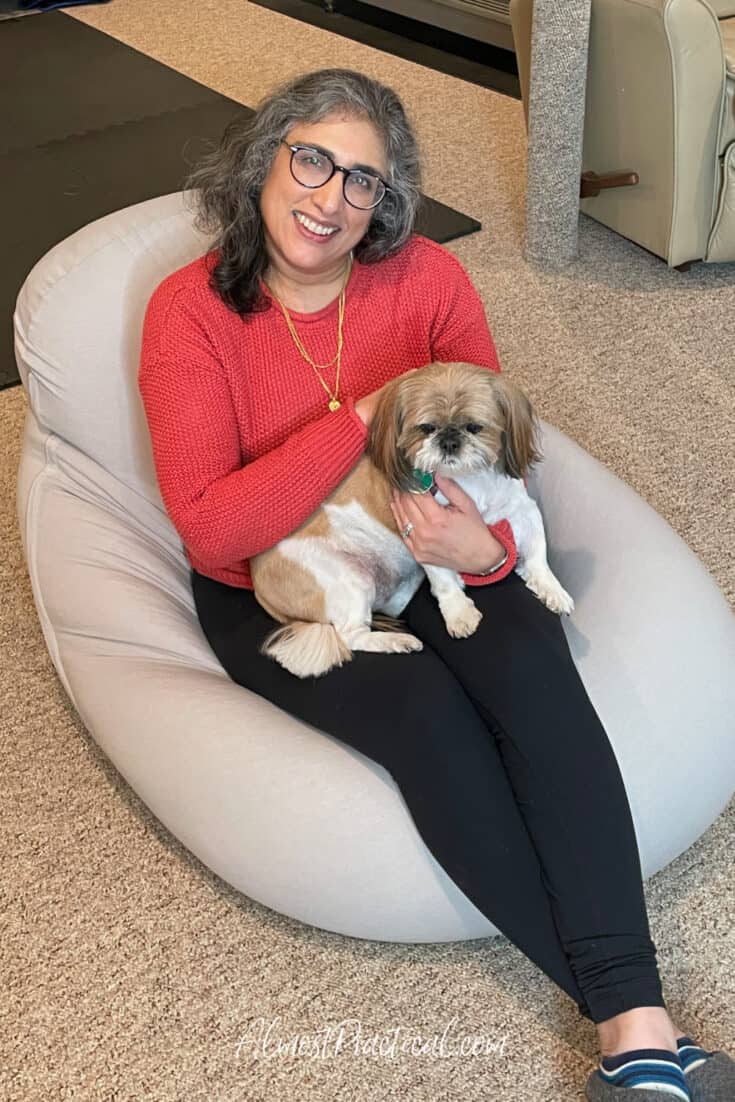 Cons
As far as "cons" go, I only have a few.
First, as with any type of beanbag chair, the Moon Pod is a little tough getting up.
Even though it is so comfortable that you may never want to get up, eventually you do have to get out of it.
Depending on your age and agility, this can be tricky for some people. This is not an issue at all for my son.
But I am an entirely different story. My preferred method is just to roll out of the chair which is not so elegant, but it works. And if someone happens to be around, I just ask them to give me a helping hand, which does the trick.
Second, it might just be me, but I did find the Moon Pod to be a bit warm after sitting in it for long periods of time.
And third, the outer cover tends to pick up lint and hair from the floor easily.
I did see that Moon Pod makes a water resistant Outdoor Cover. The reviews for this mention that hair and lint stay off – so I might consider ordering one of these to give it a try.
Beanbag Chair for Two
The original Moon Pod is crafted for one person. But if you are looking for a beanbag chair for two – you should take a look at the Super Moon Pod.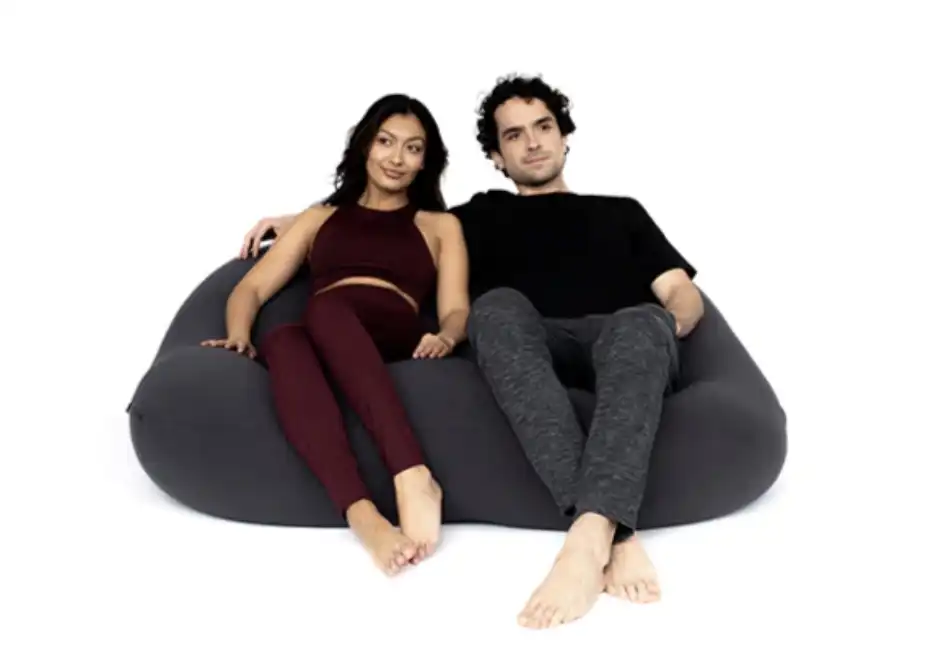 Super Moon Pod
Need a little more space on your beanbag chair? Then take a look at the Super Moon Pod - a beanbag chair designed for two!
Buy Now
Have You Tried Moon Pod?
The Moon Pod is a flexible and very comfortable beanbag seating option.
It is perfect for gaming rooms, family rooms, reading nooks, dorm rooms, and just about anywhere your family likes to hang out and relax.
The custom density beads support your body with out any pressure points and make you feel like you are floating.
Be sure to check it out!