Evernote Tasks in Web Clipper – New Feature!
This post may contain affiliate links which means I make a commission if you shop through my links.
 Disclosure Policy
Today I want to tell you about a new feature in Evernote called Tasks in Web Clipper.
This basically gives you the ability to create a task right from in the Web Clipper.
This is a powerful tool that will help you to increase your personal productivity.
In this tutorial, I will show you how it works and provide you with some scenarios where you can use in real life.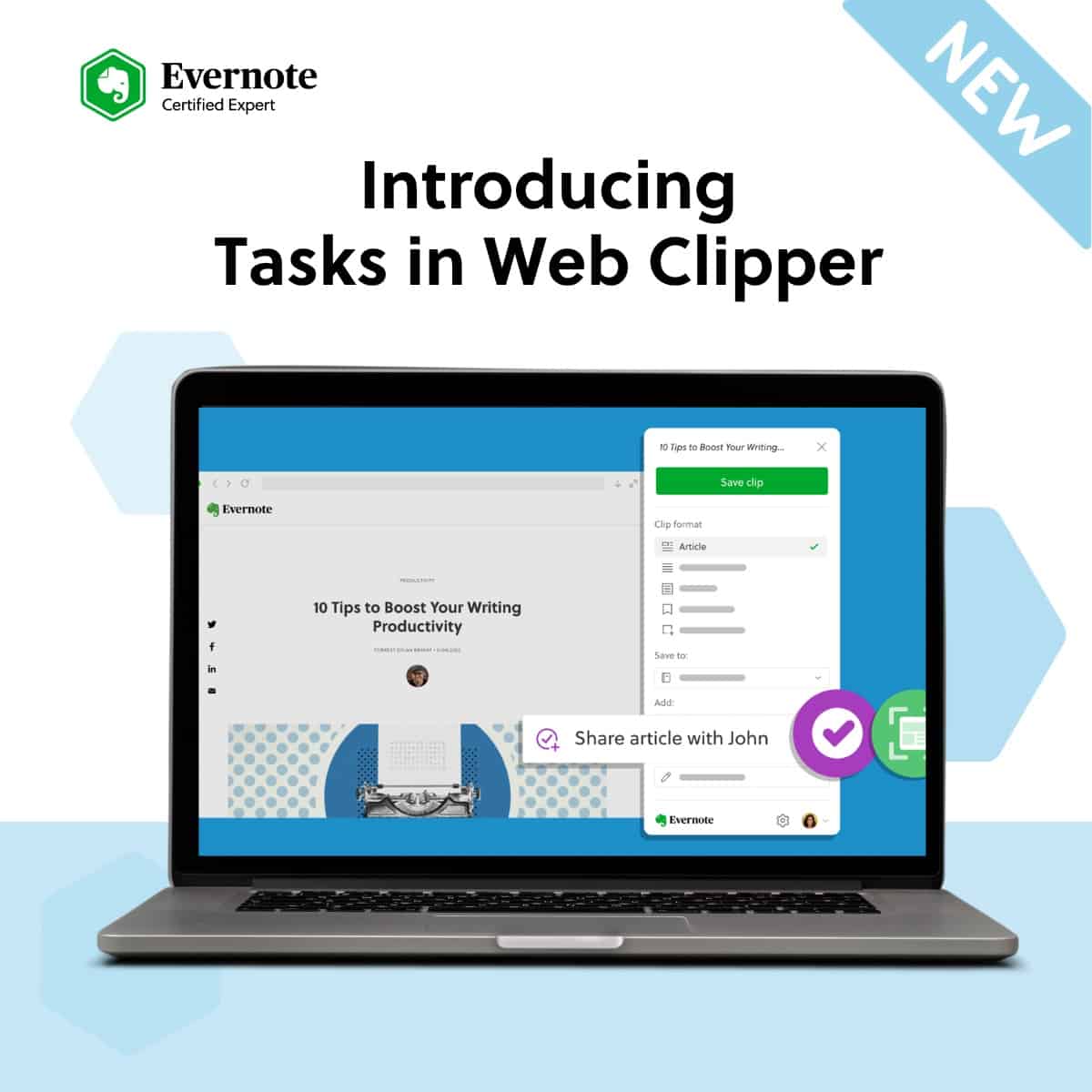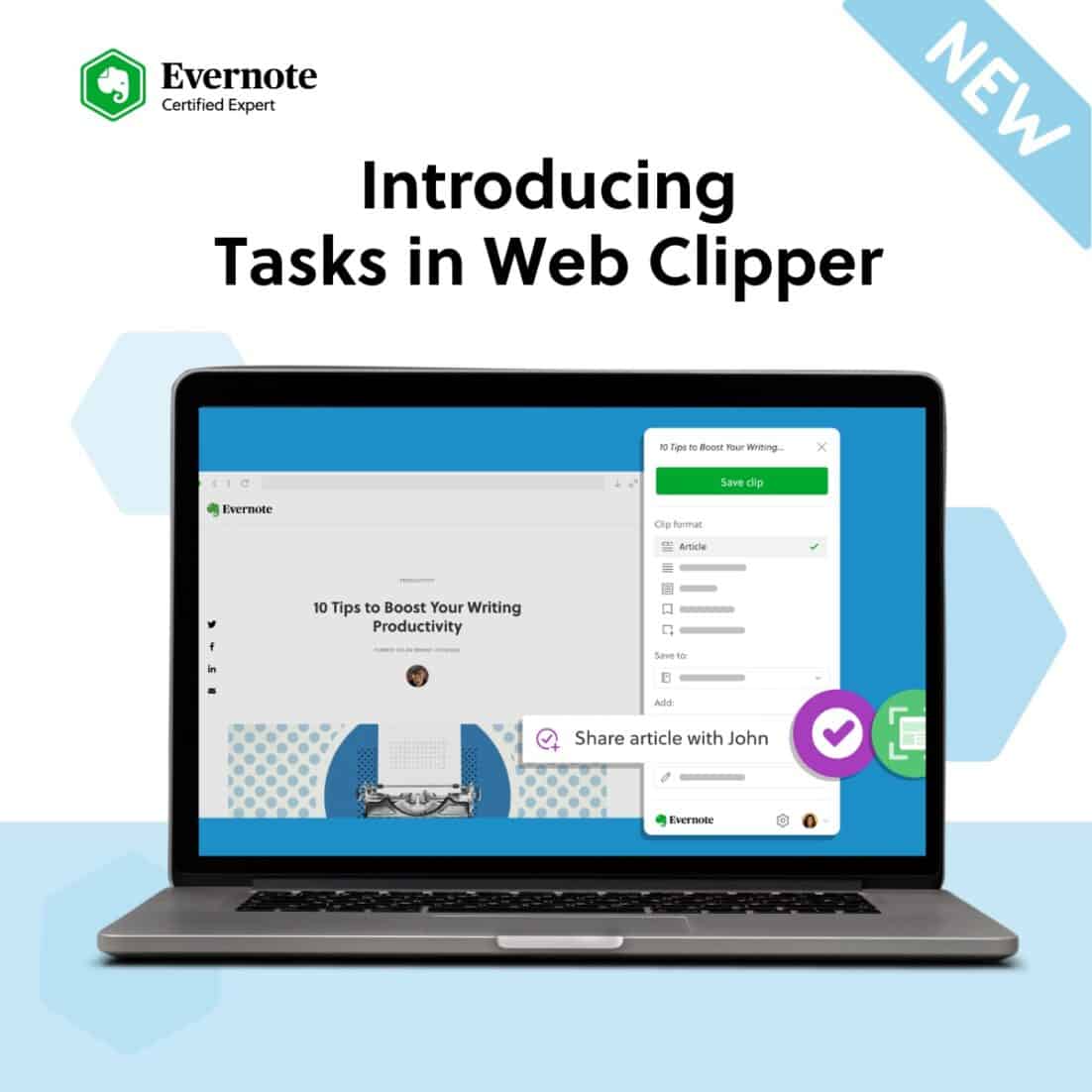 A Little Background
I won't go into too much detail here – but if you are not familiar with Evernote, I suggest that you take a look at this article: What is Evernote? and also at our full list of Evernote Tutorials here.
In a nutshell, Evernote is an online notebook app where you can store all different kinds of information.
One such type of information that you can save is clippings from web sites that you visit. Think of it like bookmarks on steroids.
Our Pick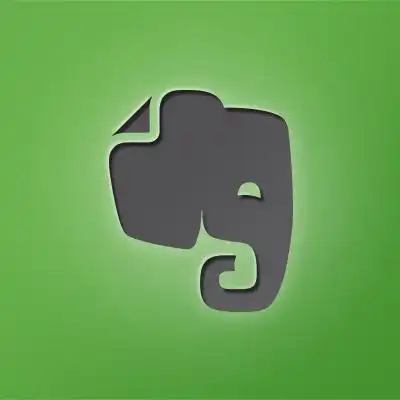 Evernote Personal
Most people will find that Evernote Personal is a perfect choice for their note taking needs.
Pros:
Customize Your Home Dashboard with Widgets

Link Notes to Your Google Calendar

Mark Up Images and PDFs

Save Your Searches

Create Customized Templates

Sync Your Notes Across All Your Devices
Buy Now
Evernote Web Clipper
You create these clippings using the Evernote Web Clipper browser extension. There is an extension for a number of different browsers – and you simply need to download it and install.
When you are viewing a webpage that you would like to save, you click on the Evernote browser extension button and a dropdown menu appears with all of your options.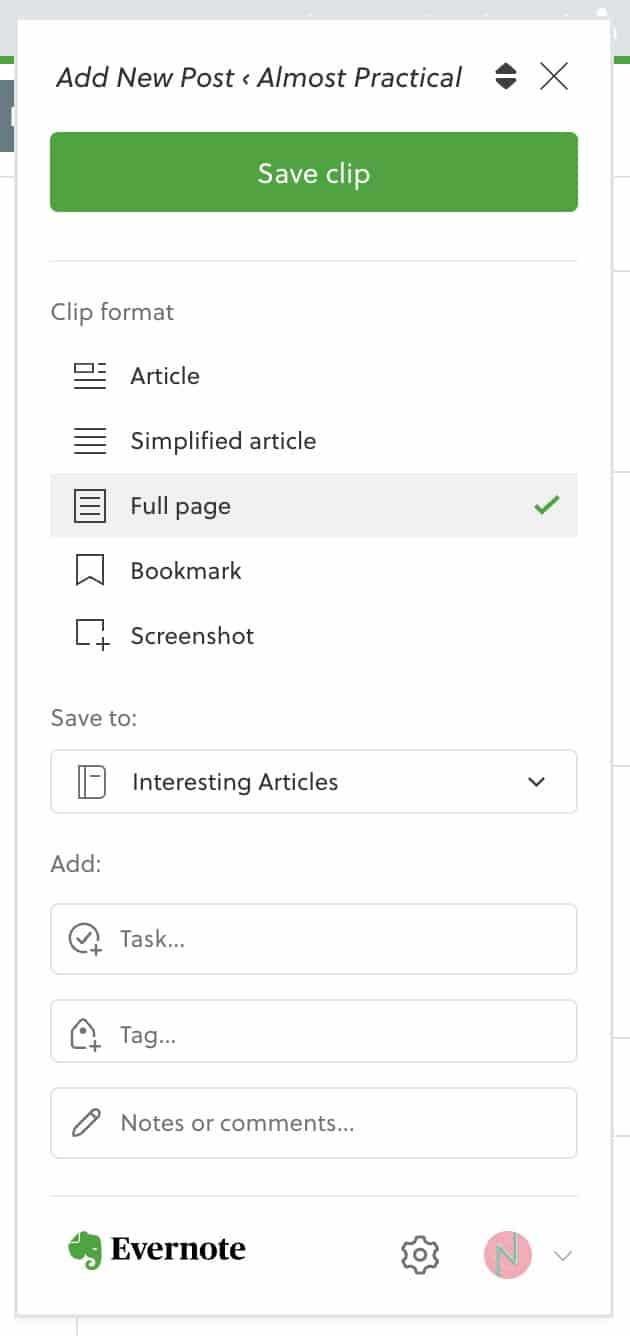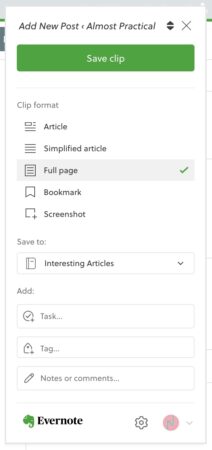 From here you can save either the:
Article
Simplified Article
Full Page
Bookmark
Screenshot
You can also specify the notebook where you want to save your clip and add tags, notes, and now … TASKS!
What are Evernote Tasks?
Evernote Tasks is a relatively new feature in Evernote that allows you to save your tasks inside the notes that you create.
All of your Tasks from across all of your notes are also consolidated inside a Tasks view. And you can also see all of your Tasks in the Tasks Widget on your Evernote Home dashboard.
The beauty of Evernote Tasks is that you can create them right alongside the notes that the tasks relate to. When you open a note – you can see everything you need to do for that note right in front of you.
Creating Tasks in the Web Clipper
This brings us to why the ability to create Tasks in the Web Clipper is so amazing.
More often than not, when we are reading articles on the web – we are coming up with ideas in our minds of actions items.
You might come across an review of
a product that you want to try,
a craft project you want to make,
a place or restaurant you want to visit,
some ideas to discuss with your team,
parenting techniques to use with your kids,
inspiration for your home decor that you want to share,
the possibilities are endless.
Creating a Task at the time you clip a related note – keeps those action items on your radar.
Then, when you go into Evernote to review your Tasks list – you are reminded right away of what you need to do.
Here are a few examples of the way you can use Tasks in Web Clipper:
Remind Yourself to Read an Article
Let's say you are browsing the web and you come across an article that you really want to read, but don't have time for at the present moment.
You can use the Evernote Web Clipper to clip this article to the notebook where you store "Interesting Articles".
Now, I don't know about you – but a lot of times I will clip the article and promptly forget all about it.
I never actually go back and read it.
Now that there are Tasks in the Web Clipper, I can create a Task for myself to read the article.
When I open my Tasks view in Evernote, I will see the task that I assigned to this note along with the a link to the related note.
Create a Grocery List from a Recipe That You Clip
Typically in Evernote, it makes more sense to use Tasks to record action items – things that you need to do.
So, this is a little work around for creating a grocery list right at the time you are browsing a recipe using Tasks in Web Clipper.
Let's say you are browsing the internet and come across a recipe that you want to make for dinner next week.
You can use the Evernote Web Clipper to clip the recipe to a note in the notebook of your choice.
In the Tasks field in the Web Clipper, you could create a Task that says "Buy Groceries to Make XYZ Recipe".
Then in the Notes field in the Web Clipper you could create a list of the ingredients that you need to purchase.
One thing to note is that there aren't any formatting options available in Web Clipper for the notes that you jot down.
So, you could create your note using a hyphen "-" to designate each line item.
Doing this will create a Task in your Tasks list in Evernote that tell you to buy your groceries for this recipe.
This task will be linked to the note containing your recipe. And at the top of the recipe note, you will see the list of ingredients that you jotted down in Web Clipper.
When you head to the store, you can access it all from the Evernote app on your phone.
Make Tasks Even More Powerful
While basic Tasks are included in the free version of Evernote – upgrading to a Personal, Professional, or Teams plan will give some very useful advanced features that will help improve your personal productivity.
Under a paid plan you will be able do the following:
give your Tasks due dates
add reminders to your Tasks
flag certain Tasks to make them stand out
Create Recurring Tasks
Assign Tasks (only on Professional and Teams Plans).
How Will You Use This Feature?
The Evernote Tasks in Web Clipper feature is a great way to record your action items right alongside a clipped note.
I have given you a few examples of how you can use this feature to boost your productivity.
But I would love to hear some real life examples of you use it in your daily routines. Please leave me a comment below.