How to Pack Necklaces When You Travel – 7 Options
This post may contain affiliate links which means I make a commission if you shop through my links.
 Disclosure Policy
Looking for ideas on how to pack necklaces when you travel? Here are a few that work for me.
In a nutshell, I have found the following to be the best options:
wrapping in plastic wrap
folding in a washcloth
For the longest time I never packed jewelry when I traveled. It was more trouble than it was worth.
I would worry about losing valuable items – and with four kids to manage, I never really had time to change out jewelry when on the road.
But now that my kids are grown, I have a little more time to spend on myself when we travel. So, it is nice to have a few pieces of jewelry to match different outfits.
I still never take anything valuable, just in case. But a change of earrings, a bracelet, or a pretty necklace is a nice touch.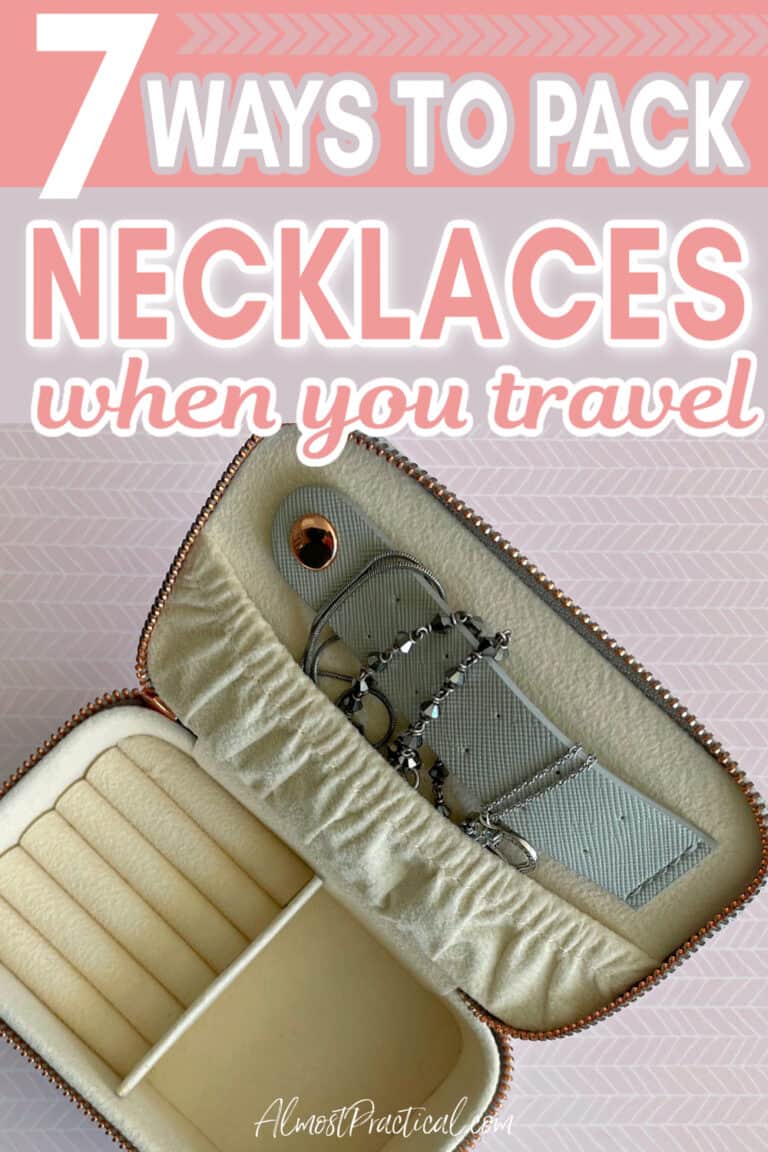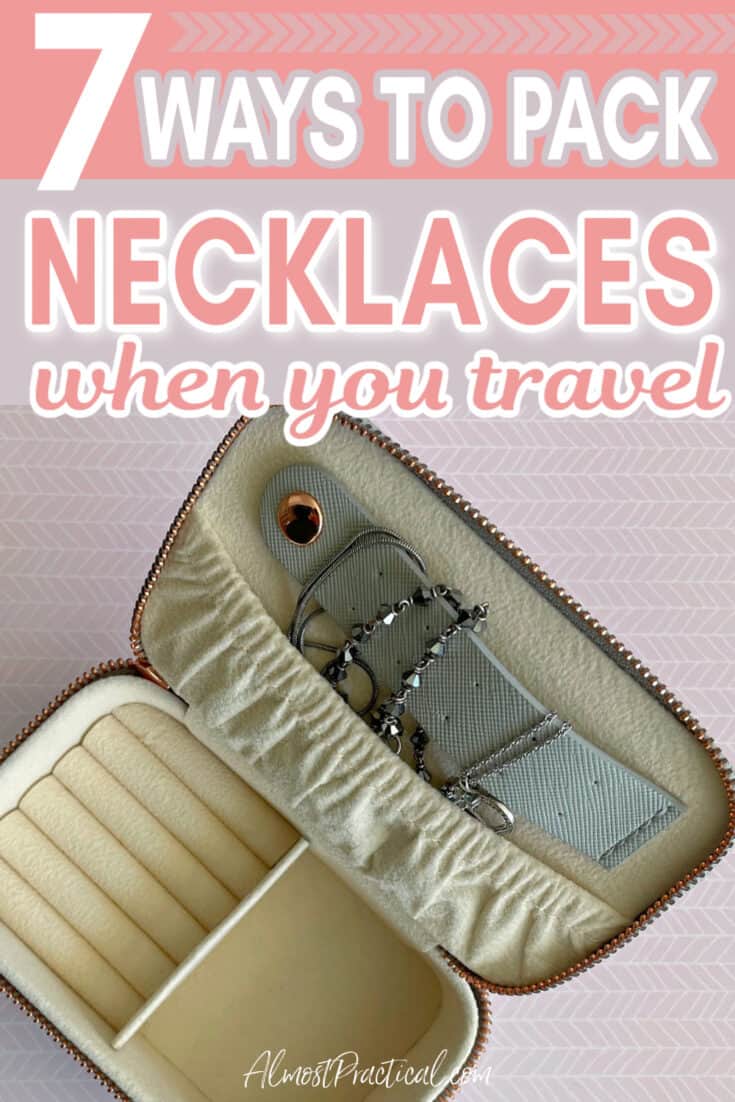 Why You Need a Way to Pack Necklaces When You Travel
While you could toss most jewelry into a zip style baggie and be done – the necklaces pose a big challenge.
Nothing is worse than a tangled chain. You can waste so much time trying to get the knots out, and you even risk breaking the necklace.
So when I started traveling with a few pieces of jewelry, I also started looking for the best way to pack necklaces for travel.
These are the pros and cons of each option.
1. A Travel Jewelry Box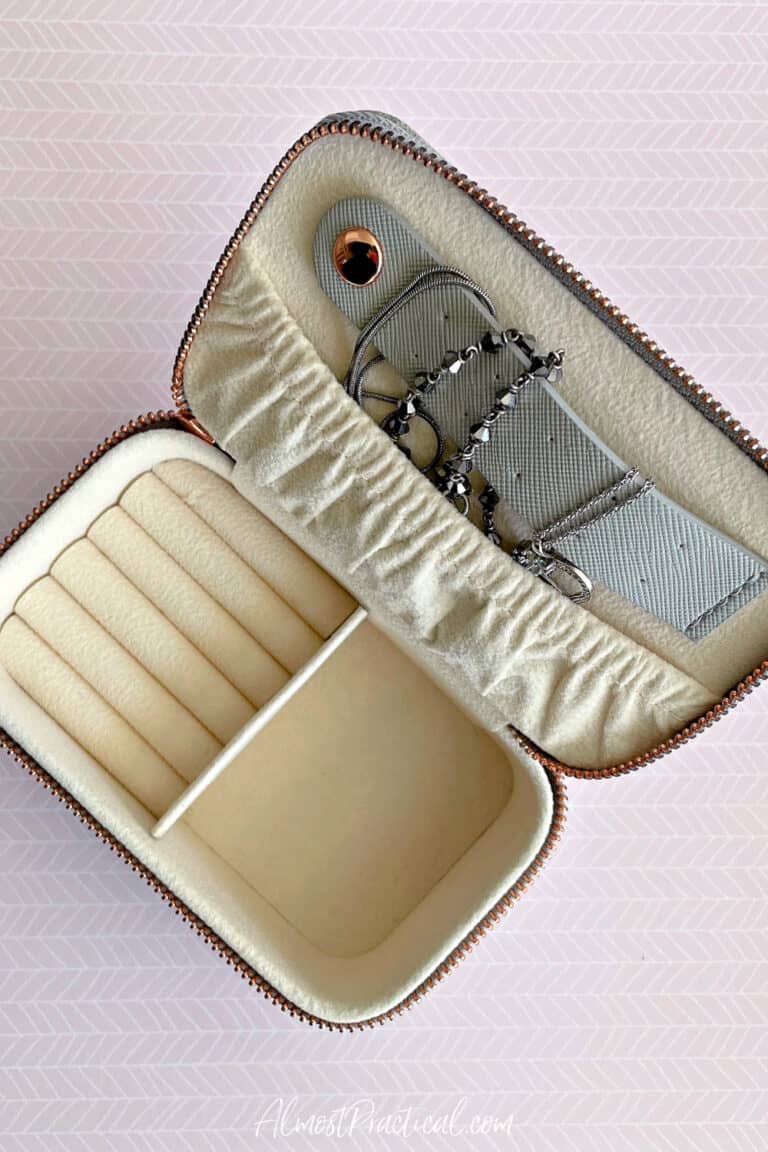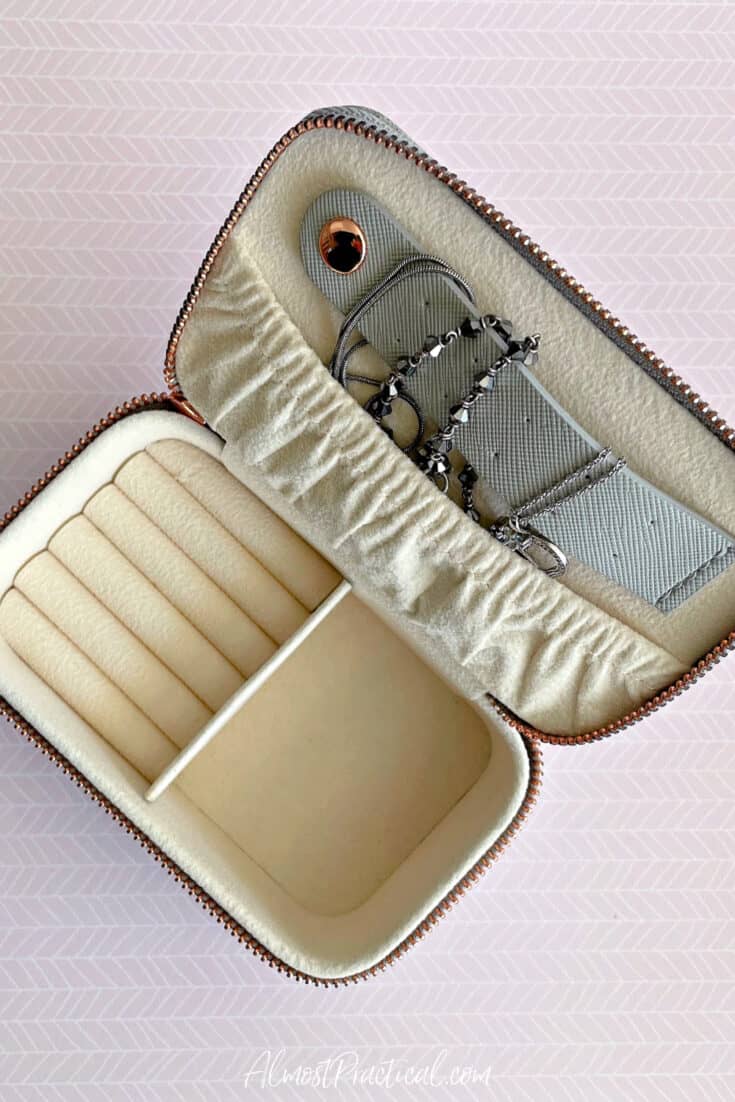 A travel jewelry box is my favorite option for packing necklaces and all other types of jewelry.
Not only is it designed for organizing your necklaces and keeping them untangled, but it gives you one central location for all of your jewelry.
This means that you have less of chance of losing something when you travel.
You can find these boxes in a variety of sizes and at many different price points.
You can see my review of the Cosmiya travel jewelry box here. I have used it on several trips and I really like it.
The advantage is that it has space for all your jewelry, but a disadvantage is that you may not have room for all your necklaces if you have a lot.
Our Pick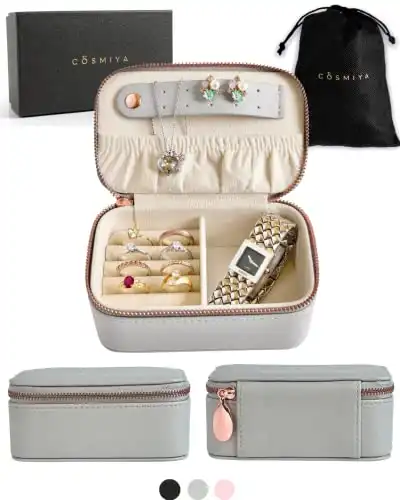 2. A Necklace Roll
If you are traveling with a lot of necklaces or if you are packing your necklaces for a move or something more long term – you might want to consider using a necklace roll.
There are many styles and takes on the necklace roll – but the basic premise is this – this organizer is a flexible case that has several slots that hold one necklace each.
The one show here has zippered compartments – but I have seen some that have individual loops that snap to hold the chains in place.
The advantages of a necklace roll is that this type of jewelry organizer will hold several necklaces and keep the chains from getting tangled.
The main disadvantage is that it only holds necklaces with limited (or sometimes none) space for other types of baubles.
Our Pick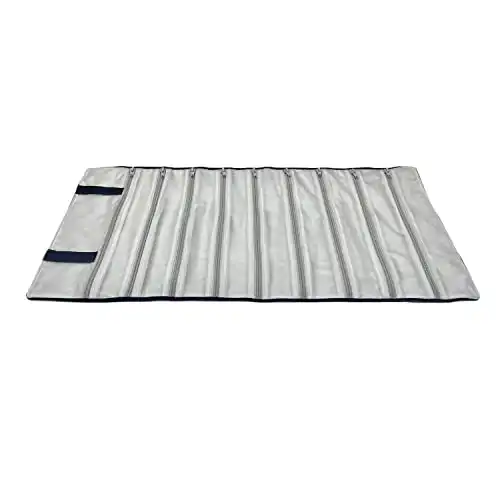 Velvet Travel Jewelry Case Roll
This travel necklace roll gives you nine zippered compartments that you can use to store your necklaces individually. This helps to keep them from getting tangled together.
Buy Now
3. Use a Hanging Jewelry Organizer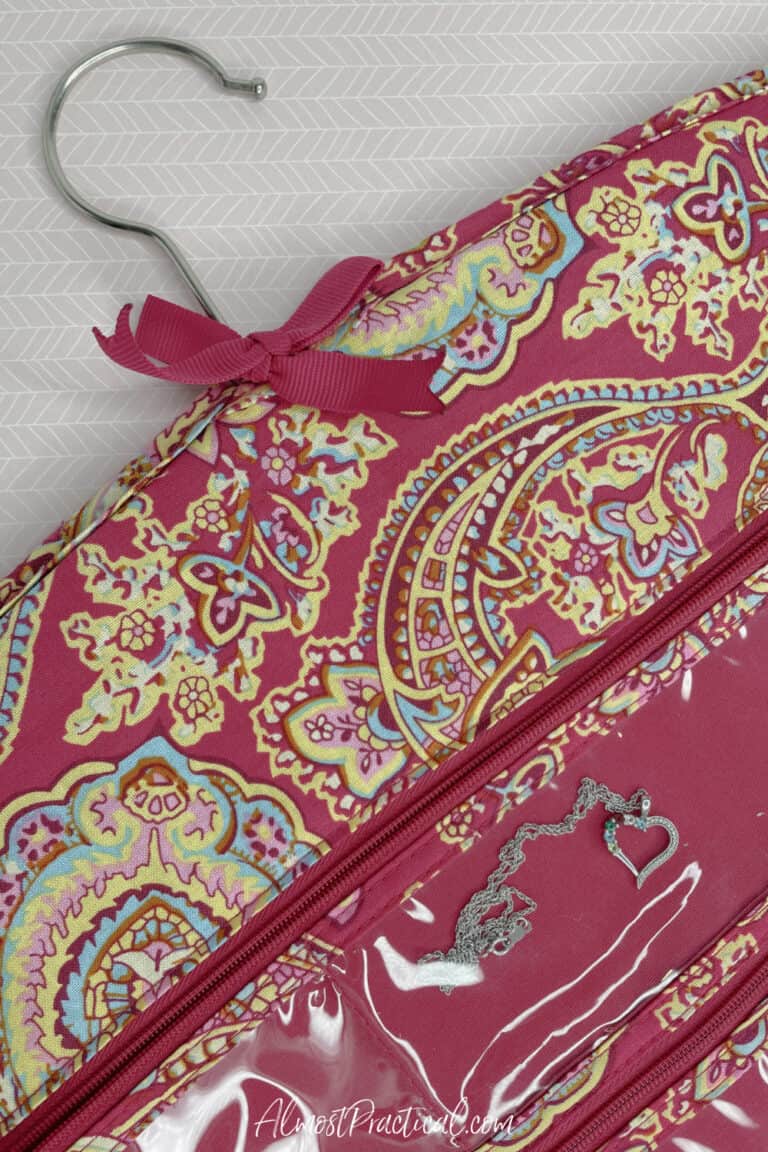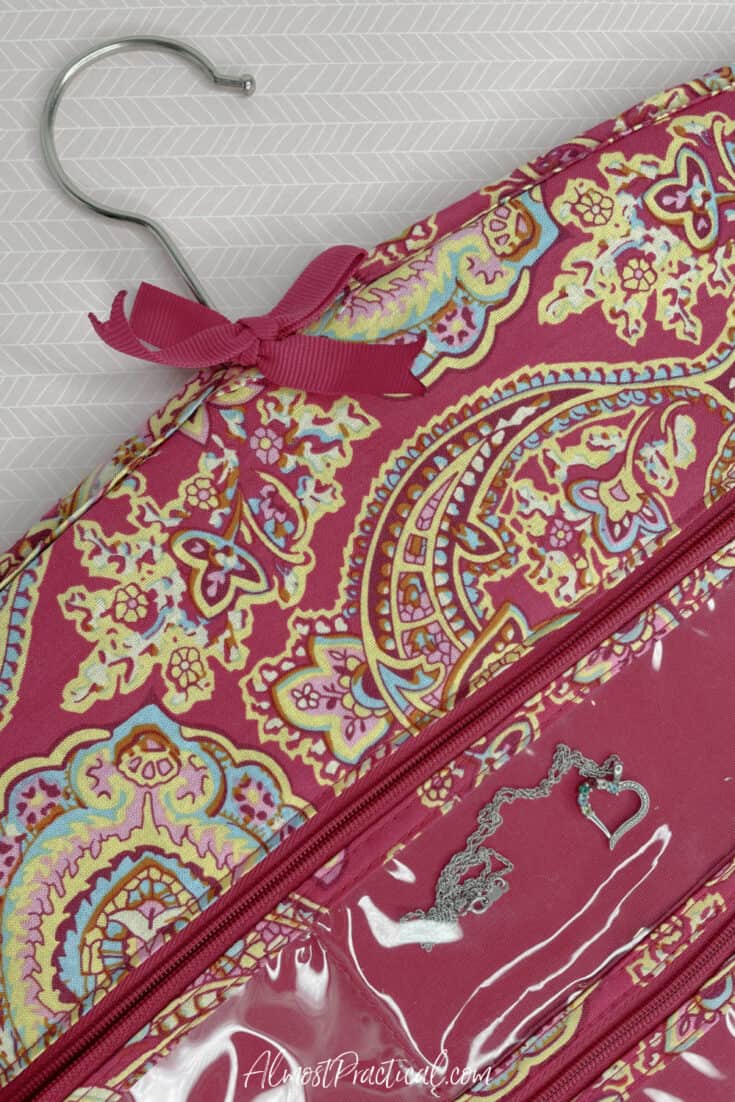 If you are going on a longer trip or planning a move, a hanging jewelry organizer is a great way to take all your pieces with you.
These organizer have several compartments to hold jewelry of different sizes.
I like the dual sided one below because one side can hold earrings and bigger pieces of jewelry while the other side is dedicated to packing necklaces.
The necklace side has individual vertical compartments with loops which you thread the chains through.
Each row also zippers shut so nothing will fall out – which is great for peace of mind.
It easily rolls up to fit inside your suitcase – but keep in mind that it will be large and take up a good amount of space.
At your destination you can hang the organizer on a closet rod (just don't forget to repack it into your luggage when you leave!).
Our Pick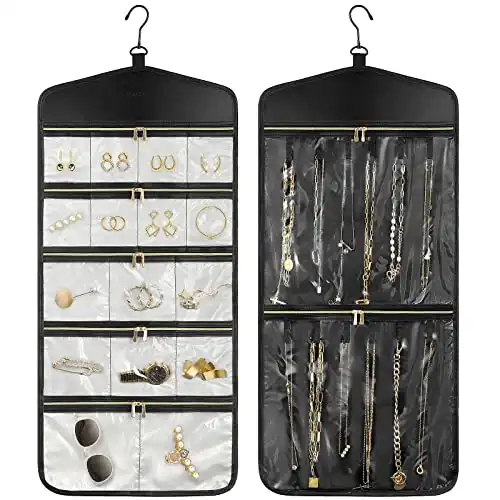 Hanging Jewelry Organizer
This dual sided hanging organizer has square compartments on one side in various sizes and vertical slots with loops to hold your necklaces on the other. Each row zippers shut so you nothing falls out.
Buy Now
4. Small Travel Size Containers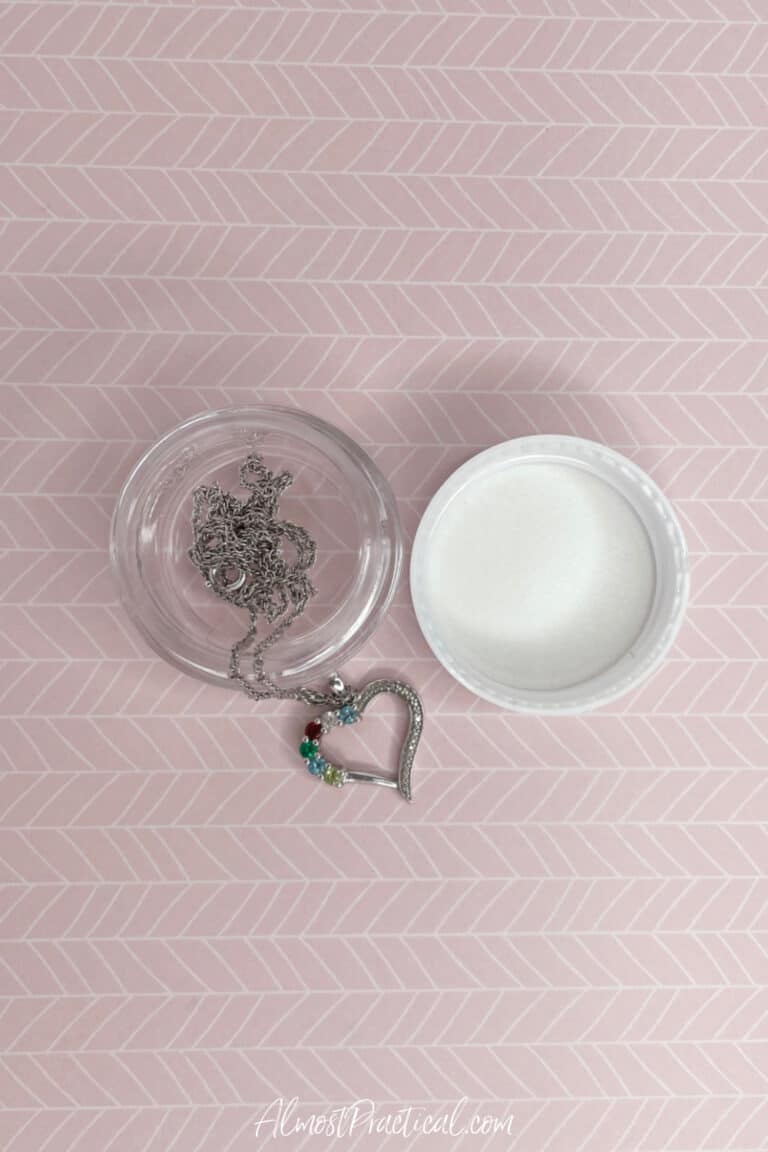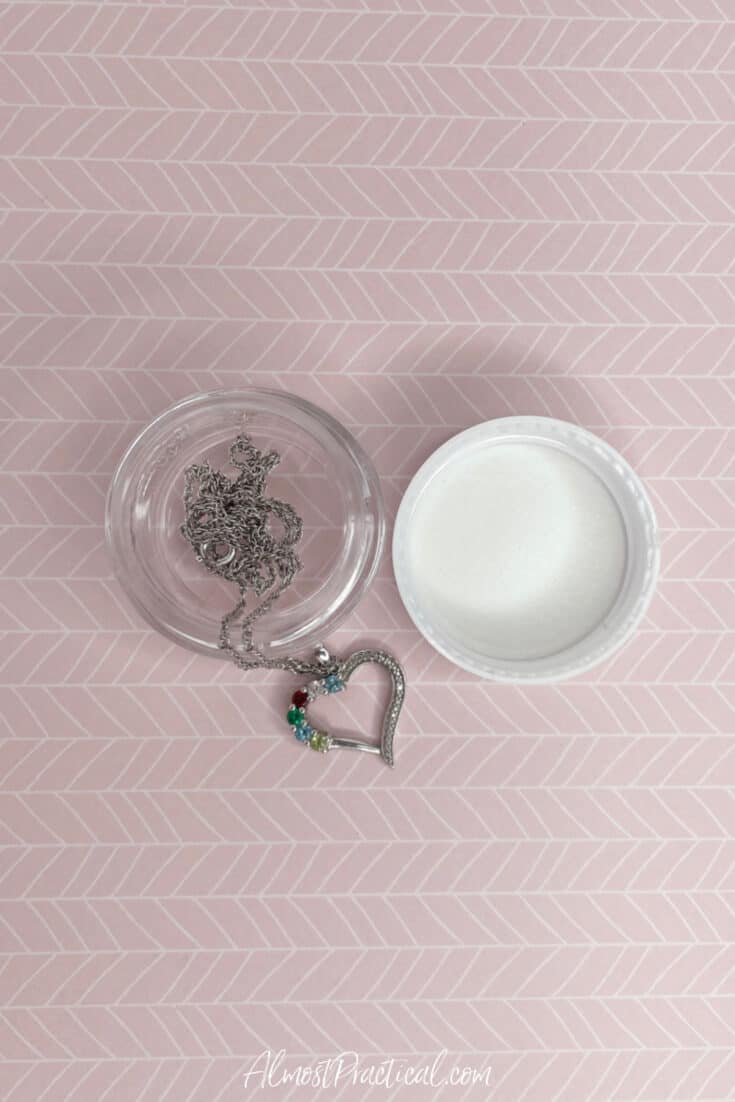 Before I got my travel jewelry box, I would use small travel sized containers to hold my jewelry when I traveled.
I would use one jar for earrings and another for necklaces, etc.
Overall, this was better than just tossing jewelry into my toiletries bag, but my necklaces still got tangled and I couldn't fit bigger pieces or awkwardly shaped jewelry in them.
Our Pick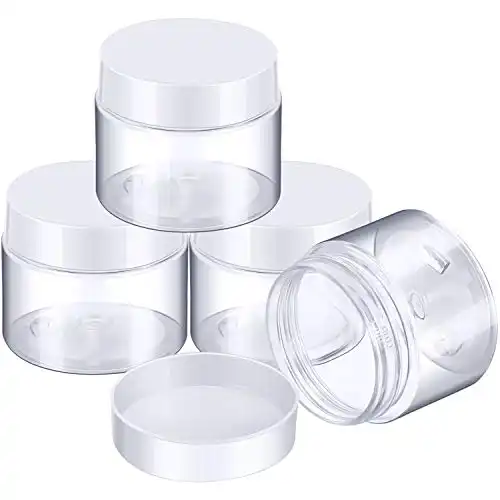 5. Organize Necklaces With Drinking Straws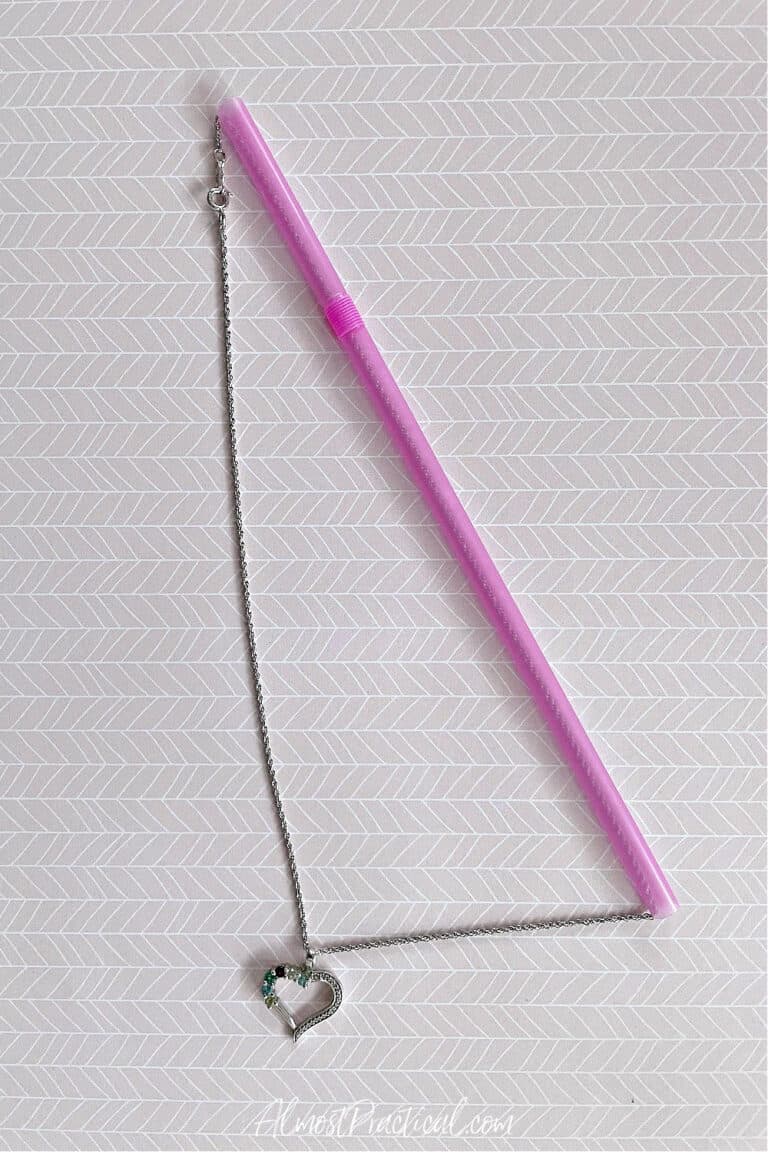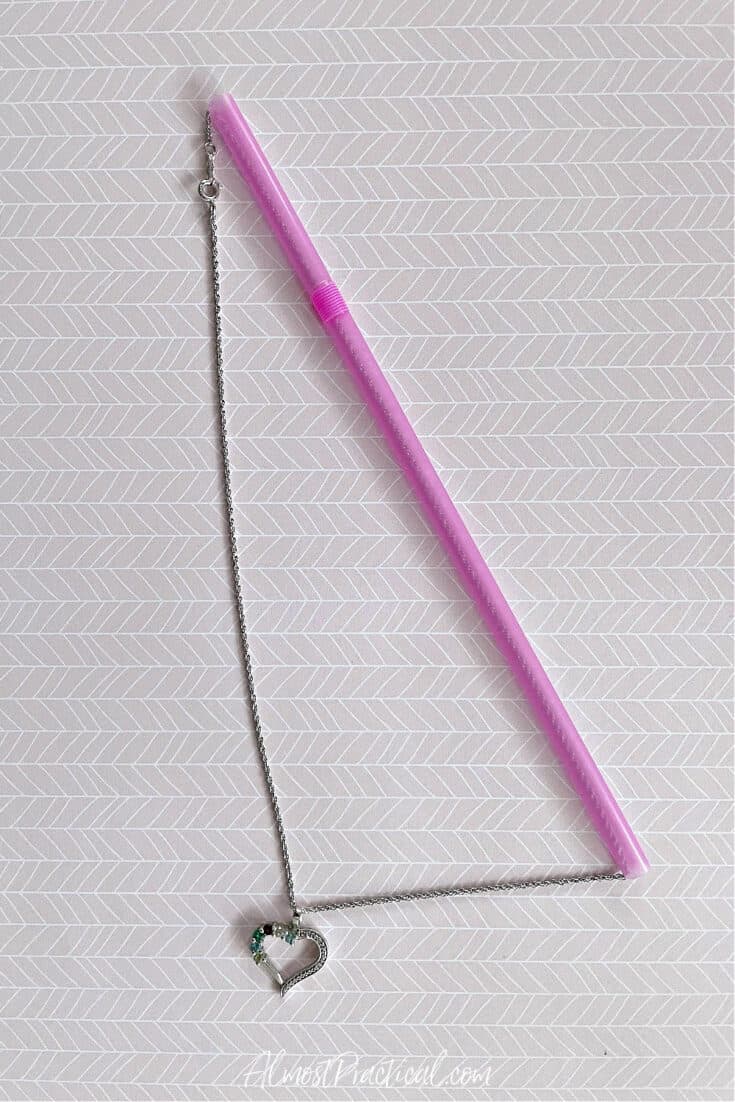 A DIY method of packing necklaces is by using a drinking straw.
You simply open the clasp on your necklace and thread the chain through the straw. Then you reclasp the necklace closed.
The straw is like a tube for the chain and keeps it from getting tangled.
This is a great way to use up old plastic drinking straws that you might have lying around the house. But if you don't have any, paper straws are an affordable alternative and are readily available.
The advantage of using straws to pack necklaces is that you probably have some in the house, so it's easy to do.
But on the other hand, the process is a little time consuming if you are on the go – and you may just resort to tossing your necklace in your bag without threading it through the straw. And this kind of defeats the purpose.
Our Pick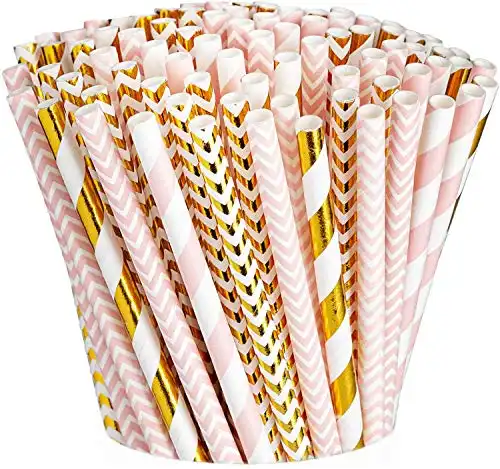 Pink & Gold Paper Drinking Straws
Did you know that you can use these pretty paper drinking straws to pack your necklaces when you travel? Simply thread one end of the chain through the straw and close the clasp.
Buy Now
6. Wrap Necklaces in Plastic Wrap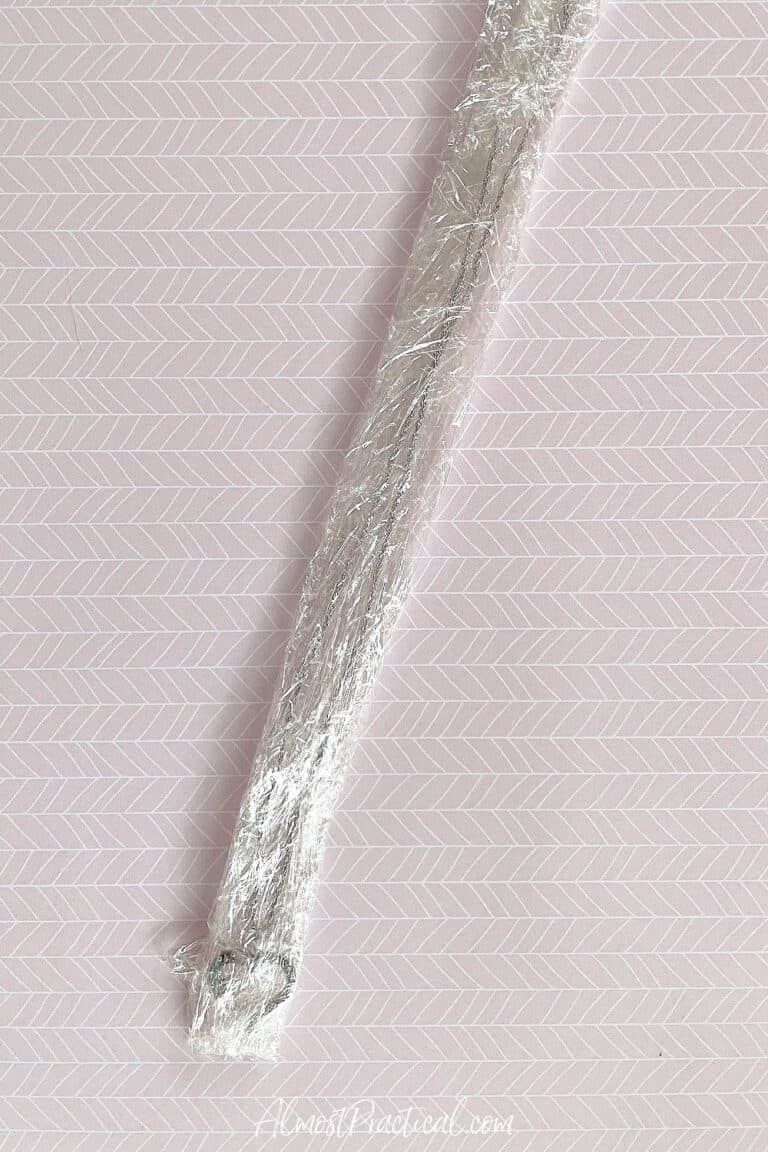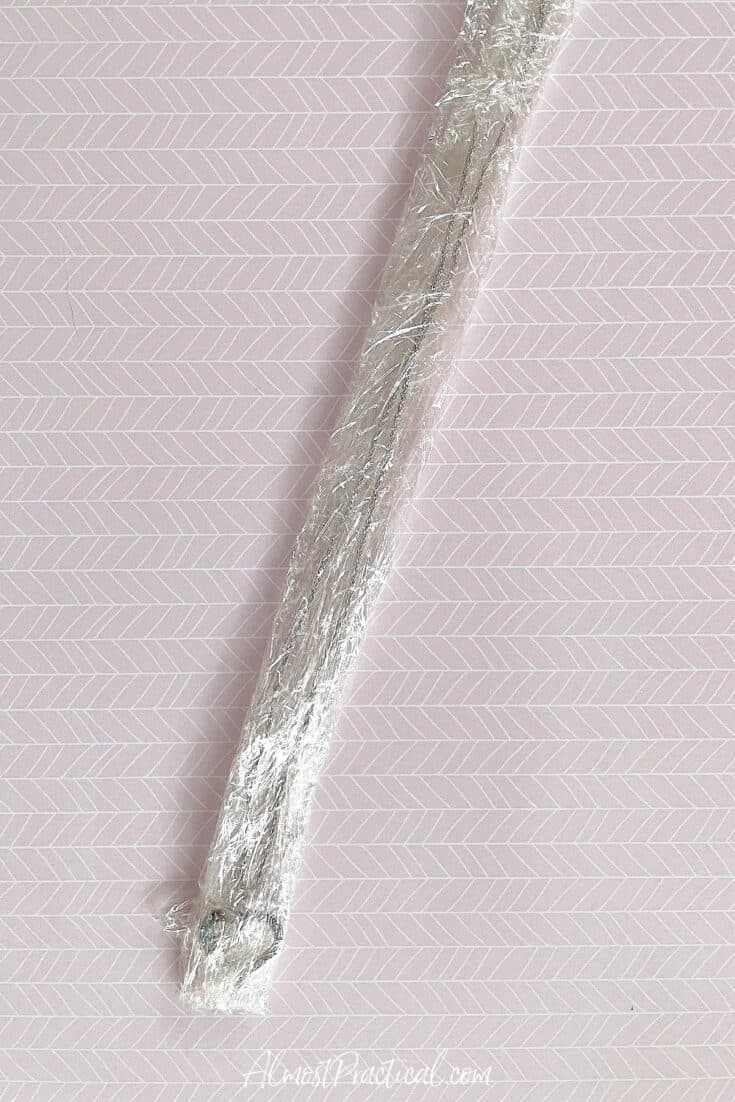 Another hack for packing necklaces is to wrap each one individually in plastic wrap.
This is another item that most of us have in our kitchens.
You just tear off a section and lay your necklace on it with the chain clasped closed but stretched out to its full length.
Then simply roll up the necklace in the plastic wrap similar to the way you would wrap your leftovers.
The pros are that you most likely have plastic wrap.
However, I would be worried that I (or a family member or even housekeeping at a hotel) might throw away my necklace because they think that the little piece of balled up plastic wrap is trash.
Also, after having tried this, I found that it is really hard to unwrap your necklace when you need it.
So, I won't be using this method to pack my necklaces.
7. Folding Jewelry in a Washcloth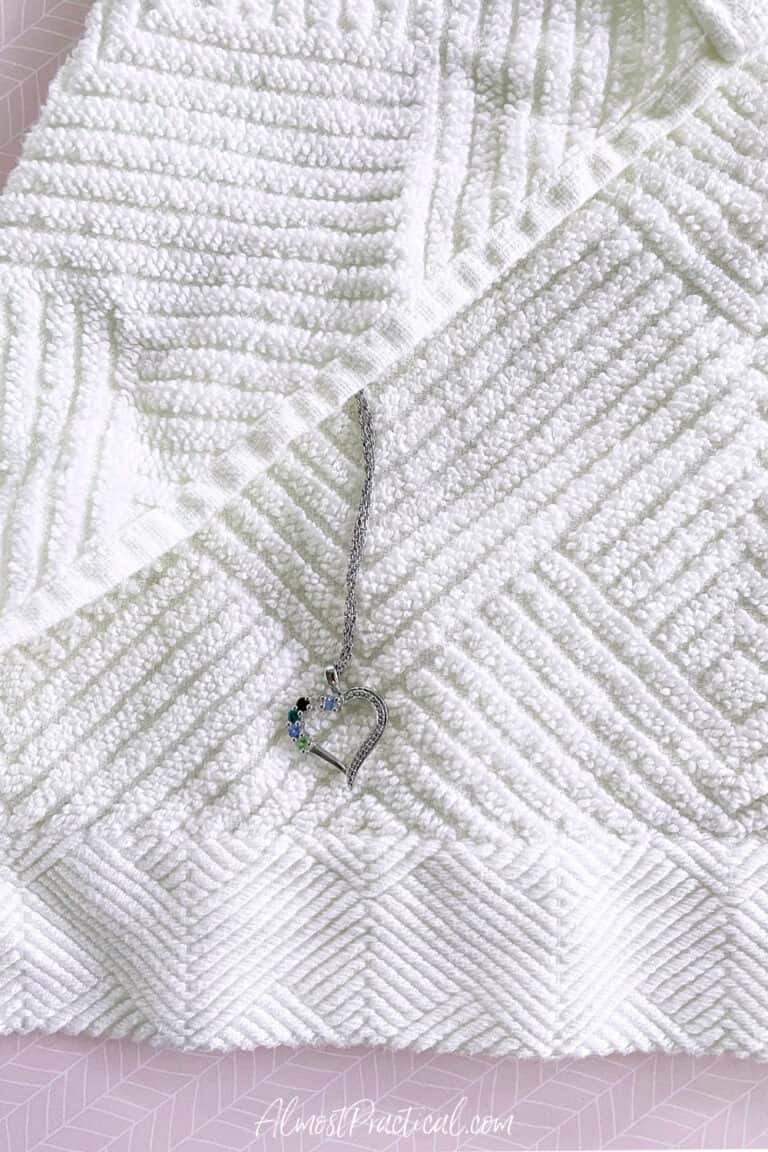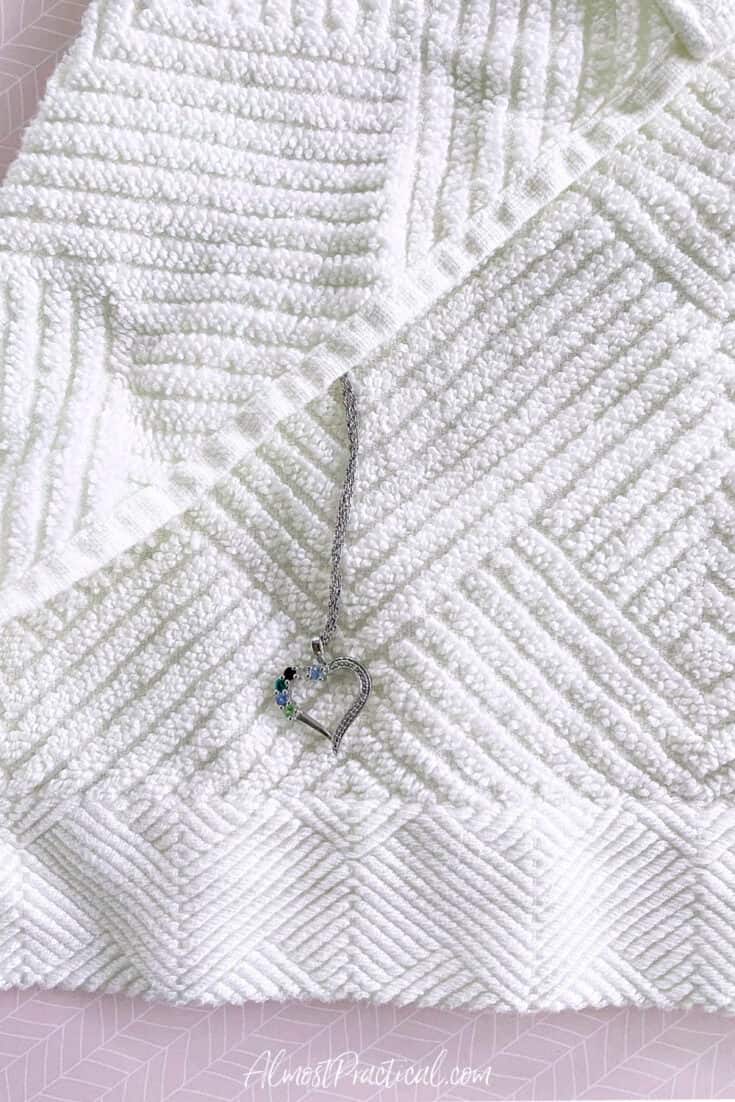 Another common practice is to fold your necklaces into a washcloth.
Personally, I don't like this method because I feel like you can lose your jewelry easily this way.
Certainly, the softness of a washcloth will protect your items, but the chains of your necklaces will still get tangled.
And, if you mistakenly unfold the washcloth without realizing there is jewelry in it – then the pieces will spill out all over the place.
Also, if your washcloth happens to be white – it could get mixed into the hotel laundry and that would be a disaster.
I think even a small baggie would be a better option.
Which Method of Packing Necklaces is Your Favorite?
As you can see, there are lots of options for taking your necklaces with you when you travel.
You can use a travel jewelry box, necklace roll, or hanging organizer.
Or you can DIY it by using a few resources that you probably already own – like a drinking straw, plastic wrap, or a washcloth.
If you have a unique way of packing necklaces for travel – I would love to hear about it in the comments below.
More Travel Tips