Cosmiya Travel Jewelry Box Review
This post may contain affiliate links which means I make a commission if you shop through my links.
 Disclosure Policy
Disclosure: Product for this post was provided by Cosmiya. All opinions are my own.
The Cosmiya travel jewelry box is the perfect way to keep your jewelry organized when you travel. As far as travel accessories go – this is one of the most useful items that I will now be using.
With plenty of space for your earrings, necklaces, watches, rings, bracelets, and other jewelry items – you will have peace of mind that everything is in once place when you are on the road. This is my review.
You can find the Cosmiya Travel Jewelry box here on Amazon.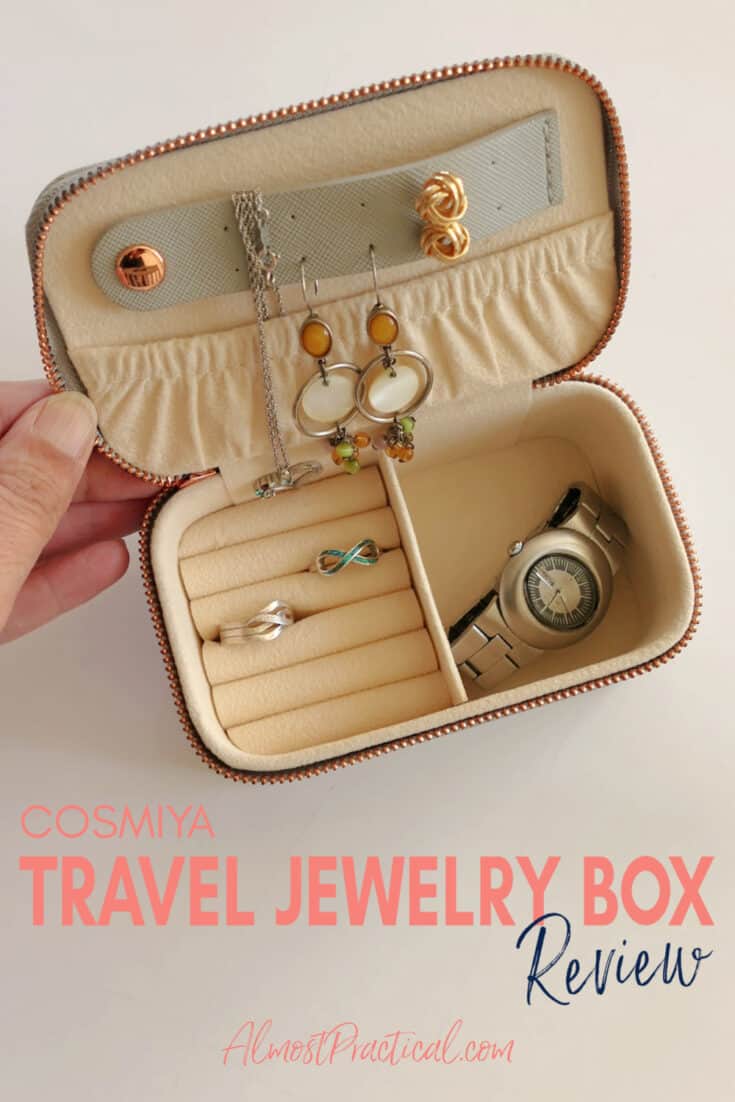 Why You Need a Cosmiya Travel Jewelry Organizer
I was so excited for the opportunity to review the Cosmiya Travel Jewelry Box because I have been looking for something like this for a long time.
Before trying out this jewelry box, my method of organizing my jewelry while traveling would usually involve either a snack size zip top baggie or a small food storage container.
It was the worst.
The chains of my necklaces would get all tangled, my earrings would get lost in the jumble, and everything was a big mess. When I tried to unknot my necklaces, earrings or rings would fall out. So, I would take to leaving pieces in my make up bag or loose in my suitcase so I could grab them more easily.
All of this disorganization made me very worried that I would lose something or forget something, and that's not really a nice, relaxing way to travel.
While I don't usually travel with valuable jewelry, I certainly don't want to misplace my costume pieces either.
The Cosmiya Travel Jewelry Organizer solves this problem by providing an elegant box that zips shut and has plenty of compartments for all the different types of jewelry that you may have.
Our Pick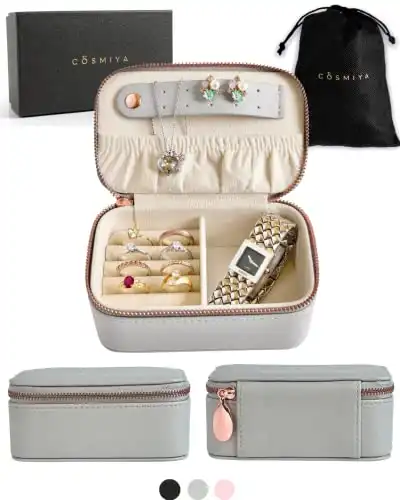 What Is In The Box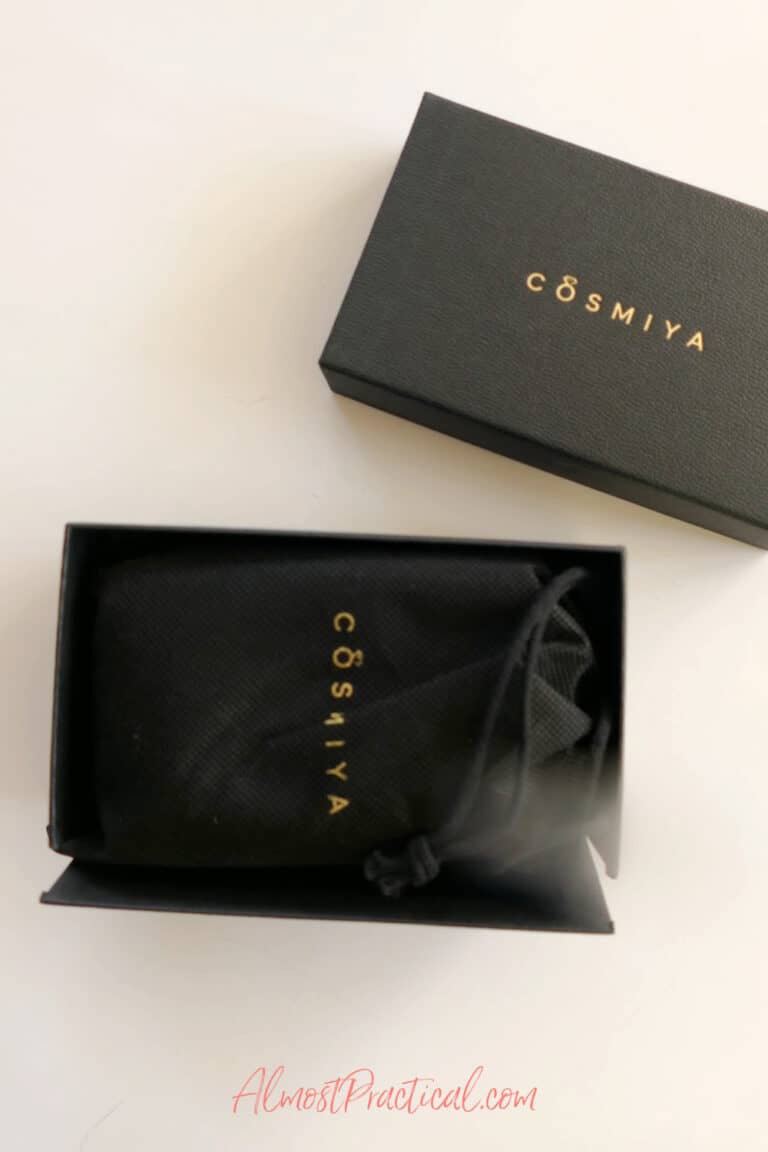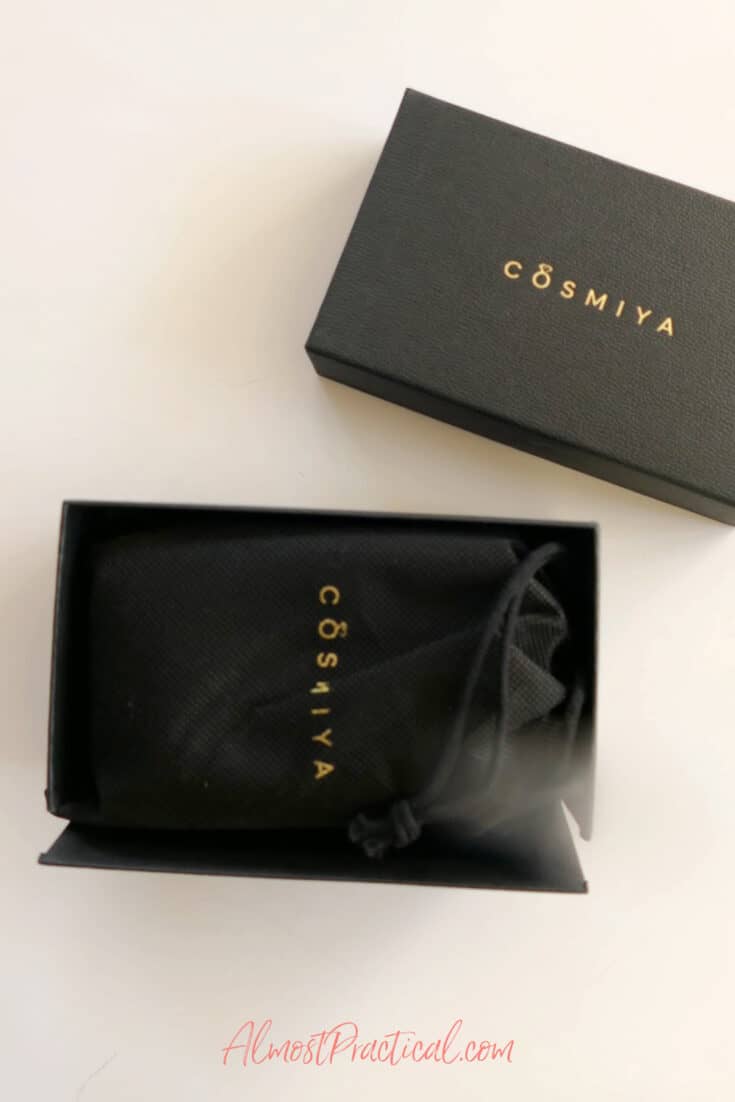 The Cosmiya Travel Jewelry Box comes beautifully packaged in this black outer box with a beautiful inner box as well.
The jewelry box itself is inside a dust bag. It is so nicely put together and would make a great gift.
Exterior Features of the Cosmiya Travel Jewelry Box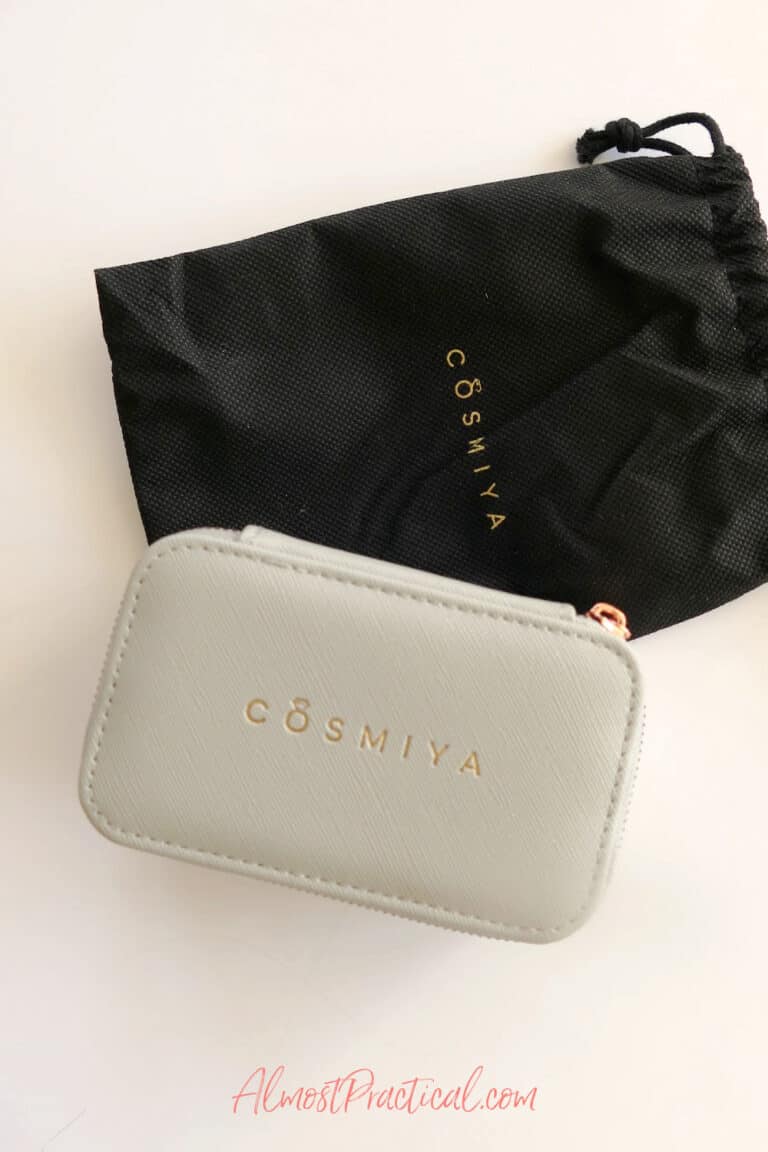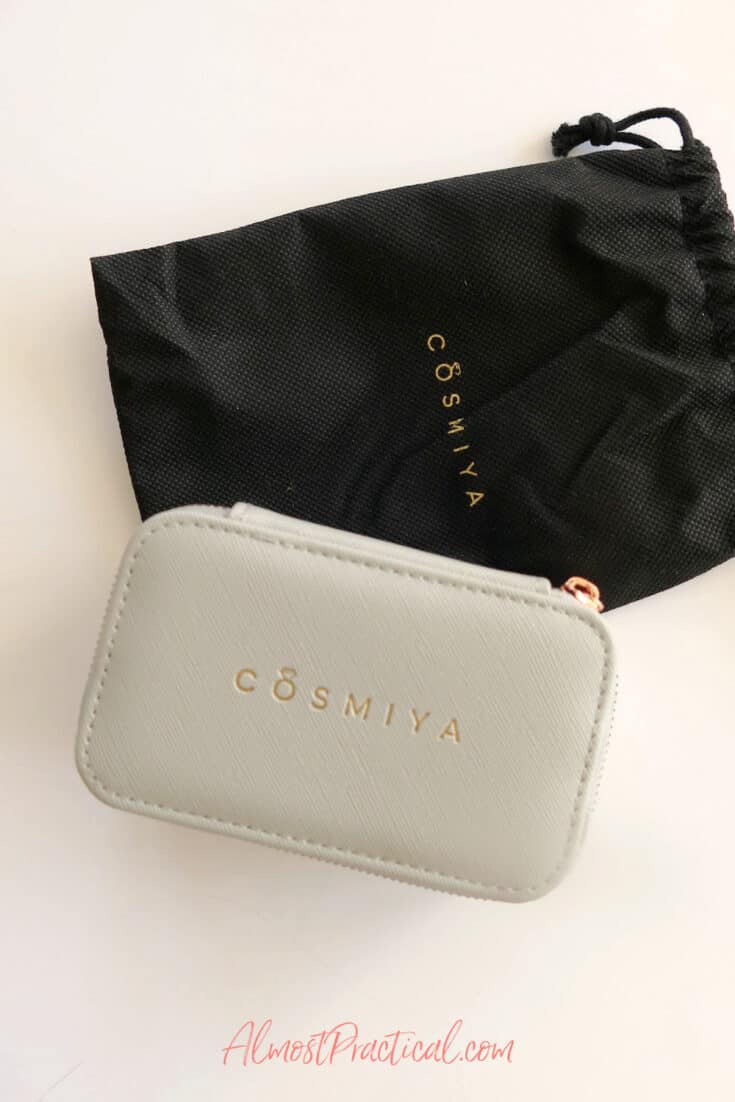 On the outside, the Cosmiya Travel Jewelry Box is made of a vegan leather material with a metal zipper and zipper pull.
I chose the light gray color box – but it does come in three different color options:
Black,
Pink,
or light gray.
The light gray a rose gold zipper pull and the zipper itself are in a rose gold.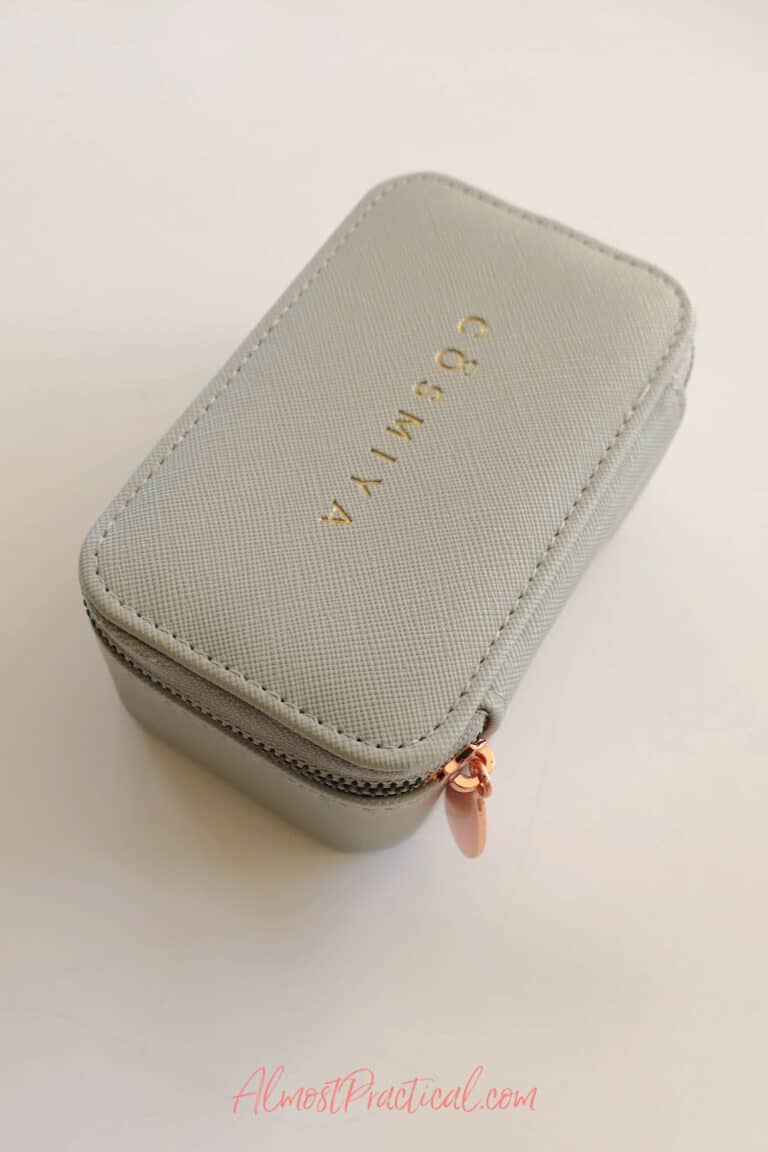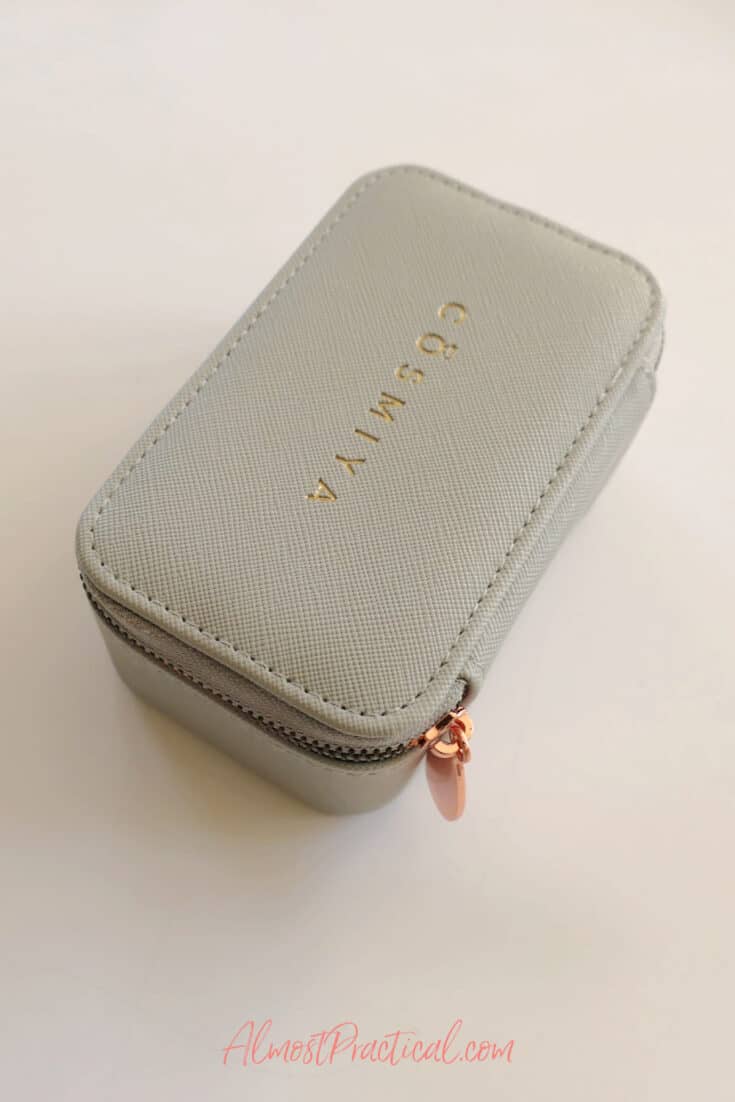 It seems to me when I'm looking on the website that the black and pink boxes have a gold pull. I'm not 100% sure, though, so I would definitely see if that's in the description if it makes a big difference to you.
Interior Features of the Cosmiya Travel Jewelry Box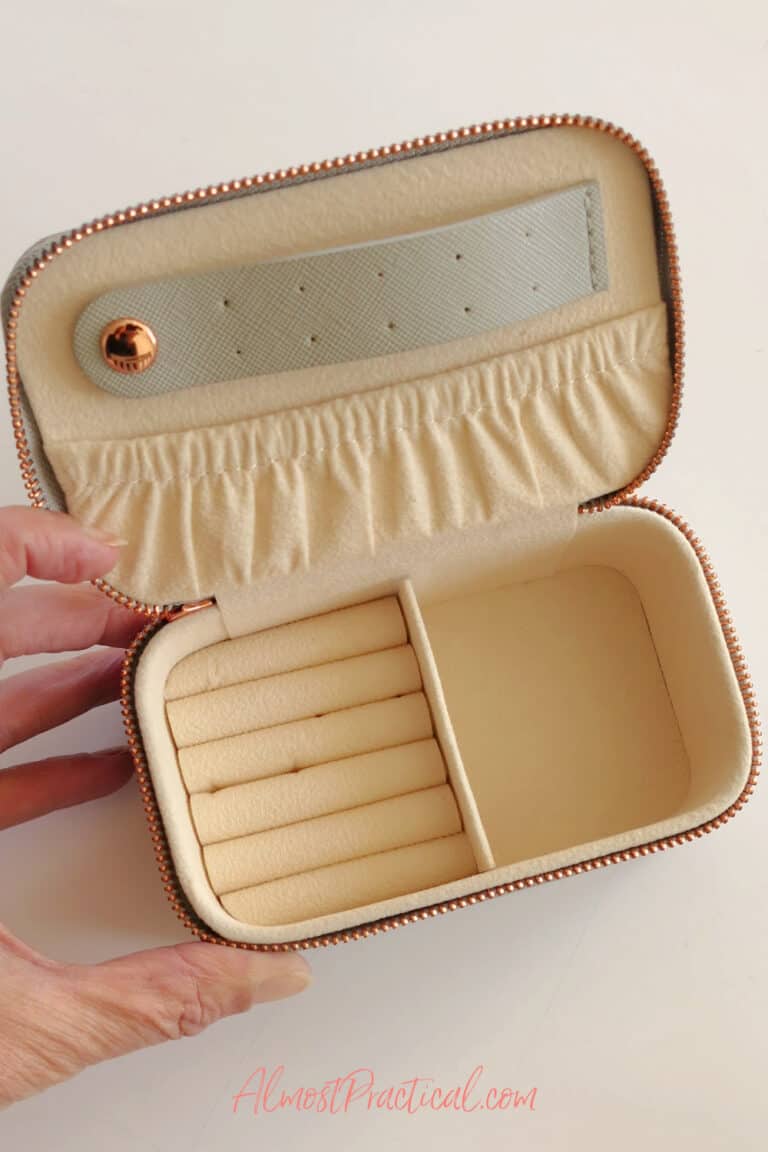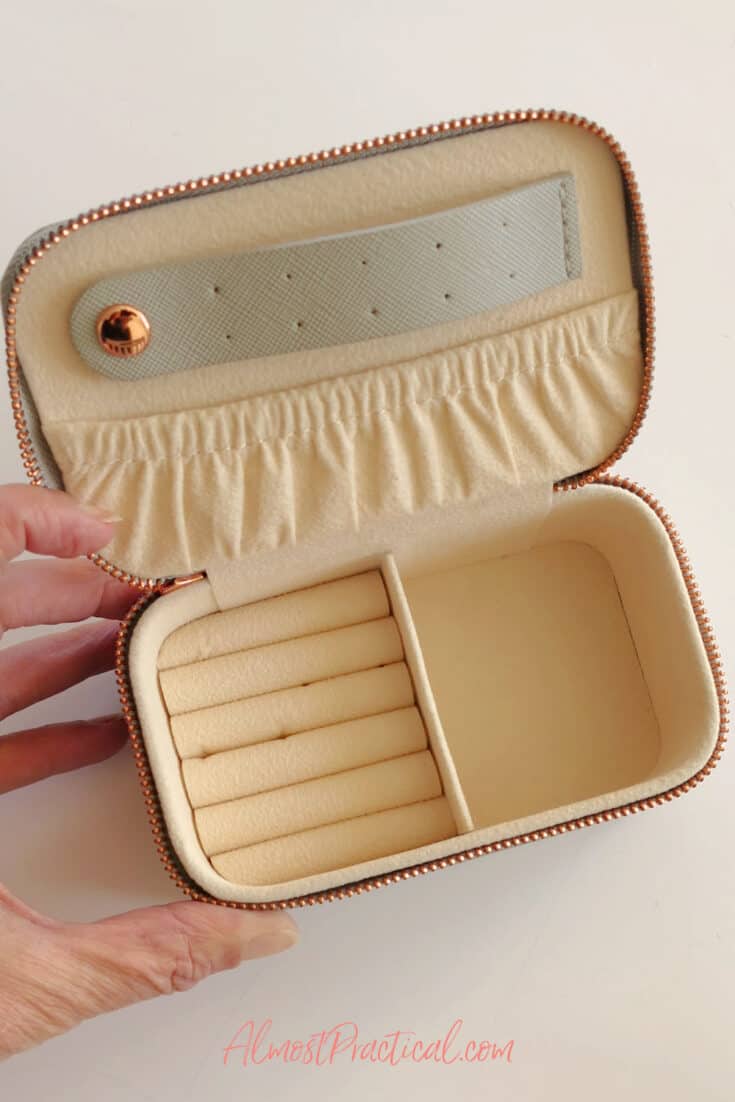 Inside, the Cosmiya Jewelry Box is lined with a soft, creamy colored, faux sued material.
The light interior color makes it really easy to see what's inside so you don't "lose" your pieces inside the box.
On the inside of the lid is a perforated strap with a snap closure on one end.
You can "pin" or attach your earrings through the perforations on this strap to keep them organized. Both stud style earrings and small to medium sized dangly earrings would fit here nicely.
You can also drape your necklaces over this strap and tuck the ends into the elasticized pocket below to keep them from getting tangled. In fact, of all the ways to pack necklaces for travel, this happens to be my favorite.
The box itself is divided into two compartments, one side has a built in ring organizer and the other side is an empty compartment that is perfect for storing watches and smart watches.
You can also use this area for chunkier necklaces and earrings.
The box itself zips shut to keep your jewelry contained when not in use.
Why Did I Not Get This Sooner?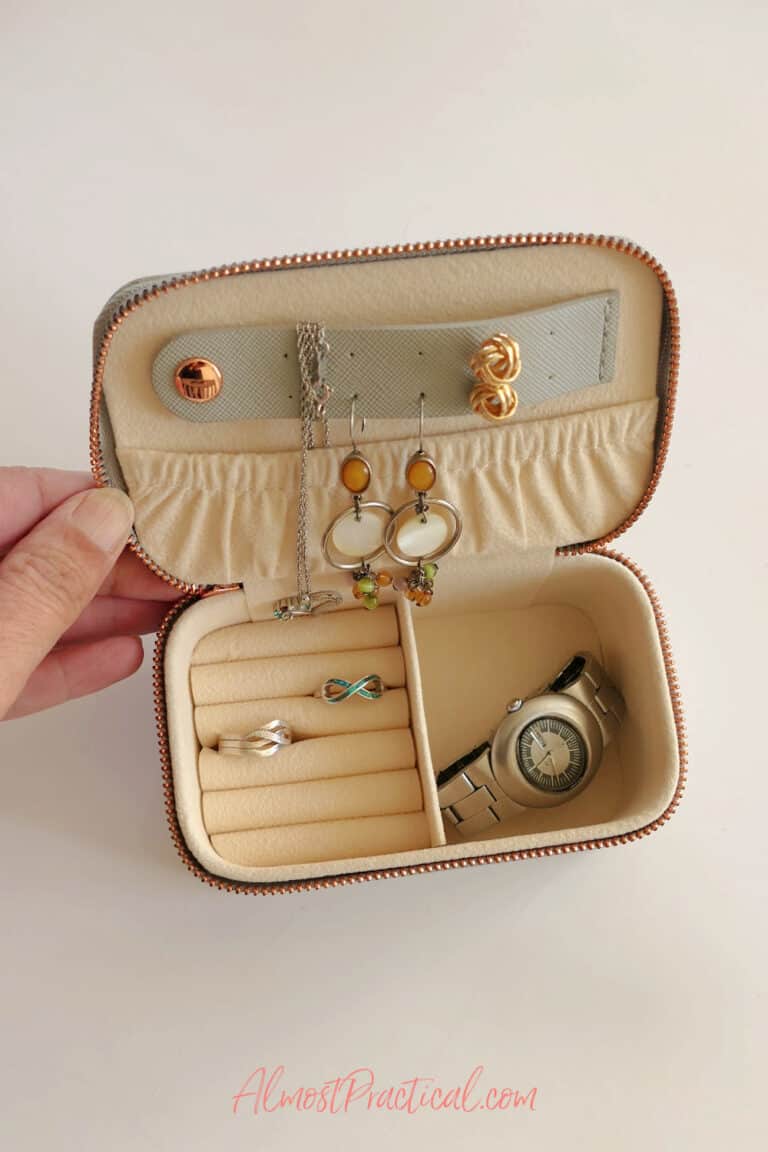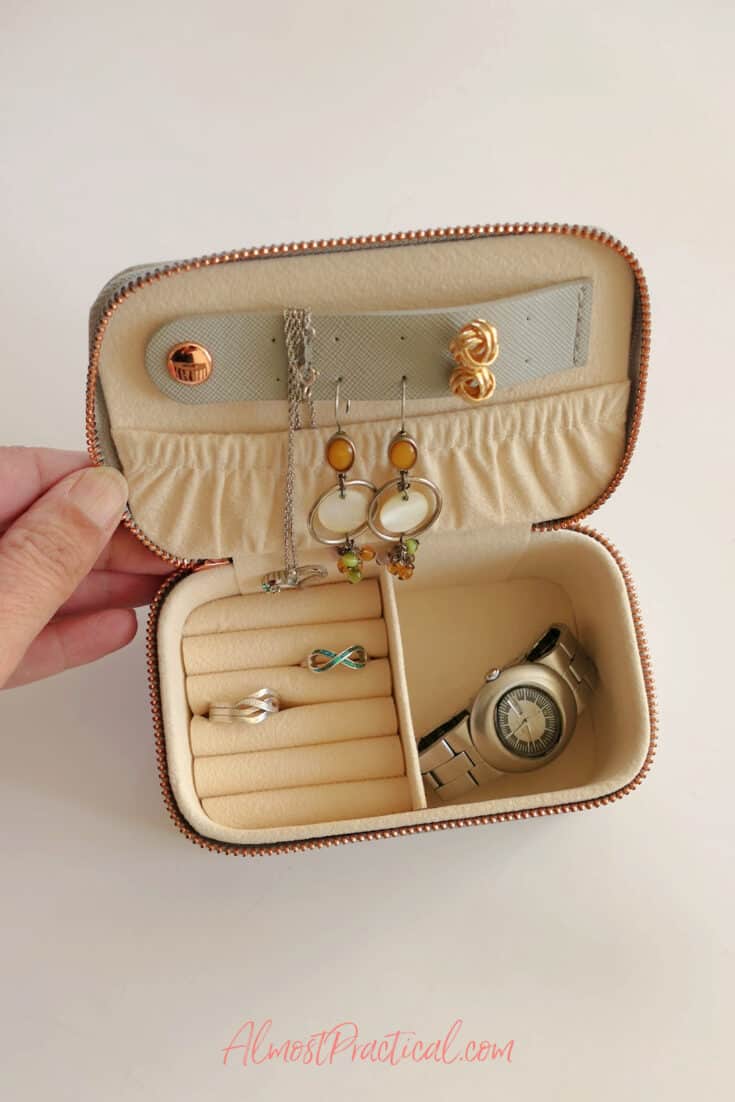 For someone who loves all things organizing, the Cosmiya Travel Jewelry Box is something I wish I had gotten many trips ago.
It is a great way to organize a variety of pieces and styles of jewelry.
By having a designated place for everything, it gives me peace of mind that I am not leaving anything behind when I travel.
In fact, I think I will be more likely to take more pieces with me on future trips because of this jewelry box.