5 Inspirational Self Improvement Books
This post may contain affiliate links which means I make a commission if you shop through my links.
 Disclosure Policy
I love reading self improvement books around the holidays. With the new year comes new possibility – a chance to wipe the slate clean and start anew.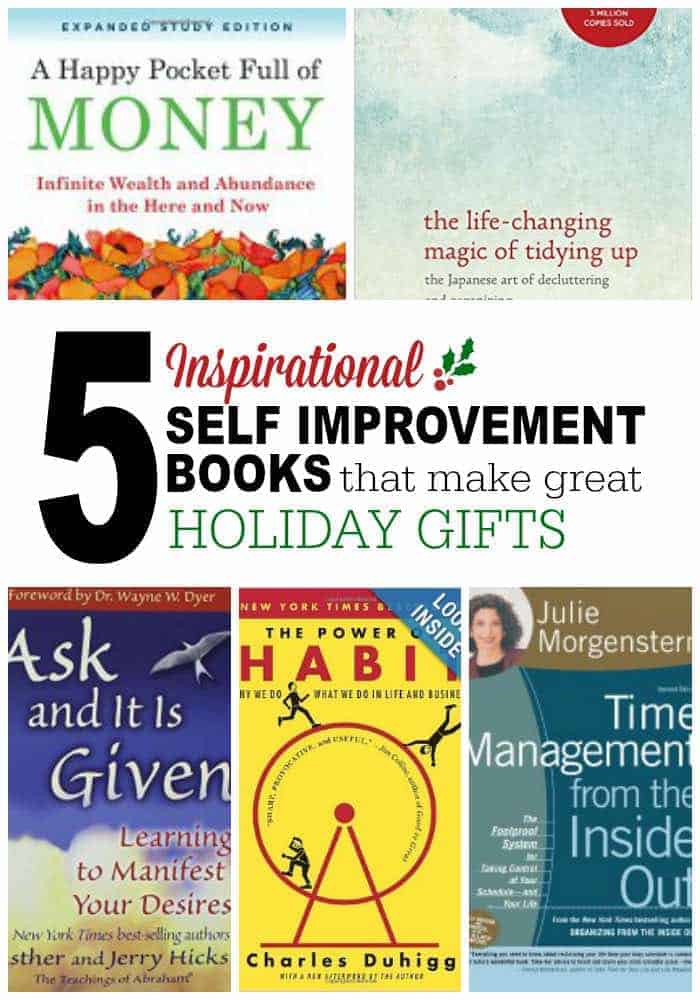 My goals may be a little lofty, but hey, why not?
These are 5 of my favorite self improvement books that would make great gifts this holiday season.
Trust me, that special someone will thank you.
The Power of Habit – Why We Do What We Do in Life and Business
The Power of Habit by Charles Duhigg continues to be one of my favorite self improvement books.
I know that I waste a lot of time. Busy-ness does not always translate to productivity.
So, once a year I revisit this book to get me back on track. It's all about creating great habits and sticking to them.
Ask and It Is Given
The book Ask and It is Given by Esther and Abaraham Hicks totally surprised me.
I'm all about mindset but this book was a little out there, even for me – so I was skeptical.
But wow! It turned out to be one of the most inspirational books that I have ever read.
By staying in gratitude and trusting your path, you really can manifest a lot. It is a good way to start the new year.
Time Management From the Inside Out
Time management books are my favorite. And Time Management from the Inside Out by Julie Morgenstern does not disappoint.
I was expecting some great productivity tips but instead found mindset yet again.
This book really combines concepts from the first two of my choices. Create great habits with a can do attitude.
The Life Changing Magic of Tidying Up
The book The Life Changing Magic of Tidying Up by Marie Kondo created quite a stir when it first came out.
It seemed a little extreme and more than a little odd. "Does it bring you joy?"
But the concepts are really solid.
I have always said – surround yourself by the things you love. And this book takes it one step further by telling you to get rid of the things you don't.
Obviously this has worked well for a lot of people because Marie Kondo now has a companion workbook called Spark Joy.
A Happy Pocket Full of Money
Oh yes! The book A Happy Pocket Full of Money by David Cameron Gikandi is a little abstract but oh so fantastic.
Oddly enough, when I put the concepts to the test – they work.
Maybe it's a self fulfilling prophecy but I figure it can't hurt to believe that you already have everything you ever wanted.
Only good things can come of that, right?
If you are not quite sure what I am talking about – I don't blame you. It's a long story – so read my review here to understand it better.
Your Favorite Self Improvement Books?
I am sure, in fact, I am certain that you have a few favorite self improvement books that you can add to this list.
Tell me which books inspired you the most this past year in the comments below.