The ONE Thing by Gary Keller and Jay Papasan – Book Review
This post may contain affiliate links which means I make a commission if you shop through my links.
 Disclosure Policy
The ONE Thing by Gary Keller and Jay Papasan is a self help book about how to achieve your goals by prioritizing what you choose to work or focus on each day.  
The tagline "The Surprisingly Simple Truth Behind Extraordinary Results" had me hooked before I even turned the first page.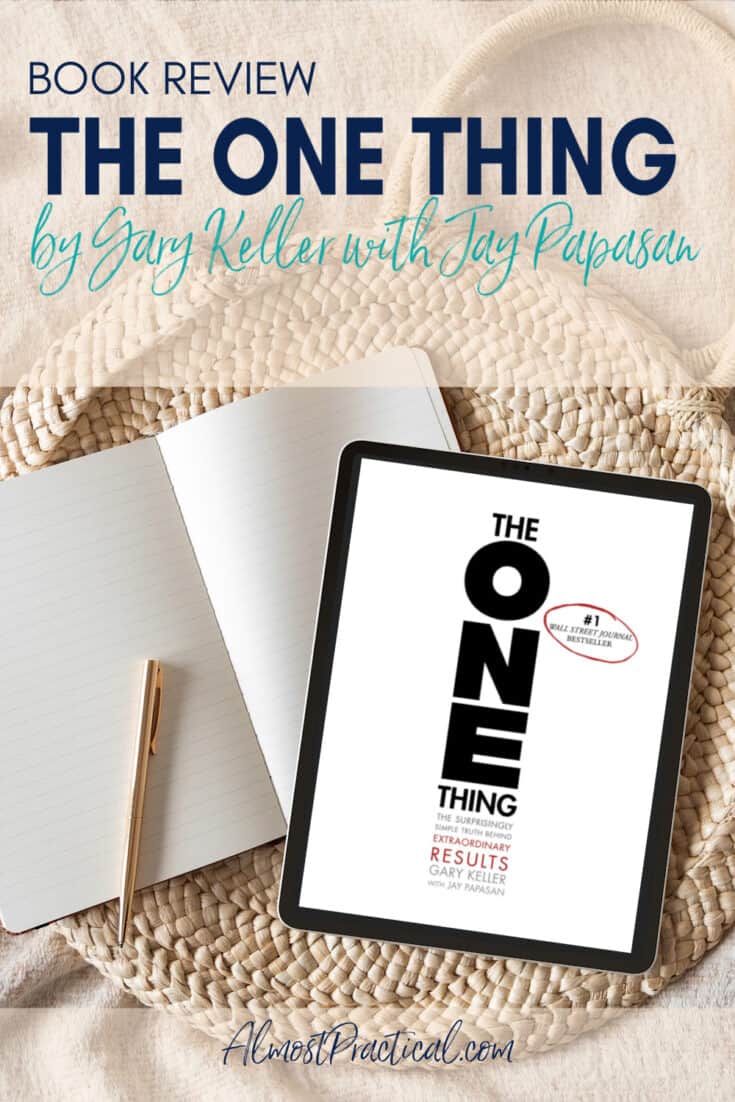 Are You Focusing on ONE Important Thing at a Time?
Life is busy. It often feels like an endless treadmill.
You make it through one day. Sleep. Rinse and repeat.
You manage to get things done, but getting ahead is just out of reach.
Why?
Why is it that some people accomplish so much in the 24 hours a day that they are given and others can just barely keep their head above the water?
I have pondered that question many times.
In this book – The ONE Thing the authors tell us that we feel this way, because we aren't choosing to do the most important things.
Guilty as charged.
Even though this book is only 133 pages long, it is packed full of insight into why taking on too much is keeps us from being successful.
Doing too much gets in our way of doing anything at all.
It tell us why we can't do it all and why we shouldn't try.
True to it's title, the authors recommend that we choose ONE thing that we want to accomplish and work towards that goal only.
Multitasking is a LIE
Part one of the book, The ONE Thing, sets the stage by breaking apart the conventional wisdom that multitasking is a good thing.
In fact, it's a myth.
Multitasking, discipline, balance and other "virtues" are not what they are cracked up to be.
Not every task is equal and:
doing the most important thing is always the most important thing
There are lots of wonderful insights like the above scattered throughout the book including my favorite explanation as to why some people accomplish more than others:
It's not that we have too little time to do all the things we need to do, it's that we feel the need to do too many things in the time we have.
So very true.
To Accomplish that ONE Thing You Need a Success Habit
As Part One of The ONE Thing focuses on lies, Part Two is all about truth.
In essence, being true to yourself.
After all, you alone are responsible for your successes and failures.
Developing focus and asking the right questions of yourself is the only way to accomplish a success.
If you don't know what you want – how will you achieve it?
Interestingly, Part Two also discusses the importance of habits which really ties into the previous self help book that I reviewed: The Power of Habit by Charles Duhigg.
That ONE thing that you need to do?
It needs to become a habit. A success habit.
How to Set Goals
Part three of book brings it all together with a drill down where you start with your long term goals and work your way back to the one thing that you should be doing right now.
This will bring you one step closer to your desired result.
Sounds great – but to accomplish that one thing you need to prioritize not only your actions but also – your time.
The authors of The ONE Thing advocate eliminating distractions and setting aside dedicated time on a daily basis to do what it take to accomplish your goals.
On some level, I think that we are all aware of this.
But seeing it in print is so helpful.
This book is particularly relevant when it comes to setting goals for the new year.
Think about it – how many times have you given up on that list?
My Takeaway from the Book – The ONE Thing
I am very much a linear processor.
As things come across my desk I want to deal with whatever it is and make it go away.
And while my desk might stay clear, everything that crosses it takes my time away from my personal important goals.
There is no shortage of things to do – but I need to be better at picking what to do.
I am also a procrastinator.
There are some tasks that I'd rather not do but are essential to my ONE thing.
The ONE Thing includes a very interesting discussion on willpower.
Certain tasks will drain you.
Doing these first, when you have the energy to do them is essential.
So, timing is also everything.
I am really glad that I read the book The ONE Thing by Gary Keller and Jay Papasan and hope to a lot of the principles into action.
Have You Read The ONE Thing?
I would love to discuss the book The ONE Thing by Gary Keller with Jay Papasan with you.
Do you multi-task or focus on one thing at a time? At the end of the day, do you feel you have been productive or are you frustrated?
Please leave a comment and tell me about the parts that have the biggest impact on you.