Goal Setting Strategies That Work
This post may contain affiliate links which means I make a commission if you shop through my links.
 Disclosure Policy
It's not enough to have goals in life. You need an actual game plan that works. Here are some ways to create goal setting strategies that you will stick with so you can achieve the things that you really want.
First we will start with a little background on setting goals and then outline ways to set yourself up for success.
What is Goal Setting?
In its simplest form goal setting is basically identifying an end result that you would like to achieve and creating a plan to make it happen.
The Importance of Goal Setting
Goal setting is important because creating a plan and monitoring your progress greatly increases your likelihood of success.
You may have heard the quote – "a goal without a plan is just a wish".
This means that you can have all the big ideas but if you don't outline the steps on how you will get there, then you will make very little progress.
When my son was little he would say that he wanted to be a millionaire when he grew up. It was cute, and it was a wish.
We all know the reality of improving your finances includes goals of bettering your education/training and budgeting your spending – among other things.
With goals and a plan of action, you are more likely to succeed!
3 Types of Goals
Generally, any goals you make will fall into one of three categories:
Outcome
Process, and
Performance
Outcome Goals
Outcome goals focus on the end result and are somewhat outside of control by the person setting the goal.
An example of an outcome goal would be "I want to finish first in a race."
You can work hard towards achieving the goal but ultimately factors such as the skill of your competition, outside weather conditions, your own health, etc will have an impact on whether you achieve the goal or not.
Process Goals
Process goals involve the steps you take to get you closer to your outcome goals.
You have a great deal of control over these.
For example, you may set a process goal of running 2 hours daily which would help you achieve an outcome goal of winning a race, or maintaining a certain weight, reducing blood pressure, etc.
Performance Goals
Performance goals are more personal in nature.
You may have a performance goal of running a mile in under a certain amount of time.
Although similar to outcome goals, the results are not influenced as much by outside forces.
How To Accomplish Your Goals
There are many methods you can use to accomplish your goals but they all based on goal setting theory that was outlined in this 1990 book by Edwin Locke and Gary Latham called A Theory of Goal Setting & Task Performance.
7 Steps of Goal Setting
According to this article on the Dale Carnegie blog, there are 7 steps to goal setting which I have summarized below:
Identify what is important
Create a goal and put it in writing
Identify your obstacles
Iron out a plan
Create a timeline
Carve out time to work on your goals
Have an accountability partner
What are SMART Goals?
You may have heard of the term SMART goals.
These are based on the 7 steps outlined above and SMART is an acronym for all the elements that your goals should include.
To accomplish your goals they need to be:
S – Specific
M – Measurable
A – Achievable
R – Relevant
T – Time Bound
Examples of SMART Goals
Let's take an example.
Let's suppose that you want to shed a few pounds.
You can't just say "I want to lose weight." This would NOT be a good goal.
A more realistic goal would be to say that "I want to fit into my favorite jeans so I need to lose 10 pounds over the next six months by exercising 4 times a week, eating salads for lunch, and only eating dessert once a week."
For the most part, this goal is SMART.
Specific – you want to fit into your favorite jeans.
Measurable – you want to lose 10 pounds, exercise 4 times per week, eat salad daily, dessert only once a week.
Achievable – assuming you have access to exercise and salad, this goal is achievable.
Relevant – is this goal relevant to your life right now? Is it something that you can and want to focus on?
Time Bound – you plan to accomplish your goal in 6 months.
Guided Goal Setting
Downloading and filling out my goal setting worksheets will get you off to a good start.
All you need to get started with setting goals is a notebook and a pen.
But sometimes it helps to have a little more guidance.
These planners can help to guide you through each step of the process:
You will find that the first 3 planners are all about setting your goals and identifying the tasks needed to accomplish them.
However, the Erin Condren Daily Intention Journal will help you identify your focus for each week and have you journal your progress daily. You can use this journal differently than a diary in that what you write can be directly related to the goal at hand and not necessarily life in general.
Goal Setting Worksheets
I also created a set of goal setting worksheets that can help you get started with goal setting.
They are simple to follow and for a limited time, you can get them for FREE by subscribing to my weekly newsletter.
Track Your Progress
One key element of goal setting that is easy to skip is tracking your progress.
Keep good records of what you do daily to get closer to your goal.
And monitor your progress at regular intervals.
In the weight loss example from above, it would be a good idea to keep track of daily meals and exercise.
It would also be beneficial to do a monthly weigh in so you can make sure that your plan is working and that you are on track to meet your goal at six months.
If you haven't made enough progress at your check in, then you know that you need to adjust your plan.
The opposite is also true, if you are way ahead of your goal then you can adjust your goal to be more ambitious.
Finding Motivation to Follow Your Action Plan
Finding motivation to stick with your action plan can be tough.
After all, most goals involve lots of hard work.
In his book The Best Year Ever – Michael Hyatt takes SMART goals one step further by creating SMARTER goals.
The E stands for Excite.
If your goals excite you – you are more likely to achieve them – so make your goals exciting, if you can.
Competition can also be a good motivator – whether you are competing with someone else or just with yourself.
And a little reward can go a long way to motivate you as well. Treat yourself to something you like or have been wanting once you accomplish your goal.
When is the Best Time to Set Goals?
The best time to set a goal is when you are ready to start working on it.
Although people typically will do their goal setting at the beginning of a year or quarter.
I like to set goals in January as part of my Get Organized Month routine.
The first week of the year I spend cleaning up after the holidays and week 2 is my time to focus on goals for the year ahead.
Goal Setting Books
I add lots of productivity related titles to my reading list.
This gives me new ideas on how to achieve my goals – and, more importantly, helps me to remember to continuously work on my own personal goals.
Some of my favorite titles and some that I want to read are:
Quotes on Setting Goals
Sometimes it is helpful to have a collection of goal setting quotes to keep you motivated.
Here are some that I like.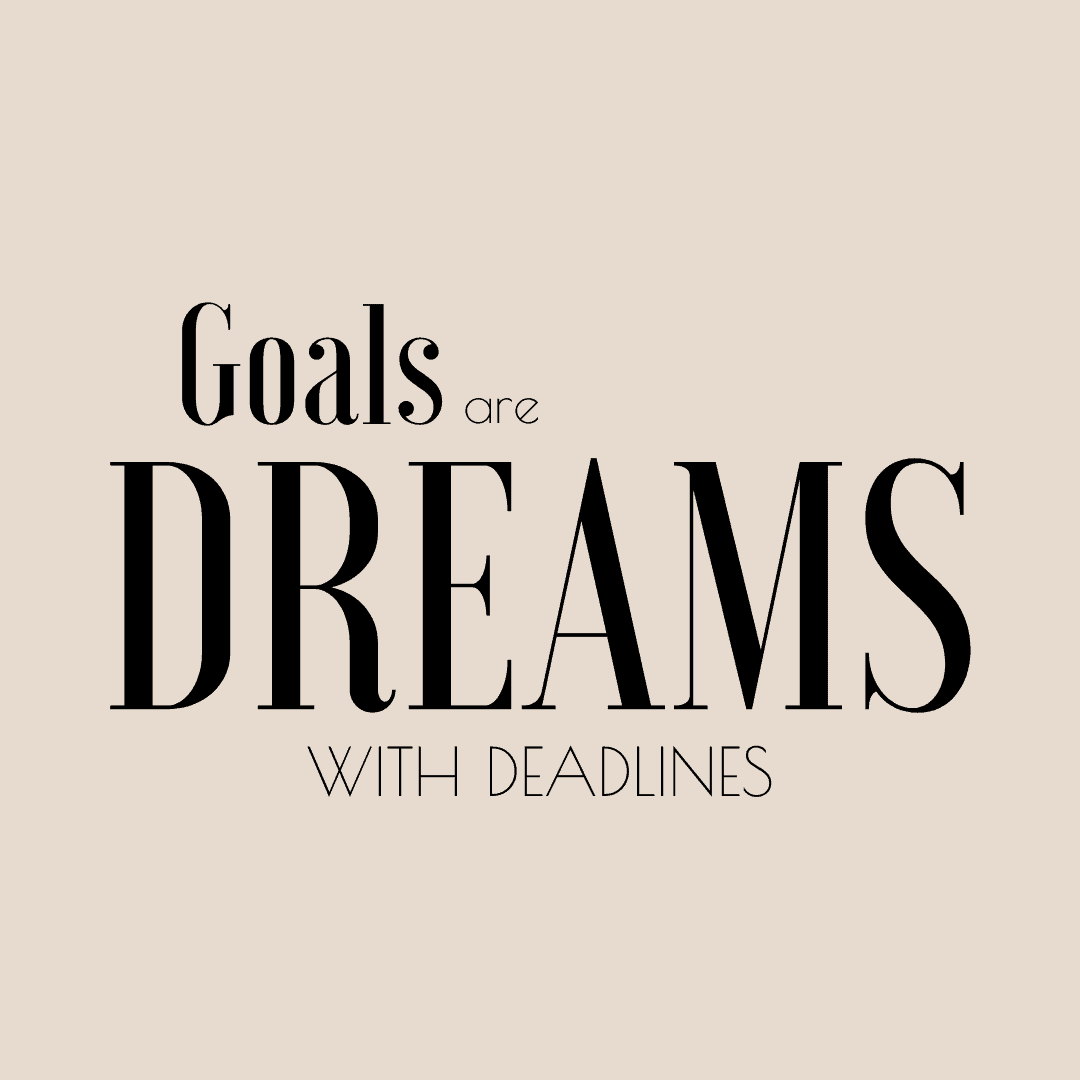 Setting goals is the first step in turning the invisible into the visible.

Tony Robbins
I don't focus on what I'm up against. I focus on my goals and I try to ignore the rest.

Venus Williams
Successful people maintain a positive focus in life no matter what is going on around them. They stay focused on their past successes rather than their past failures, and on the next action steps they need to take to get them closer to the fulfillment of their goals rather than all the other distractions that life presents to them.

Jack Canfield
You control your future, your destiny. What you think about comes about. By recording your dreams and goals on paper, you set in motion the process of becoming the person you most want to be. Put your future in good hands – your own.

Mark Victor Hansen
Discipline is the bridge between goals and accomplishment.

Jim Rohn
People with goals succeed because they know where they're going.

Earl Nightingale
What Goals Will You Set?
As you can see, goal setting is a very important part of setting yourself up to succeed.
Create SMART goals, track your progress, and stay motivated.
You can start with something small and work your way up to the really big goals that seem out of reach.
Rinse and repeat!