Planner Stack – July 2020
This post may contain affiliate links which means I make a commission if you shop through my links.
 Disclosure Policy
This is the first year that I started embracing the concept of a planner stack. But the stack that I put together in January isn't working for me anymore. The world has changed, and I have changed, too.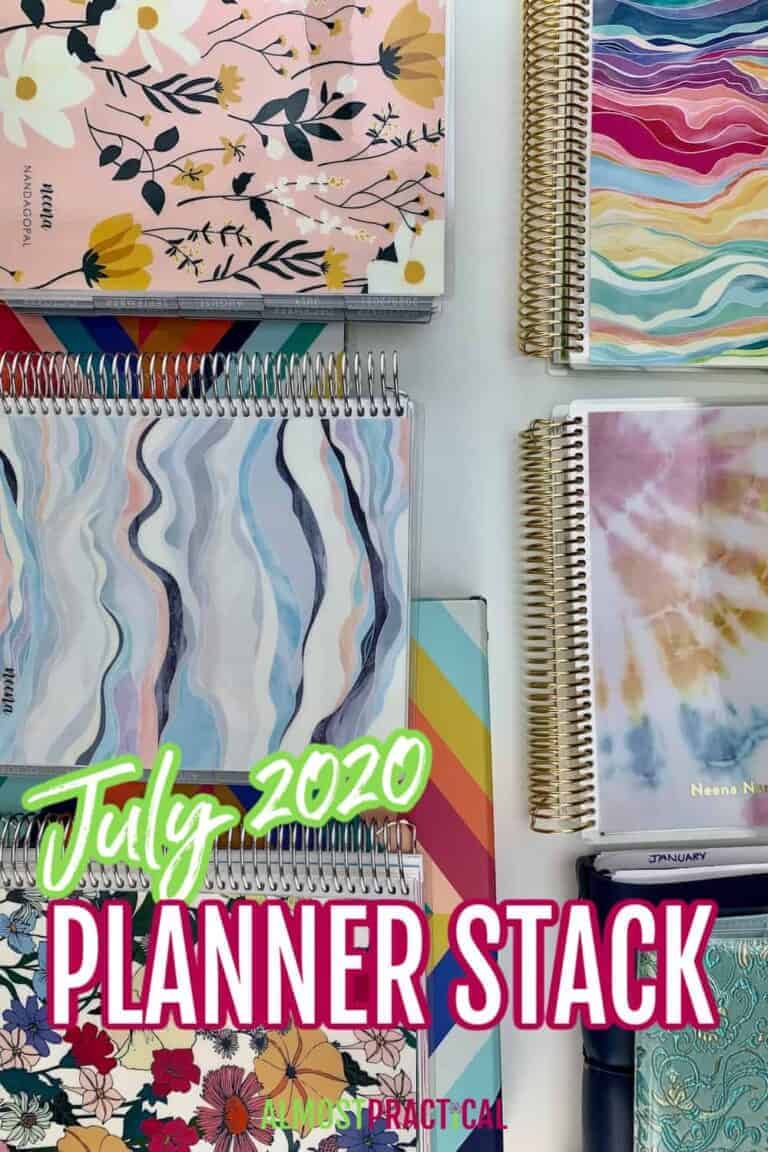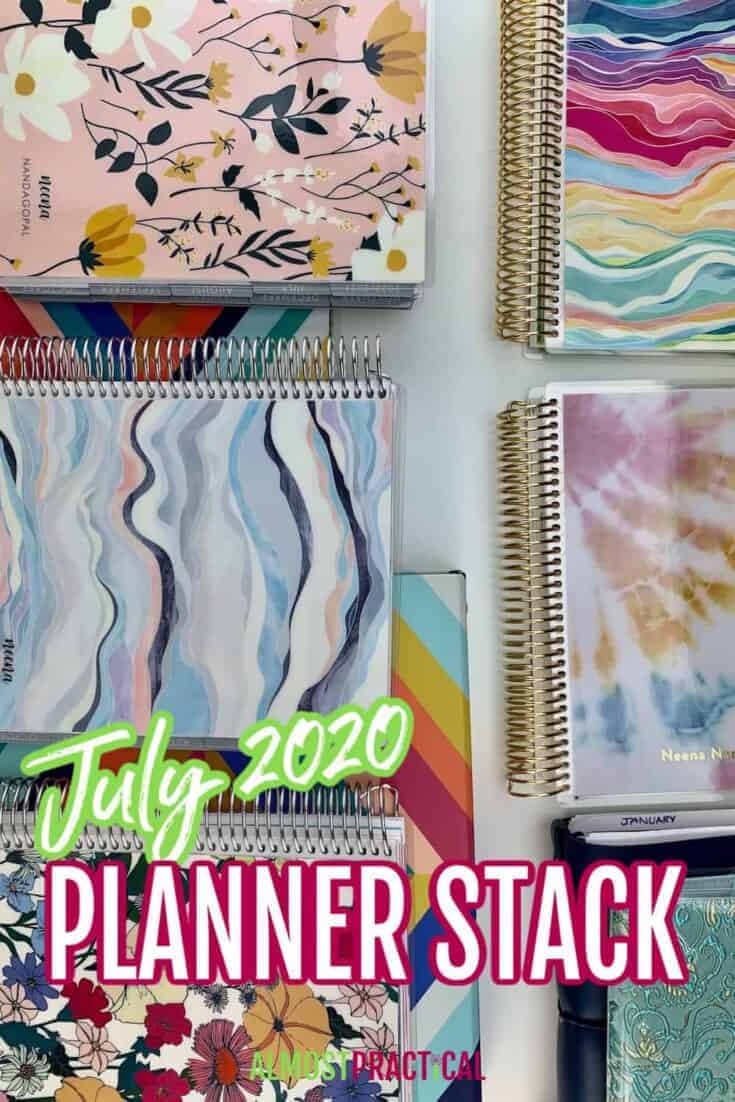 So in July, I am starting fresh with a new pile of planners to see out the second half of the year.
This stack includes 9 planners. Yes, I said NINE! Don't judge.
Seriously, I do have a plan for each one and I think it will work out well.
What Is a Planner Stack?
Some people use one planner for everything.
That was me.
But I found that wasn't working so well for me.
I try to compartmentalize my life.
At a minimum there are two calendars that I need to keep: home and work.
For me, work is my blog.
And my blog encompasses a lot of things:
my editorial calendar
tasks I need to do
social media
Email communication
YouTube videos
courses and learning.
On the home front, I need to keep track of:
the daily stuff,
household finances,
health
and a few memories too.
Throwing all of those things on one planner creates more mess and less order.
A better approach is to use a "stack" of planners to manage everything.
Each planner has a purpose.
Basically, you designate a different planner for each area of life that you need to manage.
For July 2020, I am putting quite a big group of planners into play. (It helps that I am a huge Erin Condren fan – because I love trying out many of the different planner layouts that she offers and using them in non-traditional ways).
Daily Duo – My Main Daily Planner
The primary planner that I will be using for the remainder of this year is the Daily Duo.
This is a one page per day planner that offers an hourly layout column as well as space for to do items and notes.
It's really roomy. (You can read my Daily Duo review here.)
In addition to the space, what I like best is that it is two six month books.
I like to hold onto my old planners to refer back to – and sometimes, with the 12 or 18 month books, I end up with blank months if I switch planners halfway through.
With the Daily Duo, I feel like that won't happen because I can easily make a six month commitment to a planner and then adjust course if necessary.
Erin Condren Teacher Planner Binder as a Household Budget Binder
Managing household finances and paperwork is a never ending job.
It's so easy to get disorganized.
For the remainder of 2020 I plan to use the Erin Condren Teacher Planner – Binder version for home finances.
I will use the columns for each of my different bank and credit card accounts and use the blocks to record transactions for each day.
Because this is a binder, I will add additional folders to corral my bills and I can also hole punch additional papers or documents and add them right in.
In the past I used a LifePlanner in the vertical layout as a budget binder and that worked out well too.
Erin Condren Teacher Planner Coiled as a Blog Editorial Calendar
I plan to use the Erin Condren Teacher Planner – coiled version for my blog editorial calendar.
Even though this planner is supposed to be for teachers, I think it works perfectly as an editorial calendar.
You can see a detailed review of the teacher planner here – but basically the weekdays run down the left hand side and there are columns that go across the top.
I will use one column for each blog post that I am working on during that week and use the blocks to record my daily progress and track things that still need to be done.
Unfortunately, I will have to wait until August because I ordered an August start instead of a July start (what was I thinking?!).
Erin Condren LifePlanner Hourly for a Social Media Calendar
As a blogger, social media is necessary but tough.
It takes a huge amount of time.
I am also more of a introvert so sharing social updates doesn't come naturally.
To plan out my social shares, I decided to use the Erin Condren Hourly Planner in the Flower Power design.
The two page per week layout lets me see the whole week at a glance so I can easily fill in gaps with new content.
Erin Condren Monthly Planner for Email Marketing
I keep in touch with my readers via email (you can subscribe here if you would like).
Typically I send one to two emails a week.
This communication also requires some planning.
I will be using the new Erin Condren Monthly Planner to map out the content and keep track of dates and campaigns.
You can see my Erin Condren Monthly Planner Review here.
Erin Condren Monthly Planner for YouTube Videos
This year I have been really working on my YouTube channel.
But I have found that I need a place to plan my videos and keep track of the media that I have already recorded but not yet published.
Can you believe that I will record videos, forget all about them, and never actually publish them? Crazy!
I decided that perhaps a planner could help me in this area.
So, I will be using a second Erin Condren Monthly Planner to manage this.
Erin Condren Academic Planner Coiled for Courses and Learning
I don't know about you, but I take a lot of online courses.
Many are for my blog, but I also like to learn new ways to use my Cricut machine, and also explore new craft and DIY type hobbies.
But, it is really easy to start a course and never finish.
So, I will be using the new Erin Condren Academic Planner to help me stay on track.
Again, this is a non-traditional use but I like the layout and think it will work well for this purpose.
Hobonichi Techo for Keeping Memories
In my January planner stack I included a Hobonichi Techo for keeping track of one memory per day.
Over the course of the past few months, I got away from this practice but I want to start it back up.
I love the A6 size of the Hobonichi and it's fun to record just one highlight per day.
Erin Condren Petite Planners for Health
I try to make wellness part of my daily routine.
This includes tracking what I eat, my steps, hydration and also journaling.
For this, I use my Petite Planner Folio System.
It is so flexible because you can switch notebooks in and out.
Right now I use a Wellness Journal, a lined notebook for journaling, a Gratitude Journal, and one for Goals and Intentions.
You can read my Petite Planner Review here.
What's In Your Planner Stack?
As you can see, one planner is not enough for me.
You can watch the full review on YouTube here.
I love the different planners offered by Erin Condren so they make up the majority of my stack.
Will you be updating your planner stack for July? What types of planners will you include?
Leave me a comment below!