Erin Condren Warehouse Sale – Spring 2023
This post may contain affiliate links which means I make a commission if you shop through my links.
 Disclosure Policy
Disclosure: Product for this post was provided by Erin Condren. All opinions are my own.
Today I have exciting news to share – it is almost time for the Erin Condren Warehouse Sale for Spring 2023! (Sale starts March 21, 2023.)
This is a great time to stock up on all your EC favorites. You can save up to 60% off select products and scoop EXCLUSIVE products, surprise bundles and more!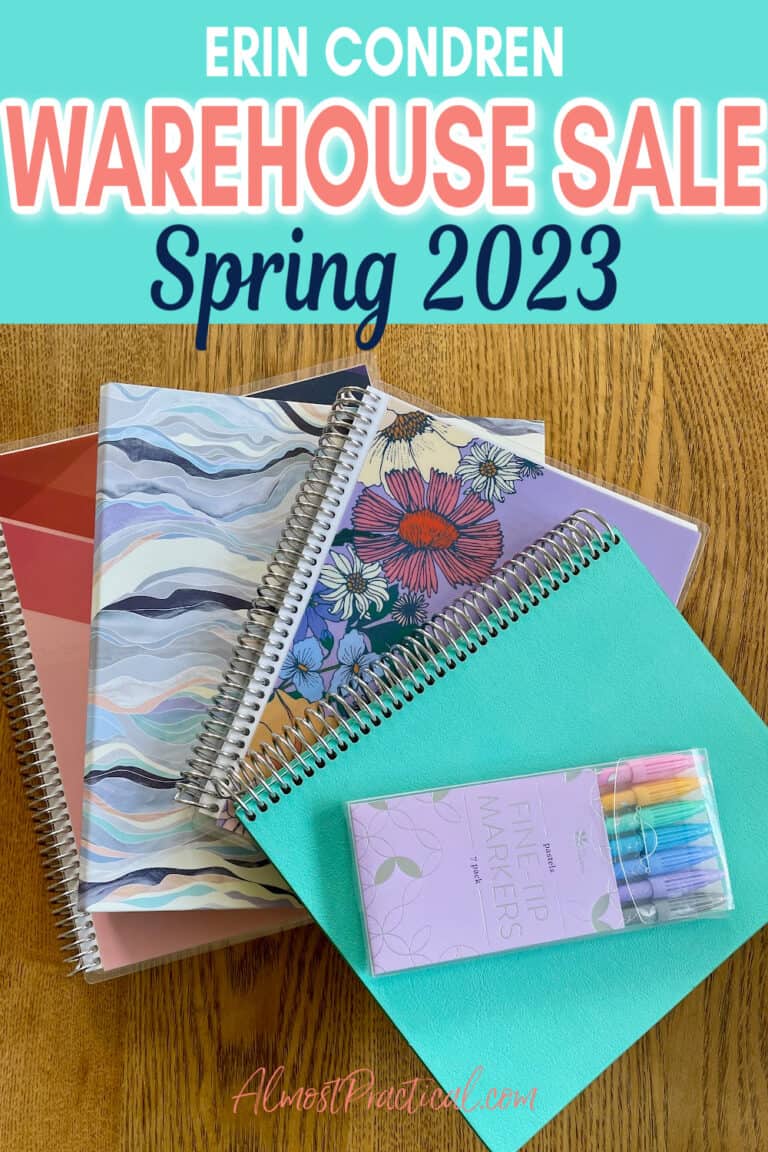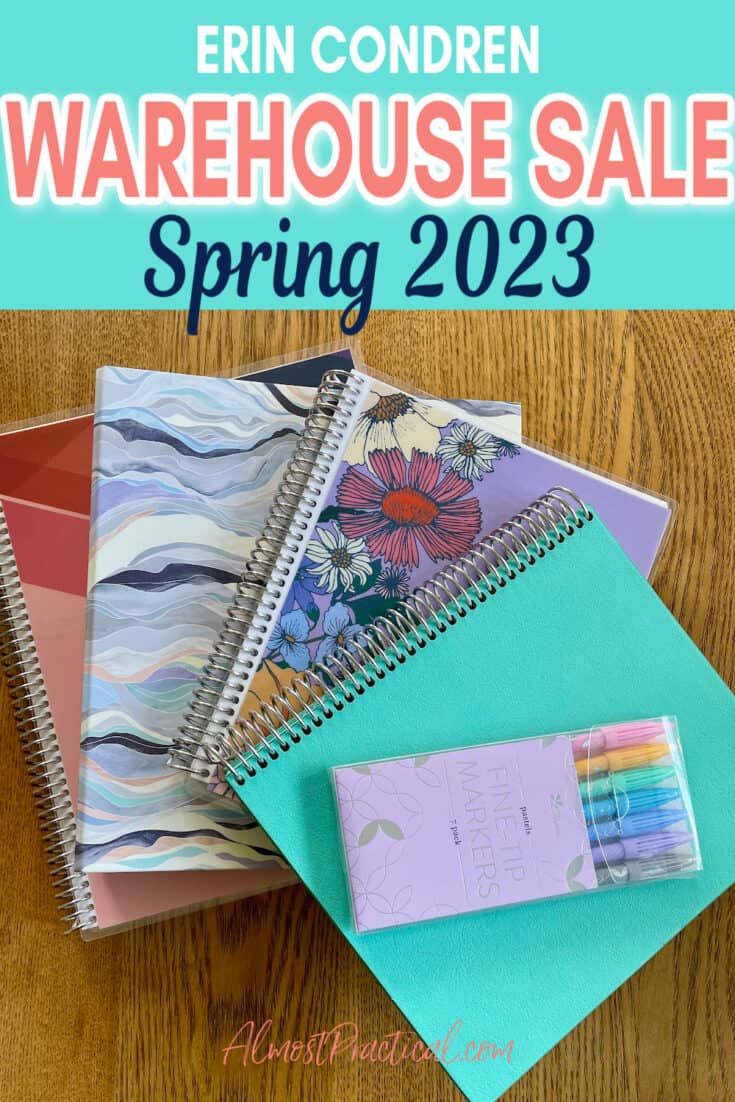 Exclusive Notebooks in the Erin Condren Spring Warehouse Sale
As part of the Warehouse Sale Erin Condren is offering deals on some exclusive notebooks. A few of these feature a new take on some old favorite designs.
They will only be available for a limited time – so if you are interested the time to act is now.
Read below to see these notebooks up close.
Erin Condren Daily Journal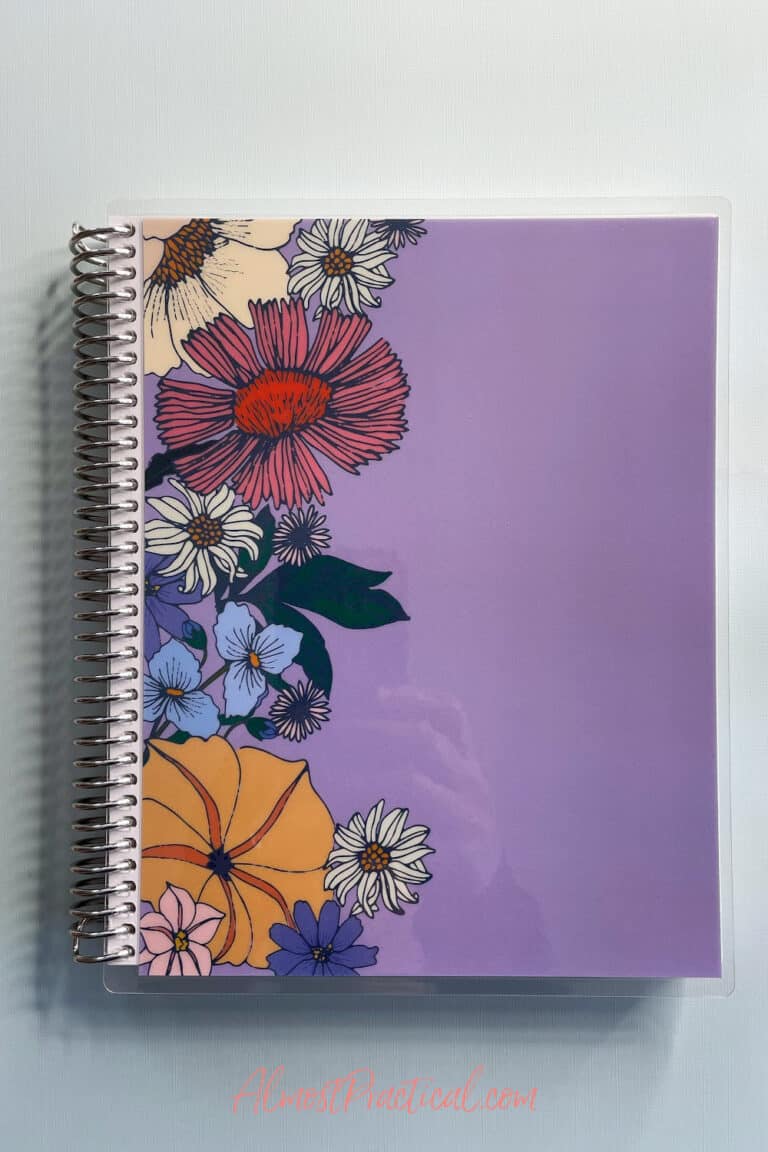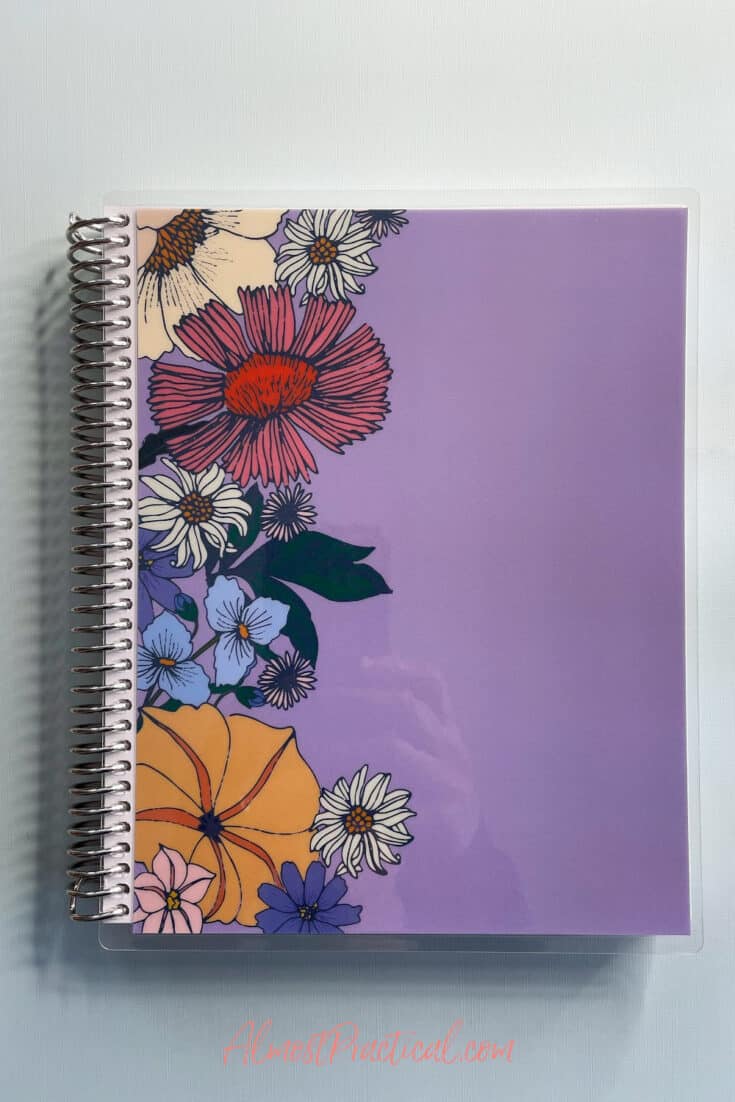 The first notebook that I would like to show you is a 7×9 Daily Journal featuring a cover in the Flower Power pattern.
If you are an Erin Condren fan you will remember the Flower Power Life Planners from a few years ago.
This was one of my favorite designs – and I am so glad to see that it's back, if only for a short time.
The Daily Journal is a guided self-care journal.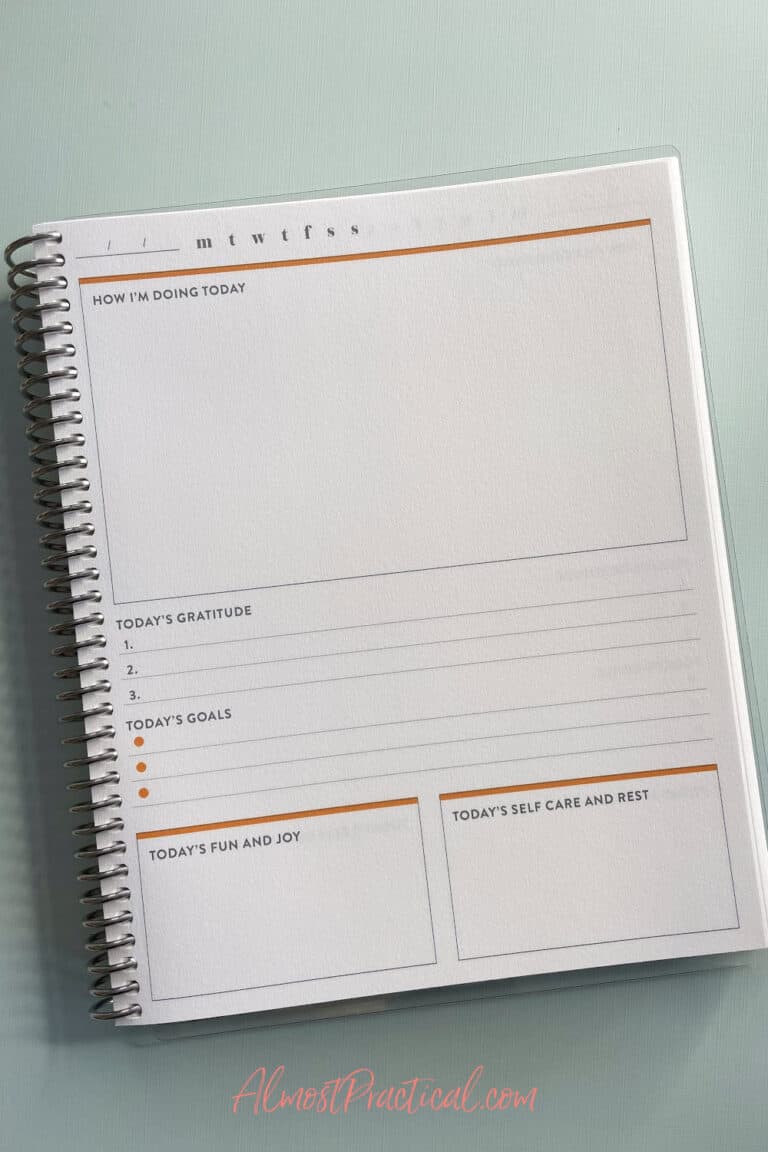 Each page has space for you to write about
how you are doing today,
to list your gratitude for the day,
write your goals,
record your fun and joy, and
plan out your self care and rest.
There are also four sticker sheets in the back in the Layers neutral design (not Flower Power) – and a Flower Power folder coiled in.
The cover on this Daily Journal is interchangeable so you can switch it out from time to time with some of your other Erin Condren covers if you like.
I don't know about you, but I often put myself last on busy days so this journal is a great way to keep my self care routine on track.
Erin Condren Vegan Leather Notebook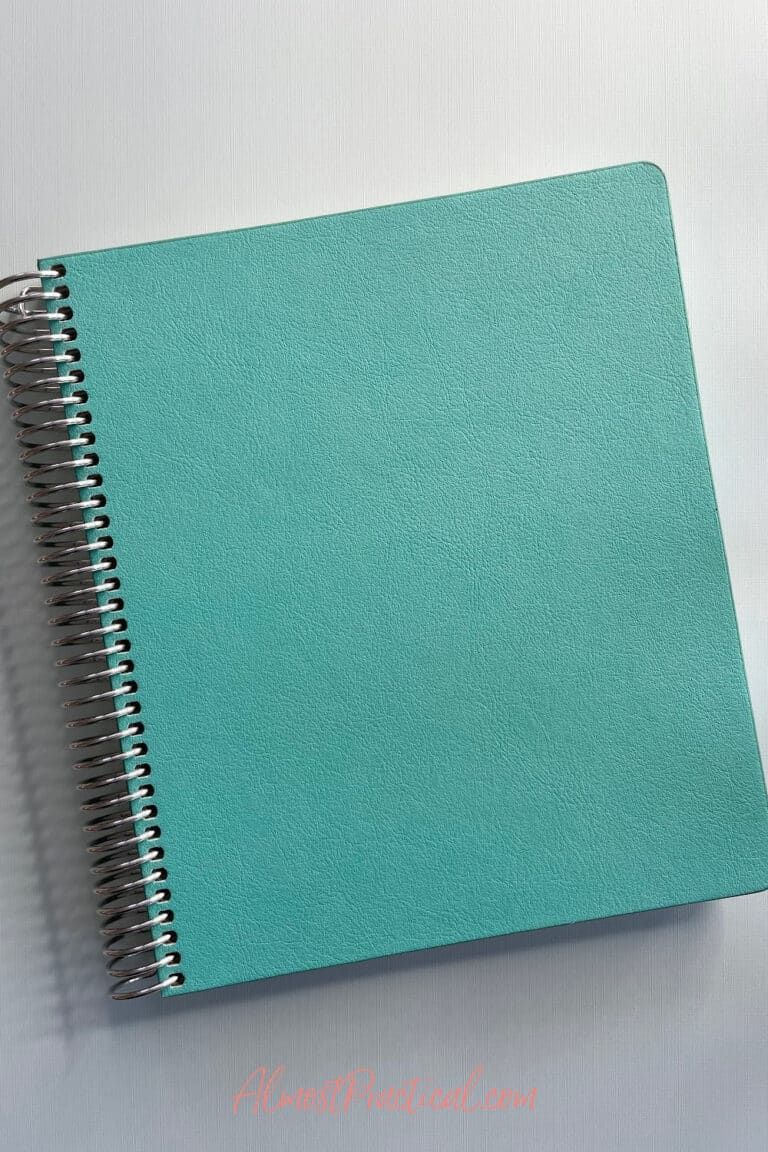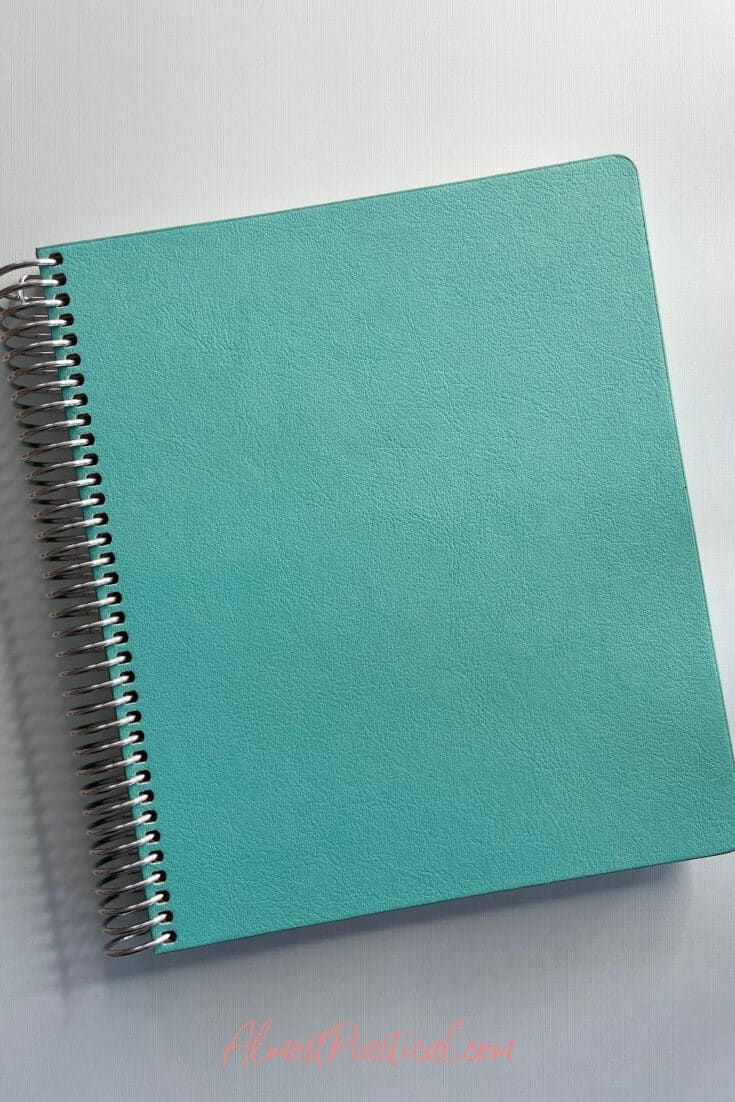 The next notebook that I want to show you is a lined and dot grid notebook with a teal vegan leather cover.
This Erin Condren notebook has both lined and dot grid pages inside.
The notebook starts off with lined pages and switches over to a dot grid format about half way through.
It also is in a coiled 7×9 size.
And eagle eyed Erin Condren fans will notice that the inside of the vegan leather cover features the Woven Wonder pattern from the 2018 planners.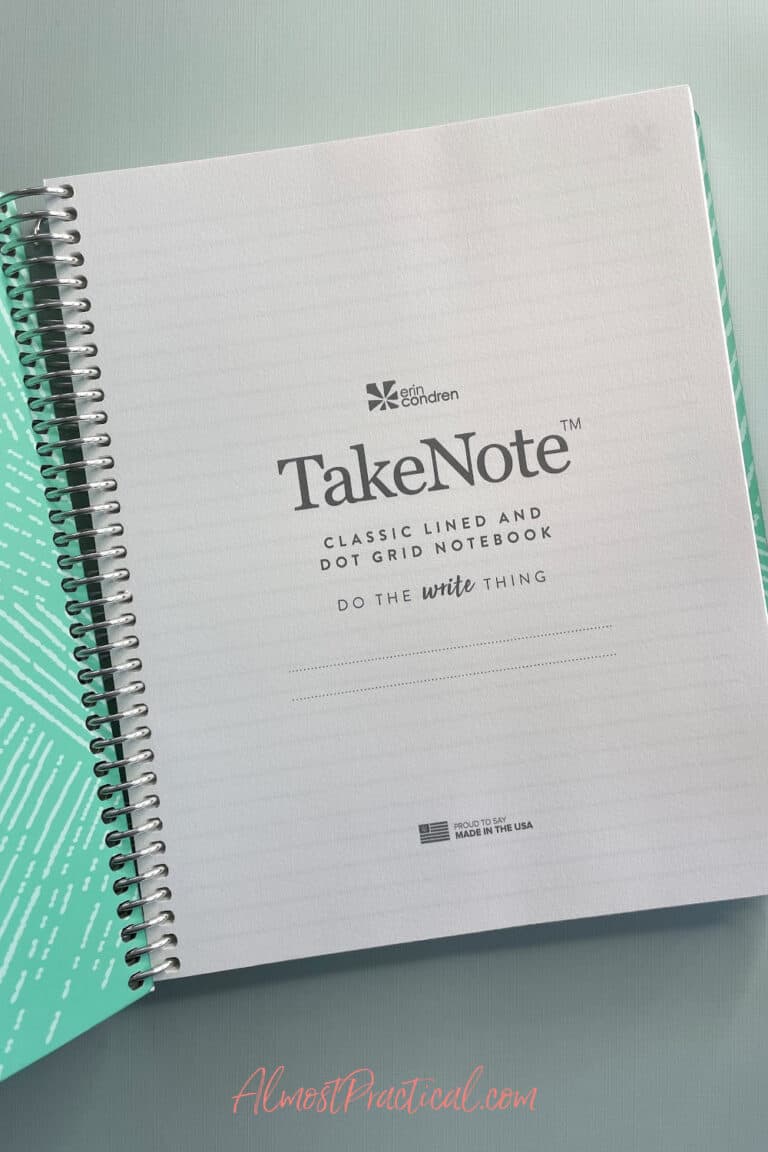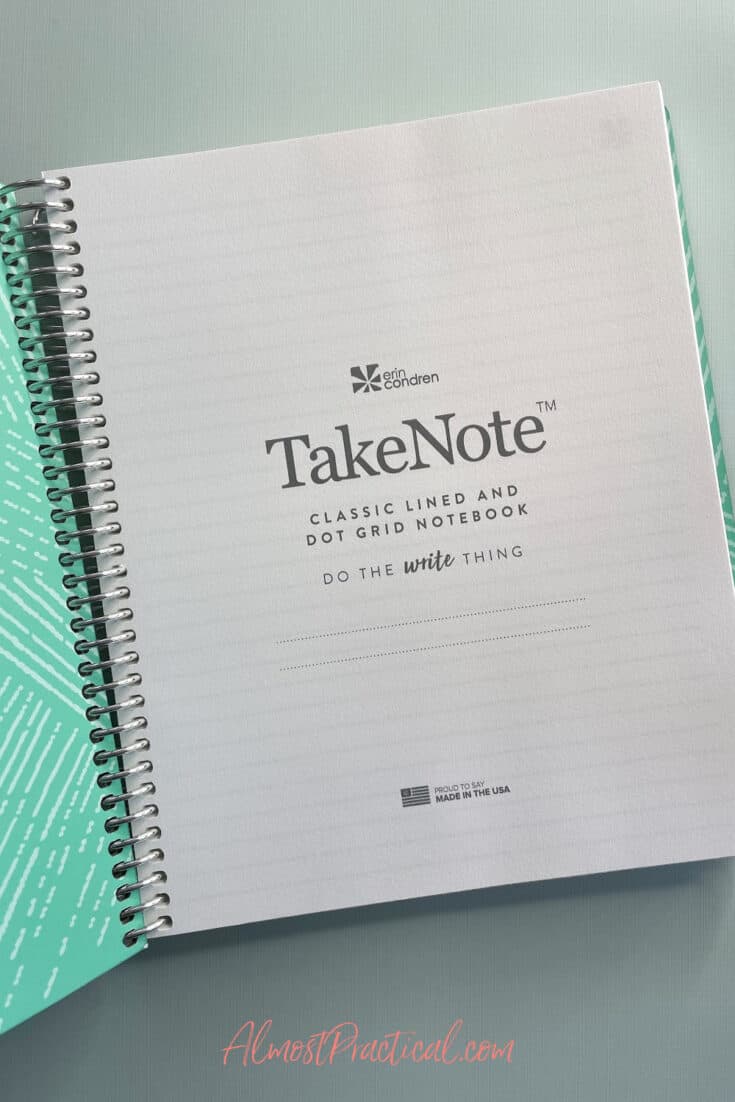 The back cover on this notebook has the Erin Condren asterisk logo embossed in the upper left hand corner.
There is a singular sheet of label style stickers coiled into the back.
As with all the vegan leather Erin Condren planner and notebook covers – this cover is NOT interchangeable.
Special Edition Productivity Binders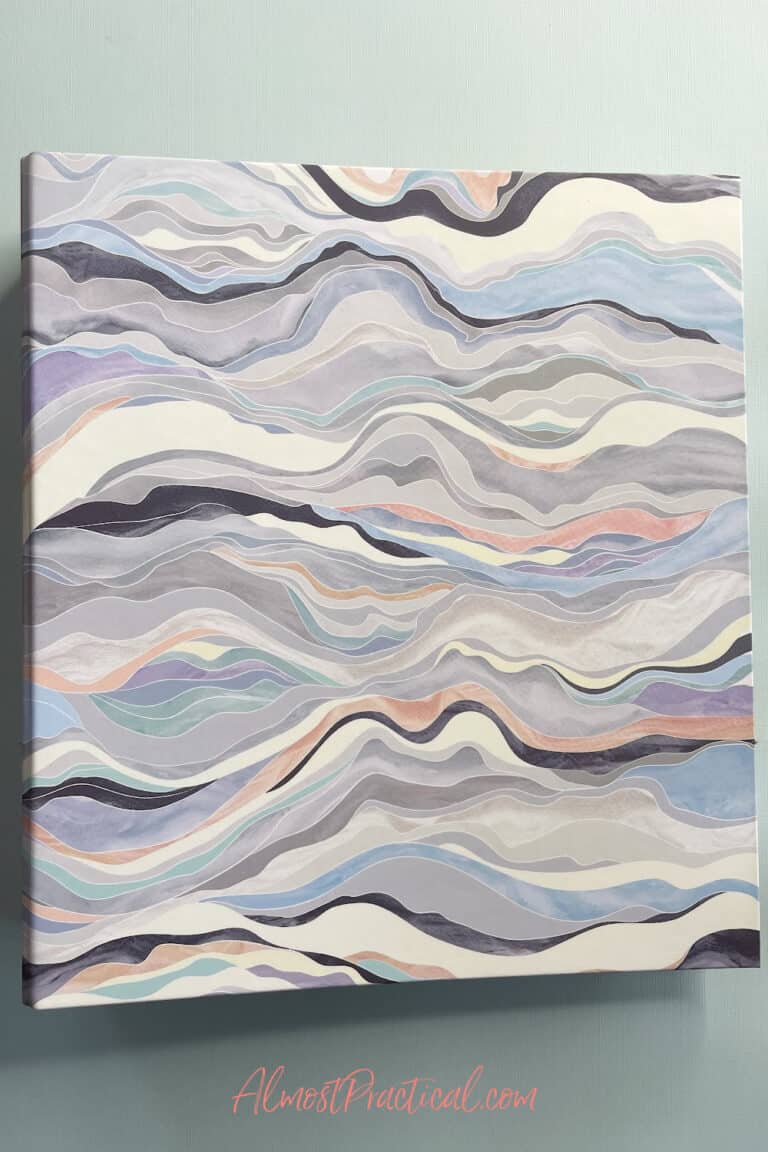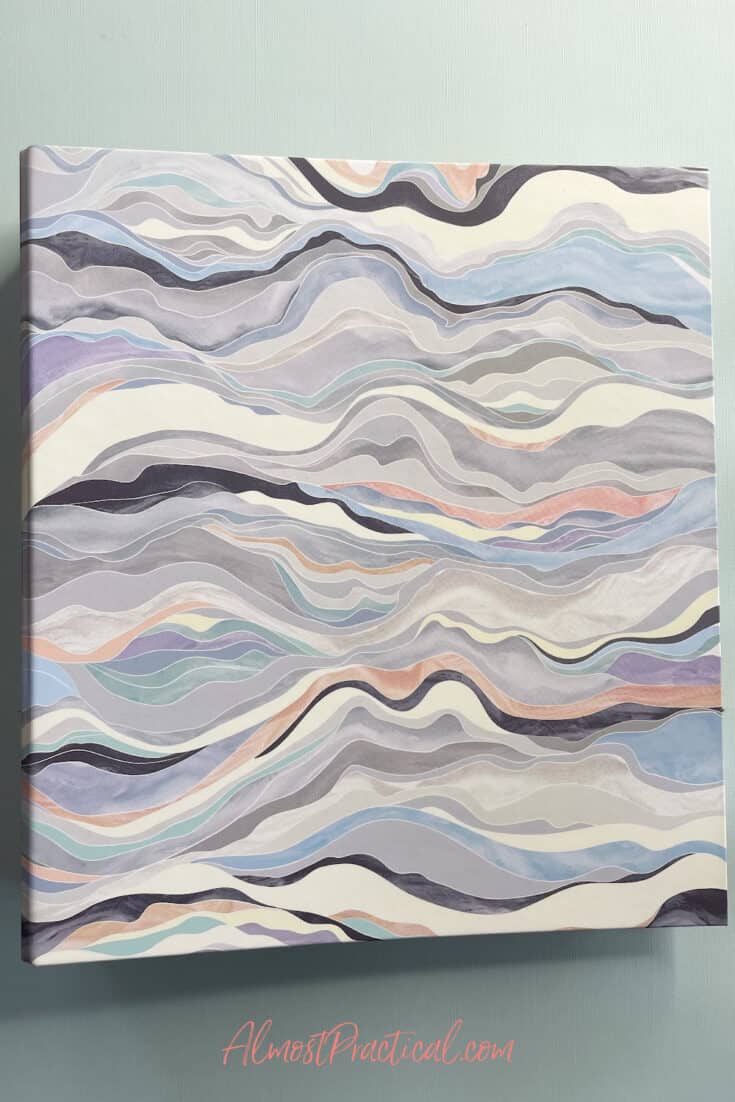 If you love the Layers Neutral pattern, this is your chance to pick it up in a binder version.
This Erin Condren productivity binder comes with insert pages in a table and a checklist format.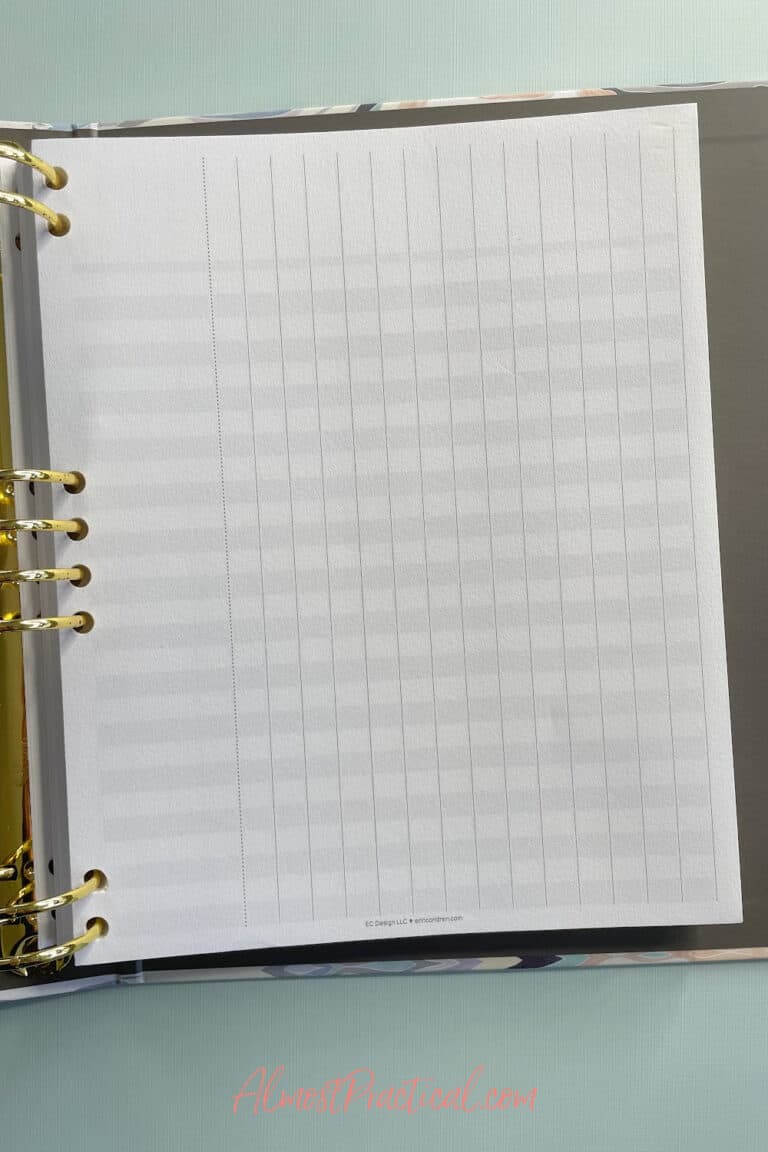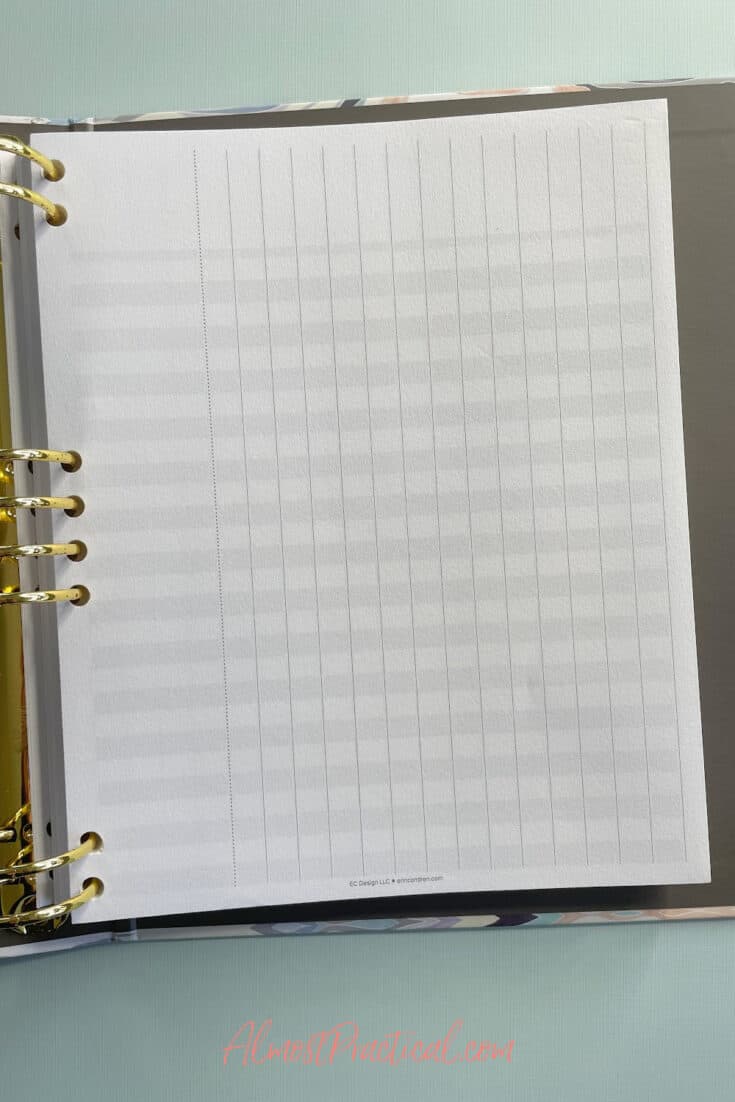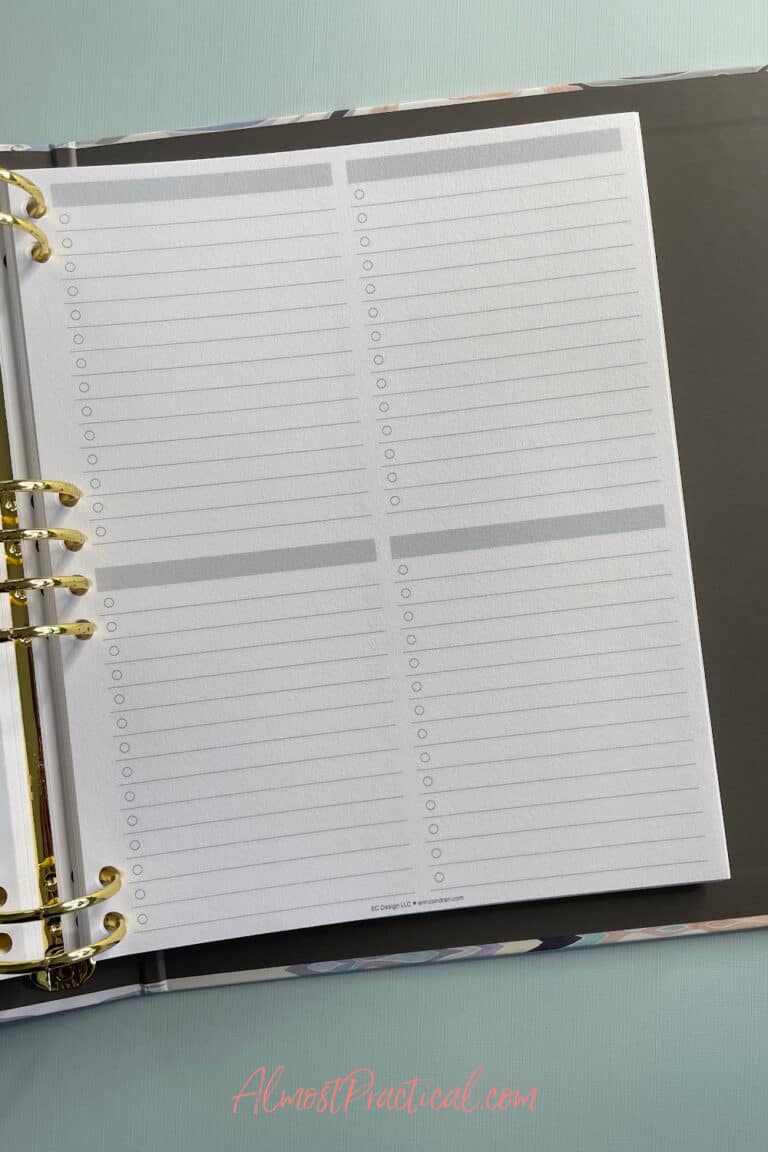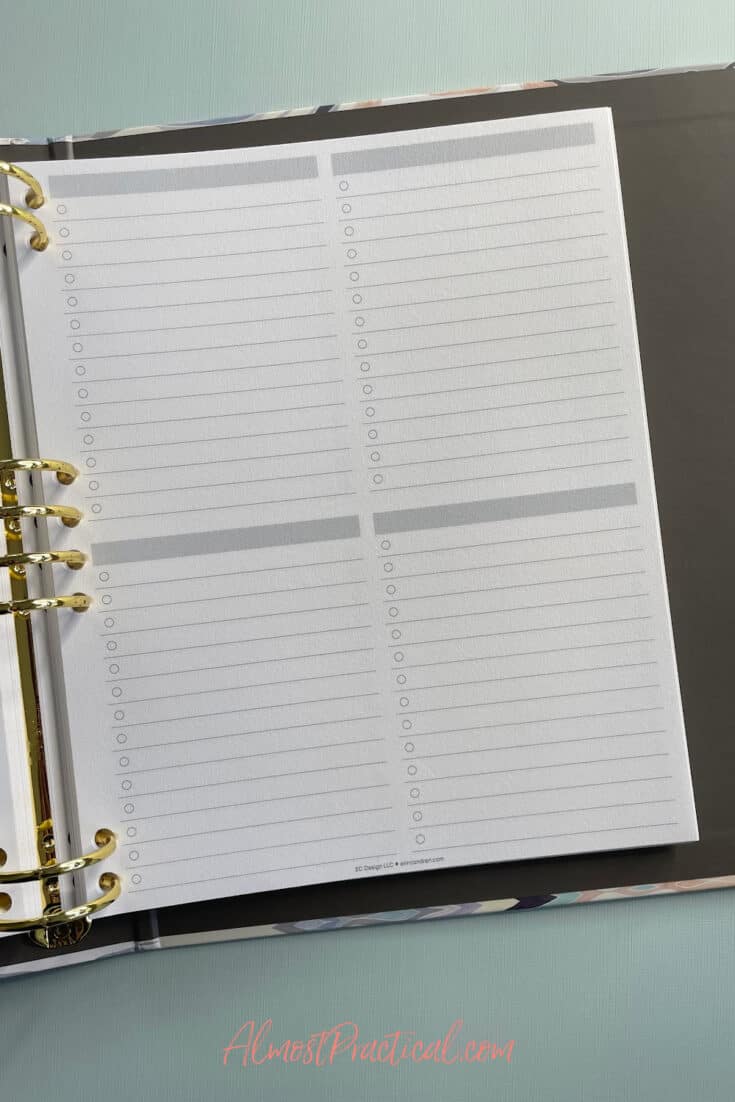 Again, half the pages are in the table format and the other half sport four mini checklists on each page.
The pages in the binder are the 7×9 size.
My suspicion is that there will be other binder patterns available at the Erin Condren Warehouse Sale but I am not sure of this.
Large Erin Condren Sketchbook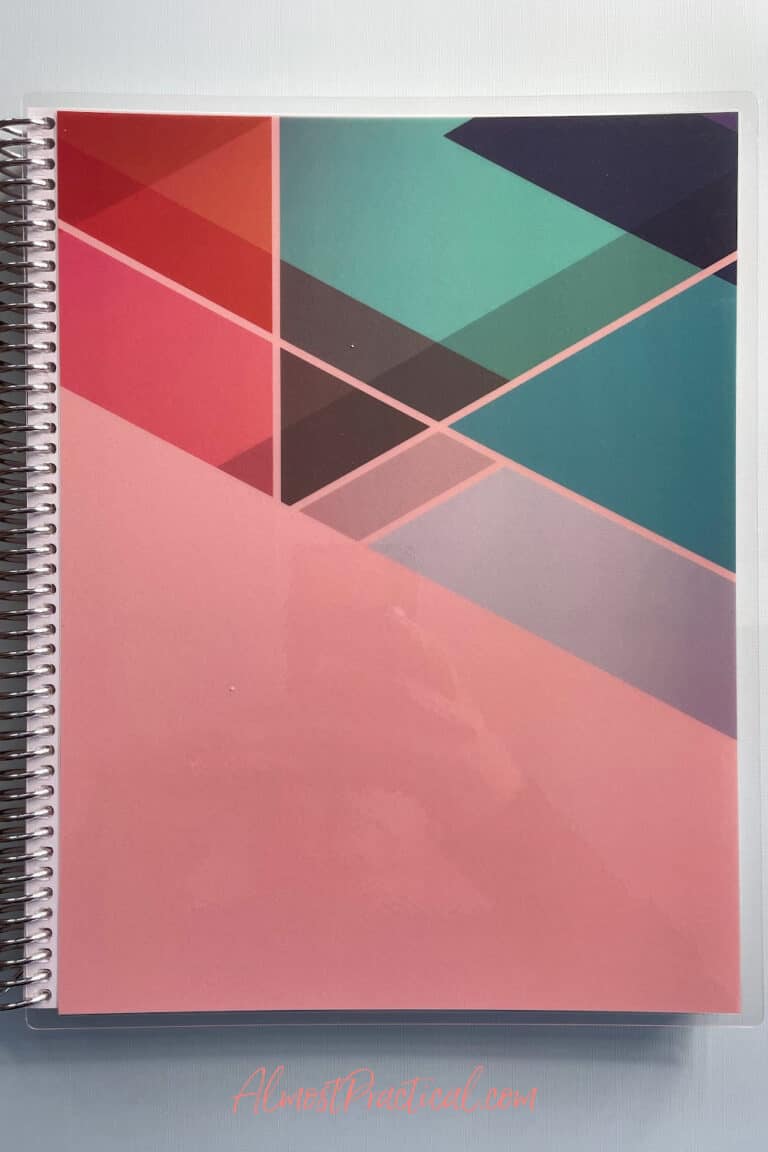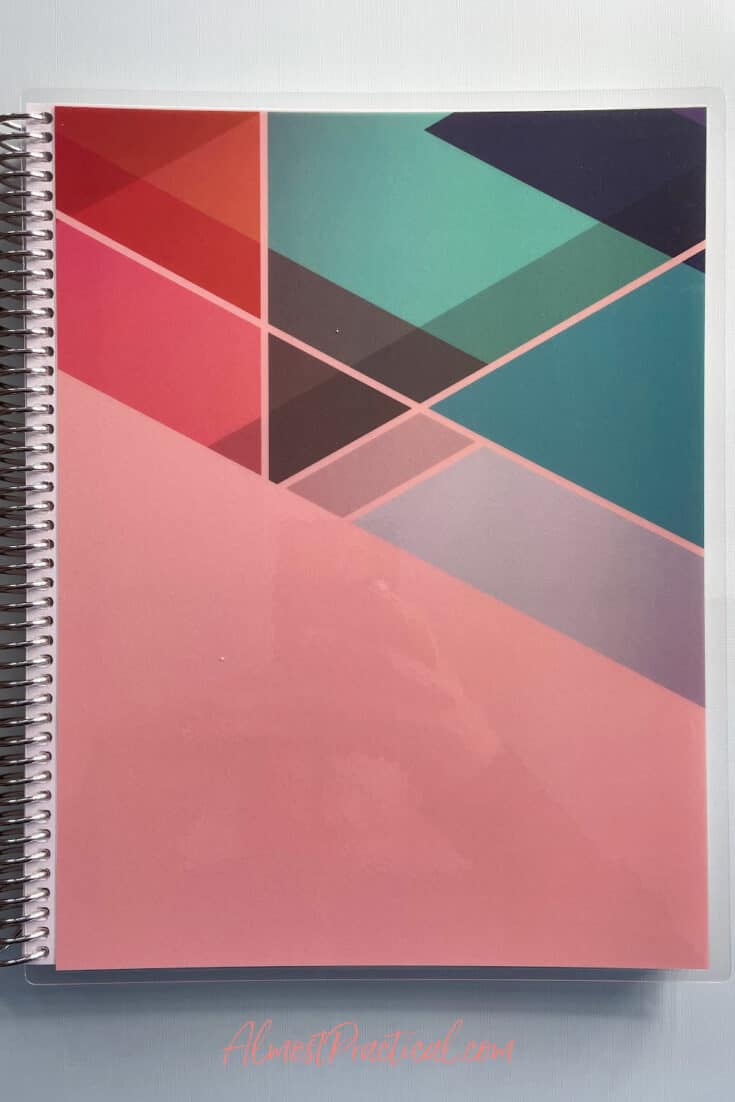 Another notebook that is exclusive to this sale is an 8.5×11 blank Sketchbook in the Triangle pattern. I remember seeing this pattern on some of the Erin Condren Teacher planners several years ago.
This large Sketchbook is perfect for mind mapping, drawing, or creating vision boards.
Coiled into the back you will find a single sticker sheet with label like stickers in the Layers Neutral colors.
I almost feel inspired to take an art class!
But I might use it to plan out some home renovation and decor projects that I have planned.
More Exclusive Items
In addition to the notebooks that Erin Condren sent me to show you – there will be more EXCLUSIVE items available during the Spring 2023 Warehouse Sale.
These include the following:
Harmony Colorful Surprise Bundle: A colorful assortment of best-selling planner accessories at an EPIC discount.
In Bloom Surprise Bundle: A floral assortment of best-selling planner accessories at an EPIC discount.
Writing Tools Surprise Bundle: Grab best-selling pens, markers & more, save BIG.
On the Go Surprise Bundle: Stay organized wherever you go & SAVE.
Office Accessories Surprise Bundle: Can't-miss deal on stylish, high-quality desk essentials!
Gifts and Accessories Surprise Bundle: Treat yourself or a friend to this oh-so-giftable set of must-haves!
Special Edition Productivity Binders: Best-selling binders with productivity inserts + NEW checklists inserts!
Special Edition Recipe Binder: Our best-selling recipe inserts are back for a limited time with a NEW binder!
Special Edition 8.5×11 Undated Weekly Planning Notebook: Plan each week your way. Includes 6 months of weekly productivity & note pages + stickers & a folder.
When Is the Spring 2023 Erin Condren Warehouse Sale?
The Erin Condren Spring 2023 Warehouse Sale starts tomorrow March 21, 2023 and runs through March 28, 2023.
It is my favorite Erin Condren sale of the year – because you can really grab some great deals.
However, the best selection is at the beginning of the sale because the deals are available only while supplies last.
Great Time to Stock Up
The Erin Condren Warehouse Sale is a great opportunity to stock up on gift-able items as well.
Notebooks make for nice
end of year teacher gifts,
hostess gifts,
birthday gifts, and – yes
holiday gifts (even if those seem so far away).
Click here to shop the 2023 Erin Condren Spring Warehouse Sale – and tell me about your biggest find in the comments below.