Erin Condren Flower Power LifePlanner Review
This post may contain affiliate links which means I make a commission if you shop through my links.
 Disclosure Policy
Erin Condren recently released 2 new collections for 2020/2021 – Layers and Flower Power.
In this post I am taking a closer look at the Flower Power LifePlanner design.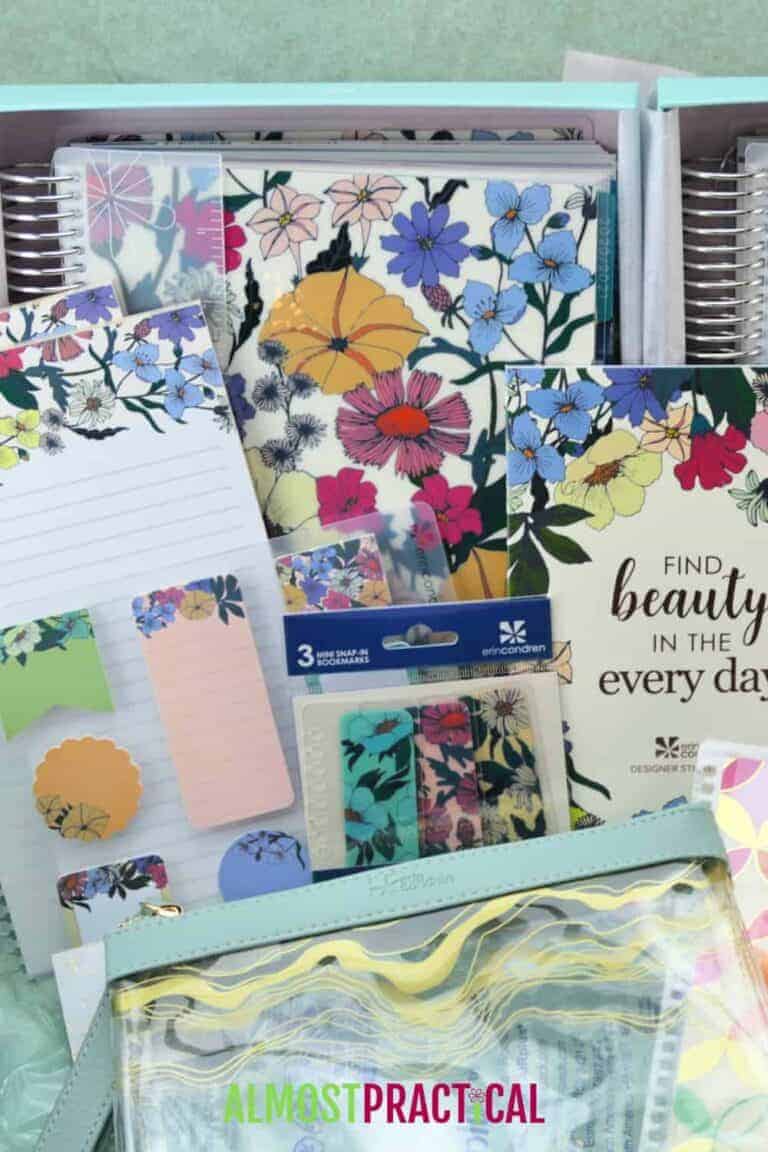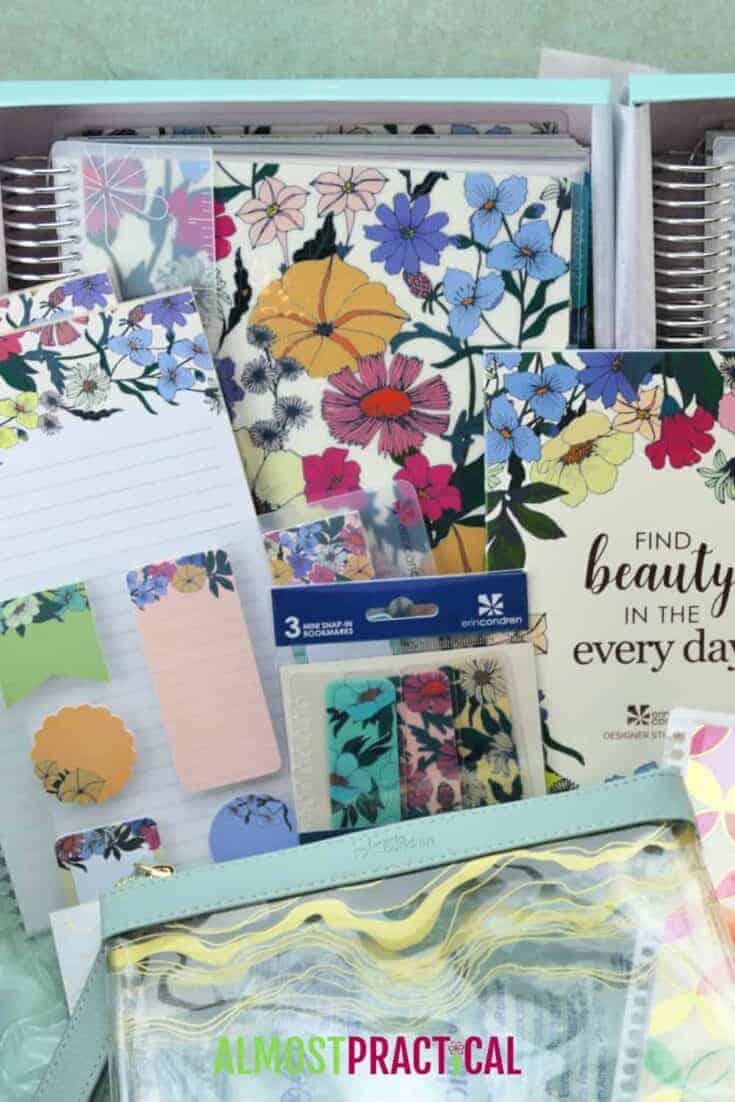 What I Love About Flower Power
I have to admit that Erin Condren blew it out of the park with both of her new designs this year.
They are both gorgeous – so much so that I had to get some planners and accessories in both.
The Flower Power Collection is covered big, bold, beautiful blooms.
I have a soft spot for florals – so this design really appealed to me. I love seeing a little touch of color and the design embellishments on each of the pages.
If you are interested in the Layers collection – you see the posts below – otherwise keep scrolling down to see the Flower Power collection.
Flower Power LifePlanner Colors
I think of the LifePlanner as the cornerstone of a design.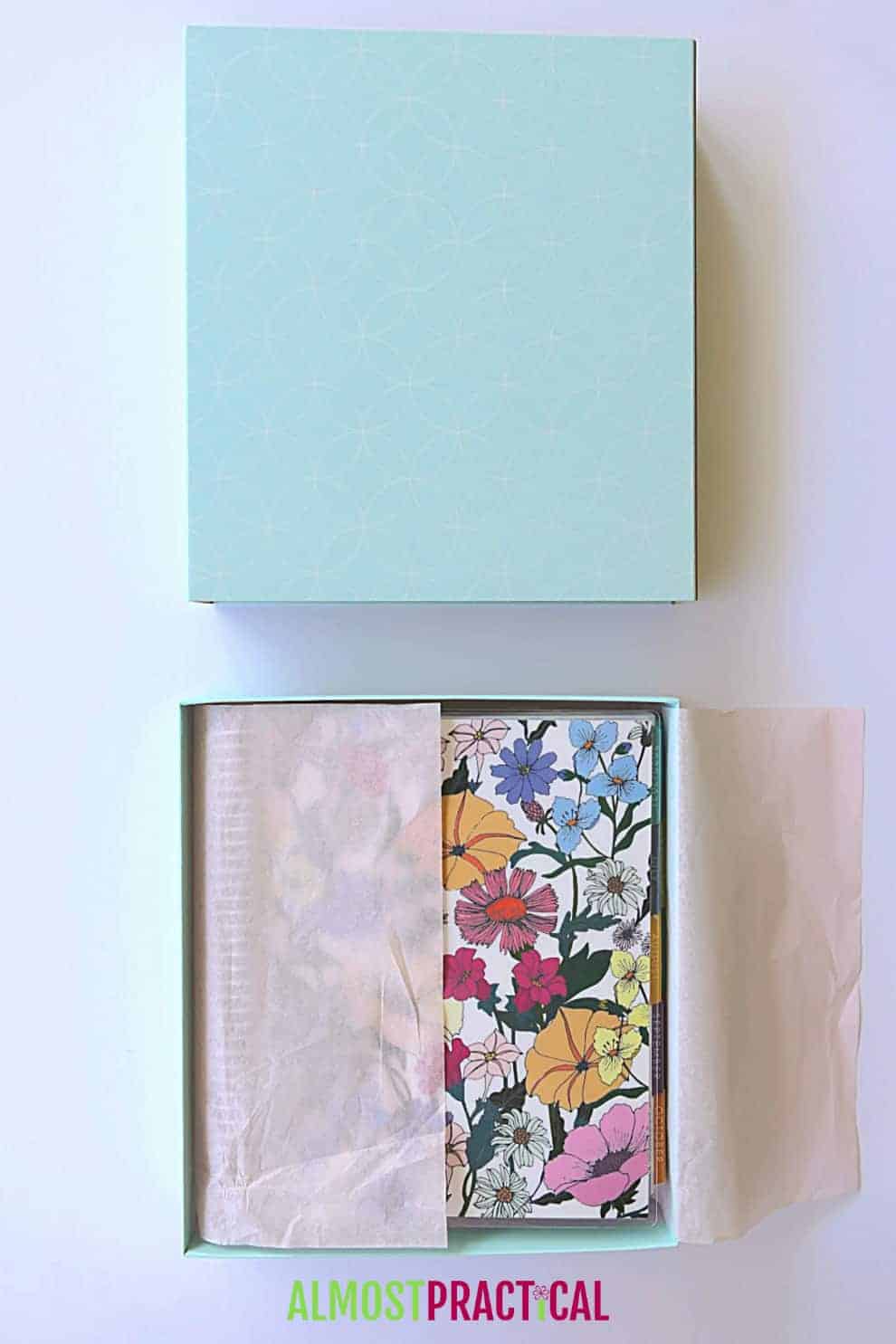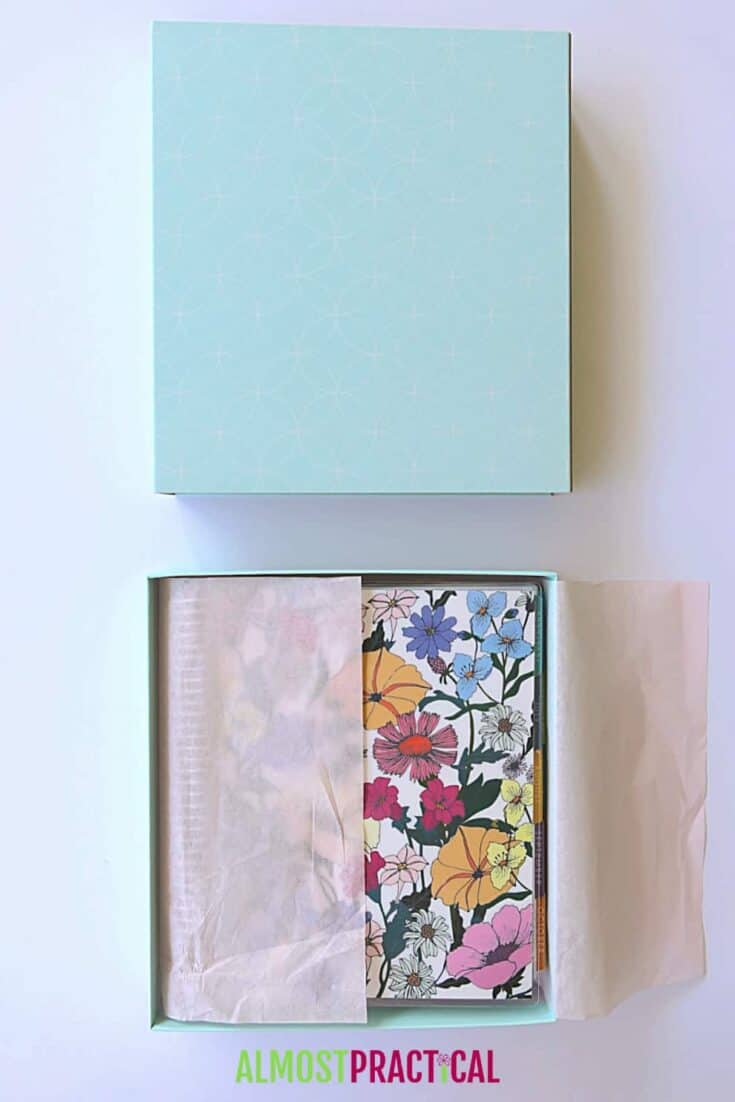 Erin Condren debuts the design in the LifePlanner and creates coordinating planner accessories that you can use with it.
The Flower Power LifePlanner is a colorful design. There is NO neutral version.
The Flower Power Cover
As with all of the Erin Condren LifePlanners – the cover on the Flower Power design is both customizable and interchangeable.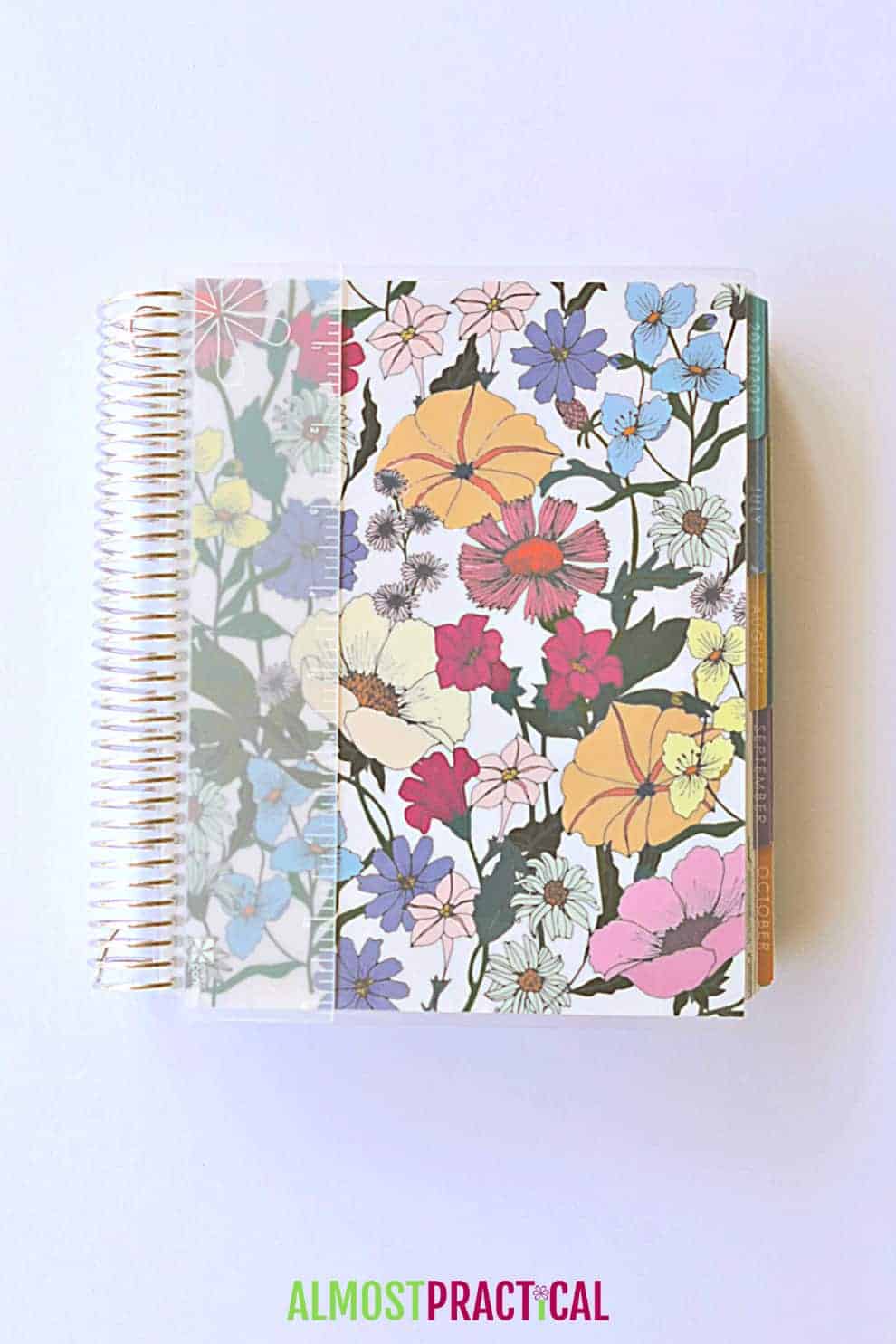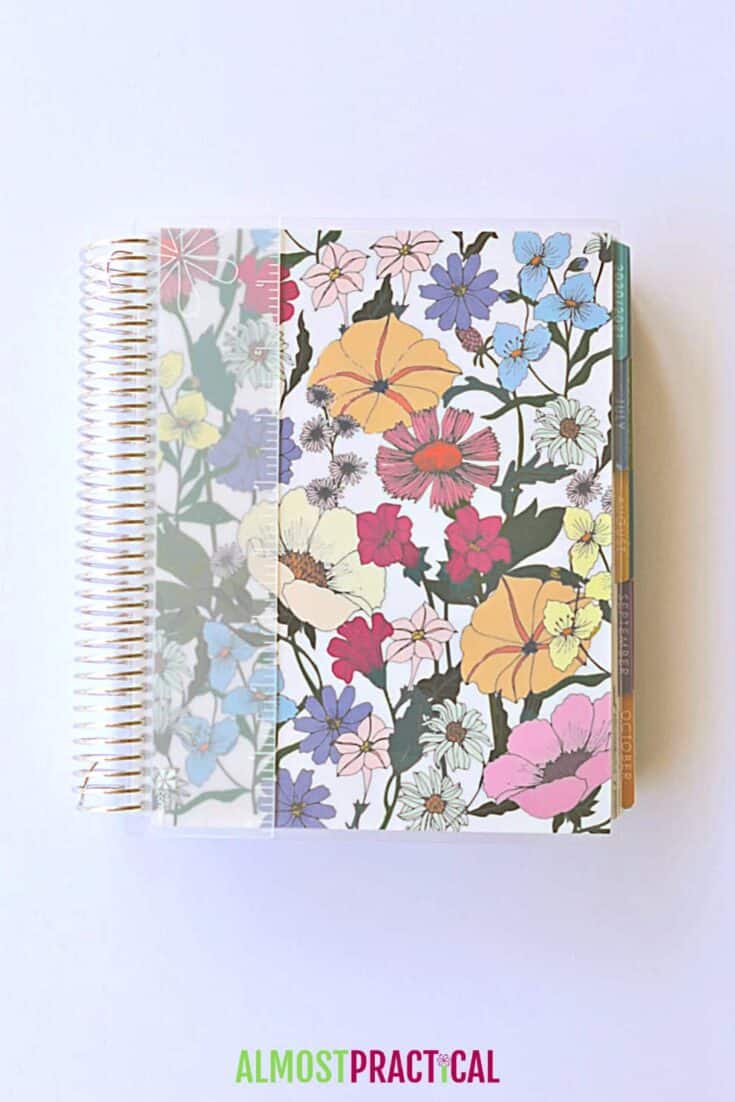 I chose the actual Flower Power cover and did not get it personalized because I love the way the design looks uninterrupted with words.
But you can certainly personalize yours – or even pick an entirely different cover of your choice.
Flower Power LifePlanner Page Layouts
This LifePlanner comes in three page layouts:
hourly,
vertical, and
horizontal
You may have noticed that there is a new Daily Duo LifePlanner this year – which is a daily layout.
This Daily Duo planner only comes in the Layers colorful pattern, so you cannot get it in Flower Power.
See my review of the all new Erin Condren Daily Duo LifePlanner here.
Flower Power Hourly Layout
I personally purchased the Flower Power LifePlanner in the hourly layout – so I will show you my photos here.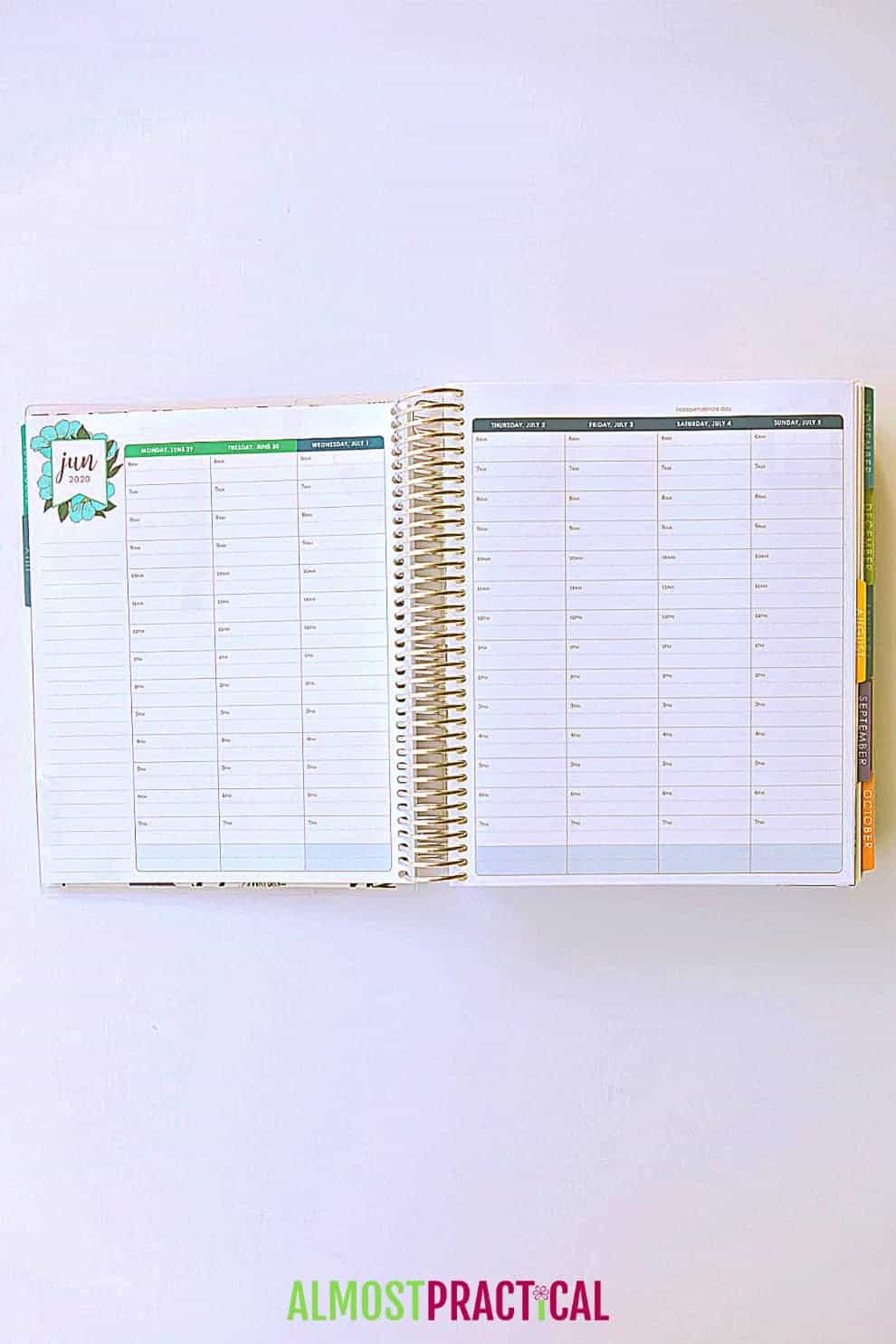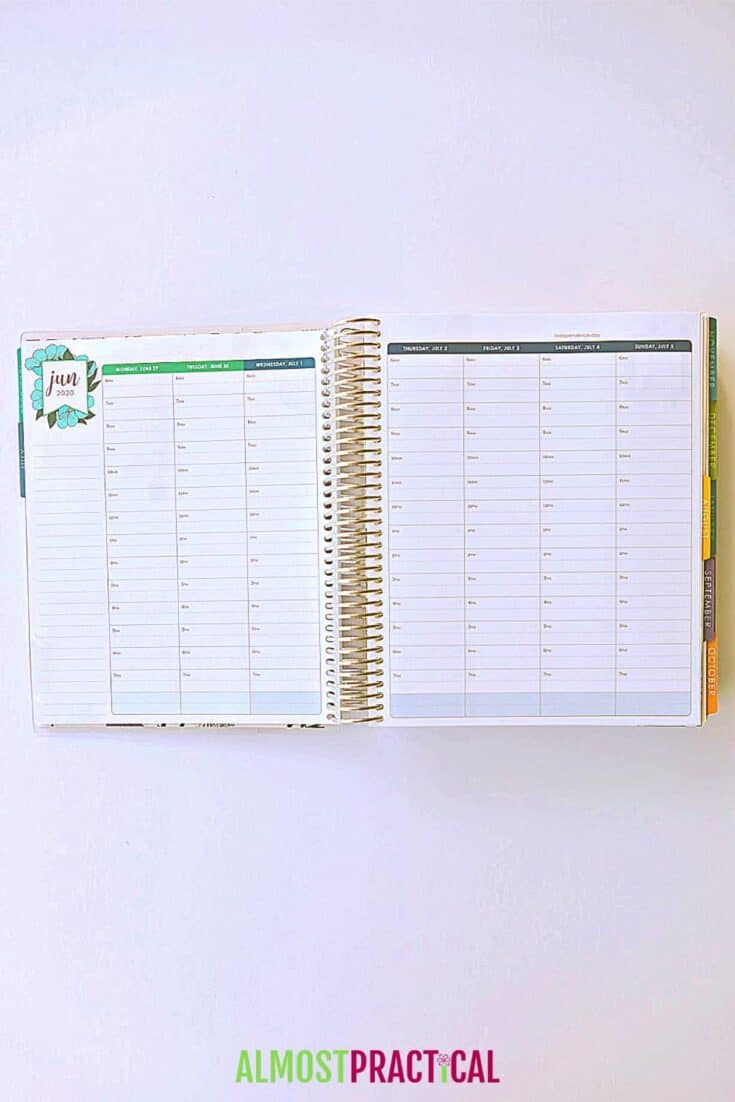 The photos of the other layouts are from the Erin Condren site – but I have to say – oh, that horizontal design! I might just have to pick that one up, too.
But back to the hourly …
The hourly layout is a 2 page per week spread.
There is one column for each day that is broken into hourly segments with 2 lines per hour.
The day begins at 6am and goes to 7pm, with an additional two lines at the bottom of each column that you can use to extend the day or to add notes.
There is also a lined column to the left of the daily columns that you can use for notes or to do items.
In the top left hand corner is the month and year surrounded by a little floral design.
This floral design is different for every month.
Flower Power Vertical Layout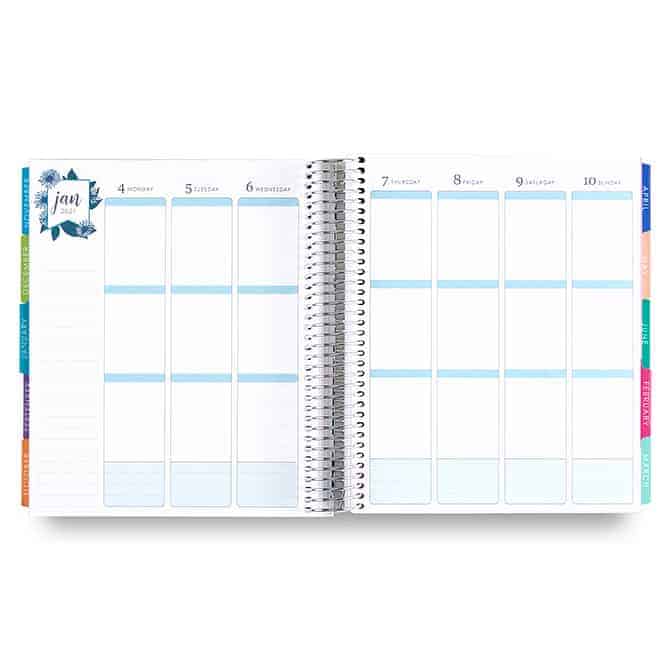 The Flower Power vertical layout is similar to the hourly layout.
It is a two page per week spread with
columns for each day,
a left hand lined column for notes and to do's, and
the month year surrounded by a floral design in the upper left hand corner.
However, instead of each day column being divided into hours, the column is broken into 3 unlabeled sections.
The top of each of the 3 sections has a color bar where you could write a heading, if you wish.
Many people use these sections for morning, afternoon, and evening.
But you could use them in any way that makes sense to you – home, work, and family, for instance.
Flower Power Horizontal Layout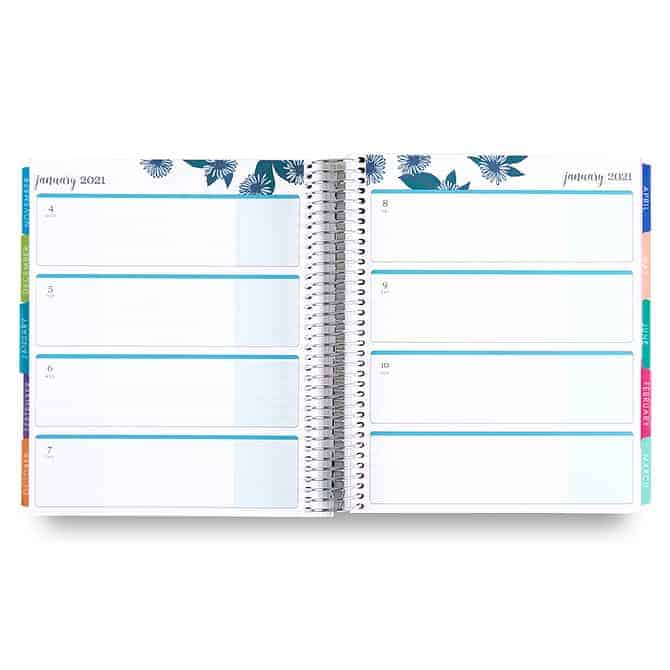 Typically I am not a fan of the horizontal layout because of the way that I use my planners.
BUT, the horizontal layout in this Flower Power design is awesome.
Seriously, it is so pretty!
It is also a two page per week spread.
However, instead of columns – the horizontal layout features horizontal rectangular boxes stacked one above each other for each day of the week.
The first page of the weekly layout has Monday through Thursday.
And the second page of the spread has Friday, Saturday, and Sunday as well as an empty box at the bottom for notes.
Each box is lined so you can write in a straight line easily and there is a colored blank box on the right hand side end of each box for you to use however you see fit.
What I love about this layout is the floral design that drapes across the top of both pages.
My weakness is anything flowery and this would make me happy every time I use it.
So, I think I see this one in my future. I just need to figure out how to fit it into my planner stack.
Common Pages in All Layouts
There are some pages in the Flower Power LifePlanner that are common to all of the layouts.
Entry Pages
When you open the cover, the very first thing you come to is a beautiful vellum page with the Flower Power design in the corners.
Then you will find two quotes pages.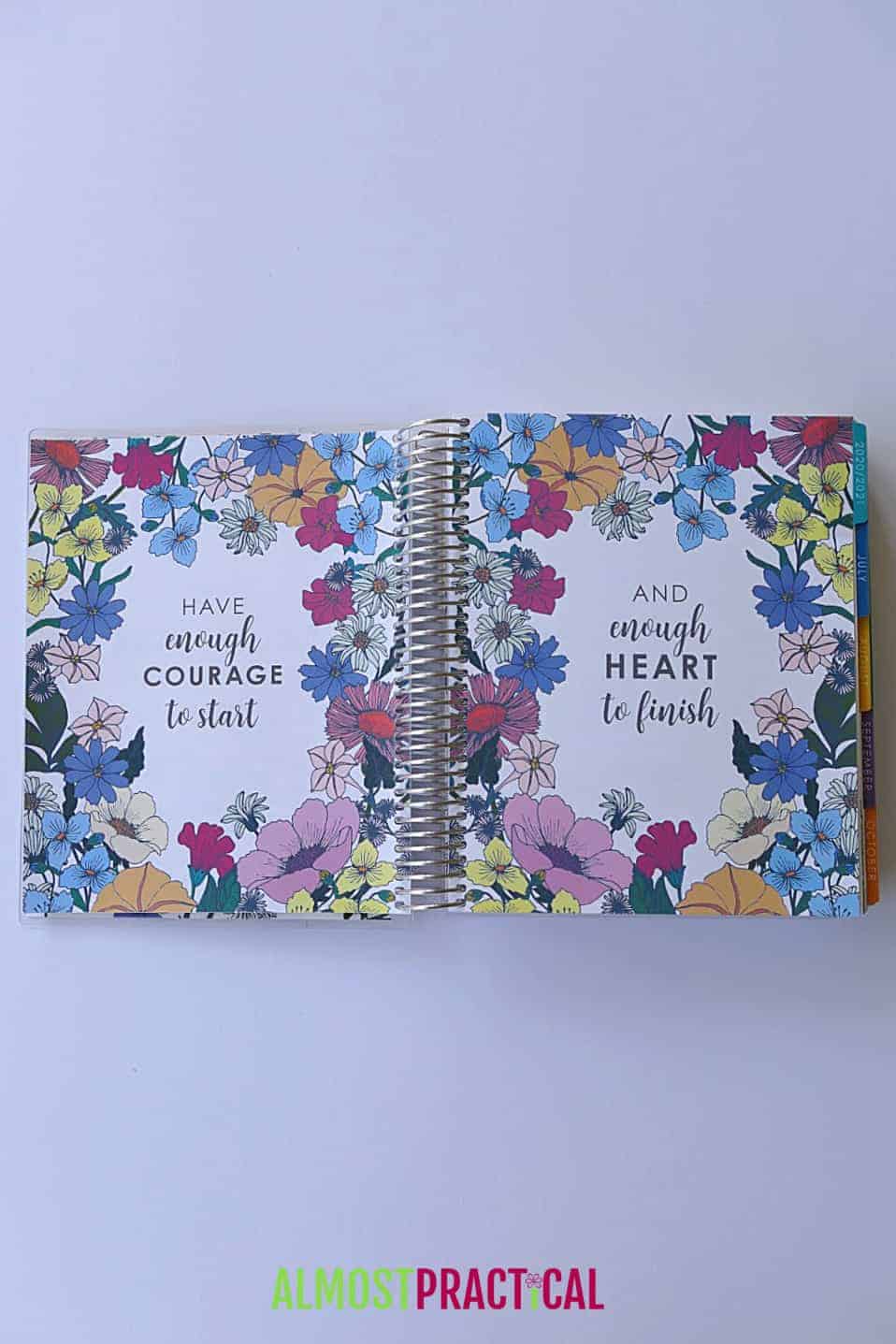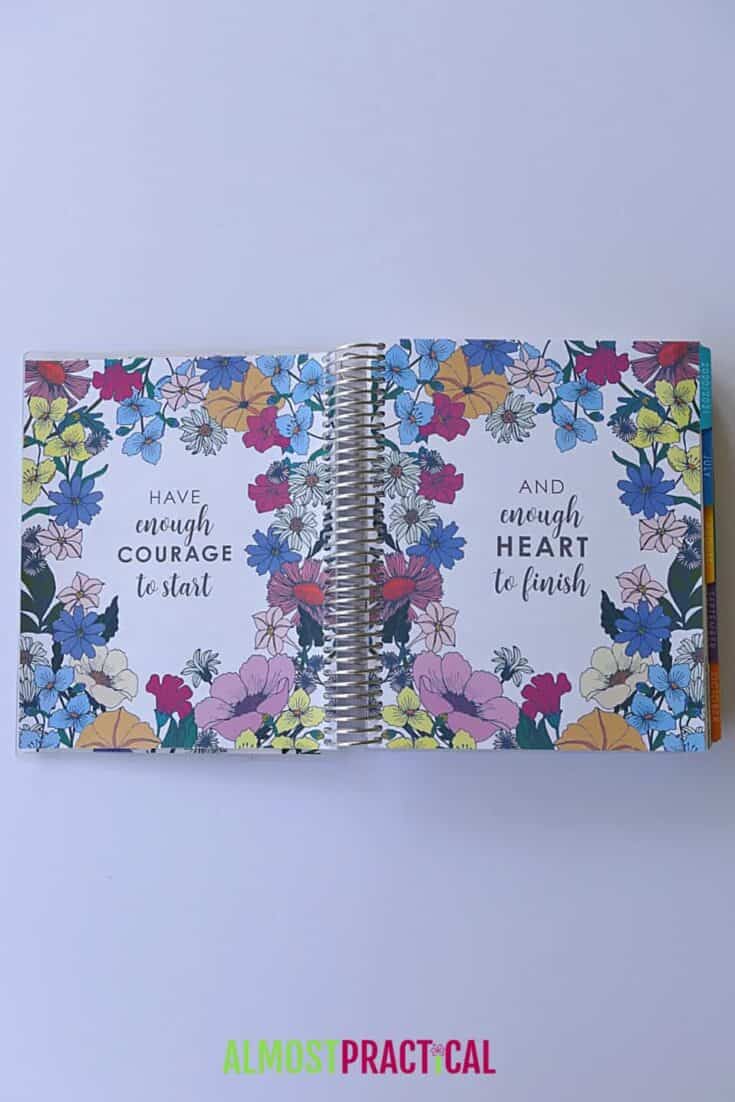 Mini Months
The next section is the mini months.
These start in July of 2020 and go to December of 2021.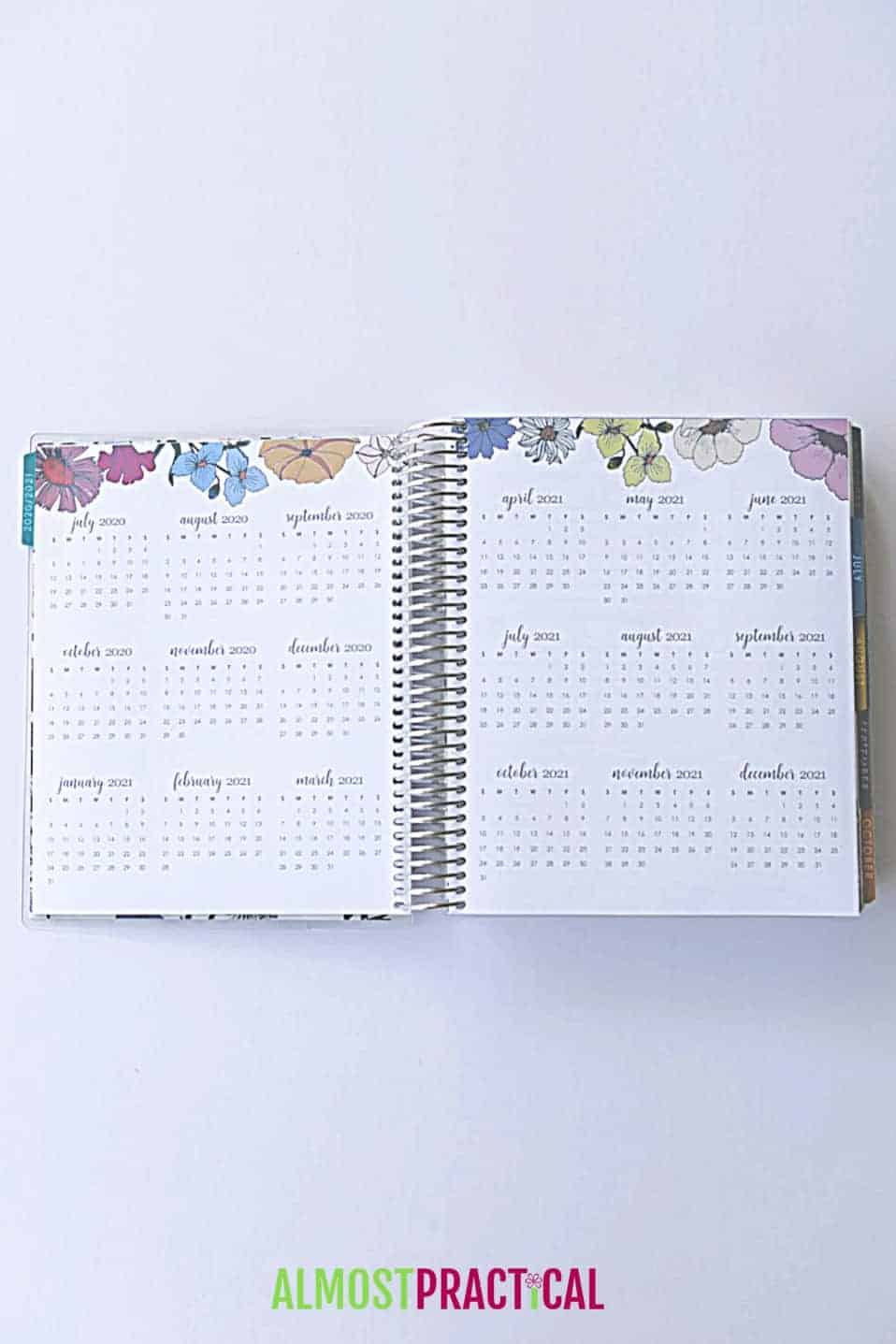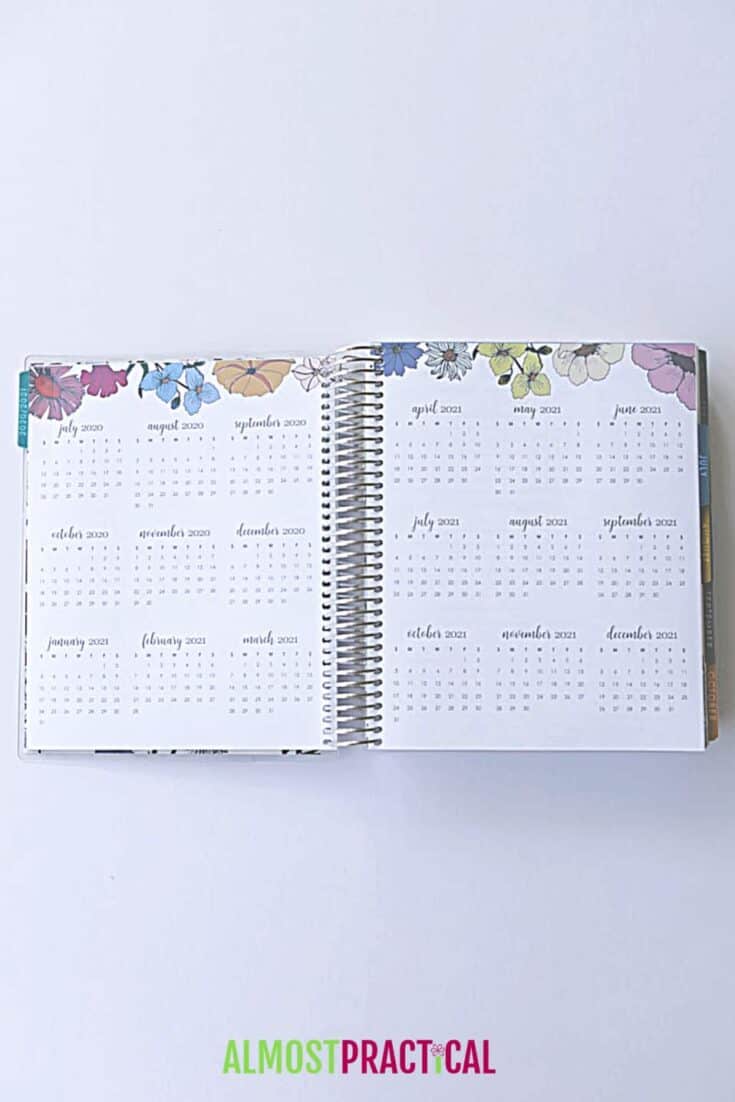 Monthly Spread
Every month begins with an inspirational quote and a monthly spread.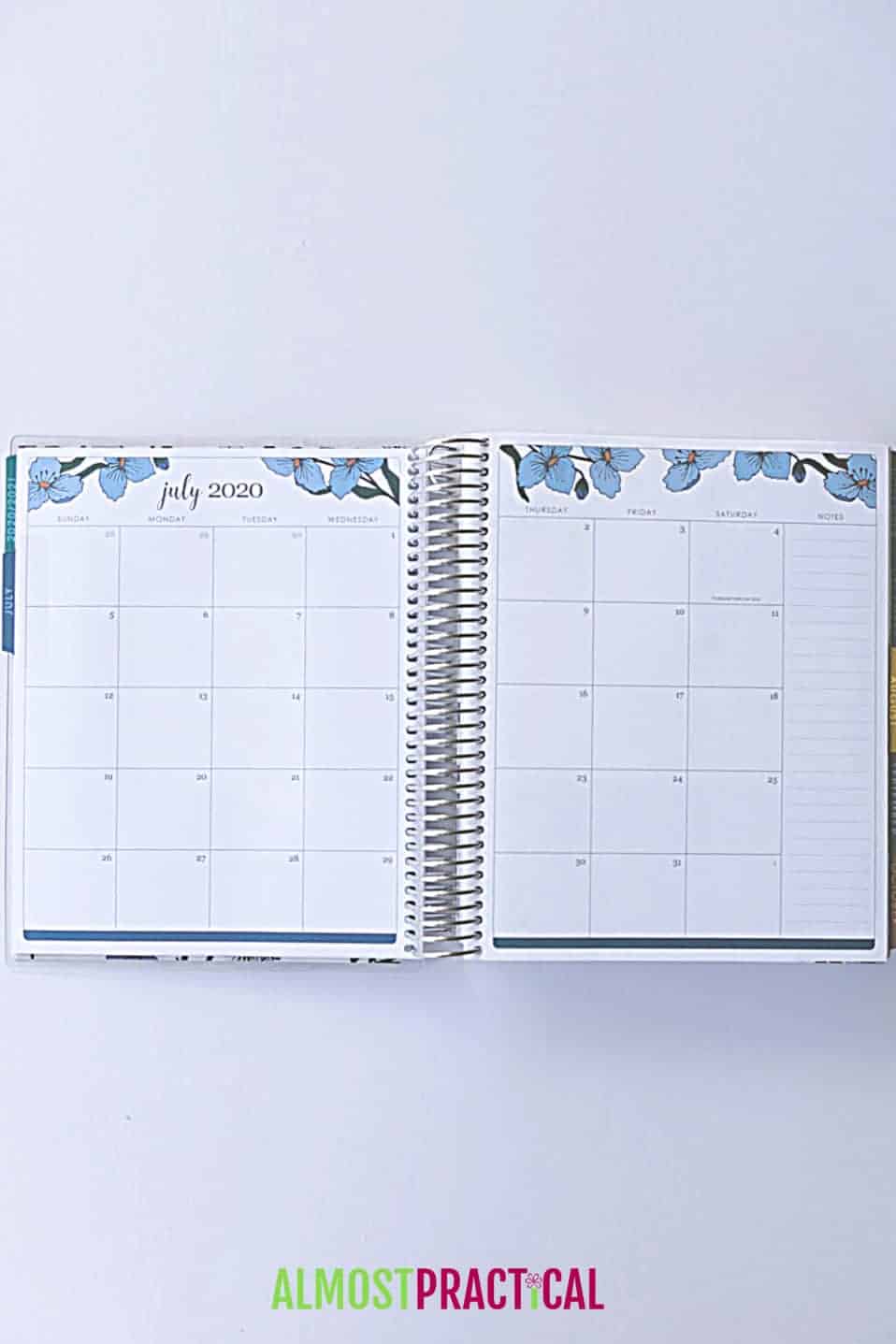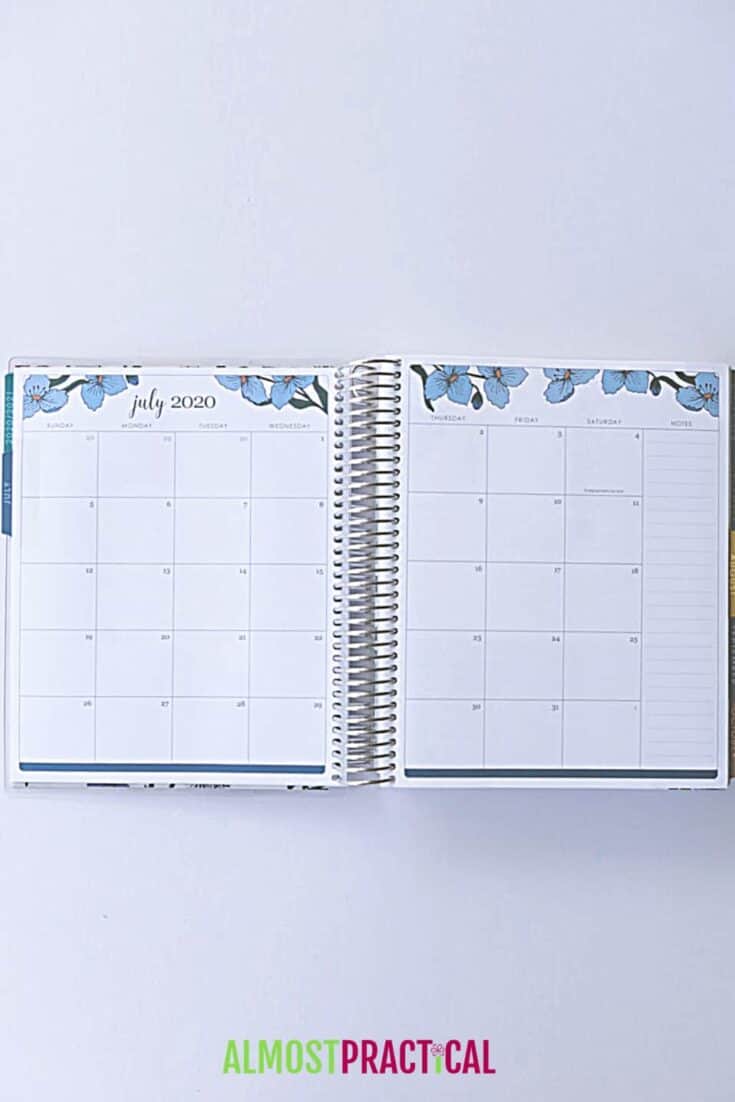 You open to this right on each tab.
It's basically a traditional calendar spread with 2 pages for the month.
Productivity Pages
Right after the monthly spread but before you hit the weekly pages, you will find a set of productivity pages.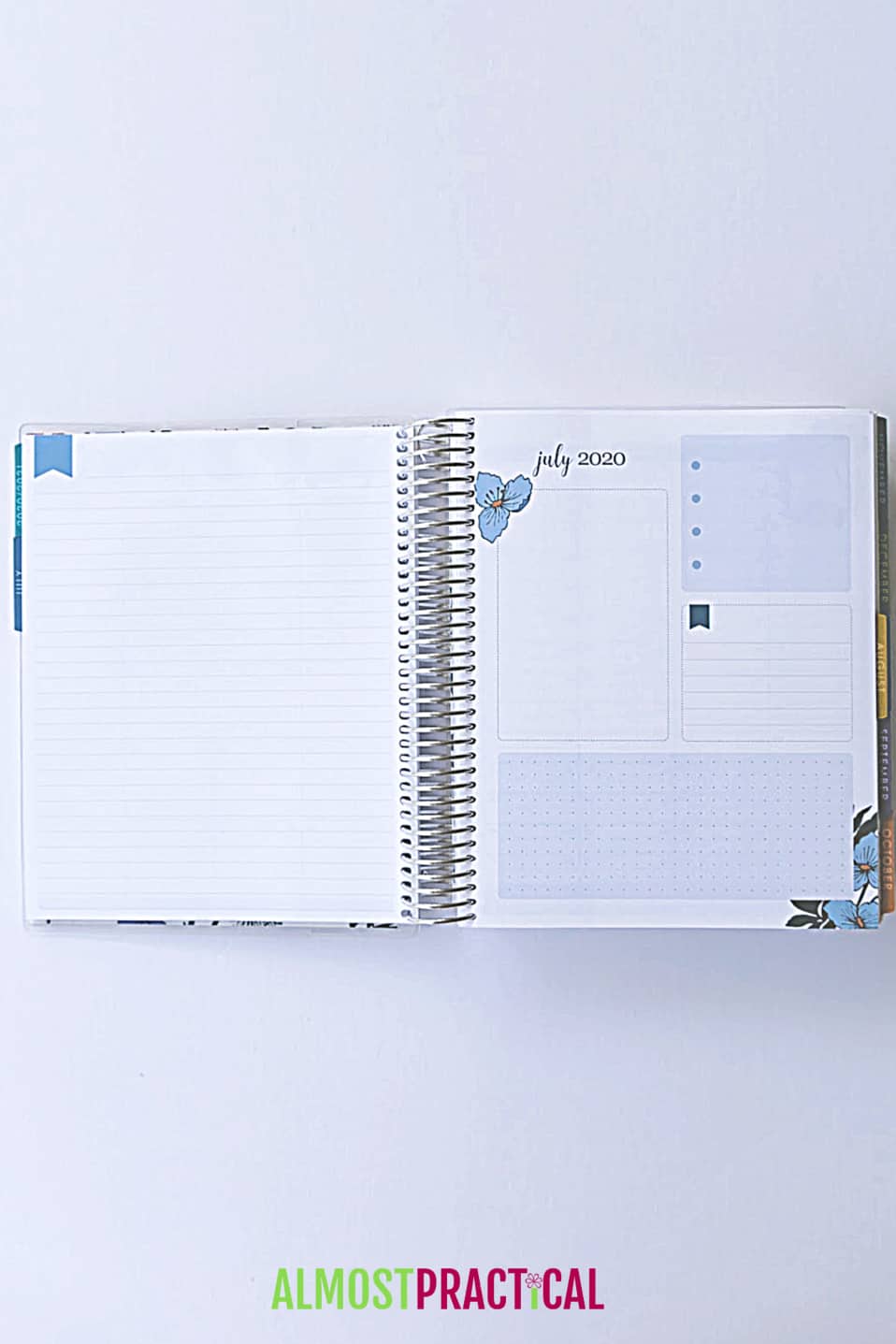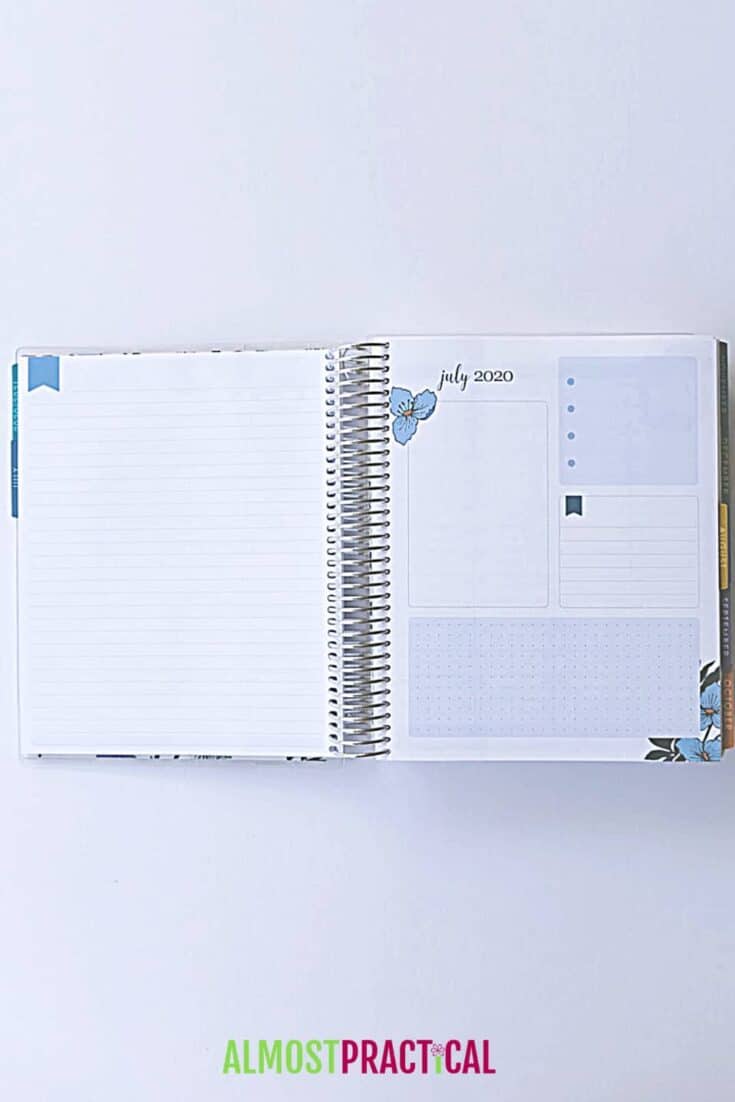 This is one lined page and a second page that is divided into four unlabeled sections – one of each of the following:
blank,
bulleted,
lined, and
dot grid.
This page has a touch of floral here and there, too.
Notes
In the back of the planner there is a Notes tab with about 4 double sided lined sheets.
Contacts
There is a one sided tab at the end to add contacts on the go.
I often tape business cards of people I meet in this section.
More Mini Months
The mini months at the end of the planner are for the upcoming year of 2022.
Here you not only have the month but there is also a bulleted section beneath each one to note any important events that you are planning ahead for.
Planner Stickers
The best part is always last!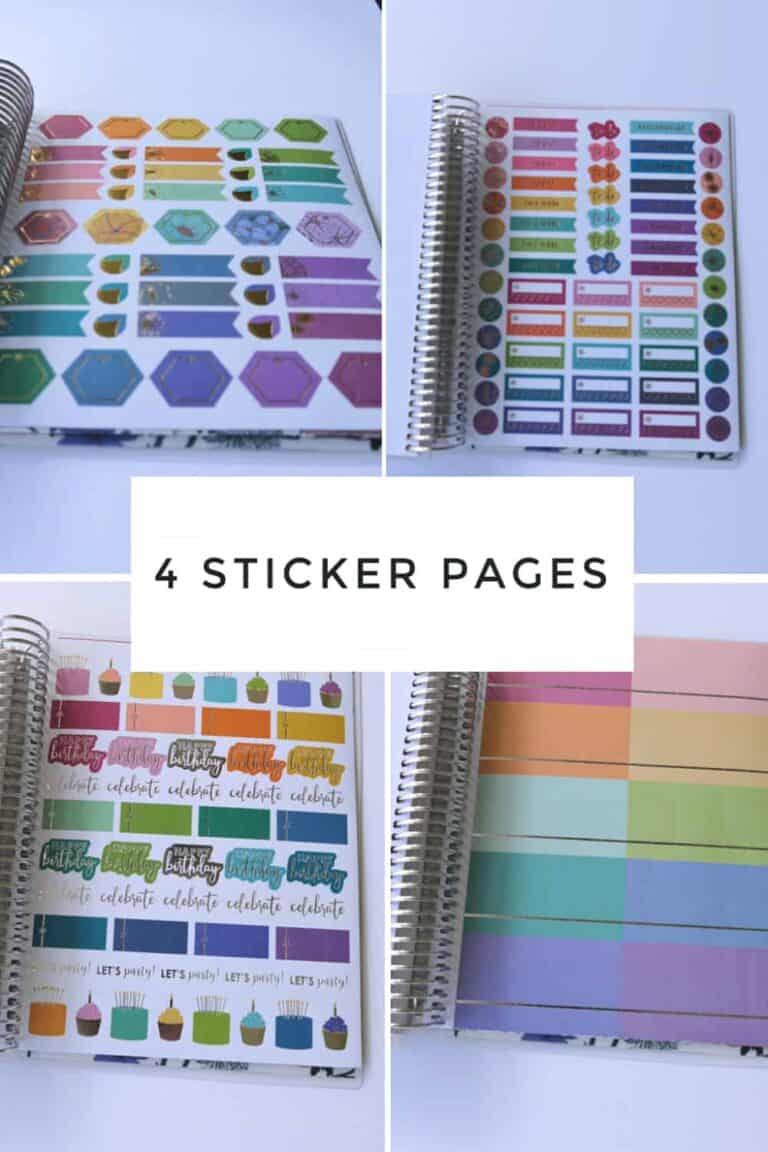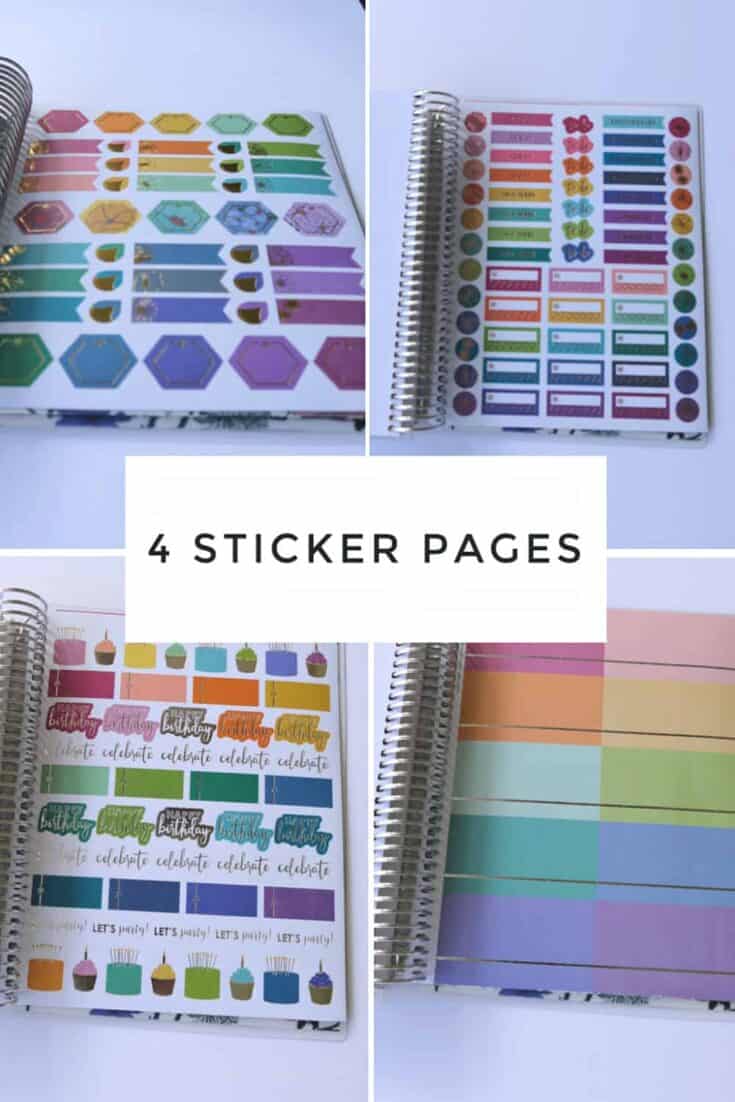 In the back of every LifePlanner is a set of 4 sheets of planner stickers that feature Flower Power design elements and metallic accents.
They are both fun and functional.
Double Sided Folder and Perpetual Calendar
Finally, there is a sturdy double sided folder to catch those odds and ends.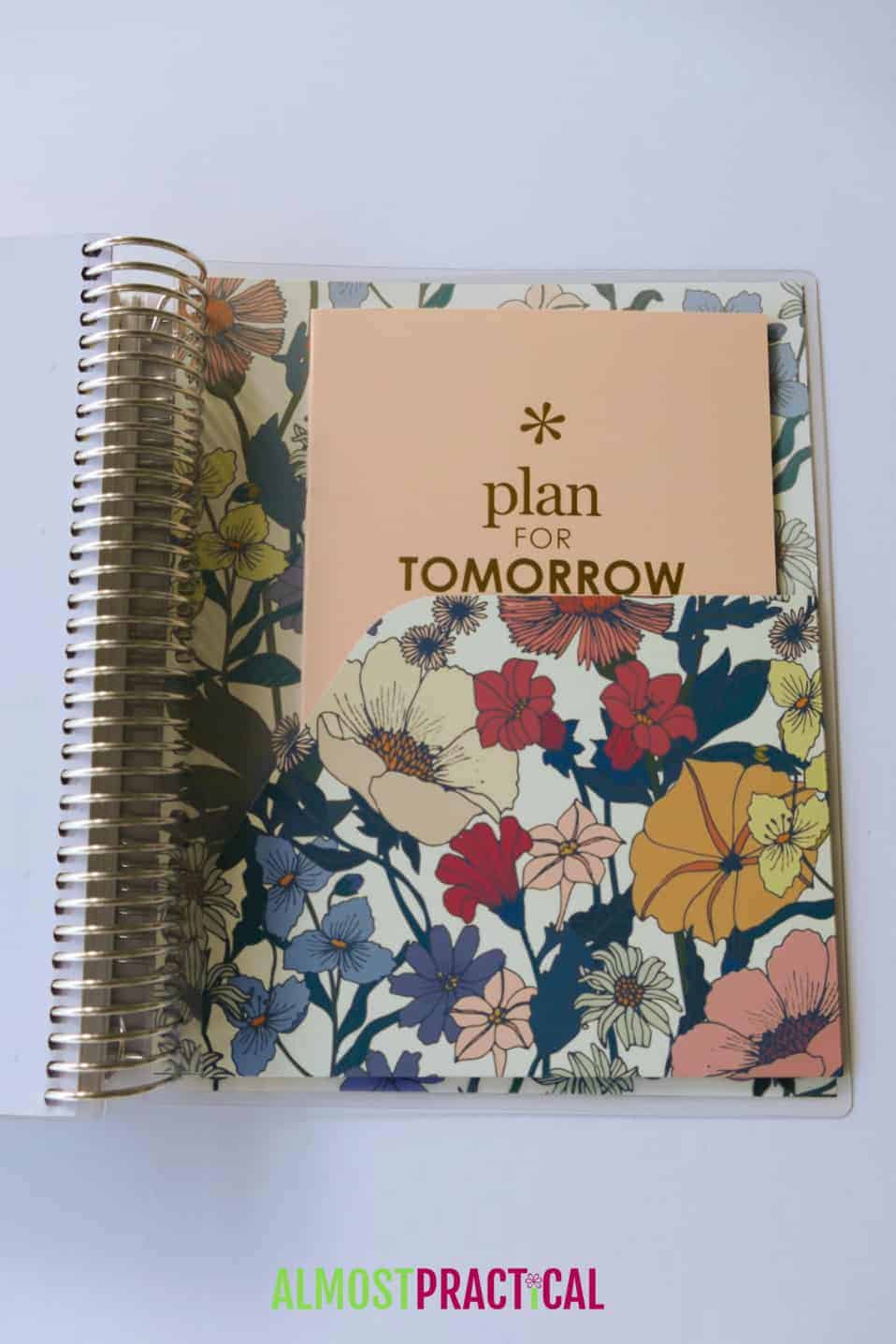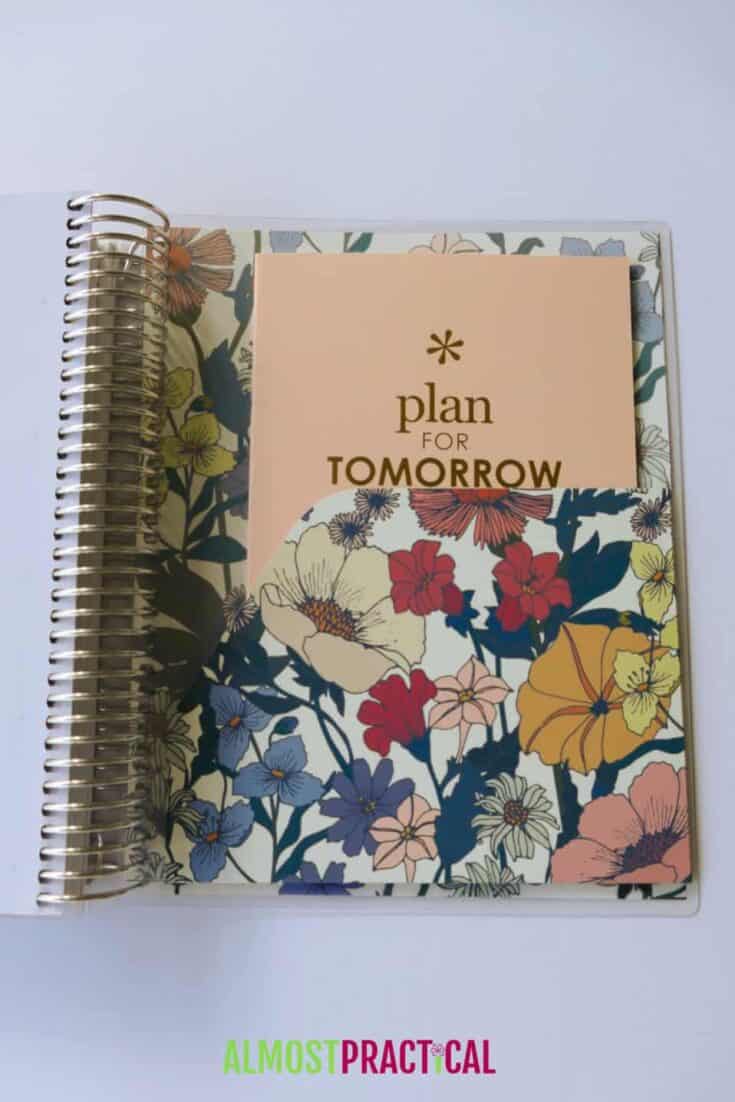 Also, tucked into the folder, you will find a Perpetual Calendar – which is actually a very useful planning tool in and of itself.
Here are several different ways that you can use the Erin Condren Perpetual Calendar.
Shop the Collection
You can see everything in the Flower Power Collection below:

I know that my photographs don't do this planner justice – it is just so much prettier in person.
Go on over to ErinCondren.com and see it for yourself!
Pin This to Your Favorite Erin Condren Board on Pinterest