Erin Condren 2020-2021 Launch – Summary of Everything New
This post may contain affiliate links which means I make a commission if you shop through my links. Disclosure Policy
Today is the release date for the all new Erin Condren 2021 LifePlanners – aka LAUNCH DAY!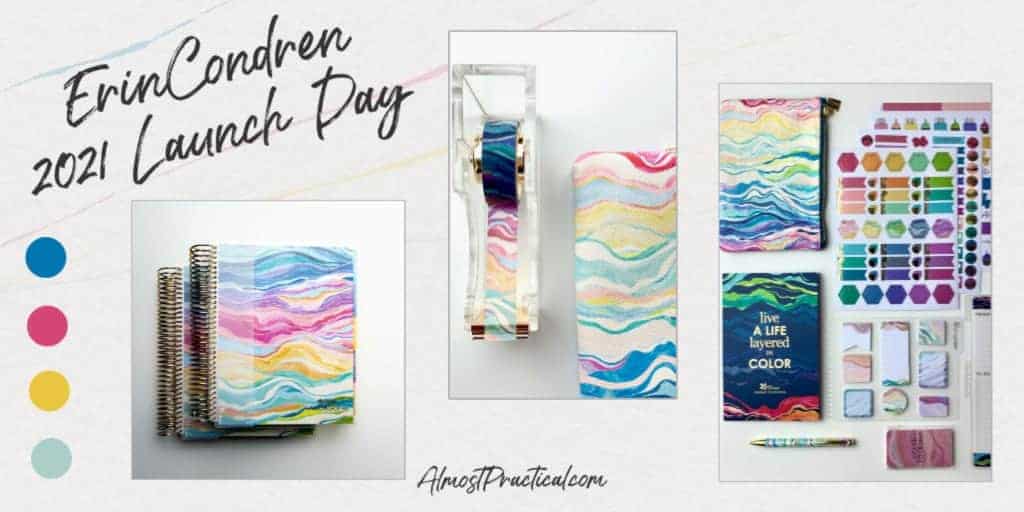 There are a lot of new planners and accessories to choose from, so I will do my best to help you navigate through everything that is new.
2 New Planner Designs
Every year Erin Condren releases a new design that she weaves throughout the planners and accessories for the upcoming year.
For 2021 there is not one – but TWO beautiful designs to choose from.
Both designs are stunning.
I previewed the Layers colorful design here – but today I want to introduce you to everything that is new.
Also, you may also want to read my 2020/2021 Erin Condren Teacher Planner review here.
4 Coiled LifePlanner Layouts
The new Layers and the Flower Power LifePlanners come in the following layouts:
vertical,
horizontal, and
hourly.
Examples of some of the layouts in the different designs:
New Daily Layout in Coiled
For 2020/2021, however, there is one brand new layout – a coiled DAILY LifePlanner.
This one page per day option is called the Daily Duo LifePlanner because it comes as a set of 2 six month books (July 2020 to June 2021 for now) and it is only available in the Layers colorful theme.
This layout features one page per weekday with the weekend (Saturday and Sunday) on one page.
You can read my review of the coiled Daily Duo here.
2021 LifePlanner Binder Options
The LifePlanner also comes in a binder version – and for 2021 there are a few changes to note.
First, there are 3 new covers to choose from:
On the inside, there are 3 layouts that you can choose from:
vertical,
horizontal, and
hourly.
As of now, there is no daily option available in the binder.
This is a change from last year's Kaleidoscope LifePlanner Binder.
So, basically, if you want a daily layout – your only option is the coiled Daily Duo.
Also new – there is an Erin Condren binder hole punch, so you can easily add your own pages into this unique binder system.
New Interchangeable Cover Designs
As always, on the coiled LifePlanners you can choose any of the available interchangeable cover designs and customize it to make it all your own.
With this launch, Erin Condren also released some gorgeous new cover designs.
Erin Condren DIY Interchangeable Pen Kit
This DIY pen kit includes 2 double sided pen barrels and 13 interchangeable tips – so you can mix and match colors and styles to your heart's content.
Fans have been eagerly awaiting this release ever since it previewed in the 2020 Spring Surprise Box.
Coordinating Planner Accessories
A LifePlanner all by itself is great – but having planner accessories that coordinate make it even better.
Erin Condren has released everything from pens to stickers to washi in both the Layers and Flower Power designs.
Sticker Books
Sticky Notes
Beautiful Ballpoint Pens
Snap In Dashboards
Snap In Bookmarks
Sticker Sheets
Even More Planning Goodness
Beyond everything pictured above – there are even more coordinating planner accessories to choose from.
Everything You Need to Start Planning
As you can see, this 2021 Erin Condren Launch has everything you need for a fresh start.
Explore the new LifePlanners and all the accessories that go with – then be sure to leave a comment below to let me know which design is your favorite.
Happy Planning!
Pin this to Your Favorite Erin Condren Board on Pinterest