2023 Erin Condren Life Planner Review
This post may contain affiliate links which means I make a commission if you shop through my links.
 Disclosure Policy
Disclosure: Products in this post were provided by Erin Condren. All opinions are my own.
Looking for a new planner for 2023? The Erin Condren Life Planner is always a great choice in planners. Here is a review of a few of the options available for the new year.
This classic planner is updated each year with a variety of different options.
Often these options include different:
designs,
sizes,
layouts,
covers,
formats,
and more.
There are far too many combinations for me to cover here – but I will try to give you an overview of what is available.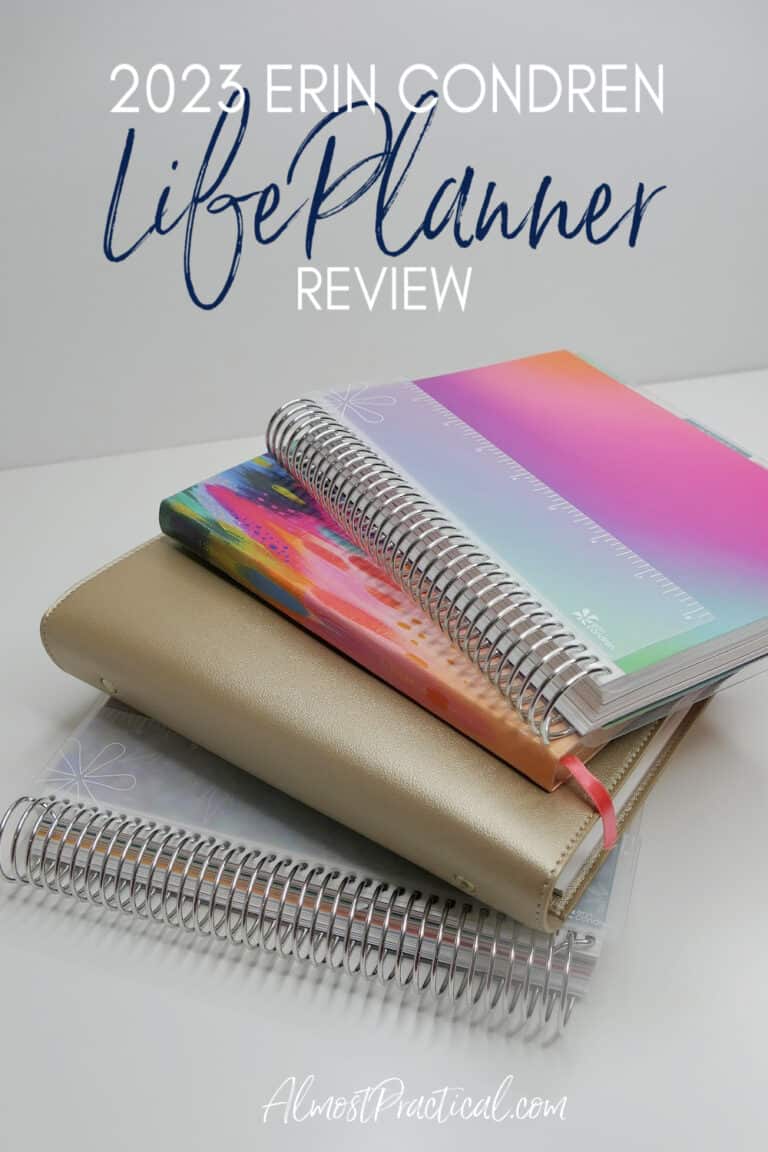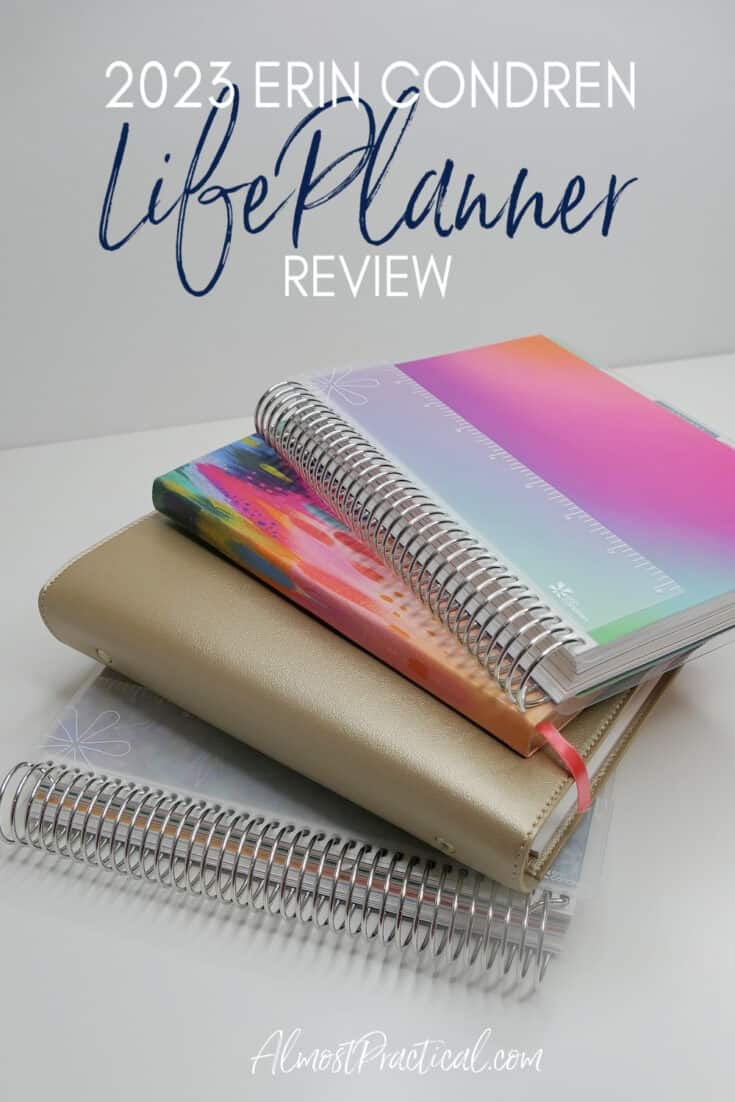 2023 Life Planner Designs
For 2023 the Erin Condren Life Planner comes in the following interior designs:
Colorblends
Harmony Colorful
Harmony Neutral
In Bloom
Focused Collection
and EttaVee Bliss (softbound only)
All of these are gorgeous and the design you choose is really based on personal preference.
Not all of the LifePlanner sizes and formats come in all of the designs.
Erin Condren Life Planner Sizes
The Life Planner itself comes in 3 different sizes:
7×9 inches – coiled, binder
A5 – the coiled, soft bound, and ring agenda all come in this size (learn what an A5 planner size is here)
8×10 inches – in soft bound only
pocket size – soft bound only
LifePlanner Formats for 2023
The variety of Erin Condren Life Planner formats seems to get larger each year. With so many choices, it is hard to narrow things down!
Here are the available options:
Interior Layouts for the Life Planner
The Life Planner comes in several different interior layouts.
These may look different in each of the different sizes – for example, the vertical layout in the 7×9 LifePlanner looks very different from the vertical layout in the A5 LifePlanner.
The internal layout options are:
Daily Duo layout
horizontal layout
vertical layout
hourly layout
and the monthly planner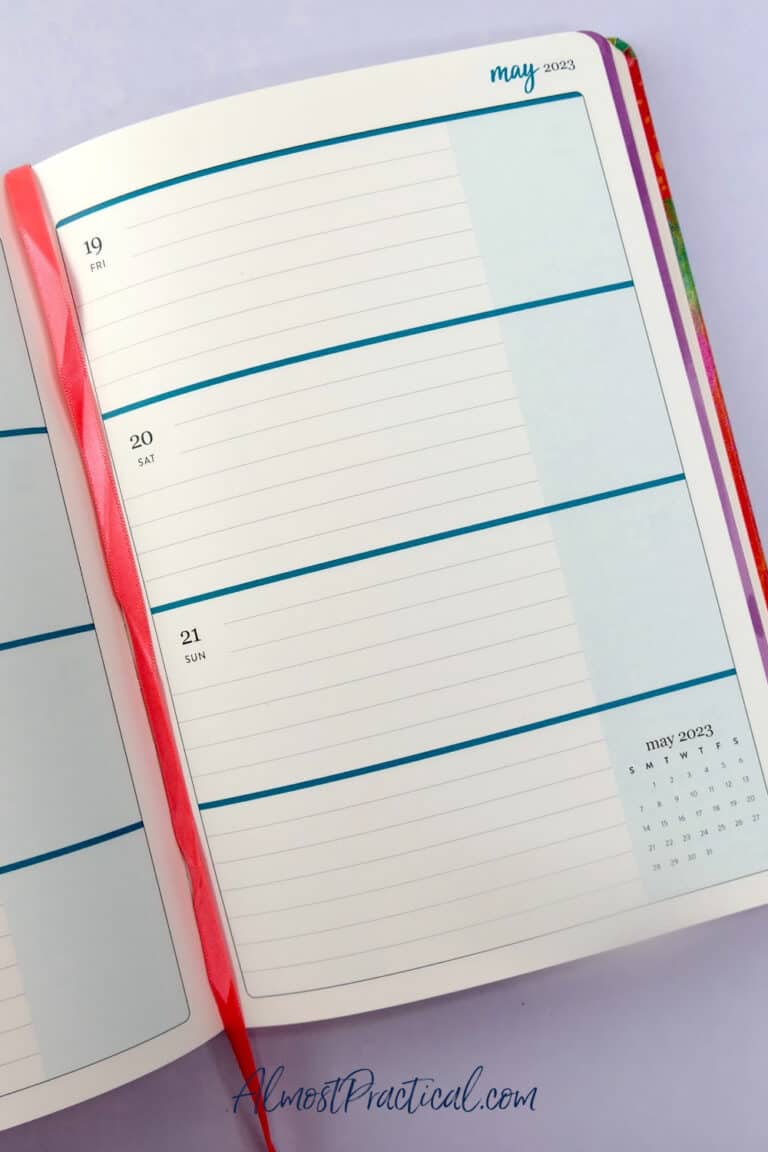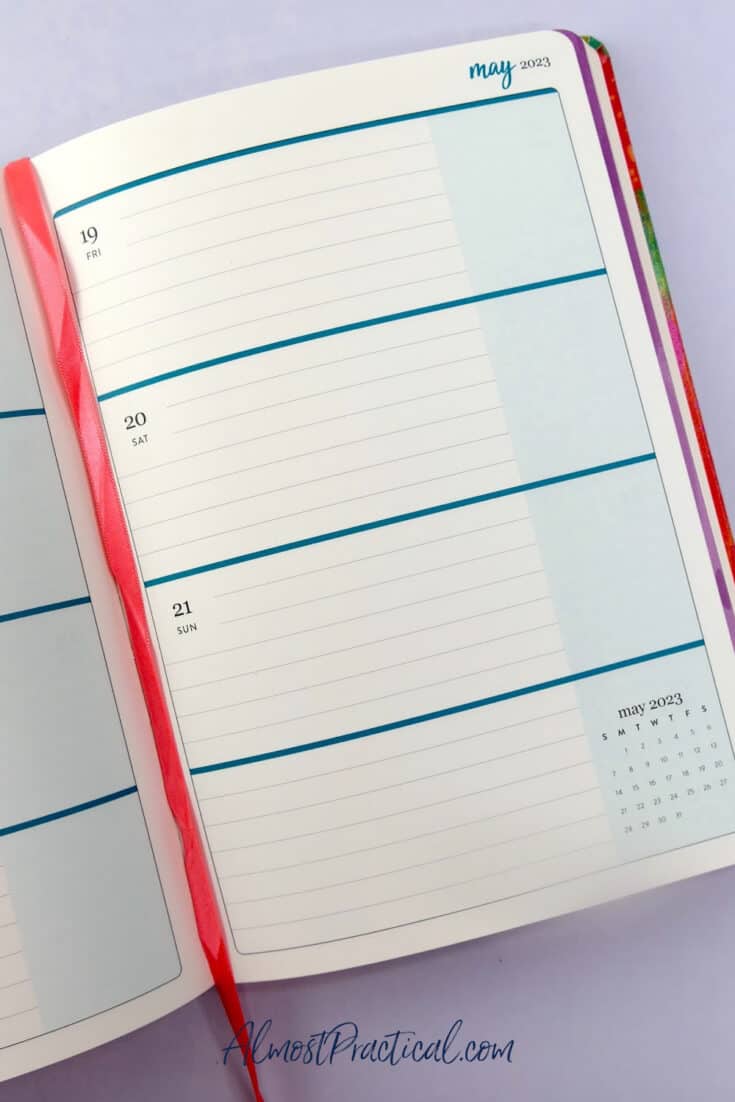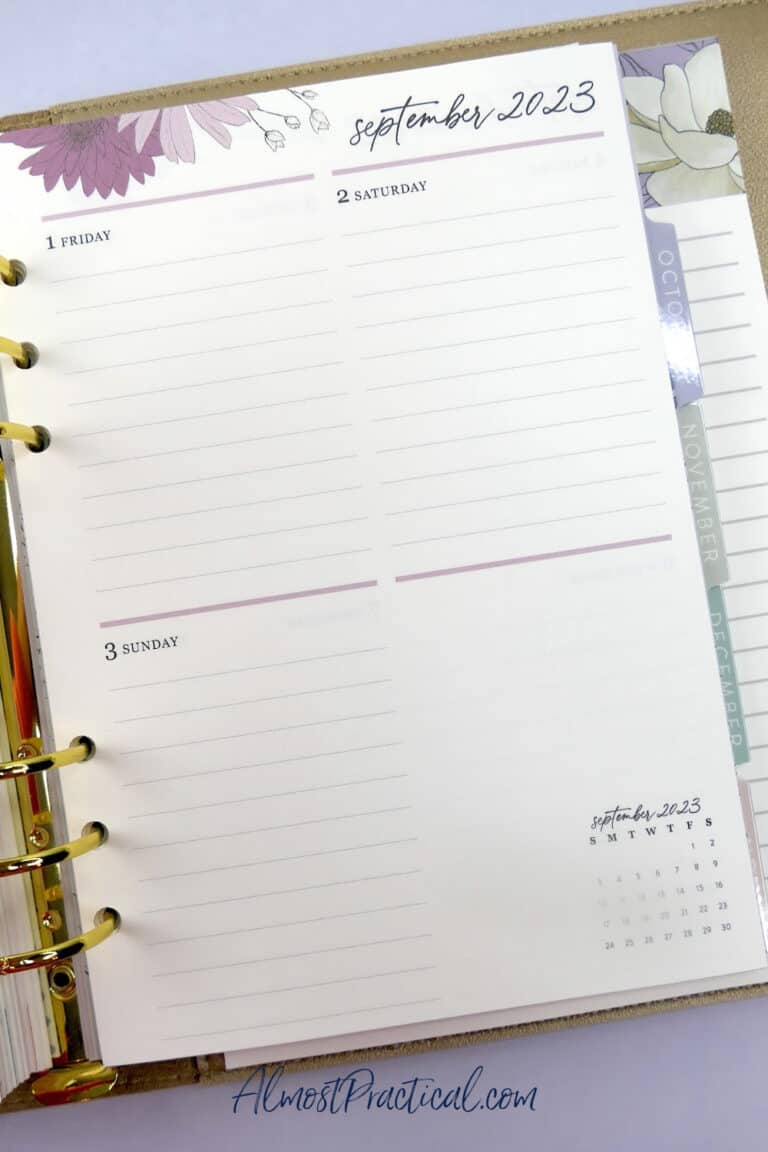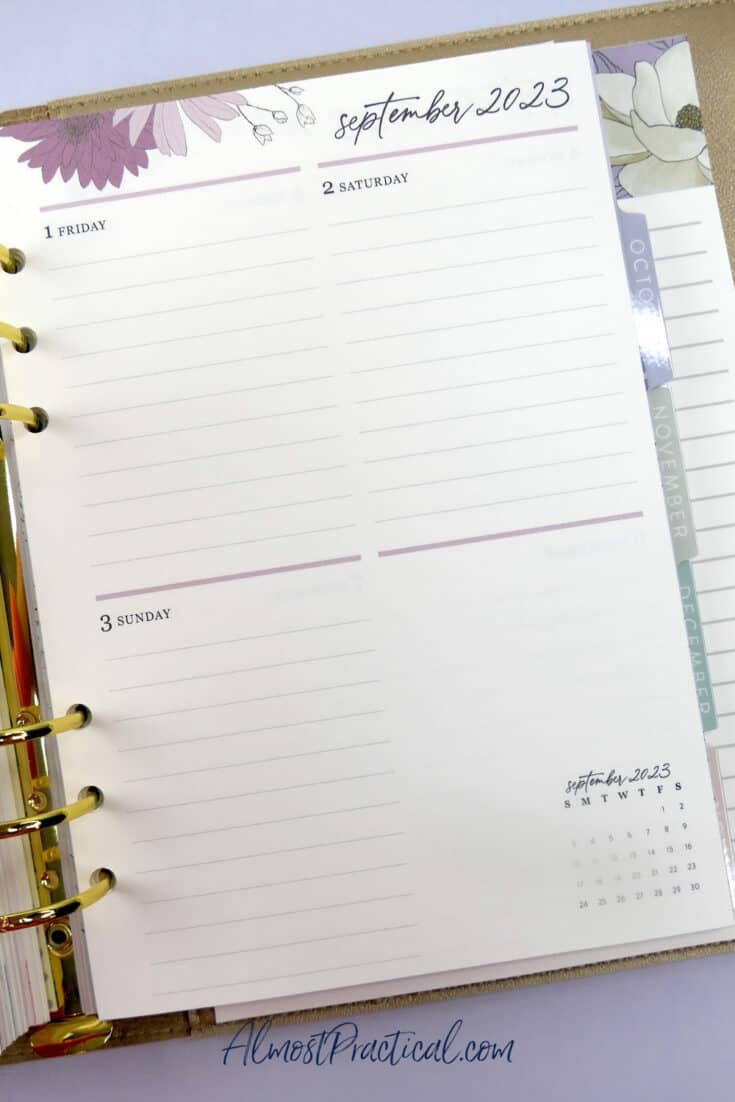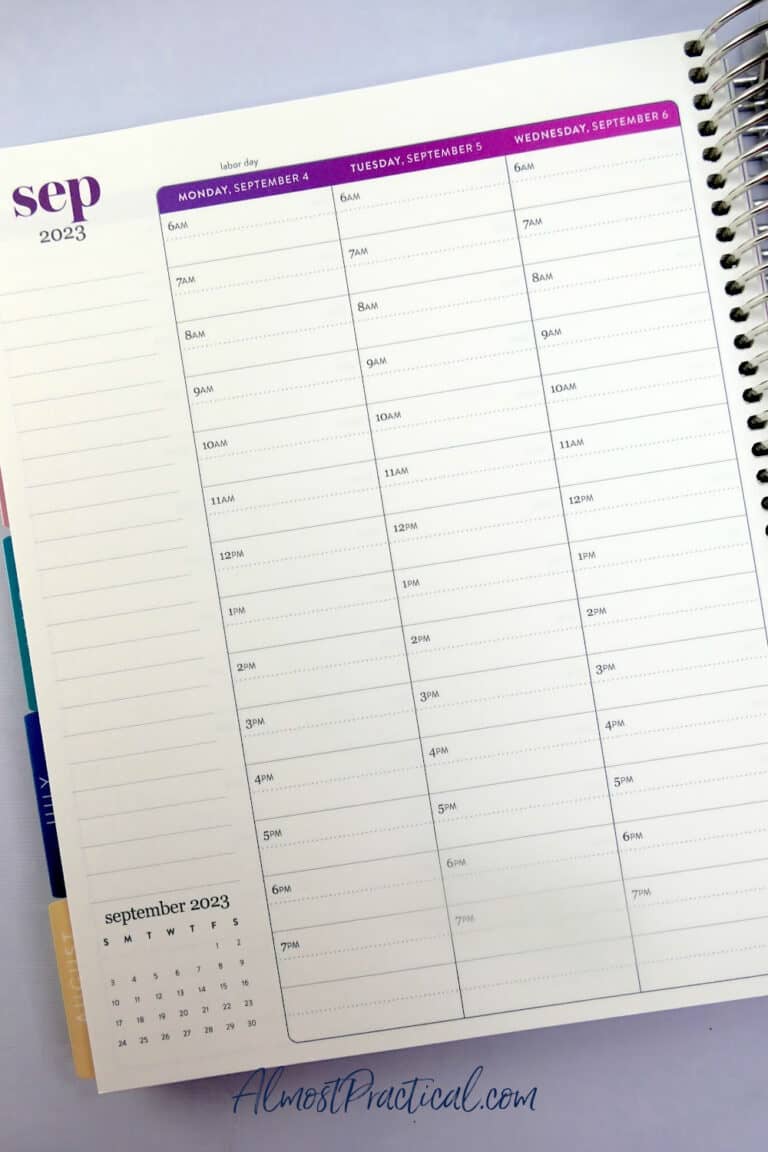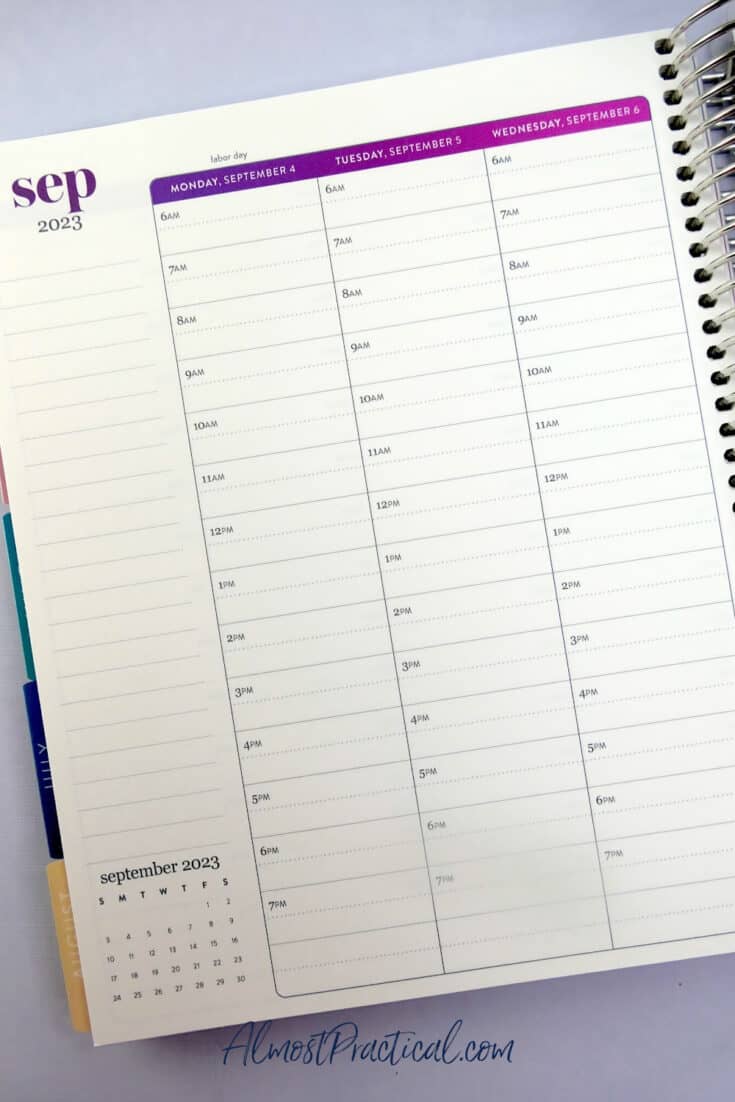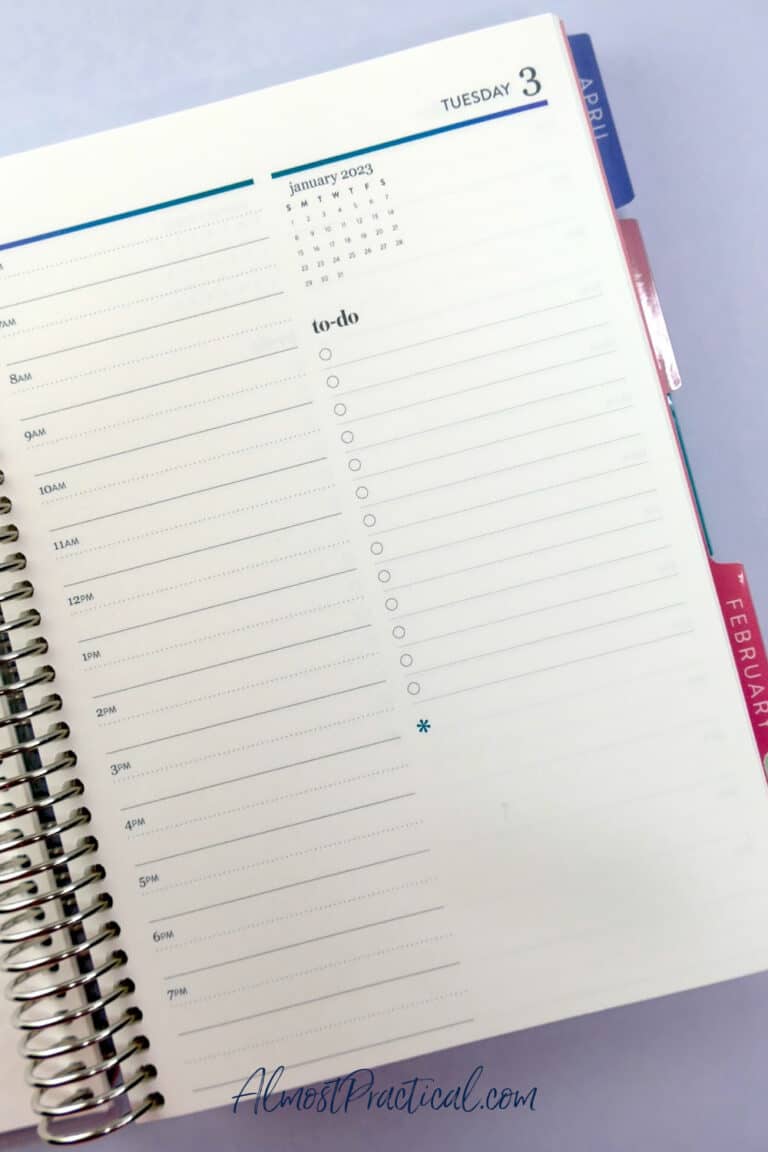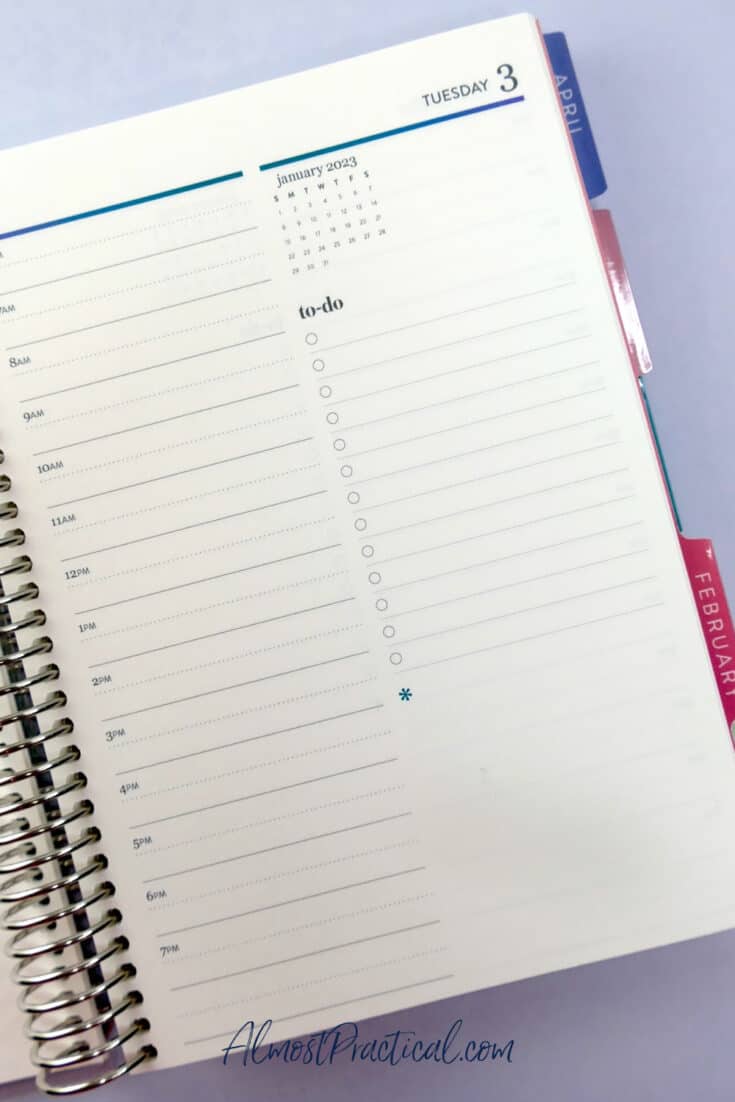 Life Planner Options for 2023
Having so many choices in the Erin Condren Life Planner is pretty awesome – but it can also be kind of confusing.
So, I will go into a little more detail on each one here.
To make it easy – I will start with the Life Planner formats and explain the options for each one.
The 7×9 Coiled LifePlanner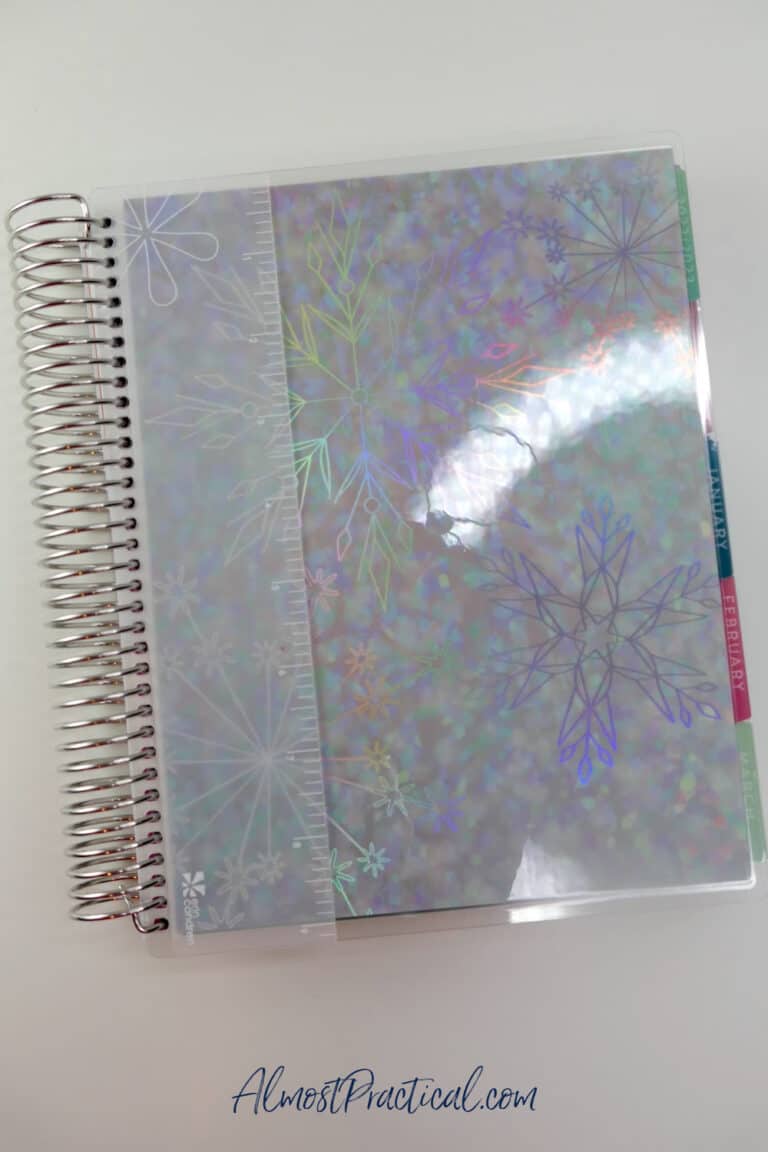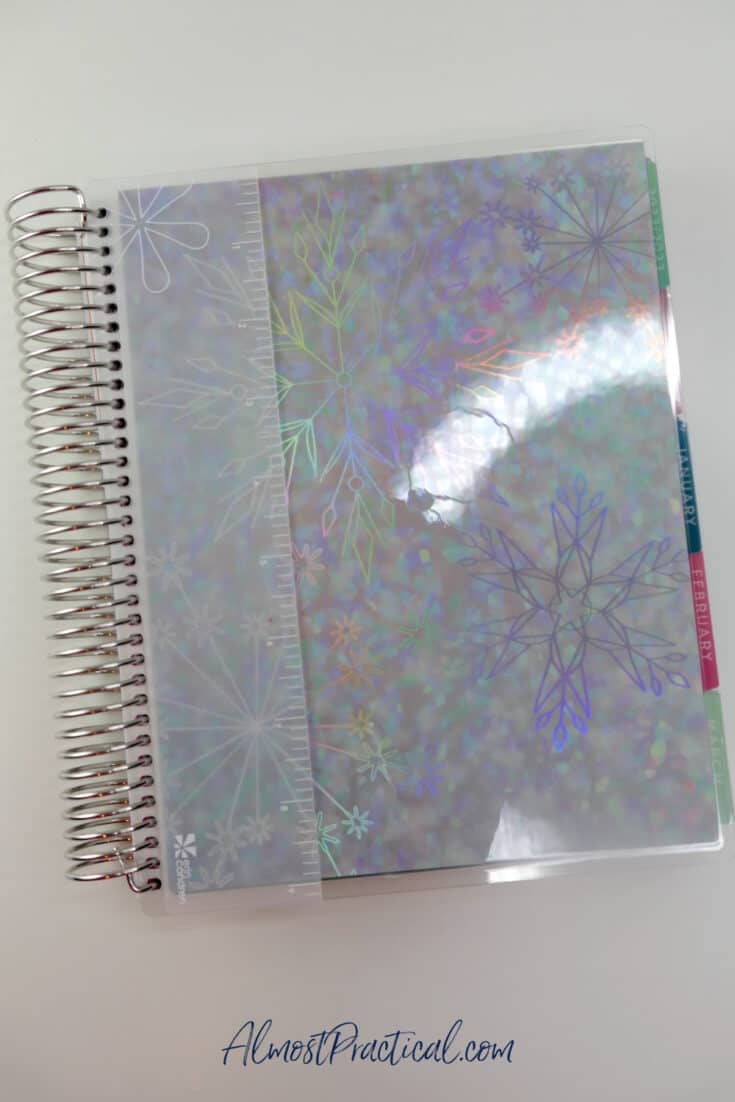 The Life Planner in the 7×9 coiled format was the "original".
In this size – you have a choice of all the following designs:
Harmony colorful
Harmony neutral
In Bloom
Colorblends
and the Focused Collection
You can also choose from all of the layouts. To recap, these would include:
Daily Duo
Hourly
Horizontal
Vertical
and the Monthly Planner
Unless you choose a solid cover, the coiled 7×9 Life Planner comes with an interchangeable cover and you can order additional covers in a huge selection of designs that you can change as often as you like.
The 7×9 inch coiled LifePlanner also comes with a coiled in folder at the end and a few sticker sheets.
The A5 Coiled LifePlanner
The A5 coiled Life Planner is a more compact and portable size if you like to take your planner on the go.
For this size, you also get to choose from all four interior design options as well as the Focused Collection.
However, you are slightly more limited on the interior layouts – because the pages are smaller than the 7×9.
In the A5 coiled you can choose:
Horizontal layout,
a Compact Vertical layout or
the Daily Duo
Personally, I really like the Compact Vertical layout because it is very free form – so I can use the space how I choose.
The A5 also comes with a coiled in folder and sticker sheets.
The Soft Bound Life Planner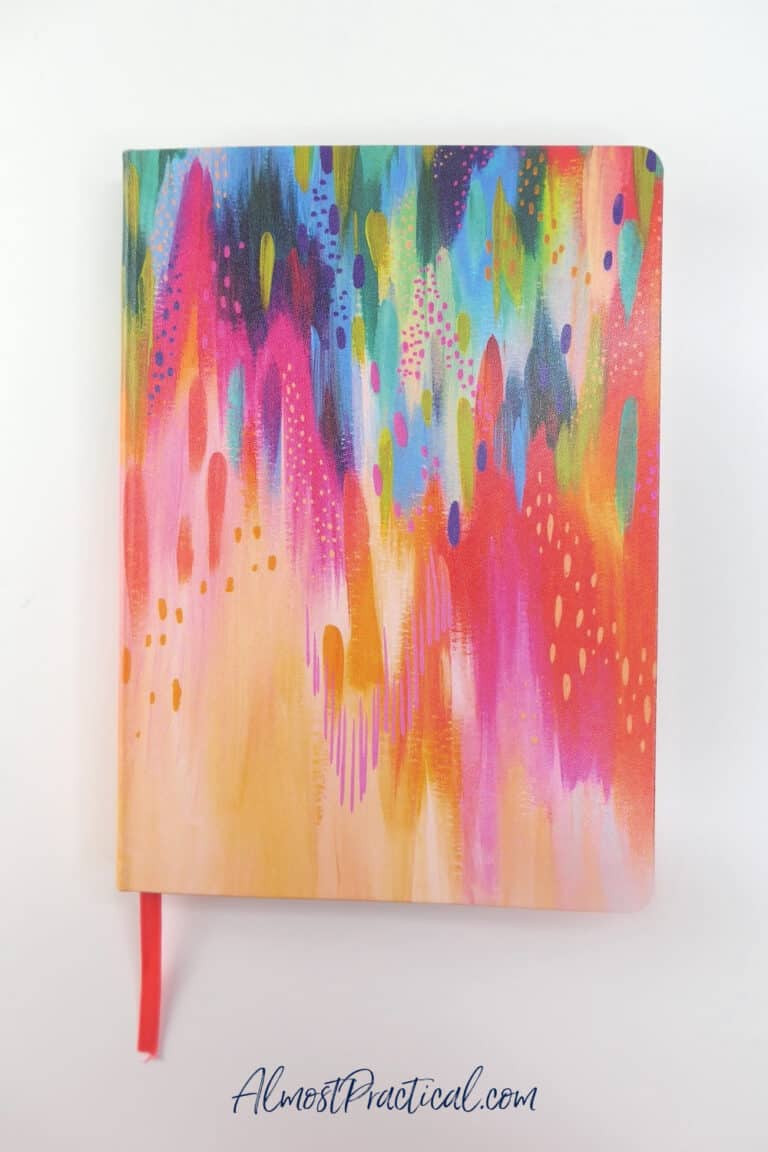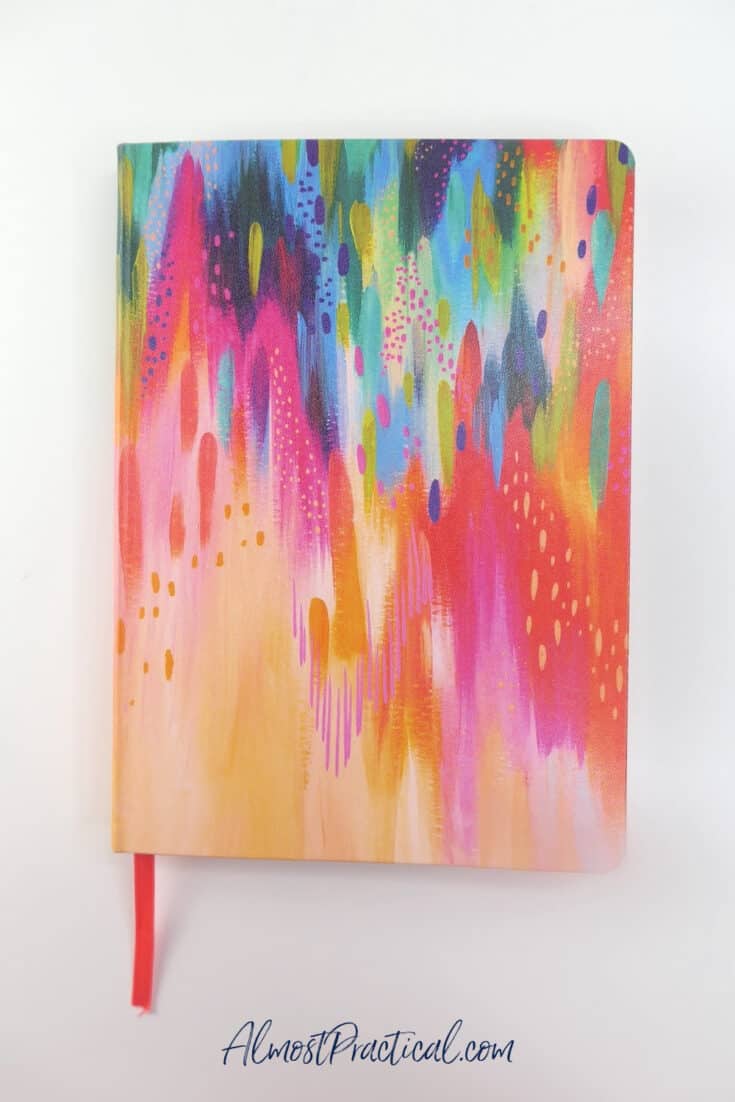 While the coiled LifePlanners are the most customizable of the Erin Condren Planners – the Soft Bound LifePlanner has a sleeker feel and also comes in a few different sizes.
You will find this planner in:
a roomy 8×10 size
an A5 version
and a pocket size planner.
However, each size and design comes with a layout that cannot be customized or changed. This is because these planners are already bound.
In general the 8×10 Soft Bound Planners come in either the Horizontal layout or the Hourly layout.
The A5 Soft Bound LifePlanners and the Pocket Planners come in the Horizontal layout only.
And the Focused Collection Soft Bound LifePlanners are also in the Horizontal layout only.
The Erin Condren Ring Agenda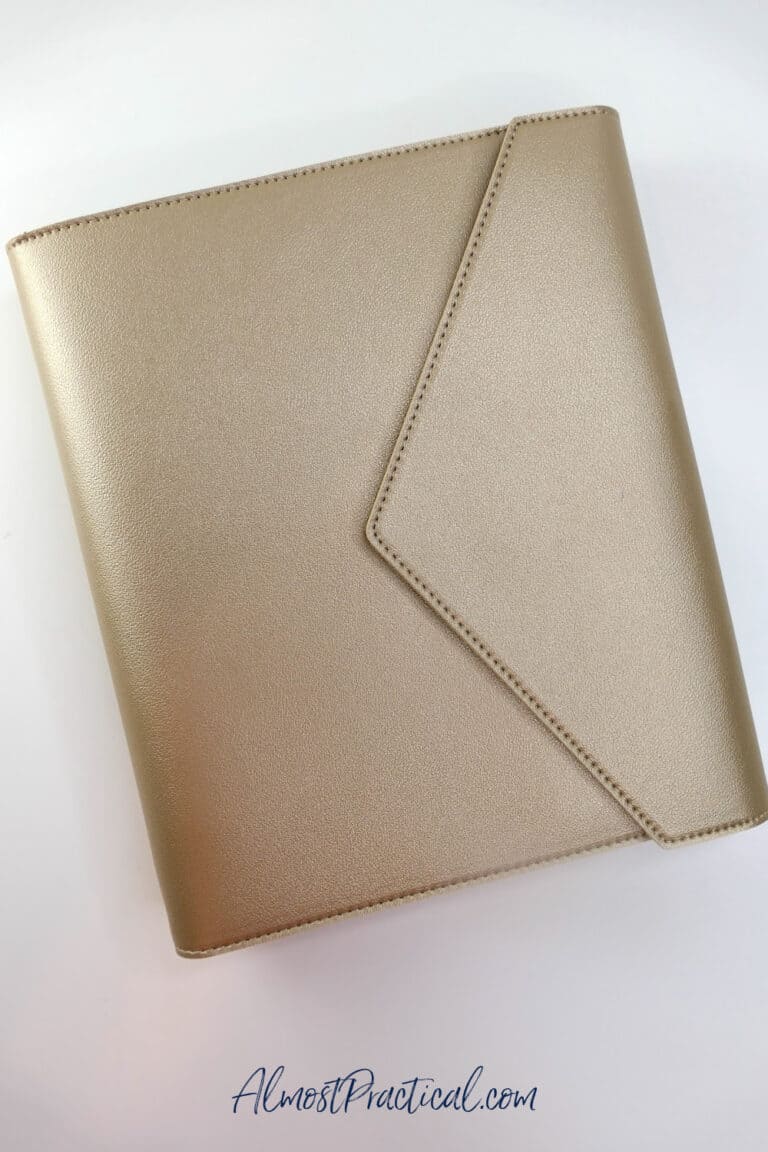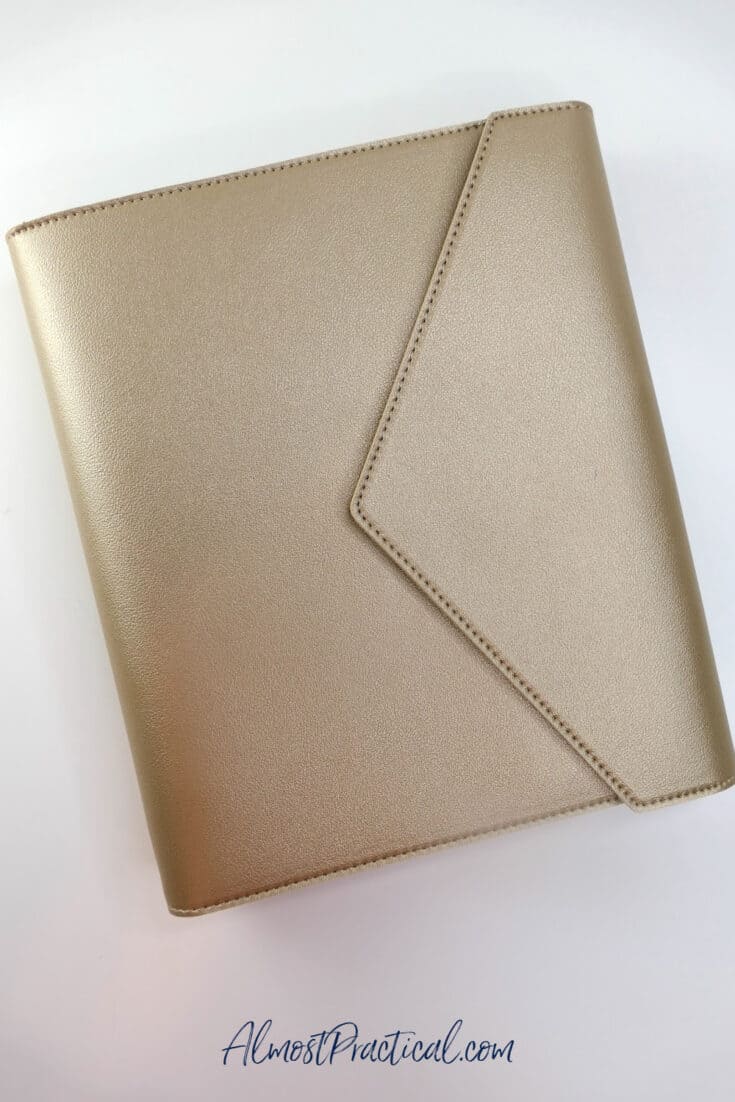 The Erin Condren Ring Agenda holds A5 planning pages.
These pages come in the following layouts:
Daily
Weekly Horizontal
or the Weekly Compact Vertical
What I love about the ring agenda is the vegan leather cover. You can pick one to fit your style and it has little compartments to hold small papers, a notepad, and you can even slip a petite planner in there.
I use mine for running my blog – I can keep all of my notes as well as my planner in one place.
As an aside, if you love the cover but prefer a coiled Life Planner, Erin Condren also makes Planner Folio covers for the 7×9 books.
The Life Planner Binder
Last but not least, the Erin Condren Life Planner also comes in a 7×9 ring binder format.
The choices here are more limited.
The binder only has one cover option and the inserts sport the Daily Hourly layout (similar to the Daily Duo).
The Daily Duo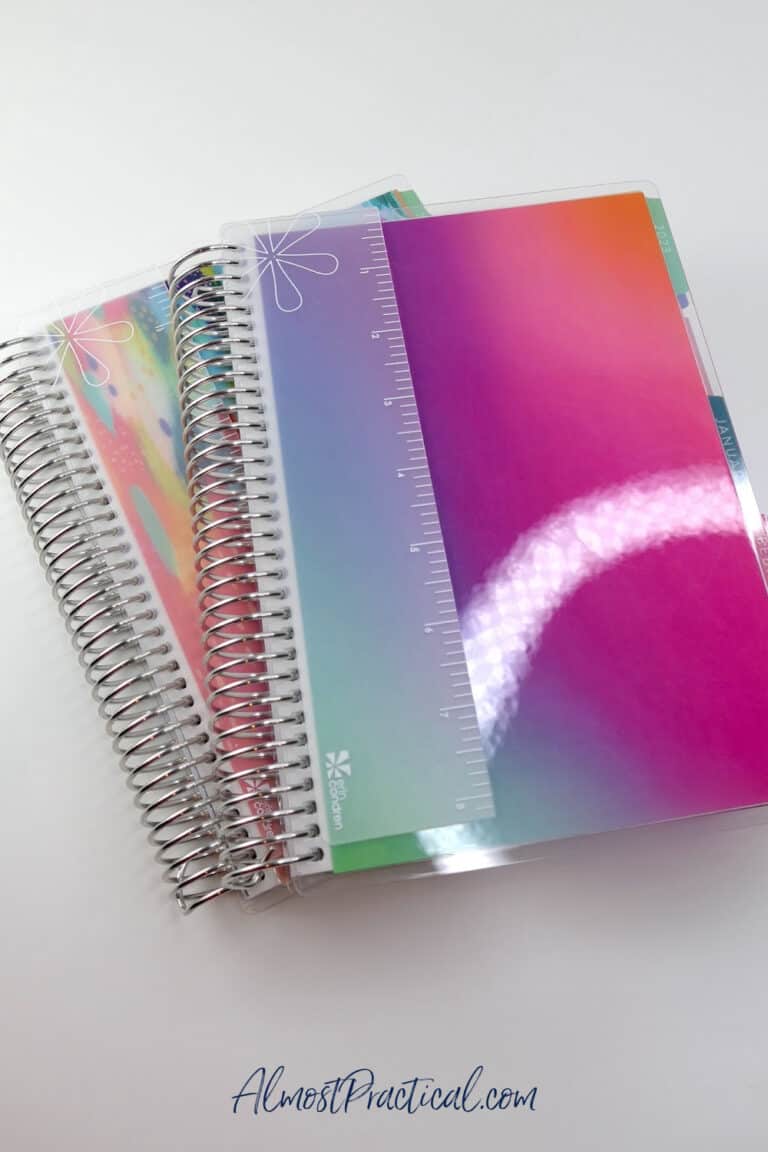 The Erin Condren Daily Duo is a one page per day daily LifePlanner.
This book by far gives you the most space to plan – which is why it takes up two books.
Each book contains 6 months worth of planning pages, but they are sold together as a set.
The daily pages only come in a coiled version or as part of the ring agenda.
You get to choose the design for both versions and the size in the coiled version.
For the coiled version your options are either the standard 7×9 or the A5 size.
Planning Pages Common to Most Life Planners
No matter which LifePlanner you choose, there are certain pages that are common to most books.
Mini Months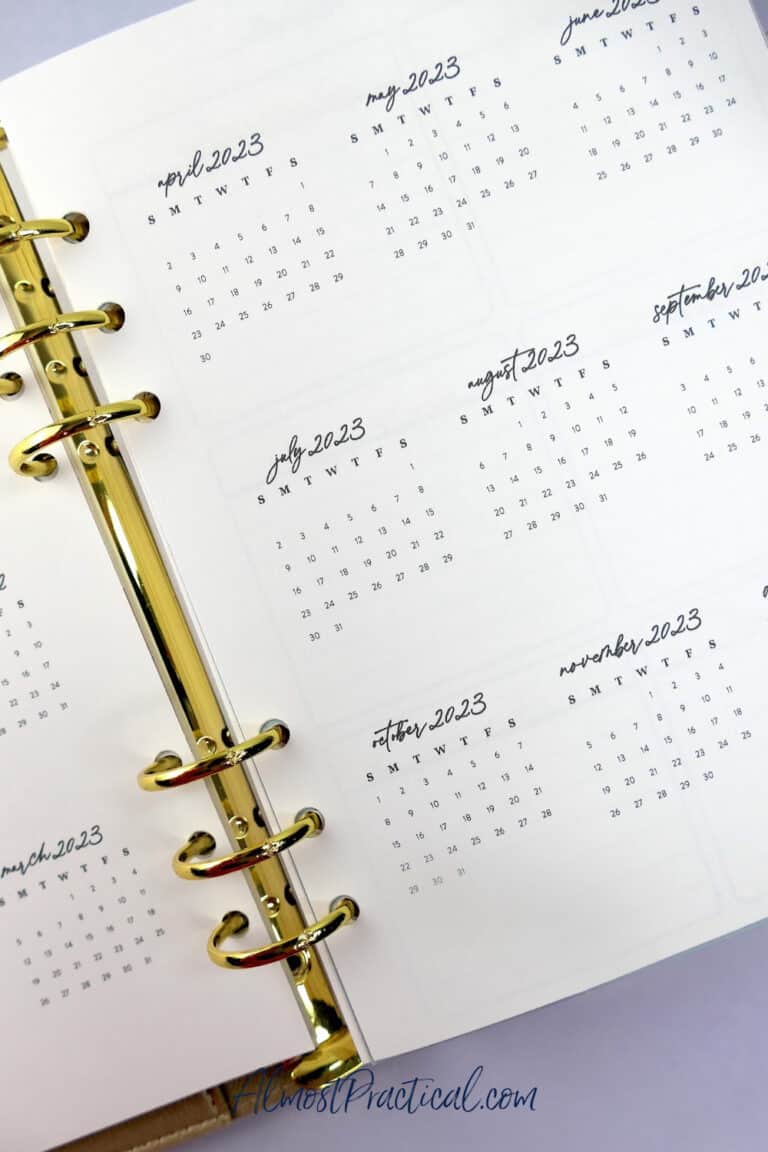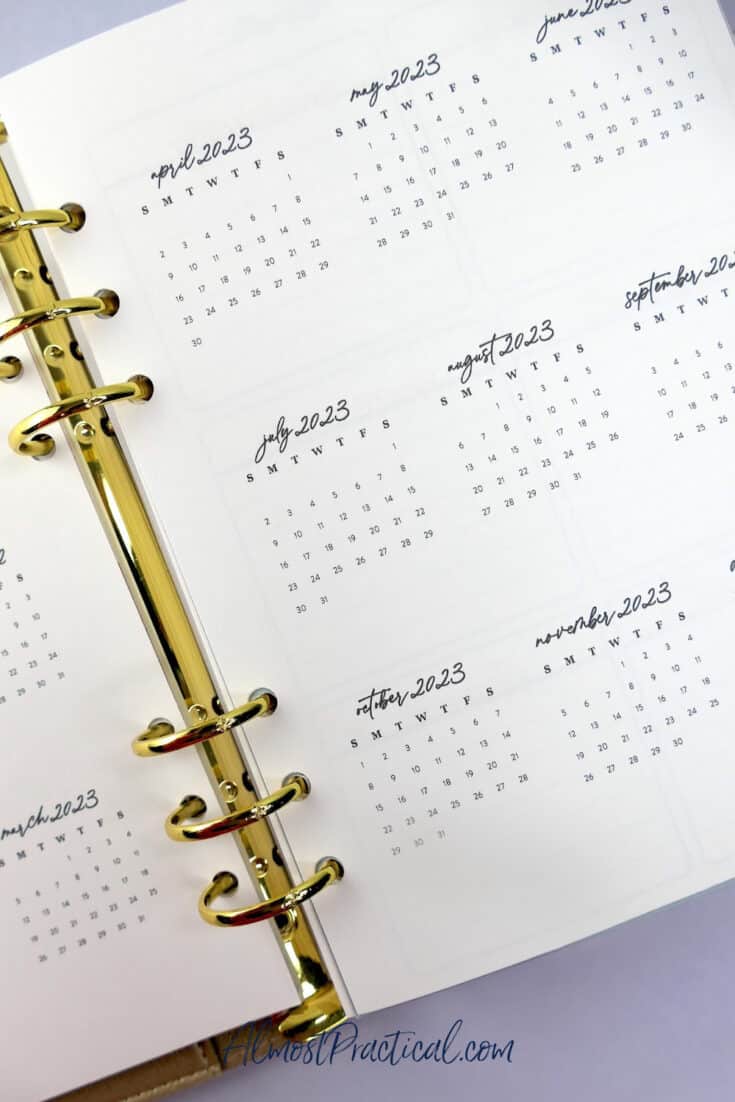 Each Life Planner begins with Mini Months pages for the whole year. This gives you a birds eye view of the year so you can plan at a glance.
Goal Pages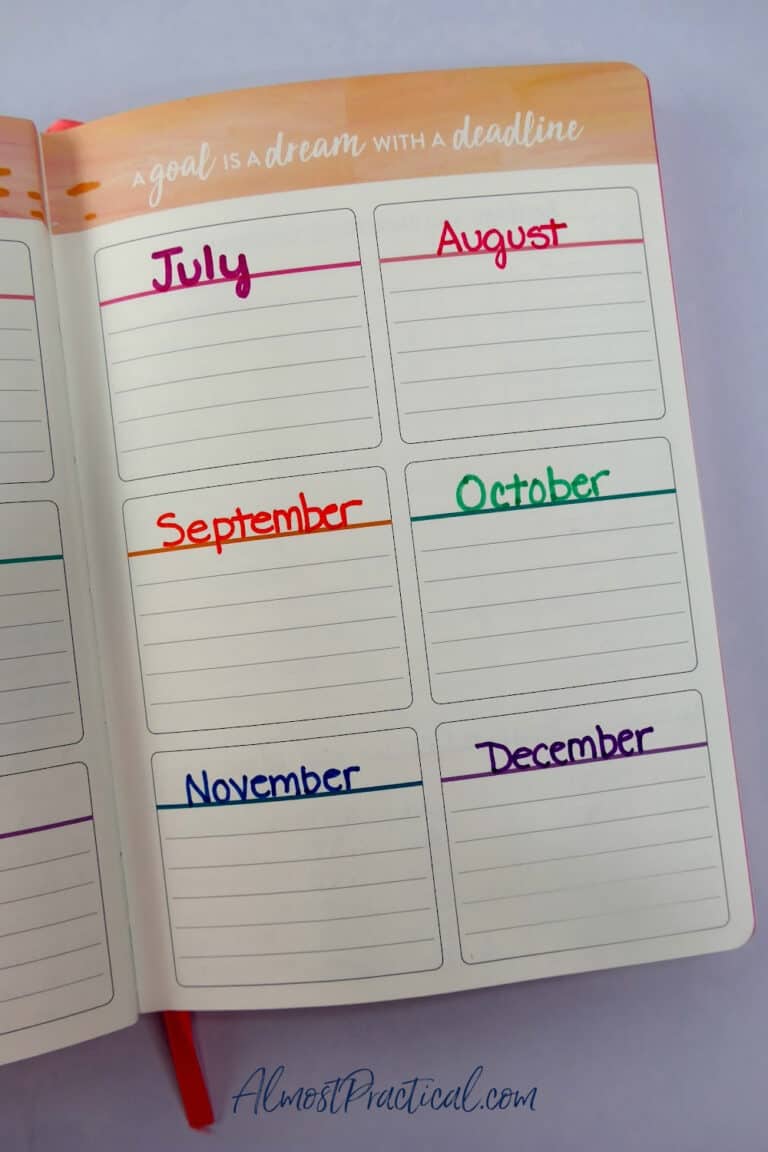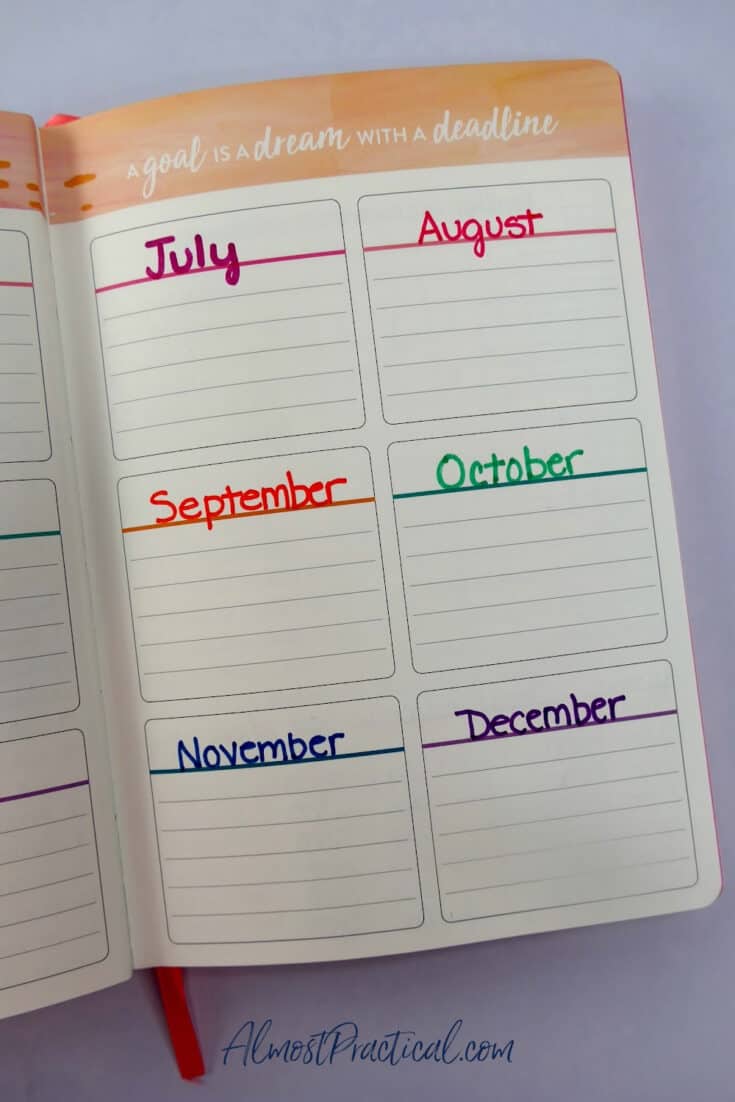 These pages consist of 12 open ended blocks (or 6 per book in the Daily Duo). You can use these however you like.
I have used them to set goals for each month or keep track of monthly accomplishments.
Quotes Dividers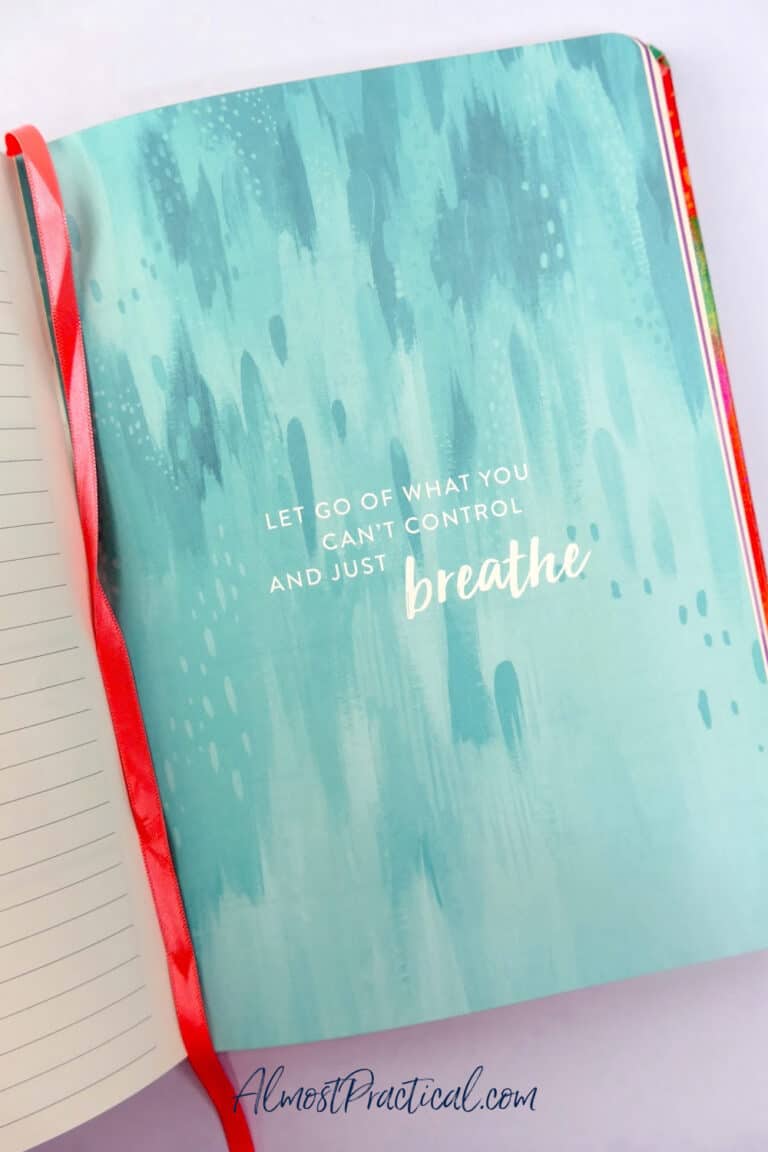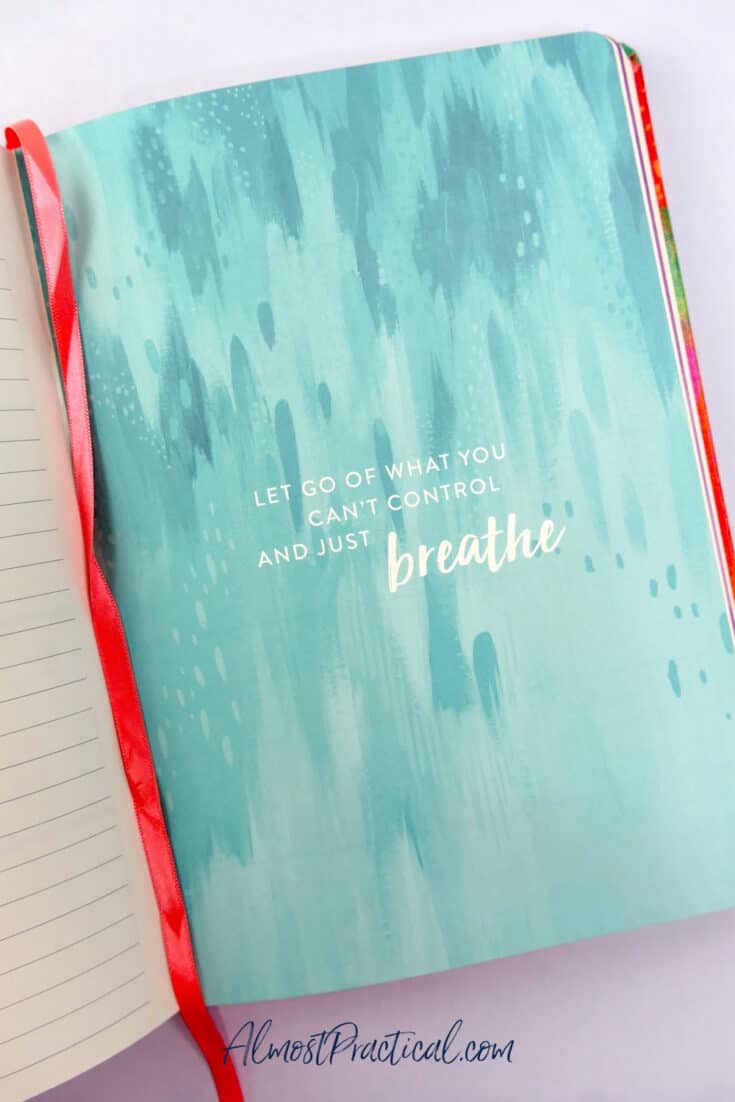 Every month you will find a beautiful, inspirational quote on the divider page for that month.
2 Page Per Month Layout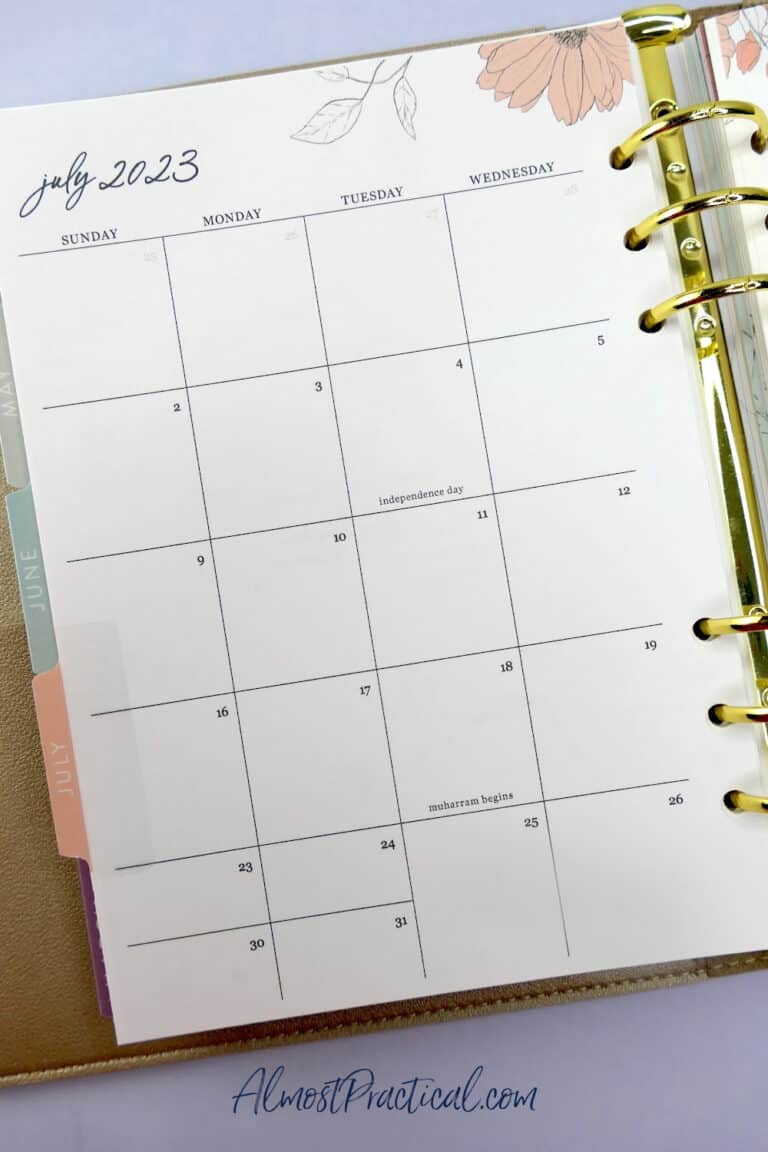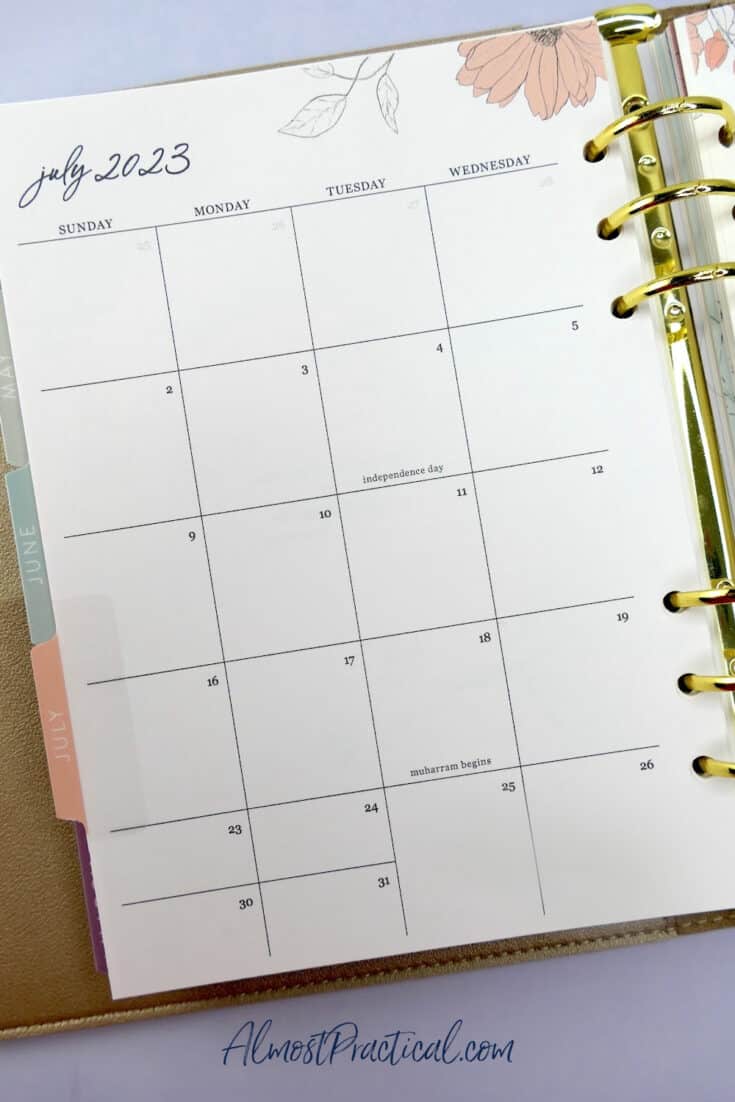 Each month begins with a standard 2 page per month layout. You can use these pages to list important appointments and block out weeks of time so you can visually plan your month all at once.
Productivity Pages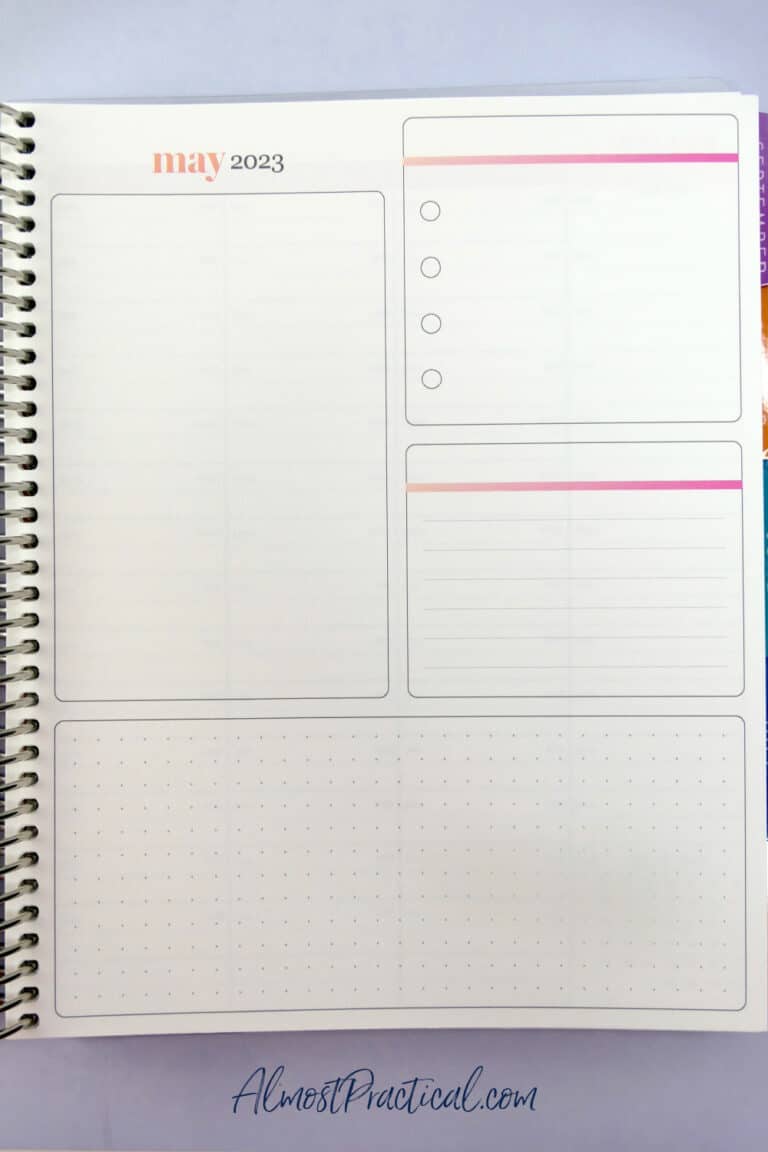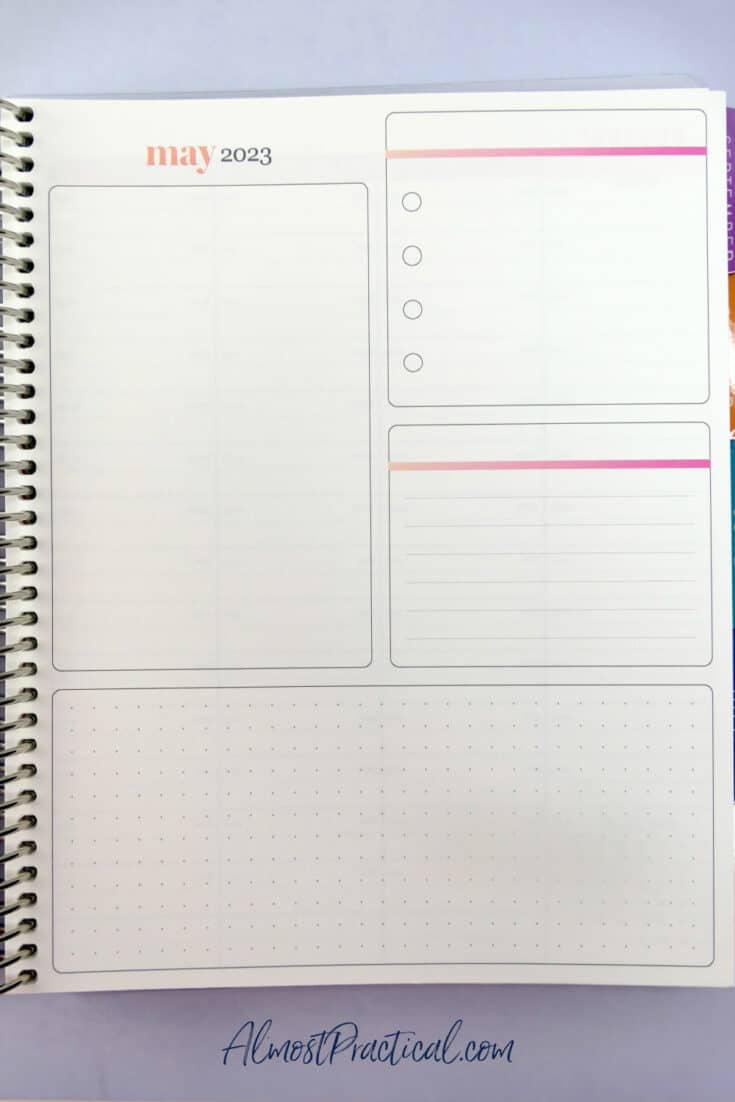 The 2 page per month layout is followed by 2 productivity pages. One is a lined notes page and the facing page is divided into several little blocks that feature lines, bullet points, and a dot grid section.
Keep track of things like books you want read, places you want to visit, birthdays, milestones or anything else you want to bring your attention to.
Weekly or Daily Pages
This is where each LifePlanner differs.
Depending on the layout that you ordered, you will either have hourly layout pages, horizontal, vertical, or daily planning pages.
Ending Sections
At the end of each LifePlanner are a few pages for Notes, Contacts, and mini months for the following year to plan ahead.
Sticker Sheets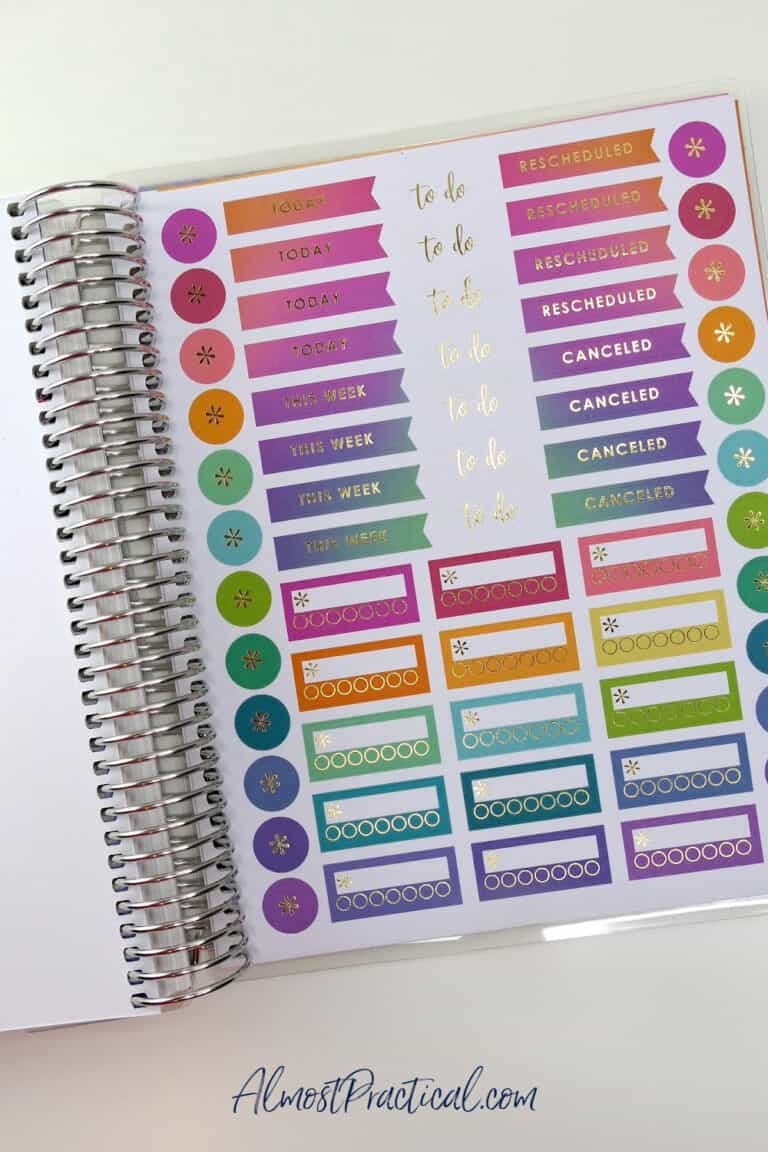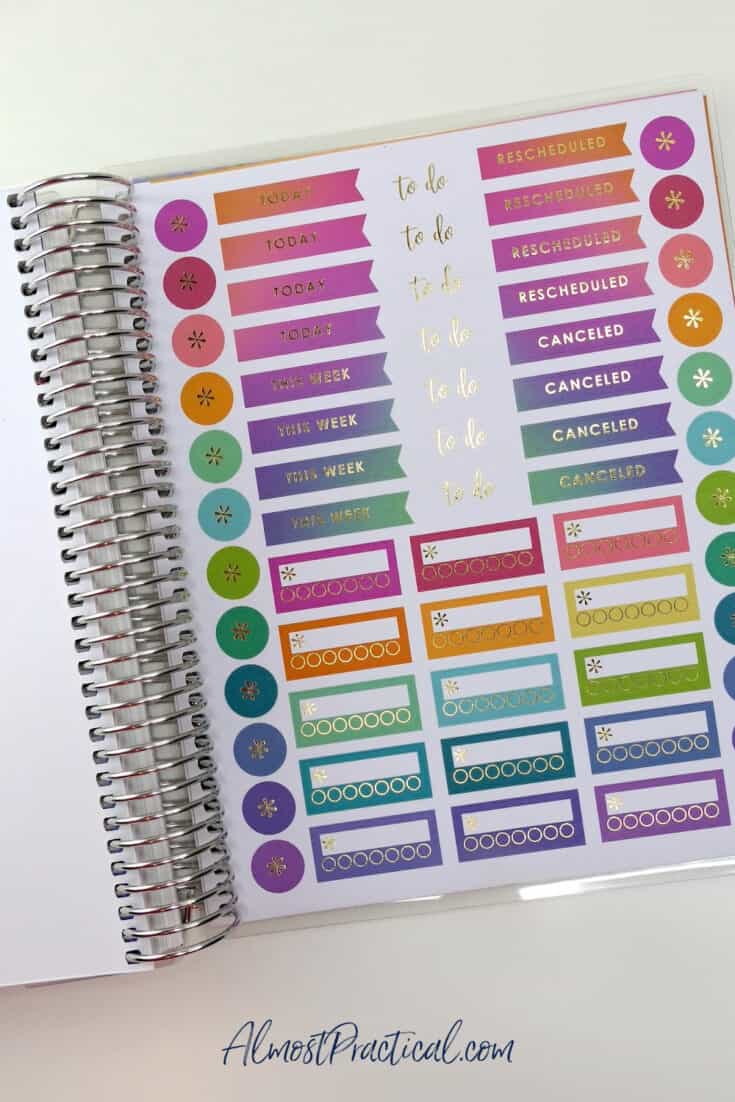 In the coiled Weekly LifePlanners you will find 4 pages of sticker sheets.
The Daily Duo and the Ring Agenda feature 2 pages of sticker sheets.
And the SoftBound LifePlanner have NO sticker sheets.
Sturdy Folder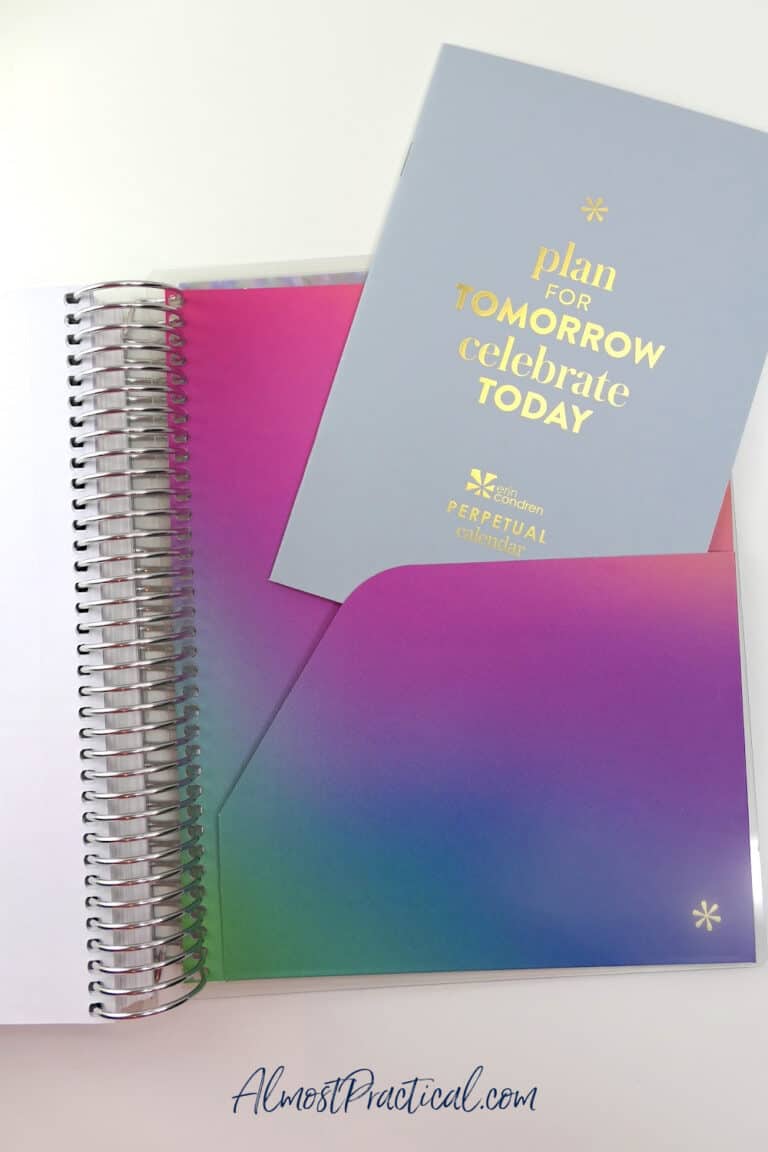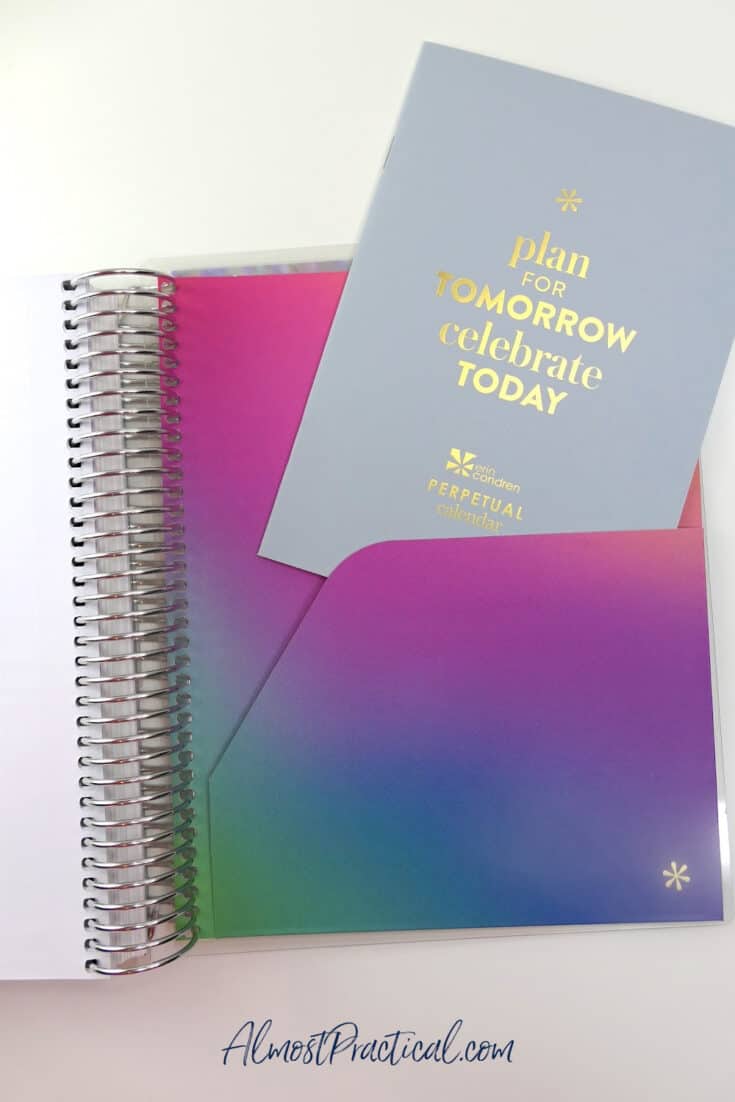 All of the coiled LifePlanners have a sturdy double sided folder at the very end to store little notes and slips of paper that might otherwise get lost.
But the Ring Agendas and the SoftBound LifePlanner do not have this folder.
Perpetual Calendar
And finally, an Erin Condren signature item – the Perpetual Calendar, is included with the coiled LifePlanners only.
You Can Use More Than One LifePlanner
If you are having a hard time deciding on which LifePlanner is right for you – then maybe you need more than one.
I use a few each year.
I use the horizontal softbound LifePlanner in an A5 size as the editorial calendar for my blog.
The A5 vertical ring agenda works great for keeping track of training courses, videos, and other learning and the related notes.
And, I really like the Daily Duo, for keeping me on schedule each and every day.
Of course, I tend to change up my planner stack from year to year.
Which One Will You Choose?
As you can see, the Erin Condren LifePlanner has so many great features.
There are a variety of layouts and designs to fit every preference.
And each planner has many common pages so no matter which one you go with, you have lots of planning tools at your fingertips.
Which LifePlanner is your favorite? Leave me a comment below.
Past LifePlanner Reviews