2023 Planner Stack – What I Am Using to Stay Organized This Year
This post may contain affiliate links which means I make a commission if you shop through my links. Disclosure Policy
Sometimes one planner is not enough to stay organized. In fact, I always use several. In this post I am sharing my 2023 Planner Stack with you and how I plan to use each one.
This is the list of planners that I am using:
You are probably wondering why I need so many planners. So, I will go into detail on how I use each one below.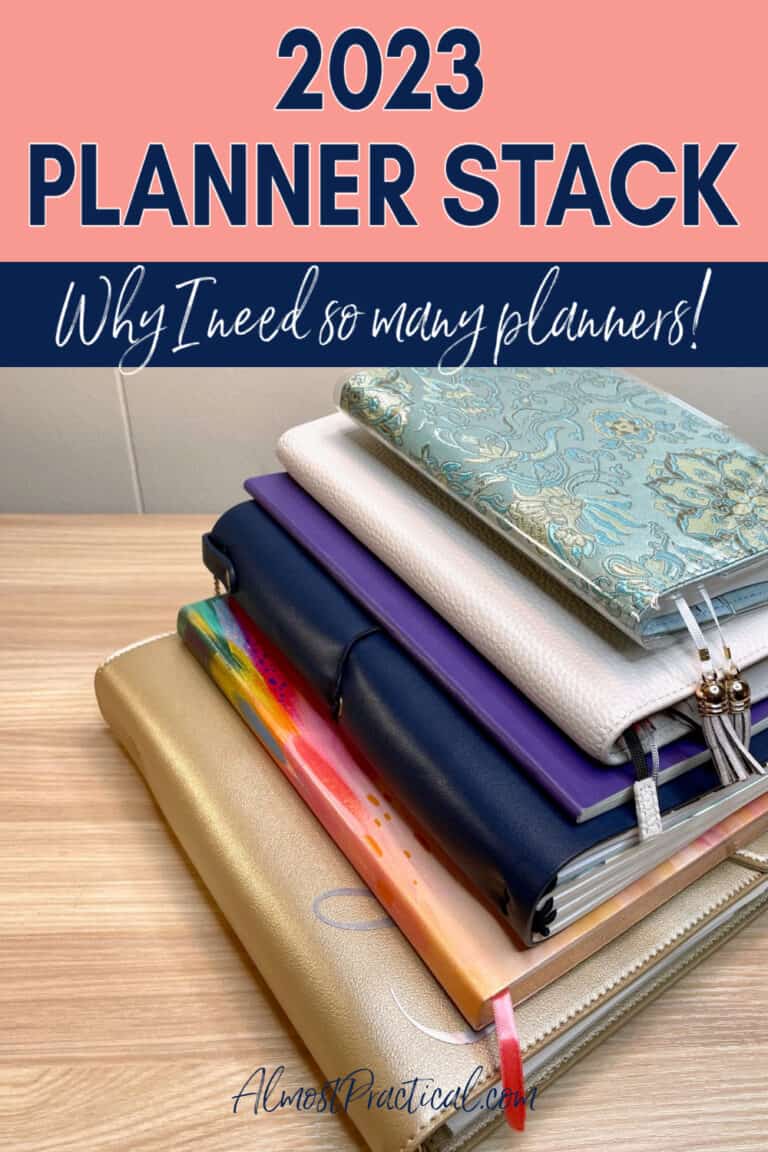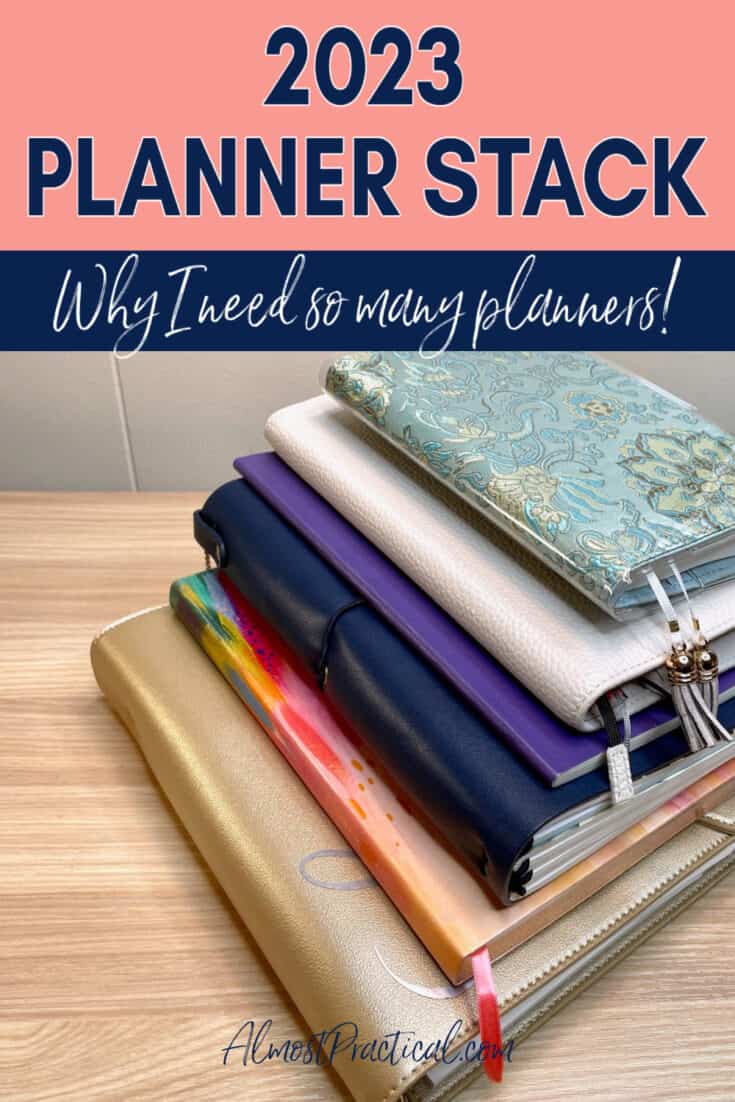 Hobonichi Techo Weeks – My Main Planner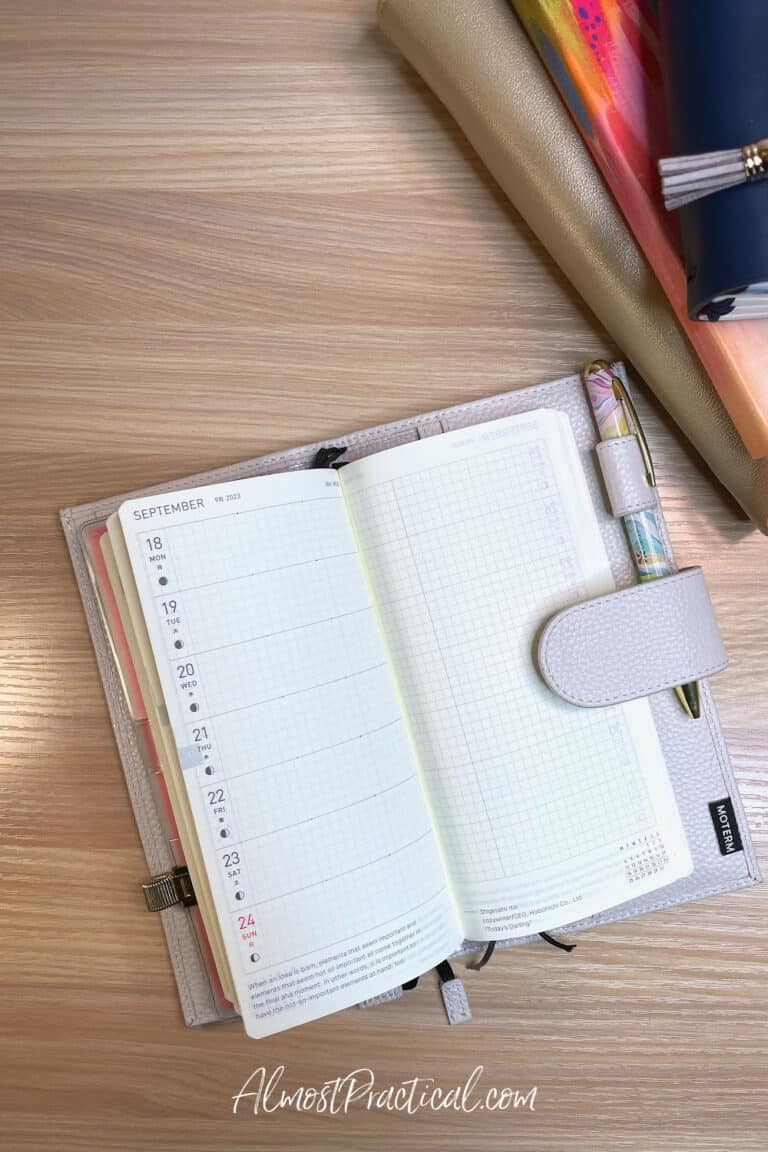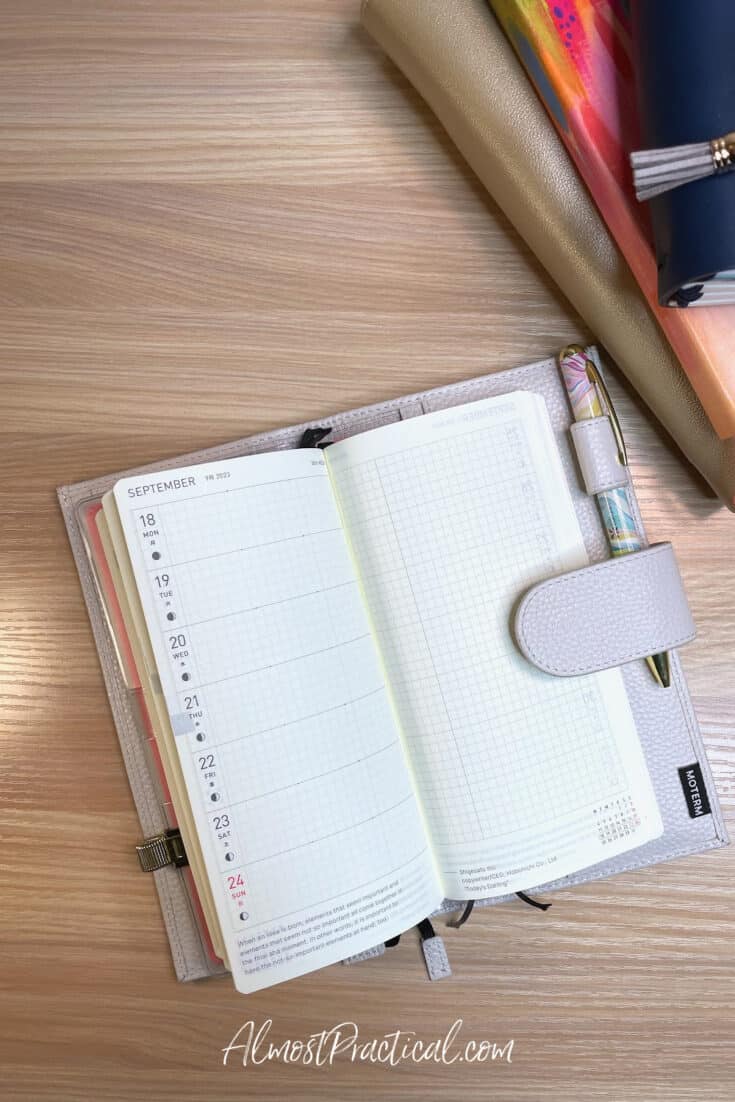 The Hobonichi Weeks is my favorite planner and the one that I use as my master calendar.
You can read my in depth review of the 2023 Hobonichi Techo Weeks Planner here but the main reasons that I like it are:
the weekly layout
the compact wallet sized form factor
lots of notes pages for jotting down important information.
I started using the Hobonichi Weeks in January of last year and stuck with it for the entire year – I used it every single day.
So, I new that this planner would be at the top of my Planner Stack for 2023.
This is the calendar that I record all of my appointments in and it is my "go to" when I want to see what my week looks like.
No matter what, I know that all my obligations and time commitments are in here. I also keep a running to do list on the blank notes page for each week.
I cover the actual planner in the Hobonichi Clear Cover and add slip that into my Moterm leather cover. This has lots of pockets and makes the planner even more useful.
The Hobonichi Weeks comes in a variety of colors and there are lots of accessories as well, so I put together a collection in my Amazon store. You can see them all here.
One thing to keep in mind is that there is also a Hobonichi Techo Weeks MEGA planner. This has lots of extra notes pages at the end. But the dimensions are slightly different than just the plain Hobonichi Weeks planner – so take note if you are buying a cover to make sure it will fit the Mega if that is your choice.
Hobonichi Techo Planner Book – My Conversation and Memorable Event Record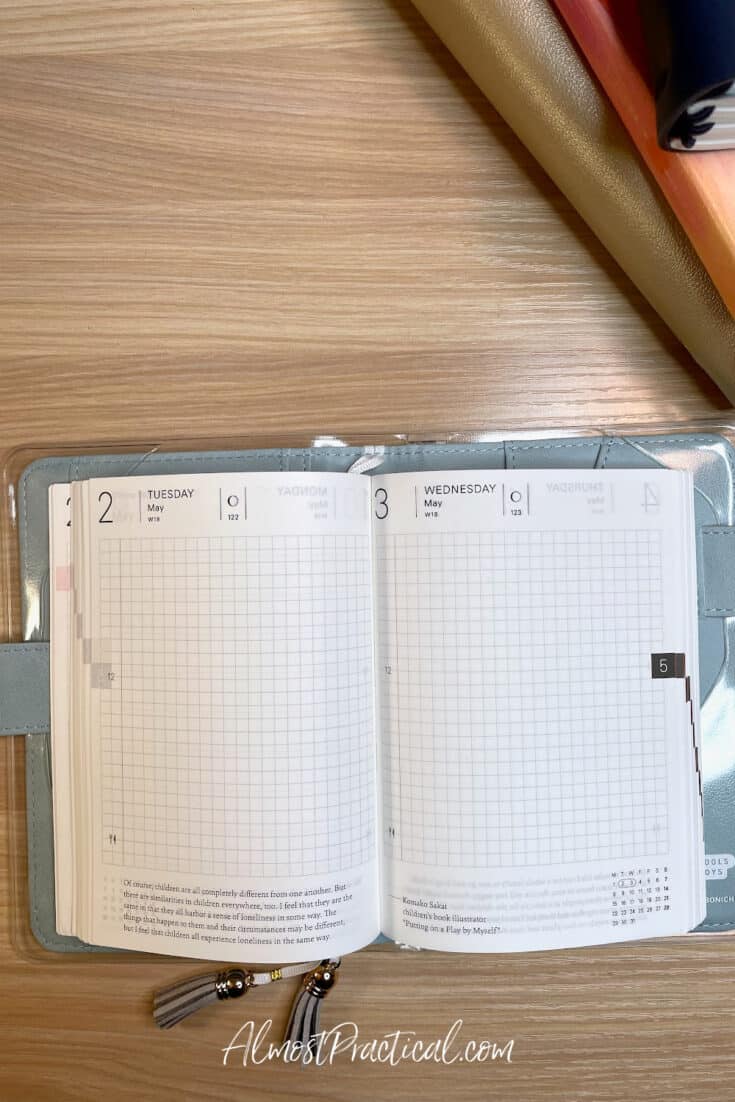 On any given day, I have many conversations during which I receive lots of information that I need to keep track of. I have discussions with:
customer service agents,
project managers,
doctors,
my kids,
my husband,
my parents,
friends,
and family.
And this is just for the personal side of my life.
Since my mind is kind of like a sieve, I really need to write down the important details.
The Hobonichi Techo Planner Book is perfect for this. It is an A6 size daily planner.
Each page is pretty much a wide open space with lots of place to write.
Whenever I have a phone conversation, I just pull it open to the current day and jot down notes while we talk.
If I don't have my Hobonichi Planner Book with me, then I will write a quick recap of a personal conversation in the planner when I get home.
I feel that this planner would also be great for journaling.
You can read my full review of the Hobonichi Planner Book here.
Erin Condren Softbound Life Planner A5 Horizontal Layout – My Content Calendar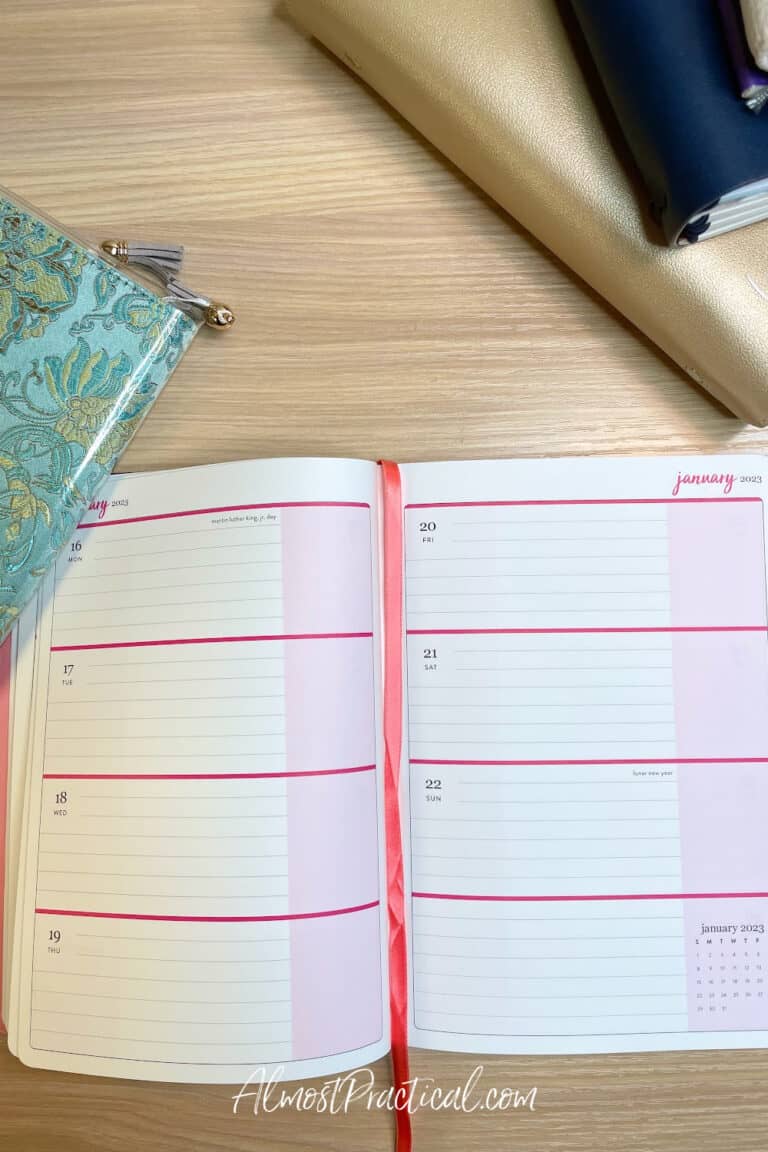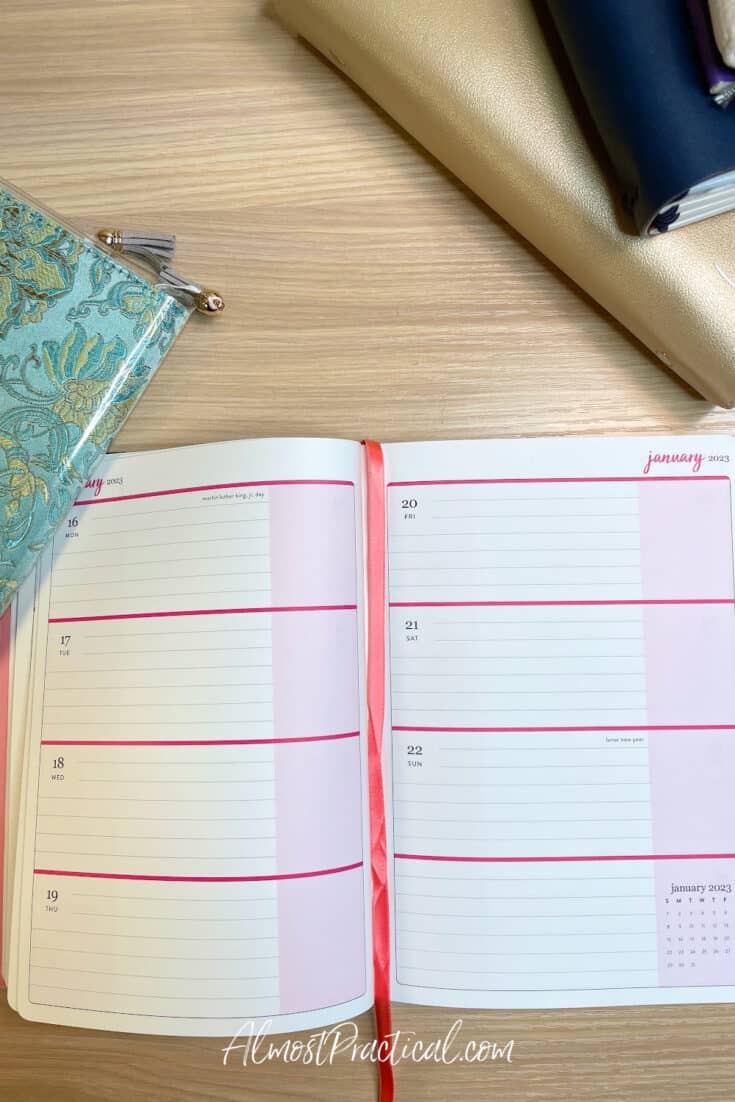 If you are reading this post then you probably know that I am a blogger.
One thing that all bloggers need is an editorial calendar.
Over the years I have tried both digital and paper calendars for this but the Softbound Erin Condren Life Planner in the A5 size and horizontal layout seems to be the one that works best for me.
I use the 2 page per month layout in the beginning of each section to plan out my posts. Typically I will write the title on a small sticky note and place it on the day that I plan to publish.
If my schedule changes, I can easily shuffle the sticky notes around.
Once a post is published, I will write it in pen on the date of publication.
I use the corresponding weekly layouts in this planner to write little to do notes for myself or keep track of random stats or tidbits.
You can see my review of the 2023 Erin Condren Life Planner collection here.
Erin Condren Daily Duo Life Planner A5 Size – My Daily Workspace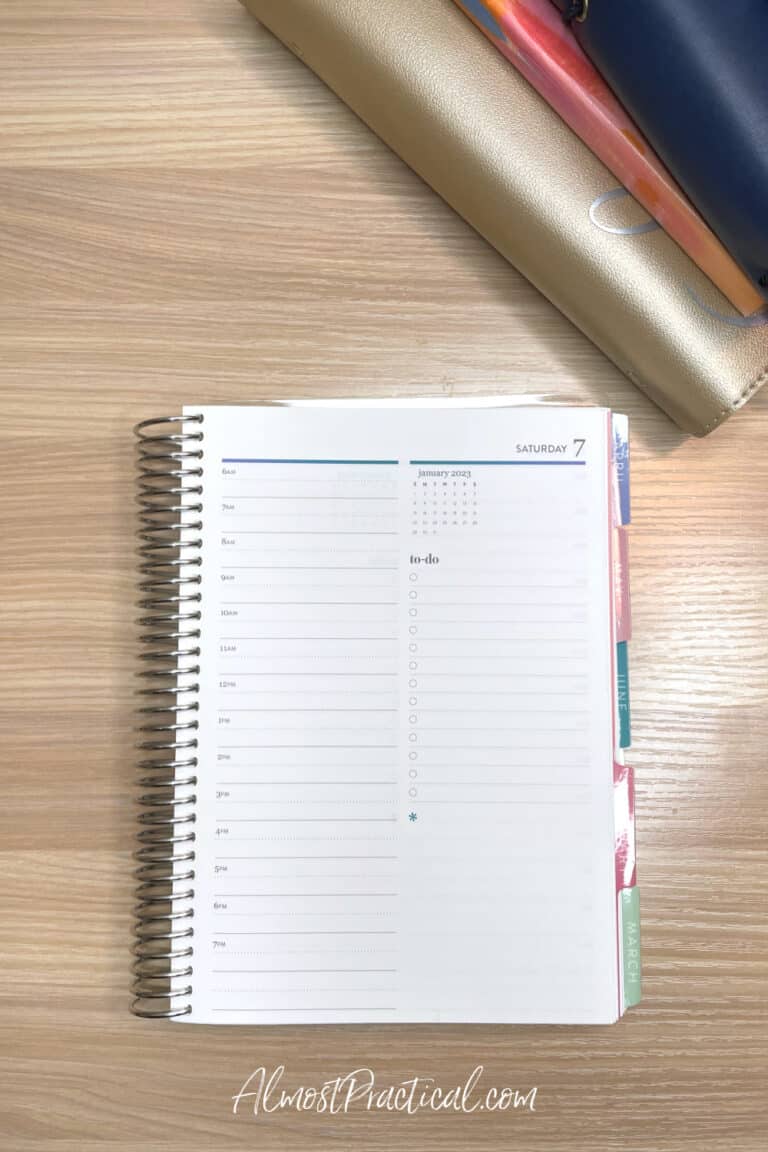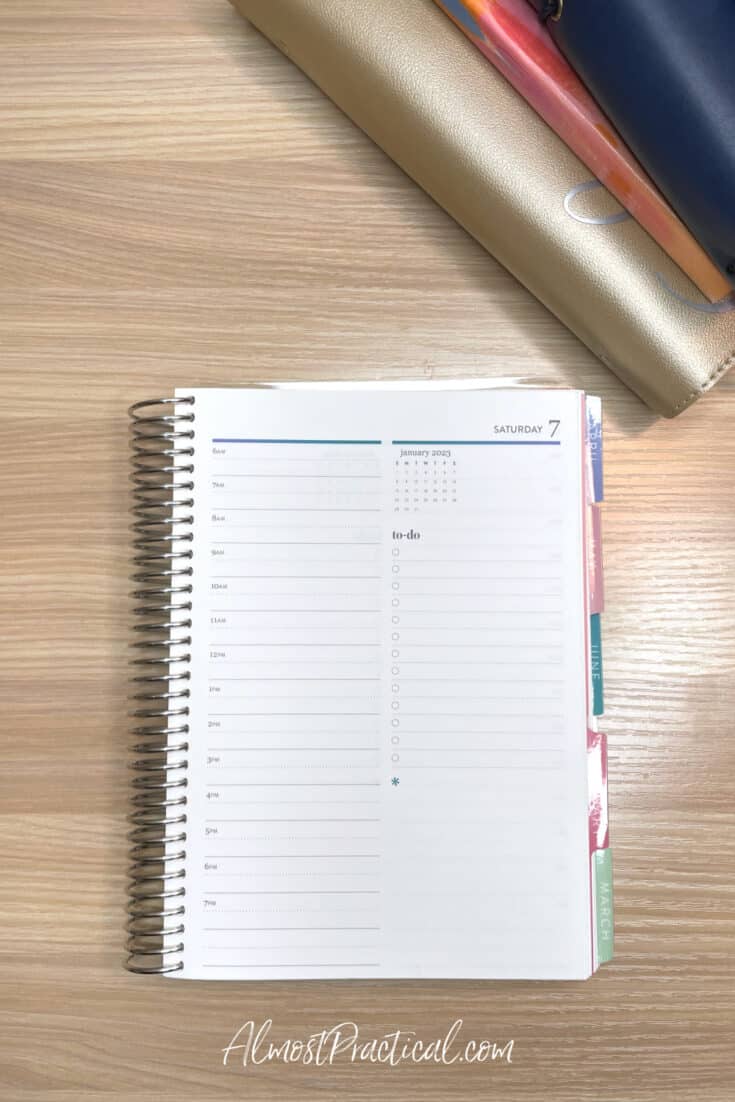 I am the kind of person that always has an open notebook sitting right in workspace. I use it to doodle, jot down random thoughts, and plan out my day.
The problem that I ran into with using an undated notebook is that it would turn into a mess.
I would write notes on the same page as other notes, and if I had to refer back to something – it would be hard for me to find.
So, the Erin Condren Daily Duo is a perfect solution.
This planner is one page per day – and each page is divided into two columns. The left column is an hourly layout going from 6 am to 7 pm with lines for each half hour as well.
The right column has a mini month at the top, a section for your to do list, and a notes area at the bottom.
In the morning, I usually look at all the events in my main calendar (my Hobonichi Weeks) and time block my day in the Erin Condren Daily Duo Life Planner.
I pull in the to do items that I need to accomplish on the current day and use any empty space on the page as a brain dump.
Even though the Daily Duo comes in the more traditional 7×9 inch size, I find that to be to big and prefer the A5 planner size for this.
You can read my review of the Erin Condren Daily Duo Life Planner here.
Erin Condren Ring Agenda A5 Size Vertical Layout – My Class Notes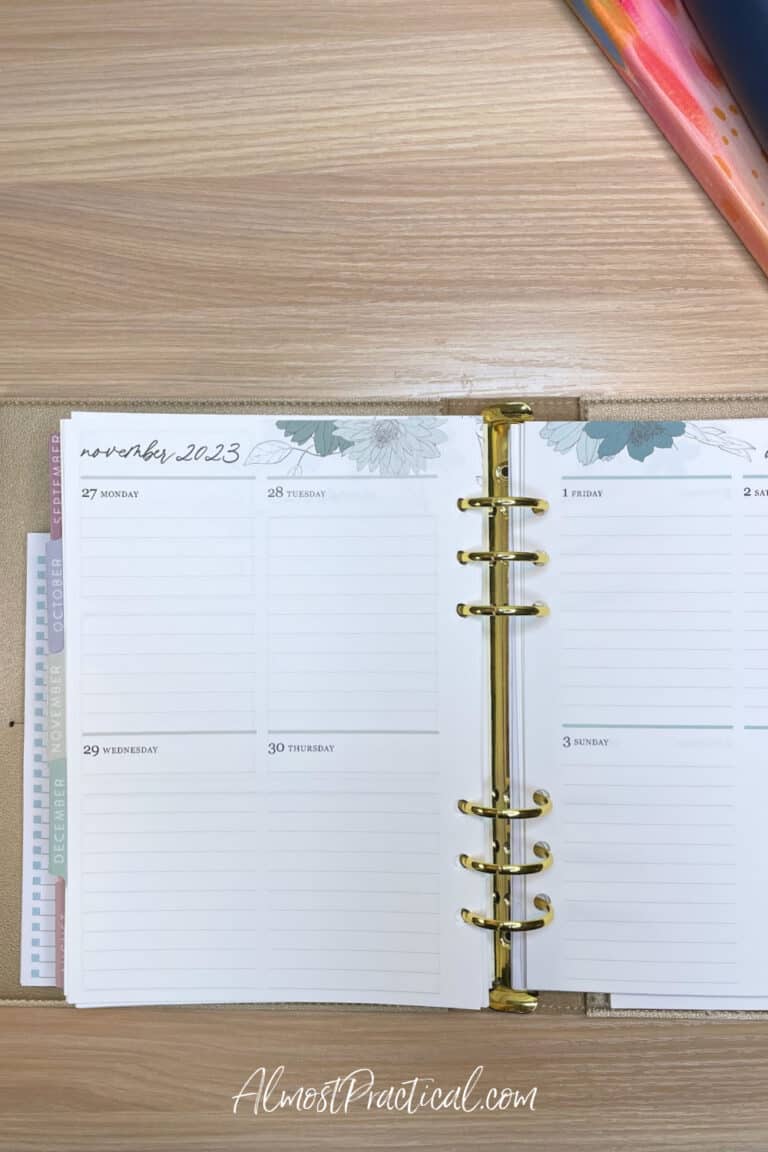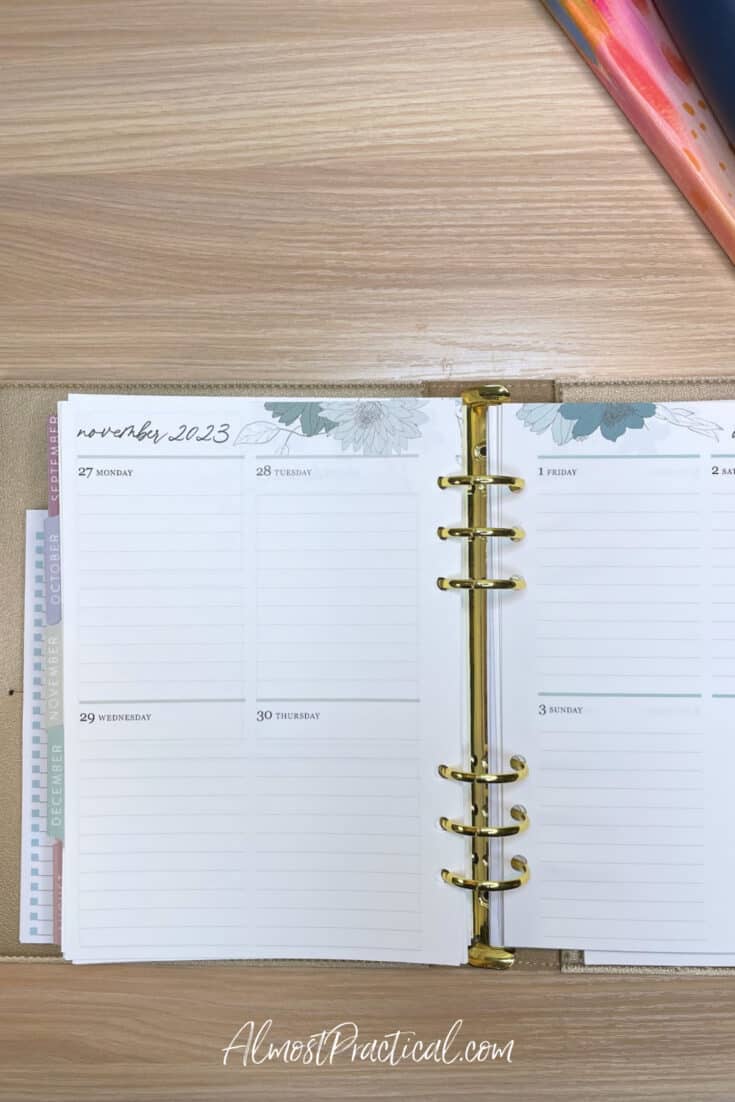 Even though I am not an official student – I love to take online classes, read, and watch online tutorials. The topics I learn are varied and include things from blogging, to organizing, to DIY.
Again, I used to use a notebook for all my learning notes. But I would lose track of them easily.
Sometimes my notes are only one sentence long – maybe highlighting a little pointer that I learned from a YouTube video.
So, I decided to use the compact vertical layout of the Erin Condren Ring Agenda Life Planner in my 2023 Planner Stack to have a single place to write down all my class notes.
The compact vertical layout for A5 size Erin Condren Life Planners is very different from the vertical layout with a similar name in the 7 x 9 inch Life Planners.
In the A5 planners there is a 2 page weekly spread, but each day consists of a blank lined section.
This gives me space to jot down a few notes about the lessons in the course that I am currently taking. Or I use the space to take notes on something that I learned online or in a book.
Typically, I work on my courses about twice a week, so I can spill my notes into the days that I don't use.
And if I am really tight for space in the Ring Agenda planner, I will use an app like Evernote for my class notes and use my planner as a map to point myself to where I stored them.
I also like to use a dated planner for class notes because it keeps my learning on track – I am not as likely to skip days and I can easily see how long it has been since I last worked on a course.
Various Blank Notebooks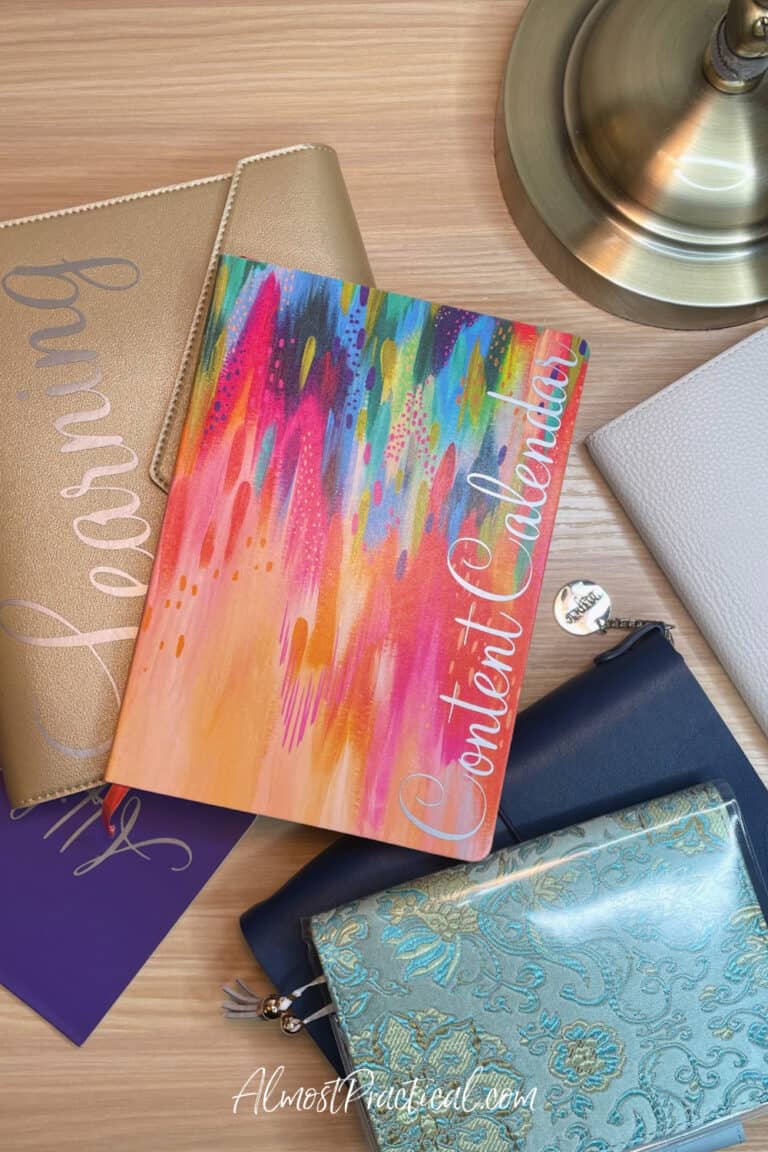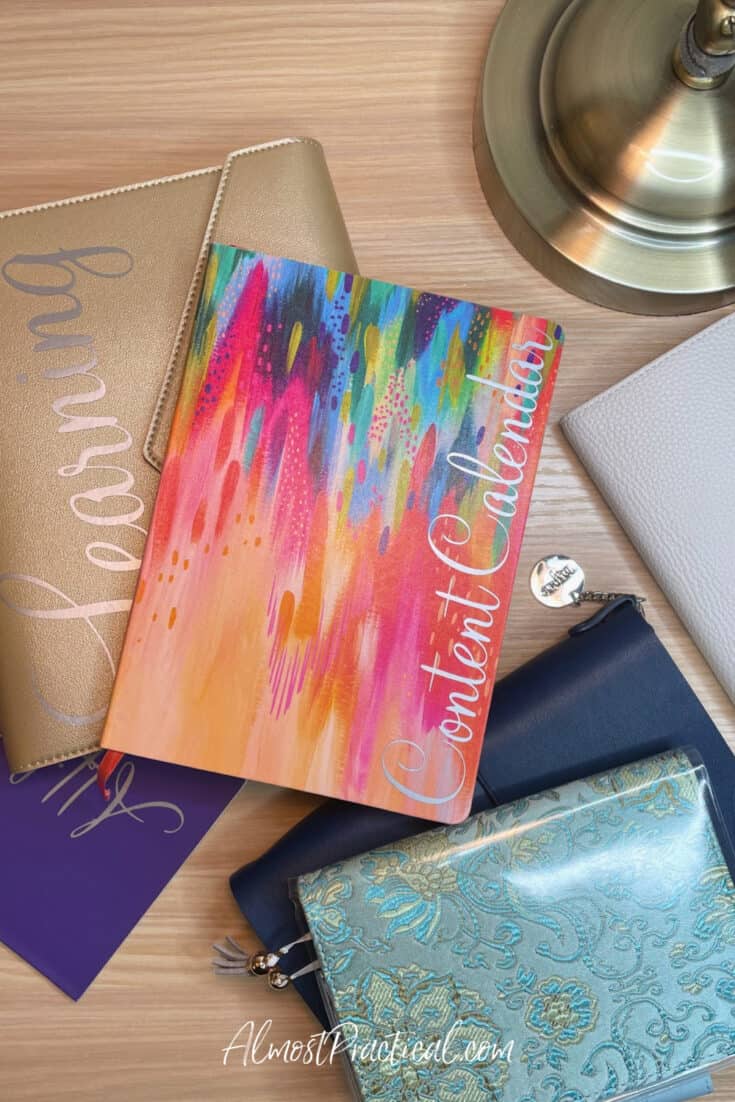 My 2023 Planner Stack also includes a bunch of blank lined notebooks. I prefer smaller notebooks like the Erin Condren Petite Planners, Erin Condren Softbound notebooks, and Moleskine notebooks.
I use each one of these for a single project or a single aspect of my business.
For example, I have separate notebooks for:
the work I do on Pinterest,
planning
affiliate work,
video creation,
home improvement projects, etc.
For each paper notebook, I also have a corresponding notebook in Evernote. This way I can write down thoughts and doodle to my heart's content – but I can also upload snaps of my important notes to my Evernote notebooks for future reference.
How to Label Your Notebooks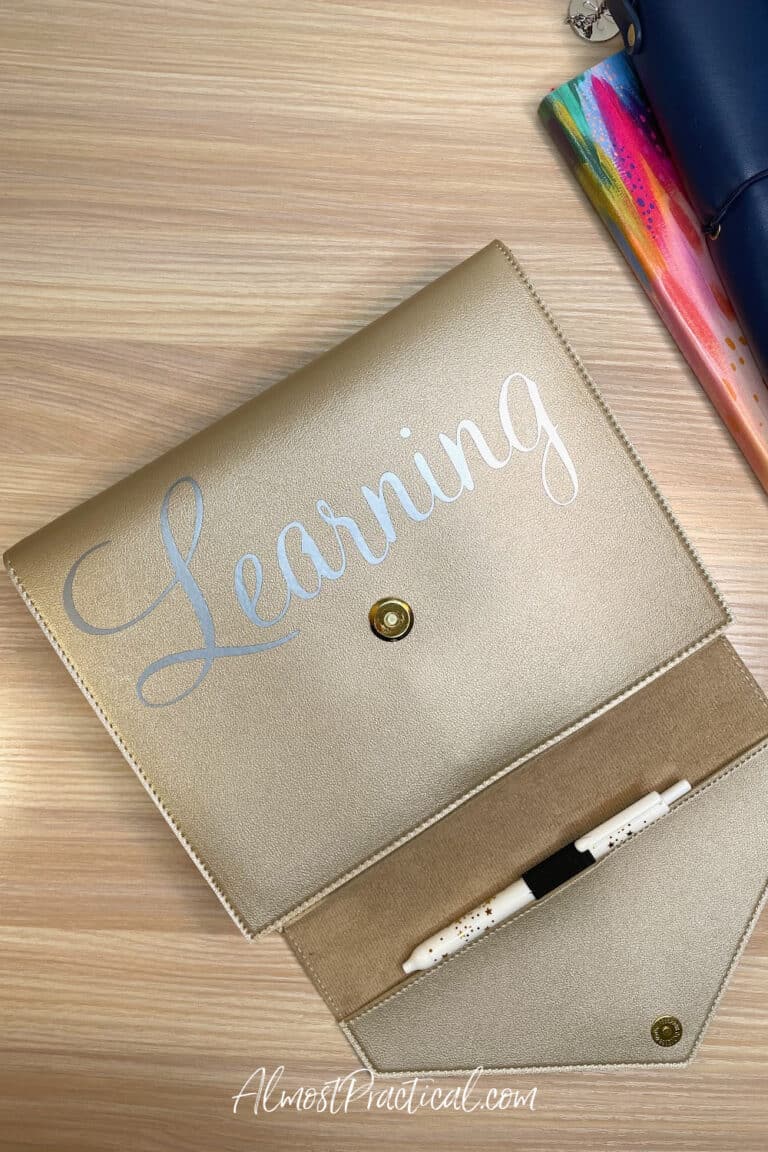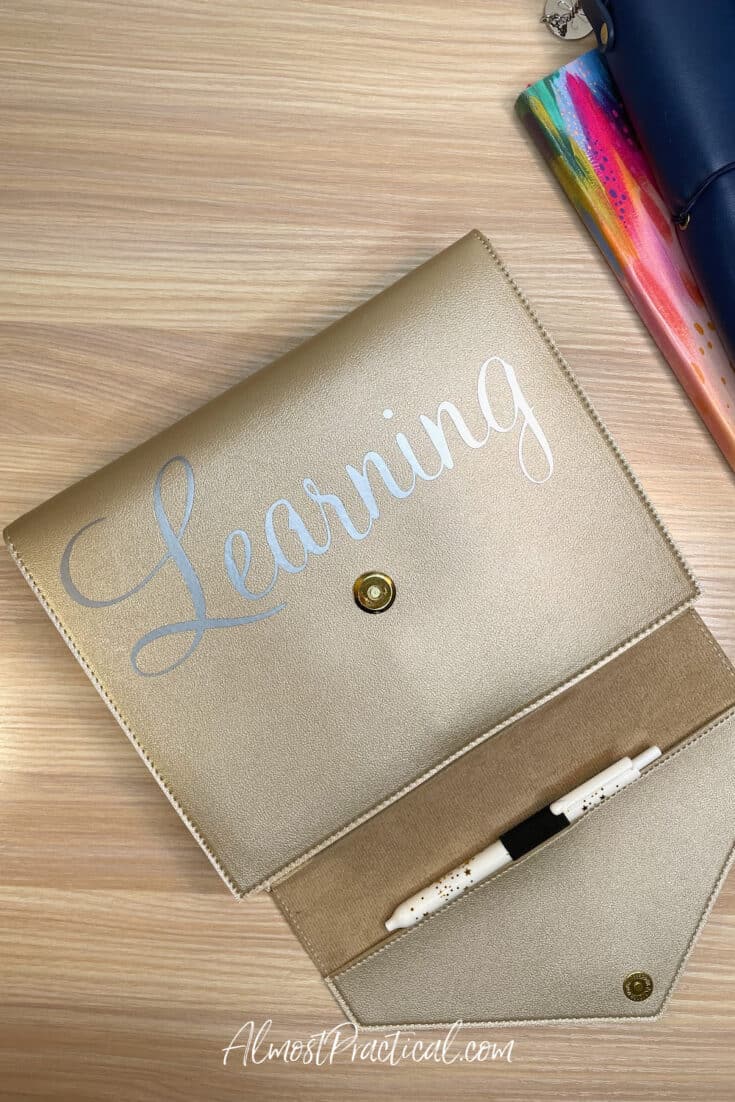 When using a Planner Stack, the most important thing to do is to LABEL everything!
If each of your planners and notebooks is not clearly labeled, then you will forget what each one is for.
Then you will take notes in the wrong books and before you know it – everything will be a big mess.
You may have noticed the large scripty labels that I have used on my notebooks this year.
I created those on my Cricut Joy machine using permanent vinyl in silver. I used the Mahogany Script Standard font which is included in a Cricut Access subscription.
You can read my Cricut Joy review here.
But if you don't want to go that route you can use a label maker to create neat labels or even label your notebooks using permanent marker.
Planner Storage Options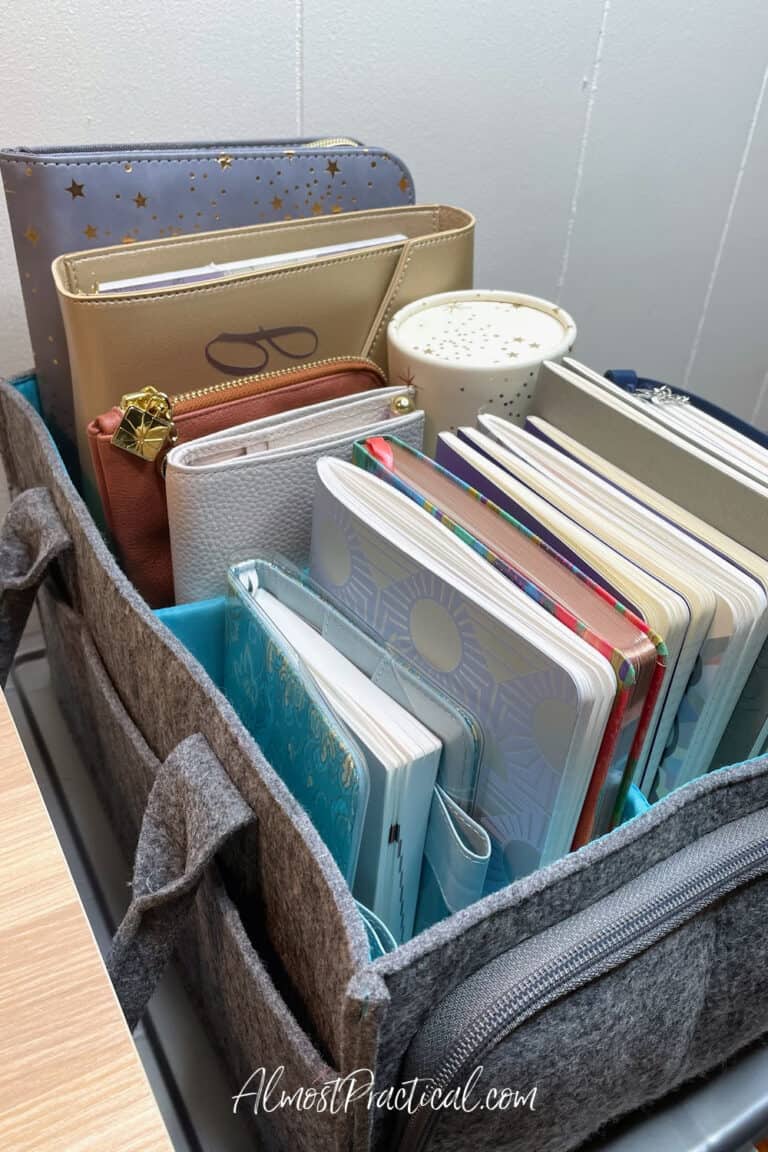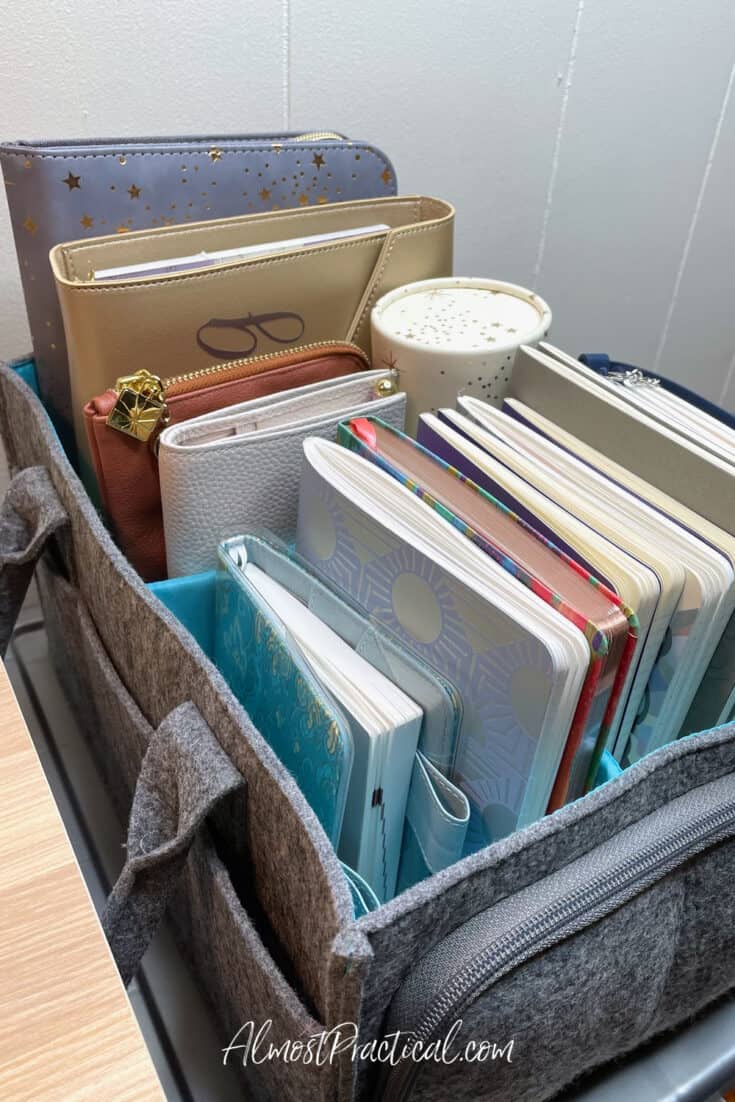 With so many planners, you definitely need to be able to corral them all.
I find this felt planner organizer to be a great option. It sits right next to my desk for easy access and has lots of pockets for planners and accessories.
You can read my Mollie Ollie Felt Caddy review here.
Another way to store planners is to use a set of bookends on your desk or shelf. This set of acrylic organizer bookends are very minimalistic and also a great organization tool.
If you want to look back down memory lane – this was my 2020 Planner Stack.
What's In Your Planner Stack?
As you can see, one planner is never enough (at least for me!). I need one for home, one for work, and a few more for everything in between.
To stay organized, keep them labeled and store them neatly near your home office desk.
Do you use multiple planners? Which ones are in your planner stack this year? Tell me how you use your planners in the comments below.