What Size Is An A5 Planner?
This post may contain affiliate links which means I make a commission if you shop through my links.
 Disclosure Policy
Paper planners come in many different sizes. One such size is an A5.
How Big is An A5 Planner?
A5 planner paper measures 5.8 by 8.3 inches.
This is roughly half of a letter sized sheet of paper.
The dimensions of A5 paper are slightly shorter and wider than a half letter size which measures 5.5 by 8.5 inches.
However, your actual planner – binder, coiled, disc, or other binding – will likely be larger because of the cover and binding.
What are Planner Sizes?
When it comes to planners an A5 size planner is usually the "medium" version.
Typically, you will see planner companies offer a small, medium, and large version of their planners.
I outline the most common planner sizes below in inches – but you can use this handy calculator/converter to see all the A sizes in whichever unit of measure you desire.
Small or Personal Size Planners – A6
The small or personal size version of planners are usually about half the size of an A5 planner paper.
These smaller planners are often an A6 size.
What size is A6 paper? – Find out here.
What size is an a6 planner?
Just for reference, the paper in an A6 size planner measures 4.1 by 5.8 inches.
Medium Size Planners – A5
Medium size planner paper is usually around an A5 size which again measures 5.8 by 8.3 inches.
Large Planners – A4
A large planner is typically a letter size planner or an A4 size.
A true piece of A4 planner paper measures 8.3 by 11.7 inches vs letter paper which measures 8.5 by 11 inches.
Planner Sizes Comparison
When you compare the different planner sizes here are a few things to keep in mind.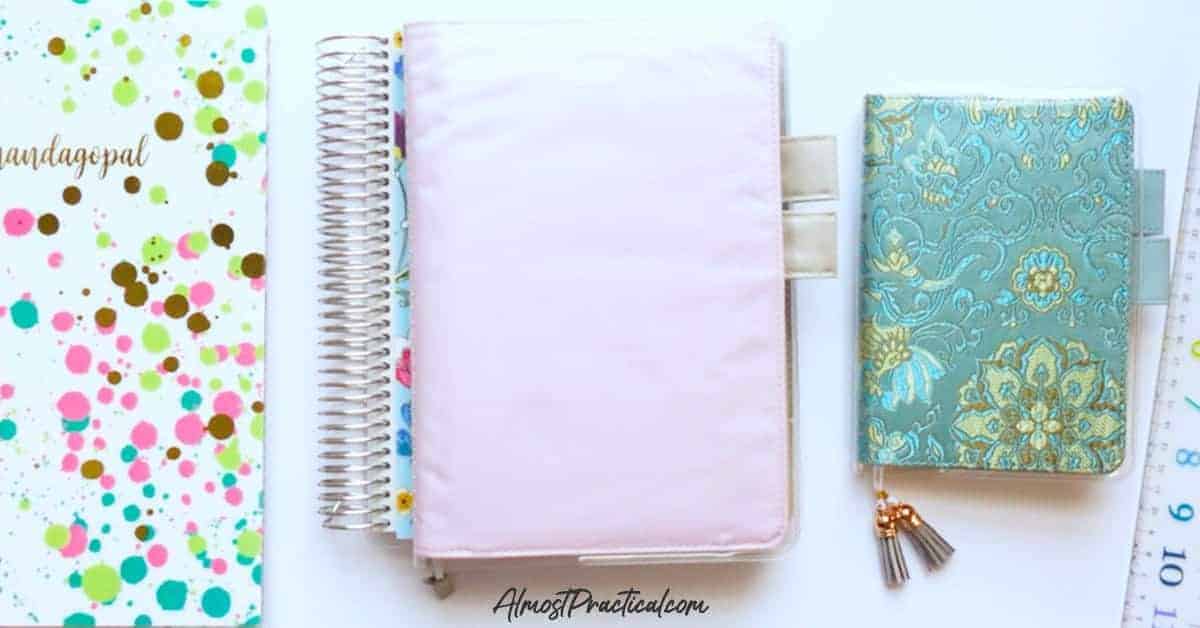 First, to make it easy to remember think this: the larger the A number, the smaller the planner.
A6 = small or personal size
A5 = medium
A4 = large
Second, the paper size is not necessarily the same size as the binder or cover.
A planner binder will be bigger than than the actual planner paper to accommodate the binder rings and the closure.
I have found that the Hobonichi Techo Cousins has an overall size that is similar to the paper size because it is a bound planner with a lay flat binding.
Third, may companies don't stick to the exact dimensions of a standard A5 planner.
Often a company will create a planner in a similar size but use a custom paper size unique to their own planner.
For example, a page in the Erin Condren Life Planner coiled version is 7 by 8.75 inches – which is larger than a true A5 but not as big as an A4.
A Selection of Medium Planners That Are A5 Size or Close To It
Here is a list of planners that are close to A5 in size:
These planners are slightly bigger but not as big as full letter size:
Why I Like A5 Size Planners
For me, the biggest advantage of A5 size planners is a combination of the portability and the space inside for writing.
I find that I can easily slip an A5 size planner in my bag yet, unlike a smaller A6 size planner, there is still plenty of space inside for me to capture all my appointments and notes.
Remember that a traditional A5 size planner measures 5.8 by 8.3 inches but there are other planners that are close enough in size to qualify as in the "medium" category.