5 Thought Leaders in Organizing and Personal Productivity
This post may contain affiliate links which means I make a commission if you shop through my links.
 Disclosure Policy
If you are a fanatic about organizing and personal productivity, like me – you may have heard of these 5 amazing people who have changed my life for the better.
By the end of this article you will discover a wealth of resources that you can use to bring focus and clarity into your life.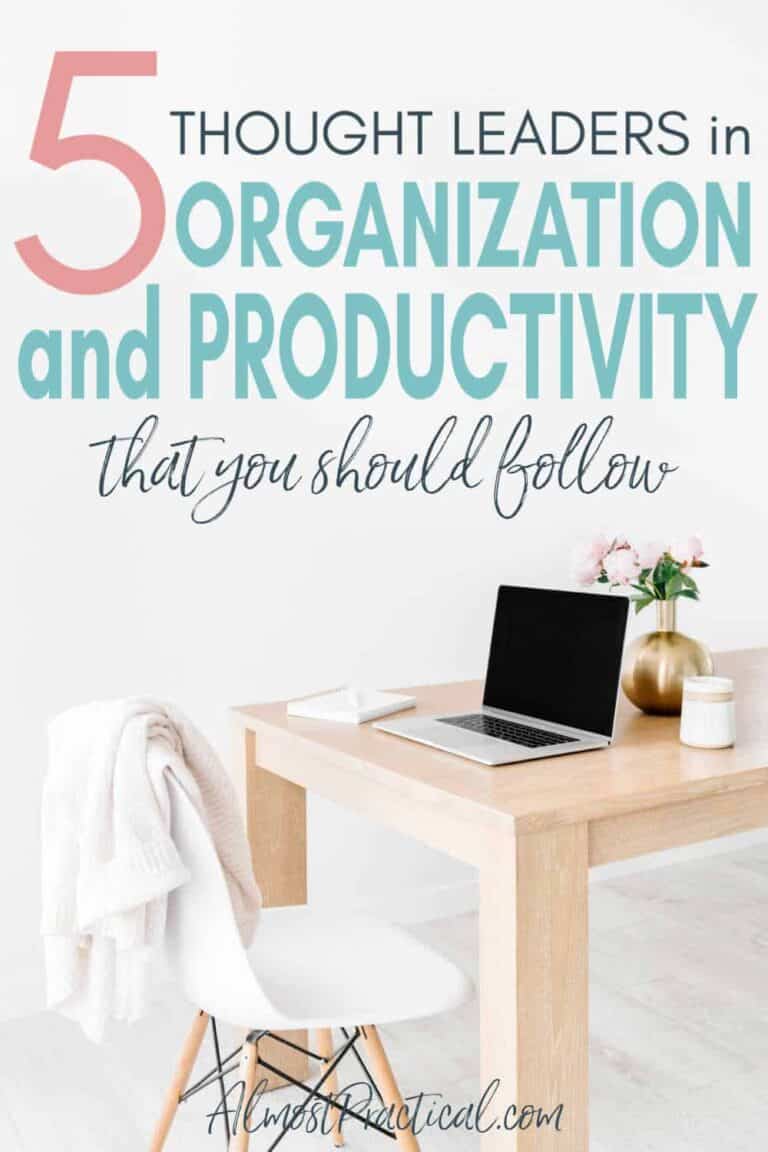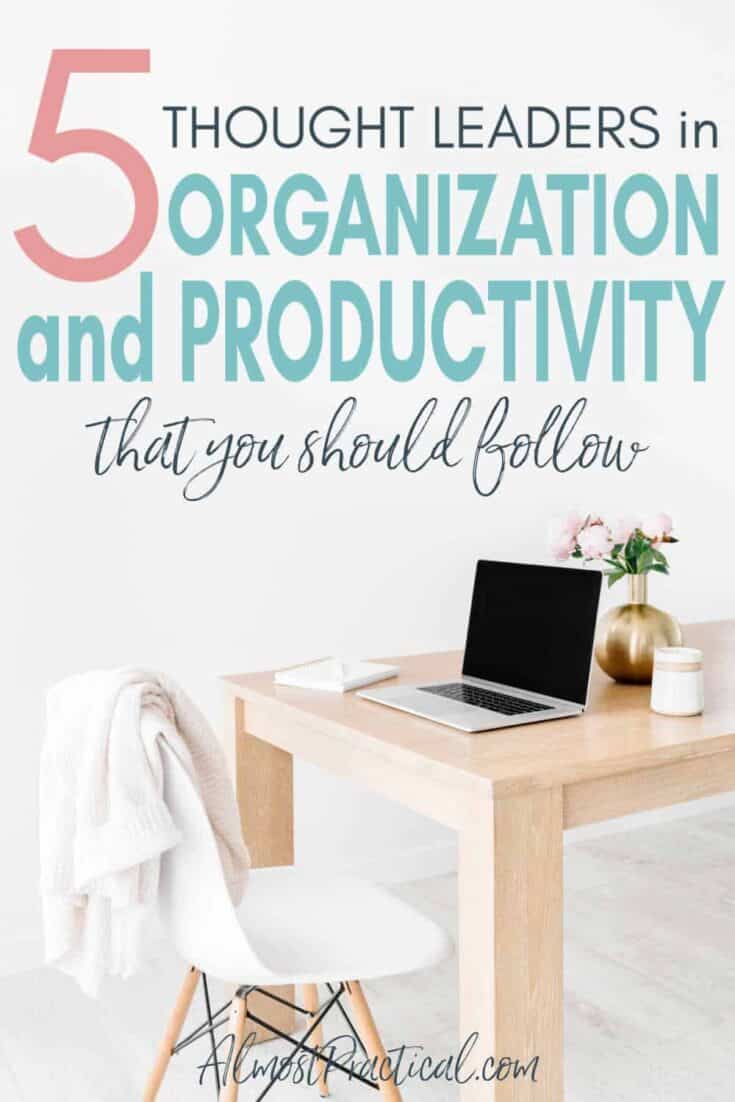 Ready? Here we go!
1. James Clear
James Clear is the author of the book Atomic Habits and also sends the popular 3-2-1 Newsletter.
He gives concrete and actionable advice on how to create habits to skyrocket your productivity.
For example, in an interview with Entrepreneur.com James states that
developing a specific plan for when, where and how you will stick to a new habit will dramatically increase the odds that you will actually follow through, but only if you focus on a single goal
Most of us try to accomplish multiple goals and get nowhere.
It's reminders like this – stick to one thing at a time – that keep me coming back for more.
2. Marie Kondo
Marie Kondo quickly became a legend in the organizing space with her book The Life Changing Magic of Tidying Up.
Her KonMari method of organization revolves around the question of whether an item brings you joy.
If the answer is yes – you keep it, if the answer is no – it is time to part ways.
There is a lot of wisdom in this method, even though it might sound a little corny.
Personally, I have always followed the principle of surrounding yourself with things you love – which is almost the same thing.
Marie Kondo has since written two additional books:
At one point Marie even had a reality show on Netflix about Tidying Up.
3. Julie Morgenstern
Organizing guru, Julie Morgenstern, is the person who initially sparked my interest in organization in productivity.
I knew that my time management skills were lacking and I was looking for a better way.
Thankfully I found her book – Time Management from the Inside Out.
In this book she advocates for organizing your time as you do your space.
Sorting your tasks, deciding what you are going to do, and when you are going to do them are important principles in using your time wisely.
Julie has written many other books about organizing as well, including:
Learn more on Julie Morgenstern's website here.
4. David Allen
If you have heard of Getting Things Done or GTD for short, then you are channeling David Allen.
The GTD system originally involved creating 43 folders to corral all the paperwork cluttering up your home and office.
There was one folder for each day of the month and one folder for each month.
I read the original version of this book used this system with success for years. Because I like all things pretty, I always used cute file folders for this method. It made staying organized much more fun.
Now that a lot of what I do is electronic or online, I have modified the system to fit my needs.
I am looking forward to revisiting the newer edition of this book sometime soon.
Learn more about David Allen here.
5. Michael Hyatt
Michael Hyatt is a pillar in the personal productivity space.
His book Your Best Year Ever is one that I like to revisit every January. (I was surprised to find it on Kindle Unlimited this year – if you don't have a subscription you might want to check it out).
Michael's approach has you focusing on your goals and getting your priorities in order so you can achieve them.
For years I used his Full Focus Planner to stay on track.
Each quarter you would set your big goals, which you would then break down into monthly goals and further break down into daily actions.
It was these baby steps that moved the needle.
Michael has also written the book Free to Focus which is on my reading list this year.
Recently, Michael stepped down as CEO of his company – Michael Hyatt & Company to focus on retirement and take a much deserved break.
However, I think that he will still be active in the productivity space.
Learn more about Michael Hyatt here.
Improve Your Productivity
If your goal is to get organized and improve your personal productivity you can't go wrong with the teachings from:
James Clear,
Marie Kondo,
Julie Morgenstern,
David Allen, and
Michael Hyatt.
They truly are thought leaders in the organizing and productivity space.
I hope that you will also follow along with me, as I explore their ideas and many more.
Simple subscribe to my newsletter to get my latest blog posts, actionable tips, and resources that you can use to bring greater organization to your life.
Happy organizing!