How to Create a Daily Routine So You Can Focus on Stuff That Matters
This post may contain affiliate links which means I make a commission if you shop through my links. Disclosure Policy
If I told you that the secret to getting more done is a simple daily routine, would you believe me?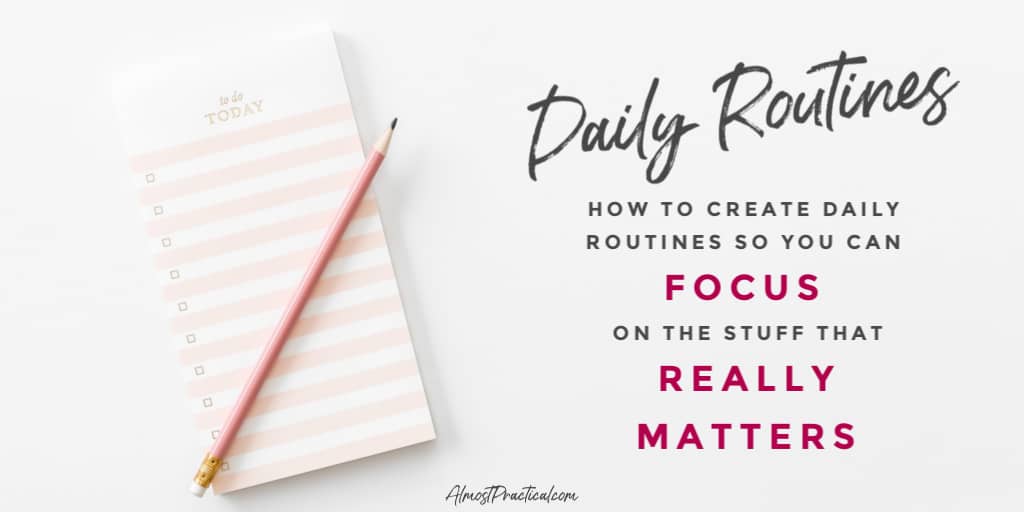 It's true.
When you have a process for doing all the boring stuff, you get it done faster and more efficiently.
And THAT, my friend, leaves you with so much more time to do all those other juicy, important things that bring color to your life.
So, how do you make a routine that will work for you?
First, get the basics down and then work on the details.
What Is A Routine?
A routine is simply a list of repetitive actions that you do at a specific time or when a specific event occurs – on a regular basis.
Characteristics of Good Daily Routines
To make a daily routine "good" you need to make sure that you actually DO it everyday.
This means that you should NOT include a bunch of stuff that you know you won't stick to.
Remember that the purpose of your daily routines is not to solve big issues, but rather to make it easy for you to get all the little things out of the way.
A good routine should be:
achievable,
time sensitive, and
personalized to your own situation.
Know the Difference Between a Schedule and a Routine
One distinction that you need to note is that a schedule and a routine are two different things.
A schedule is a list of things that you do at certain times throughout the day.
By contrast, a routine is a list of action items that do for different things on your schedule.
So, for example, I might put "morning routine" on my schedule everyday at 6 am, but my morning routine will actually be a list of things that I need to do at this time.
Examples of Daily Routines
Here are some examples of my own daily routines:
Morning Routine
Routine to Start My Workday
Lunchtime Routine
Routine to End My Workday
Evening Routine
Bedtime Routine
Make Your Routine Achievable
The things to include in your routines are the mundane items that need to happen to make life run smoothly.
In the morning I need to do small chores like emptying the dishwasher, taking care of the dog, stretching, getting school lunches put together, etc.
Before I start work, I like to look at my calendar, check my email, and so on.
The purpose of a routine is to make sure that you don't forget to do something that would otherwise interrupt or negatively impact your day.
Your Routines Should Be Time Sensitive
The most powerful routines are limited by your available time.
If you know you only have an hour to complete your morning routine, then you will need to do two things:
only include things that you are physically able to complete in that time frame,
stay focused so that you can get it done.
READ: How to Use Deadlines to Improve Time Management
Personalize Your List
Don't be intimidated by all the examples of routines that you come across.
Some people get lots of things done in the morning, other people are night owls and function better in the evening.
In theory, it might sound great to use your routine to start a new habit like journaling or meditation – but if you are not committed to it or don't have the time for it, then don't add it in right now.
Solidify your daily routines with the things that you need to get done, and then add in new things if and when they seem to make sense.
Decide On a Permanent Space to Store Your Routines
You need to be able to find and look at your list of action items every day.
I like to use my Erin Condren Perpetual Calendar as a small notebook to keep track of my daily routines.
It is slim enough to fit in the back of my LifePlanner – which means that I have it with me all the time.
You can use any notebook or app that makes sense for you.
Create Your Own Daily Routines
Now that you have the basics down, it's time to create your own.
Identify the Times of Day That are Most Chaotic For You
There are certain times of each day that cause the most stress.
Often this is when you are running out the door for work, heading to a client, getting the kids off to school, etc.
Start by creating small routines for these busiest times of day.
Make a List of the Things You Need To Do
Brainstorm what this time of day would look like if it all ran like a smoothly oiled machine.
Write each item down, in chronological order, that you need to do to make it happen.
Assign an Amount of Time for Each Action
For each item on your list, estimate how long it will take you to do it – and write it down.
This will keep your goals realistic.
Add up the time it will take you for each action, and make sure the total fits into the time that you have available for your routine.
You might not be able to get a hundred things done on your lunch hour – and that's ok.
Just pare down your list, until you form a routine that you can reasonably achieve.
Put Your Routines Into Practice
Remember, out of sight, out of mind.
Put your routines on your calendar – and keep the lists handy.
You will need to look at these all the time to remind yourself of what you need to do next.
Revise and Refine
As you start to see success, you can add new action items, add new routines, and go from there.
Enjoy the Productivity Boost
By creating and following good daily routines that are achievable, timely, and personalized you will greatly improve your productivity.
Happy Planning!