5 Ways to Use Your Erin Condren Perpetual Calendar
This post may contain affiliate links which means I make a commission if you shop through my links.
 Disclosure Policy
If you own a LifePlanner, you know that you will always find an Erin Condren Perpetual Calendar in the back folder.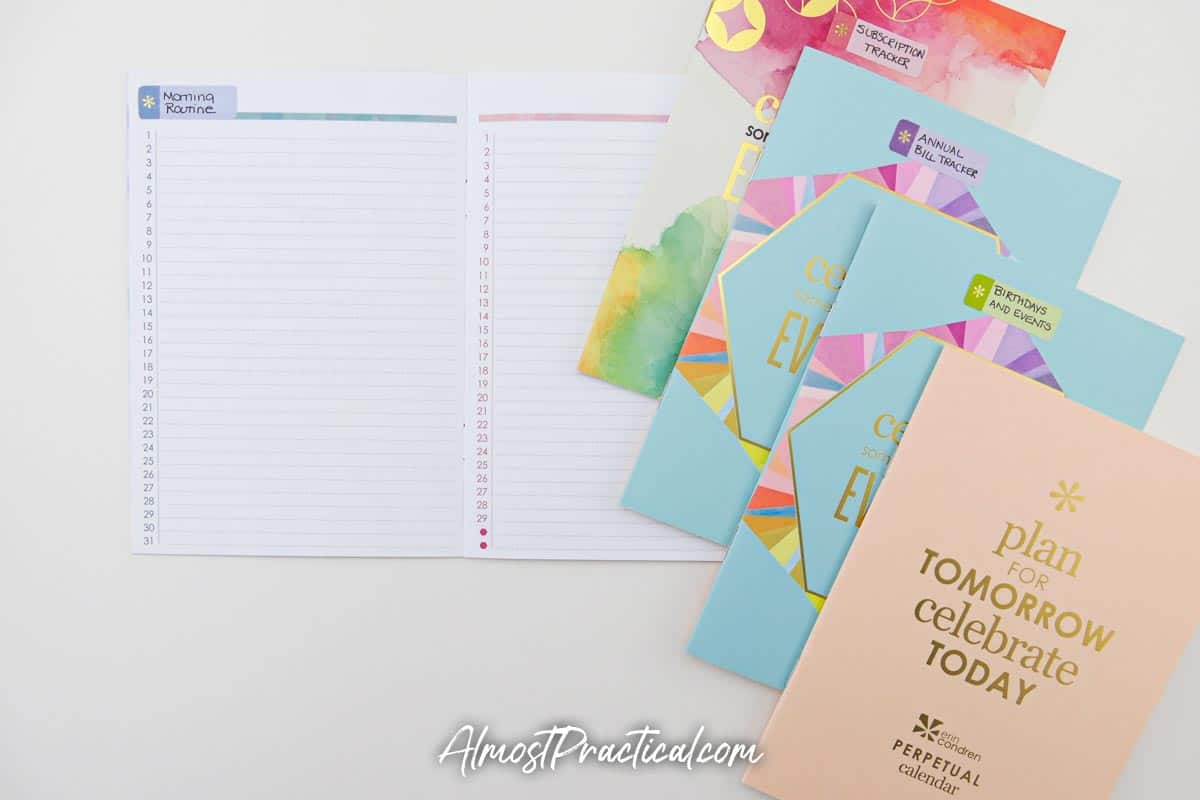 This is a useful little planning tool for keeping track of events that happen on the same day year after year.
Chances are, you may have more than one of these handy little calendars, especially if you use more than one LifePlanner – or if you have purchased them for multiple years.
So, what should you do with this little booklet?
There are so many possibilities! You just need to think outside of the box.
Over the years, I have used my own Erin Condren Perpetual Calendars in a variety of ways – as a:
traditional perpetual calendar,
book of routines,
subscription tracker,
annual bill tracker,
book of lists.
I will go over each one of these with you – but as you can see, you are only limited by your imagination.
But first I want to point out the 2 biggest super powers of this calendar – it is convenient and you always know where to find it.
More Erin Condren Articles You Might Enjoy
Take Advantage of the Convenience of This Calendar
No matter how you decide to use this calendar, you want to make sure that you are taking advantage of it's convenience.
Let's look at it for what it is.
Basically, the Erin Condren Perpetual Calendar is a slim notebook that conveniently fits inside the back folder of your LifePlanner.
So, it makes sense to use this notebook to record information that you want to have with you at all times.
The bonus is that you will always know where to find this information – it will always be in that back folder.
Use It As a Perpetual Calendar
The most obvious way to use this calendar is to use it for what it is designed for – keeping track of events that happen every year on the same date.
This could include:
birthdays
anniversaries
certain holidays
You might already have this information in your online calendar or in your LifePlanner itself – but I like putting it in the perpetual calendar as well.
This way you can see it in list form.
So, at the beginning of each month, you can open this up and see what celebrations you need to plan for.
You can quickly make up a shopping list, plan your parties, or write all your birthday cards for the month in one sitting.
Make a Book of Rountines
Another way to use the perpetual calendar is to convert it into a "Book of Routines".
This is actually my favorite way to use it.
Everyday and month I go through many different routines.
I have my:
morning routine,
start my workday routine,
end my workday routine,
evening family routine,
after dinner routine,
bedtime routine,
first of the month routine …
You get the idea.
Now, I am not a robot and my life is not that structured, but having these lists of things that I should be doing during these specific times really does keep me on track.
All you need to do to use your calendar in this manner is put a label sticker (you can find a sheet of these in the back of your LifePlanner as well) over the month name and write in the name of your routine.
Then use the lines to create a numbered list.
Use It As A Subscription Tracker
I use my Erin Condren LifePlanner in the vertical layout to keep track of my household finances – you can click here to see how I do that.
So, I use the perpetual calendar in a couple different ways.
The first is as a subscription tracker.
These are payments that you are charged for automatically every single month.
For every month you can list out the item, the amount, and the date that the charge will hit your card or account.
If the subscription renews each year, you can also make a note on the month of renewal – and cancel before the renewal date if you want to.
You can find more ideas for managing your monthly subscription costs here.
Create an Annual Bill Tracker
You can also use the perpetual calendar as an annual bill tracker.
This would be for things that you only pay once a year or even quarterly.
Usually these are big ticket items like taxes, insurance, tuition, and other large expenses that you need to plan for.
It is nice to see these all in one place, so you can look ahead and not be surprised when the bill actually lands in your mailbox.
Make a Book of Lists
I am guilty of being unable to keep track of movies that I want to see, books that I want to read, recipes I want to make, and all kinds of little someday items.
Often I jot them down on a piece of scrap paper or in my LifePlanner somewhere.
And then I promptly lose the paper or can't find the note.
The perpetual calendar is a perfect place to keep track of these types of lists.
This would be things that you add to and refer to periodically.
You wouldn't necessarily use it for something like a grocery list but rather for more permanent type lists.
Related: How Lists Can Make You More Productive
Any Notebook Will Do
If you don't have an Erin Condren Perpetual Calendar, no worries.
You can always get a LifePlanner which includes the perpetual calendar (wink wink), buy the perpetual calendar a la carte, or even use a set of Petite Planners to get the job done.
But in actuality, you can use any type of notebook to manage things like:
birthdays,
routines,
subscriptions,
annual bills, and
lists.
Just make sure that it is convenient and that you always have it with you.
Happy planning!
Pint This Image to Your Favorite Planner Board on Pinterest