Erin Condren Teacher Planner Review 2020-2021
This post may contain affiliate links which means I make a commission if you shop through my links.
 Disclosure Policy
Disclosure: Product for this post was provided by Erin Condren. All opinions are my own.
I am so happy to introduce you to the Erin Condren Teacher Planner for the 2020/2021 school year.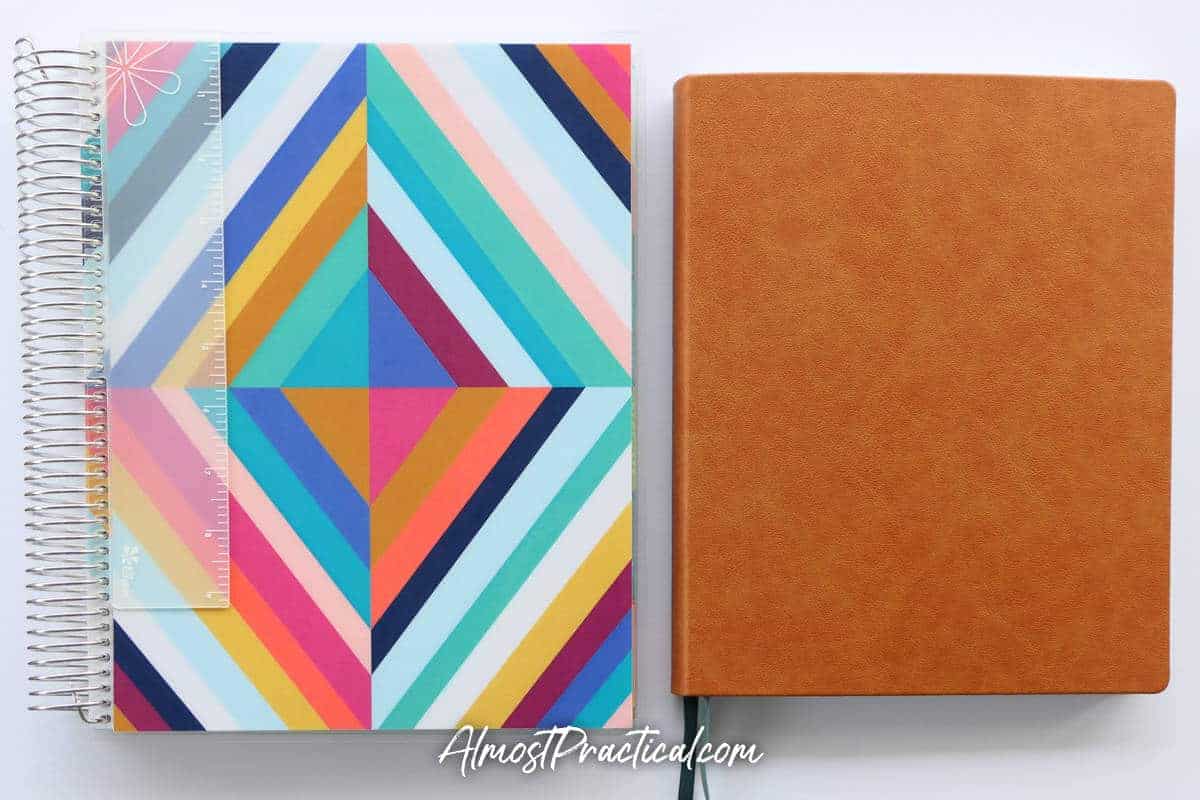 This past academic year has been quite a wild ride, so this opportunity to look ahead to the fall is really refreshing.
The new Teacher Lesson Planner comes in 3 formats.
And there are so many useful features and fun design options.
So, I will try to hit each point in a sequence that makes sense.
UPDATE: See the ALL NEW 2021-2022 Erin Condren Teacher Lesson Planner Review here!!!
EC Teacher Planner Formats
This year there are 3 planner formats:
I ordered both the coiled and the softbound planners but I will also reference the binder from information on the Erin Condren website.
Related: Preview the 2020/2021 Erin Condren Daily Duo LifePlanner
Coiled Teacher Planner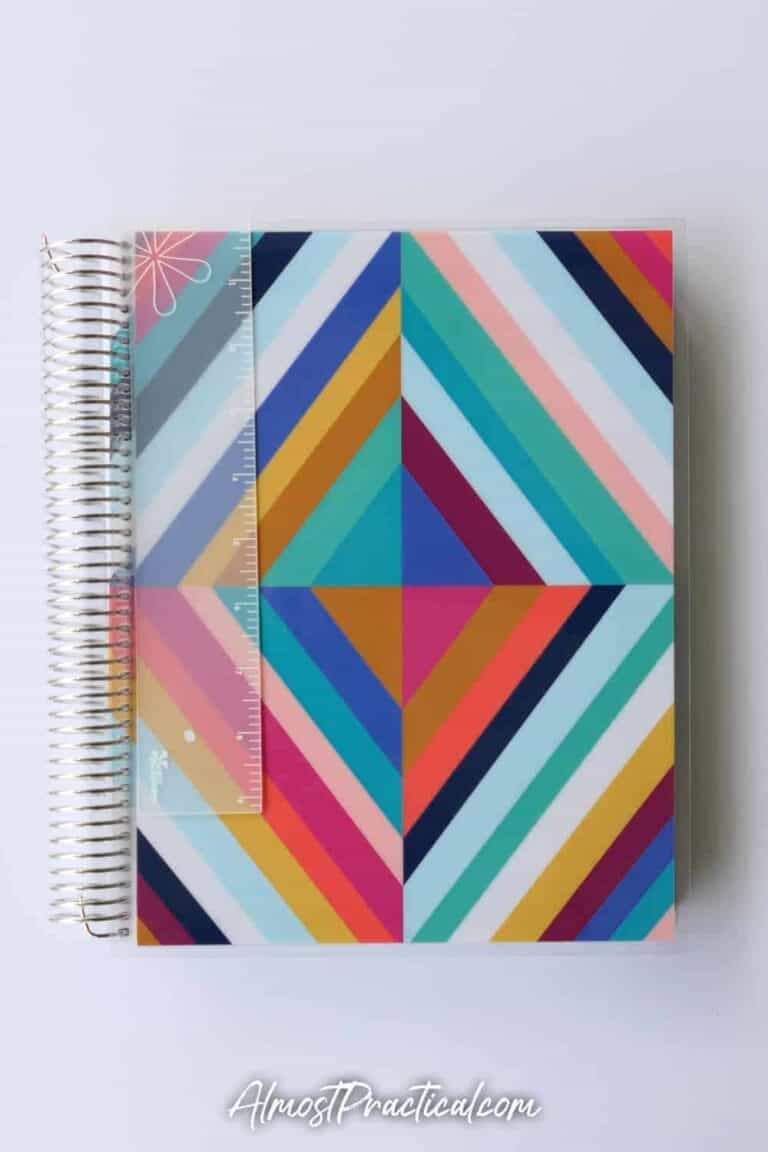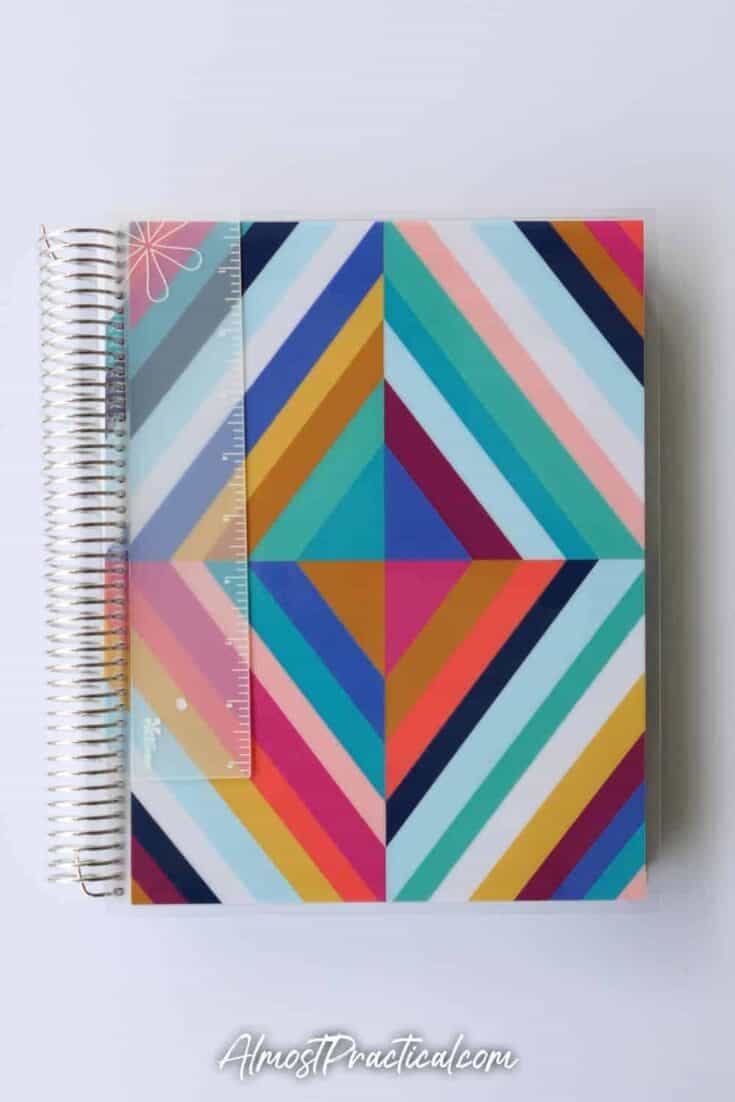 The coiled teacher planner is what I would call Erin Condren's signature version.
Choice of Interior Design
It is super customizable and for 2020-2021 it comes with your choice of interior design. You can choose from:
Oh So Retro or
Kaleidoscope
I chose the Oh So Retro interior (or guts) so that is the design that you will see throughout my photos here.
Interchangeable and Customizable Covers
You can also personalize your teacher planner with any of the interchangeable covers on the Erin Condren website.
I chose the Oh So Retro cover to match the inside design and I did not add my name or initials – although this is something that you can absolutely do.
Coiled Lesson Planner Dimensions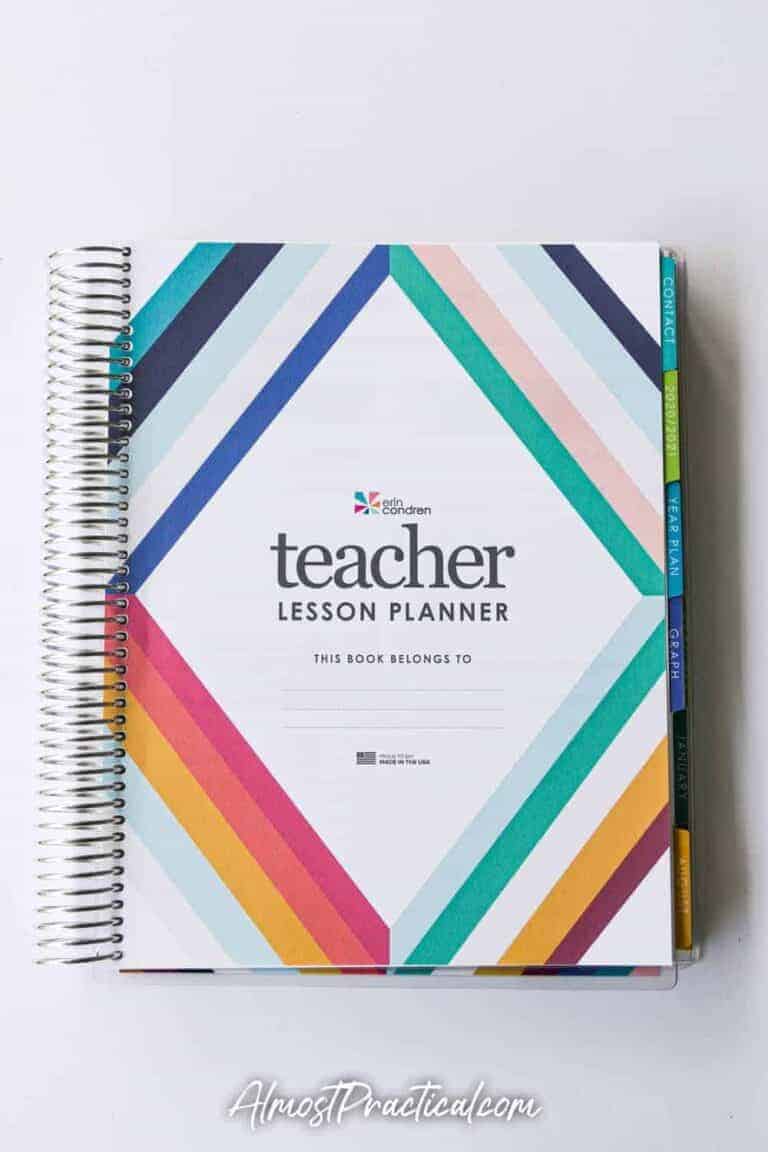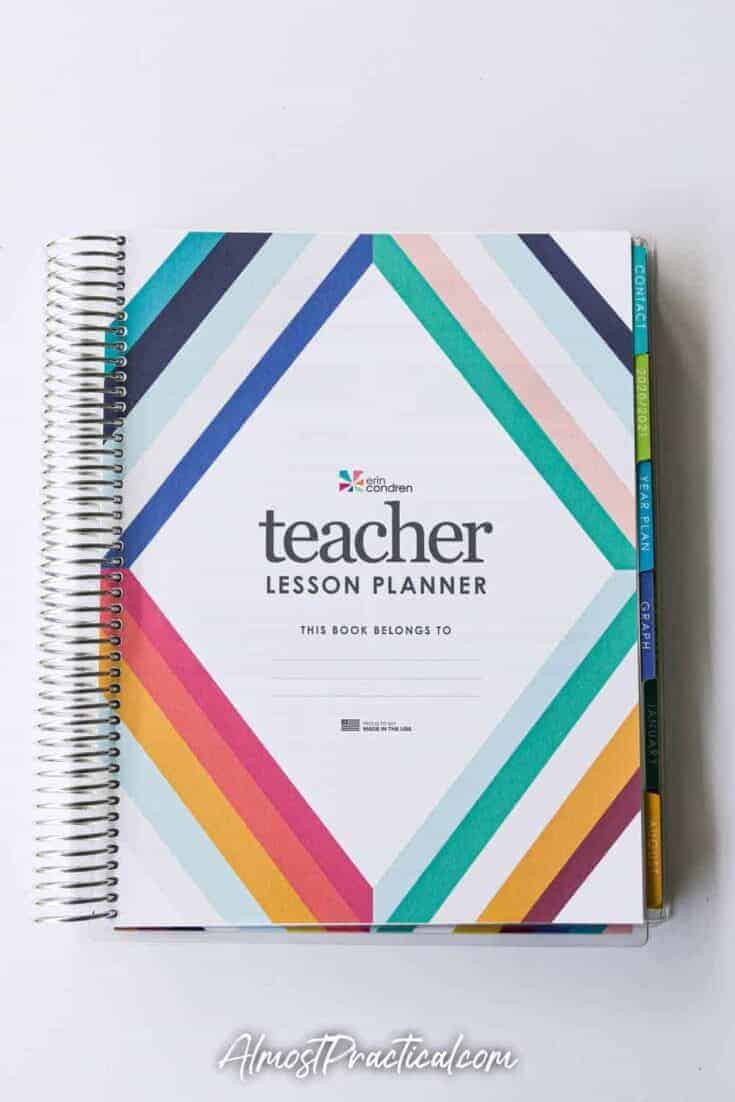 The dimensions are a full 8.5 x 11 inches, so there is plenty of space for laying out your lesson plans.
Choice of Coil Color
You can also choose the color of the coil from the following:
platinum
gold
rose gold
black
Choice of Start Dates
One of the best things that you can customize in the COILED Teacher Lesson Planner is the start date.
This is a 12 month planner – but you can choose to start your year in either July, August, or September of 2020.
What a fabulous option – especially if your school year has an early or late start!
Additional Options
Finally each of the coiled planners comes with 7 checklist pages and one sheet protector coiled right in.
But you can up to 28 checklist pages and up to 3 sheet protectors should you need them.
Let's Take a Tour, Shall We?
Intro Section
The first pages that you come to are the About me and Classroom Events pages: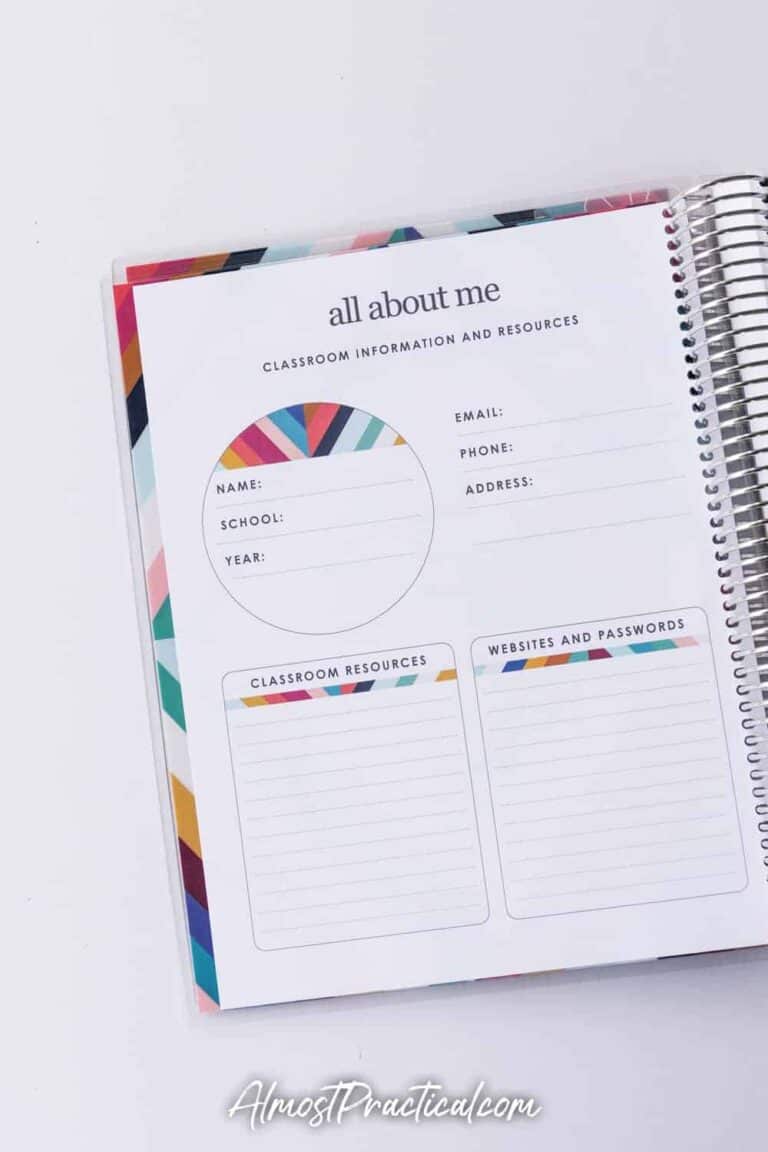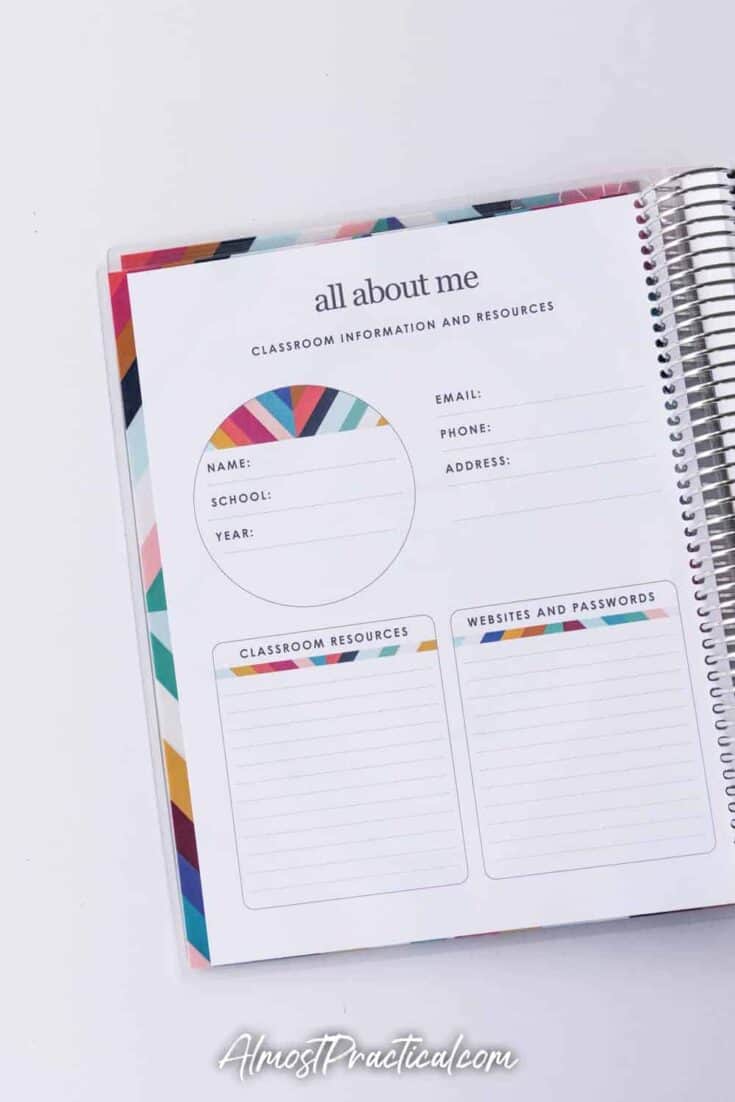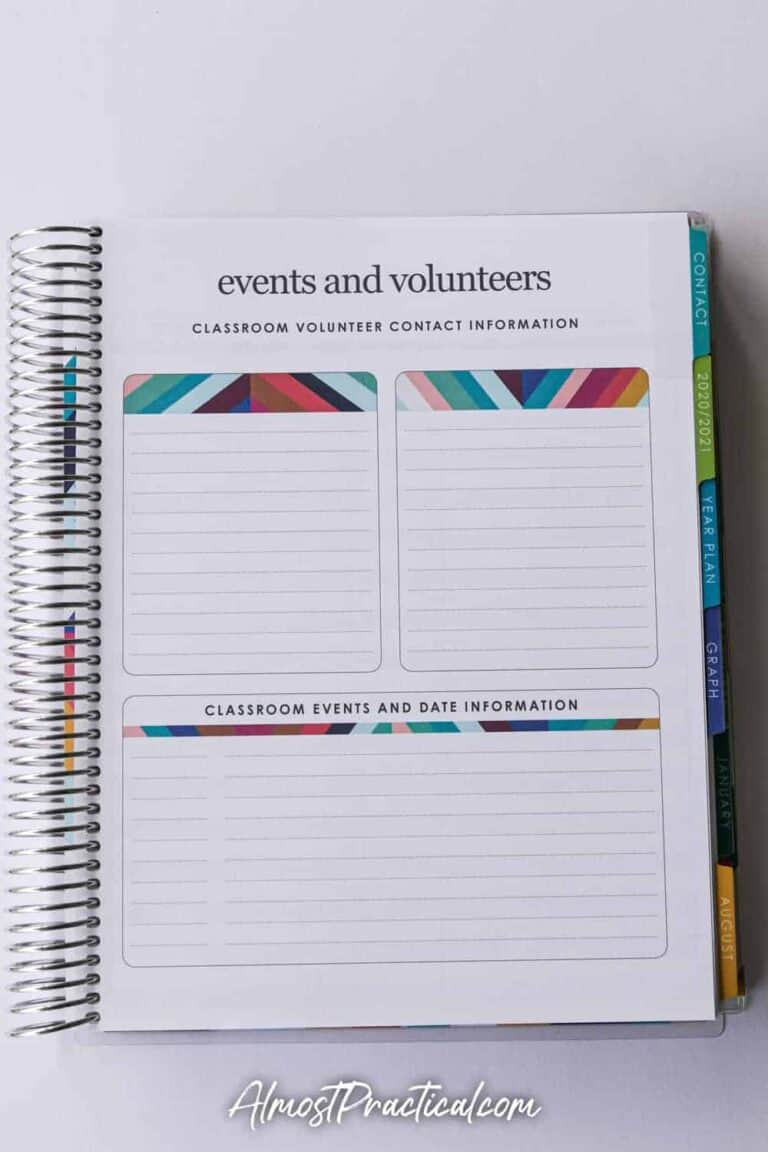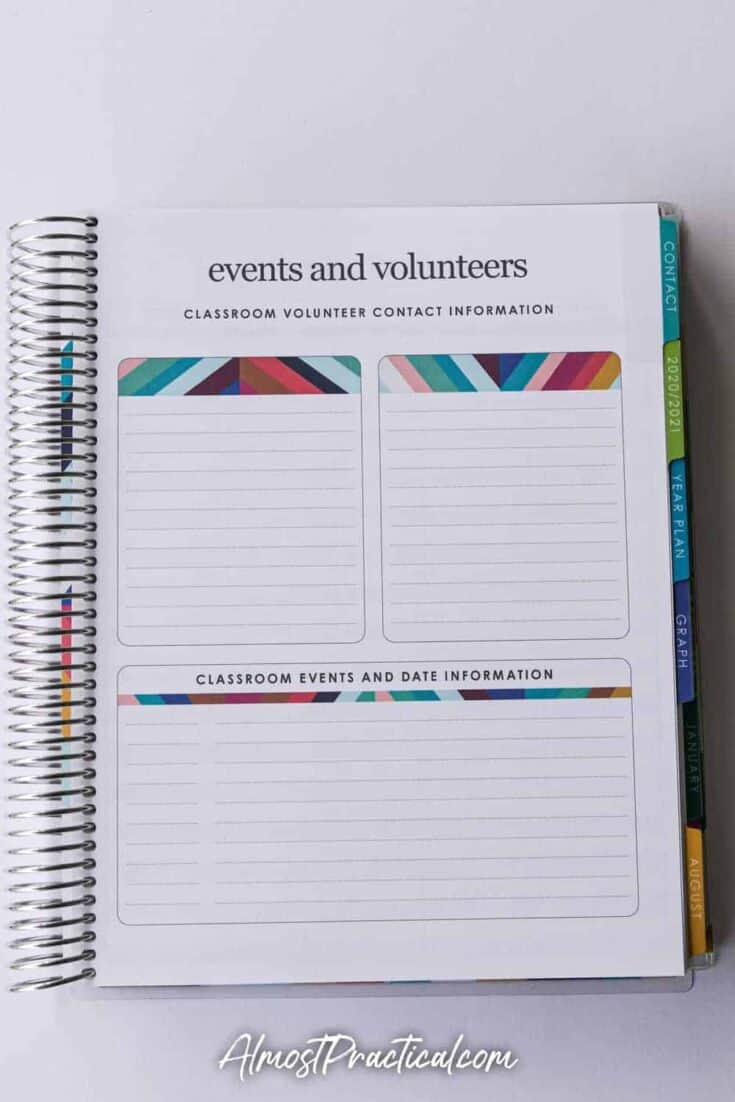 Communication Log
Next you will come to the communication log – this is a great place to jot down notes about conversations that you have with parents or other educators.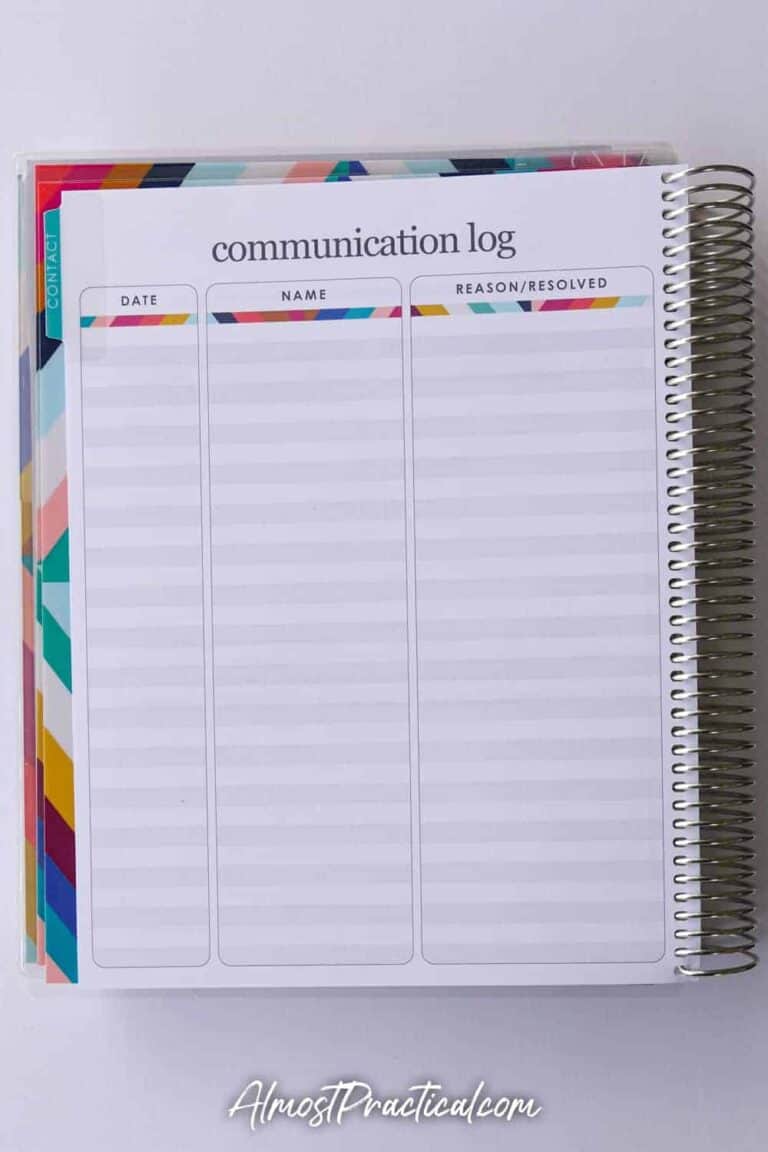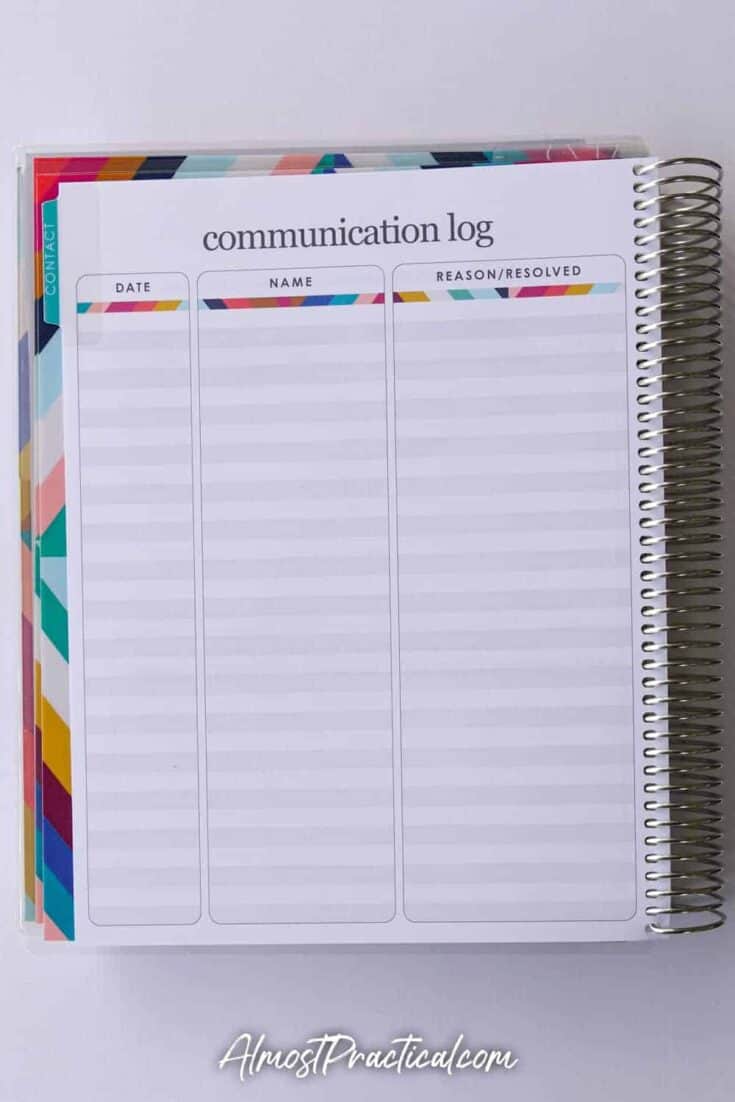 Mini Months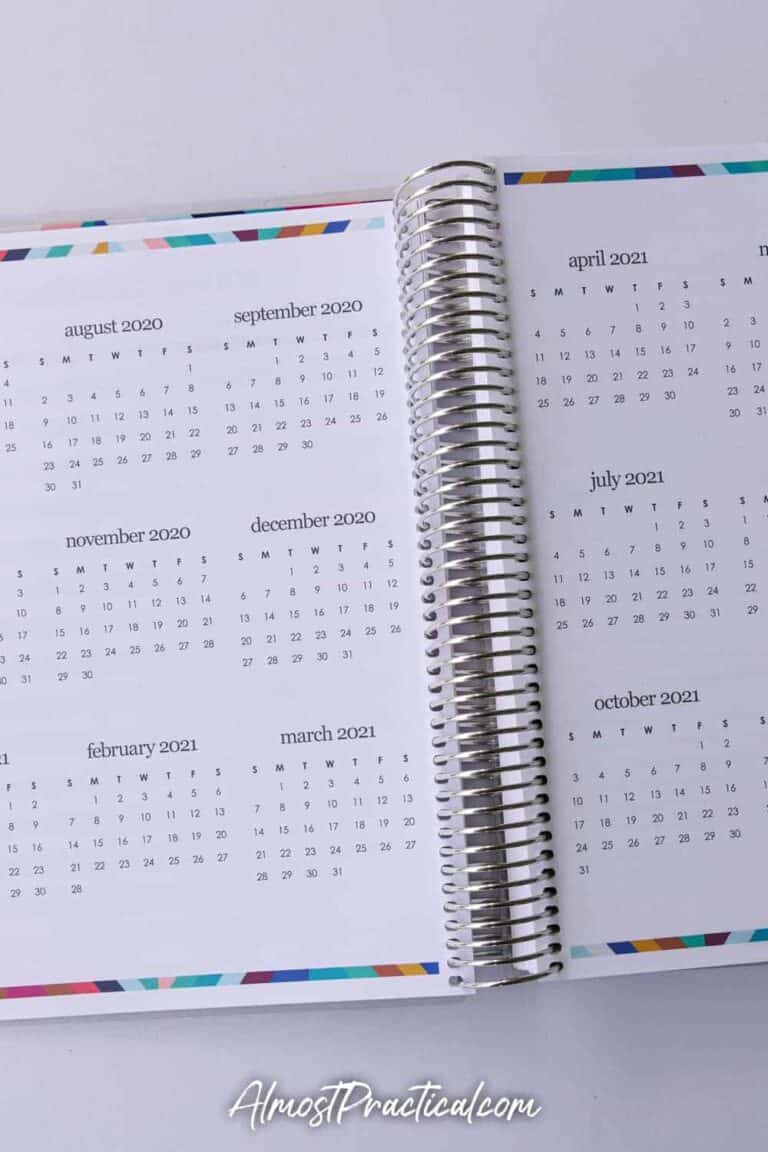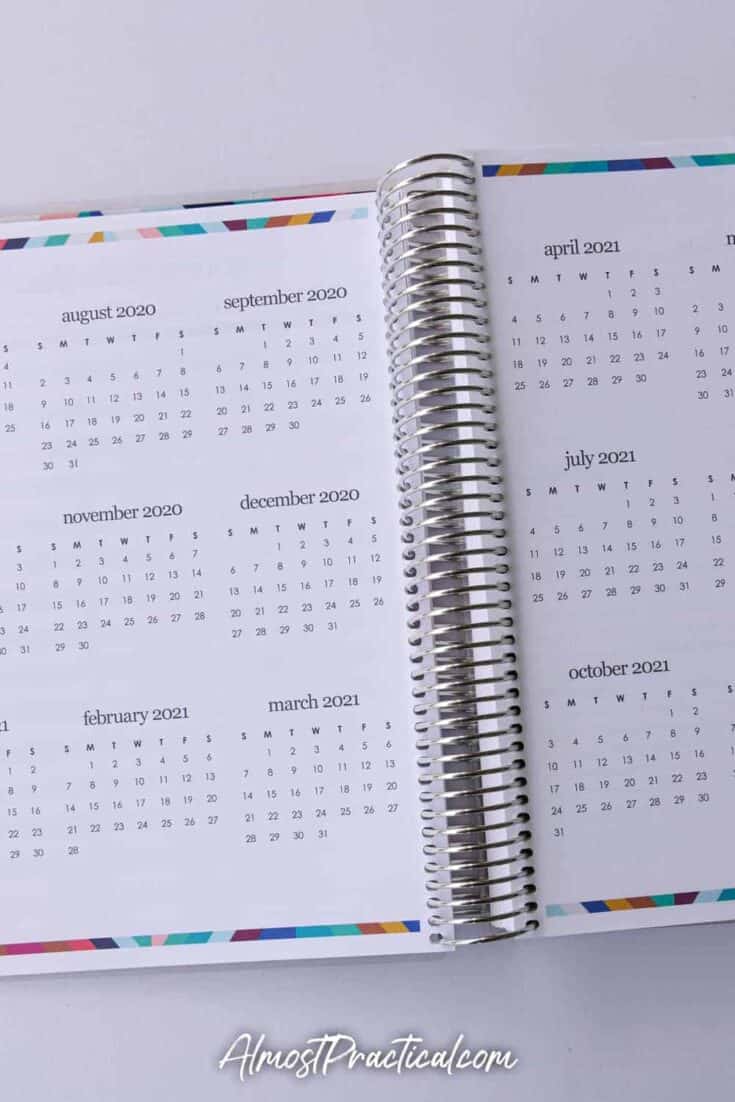 Yearly Plan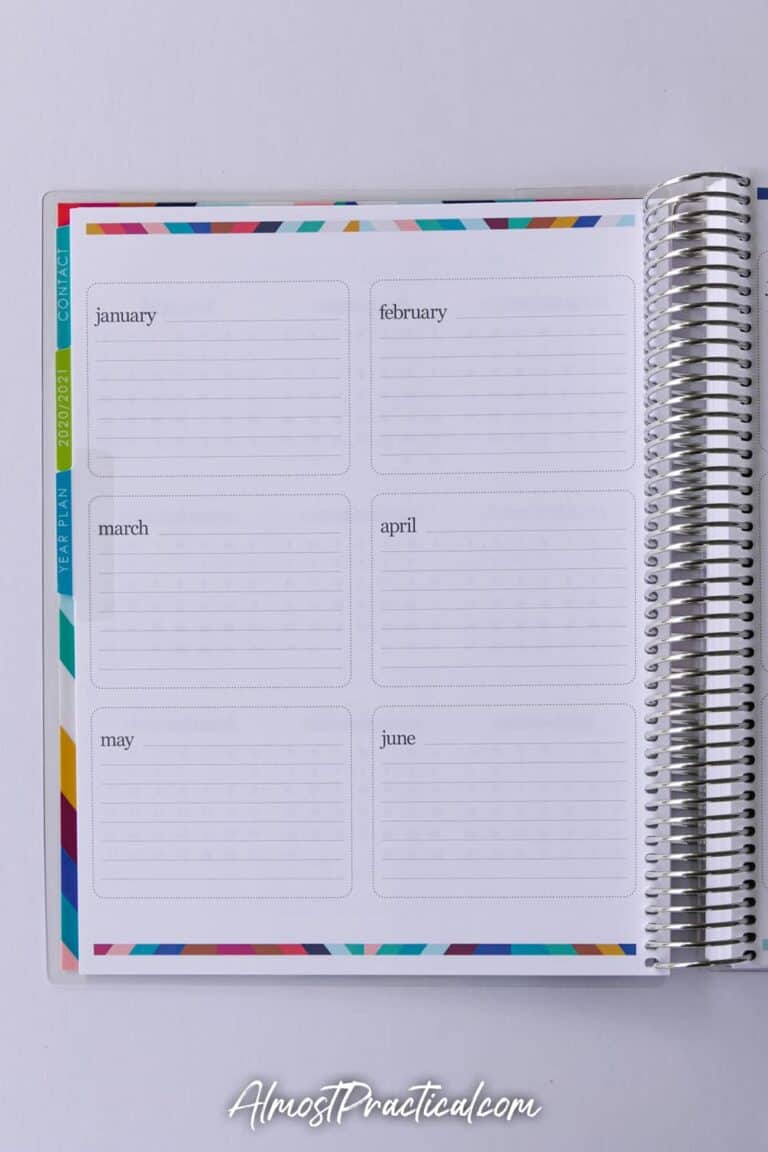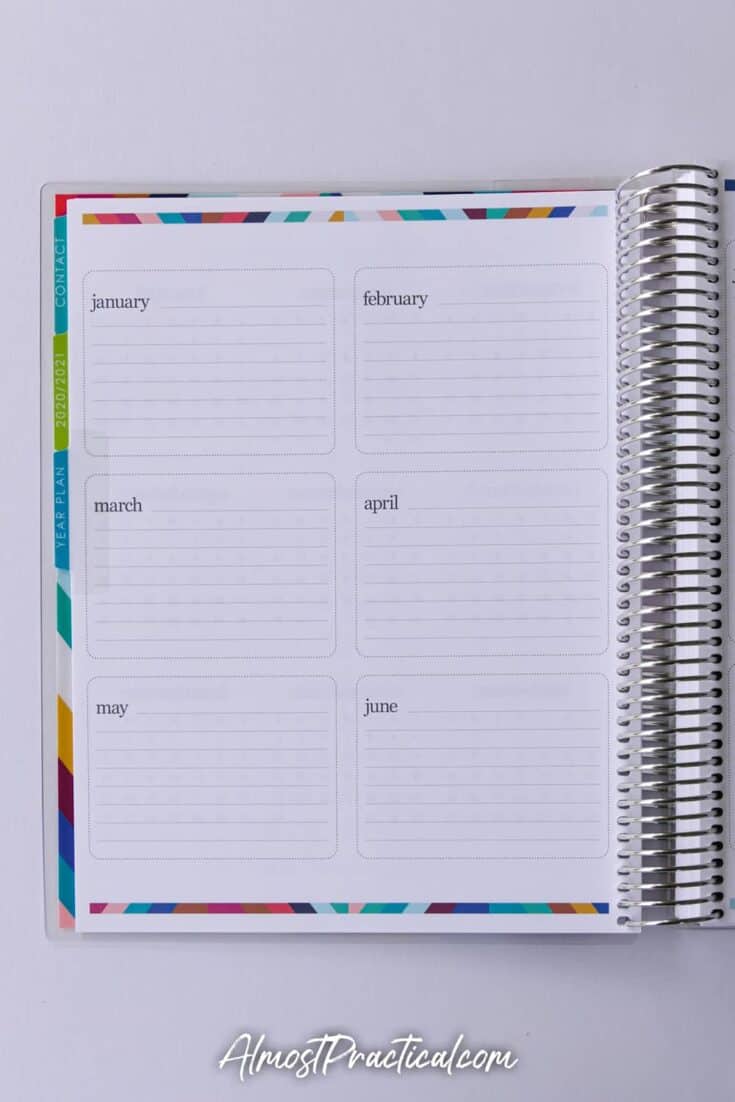 Graph Pages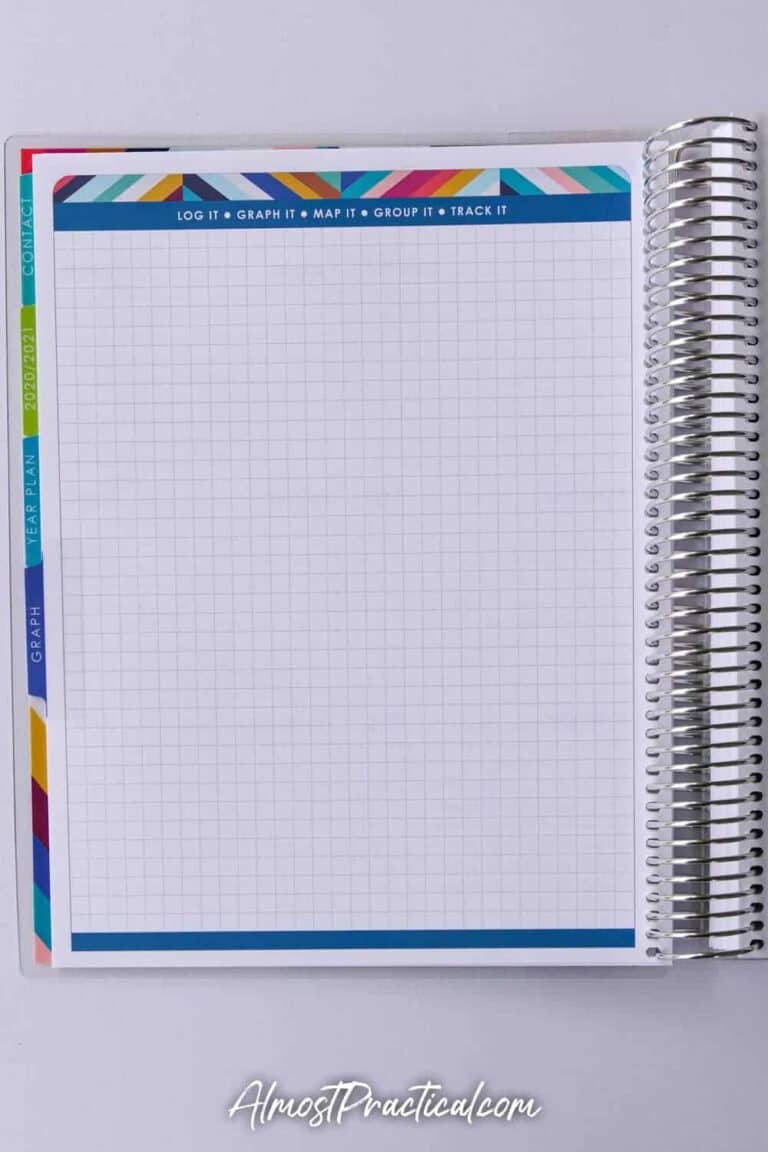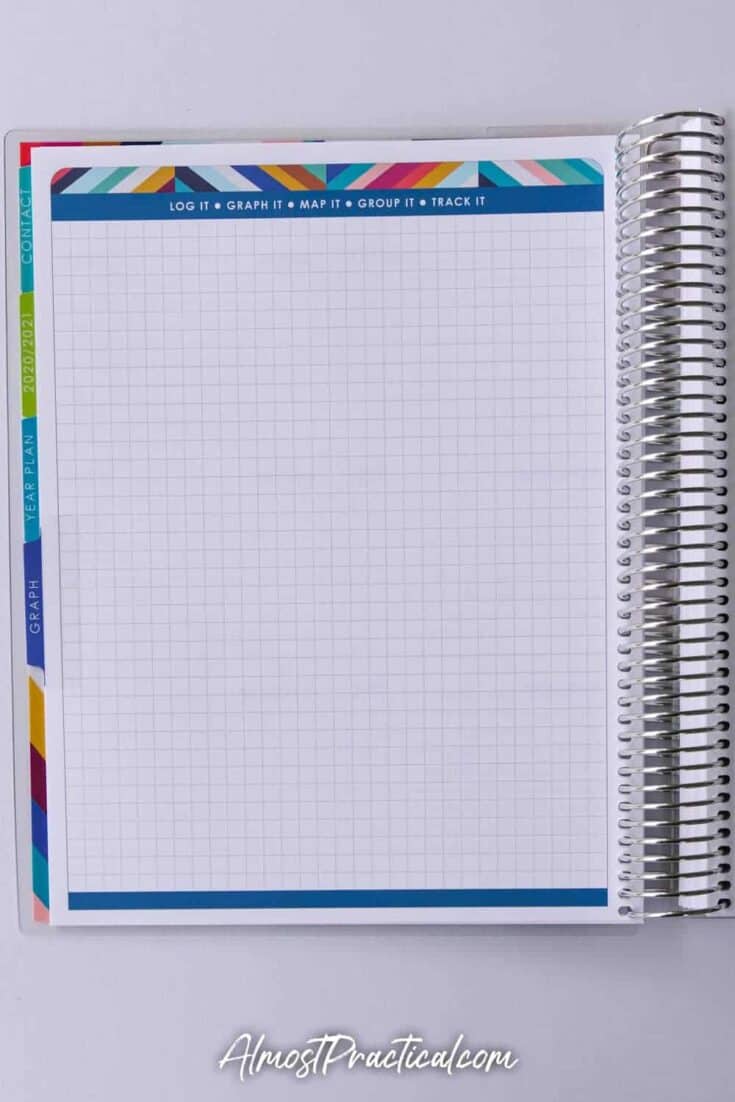 Monthly Lesson Plans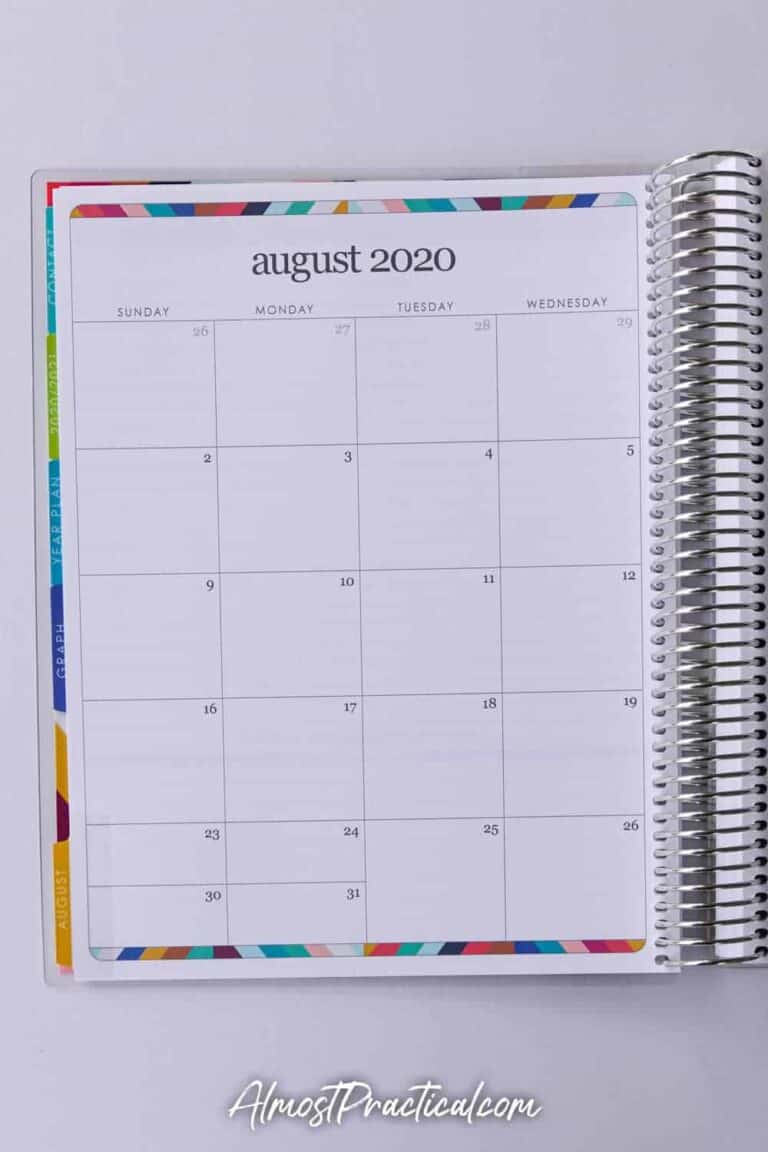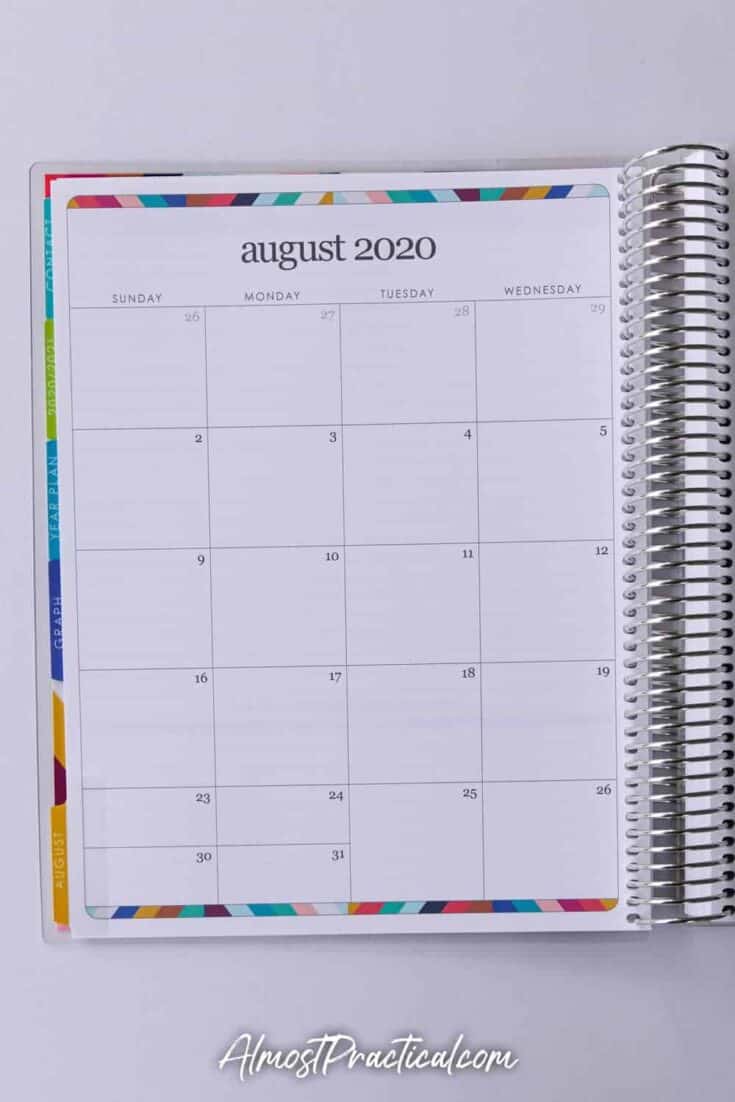 For every month, there is a standard 2 page per month calendar spread followed by a 2 page per week (Monday through Friday) lesson plan spread.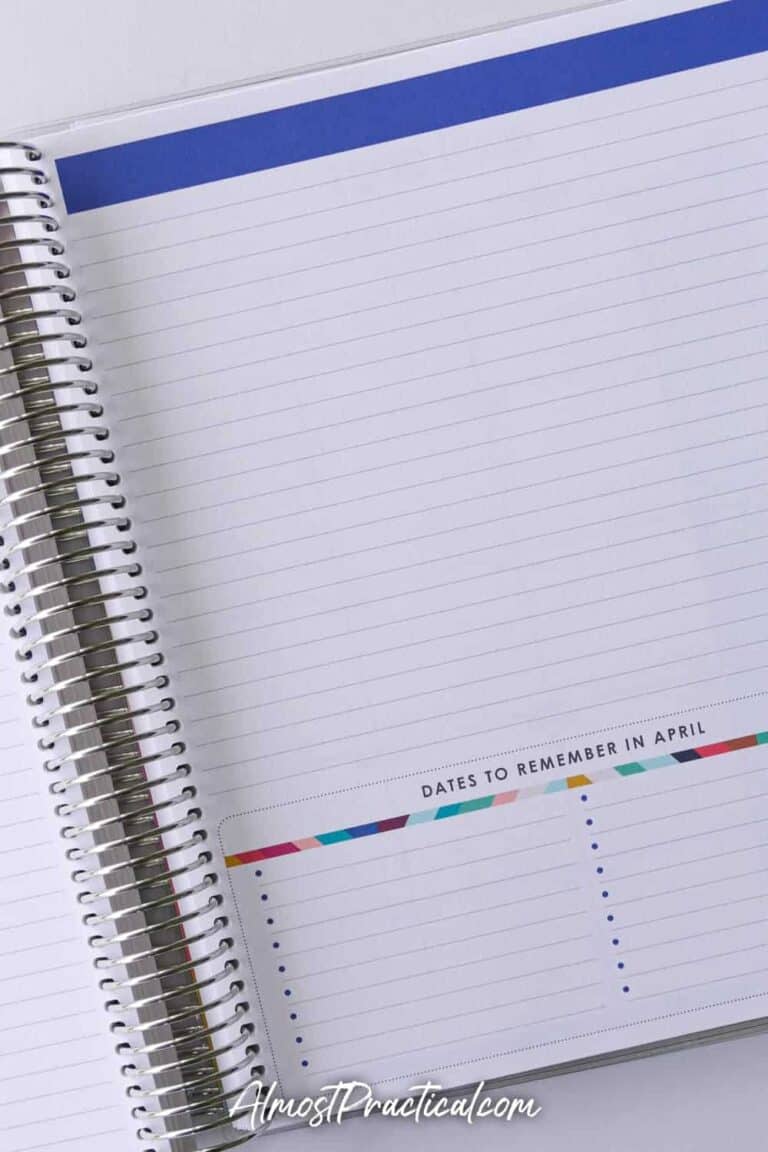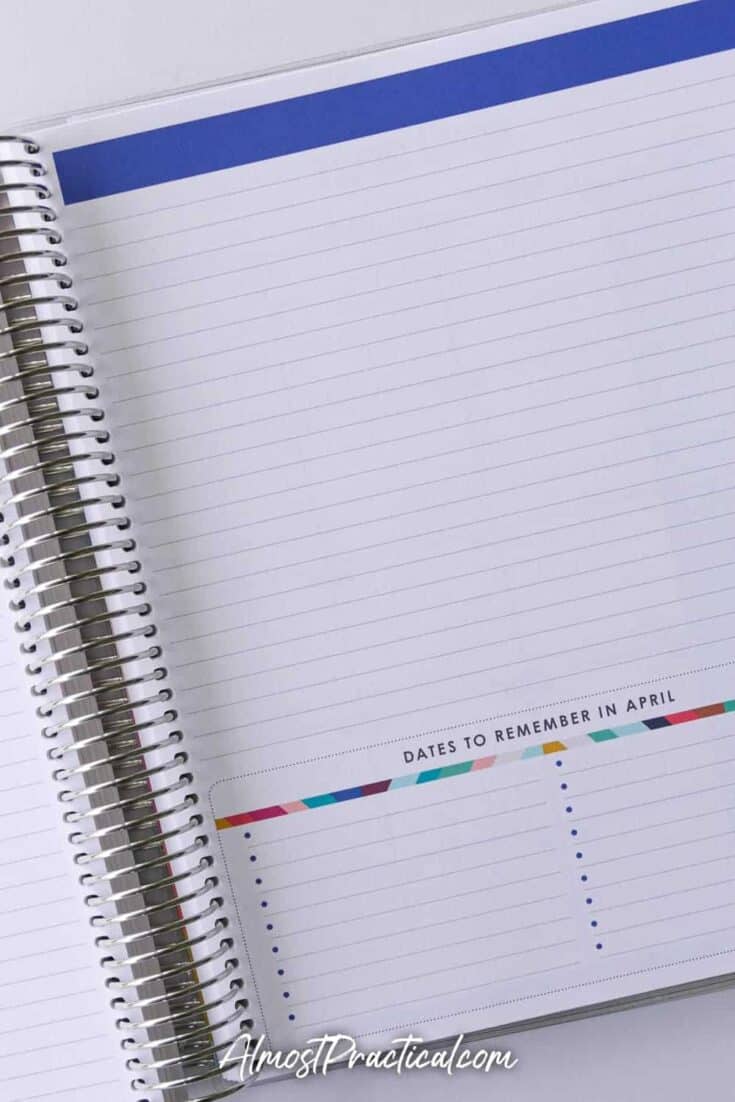 There are 6 blank columns for each day. You can use these for the different subjects that you teach, different sections, or even different activities or task areas that you need to focus on.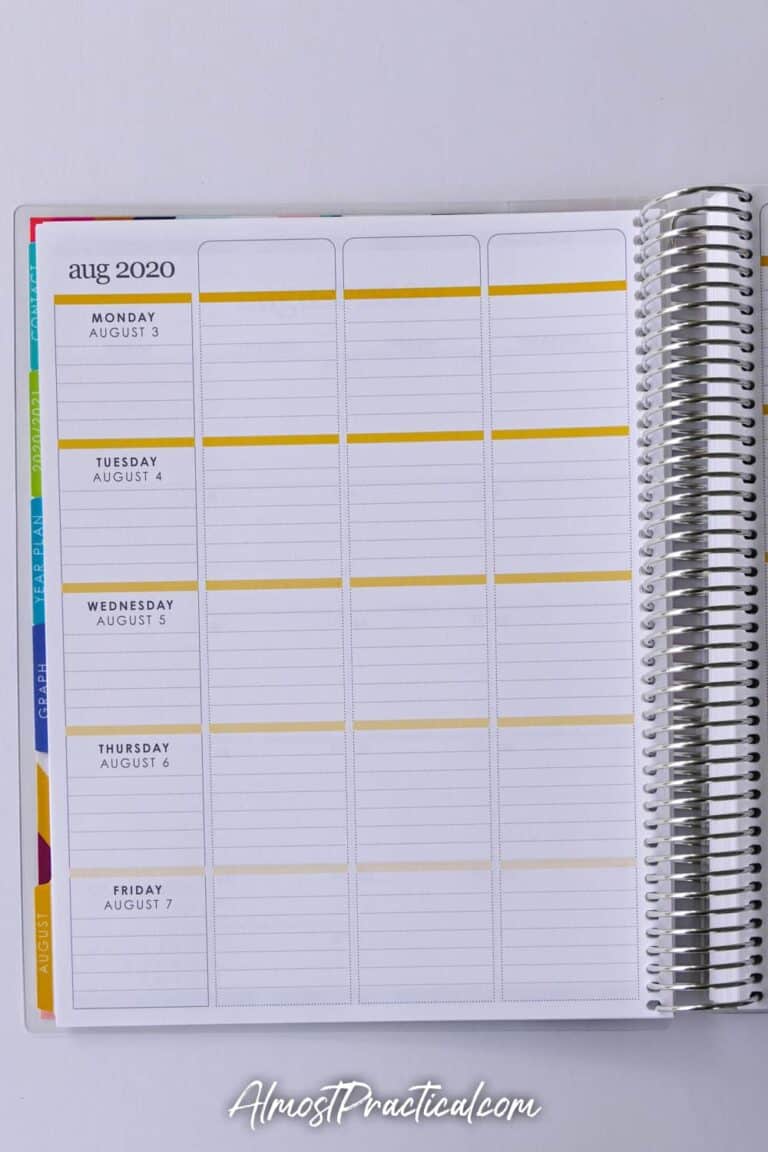 The second page of the weekly lesson plan spread includes a lined column where you can jot down a to do list or some quick notes.
Each month features a different color – the above photo shows yellow for August while below you see a page from November that features blue.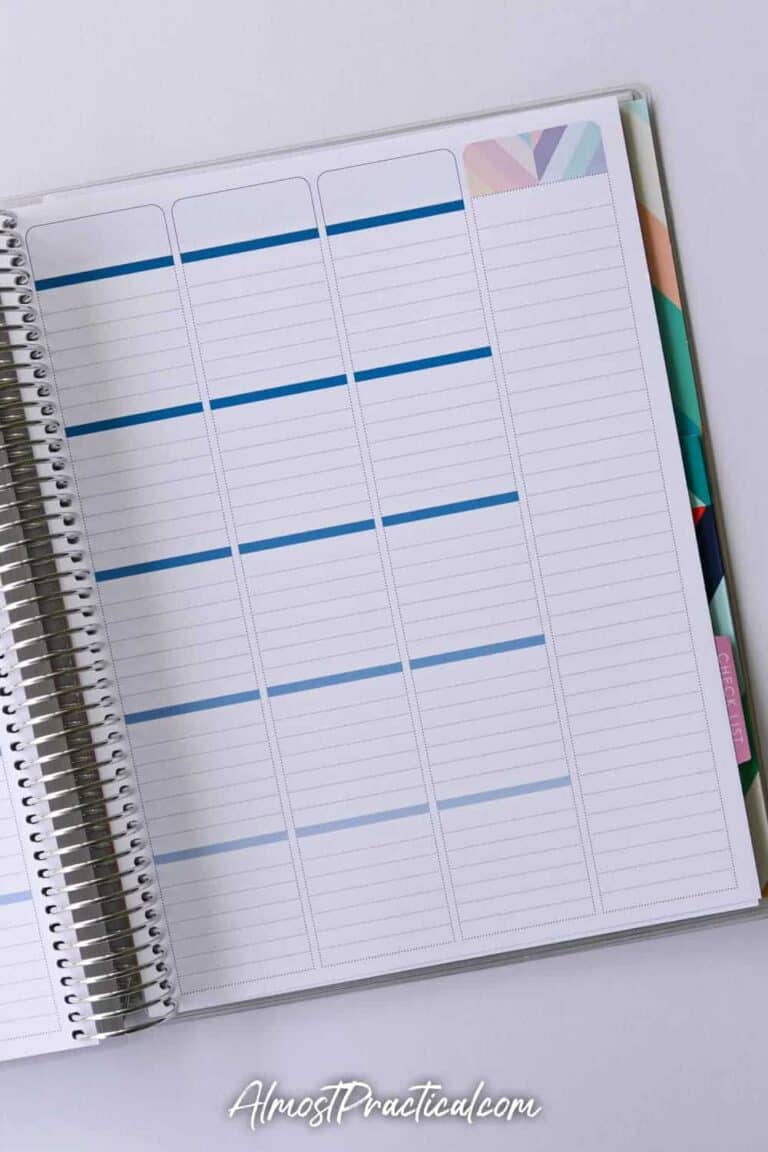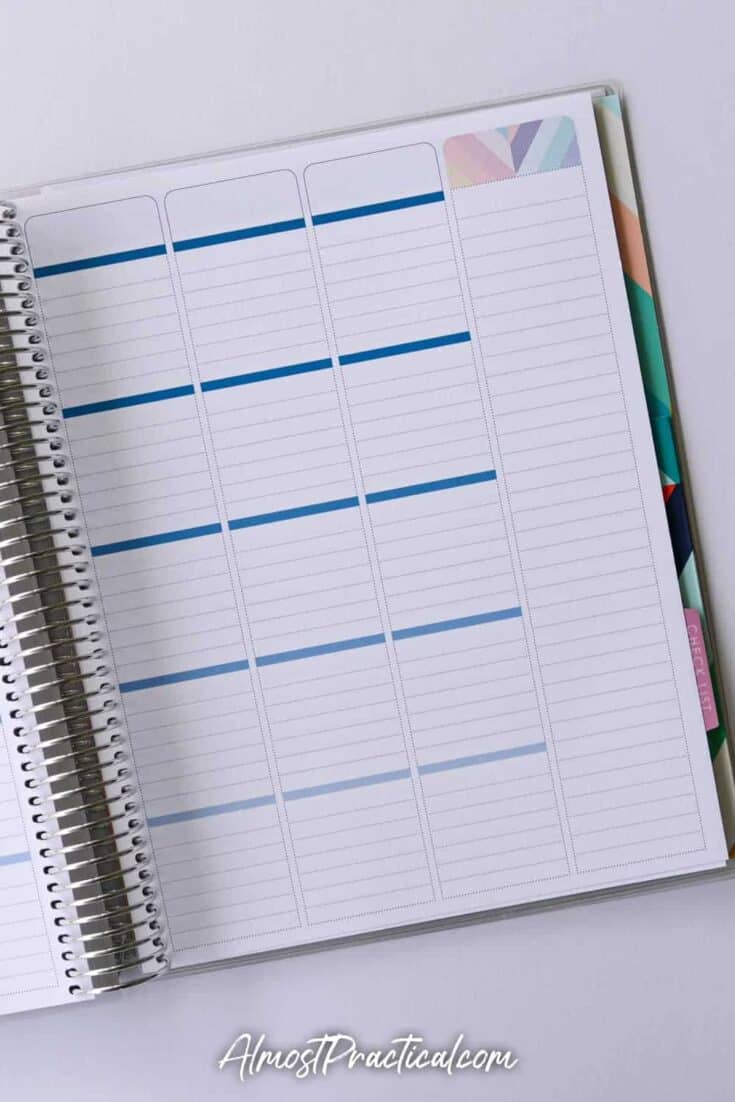 And the following page from September is sporting purple accents.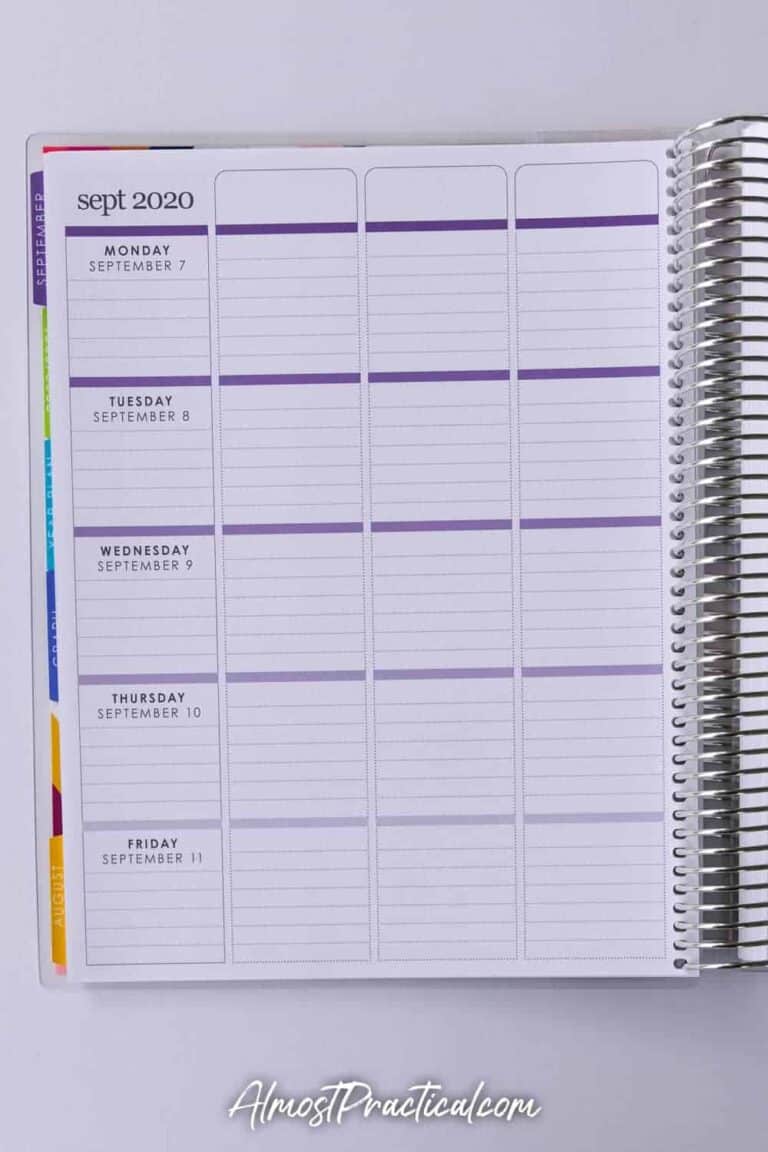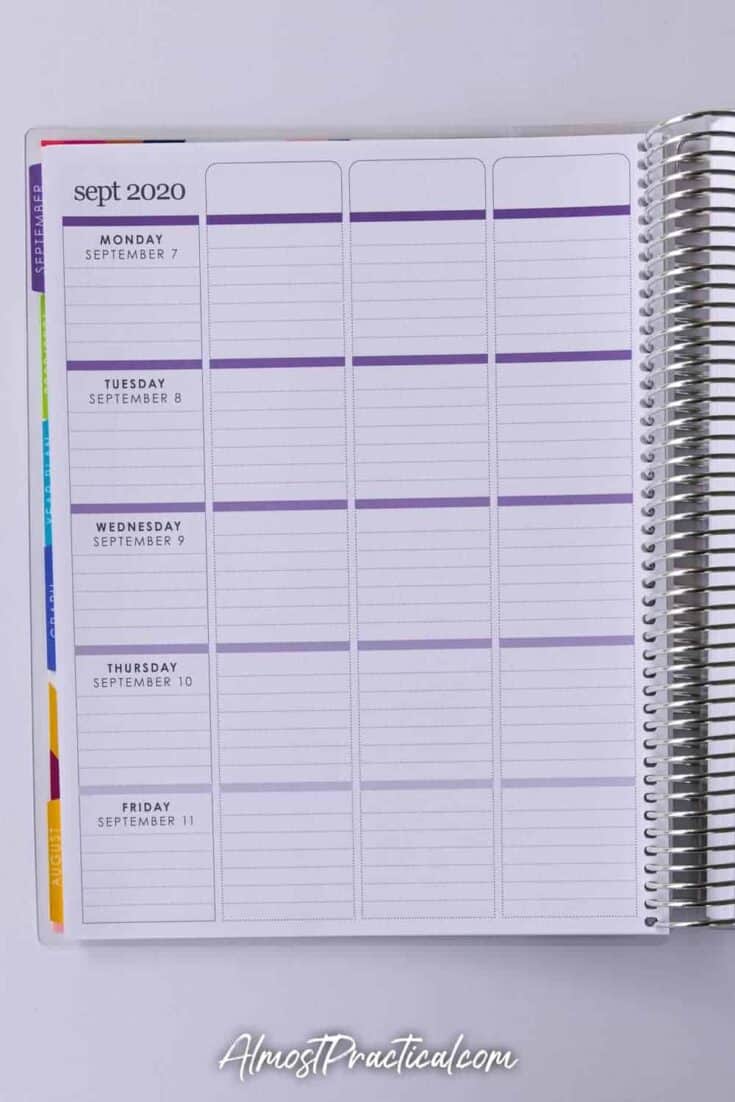 Checklist Pages
The last section of the planner is the checklists. You can use this as a grade book, to keep track of homework submissions, permission slips, or anything else for each of your students.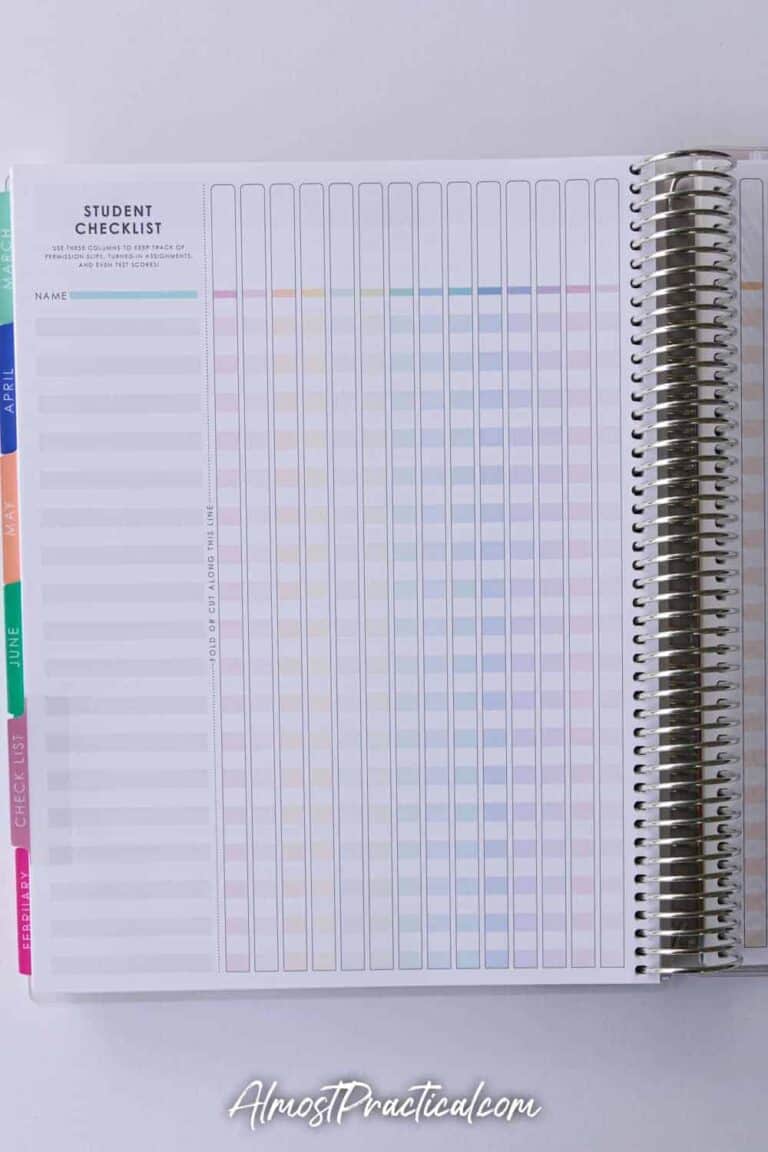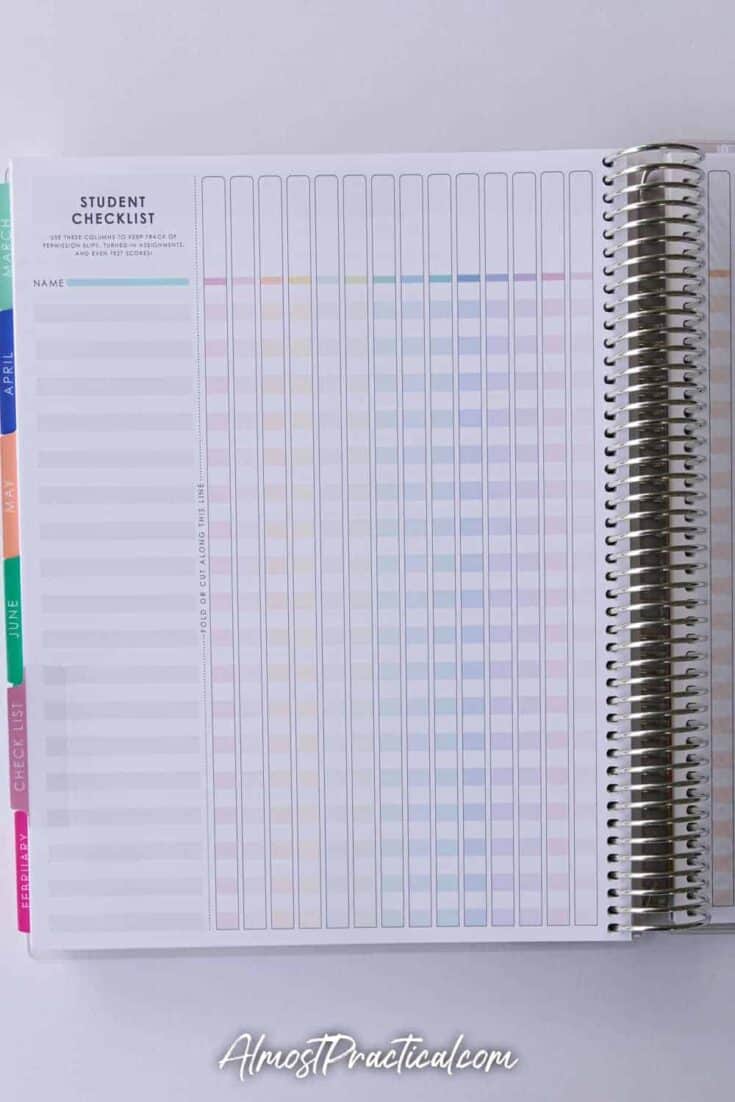 Planner Stickers
In true Erin Condren fashion, there are four pages of fun planner stickers at the end of the COILED version.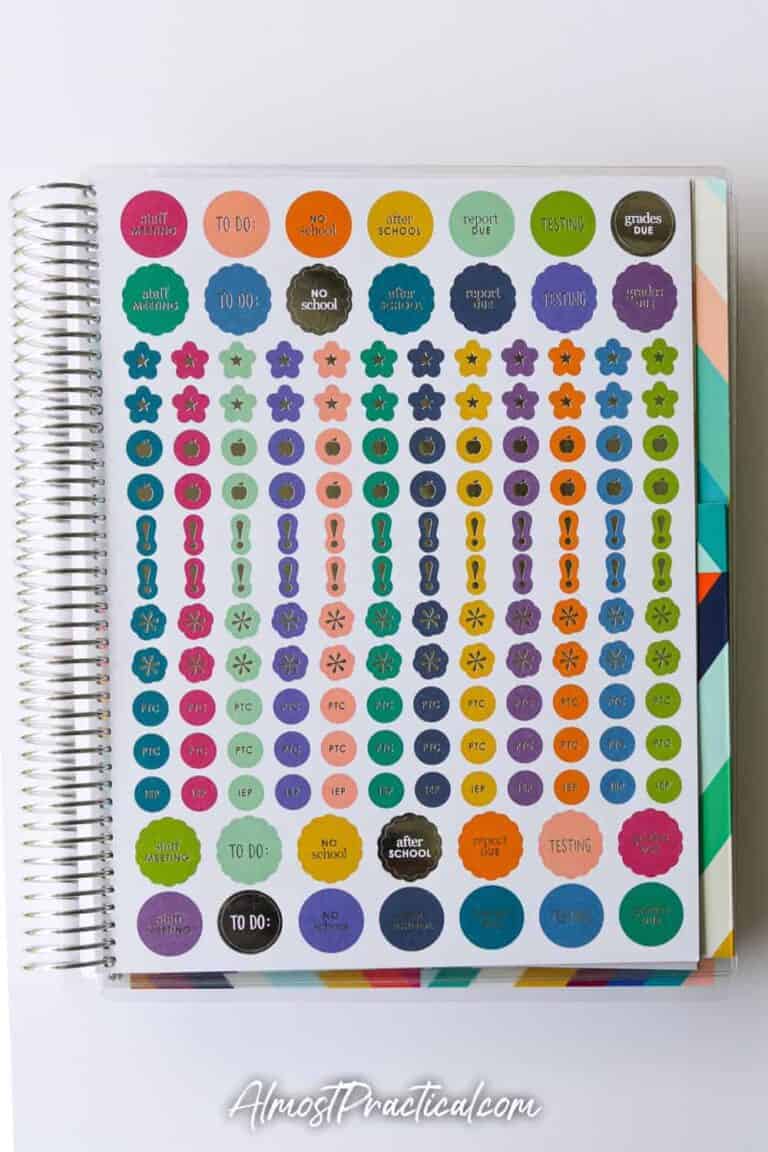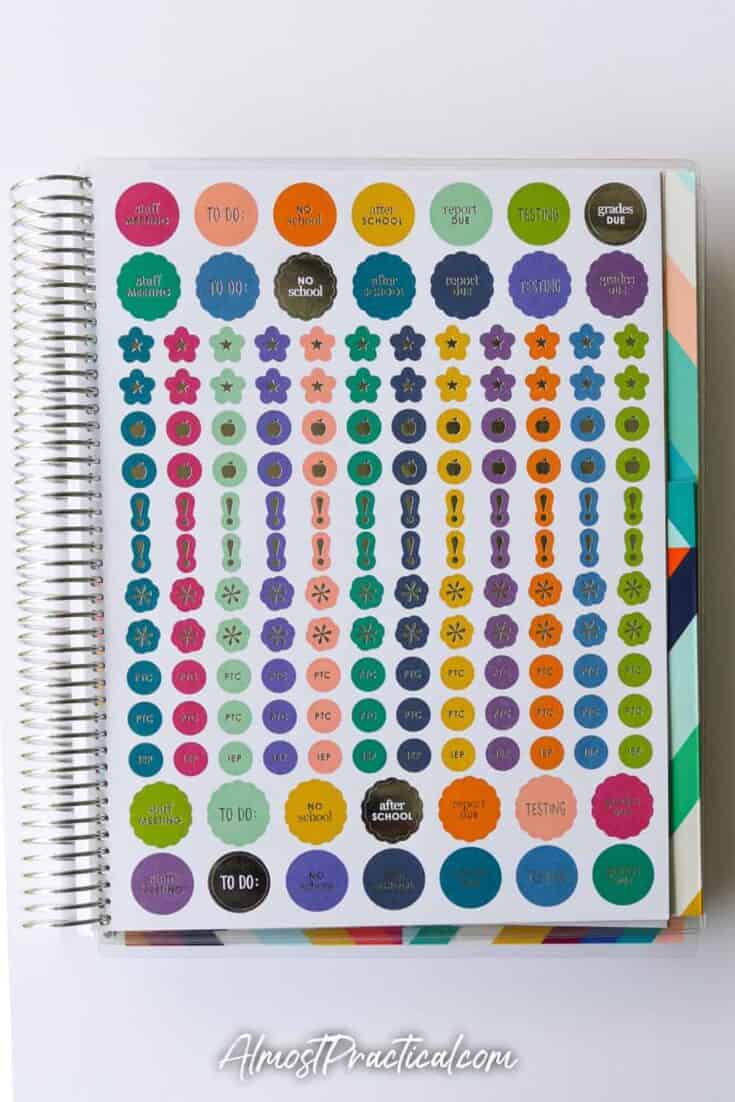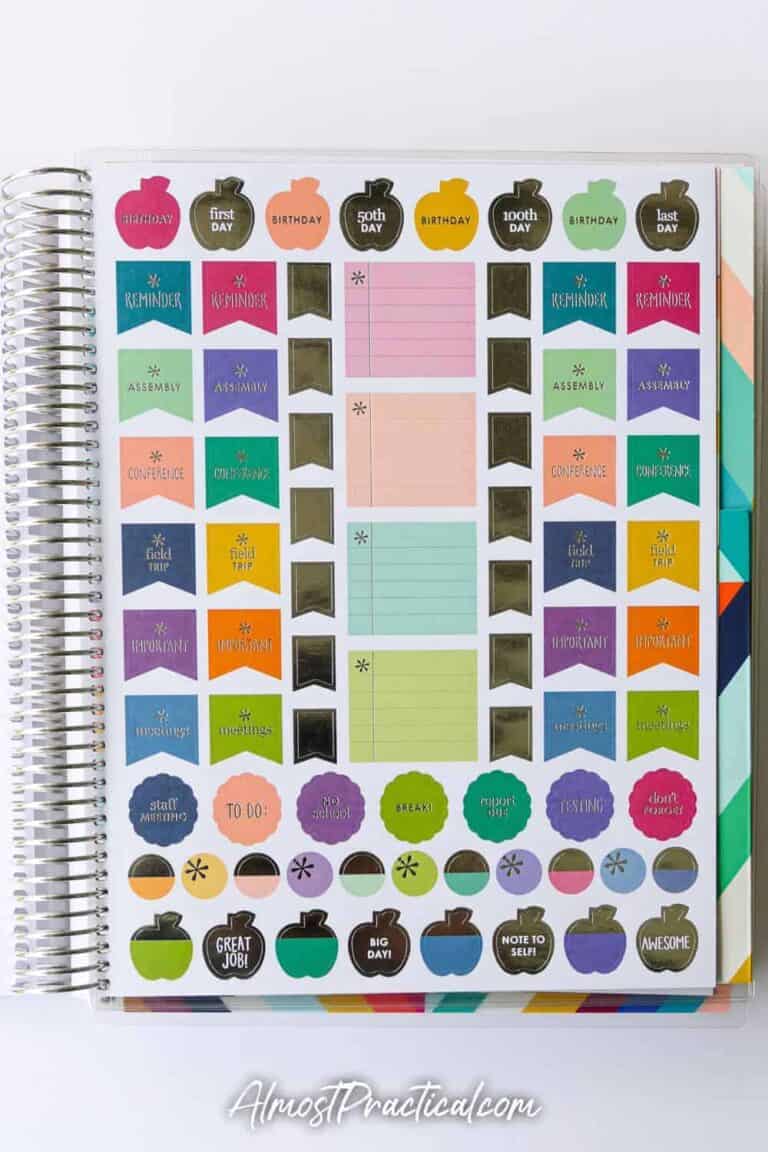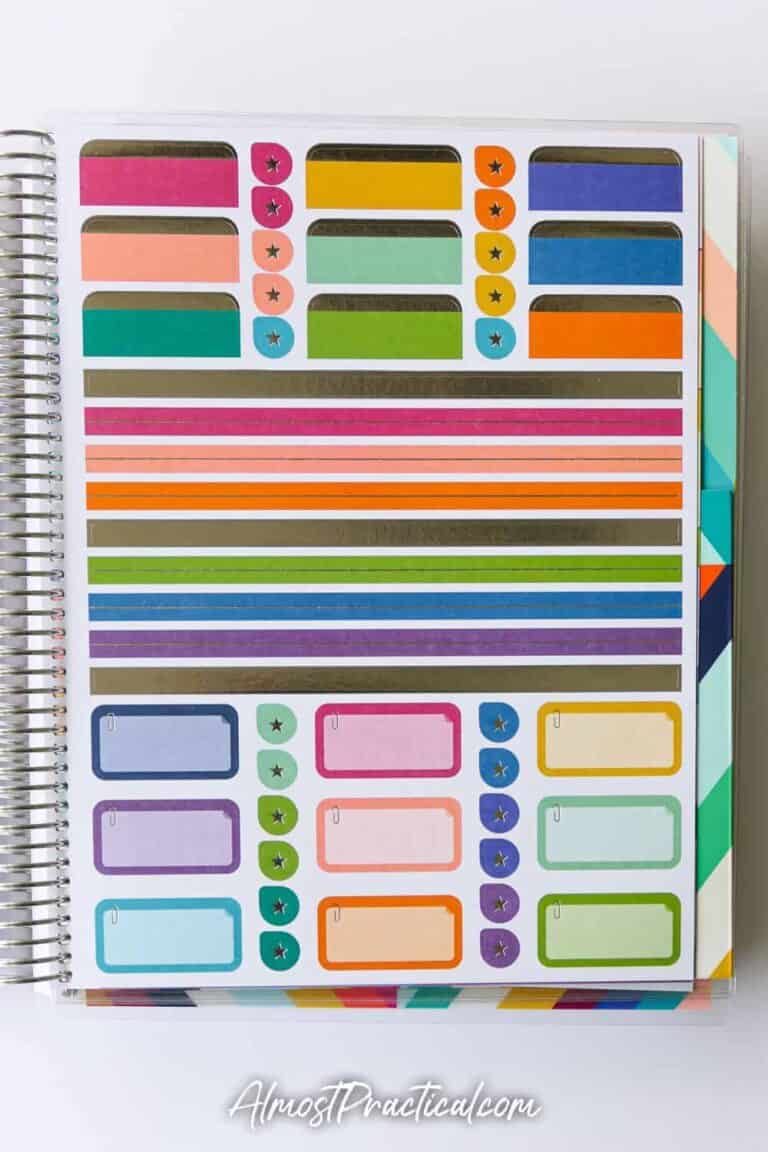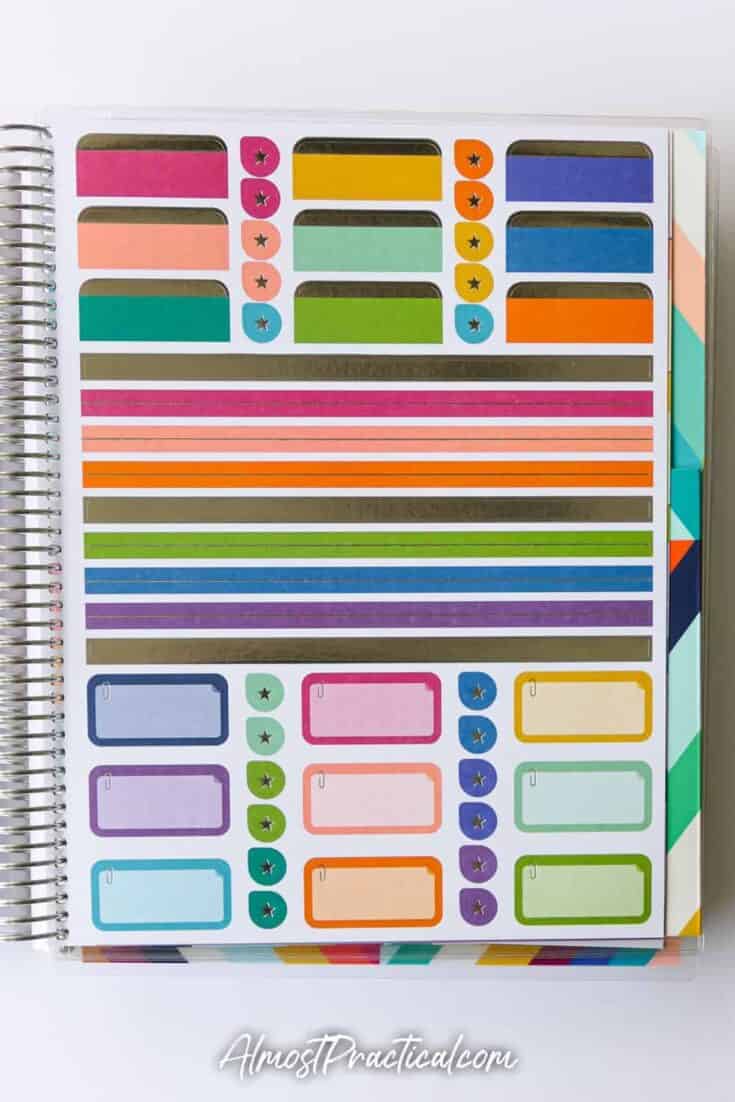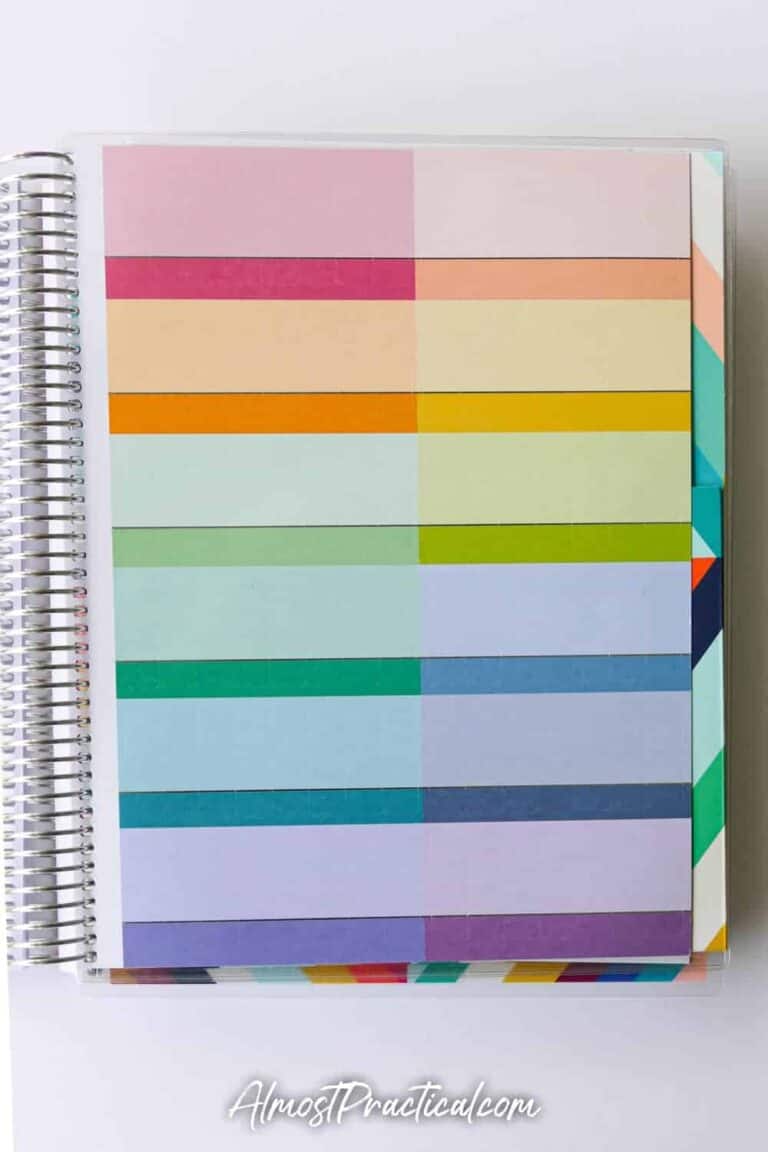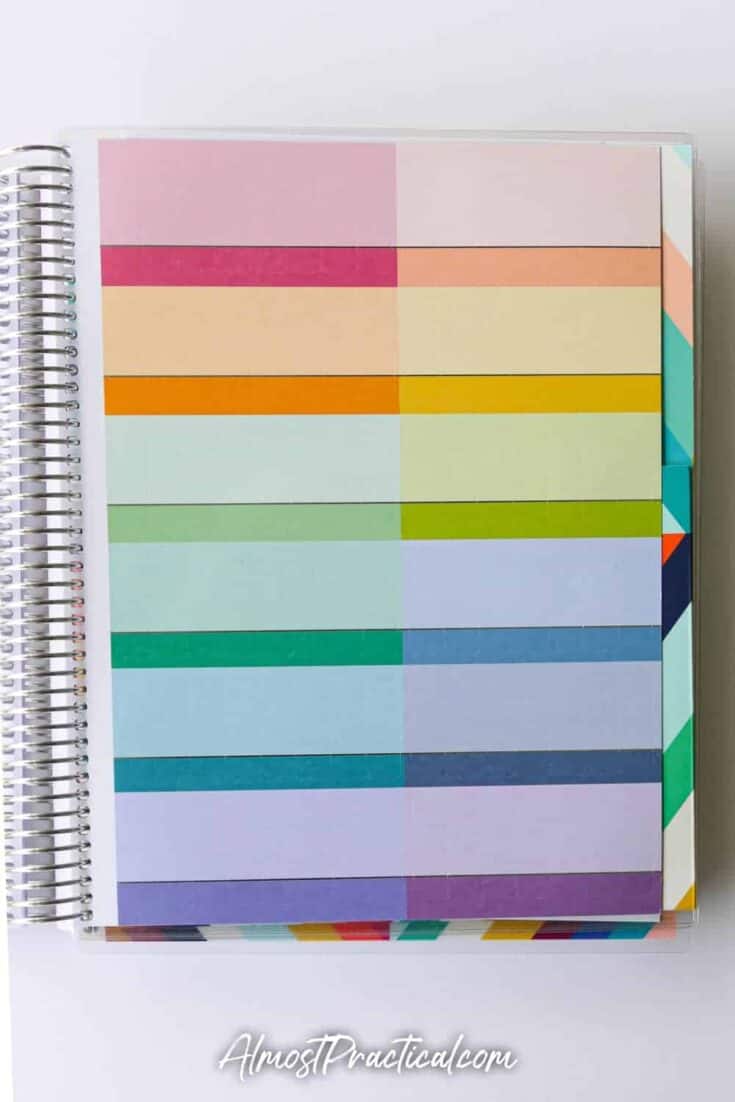 Folder, Sheet Protector, and Holiday Stickers
Last but not least, at the end of the teacher planner is a colorful and sturdy folder to capture all those little loose items.
This is followed by a coiled in sheet protector and some holiday sticker sheets.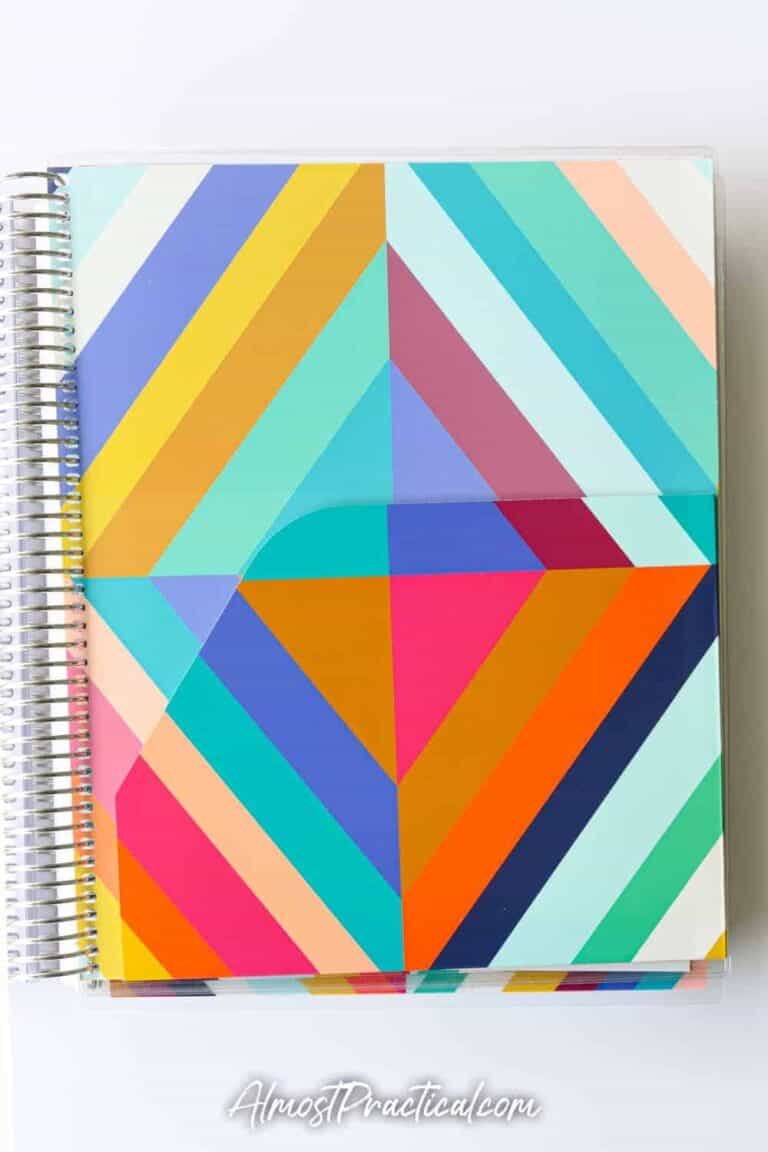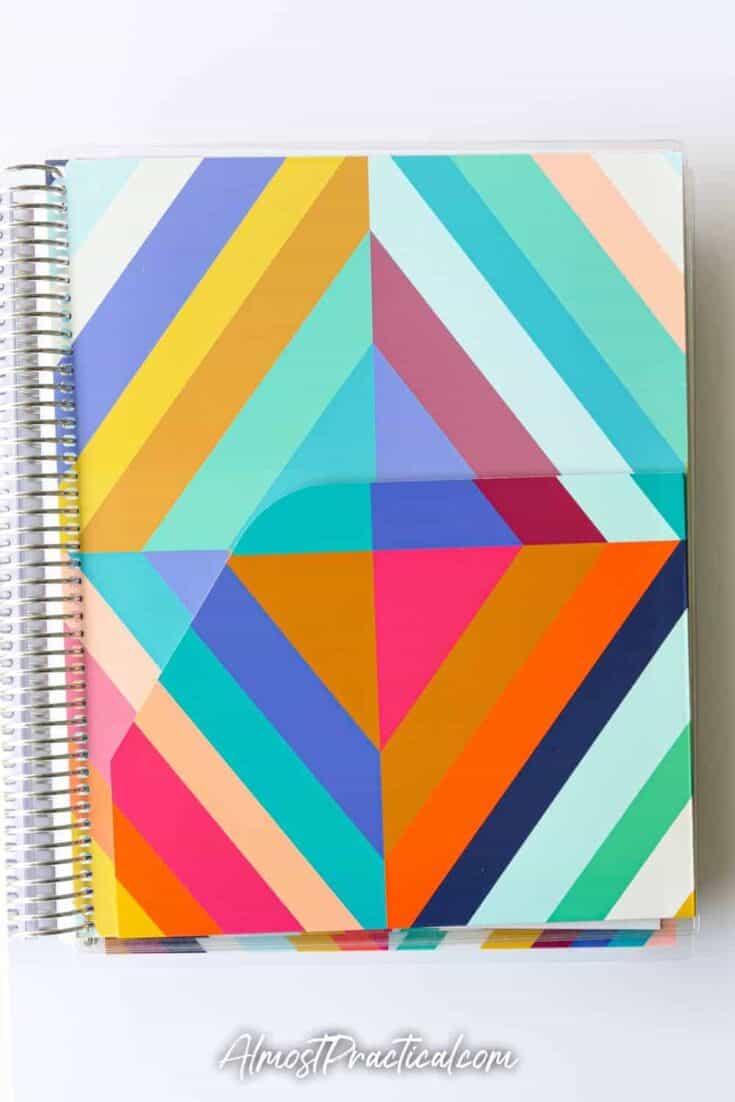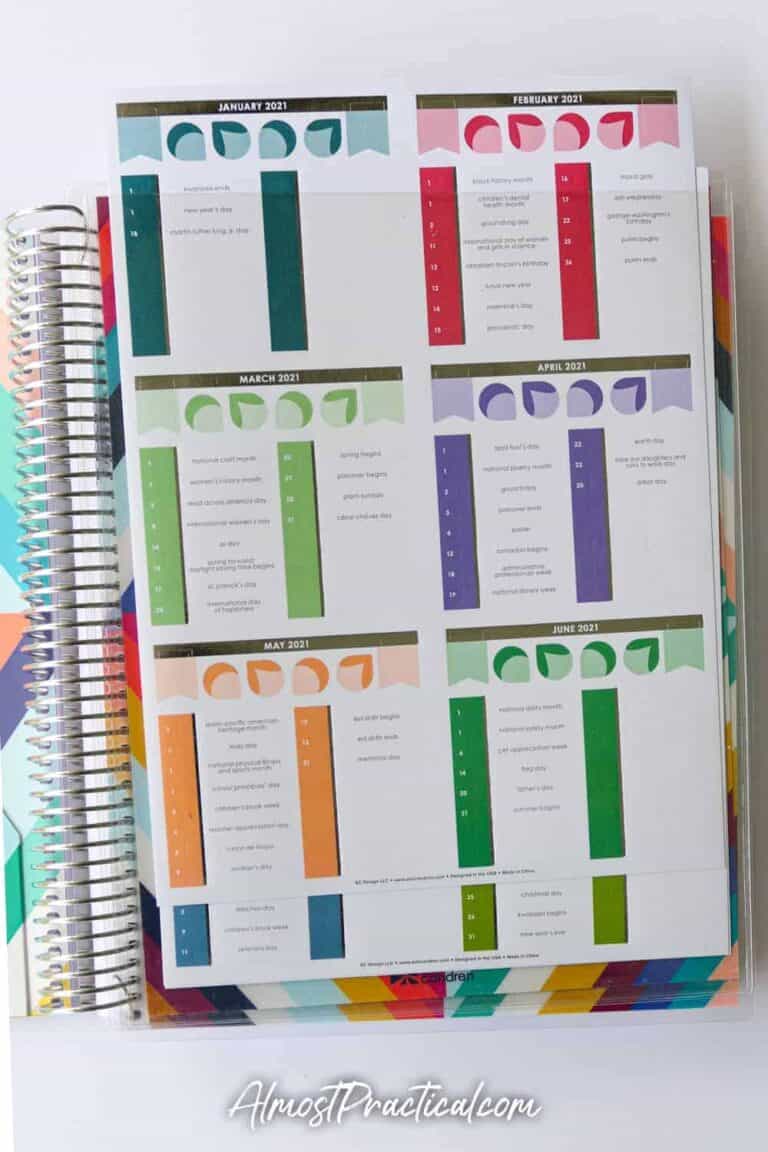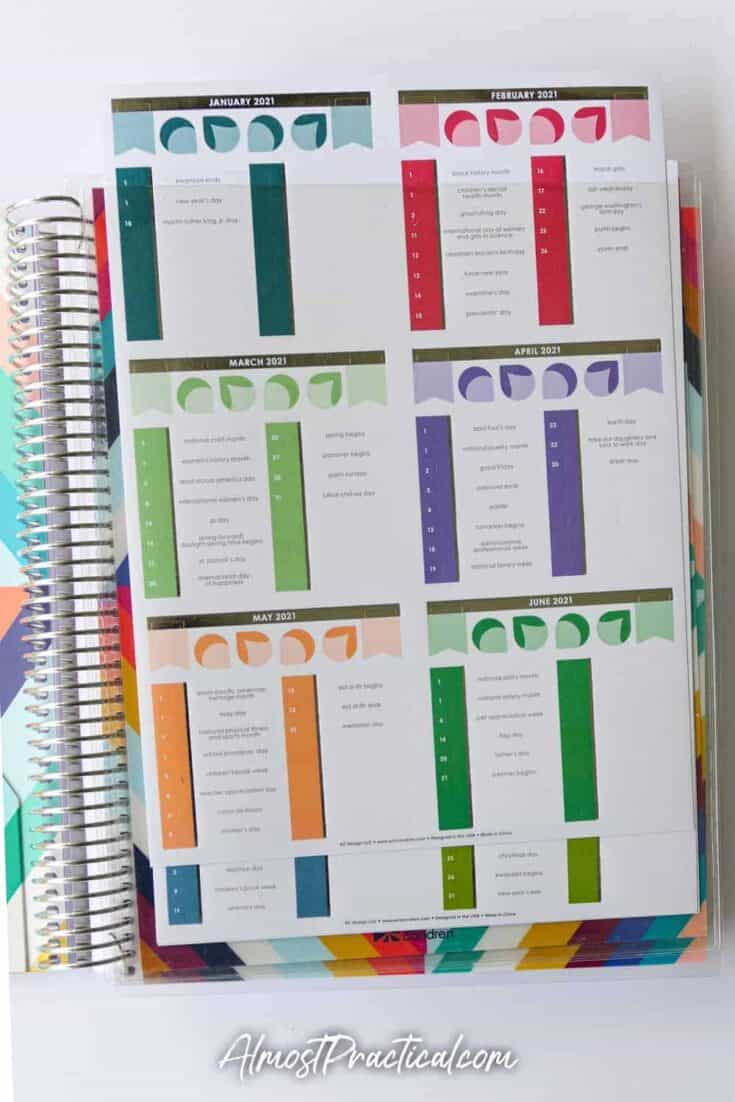 Soft Bound Teacher Planner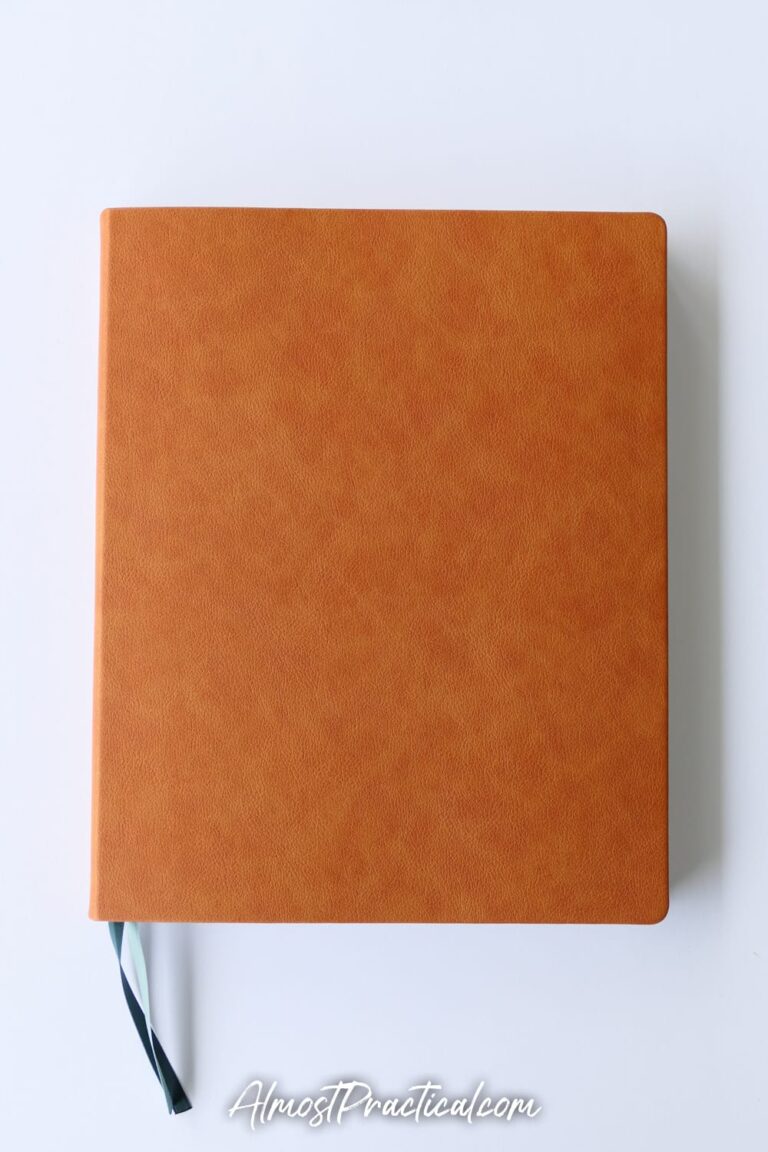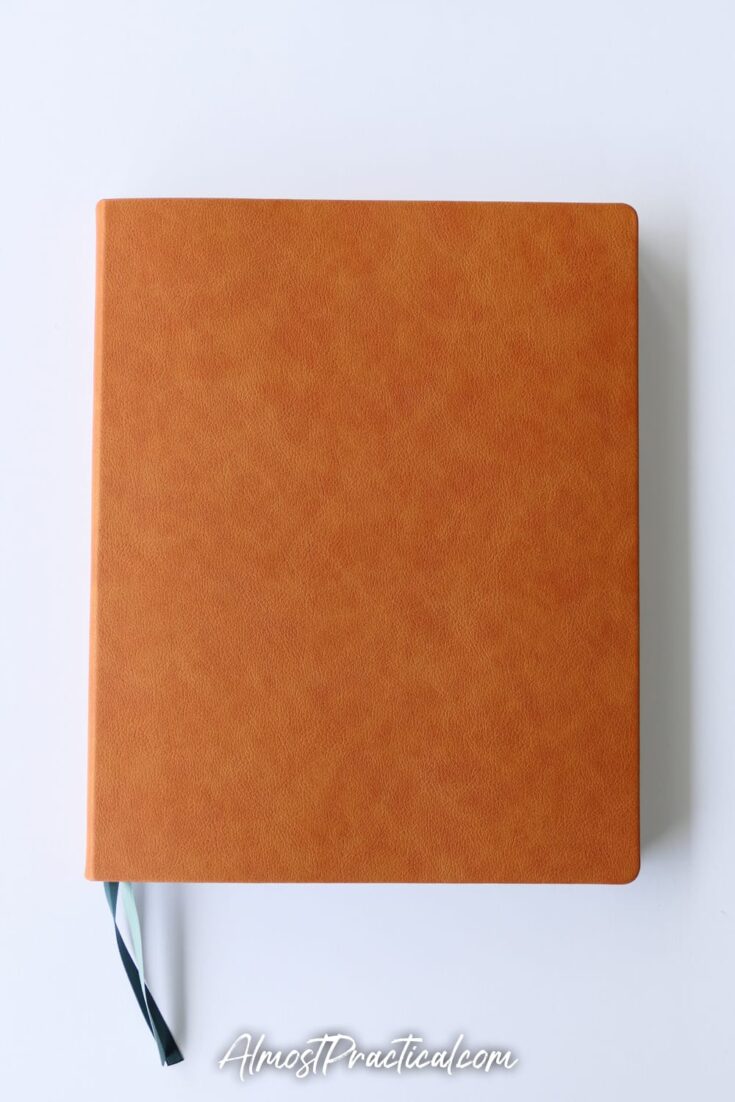 The 2020-2021 Soft Bound Erin Condren Teacher Planner takes it's cues from the Focused Collection.
While the format of the inside design is similar to the coiled version, this planner is much more low key and neutral than it's colorful counterpart.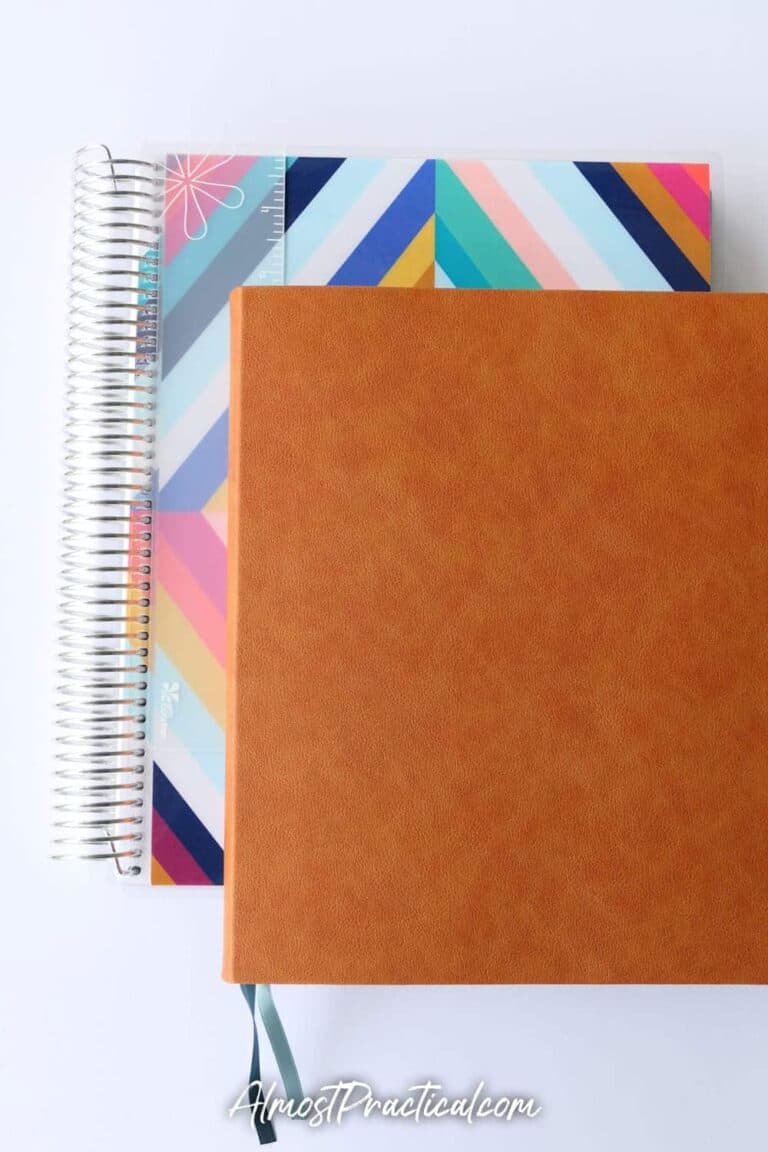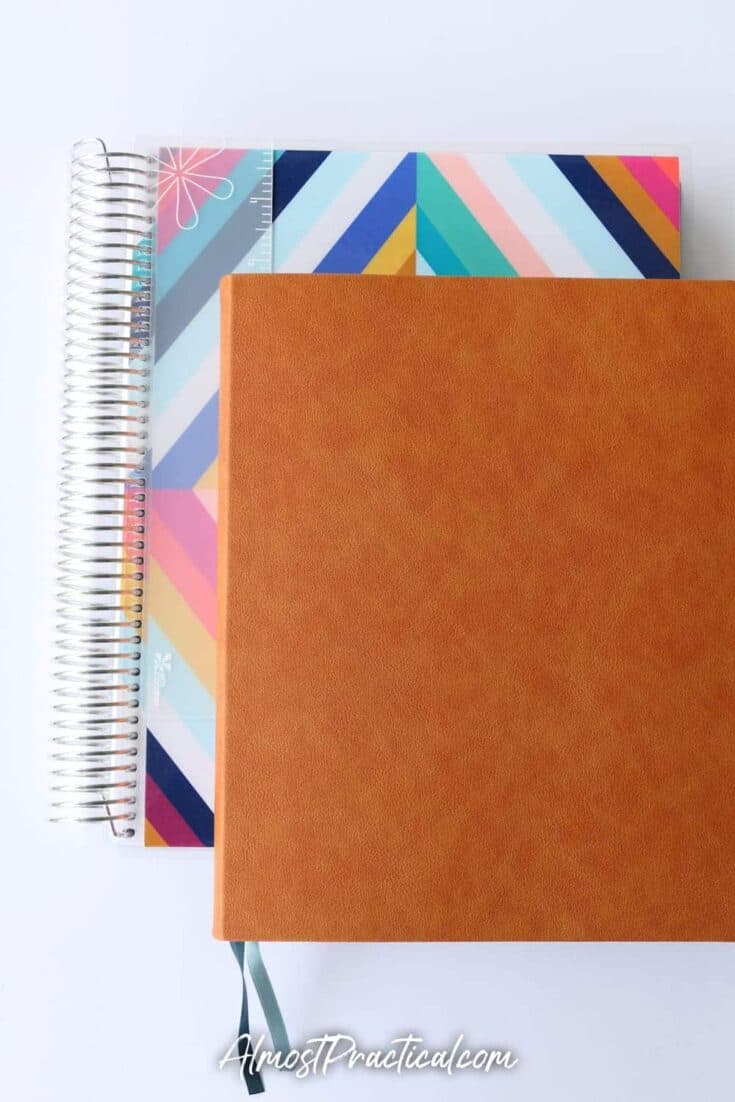 It is also smaller and slimmer.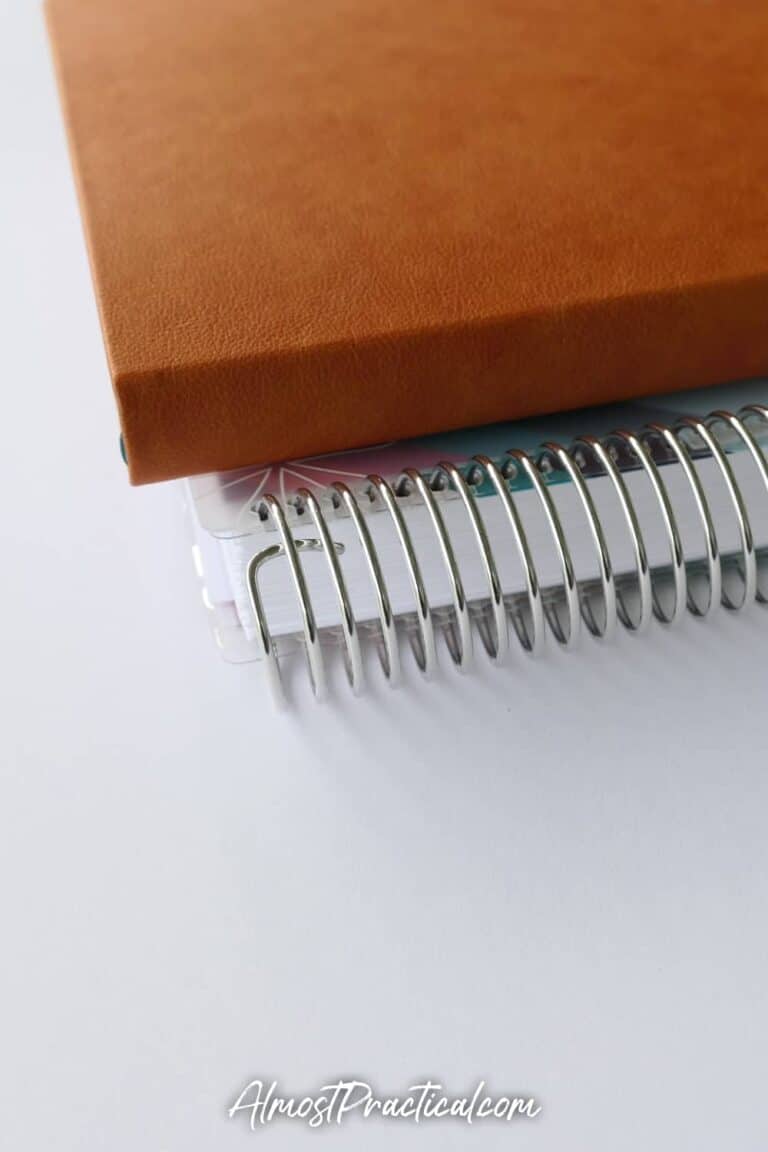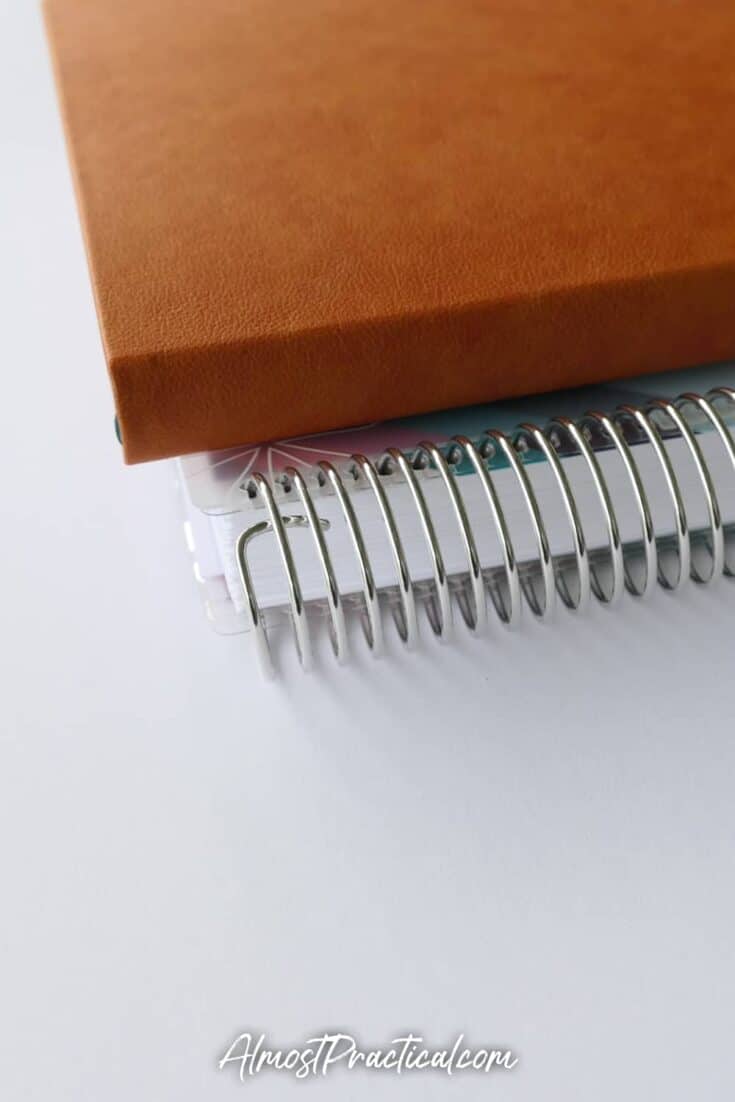 The soft bound planner features a faux leather cover, lay flat design, with 2 ribbon bookmarks.
Dimensions
The dimensions of this planner are 8 x 10 inches.
Features You Will Like:
Sleek Professional Exterior
Ability to customize with initials
Neutral Interior Design
Lay flat binding
Slim profile so it's easy to slip into your bag
Features That Are Different from the Coiled Version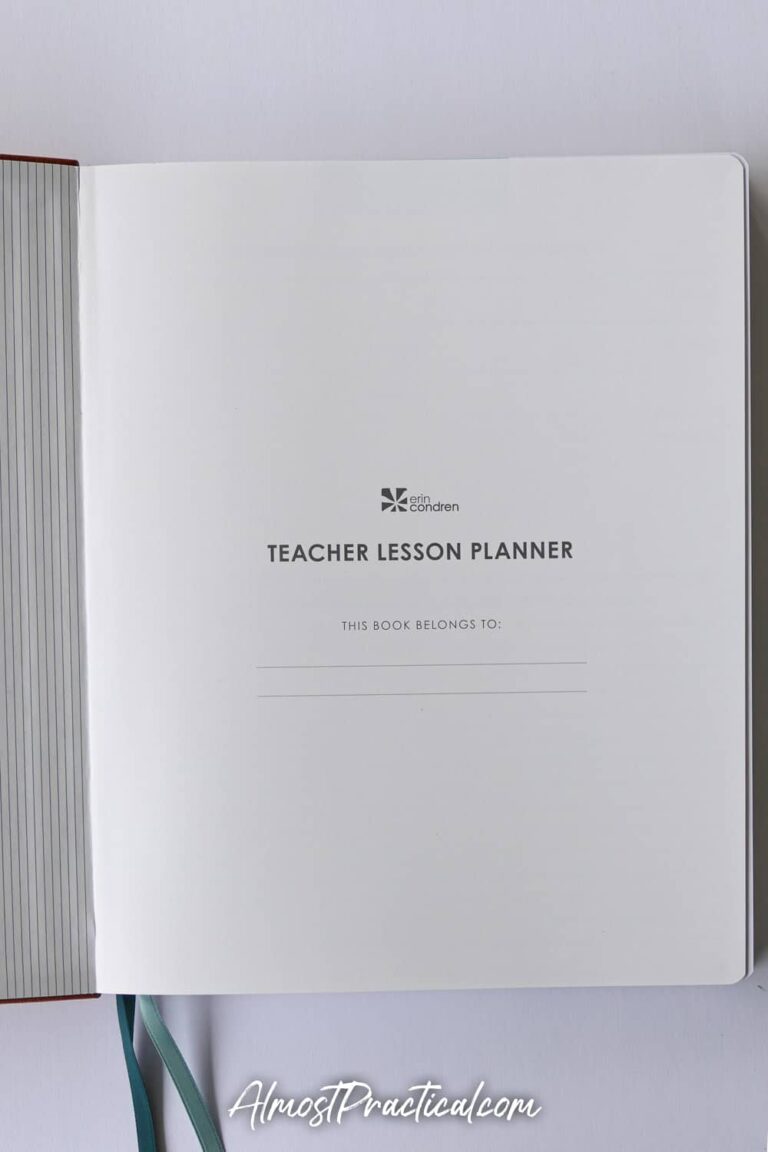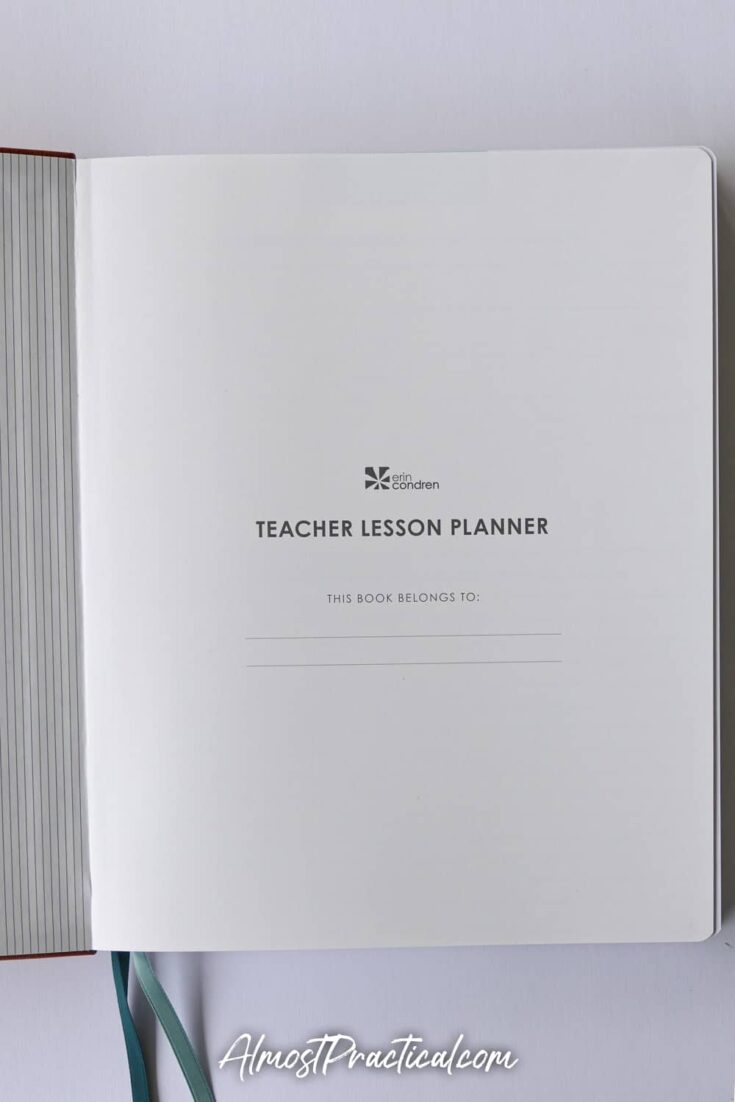 To make this planner more slim, you don't get as many extras and customization options as you do in the coiled teacher planner.
In the soft bound planner you are limited to 7 checklist pages at the end.
Also, here are no sticker pages or sheet protectors.
Let's Take A Walk Through
The soft bound lesson planner pages are similar to the coiled pages that you see above. However, note the more neutral color theme and simple, sophisticated look throughout.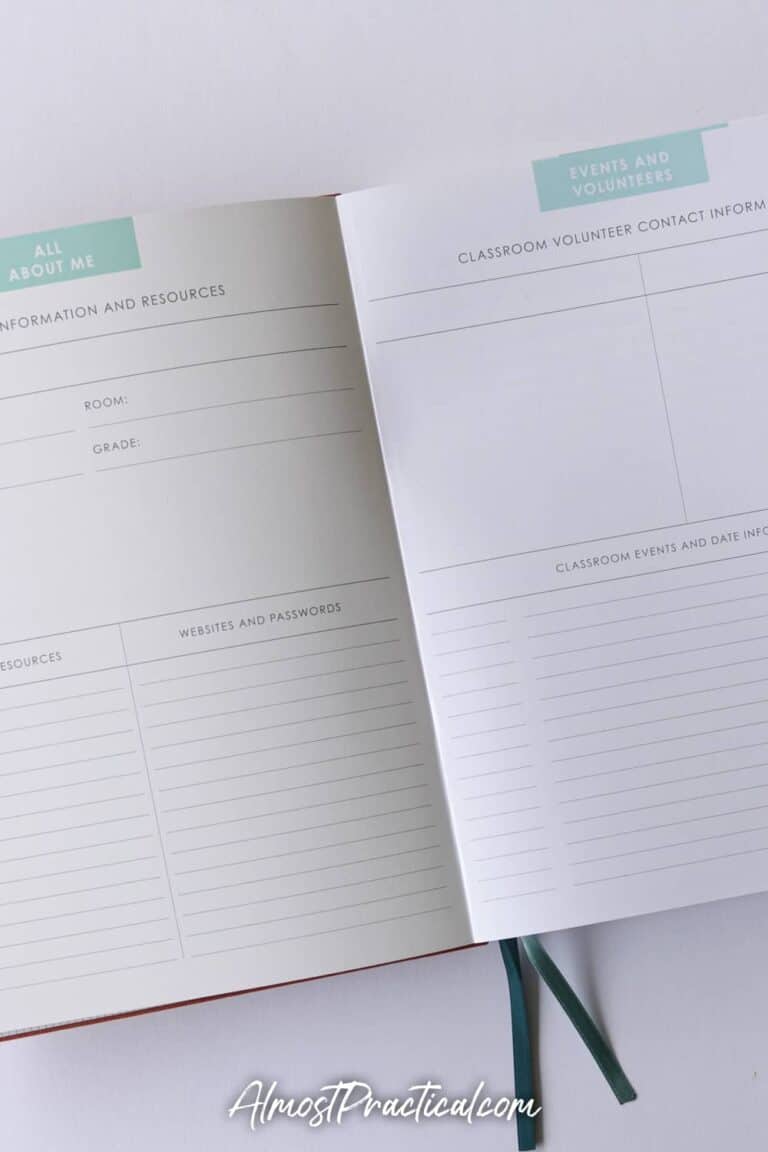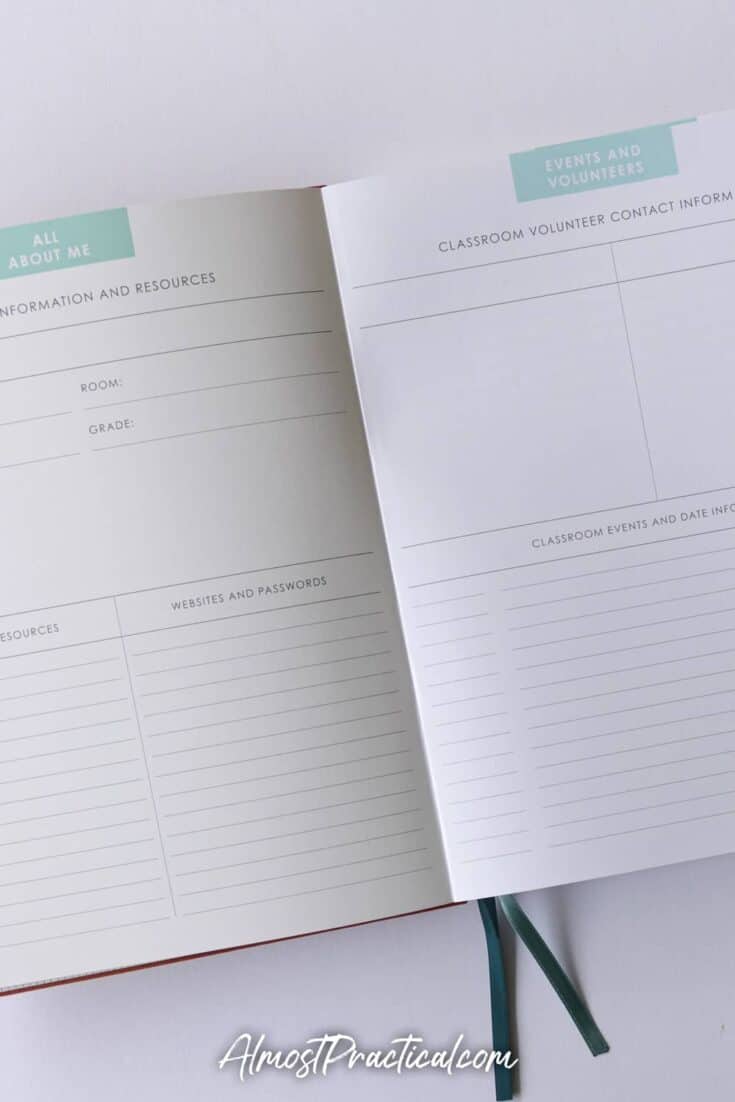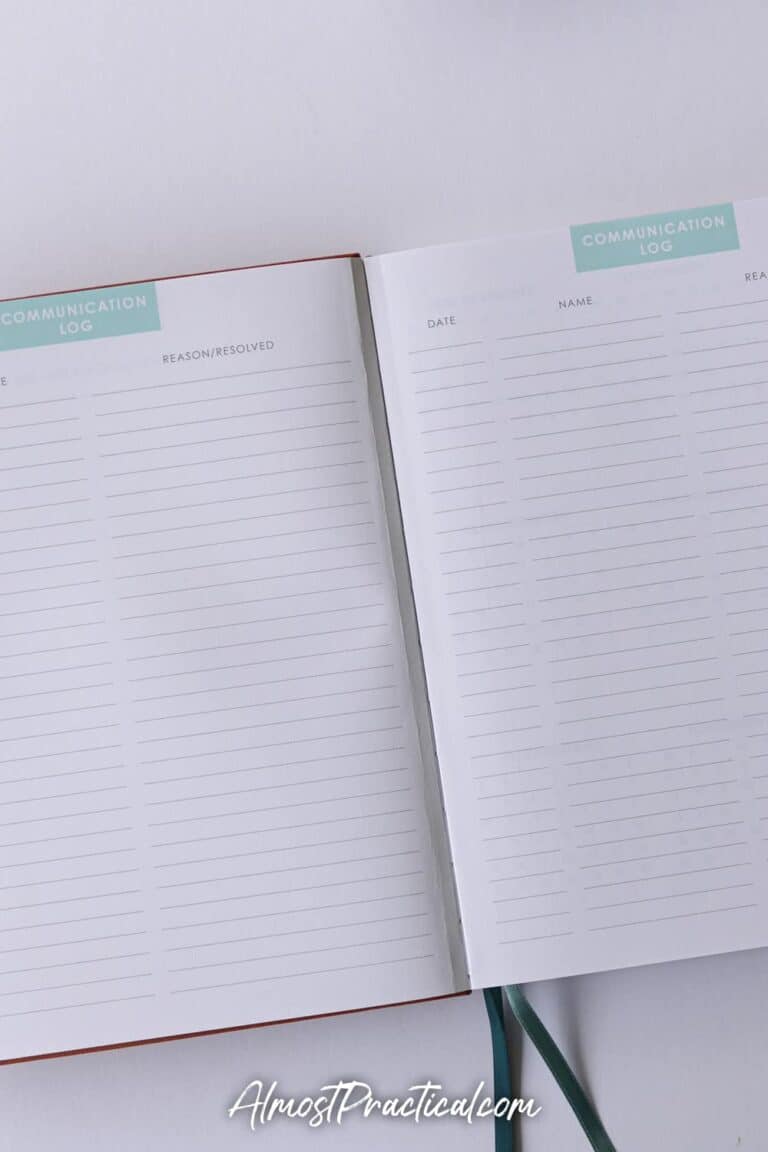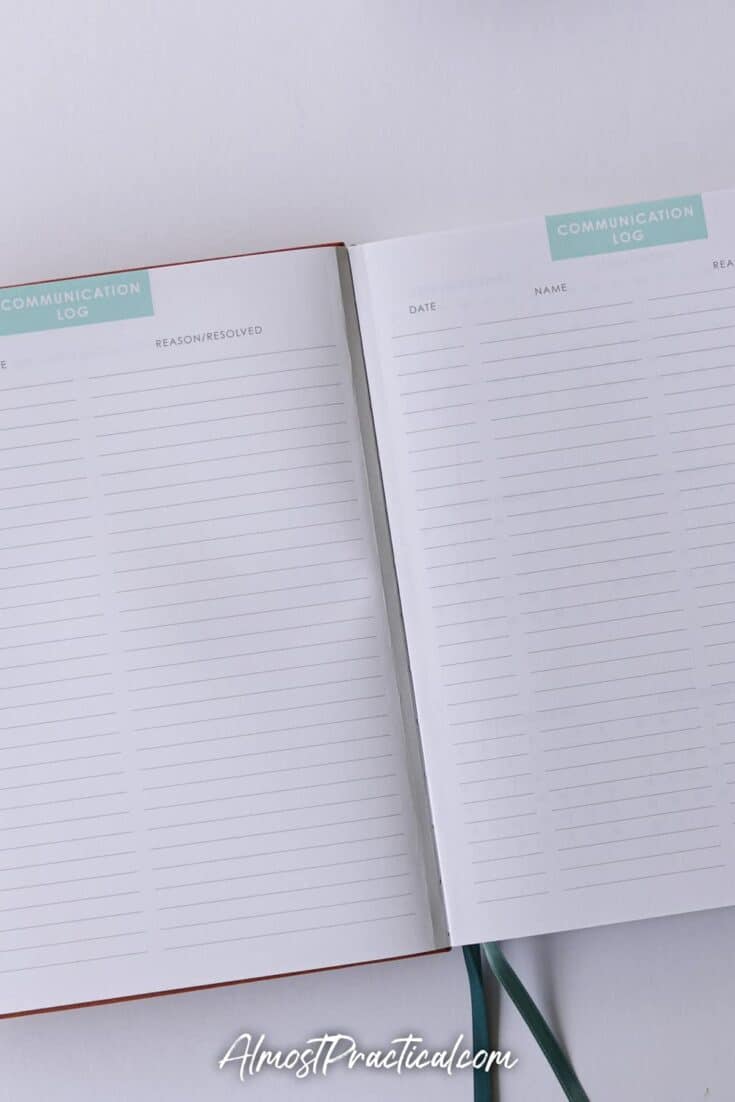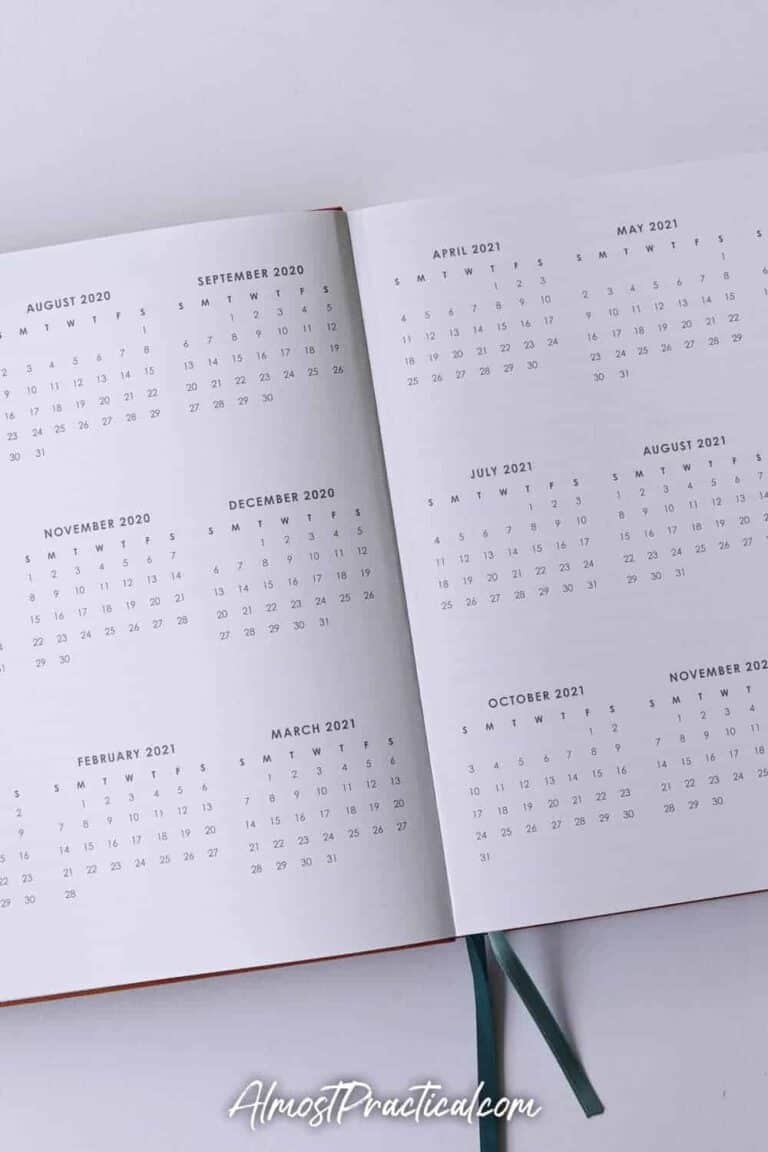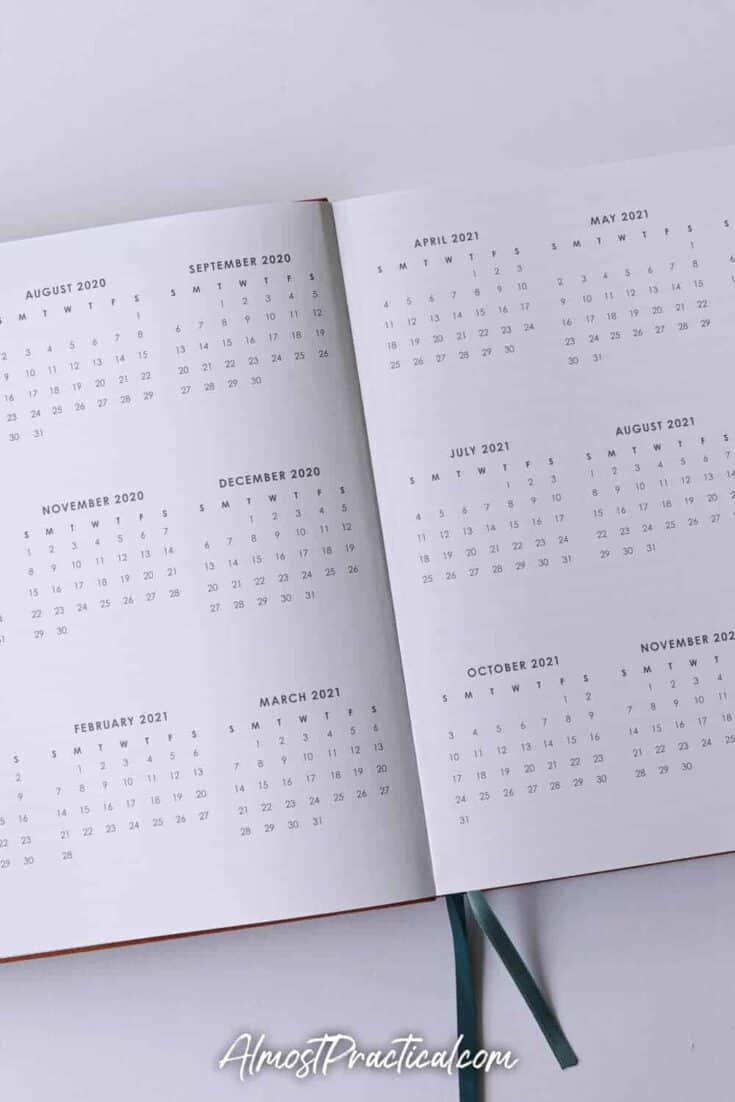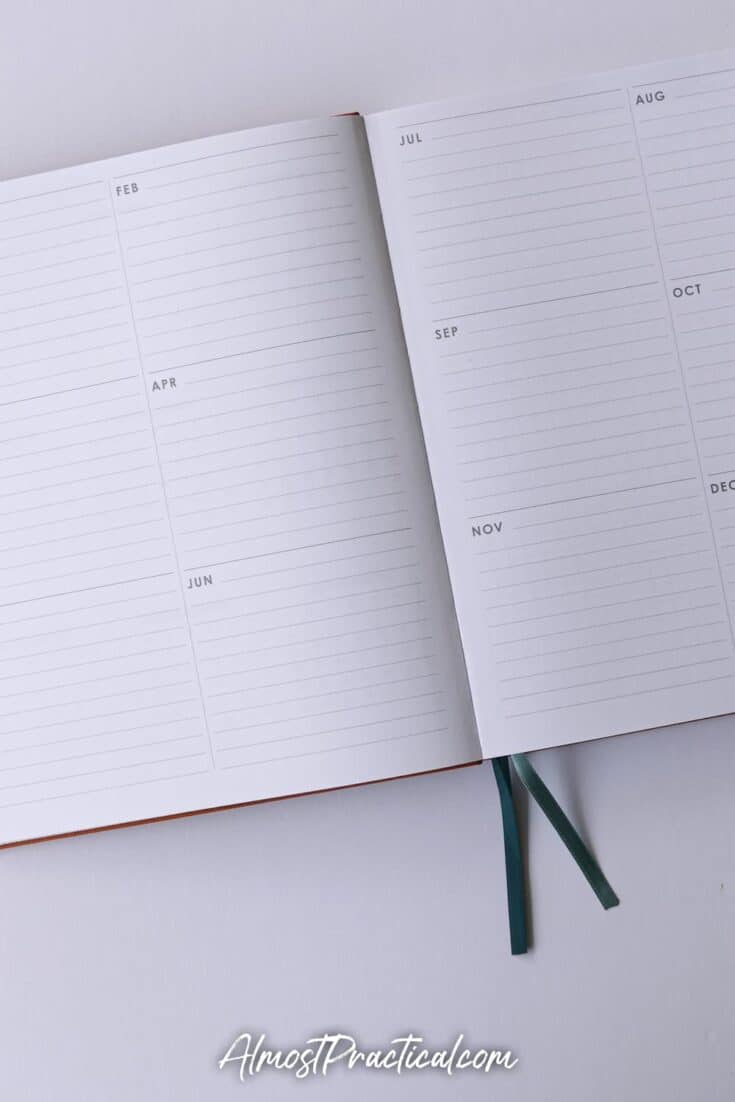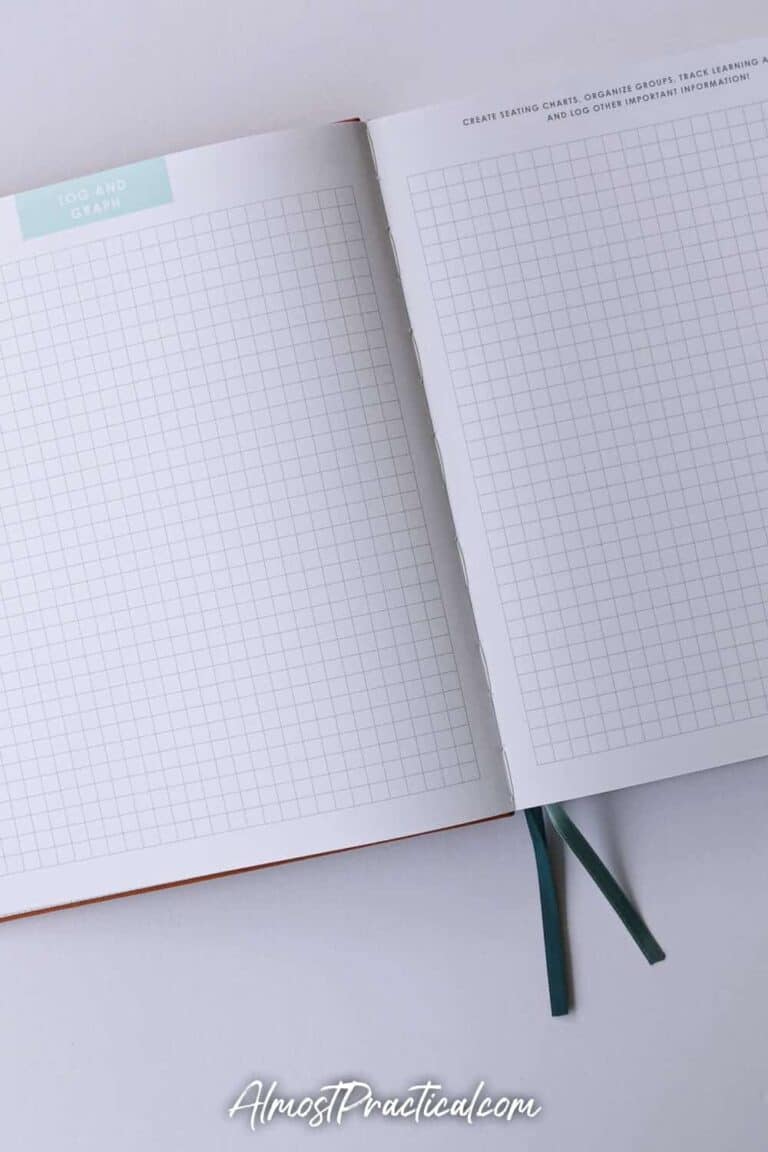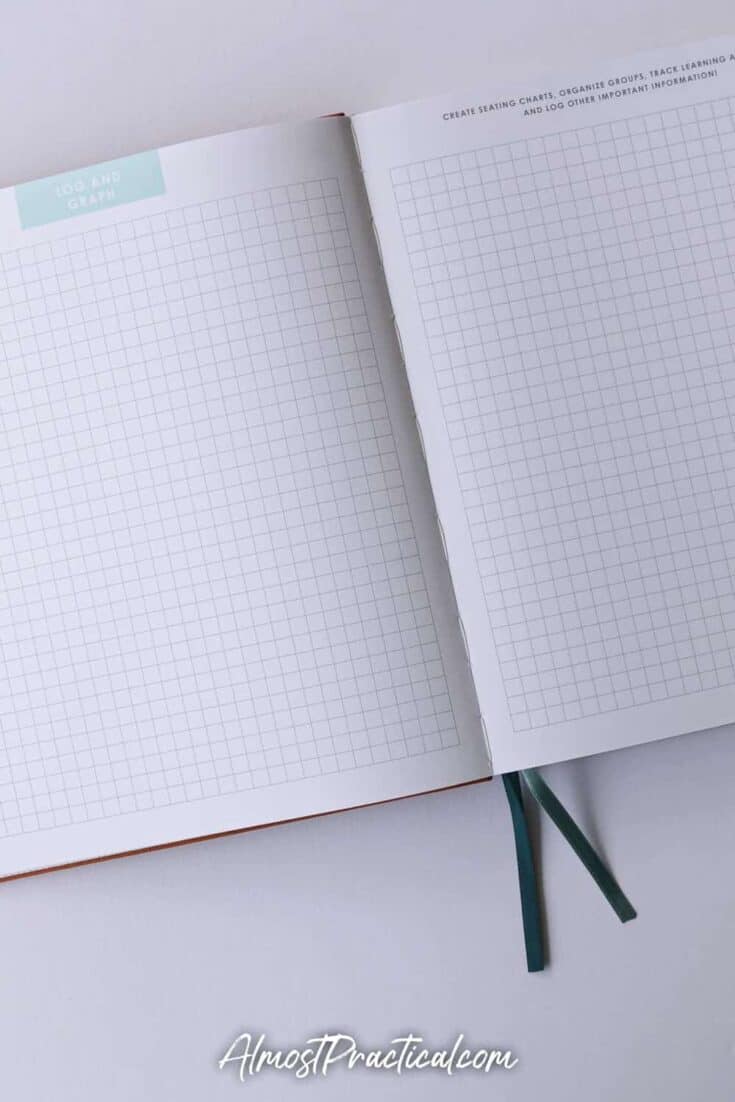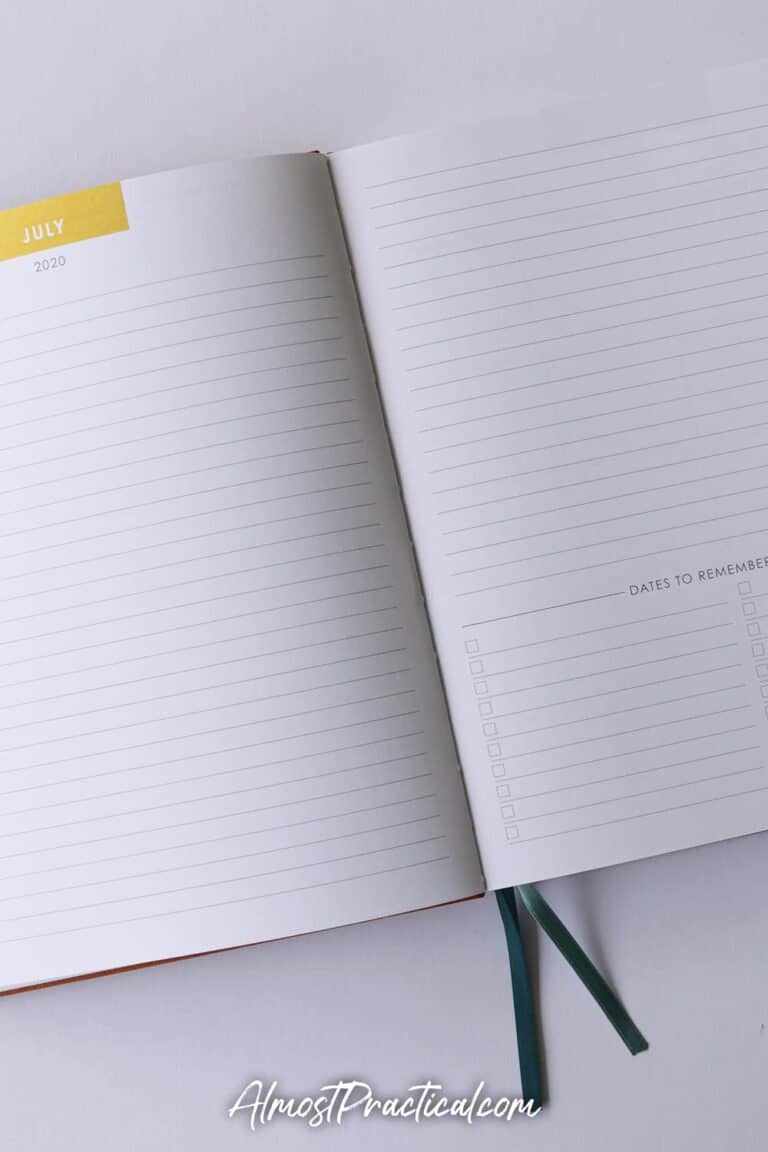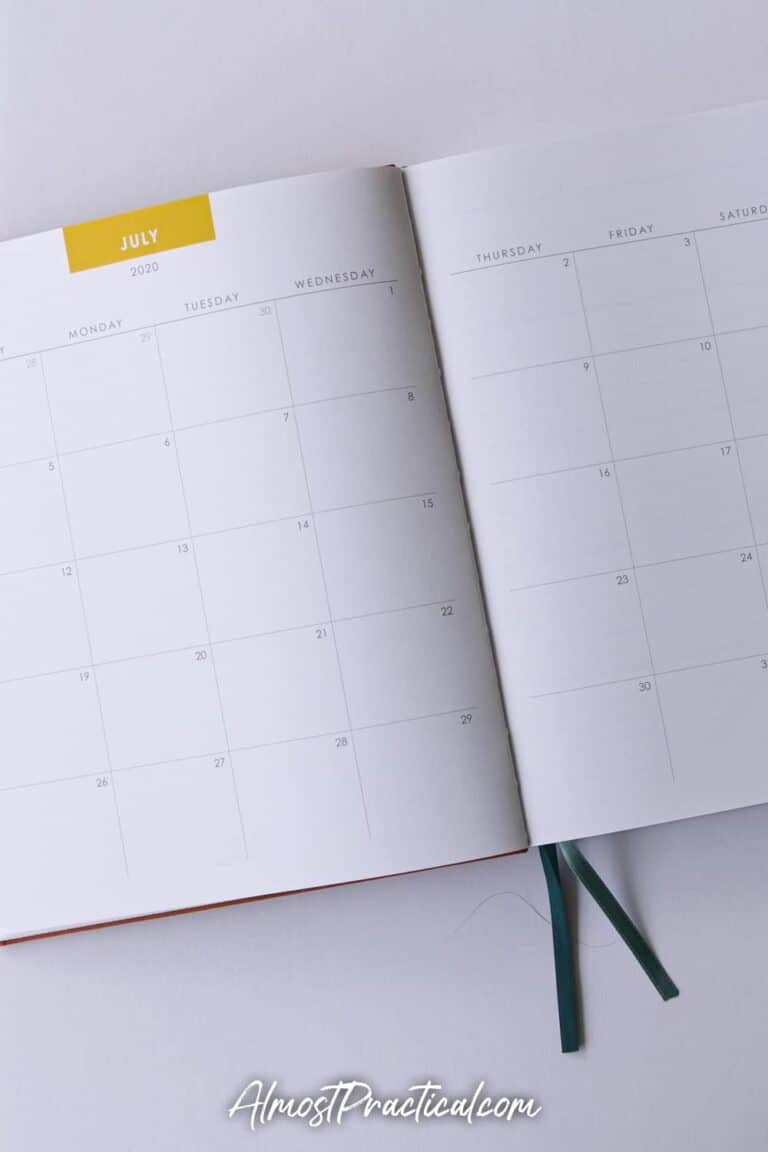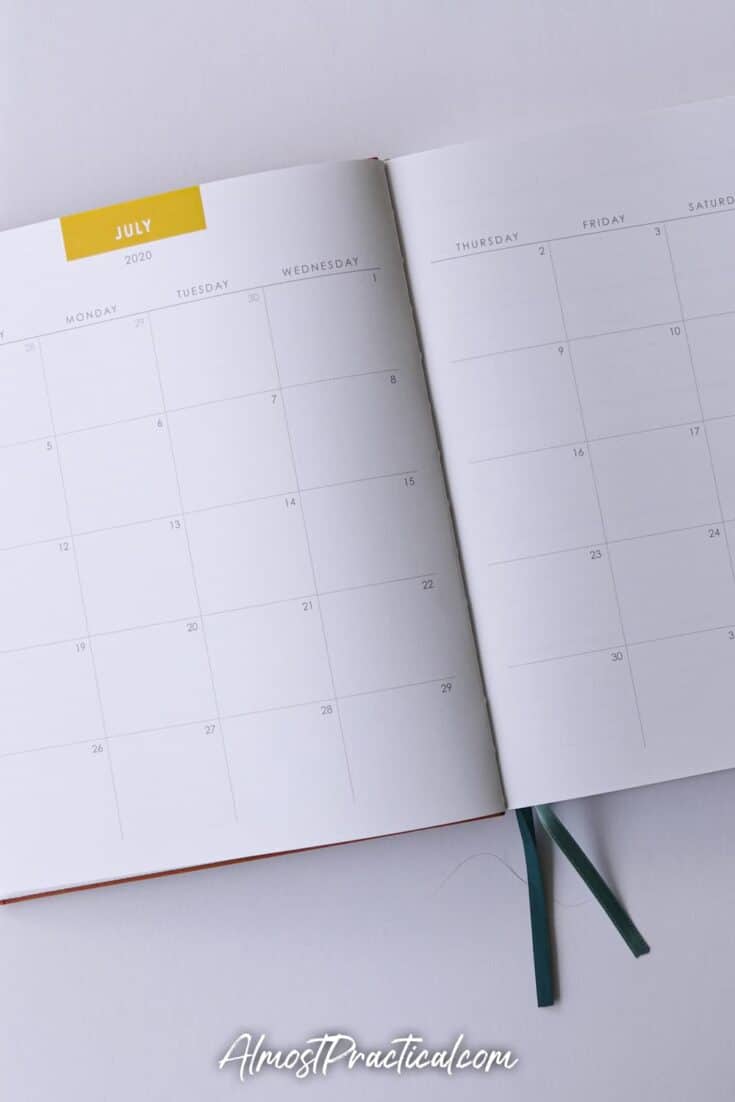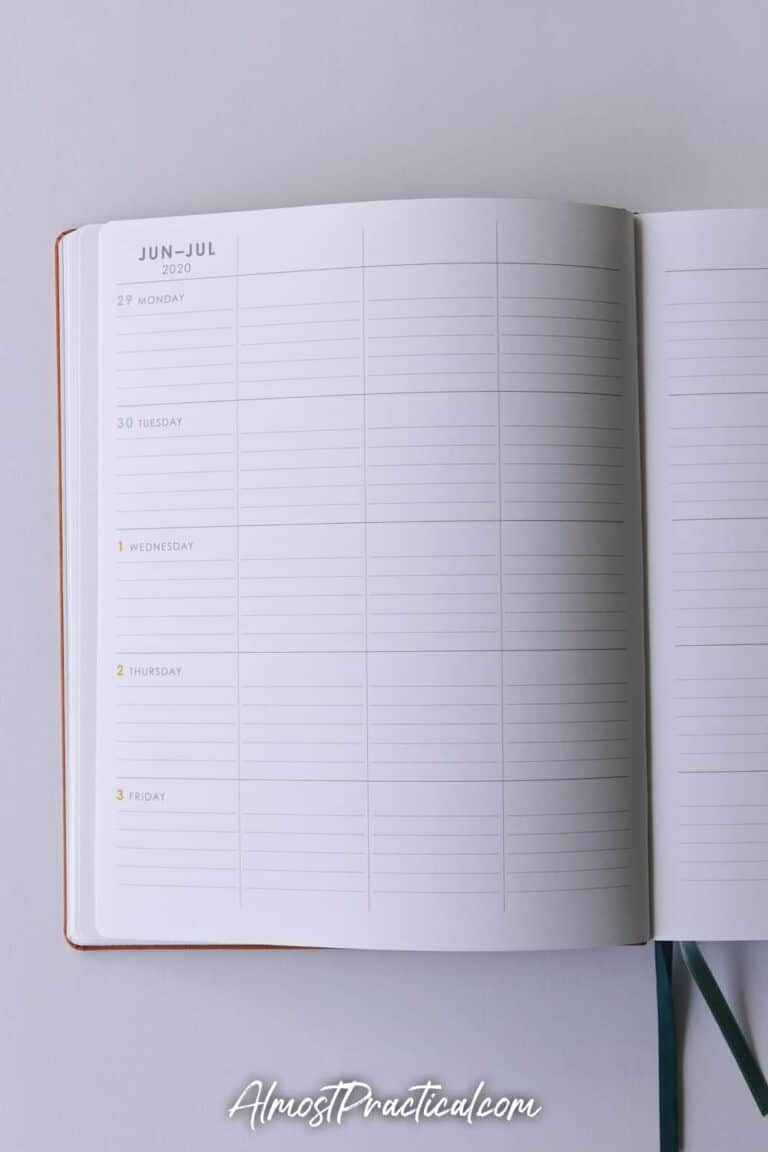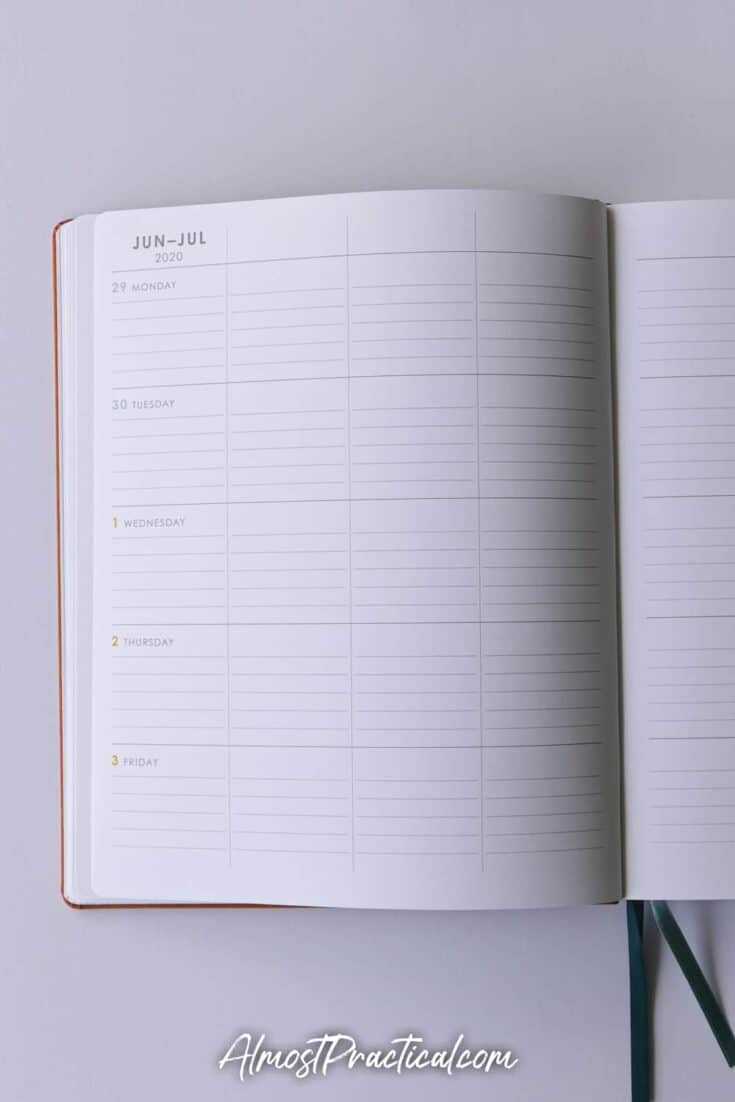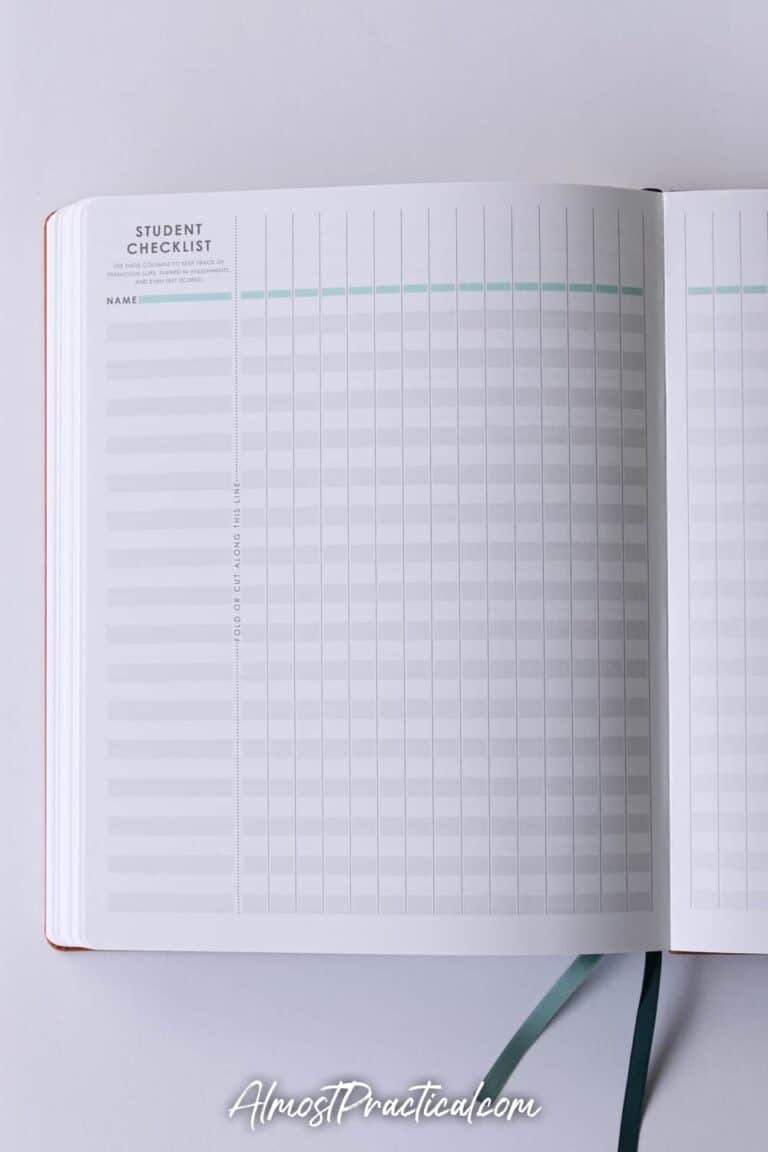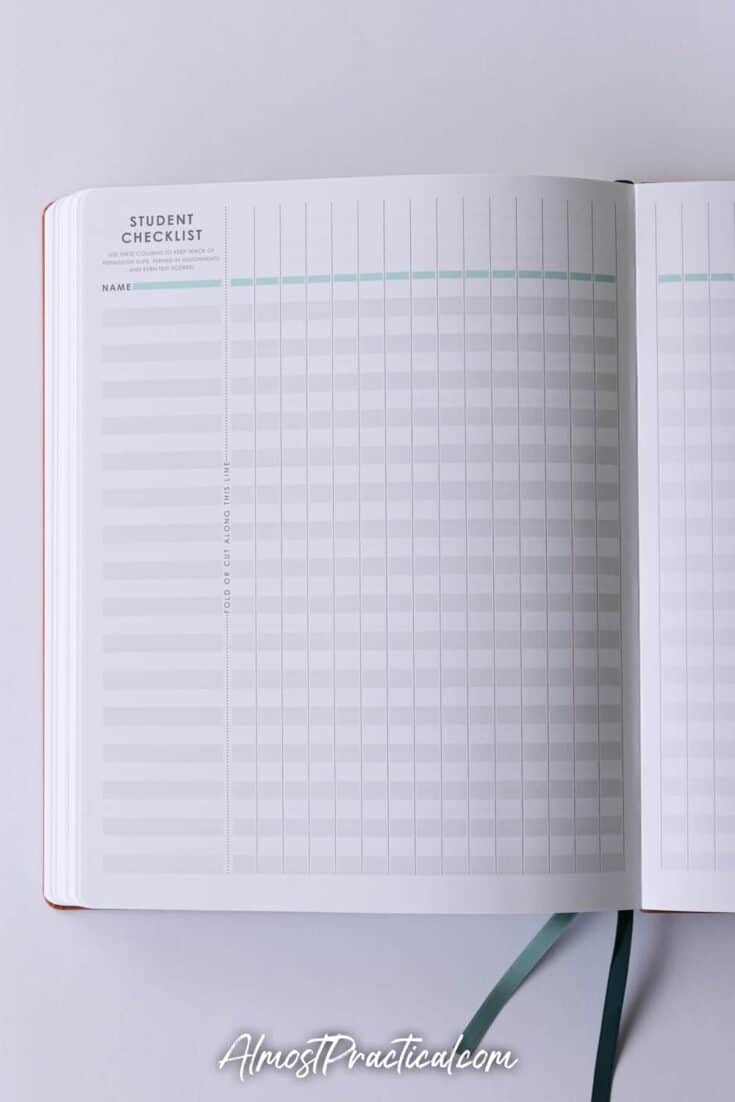 Finally, our third option …
Teacher Lesson Planner Binder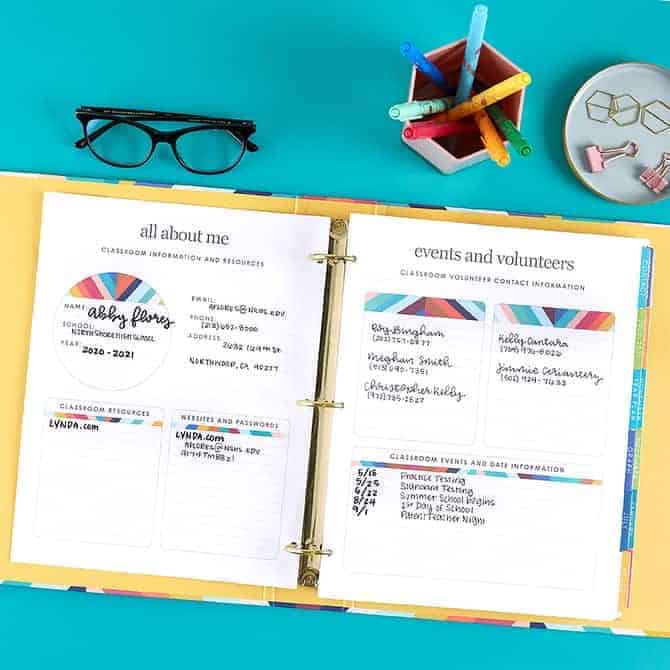 The Erin Condren Teacher Lesson Planner Binder for 2020-2021 is very similar to the coiled version except in a binder format.
In this case there is only one exterior and interior design – the Oh So Retro pattern.
However you can still choose your start month as either July, August, or September.
Standard 3 Ring Binder Size
On thing you will love is that this binder fits standard letter paper.
The binder itself is actually 10.75 x 12.2 x 2.5 inches but the paper that fits inside is 8.5 x 11 inches.
The gorgeous gold hardware inside is also standard 3 ring fare – so you can use any 3 ring hole punch to add additional paper into your binder.
If you want the flexibility of being able to move pages around or add in papers of your own – then this is the version for you.
Lots of Coordinating Accessories
To dress up your planner, there are lots of coordinating accessories to choose from:
Not Just for Teachers
While this selection of planners is ideal for educators, I have to tell you that it is also great for STUDENTS and people in all kinds of other professions.
Students Will Love It
While Erin Condren does make an academic planner – as a student, my daughter actually prefers the teacher planner layout for her classes.
She uses the weekly lesson plan layout to list out her test and homework due dates for each class.
The lined boxes are also great for planning ahead. If a project in a particular class is due on Friday, she will use the column to plan the work she will do each evening to make sure it gets done on time.
However, for students, the soft bound planner probably makes the most sense because of its slim profile (it's easier to tote around).
Use It As A Blog Planner
As a blogger, I am very impressed with this Teacher Planner.
There are so many buckets of activities that I do each day, and this planner gives me plenty of space to spell it all out.
I will do a separate article on how I use the Erin Condren Teacher Planner as a Blog Planner – so stay tuned!
Other Professions
Basically, anybody who does different categories of work each day can benefit from this planner.
Busy moms can use one column for each child, one for work, one for family in general, one for meal planning, and so on.
The limitation is that there is only planning space for weekdays – so that is something to keep in mind.
Which Planner Are You?
As you can see, the new 2020-2021 Teacher Planner line up from Erin Condren is fun and versatile.
Out of the three options – coiled, soft bound, and binder – my personal favorite is the coiled.
Which one do you like best? Let me know in the comments below.
Happy Planning!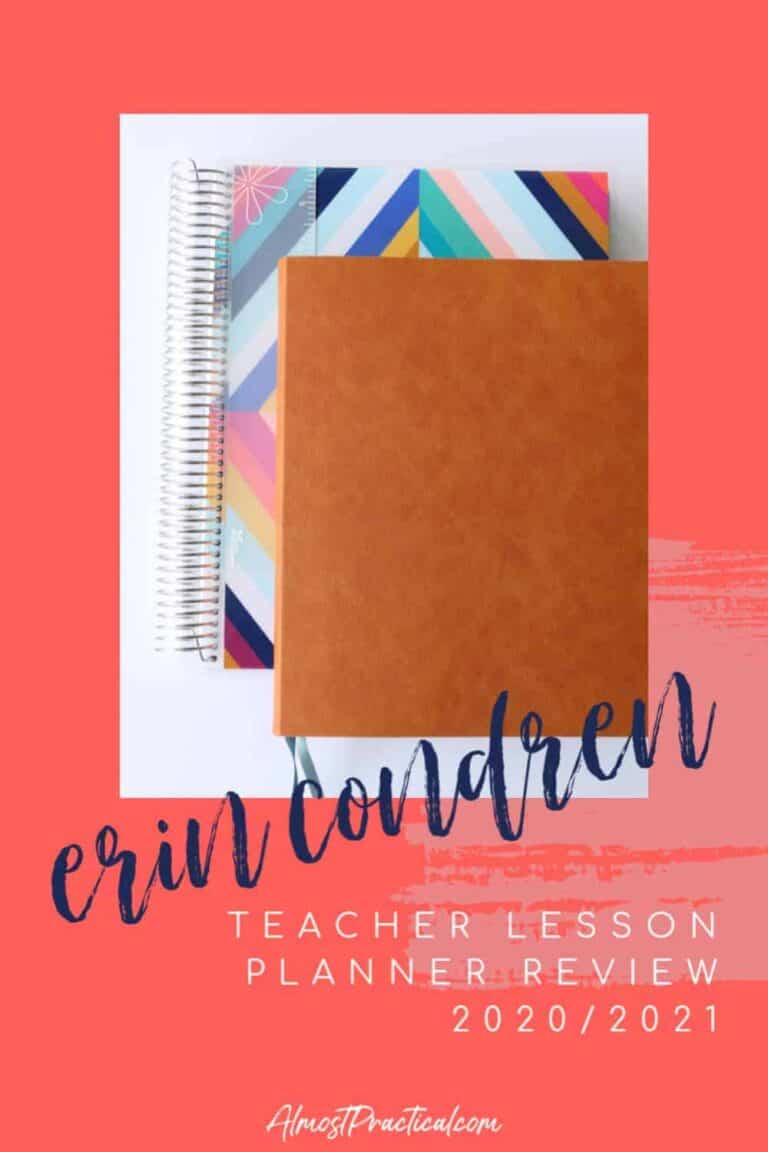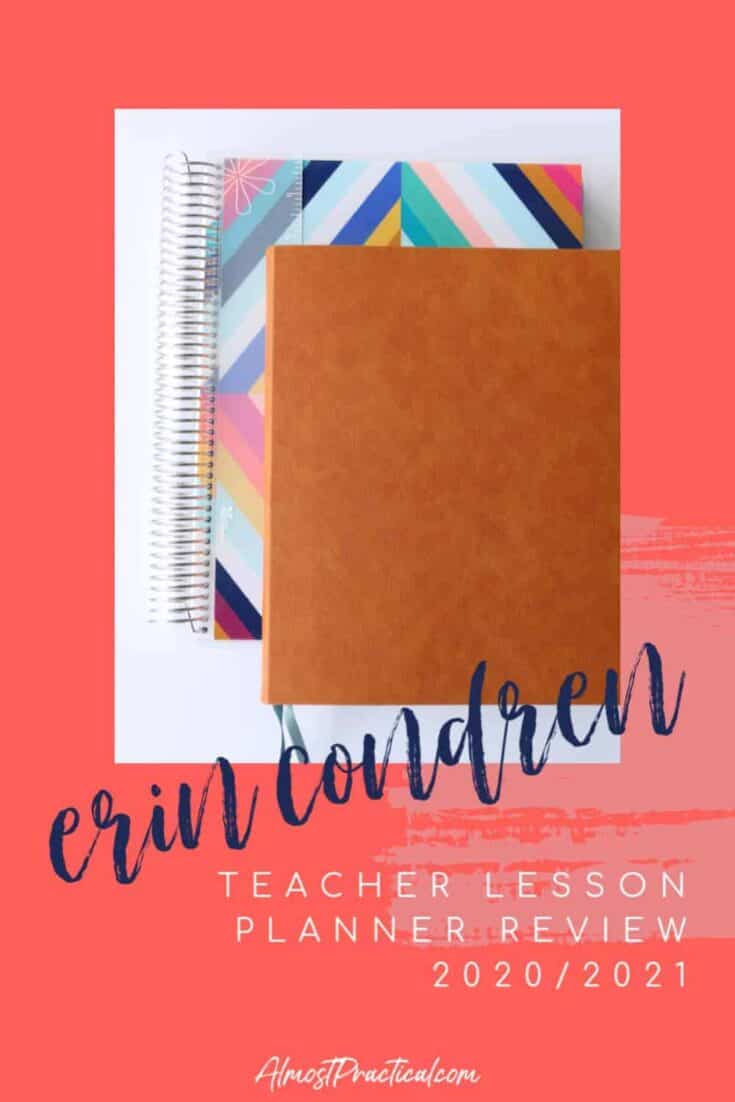 More Erin Condren Reviews You Might Enjoy