2021-2022 Erin Condren Teacher Lesson Planner Review
This post may contain affiliate links which means I make a commission if you shop through my links. Disclosure Policy
Disclosure: Product for this post was provided by Erin Condren. All opinions are my own.
Are you ready to see the all new Erin Condren 2021 Teacher Lesson Planner?
You are in for a treat!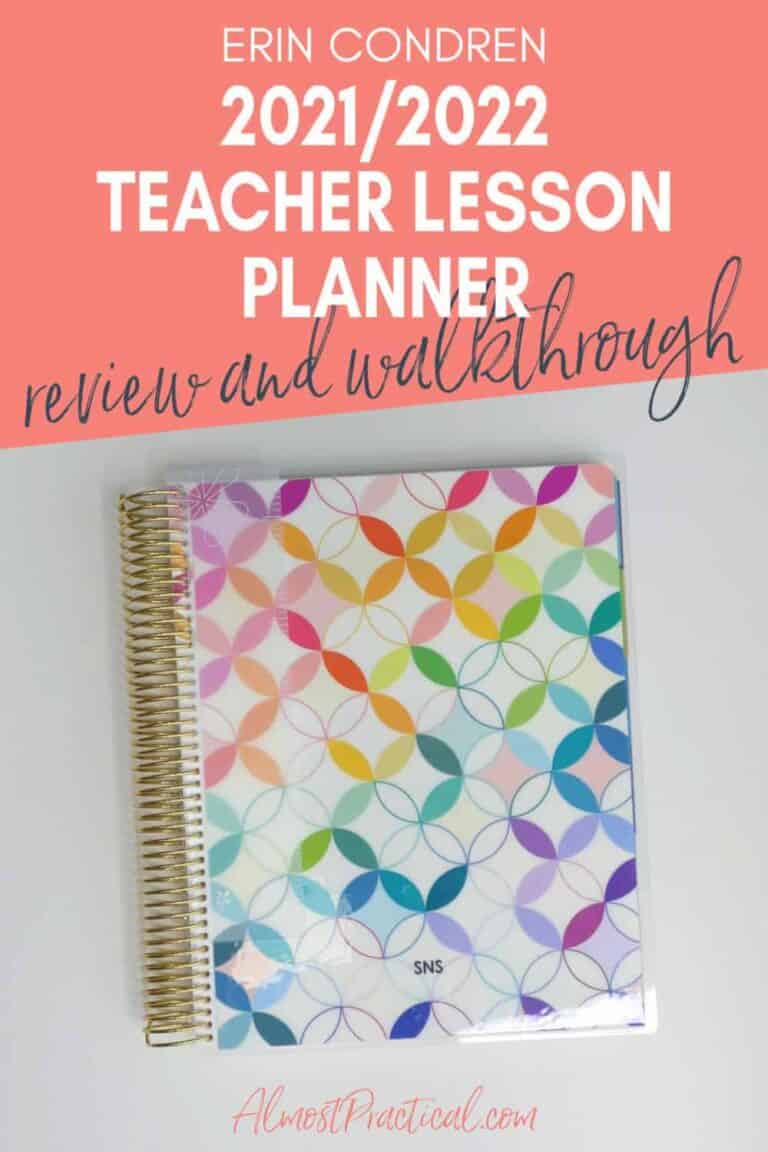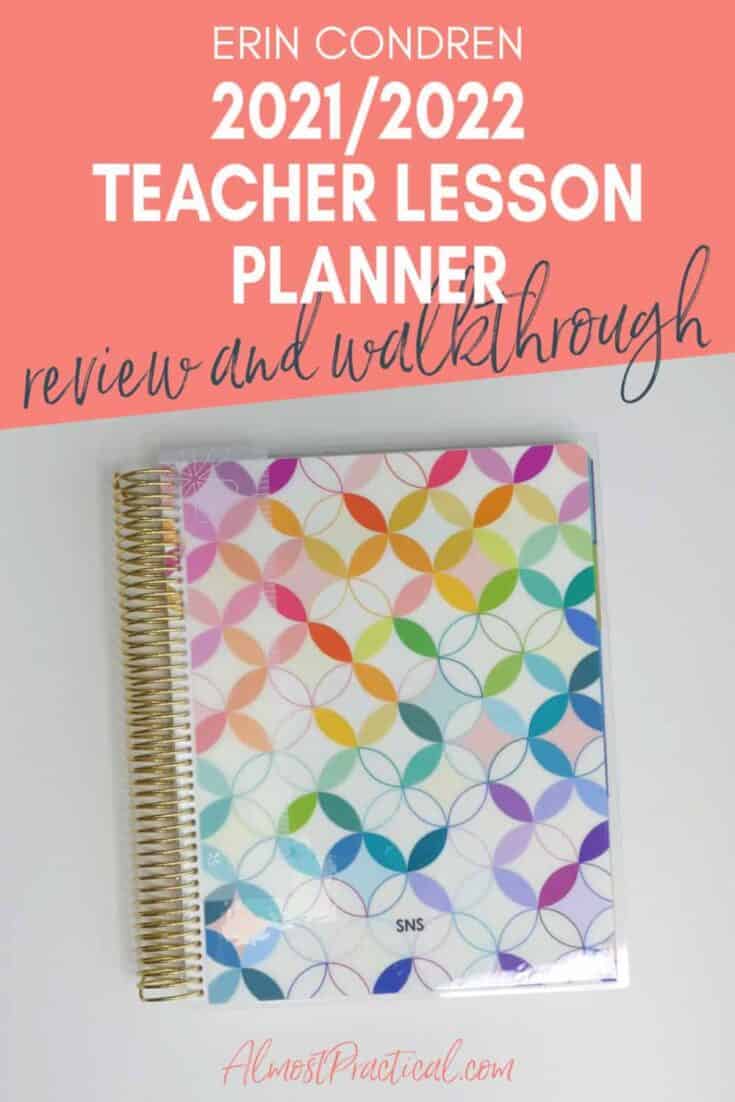 2021/2022 Erin Condren Teacher Lesson Planner Options
Mid-Century Circles inside – customizable and interchangeable cover
Colorful Layers inside – customizable and interchangeable cover
non-interchangeable coiled Vegan Leather Cover in blush pink, harbor gray, or black outside – your choice of colorful Layers, Mid-Century Circles, or Focused Collection inside
Camel Vegan Leather Cover outside – Focused Collection inside
Colorful Layers outside – colorful Layers inside
Mid-Century Circles Binder with Mid-Century Circles inside
The 2021 teacher planners are super customizable, there are so many options – much more so than in previous years!
So, to make things easier – I am going to outline the different options and then review both the coiled mid-century circles Teacher Lesson Planner and the softbound focused Teacher Lesson Planner – which are the two that I have.
Related: See all the new Erin Condren Teacher Planner Accessories here.
2021 Erin Condren Coiled Teacher Lesson Planner Review
For this review, I ordered the coiled Teacher Lesson Planner in the all new Mid-Century Circles design with a gold coil.
This particular planner also comes in the beautiful colorful Layers design that was featured on the Erin Condren LifePlanners this past year.
You can see my review of the full Layers collection here.
But in this post we will be looking at the Mid-Century Circles coiled Teacher Lesson Planner up close.
What I love the most about this pattern is the beautiful jewel tones that are featured throughout.
They're fun, they're fresh, and they are exciting!
The front and back covers feature the all over Mid-Century Circles, and you can customize the front cover with your initials, your name, or the name of your school.
Coiled Erin Condren Teacher Planner Size
The planner pages are about 11 and 1/2 by 9 not including the coil.
Beginning Pages in the Teacher Planner
The first page that you come to is the All About Me page where you can write down the name of your school and important classroom information.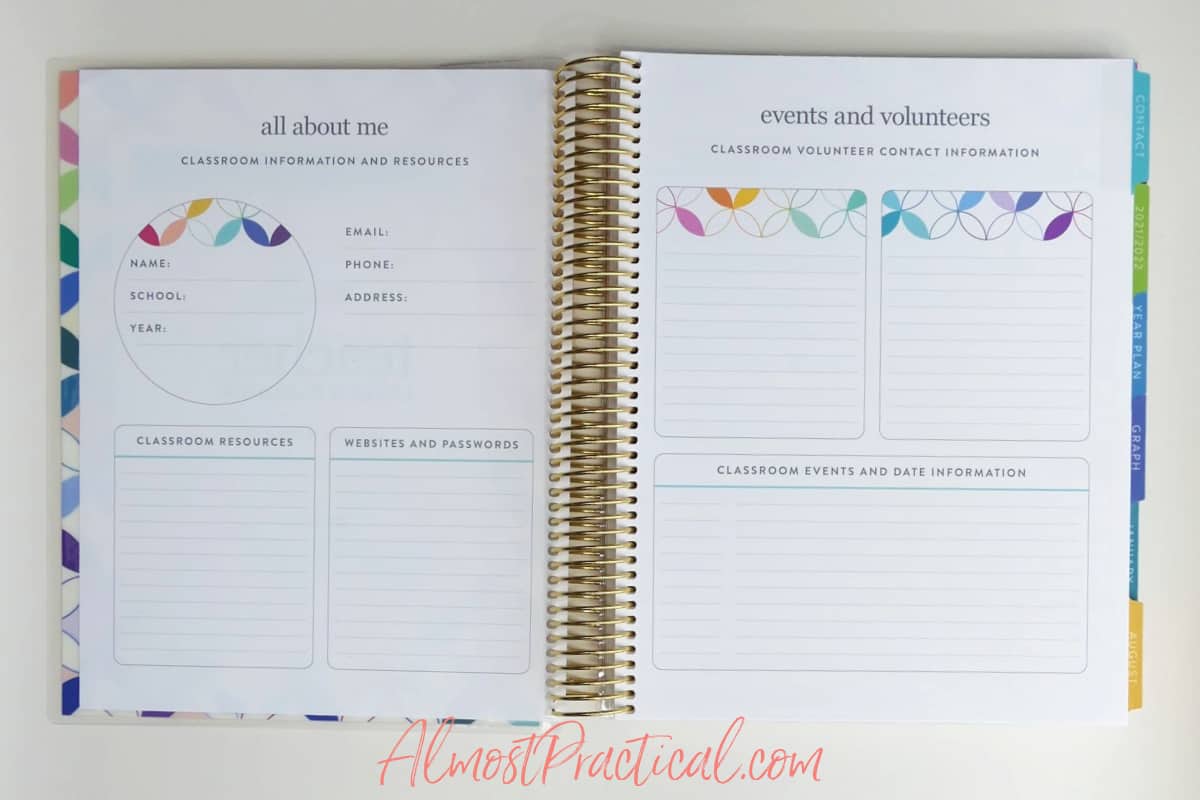 On the second page you have space for your Events and Volunteers and their contact information.
You will also see accents of the mid-century circles throughout the first few pages and it is so pretty.

The next section we come to is the Communication Log – and again it's accented with the mid-century circles design.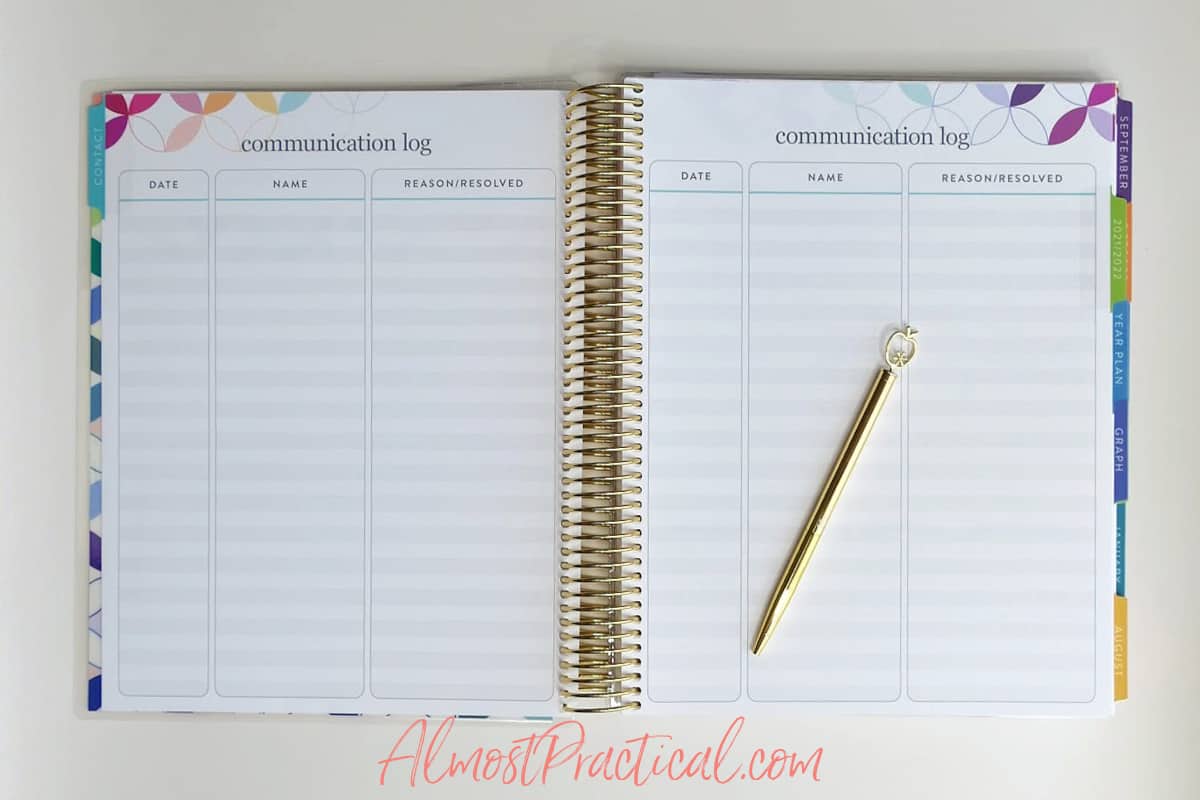 This is where you could keep track of communication that you have with parents, other teachers, and other important conversations that you need to possibly follow up on.
The next section is the Mini Months and they start in July of 2021 and go to December of 2022.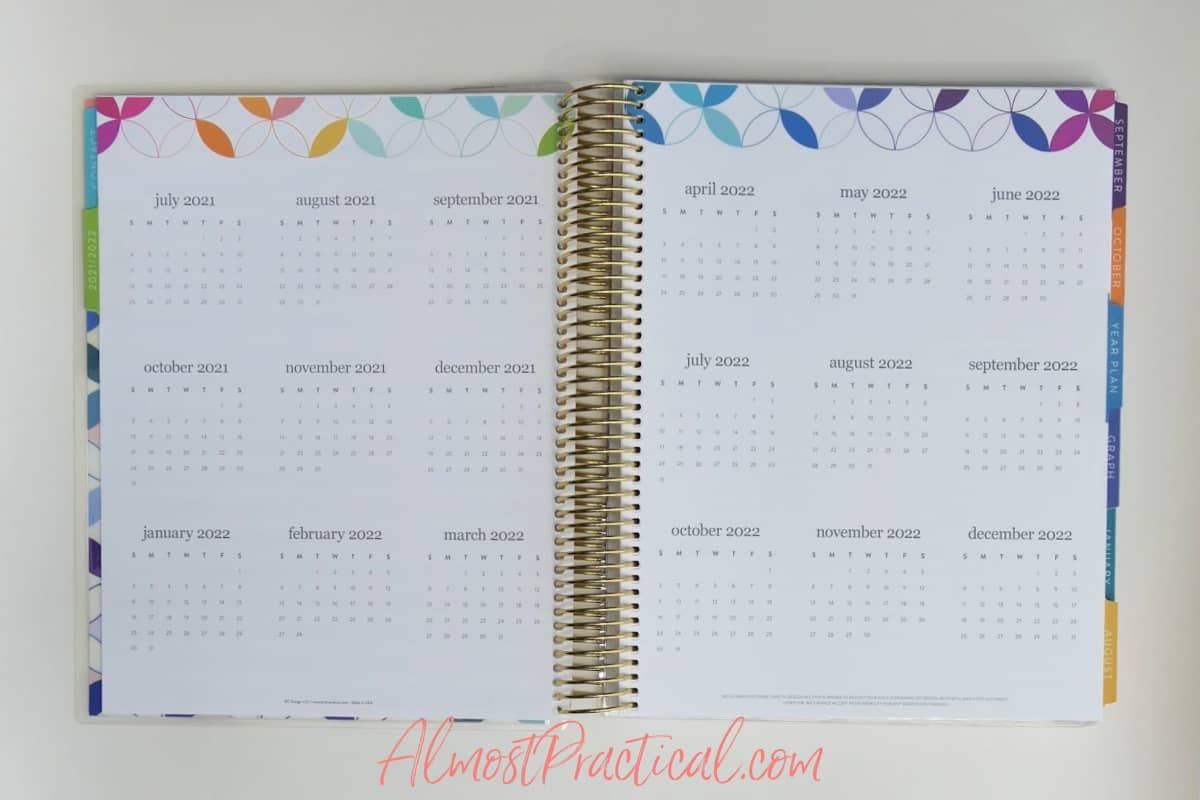 This is followed buy a full year plan starting in January and going to December.
So you can put highlights for the different months in each square.
If the squares don't work for you as is, you can always put a sticker or white out over the name of the month and use the squares differently for however you might like to plan.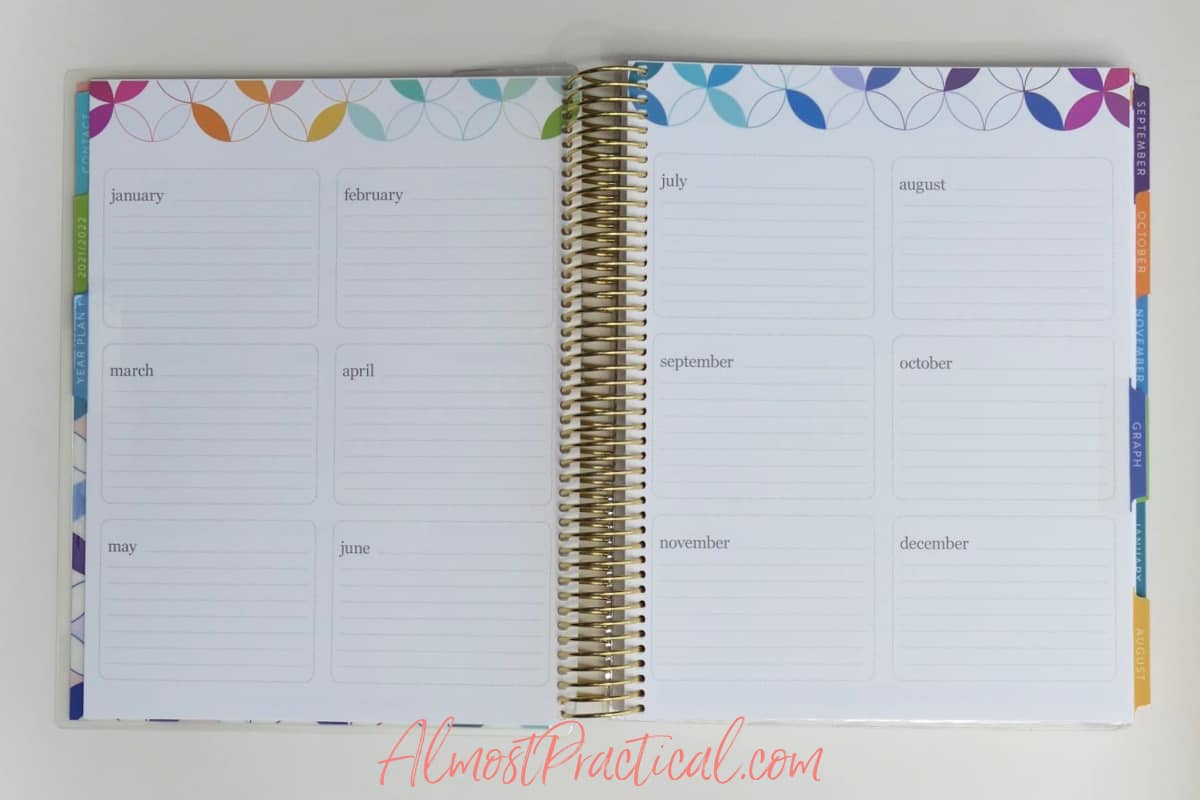 The next section is graph paper and this is a very flexible space.
I know a lot of teachers like to use it for mapping out their classroom seating charts.
You can also use it to graph your grades, learning assessments, and other important information.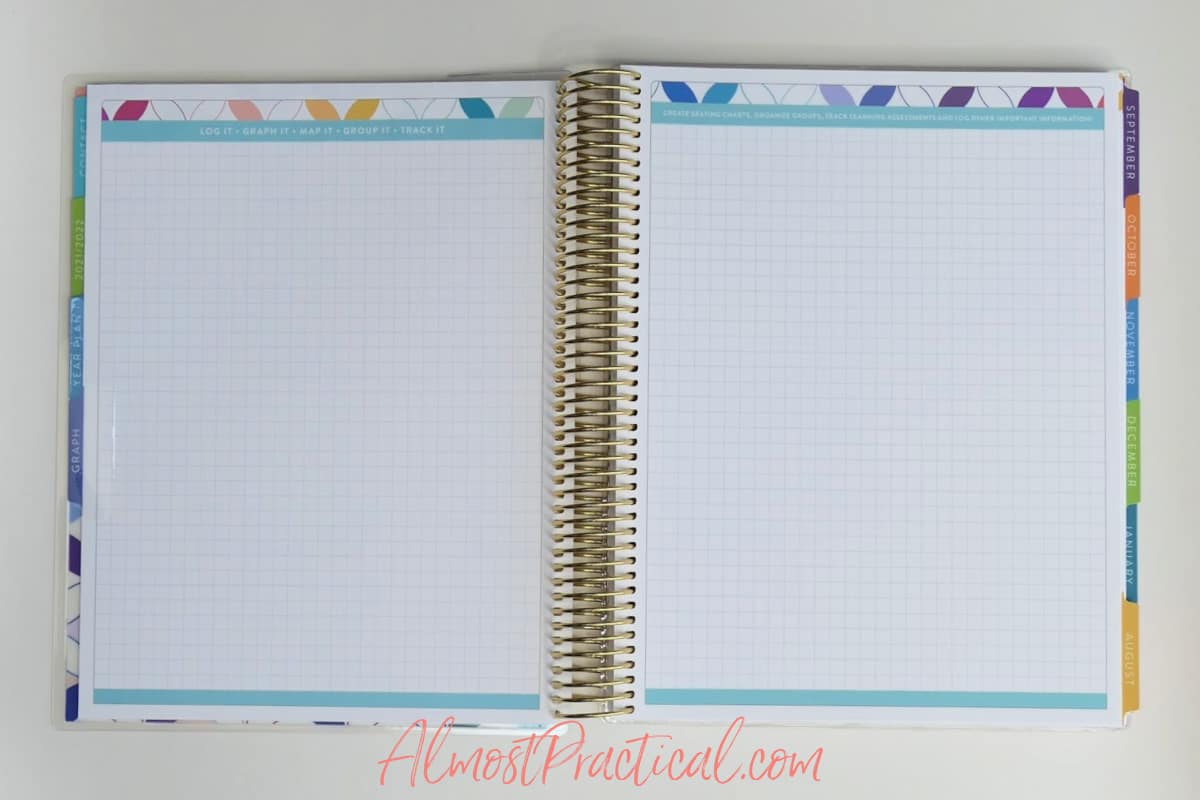 There are also a few lined note pages in this section.
Next, we dive right into the monthly spreads.
EC Teacher Lesson Planner Monthly Spreads
Each month in the Teacher Lesson Planner begins with a blank lined page and a page where the top half is lines in the bottom half has bullets with blank lines for Dates to Remember.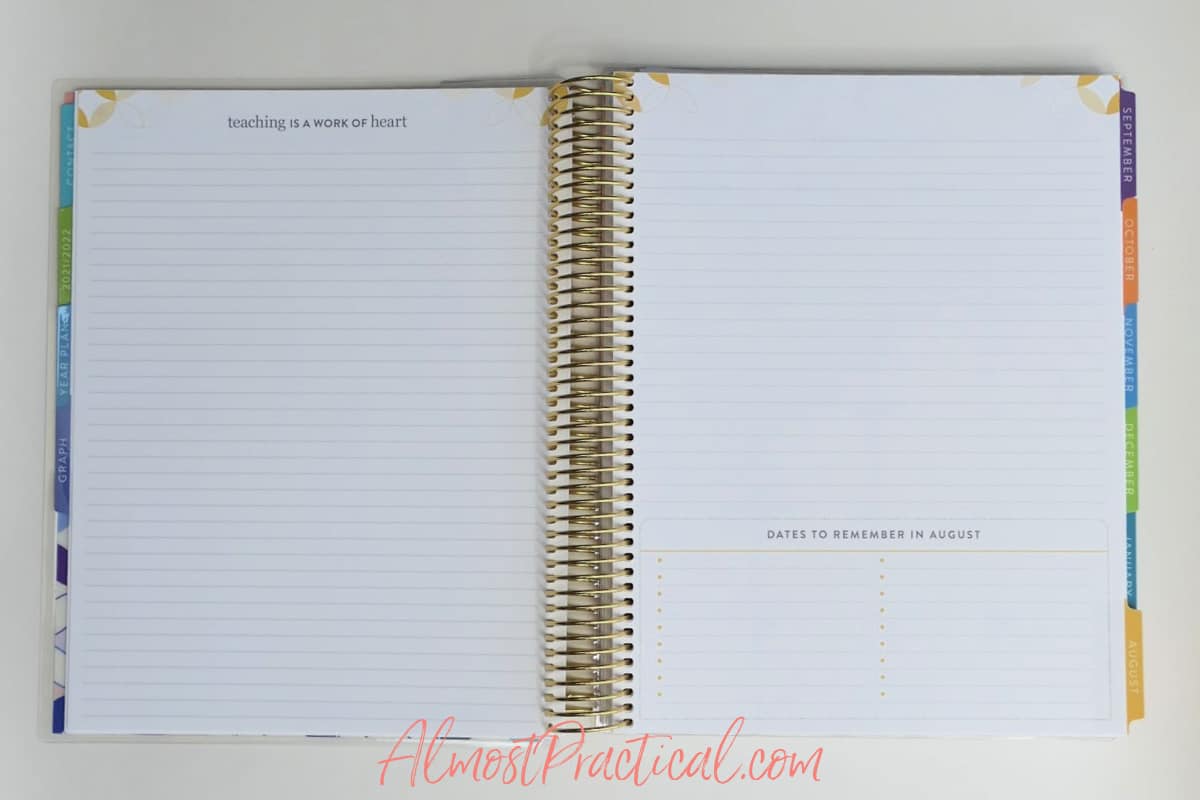 This is followed by the tab with your two page per month spread.
What I really like about the teacher lesson planner is that the spread is pretty much a blank slate.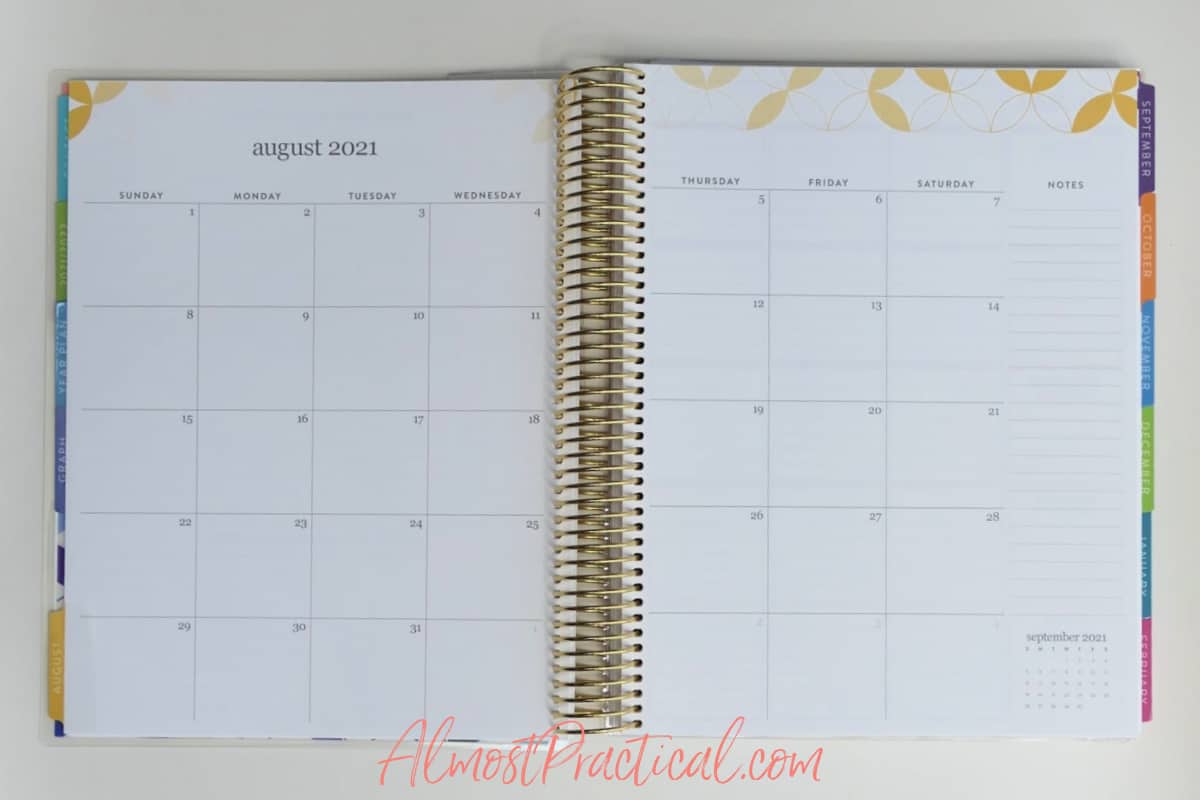 The coiled Mid-Century Circles and the Layers design both come with a set of stickers that you can use add in the important holidays and events that happen in each month.
This is really great because you only need to add in the ones that are important to your classroom. so this gives you more planning space by leaving the squares open for you to add in what you like.
Following the two page per month spread are your weekly pages.
The Teacher Lesson Planner features a two page per week spread for each week.
Going down the left side of the page are your days from Monday through Friday, and across the top you have six columns with a seventh column for notes.
This flexible layout is so nice because you can use the columns in whatever way makes sense to you.
Let's take a few examples.
If you are a teacher who teaches a single subject but you have many sections of classes – you can use the columns for each section and make notes in there as to the classes progress or what you want to plan to do for the day with each class.
If you are a teacher that teaches many subjects then you might want to use each column for each subject that you teach.
If you are a homeschool mom or dad you can use the columns across the top for each one of your children and the extra ones for field trips or outside learning or even a column for personal things that you want it keep track of along side of what you're teaching.
At the end of each month in the coiled Mid-Century Circles and the Layers design teacher planners you will have two lined note pages and then you flow right into the following month where you have the blank lined page followed by the half lines page and the dates to remember section.
These are delineated by the colors of the accents on the page.
For example, in August the color is a marigold yellow.
You can see on those note pages that the asterisks are in the marigold yellow and then when you flow into September – which is purple – you can see the Mid-Century circles design is also purple to match the upcoming month.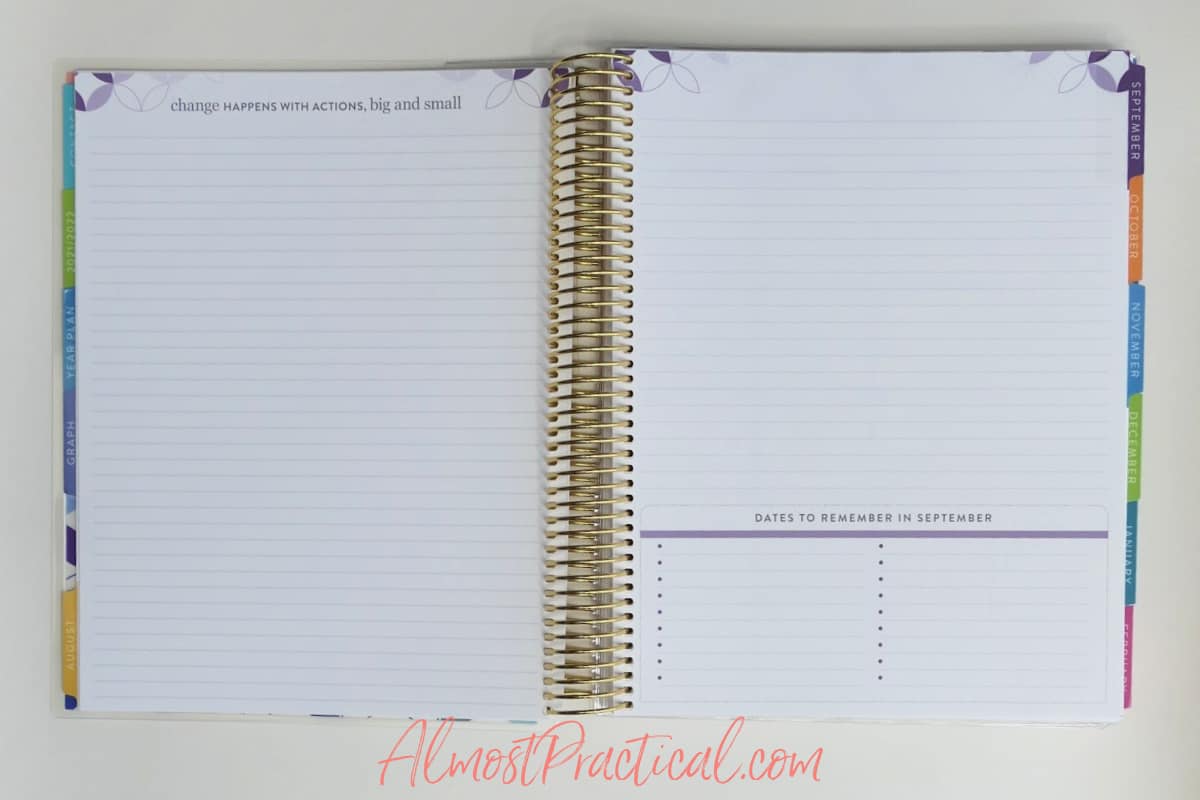 This layout follows its way through each of the months with each month being a different bright and pretty jewel tone.
Once you get to the end you have your last two lined note pages for the final month and then you go into your checklist pages.
Checklist Pages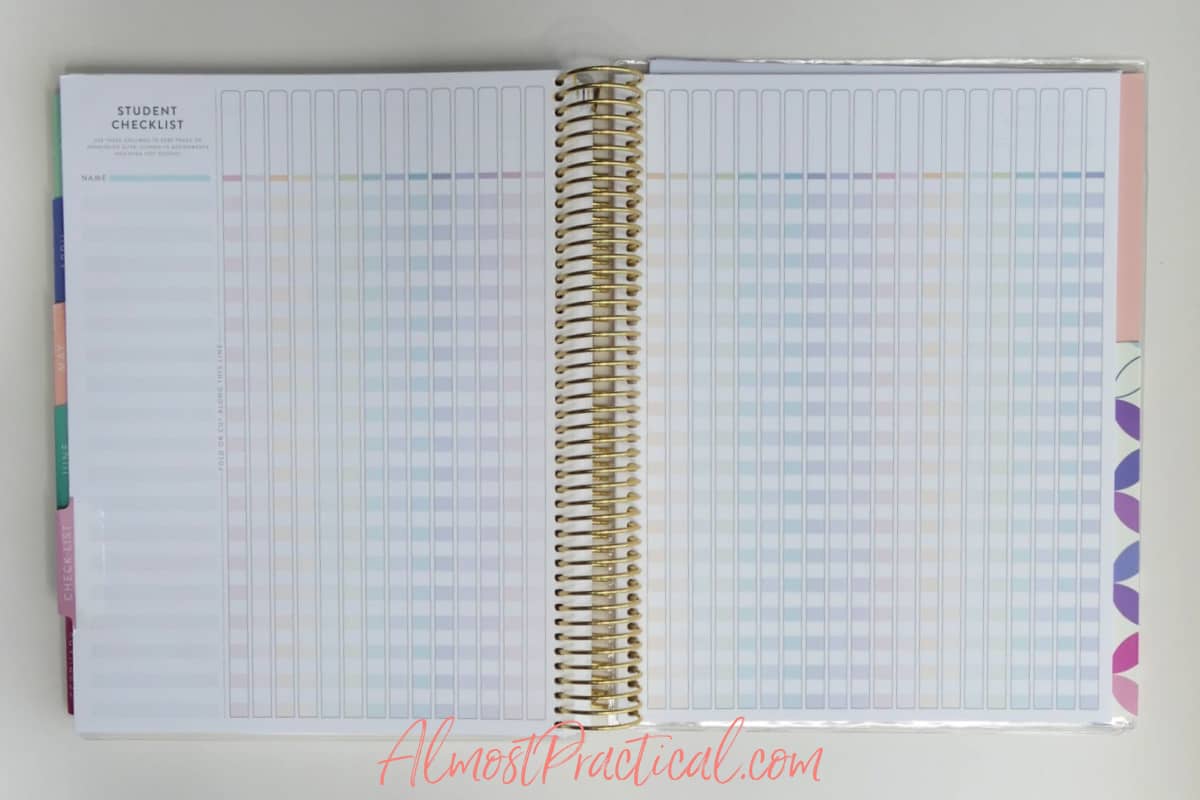 Checklist pages are great for keeping track of things that have to do with each of your students.
This could be grades, permission slips, things they take turns to do in the classroom, etc.
The coiled planner comes with a few of these bound right in.
One thing to keep in mind is that you can order yours with additional pages if you need them – so be aware of this – so you order enough for your needs.
Planner Stickers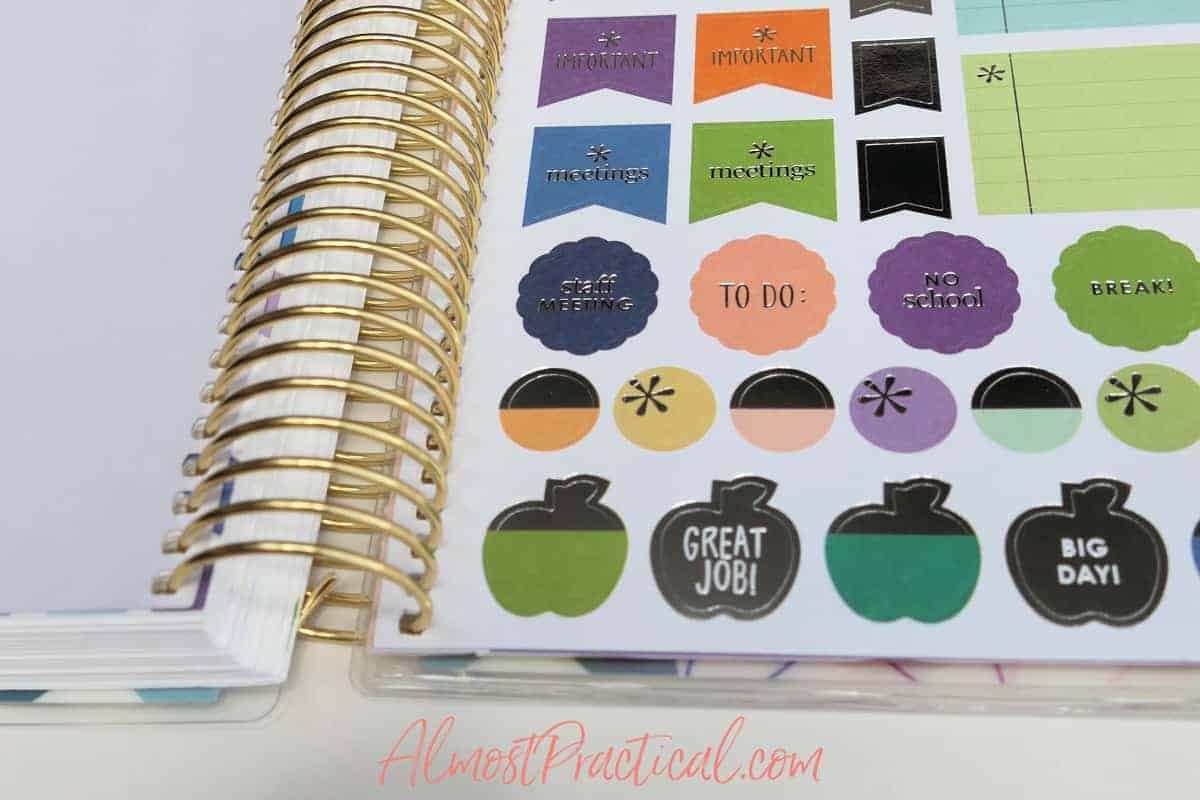 After the checklist section is everybody's favorite section which is planner stickers.
This year the stickers are very similar to last year. They're all school related and very fun.
Use them to highlight events like
staff meetings
no school
after school
reports due
testing
grades due
parent-teacher conferences and
IEPs.
There are flags for things that might be important like field trips, assemblies, and birthdays.
Cute little Apple stickers designate the first day of school, the 50th day of school, the 100th day of school, and the last day of school.
And there are other little blank stickers and labels that you can use to flag important items and take notes.
Folder and Sheet Protector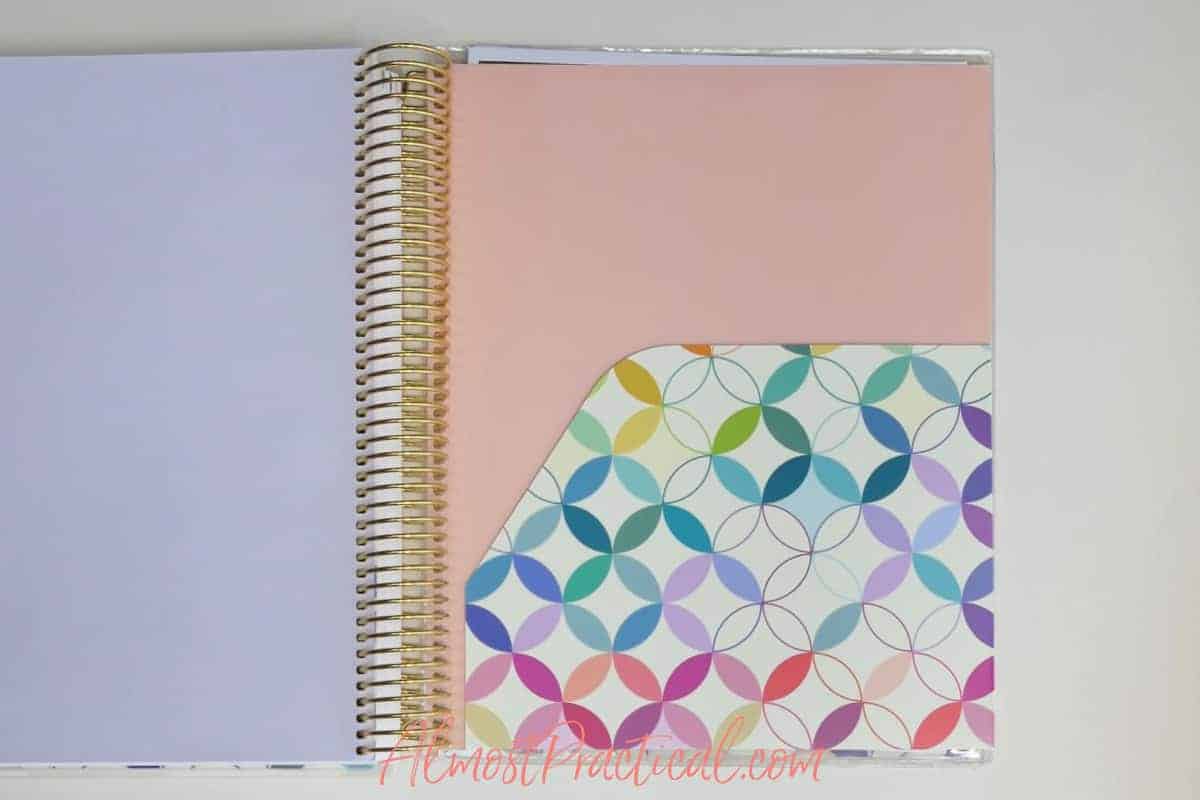 The coiled Erin Condren Teacher Lesson Planner also includes a coiled-in very sturdy dual-sided folder so you can capture any loose papers that you have floating around.
At the end of the coiled planner there is a coiled-in sheet protector. You also have the option to order a second one.
Monthly Holiday Stickers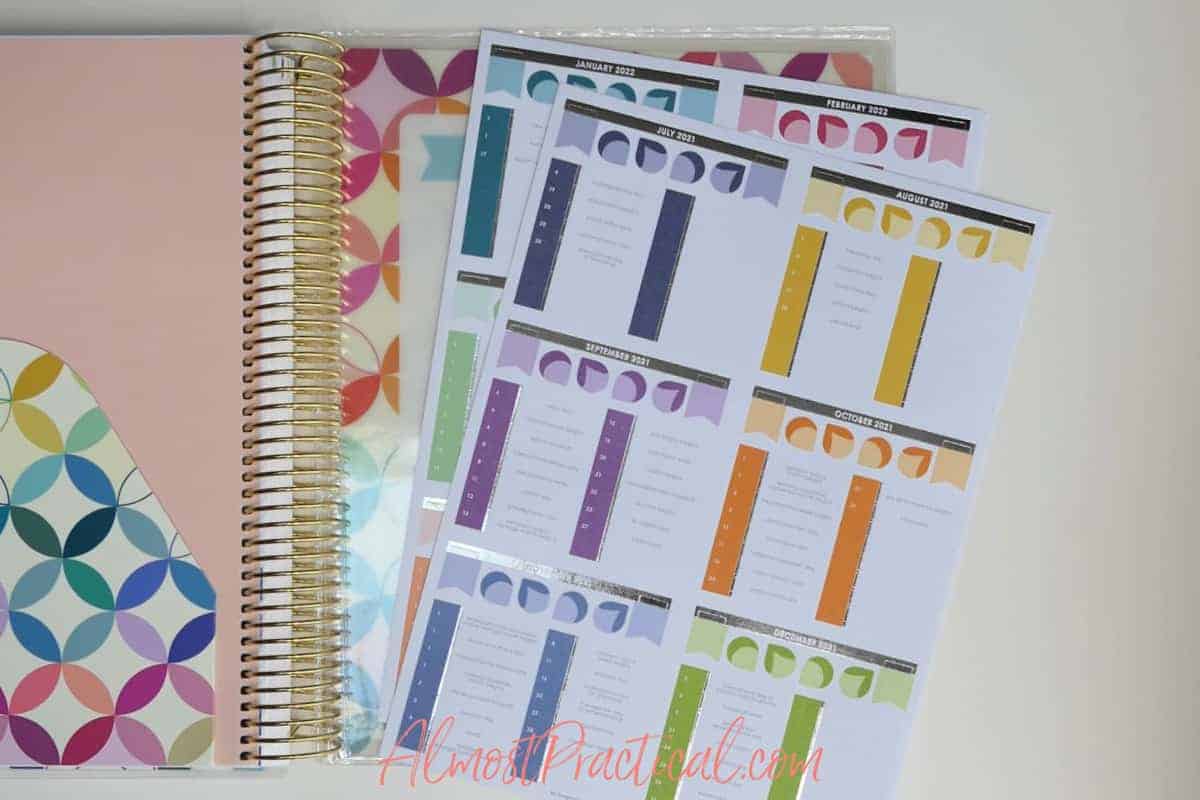 The coiled Mid-Century Circles and Layers designs come with a set of monthly holidays stickers as well.
These are just little stickers that you can put on your monthly layout that specify things that happen in each month.
For example, September 12th is Grandparents Day. If this is something you're going to celebrate in your class, you can add this sticker to your calendar.
If you're not planning to celebrate a particular holiday you don't need to use the sticker and that square in your monthly layout will be open for you to use for other things that are going on in your classroom.
These holiday stickers sheets also include some Flags to highlight important things and also some blank labels so you can add in things that you might be celebrating that are not included on your sticker sheets.
Interchangeable Covers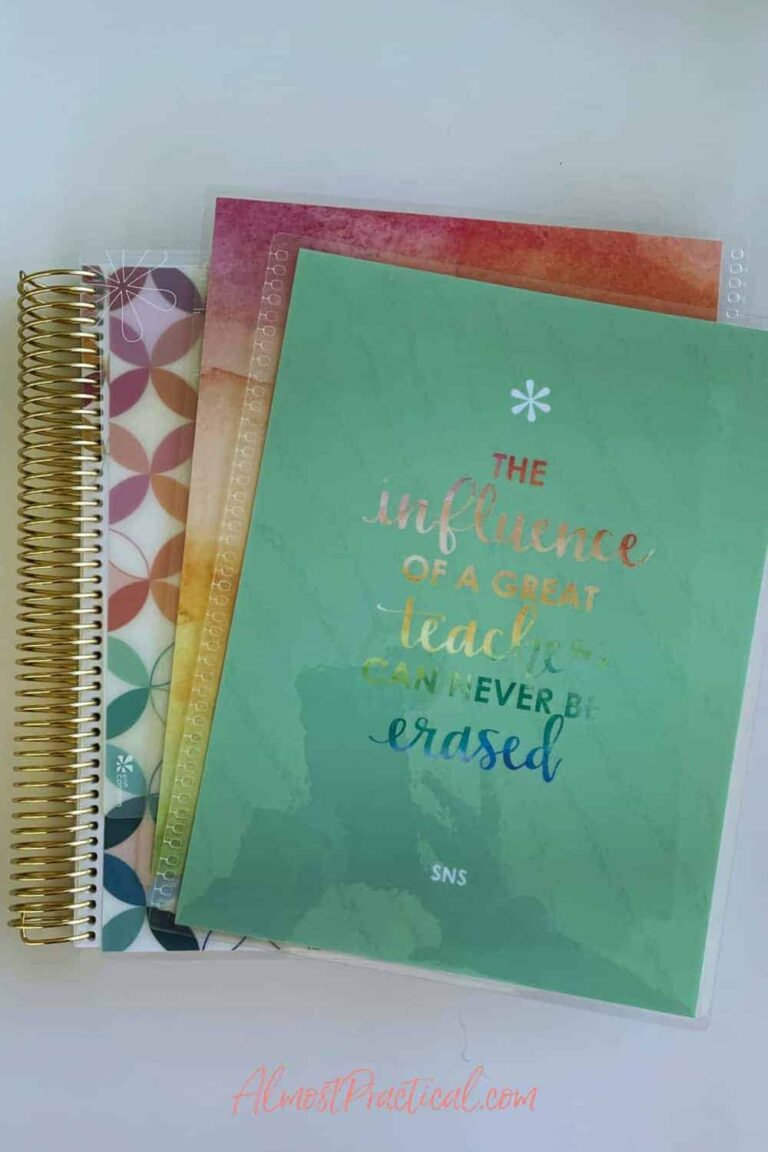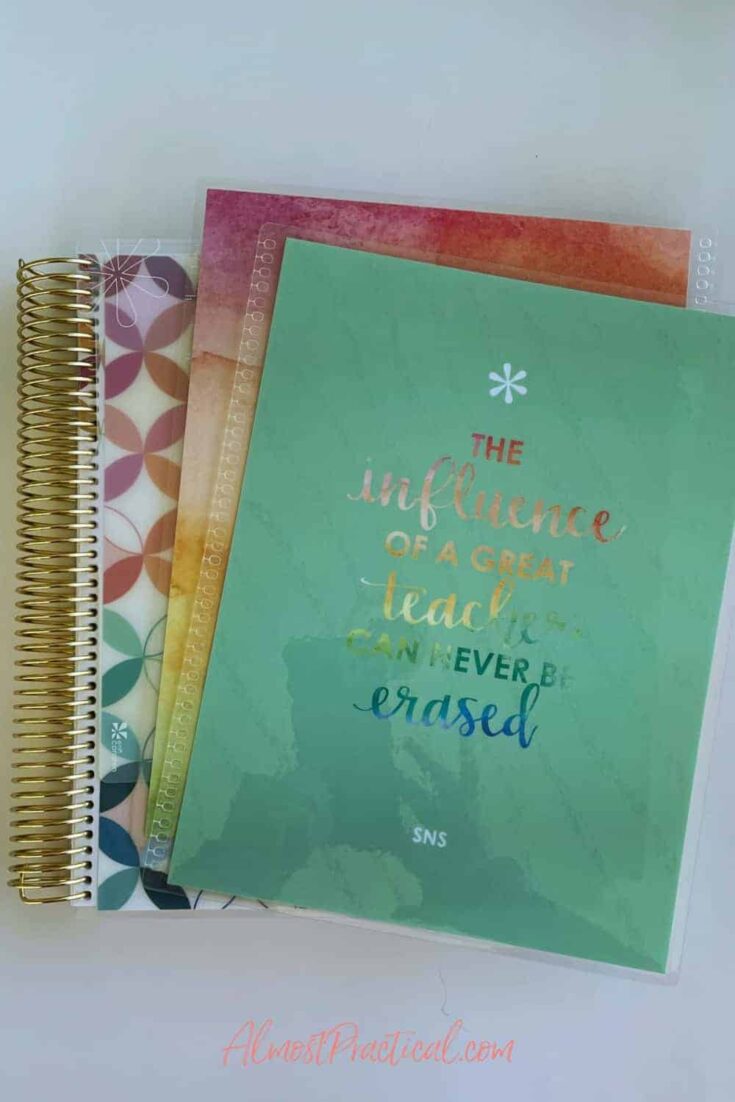 One advantage to the coiled Teacher Lesson Planners with interchangeable covers is that you can easily change the look of your planner from month to month just by replacing the cover.
There are some really fun new designs that you can order separately.
Here is an example of one that Erin Condren sent to me which is really pretty and it says "The Influence of a Great Teacher Can Never Be Erased" – so nice!
Vegan Leather Coiled Teacher Planners
Here's some exciting news – instead of interchangeable covers for your Erin Condren Teacher Lesson Planner – you can choose sturdy vegan leather covers in either a
blush pink,
harbor gray, or
black.
These vegan leather covers are not interchangeable I believe. But they are gorgeous!
So if you choose one of these covers that will be the one that you use for the full year.
You will have the option with the vegan leather covers on the coiled Teacher Lesson Planners to customize the inside of the planner with either the Mid-Century Circles design, the Layers design, or a Focused Collection design.
Options for Customizing Your Planner
Let's talk about some of the options that you have to customize these coiled planners.
If you choose the interchangeable covers – you can select the cover you like and add some personalization.
For the vegan leather covers you have the option to have your personalization embossed into the cover.
You can also customize the coil color that you want.
Each coiled teacher lesson planner come standard with the Platinum coil which is a silver color and is very nice.
But you have the option to upgrade your coil to gold, black, or rose gold.
I ordered my Mid-Century Circles Teacher Lesson Planner with the gold coil because I just love the way the gold coils look. The gold is my favorite color coil but really it's entirely up to you and they are all really, really beautiful.
Another thing you can customize in the coiled planners is the start date.
My Teacher Lesson planner starts in August and goes through the end of July of 2022.
But you have a choice of having your planner start in July 2021, August 2021, or September 2021.
The planner will include a full 12 months from your start date.
So if you chose to start yours in July then it will run through the end of June 2022.
If you start yours in August 2021 it will go through July of 2022 and if you choose September as your start date it will go through the end of August 2022.
Finally as I mentioned before, you can add more checklist Pages or another page protector to the end of the planner.
The Focused Collection
Now another thing that I touched on earlier was the focused collection. And the teacher planners this year are going to be available in the focused collection.
You can get the coil planner with the vegan leather cover in the Focused design but just keep in mind that that particular combination does not come with stickers or a folder at the end.
Softbound Teacher Planners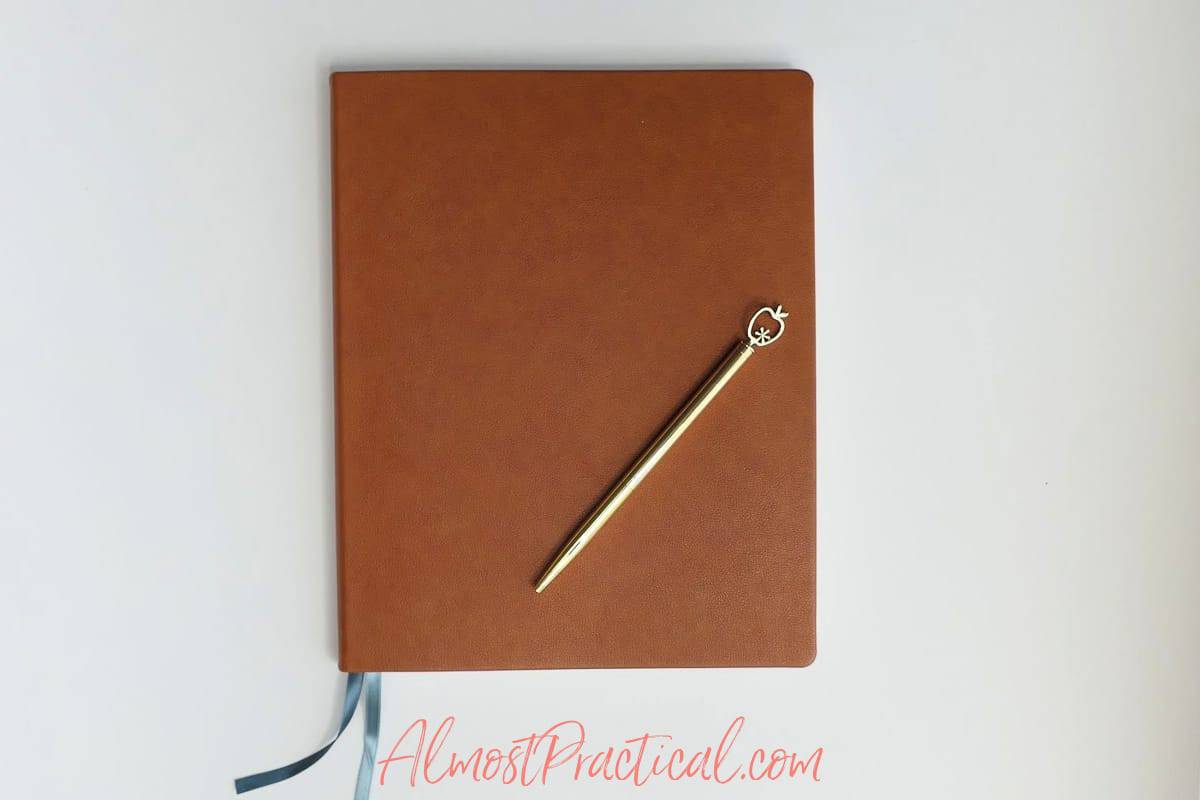 For the 2021/2022 academic year, Erin Condren will have two versions of the Softbound Teacher Planners:
a Softbound Focused Collection Planner with a Camel colored vegan leather cover, and
a Softbound Colorful Layers Planner with a Layers patterned cover.
I happen to have the Softbound Focused Collection Planner with the Camel colored cover – so let's take a look.
On the outside this planner is very professional looking. On the inside the colors are more neutral and very muted.
This planner is great if you want something that is smaller and easier to fit into your bag. or perhaps you teach college students or older kids in high school and you want something that is not as colorful as the coiled versions.
Inside the Softbound planners are very similar to the coiled planner but on a slightly smaller scale.
The planner itself measures 8 by 10 inches.
And as you go through the pages it begins pretty much the same with the All About Me page, the Events and Volunteers page, and then your Communication Log.
This is followed by your Mini Months, your Yearly Planning section, and graph pages for seating charts other data.
Then you go into your monthly spreads with a lined page followed by a half lined page and space for Dates to Remember.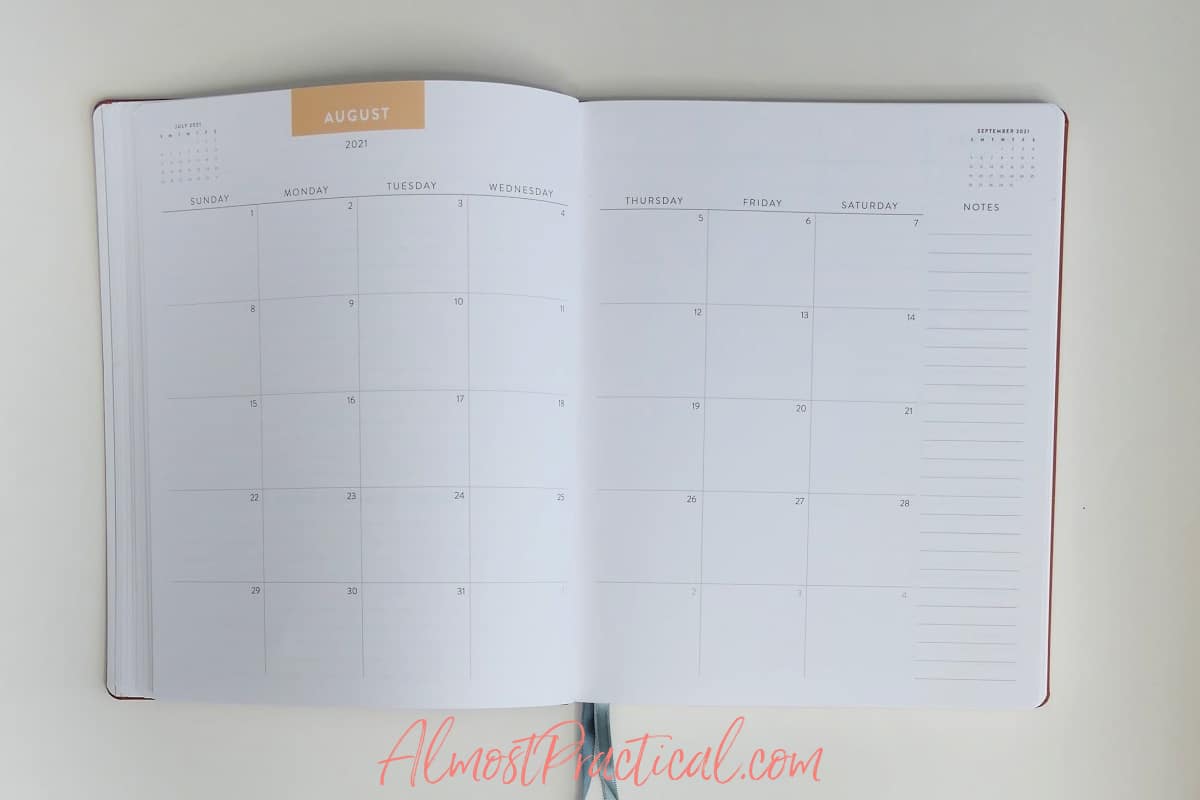 For every month there is a 2 page per month layout with little mini months at the top showing you the month previous in the month coming up.
And then there is a two-page per week layout with your dates from Monday through Friday going down the left side and six columns going across the top with a seventh column for notes.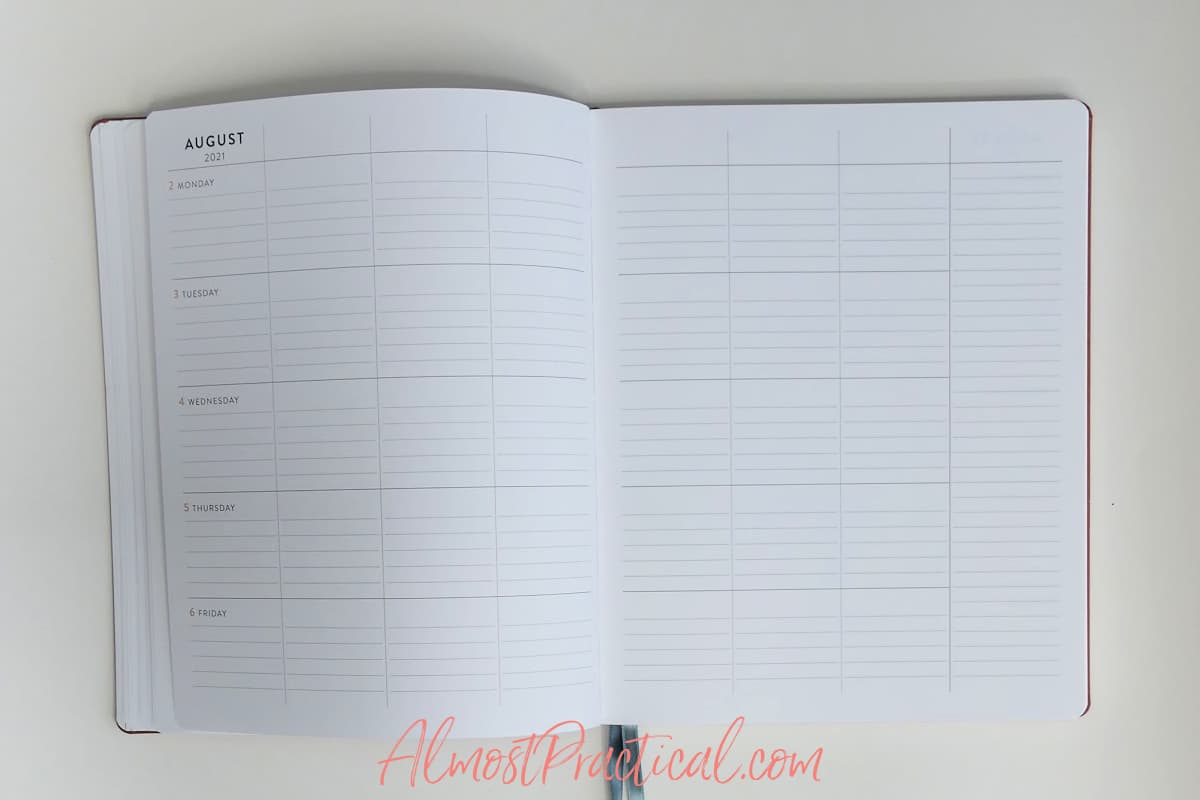 That pattern repeats throughout each month.
One thing to note is that at there are not extra lined pages at the end of each month like you would find in the coiled life planner. However, there are several lined pages at the end.
And finally, there are some checklist pages as well.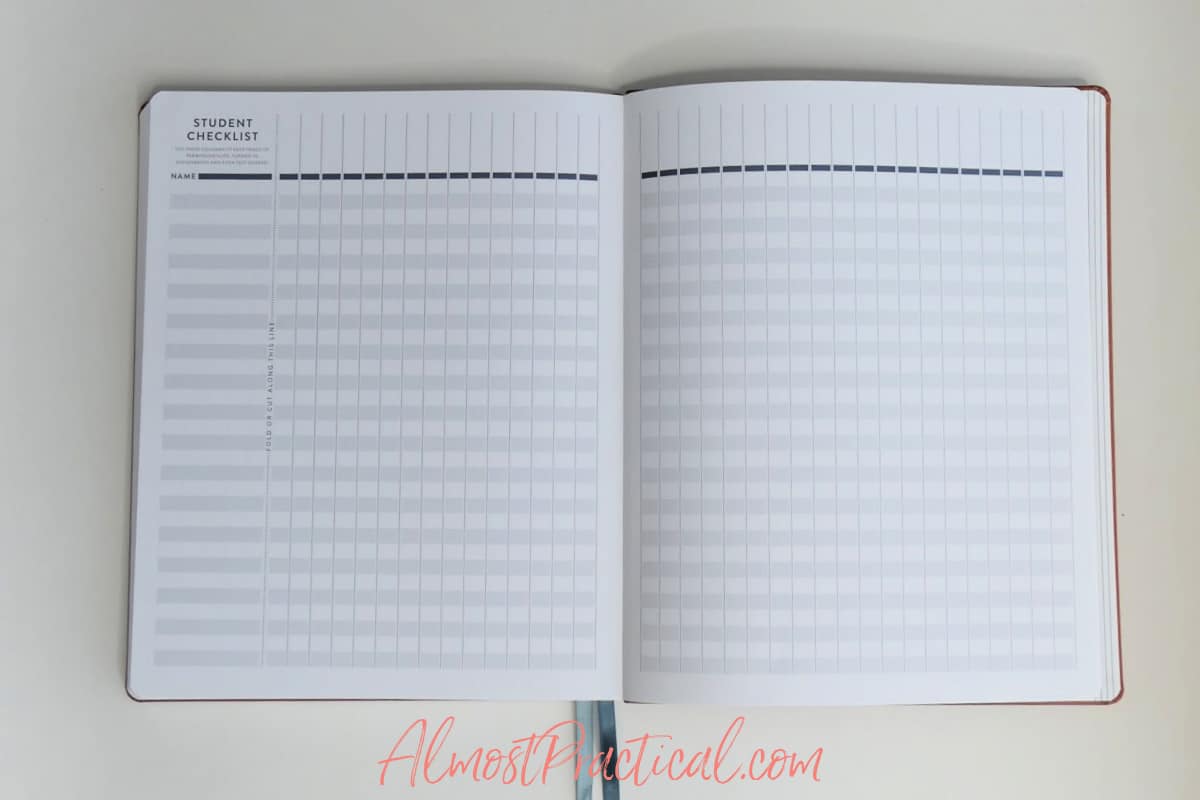 Because this is a softbound book – it's already bound so it has some limitations compared to the coiled version as far as customization goes.
The Softbound Teacher Planner starts in July and you don't have the option to start in any other month. So this planner will run from July of 2021 through June of 2022.
You obviously also cannot change the cover – this is a fixed cover.
And you don't have the option to add additional checklist pages, there is not a folder at the end, there are no sheet protector pages, and you do not have sticker Pages or the holiday stickers included.
But you can always order the holiday sticker sheets and any other stickers you would like separately.
But this year there is some exciting news. If you like the softbound version but you are more of a colorful person you have an option this year!
The Softbound Erin Condren Teacher Lesson Planner is also available in the Layers colorful design!
The outside will have the colorful Layers pattern on the cover and throughout the pages you will see the colorful Layers accents.
Personally, I really do like the smaller form factor of the Sofbound planner but I am more of a colorful person so the Layers colorful would be a great option for me.
Teacher Lesson Planner Binder
One other option that I don't actually have to show you is the binder.
But I wanted to mention it – so you know about this alternative.
The Teacher Lesson Planner this year is also coming in a gorgeous binder.
It has the Mid-Century Circles outside and inside of the binder.
The binder itself is a standard 3 ring setup – so you can hole punch whatever papers you have and add them right in.
The layout inside is very much like the coiled Mid-Century Circles planner that I reviewed above.
If you like to move pages around inside your planner then the binder version might be the best one for you.
When and How to Buy
The big question is when can you get your hands on all this good stuff?
The good news is that this collection will be available to Erin Condren Insiders on April 8th 2021 and then it will open to the general public on April 9th 2021.
Here's the thing though – there are going to be a couple early bird gifts that you can grab if you order early.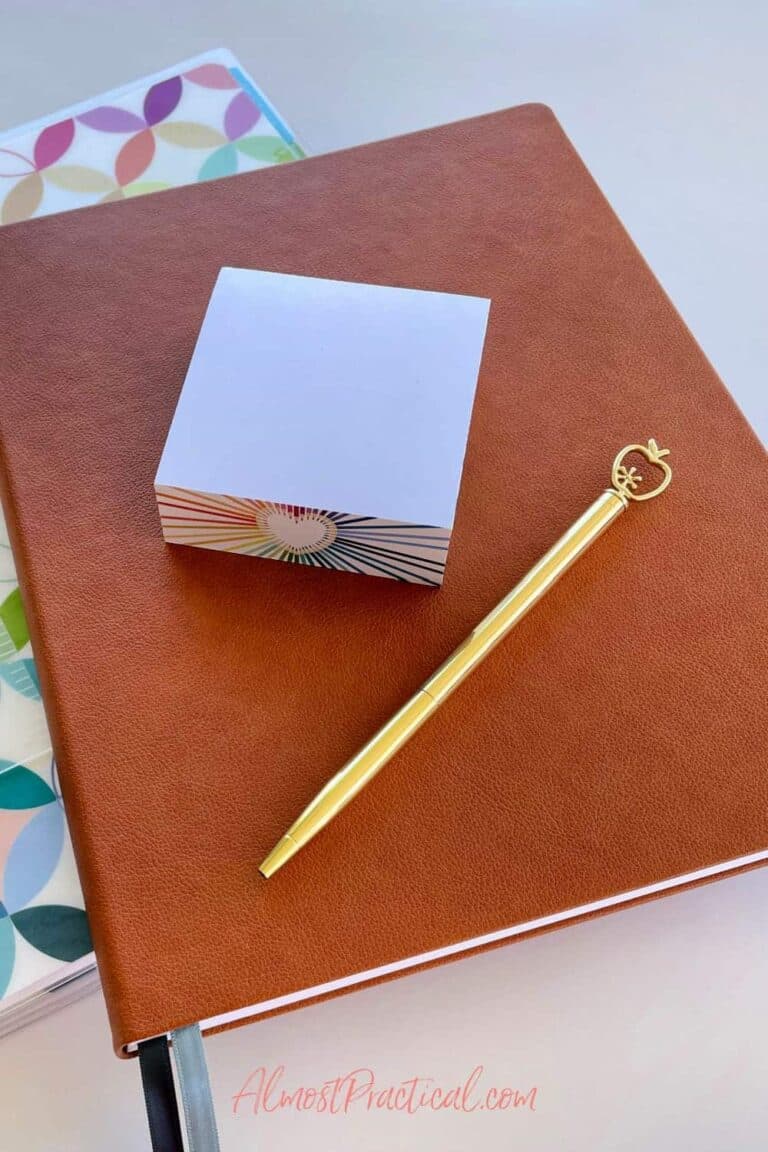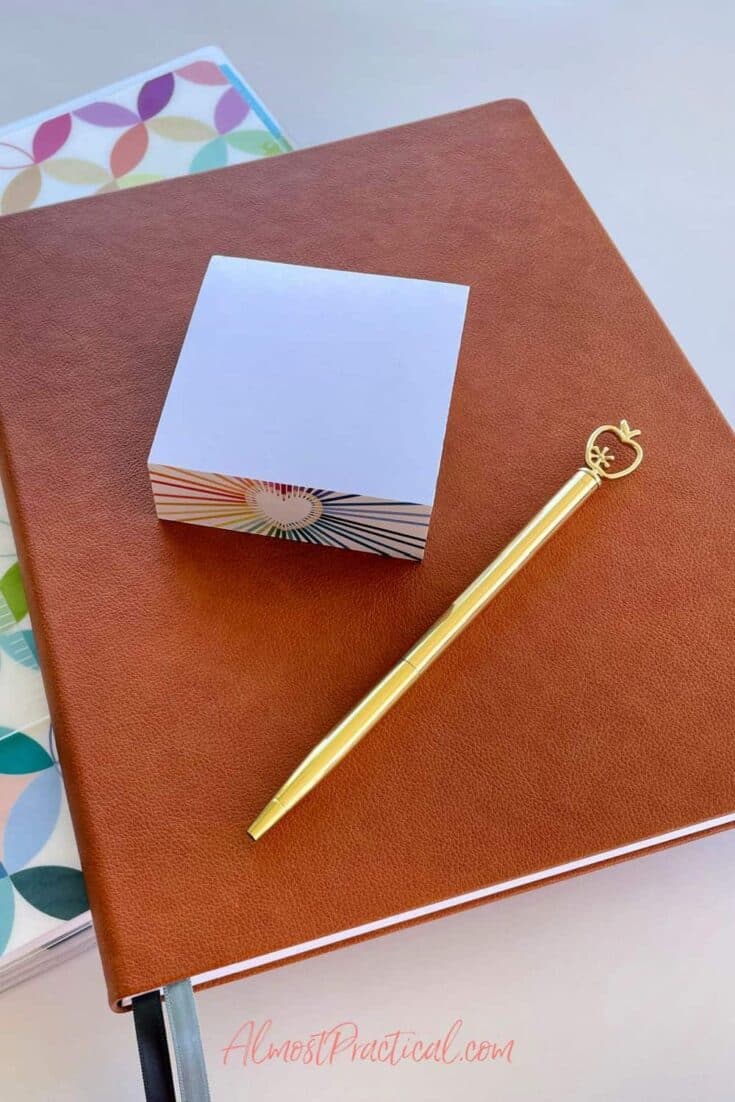 The first one will be available to EC Insiders only!!
What is it? It's this beautiful gold Apple ballpoint pen and it is so cute!
Wouldn't it be great to use for creating your teacher lesson plans?
But I know it's going to go fast.
So if you're not an Insider yet go to Erin Condren website HERE and sign up now!
It's a free to become an Insider and then you will be eligible on April 8th to grab this pen with your order for free.
Another gift that will be available to both Insiders and non-Insiders is this really cute little sticky note cube.
It has pencils on the side to form a little heart.
It's really sweet and it's fun to put on your desk and also very useful.
So if you want to grab a Teacher Lesson Planner then be sure to order early on April 8th as I think things are going to move fast.
Who Is The Teacher Planner Good For?
Obviously, teachers of all kinds – from preschool to college – any teacher would benefit from this planning tool.
It is also a good option for parents that homeschool their children.
But, the Teacher Lesson Planner also has some non-traditional uses.
Anyone that has different "compartments" in their lives can use the columns in this planner to manage these different projects.
If you are a business owner with many clients – you can use each column to plan your work for your different clients.
Maybe you have several home related projects going on at once – use the columns to manage all of these.
Busy parents with large families can use one column per kid to keep track of activities, playdates, or homework.
Just remember that there are only rows for each weekday in this planner – no weekends.
So Many Choices
There are so many choices in the Erin Condren Teacher Lesson Planner line up this year that my head is spinning!
Take some time to get familiar with the options so you can pick the best planner for you.
You can choose from the:
coiled planners with interchangeable covers
coiled planners with vegan leather covers
softbound planners, or
the planner binder.
Each version comes with its own unique options for customization.
Which one do you like best?
Be sure to CLICK HERE to subscribe to my own Planner and Erin Condren Newsletter where I keep you up to date with sales, new product reviews, and ideas for using your planners.
Happy Planning!
Compare the 2021-2022 Planner with the 2020-2021 Erin Condren Teacher Lesson Planner here.
More Erin Condren Reviews You Might Like