Erin Condren Coiled DAILY DUO LifePlanner Review – See It Here!
This post may contain affiliate links which means I make a commission if you shop through my links. Disclosure Policy
Disclosure: Product for this post was provided by Erin Condren. All opinions are my own.
Yesterday I showed you the unboxing of the new Erin Condren Layers Collection – and I promised a more detailed review of the Life Planner in the daily layout called the Daily Duo.
Well, here it is – as promised!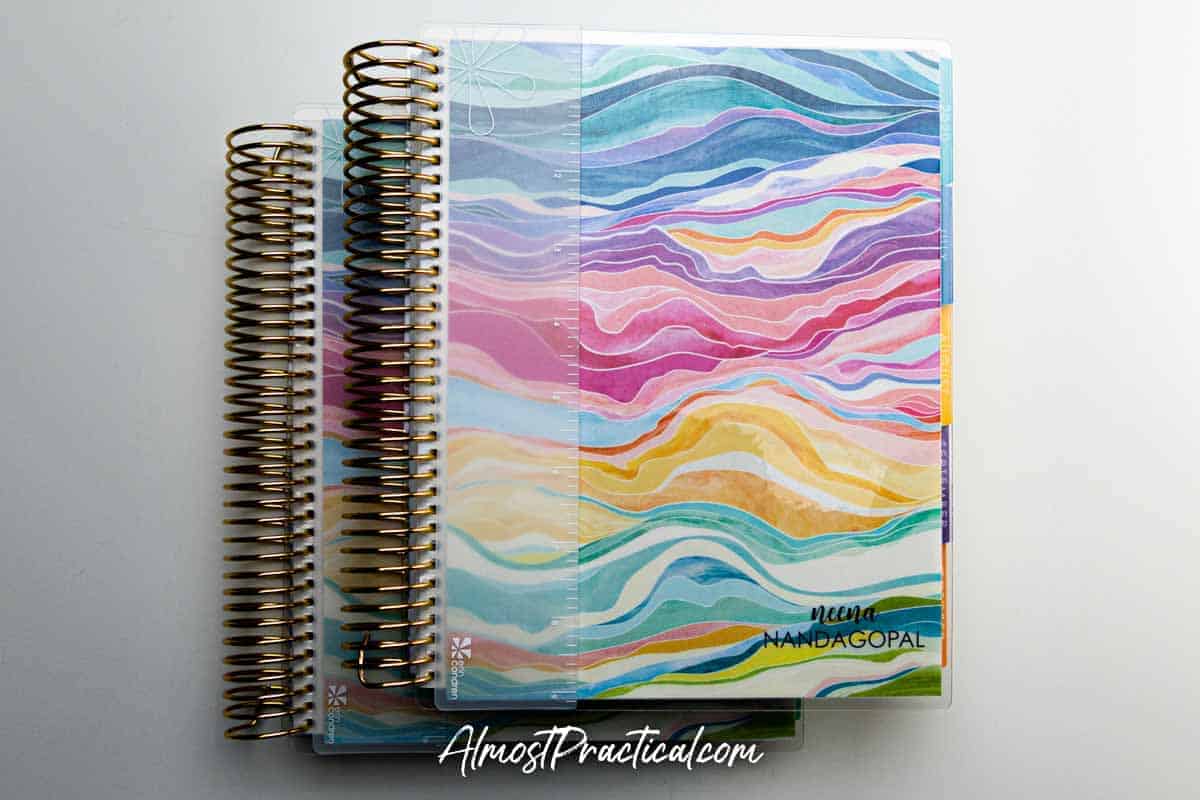 FYI – this new collection will launch on April 29, 2020 BUT if you are an EC Insider – you get early access on April 27, 2020 – so go here to sign up now – membership is free!
Introducing the Daily Duo Coiled LifePlanner
The new Daily Duo LifePlanner is not one but TWO books that feature a one page per weekday layout and a one page per weekend layout.
This layout is brand new to the line of COILED LifePlanners.
Under the previous Kaleidoscope Collection, a daily layout was available in the Life Planner Binder but not in the coiled planners.
So, this is exciting news – especially if you always felt constrained for space in your weekly planners.
Because it is new – there are a lot of things that I want to go over with you – which I try to organize in a way that makes sense in this review as follows:
Watch the video review.
Why are there 2 books?
What dates are included?
Take a tour inside the planner.
Options for customization.
One more thing to note – you might also be interested in my review of the 2020/2021 Erin Condren Teacher Planner here.
Watch my LifePlanner Review
You can see the 2020/2021 Erin Condren Daily Life Planner up close and personal in this video.
Or if you prefer to read, just scroll down below.
Why Are There 2 Books?
The first question that everyone is asking is – why are there 2 books?
As I mentioned earlier, the new Daily Duo Life Planner has a total of 6 pages per week.
This is far too many to fit into one book, so the logical thing was to split the year into 2 books of 6 months each.
What Dates Will this Daily Duo LifePlanner Cover?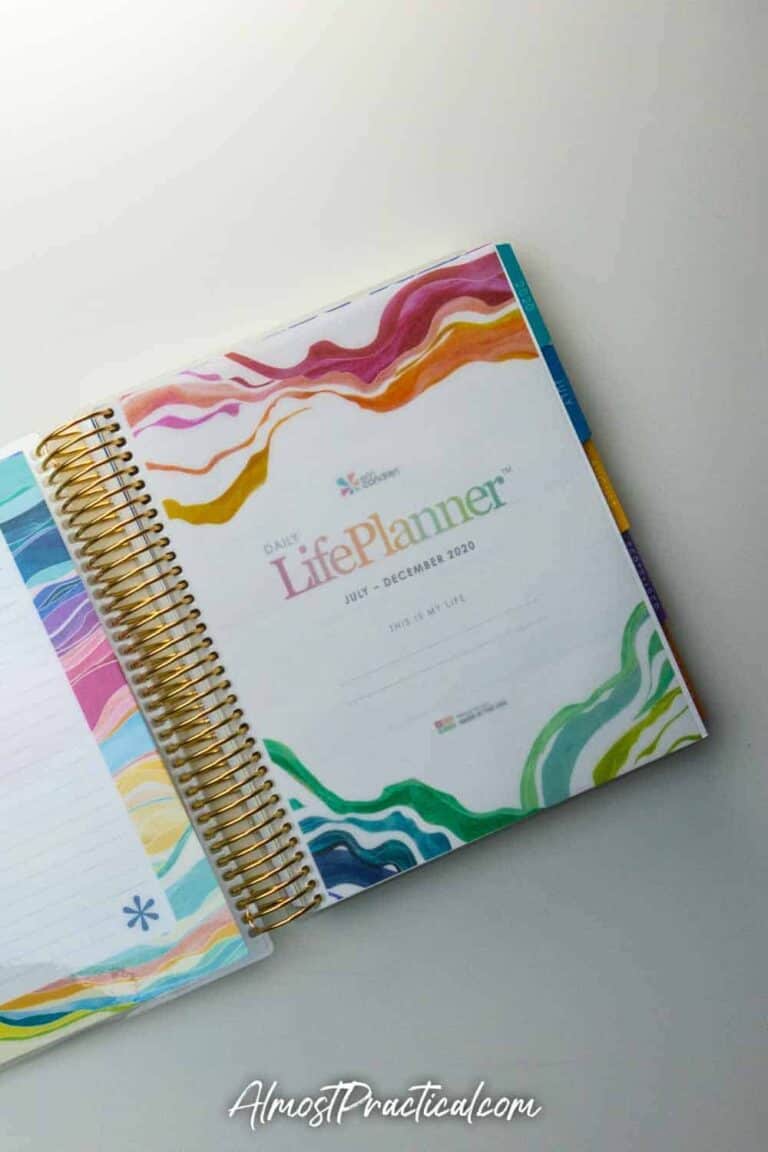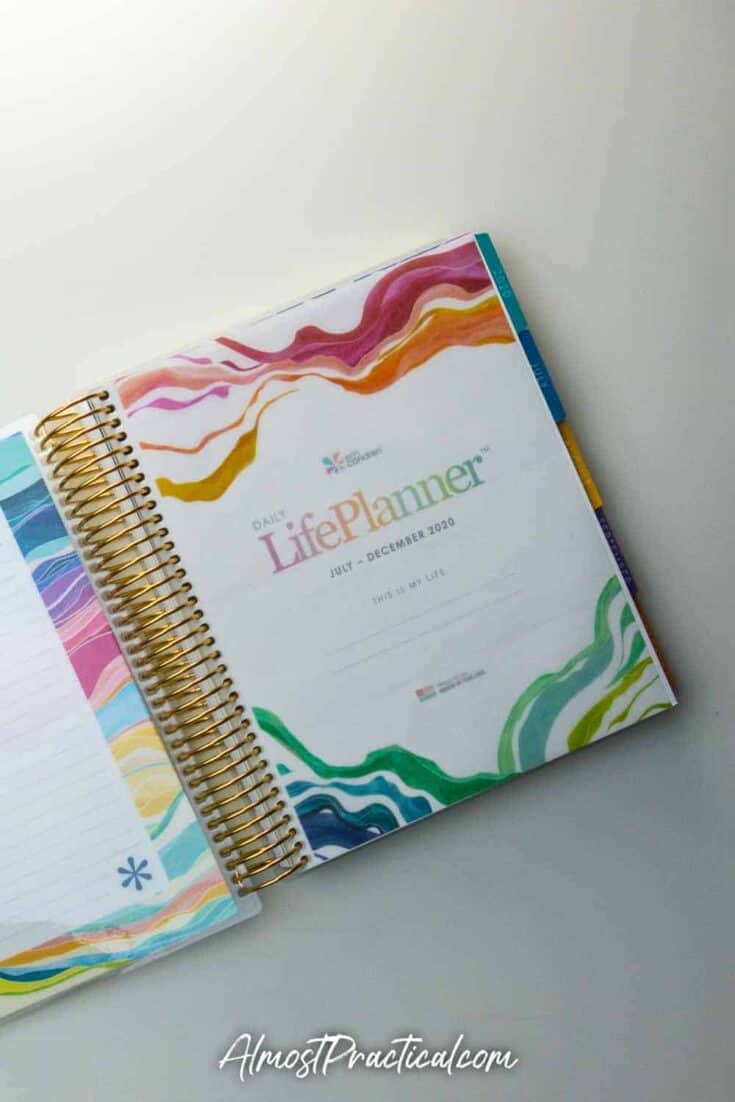 On launch date – which is April 29, 2020 (or April 27, 2020 for EC Insiders – you can still sign up to be an Insider here) – the Daily Duo will be available for the year July 1, 2020 to June 20, 2021.
Book 1 will cover July 2020 to December 2020 and Book 2 will cover January 2021 to June 2021.
These 2 books are sold as a SET.
Towards the end of 2020 the books in the set will change to cover the calendar year of 2021 – but for now, you will only be able to get July 2020 through June 2021.
How is the LifePlanner Laid Out?
Let's take a tour inside the new Erin Condren Daily Duo Life Planner.
Goals and Intentions Page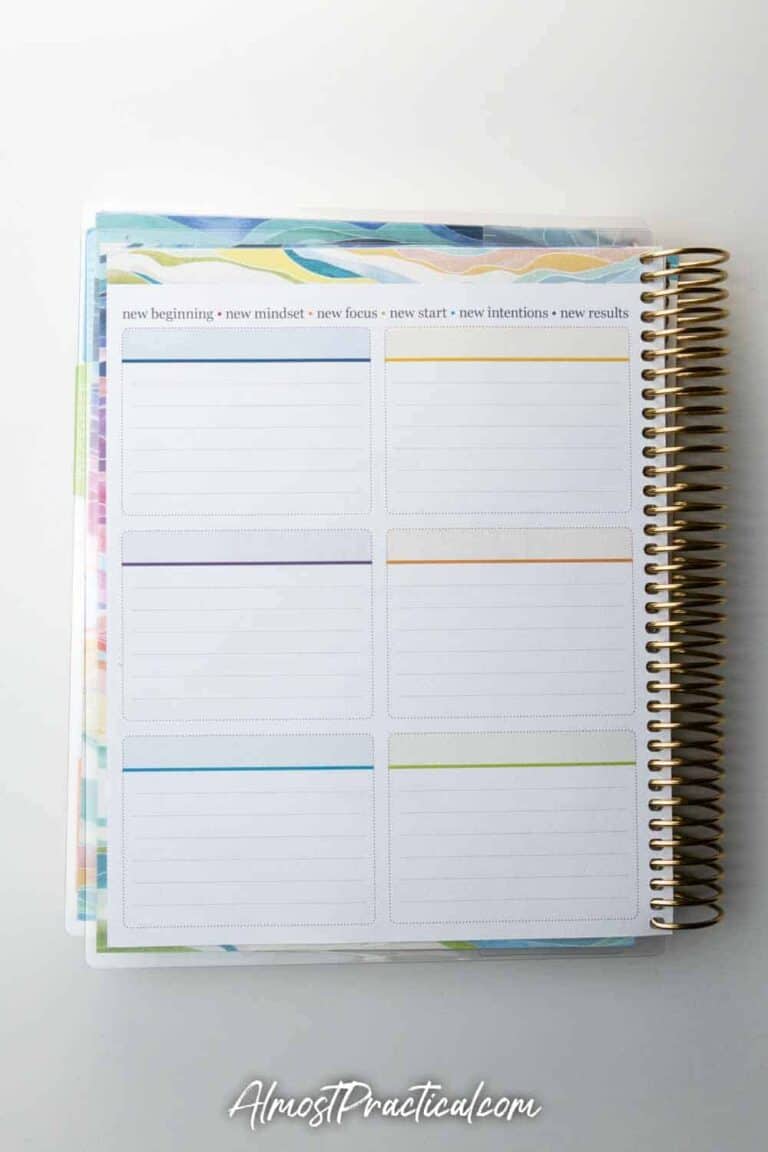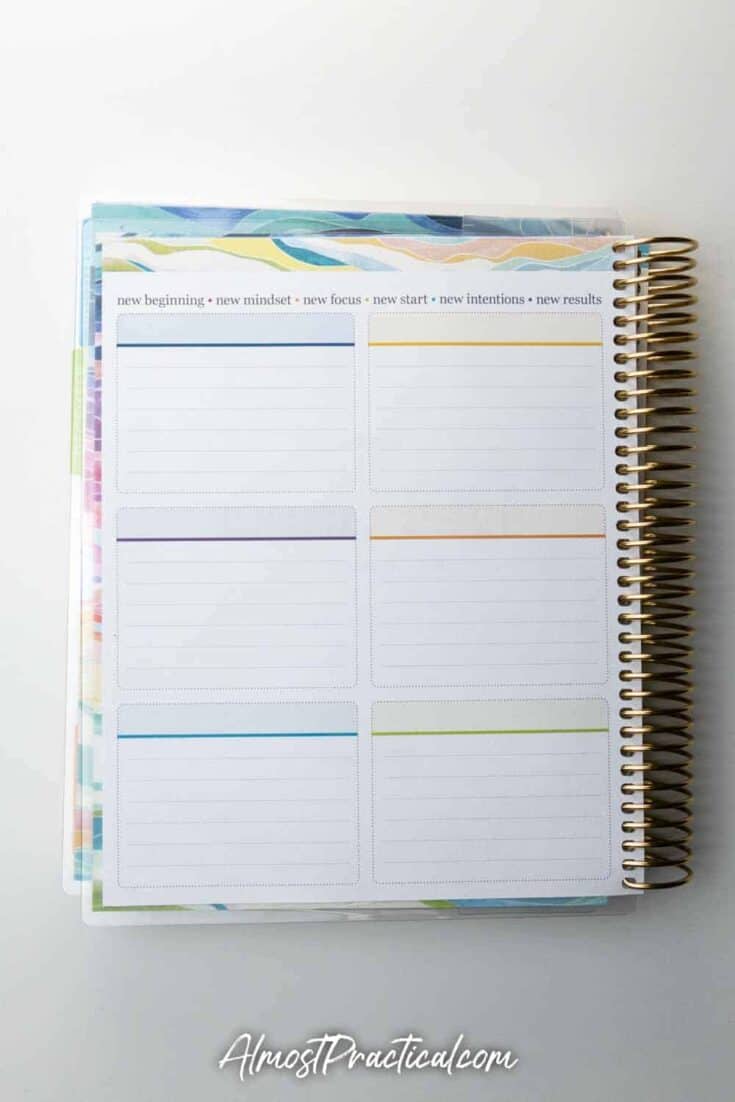 Beyond the title pages, you will first come to the page with 6 blocks that you can use however you see fit.
Many people use this to outline goals and intentions or to track accomplishments for each month.
In the daily planner this page is included in both books and contains 6 blocks.
Theoretically, there is one block for each month contained in each book.
Mini Months Page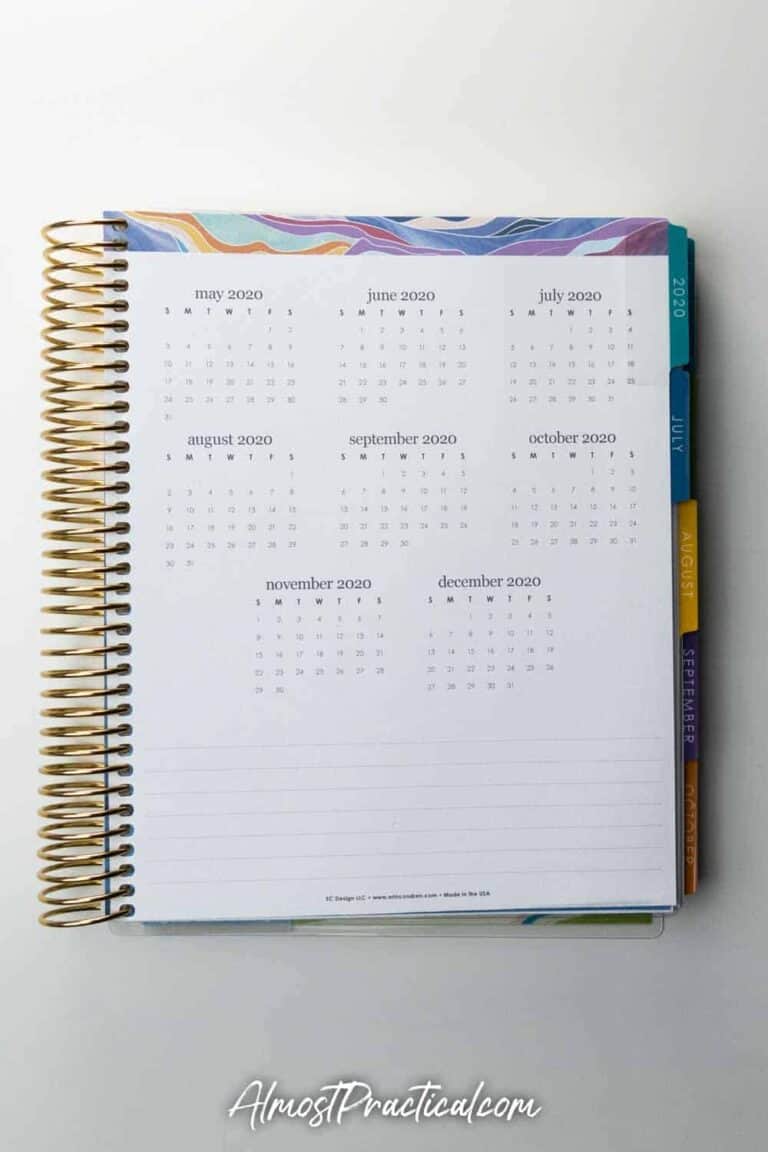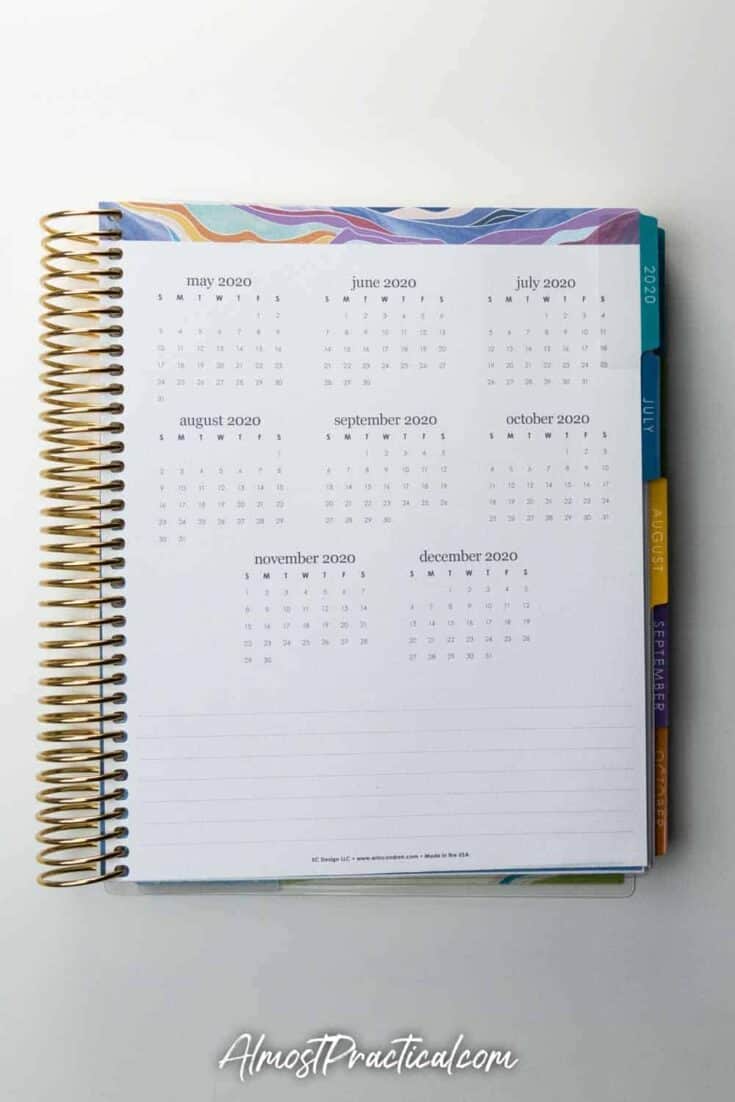 The next page in each book sports mini months.
In Book 1 this is May 2020 through December 2020 on the front side and the calendar year of 2021 on the back.
In Book 2 this page includes January 2021 through June 2021 on the front and the calendar year 2022 on the back.
You might notice, like I did, that the months included are a little odd. I'm not sure why Book 1 starts with May.
And in Book 2 the front side of the page ends with June 2021 but the reverse side starts with January 2022. So you don't see the months from June 2021 to December 2021 here at all.
I think it would have been better just to include the mini months for the entire 2020 and 2021 calendar years in Book 1 and mini months for the entire 2021 and 2022 calendar years in Book 2.
2 Page Per Month Spread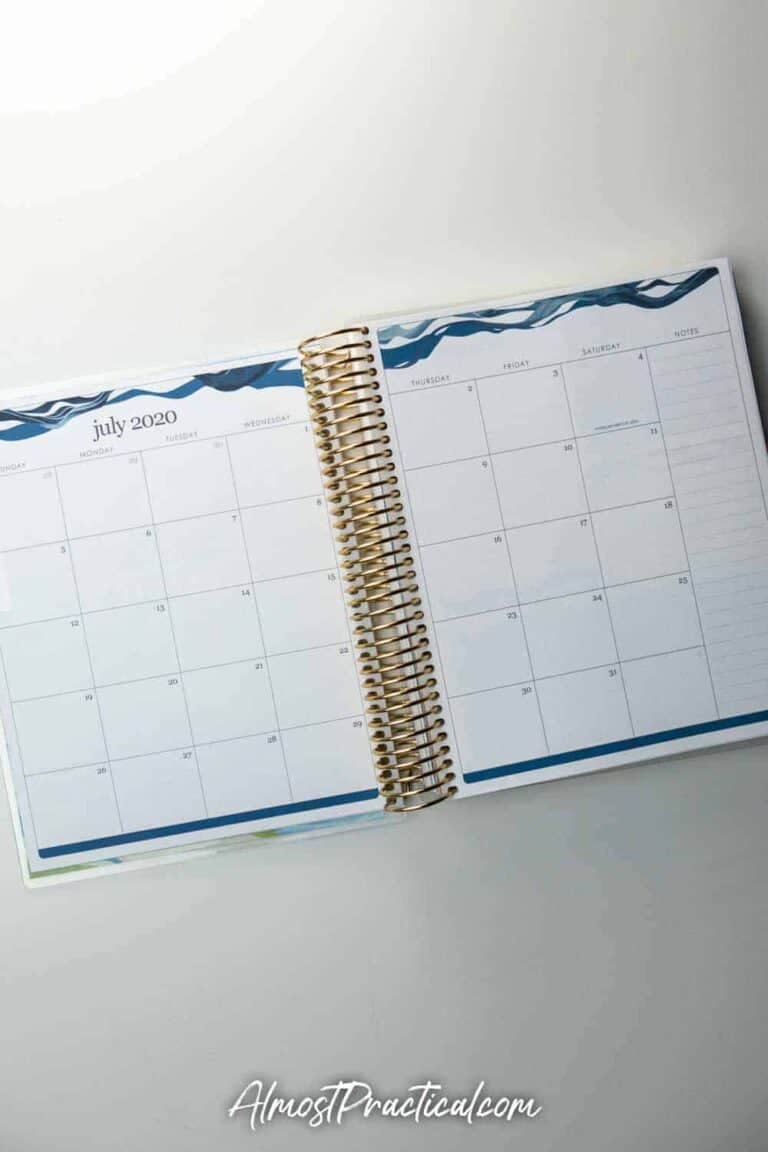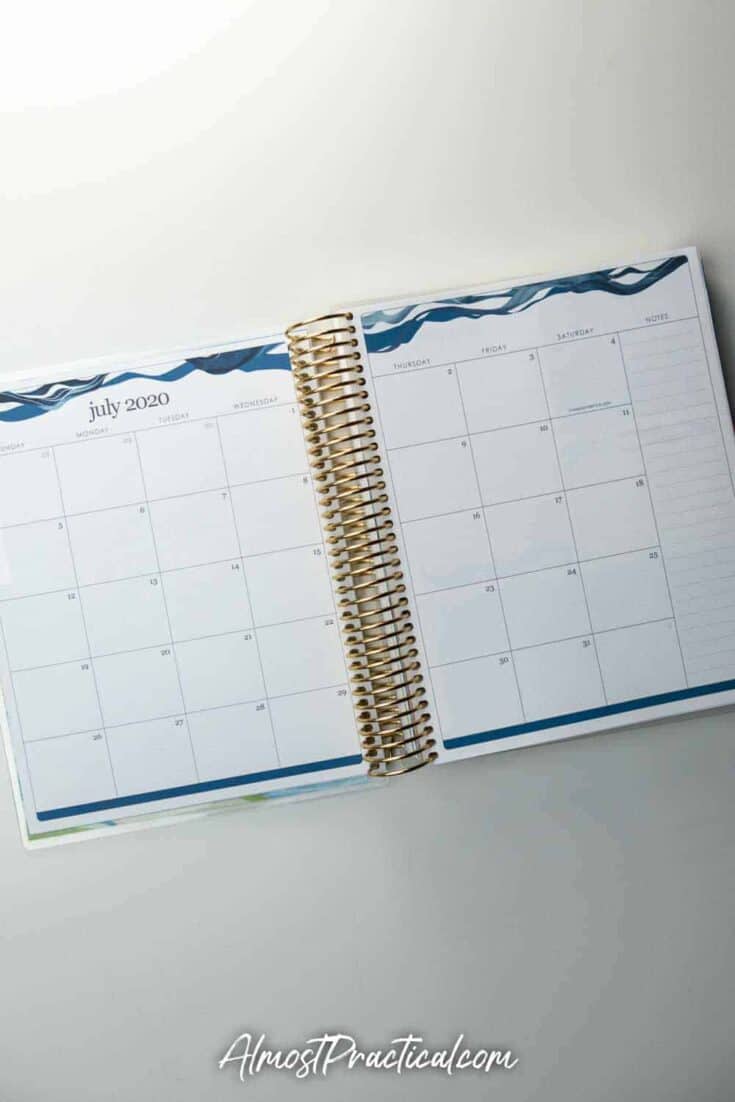 After the mini months is a quotes page which is also the tab for the first 2 page monthly spread included in the planner.
This is a traditional monthly calendar layout with squares for each day and a lined column for notes on the left side.
Productivity Pages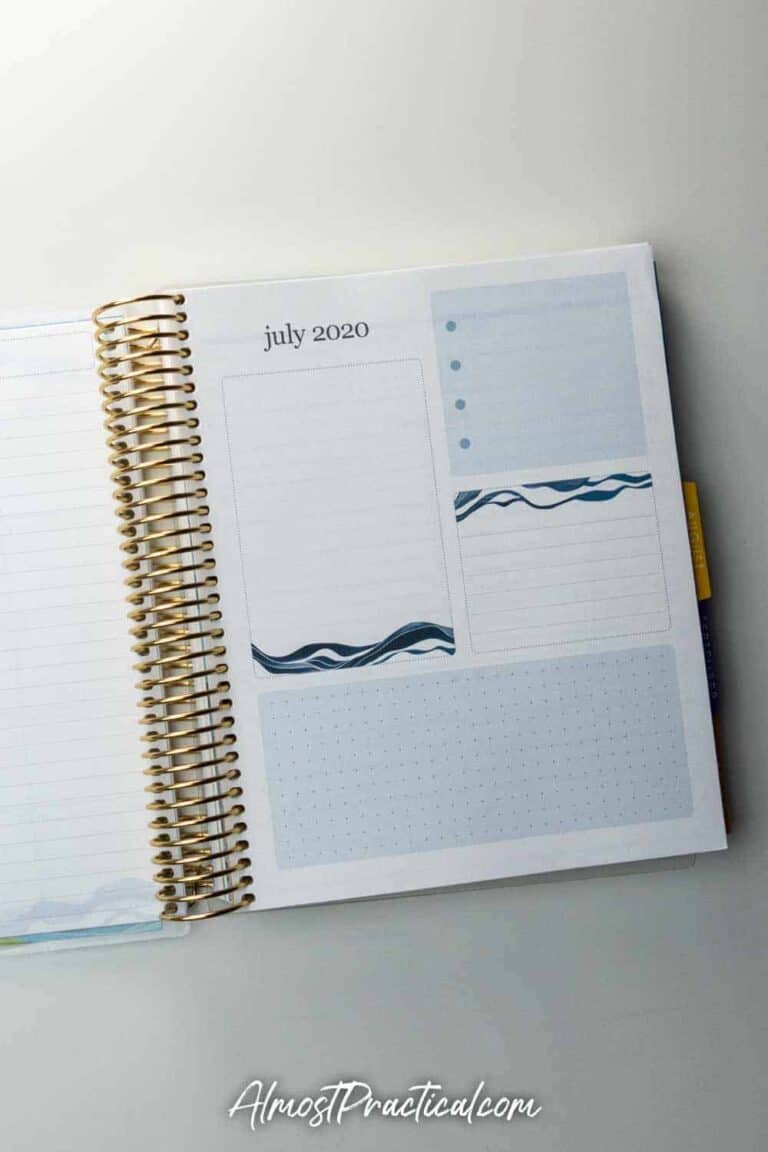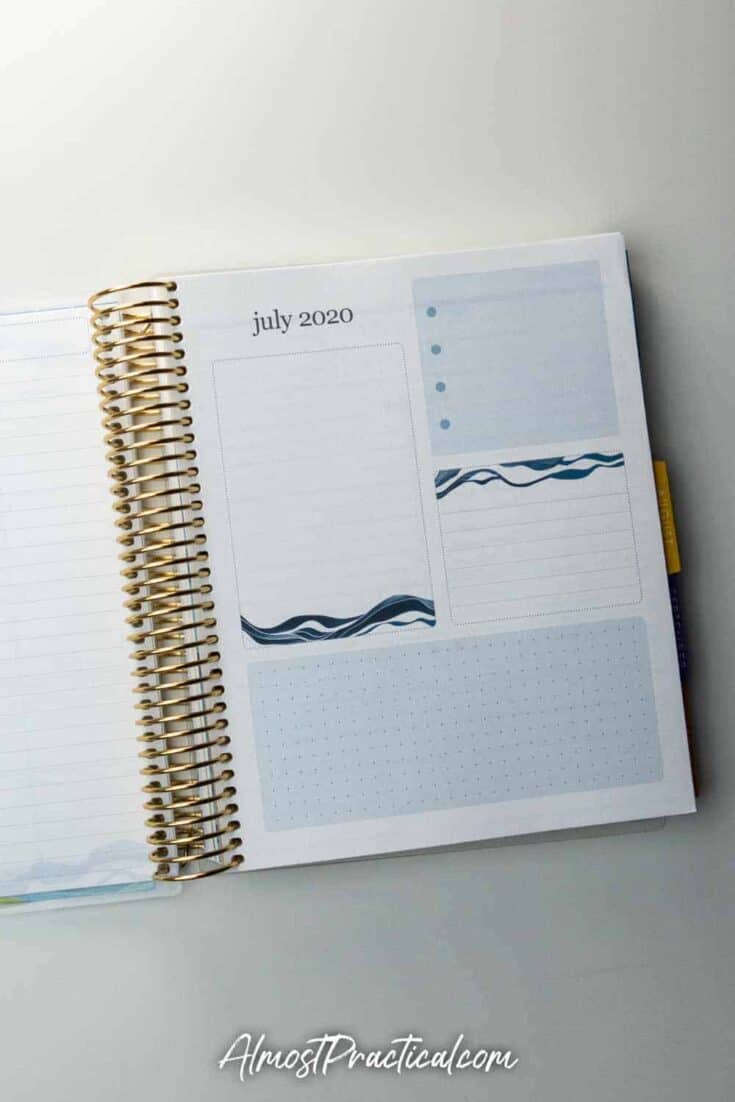 The next two pages after the monthly spread are productivity pages.
This is a blank lined page as well as another that is split into a few different sections including:
a shaded dot grid area,
a list type box,
an empty box with the layers design, and
a small lined area.
There are two improvements to note here compared to last season's Kaleidoscope design.
First, the productivity pages are located after the monthly calendar spread.
This is so nice because when you open the planner to a month tab – you are actually looking at the month.
Last season the productivity pages were located on the tab and the second page was the month.
So this is definitely better and more useful in the new Layers design.
Daily Pages
After the productivity pages, you move right into the daily pages.
The daily pages are a 1 full page per weekday and both weekend days on a single page, for a total of six pages per week.
Weekday Pages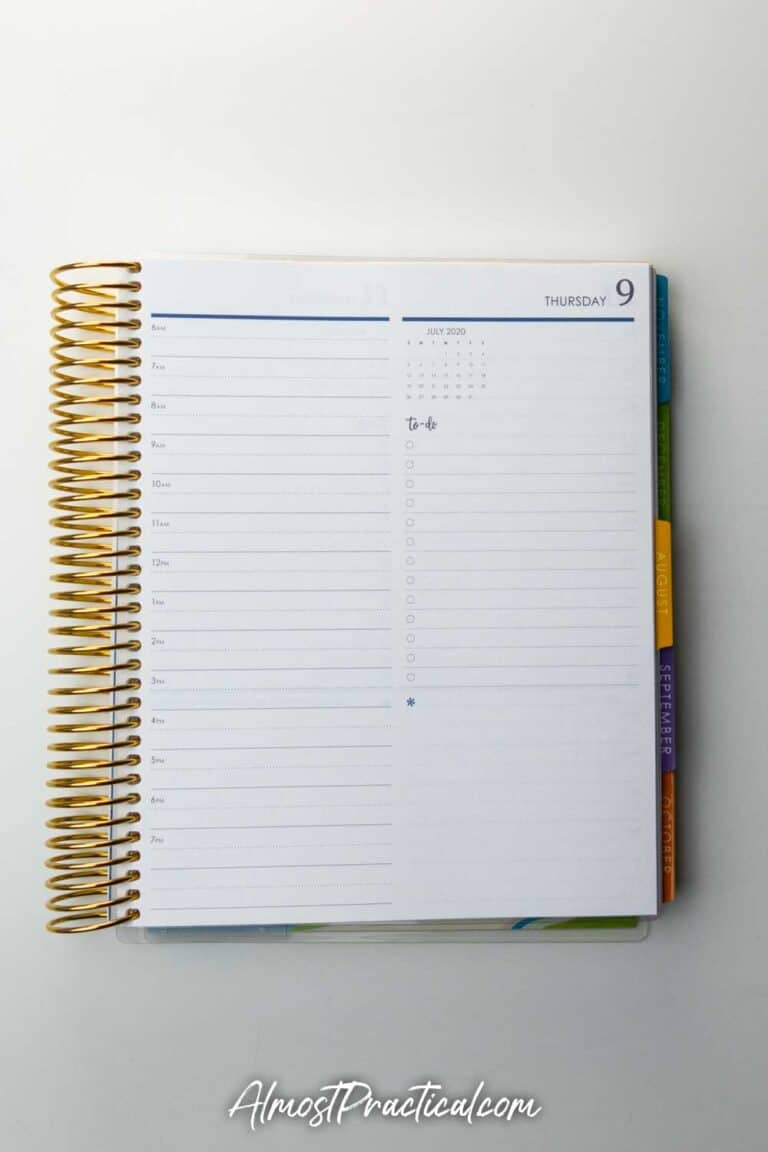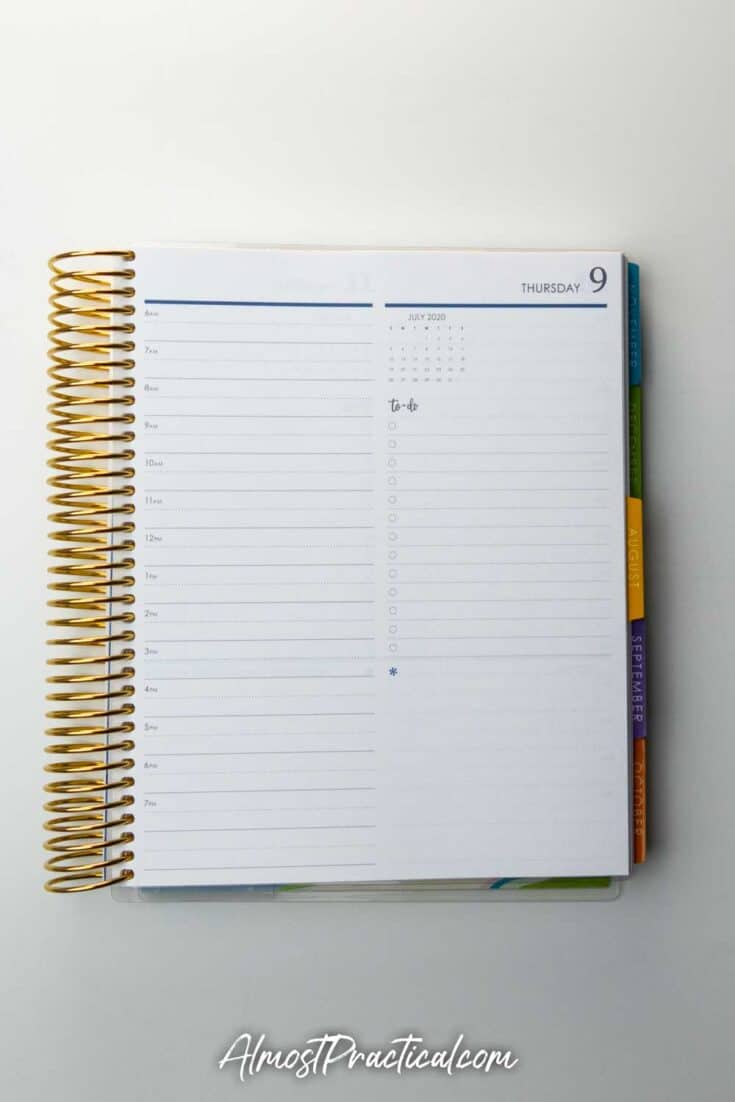 The weekday pages are divided into two columns.
The left column is an hourly layout that begins at 6am and runs to 7pm with two lines provided for each hour.
There are an extra two lines at the bottom of the column for any evening events beyond 7pm.
The righthand column begins with a mini month and a small blank area followed by a to do list section and a larger blank notes area at the bottom.
In addition, there is blank space at the very top of the page that you can also use for addition planning.
This area is great for writing in a headline, highlighting an important event, or including an inspirational quote.
Weekend Pages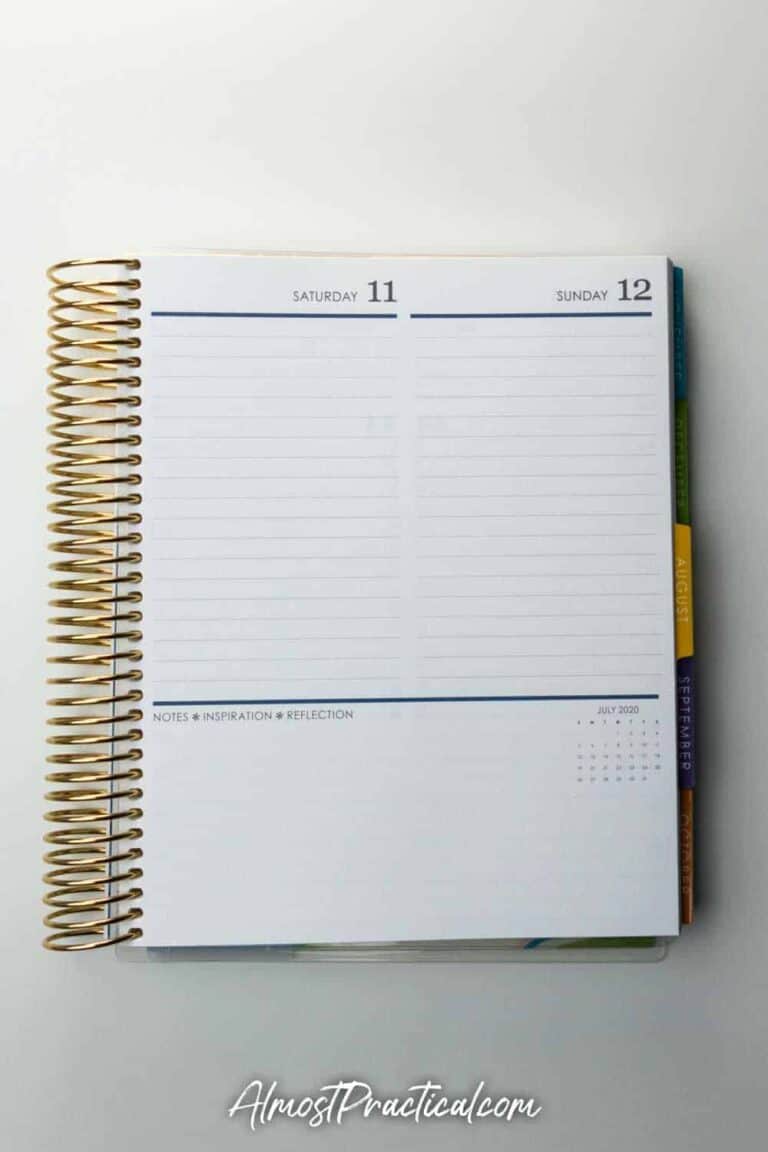 The weekend pages are laid out differently.
Both Saturday and Sunday are located on a single page.
The top two-thirds of the page include two columns – one for each day. These are just simple lines with no embellishments.
The bottom third of the page is a blank area that can be used to reflect on the week that has passed and plan for the week ahead.
Unique Colors for Each Month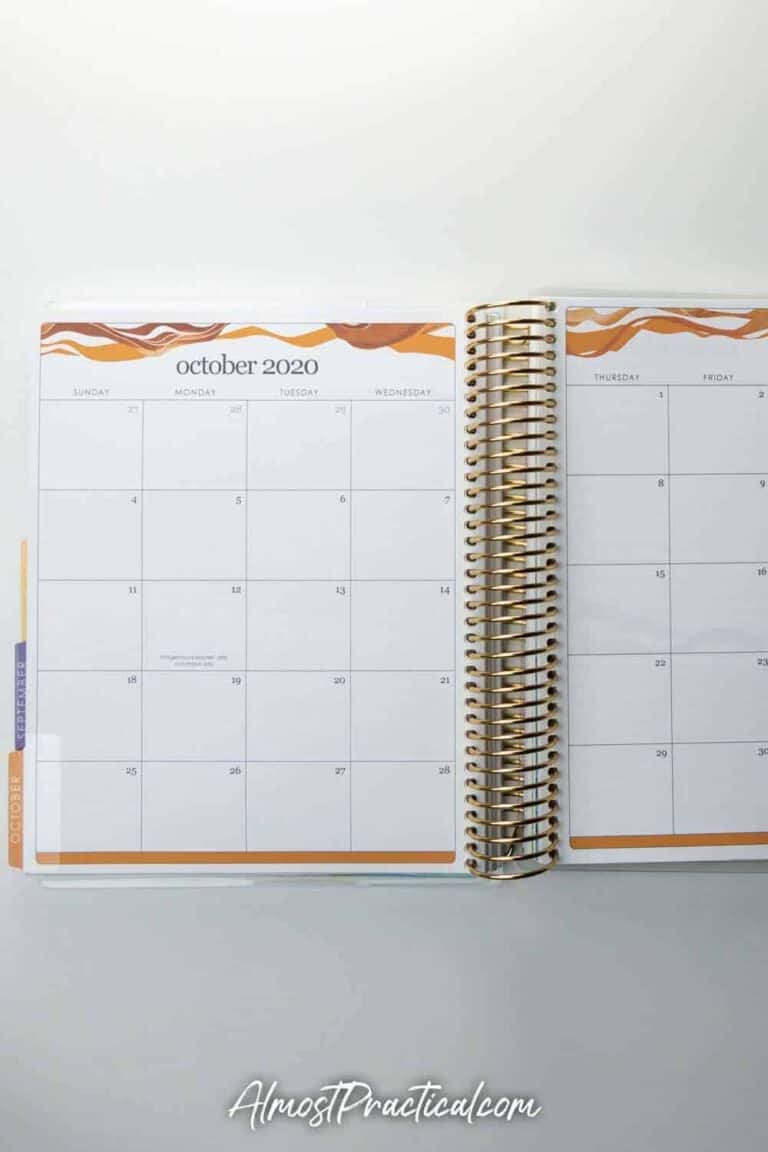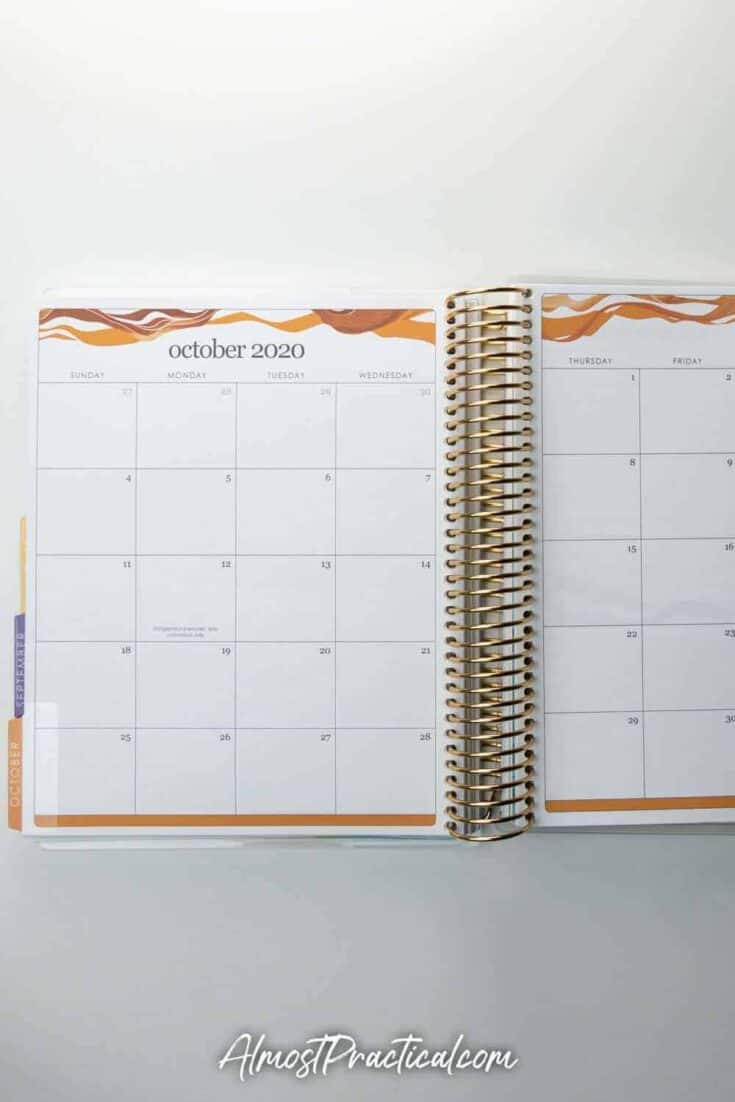 This pattern repeats for all the months and days throughout the planner.
As the Daily Duo LifePlanner comes in the Layers colorful theme, you will see that each monthly spread features a different color and this color is included on an accent line throughout the daily pages.
Sticker Pages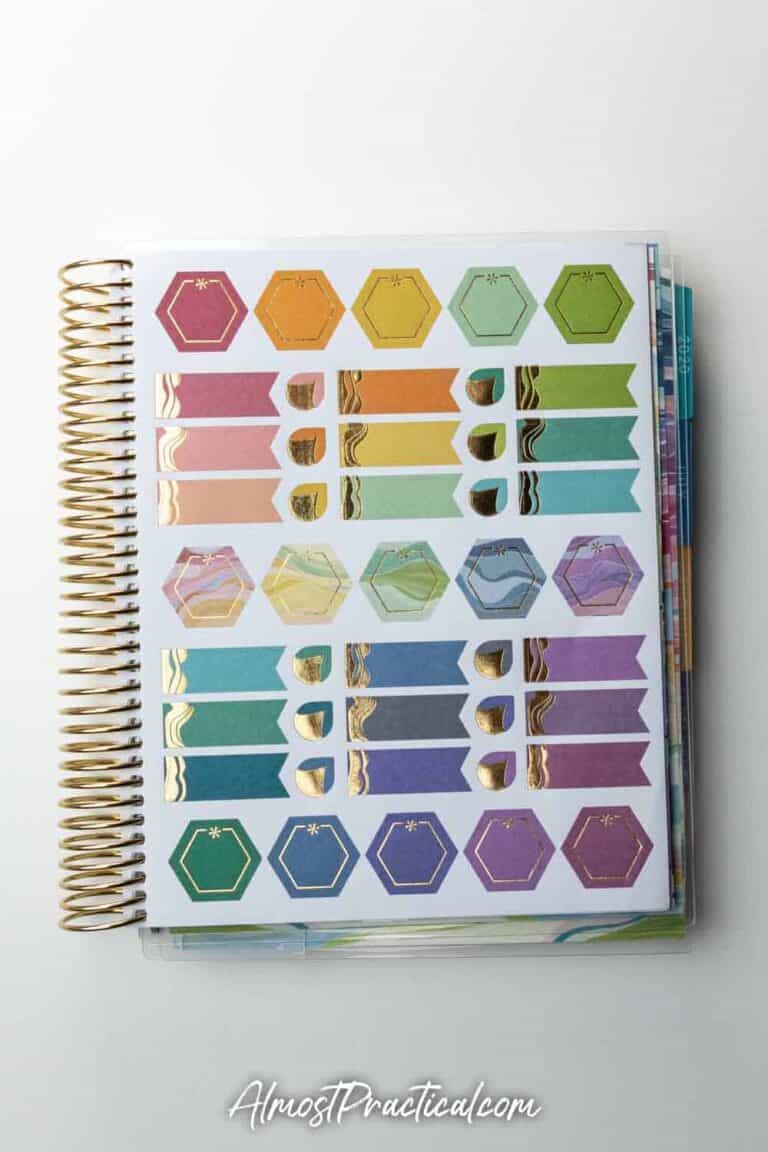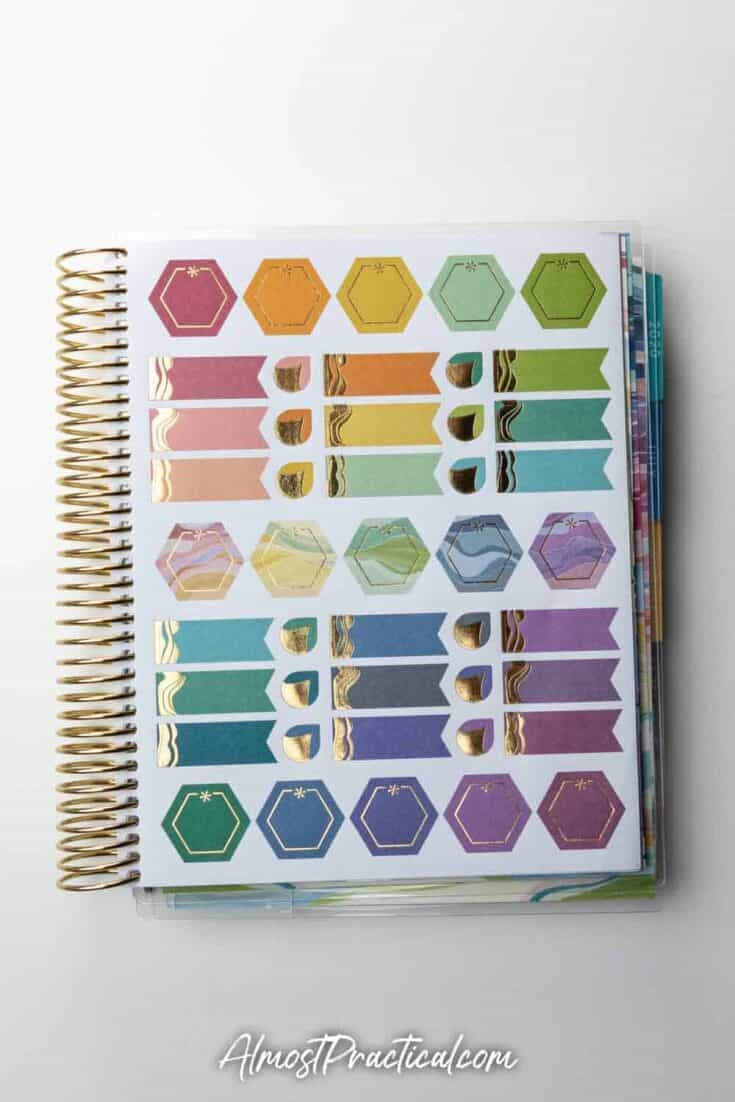 At the end of both books in the Daily Duo are 4 pages of planner stickers.
These are beautiful labels, flags, and shapes that feature vivid colors, metallic accents, and the Layers pattern throughout.
Two Sided Folder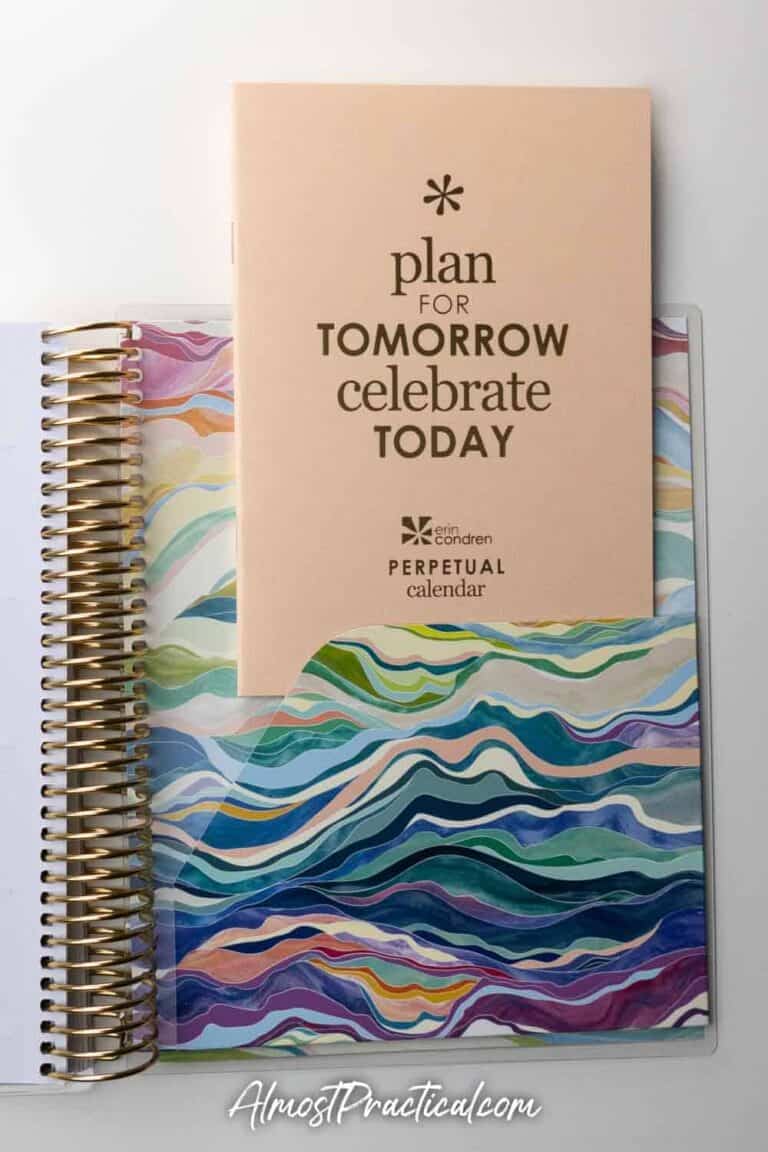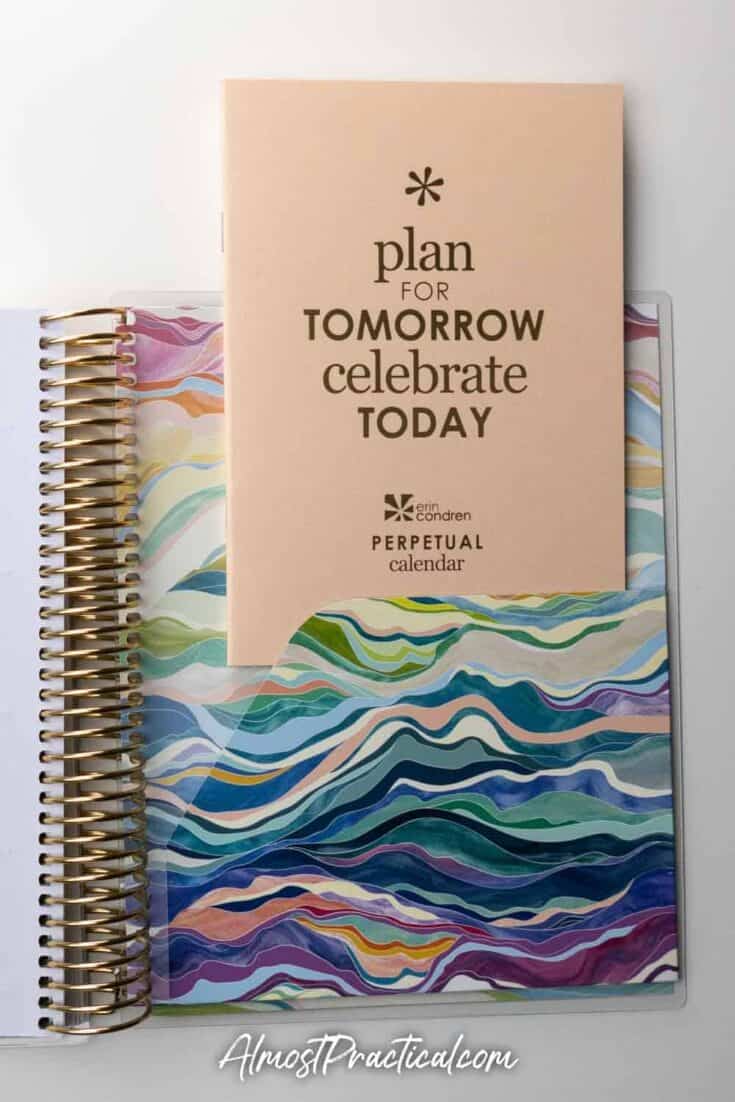 After the stickers is a sturdy two sided folder that features the Layers pattern.
Perpetual Calendar
You will also find a Perpetual Calendar booklet tucked into the folder in Book 2.
Welcome Packet
Included with the Erin Condren Daily Life Planner Duo is one Welcome Packet that contains a gift tag, compliment cards, a circular label, and coupons for friends and family.
Options for Customization
Now for the fun part.
Erin Condren products are all about customization.
And the all new coiled Daily LifePlanner is no different.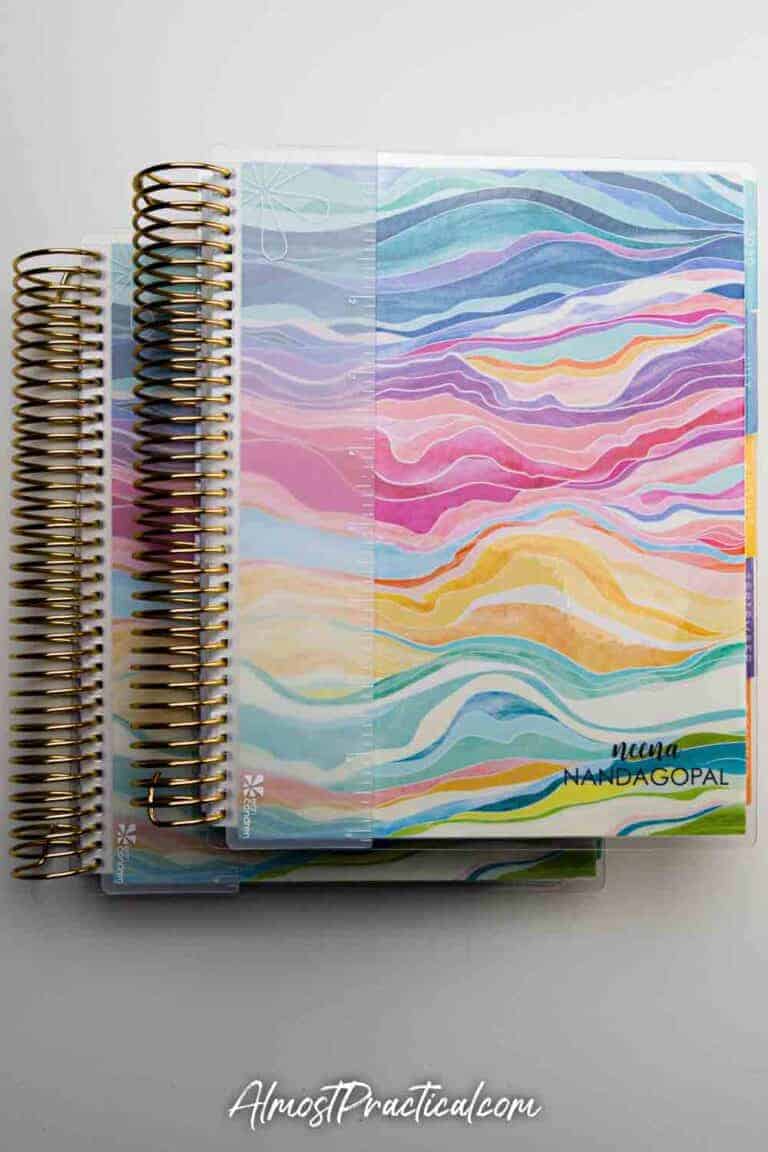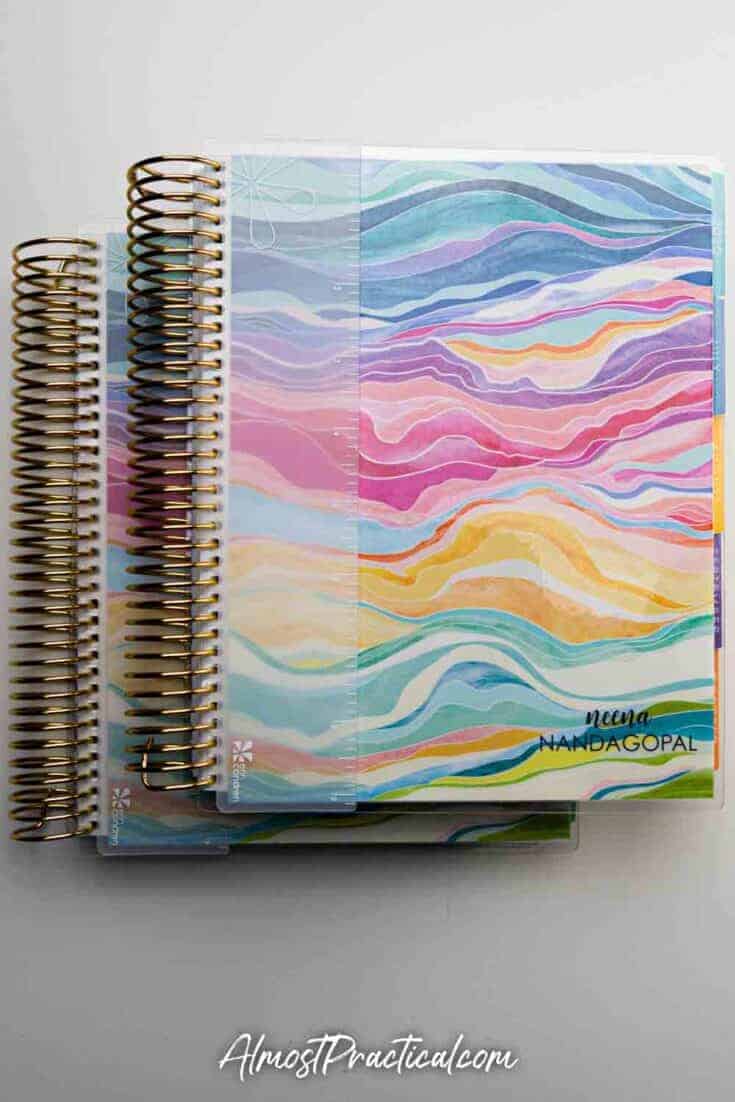 Personalize the Cover
As always you can choose from any of the interchangeable covers on the website, and customize your colors and the name, initials, etc that you put on the front. The selection is always changing and at one point they even brought back some Erin Condren Vintage Covers for a short time.
This customized cover will be on Book 1 of your Daily Duo.
In contrast, Book 2 will include a complimentary colorful Layers cover that is not personalized.
But there is a BONUS!
For a limited time, Erin Condren is including a coupon with the Welcome Packet for a FREE personalized interchangeable cover that you can use with a future order.
So, essentially, you are getting 3 covers with the Daily Duo LifePlanner. Yay!
Choose the Coil Color
There are 4 coil colors that you can choose from:
platinum (silver) is standard,
gold (additional charge),
rose gold (additional charge), and
black (additional charge).
Whichever coil cover you choose will be used for both books in the Daily Duo.
I chose the gold coil for my LifePlanner that is pictured in this post.
Internal Color Scheme
Your choices for the internal color scheme, however, is limited.
At this time the Erin Condren Daily Duo Life Planner is only available in the Layers colorful theme.
But keep in mind that the design itself is very minimalistic and the only colorful embellishment on most of the daily pages is a colored stripe.
So for those of you who love a neutral theme, well, you might just be ok with this colorful theme anyhow.
Planner Accessories in the Layers Pattern
What is a planner without coordinating accessories, right?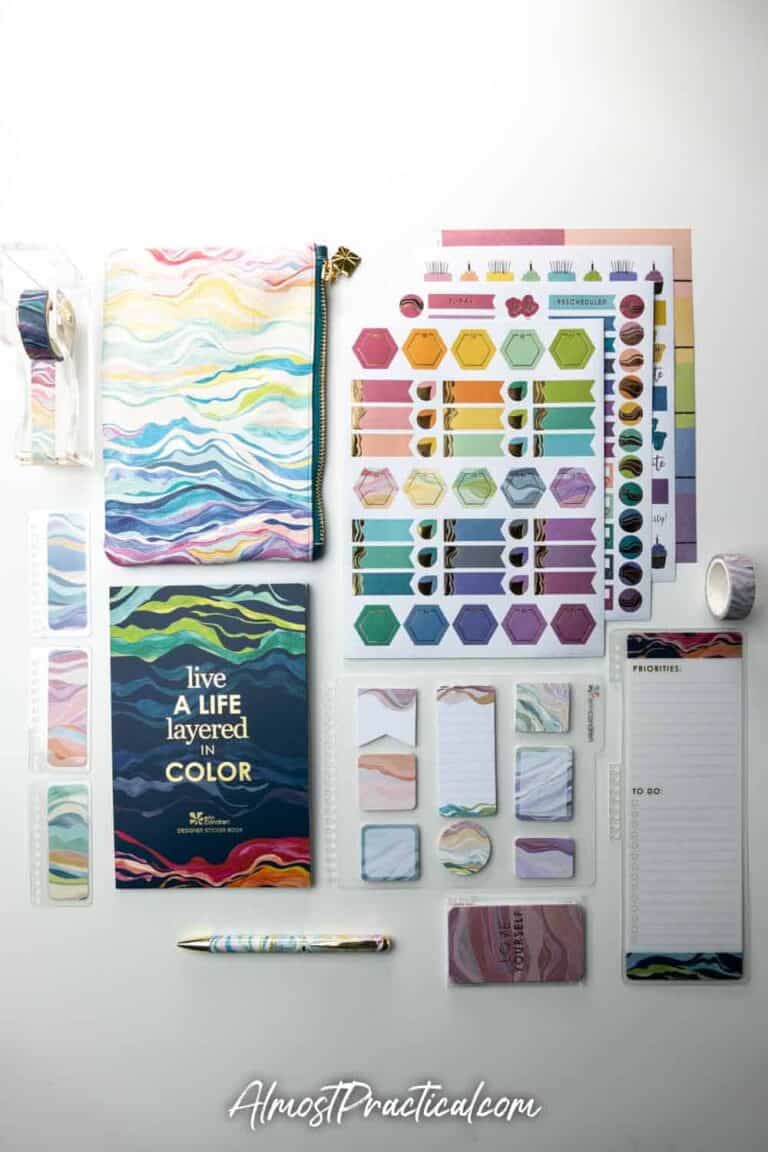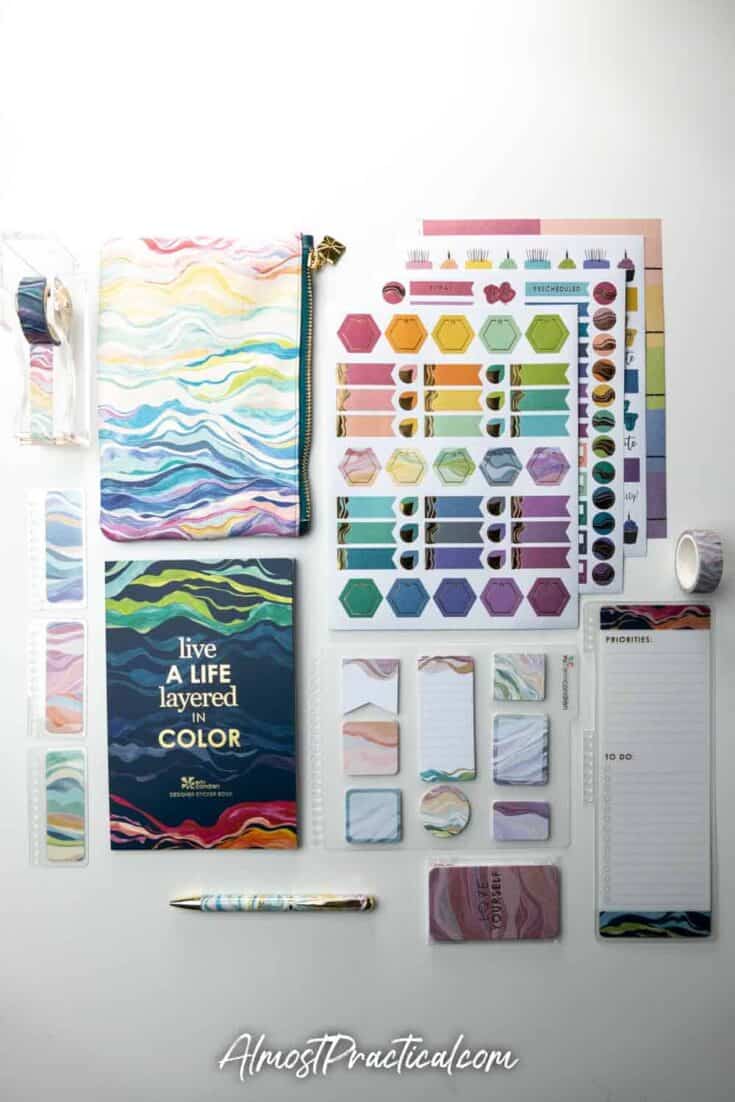 The all new Layers theme comes with lots of accessories as well:
sticky notes
dashboards
bookmarks
washi tape
pens
stickers
and more stickers
Planny Pack
and compliment cards.
Just to name a few. 😉
In Summary
There is so much to love about the new Daily Duo Life Planner from Erin Condren.
The one page per day layout gives you lots of room for planning out your schedule, to do lists, and making notes.
Every month features a traditional calendar so you can see the big picture, too.
You also can customize the cover and the coil color.
And, of course, there are a bunch of coordinating planner accessories to make planning fun.
I encourage you to CLICK HERE to check out the new collection.