Erin Condren Daily Duo vs Hourly LifePlanner
This post may contain affiliate links which means I make a commission if you shop through my links. Disclosure Policy
This year Erin Condren has so many great planners out that it is hard to pick just one.
In addition to the hourly, vertical, and horizontal LifePlanners, there is also a new DAILY layout, which is known as the Daily Duo.
It is really a tough choice.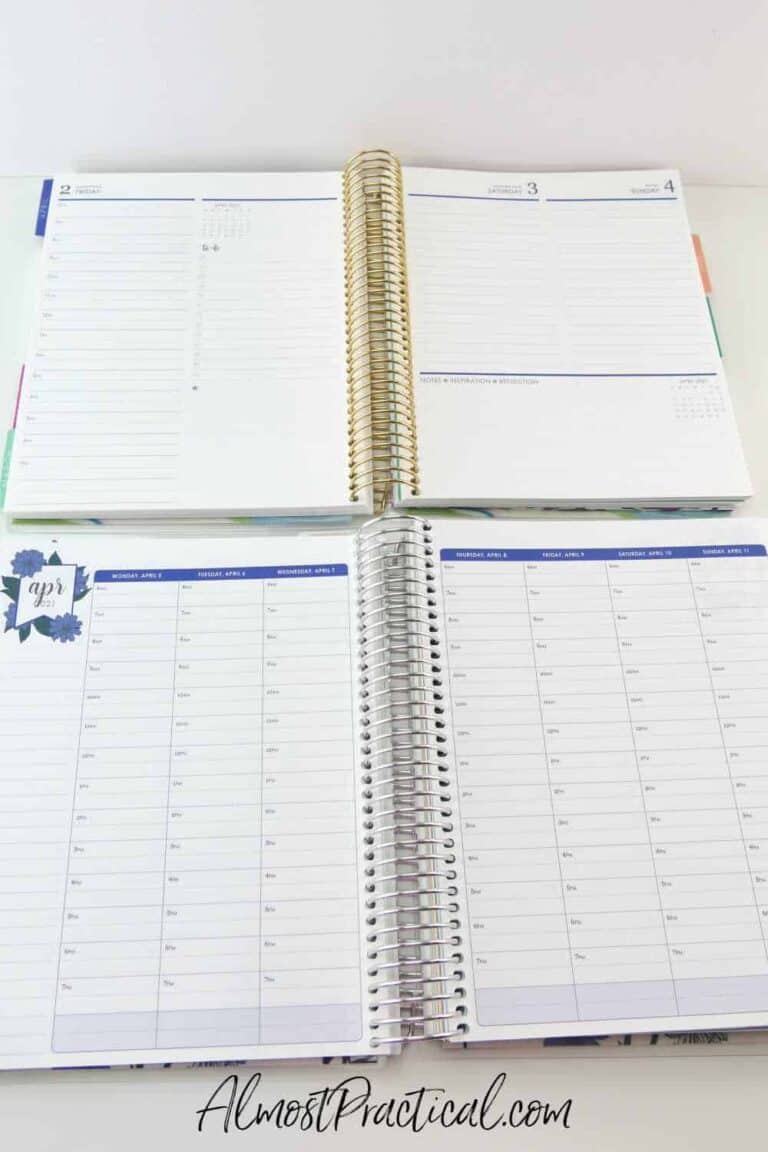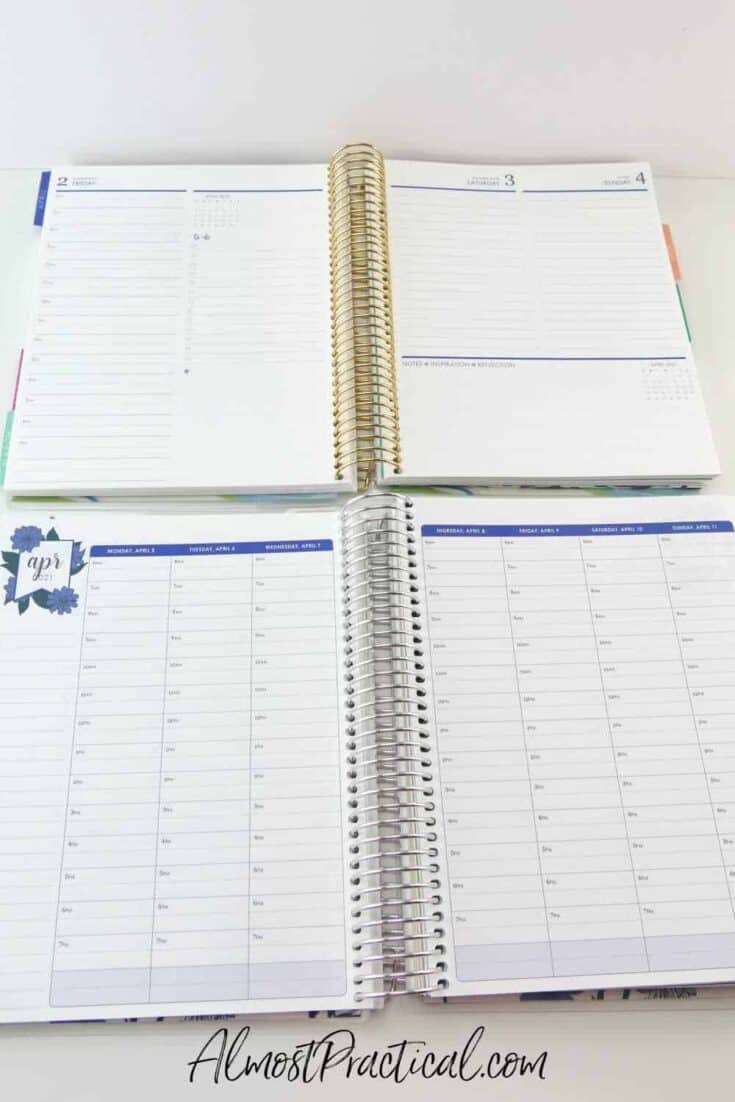 So today, I am going to compare the Erin Condren Daily Duo to the Hourly LifePlanner – and give you some ideas to help you make that decision.
The Hourly Layout
The Hourly LifePlanner is a two page per week layout that has columns for each day.
For 2020/2021 this layout starts at 6am and goes to 7pm with 2 lines for each hour and an additional unlabeled 2 lines at the bottom.
There is a notes column on the left where you can list your to do items or other types of notes.
The Daily Duo Layout
The Daily Duo LifePlanner is a basically a one page per day layout except for weekends where Saturday and Sunday share a page.
On each weekday page there is a column for hours – similar to that of the Hourly LifePlanner.
The day starts at 6am and goes to 7pm with two lines for each hour and two additional at the bottom.
In addition to the hourly column, each weekday page includes a shortened column for to do items, a blank notes section at the bottom, and a mini month area at the top.
You can read my full Erin Condren Daily Duo Review here.
What You Give Up
Both the Daily Duo and the Hourly LifePlanner have a lot to offer but there are some limitations.
Limitations of the Hourly
The strength in the hourly layout is that you can easily see a high level view of your whole week at a glance.
This makes it easy to visually plan your whole week by filling in the blanks with the things you need to do.
But what you give up is space.
There is not much room in the hourly layout to list daily to do items or jot down notes.
The way to fix this is to carry a separate notebook – something like a Softbound Notebook or Petite Planner – to keep track of these thoughts.
Limitations of the Daily
The Daily Duo on the other hand has PLENTY of space for mapping out your daily schedule, listing out your daily to do's, and even writing notes, drawing doodles, or capturing a random thought.
What you give up with Daily Duo is that birds eye view of your whole week in one spread.
One way to get around this is to make good use of the two page monthly spread (a traditional calendar view) for each month.
You won't see an hourly breakdown but you can at least write in the important appointments and events that you cannot miss.
How to Decide Which One Is Right For You
Hourly – use a notebook or online to do app for To Do List Items
Daily – use the monthly view for a birds eye look at the week ahead.
Use them both! Daily for your own calendar, hourly for family. Or Daily for rough work and hourly for official record/memory book.
I bought both. And will likely use as described above.
Try a Different Layout
One thing to think about is this: If you are leaning towards both, you don't have to get the weekly LifePlanner in an hourly layout, since you already have that in the Daily Duo.
You could go with the vertical or horizontal layouts instead.
The horizontal is great for journaling little snippets every day and the vertical works well as a memory book where you just jot down the highlights and paste in a picture or two.
Be sure to check out the tips in my Erin Condren Planner Buying Guide here to help you decide which planner is right for you.
Mix and Match Designs
Since the Daily Duo only comes in Layers Colorful, I got the hourly LifePlanner in Flower Power.
Even though they are two different patterns, the colors for each month coordinate.
I feel like I got the best of both worlds because I can enjoy both designs.
If you love the Layers design, get the weekly LifePlanner in the Layers neutral to complement your Daily Duo in the Layers colorful.
More Space or a High Level View
When choosing between the Daily Duo or the Hourly LifePlanner, it really comes down to personal preference.
With the Hourly LifePlanner, you sacrifice additional space to jot down your to do list items, notes, and other important bits and pieces of information.
But in the Daily Duo, you miss out on the big picture for the week.
Personally, if I had to choose, I would probably go with the Daily Duo because it does include an hourly column, and use the monthly spread as my high level view.
Give it some thought and if you just can't decide – then try using both.
Happy Planning!