How to Choose a Nightstand for a Small Bedroom
This post may contain affiliate links which means I make a commission if you shop through my links. Disclosure Policy
One of the most overlooked pieces of furniture in a small bedroom is the nightstand.
This little table can do so much more than just hold your lamp and your phone charger.
Get the right kind and you can add storage space you never knew you had.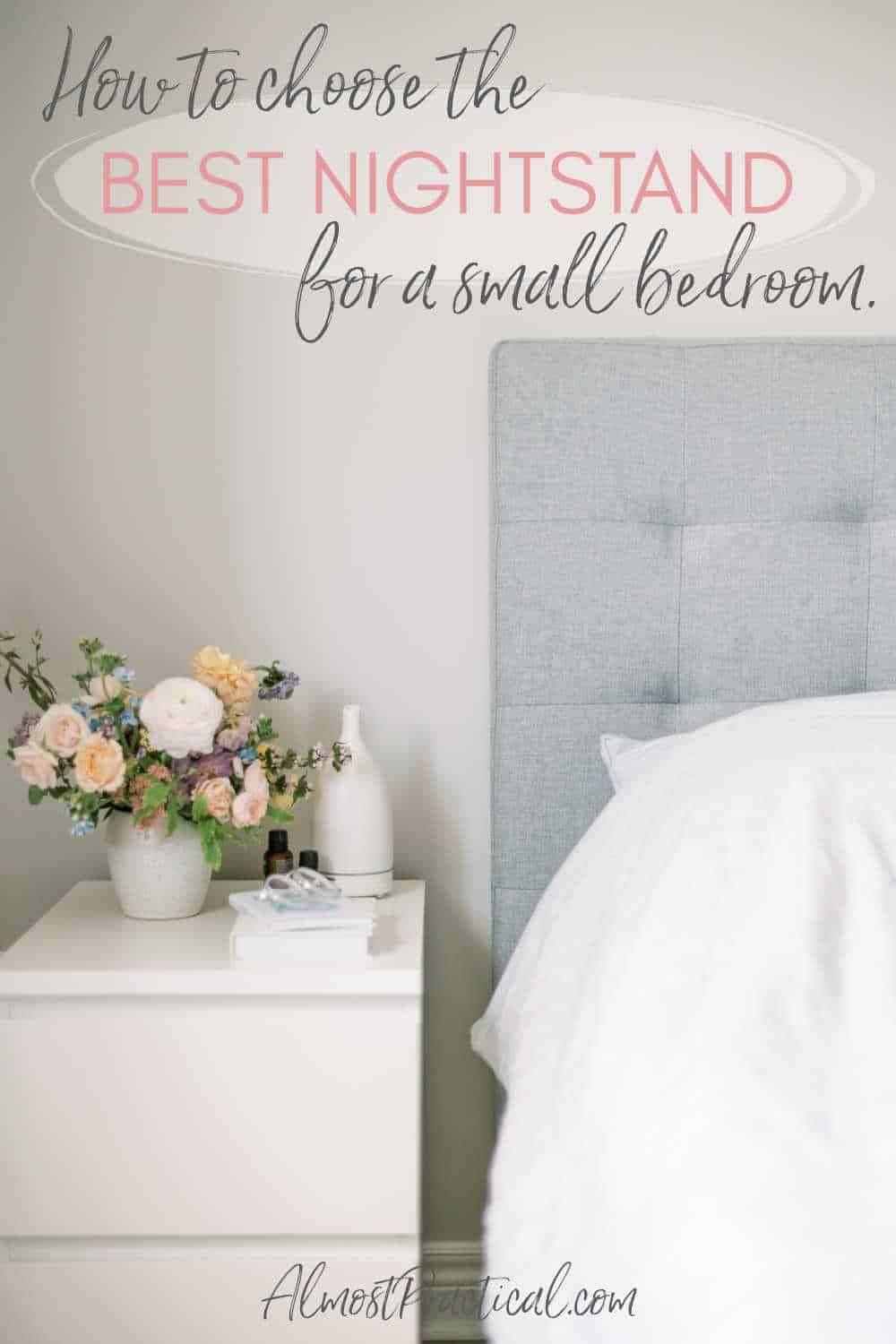 If space is tight in your bedroom – here are a few things to consider when shopping for a new nightstand.
Measure Your Available Space
The first thing you should do is measure your available space.
In a small room it is likely that you only have a finite amount of space between your side of the bed and the wall.
Or perhaps, you have two twin beds with a set amount of space in between.
Measure this space so you know how wide you can go with your nightstand.
Go For Drawers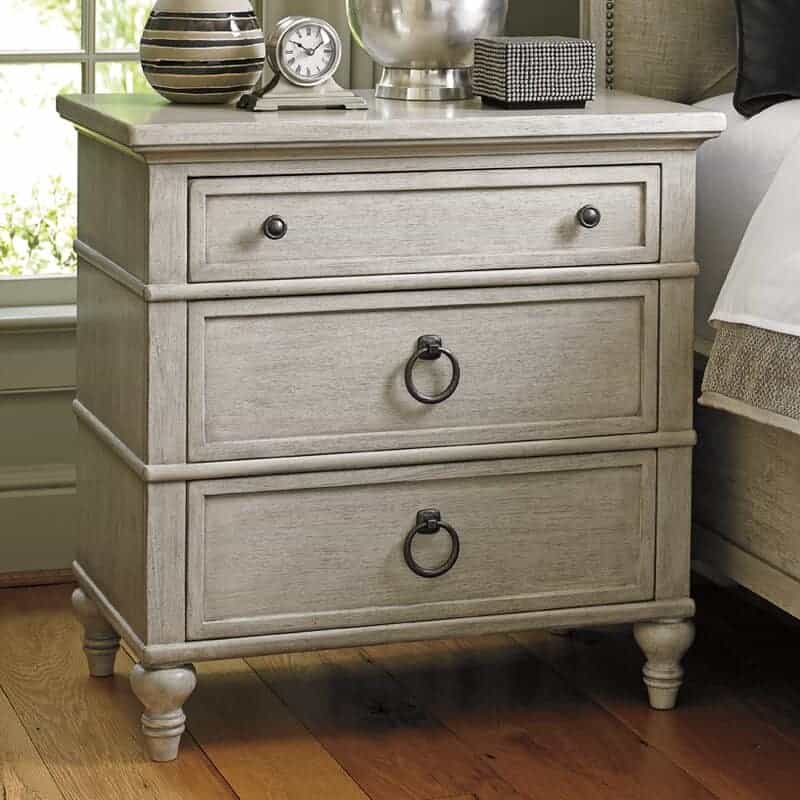 If it is storage that you need, go for drawers.
It is tempting to buy those Pinterest worthy nightstands that are really nothing more than just shapely tables.
But if you do that you are going to waste a lot of space.
In a small bedroom you can use the drawers in your nightstand to store clothes.
A nightstand is a perfect spot for storing pajamas, an extra sweatshirt, or socks – especially if you get cold at night.
Consider a Wide Chest of Drawers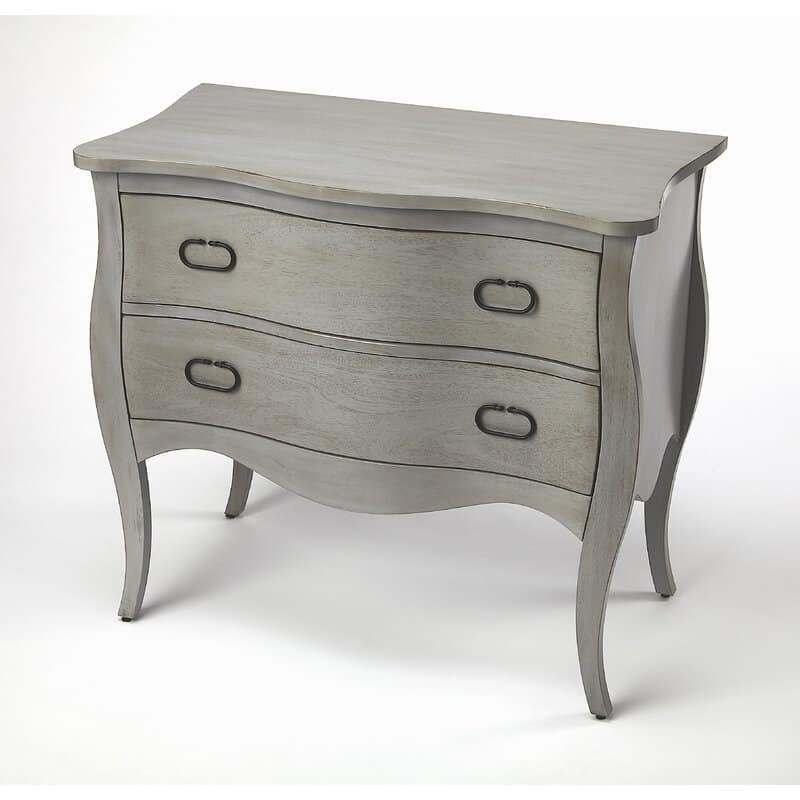 Most nightstands are relatively narrow pieces of furniture.
This means that even if it has drawers, they will be pretty small and you won't be able to fit much in them.
If you have enough wall space you should consider using a wide but low chest of drawers as a nightstand, instead.
You want to choose something that is around the same height as the top of your mattress, so you can easily reach the light, the alarm clock, your phone, eyeglasses, or anything else you might need on the surface.
In my guest room I went with a bombe style chest to fit between two beds and it works perfectly.
How Will You Use Your Nightstand?
Personally, I always go for more drawers, but sometimes a shelf might be more useful.
For example, if you don't have space for a vanity in your bedroom or bathroom, you might use a caddy to organize your makeup. In this case, the bottom shelf of your night stand is a great place to store it.
If you love to read before you hit the sack then you may prefer having a nightstand with bookshelf space as well.
Here are Some Nightstand Options
Here are a few options in nightstands for small bedrooms that I found.

Function Over Form
Remember that when it comes to furnishing small spaces – you need to go with function over form.
Measure your space, always choose drawers, and consider going as wide as you can.
Storage space is so important, so prioritize that first.
Luckily, there are lots of great looking options that offer plenty of storage!
Happy shopping!