How to Organize Credit Cards, Rewards Cards, Gift Cards and Membership Cards
This post may contain affiliate links which means I make a commission if you shop through my links.
 Disclosure Policy
If you have a bunch of credit cards, rewards cards, and membership cards floating around your home office, then you will love this solution for organizing them all in one place.
It may seem like a weird dilemma – needing to keep track of a lot of credit cards, because, really we should just have what we use and need. But it is not just credit cards that need to be organized – it is credit card shaped items.
TL;DR – A Leather Credit Card Folio That Holds It All
And this little folio that I found does the trick!
Our Pick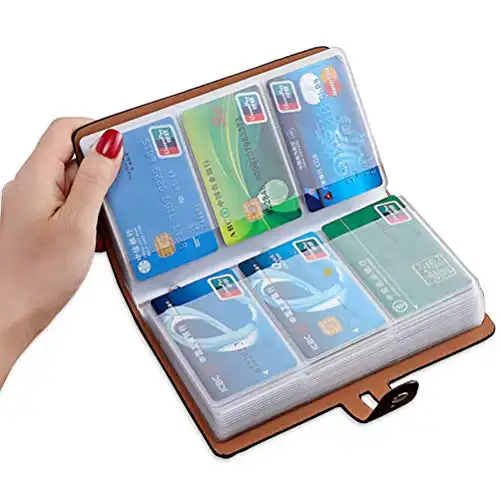 Leather Credit Card Folio
Corral all of your credit cards, rewards cards, and membership cards in this convenient credit card folio that comes in many colors.
Buy Now
This credit card folio has slots for 96 credit cards or credit card shaped items.
You can also easily use it to store business cards.
Why We Have So Many Credit Card, Rewards Cards, and Membership Cards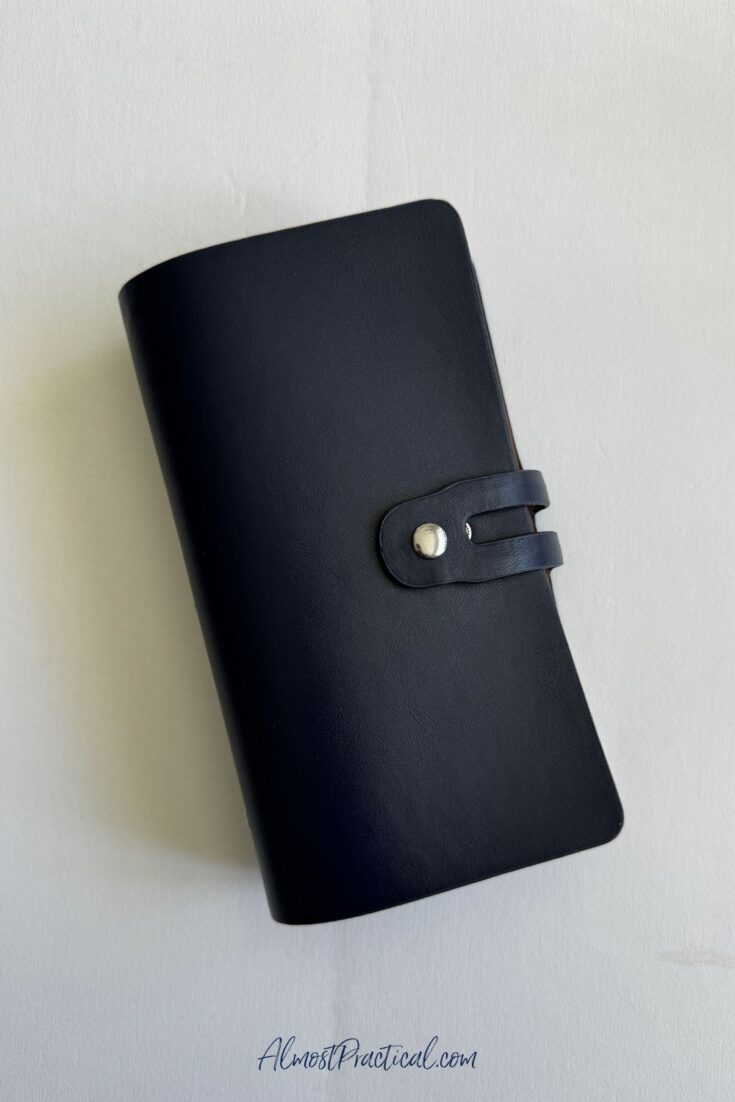 I kind of feel like this excess of credit card shaped objects has creeped up on me.
Credit Cards
Personally, I still don't have many credit cards – but I know lots of people that open lots of them to take advantage of the different rewards programs that are offered.
Some cards offer great travel benefits like those from Amex and Chase, some store cards offer big discounts when you shop at their stores in person and online – there really is no end to the credit card offers that you can find.
And then some people have a business credit card in addition to their personal cards.
The number can quickly add up!
In the past, I would have my credit cards with me when I went shopping.
But these days I – like many other people – find Apple Pay to be the most convenient way to shop. So I usually have only one credit card with me – max.
Rewards Cards
Rewards cards have also grown in number.
Almost every store has a rewards program that comes with a membership card.
Typically, you not only get one rewards card – you get the standard credit card sized one, you get one or two minis to go on your keychain, you can access your card through an app, or in your Apple Wallet, and if all else fails – you can give the clerk your phone number and they will look you up at the register.
You don't even need to have your membership card with you at all!
Membership Cards
Membership cards also follow this pattern.
You may have a membership card to a big box store, a gym, a travel club like AAA, a professional organization, an alumni association, or any number of other organizations.
Usually, you can access these through an app as well – but even if you can't, you don't need to carry these on your person unless you are going to a place or in need of a service that the membership offers.
Where Do You Put All These Cards?
So, the big question is – if you are not carrying them with you, where do you put all these cards?
In fact, you may not even realize that this is a problem until you start shuffling them from one location to another.
You might have a stray card on your kitchen counter, or in your pile of mail that you can never seem to clear.
And then, when you actually need the card – you can't find it.
Maybe you saw it in that pile over there a few weeks ago?
Yeah – it's funny how too many credit card shaped objects can make you feel disorganized.
It's Time To Corral All The Cards and Store Them in One Place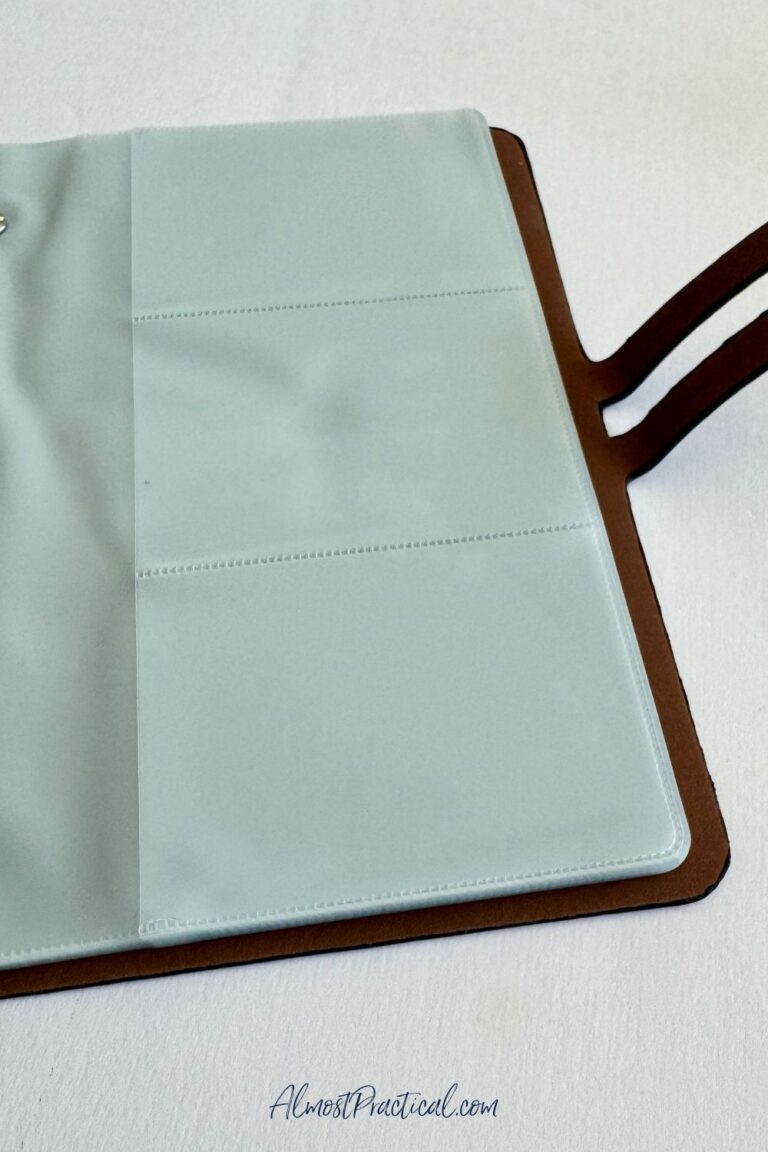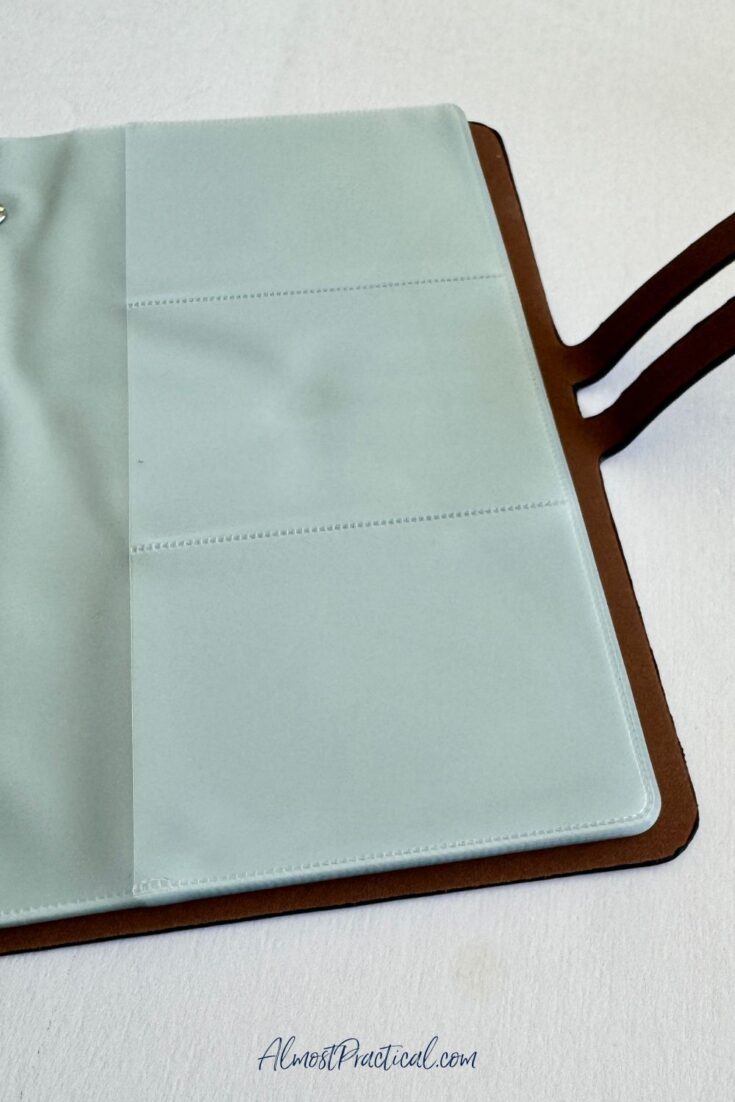 There are several ways to store all your excess cards and here are few that I have tried.
Use a Credit Card Folio
After doing this shuffle and trying out a few different solutions, I decided that a credit card folio was the best answer for me.
I really like the one by Romozi that I bought on Amazon.
It has 96 slots – which is way more than enough! – and comes in several attractive colors. I decided on navy blue because I am not too adventurous.
It is also quite affordable.
The downside is that it is hard to keep your cards alphabetized because when you get a new one, you will have to move all the old ones.
Use a Small Box to Store Your Cards
For those of you who know what it is – think Rolodex.
I used to use a small random cardboard box to store my credit cards – and it worked great. Except that my box didn't have a lid and I wanted something portable.
Unfortunately, I could not find a suitable storage box online in my searches. I did find boxes for business cards, trading cards, and index cards – but not credit cards.
I suppose a singe trading card storage box like this one could work but I did not give it a try and opted for the folio instead.
Use File Folders
If you have paperwork that corresponds to each of your cards – you could store the paperwork together with the cards in some fancy file folders in your home filing cabinet.
I did this for awhile but was afraid the cards would fall out of the folders when I moved them around.
You could also create a small pocket in the file folder for your card with a piece of paper and tape – but if I did this I worried that my family would not know where to find these important things if something bad happened to me.
How Do You Keep Track of Your Excess Cards?
Do you have a lot of credit cards, rewards cards, and membership cards that you don't know what to do with?
Have you found a great storage solution to keep them organized?
Please share your ideas in the comments below!
After having tried a cardboard box and file folders, I am sticking with a credit card folio for now.