Bathroom Closet Organization Ideas
This post may contain affiliate links which means I make a commission if you shop through my links.
 Disclosure Policy
Use these bathroom closet organization ideas to organize your toiletries, cleaning products, linens, and other bathroom essentials.
If you're like most people, your bathroom closet is a hot mess.
Between your beauty products, toiletries, and clothing, figuring out where to start organizing is the hardest step.
But don't worry – we've got some great ideas to help you get organized!
Keep reading for tips on how to create an organizational system that works for you.
How to Organize a Bathroom Closet
You may be tempted to start organizing your bathroom closet by running out and buying storage baskets and bins.
But I urge you to take a step back and start by creating some goals.
Use the SMART Goals framework to visualize your end result and set an achievable timeline by when you want to finish this project.
By defining the scope up front, you won't be tempted to go off on a tangent. And, if you do, you will be aware of how much time and additional resources you will need.
Prepare the Shelves
Begin by emptying everything out of the bathroom closet – so all the shelves are bare.
This allows you to start the organization process from scratch.
It may sound basic, but take the time to clean your shelves. This will help your project go more smoothly especially when it's time to put everything back.
Wipe your shelves down with a damp washcloth and get rid of any spills or stains.
If necessary, paint the inside of the closet and the shelves to give them a fresh, new look.
My own bathroom/linen closet has wooden shelves from probably the 1970's.
I decided to prime the shelves and treat them as well as the interior walls with a coat of paint.
Now is a good time to line the shelves with a sturdy shelf liner like this one.
Or if you have wire shelves that you want to cover with a solid surface – this video shows you a cheap and easy DIY solution.
Bathroom Closet Shelving Systems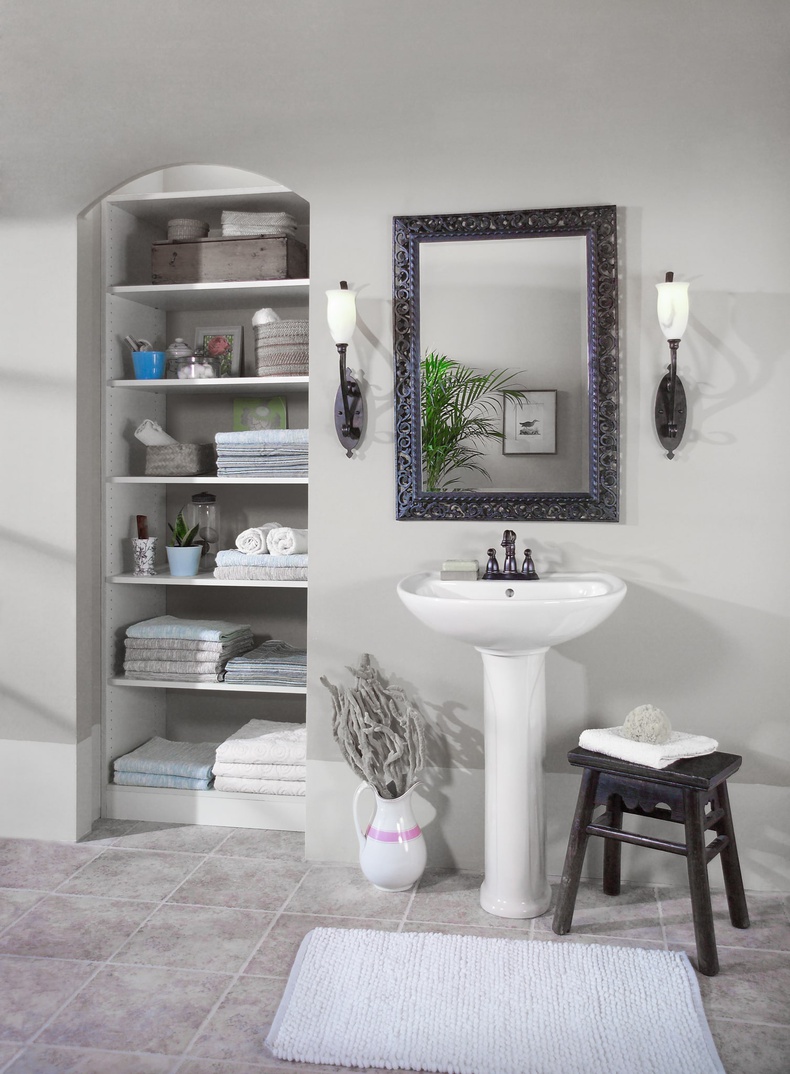 If you really want to do a complete closet makeover, you might consider replacing your bathroom closet shelves altogether.
You could invest in a custom or semi custom bathroom closet shelving system that is designed to fit all of your things.
EasyClosets offers a hybrid DIY custom solution that costs less than a professional install.
What Goes In a Bathroom Closet?
The next step is to figure out what you plan to store in your bathroom closet.
It really does depend on your unique home and how much storage space you have in other locations.
For example, if you have a separate linen closet then you most likely will not store sheets in your bathroom closet.
At this point, it helps to make a list of the items you will store in your bathroom closet – and also make a sticky note for each category.
Bathroom Closet Organization Categories
Some common categories for items found in bathroom closets are:
extra toiletries
medicines
toilet paper
cleaning supplies
bath towels
hand towels
wash cloths
soaps and body washes
shampoos and conditioner
toothpaste and extra tooth brushes
batteries (be sure to store these safely in a battery storage organizer)
sheets and linens
and even a vacuum cleaner or sweeper
Collect and Categorize the Items You Already Have
Now that your shelves are clean and empty, and you have a plan, it's time to start organizing the contents of your bathroom closet.
Start by sorting everything so that like items are grouped together.
In the book, The Life Changing Magic of Tidying Up – Marie Kondo recommends that you organize all your belongings by category – all at once!
I have to agree that organizing using this method is really good way to get a handle on all the things you have in each category.
So, when organizing your bathroom closet – don't just organize the stuff that you removed from the closet.
Rather go through your whole house and find all similar items and organize them at once.
Let's say you store bars of soap in your bathroom closet. But you also have some hotel soaps in the drawer of your makeup vanity.
Theoretically, you should be storing all your soaps together in the – so as part of organizing the bathroom closet, go and round up all the bars of soap you have in the house and collect them here in one place.
Use the Right Boxes, Baskets, and Bins
You now have your storage closet cleaned out and you've gathered all of your similar items together.
Now it is time to begin filling those shelves with items.
But here's a secret: If you want an organized bathroom closet, you need the right kind of boxes and bins to store your stuff.
It is important that the bins you choose are super functional.
You want your bathroom closet storage choices to be easy to use so the people in your family will actually use them.
The storage options you choose should also be large enough to store all of the items in each category with a little room to spare, in case you do a big warehouse run.
Personally, I like using tall and deep clear plastic bins to store toiletries and other items on my bathroom closet.
These sturdy bins hold tall shampoo bottles and lotions and they don't fall out or over when you move the bins around.
Because the bins are clear, you can see what is inside each bin without having to label it or pull it off the shelf to look inside.
But if you have an open bathroom closet without a door, you may opt for more decorative options in baskets and boxes to hide the contents.
Bathroom Closet Storage Options
Here are a few different types of storage bins that you can use in your bathroom closet.
These soft storage organizer bins are great for storing sheet sets. They come in different sizes and have a see through window, so you can easily see what is inside without having to open the bin.
I love clear plastic bins for storing toiletries in my bathroom closet. You can easily see what is inside and the sturdy plastic resists spills and messes. These bins come in a huge variety of depths and sizes, so measure you closet and find the ones that will work best for you.
If you want something more decorative, you can find pretty woven baskets to dress up your shelves and store all the essentials in plain sight.
Storage for Toilet Paper
If you have a closed bathroom closet, I find that storing toilet paper in it's original packaging is the most space efficient method.
You can use a cute toilet paper storage basket outside of the closet in the main bathroom area to store a few rolls in plain sight for easy access.
And if you are looking for a toilet paper stand that is super easy to change the roll on – this is the one for you!
How to Store Linens
Linens are always a challenge to store. The culprit is always the fitted sheets – they are so hard to fold neatly.
Some people take the time to tuck the corners into each other, and others place the folded sheet sets into a pillow case to make a neat package.
But I find that both of those methods take time and patience, both of which I do not have when it comes to sheets.
My solution is first to get rid of old sheets that I no longer use. Then I fold the ones I choose to keep as neatly as possible.
If space is an issue – remember that you really only need two sheet sets per mattress. One set will be on the bed, and the spare set is what you need to store.
If you have space in your bedroom closets, you can store the spare set of sheets in the bedroom to which it belongs.
Doing this will free up space in your bathroom closet.
You can store the sheet sets in a basket to hide the fact that they are not perfectly folded. Or just store them as best you can on a lower shelf.
How to Store Towels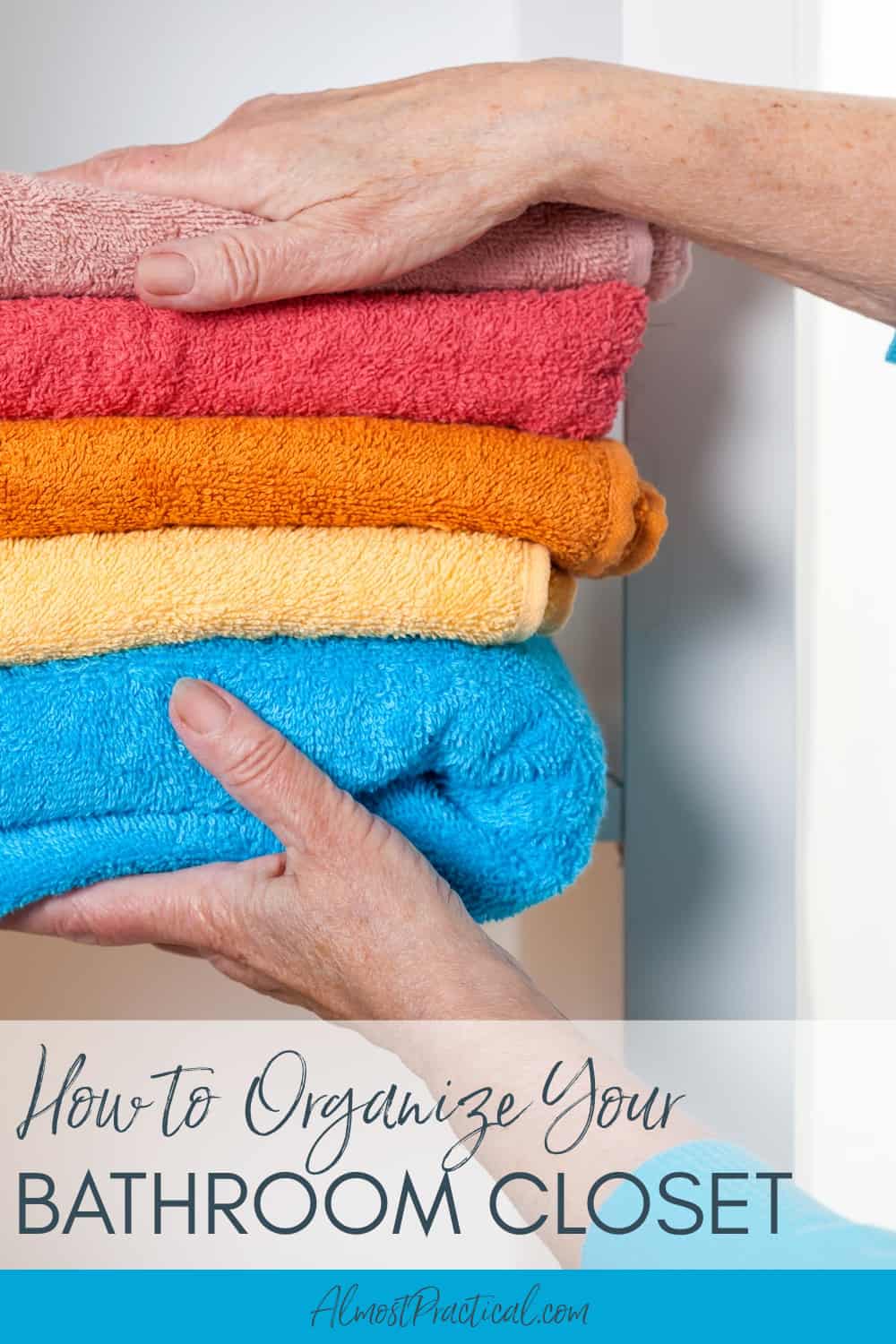 I see so many Pinterest worthy photos of neatly folded sets of towels placed on shelves in bathroom closets.
For my large family using the small bathrooms in our smallish home, this would be an impractical waste of space.
I store all of my washcloths together in a bin and all of my hand towels together in a stack. Bath towels have their own shelf and I fold these in half vertically, then again horizontally, and then in thirds.
We often used mismatched towel sets in this household – and that is ok with me.
What If You Don't Have a Bathroom Closet?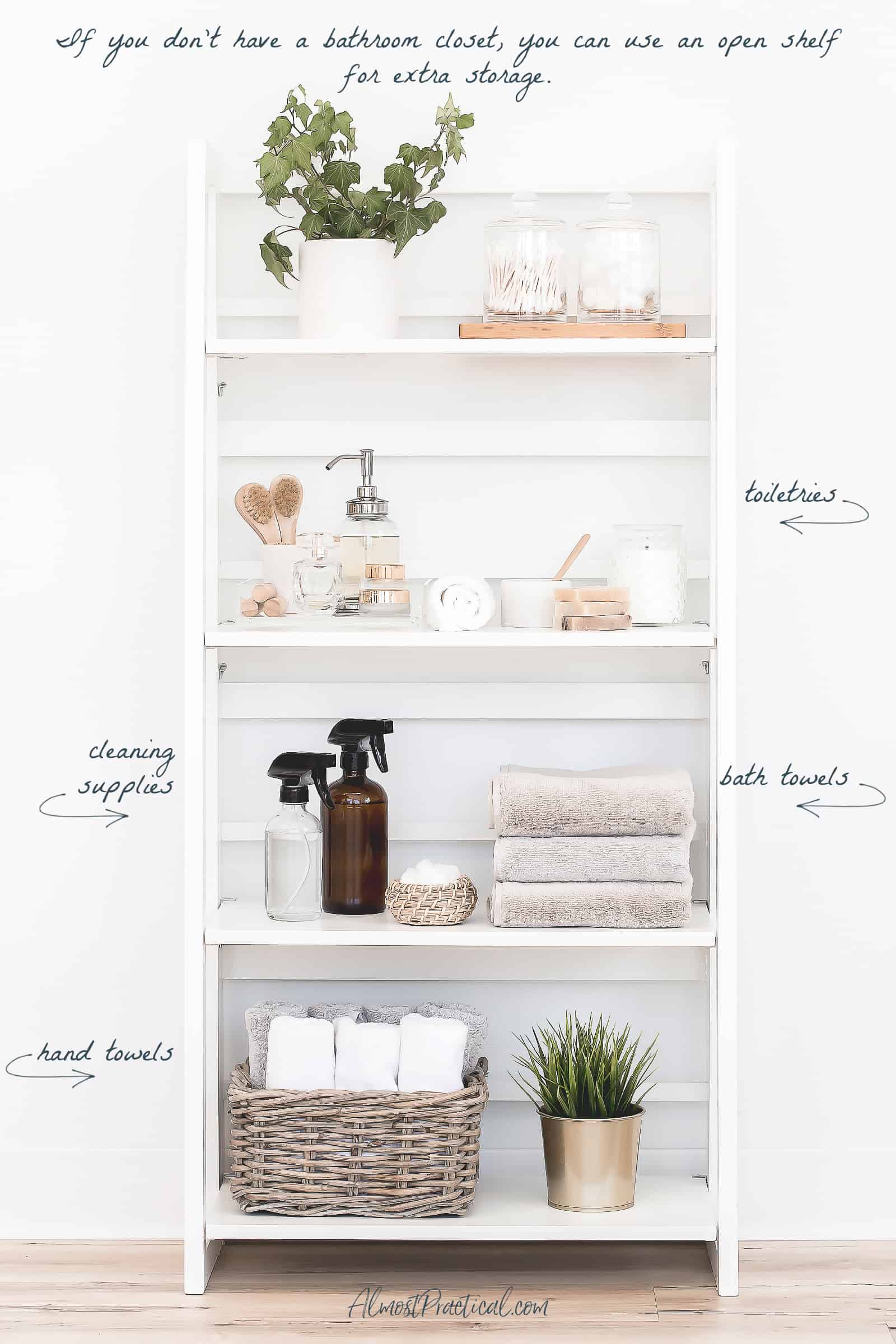 If you don't have a bathroom closet, you can opt to use an open shelf or a free standing wardrobe type cabinet for storage – depending on how much space you have in your bathroom.
Many of the same organizing concepts will apply.
However, because an open shelf is – well … open – look for more decorative type storage containers.
You will also have a little more pressure to keep the space neat and tidy, which could be a good thing!
If you cannot fit any type of storage in your bathroom, you can repurpose the cabinet space under your sink, consider over the tank shelving, or carve out a shelf or two in a bedroom or hallway closet.
Bathroom Organization Doesn't Have to Be a Chore
With the right planning, you can clear out your bathroom closet and create an organized space that not only looks great but also makes it easier to find what you need.
Set your goals, empty out your shelves, clean and prep, categorize, and put back only the things you need.
Happy Organizing!