How to Track Goal Progress – and Why It's Important
This post may contain affiliate links which means I make a commission if you shop through my links.
 Disclosure Policy
What you will find is that to achieve success from the things you want in life – you need to track your goal progress.
When it comes to goal setting – the path is not a sprint, it's a marathon. To know how far you have gone, the milestones that you reach and when you reach them make a difference.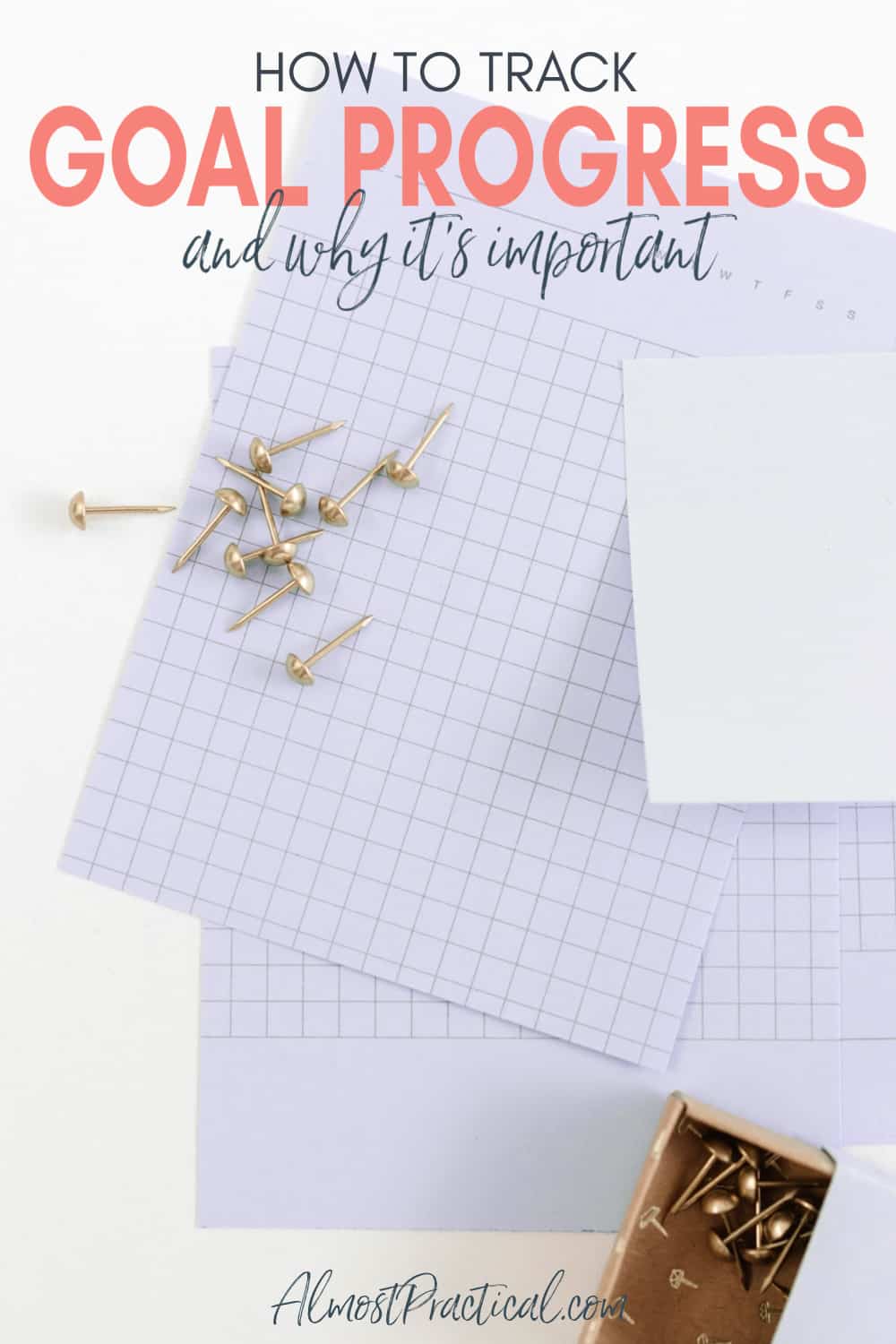 Why It is Important to Review Your Goals
Tracking goal progress is important because through the process you get the self feedback that you need to make adjustments for things that are not working.
You can use this information to adjust the scope of your goal or the timeframe.
Monitoring your progress also keeps you accountable – and in some cases it is a reminder that you actually did set a goal for yourself that you need to achieve.
Basically, this helps you to stop procrastinating.
How to Review Your Goal Progress
A popular way to set goals is to use the SMART Goal Method. Using this framework gives you a great baseline to review your goal progress.
The SMART Goals acronym stands for:
S – Specific
M – Measurable
A – Actionable
R – Relevant or Realistic
T – Time Bound
While this is often used for business goals, you can also apply the same principle to any personal, family, or home centered goals that you have.
The beauty in setting your goals with this framework is that it defines your expectations when you set your goal so you can easily measure your progress as you work through it.
To evaluate your progress towards goals and the effectiveness of methods used periodically ask yourself the following:
Is the scope of my goal narrow enough – how can I refine it?
Am I where I expected to be at this point in time?
Will I be able to complete my goal within my deadline?
Am I ahead of where I thought I would be?
Is this goal still relevant to what is happening in my life right now?
How Often to Review Your Progress
In the beginning, when you have a lot of excitement and enthusiasm towards the goal you are pursuing – it is tempting to check your progress often.
While there is nothing wrong with doing this, it can be discouraging and also a waste of time – because progress doesn't happen overnight.
For example, if you are trying to lose weight – it really is not beneficial to step on the scale every hour or even every day for that matter.
A better approach is to measure your progress at regular, pre-planned intervals.
Commonly, these intervals are
weekly,
monthly,
quarterly, and
yearly.
This, of course, will depend on how long you expect that it will take you to achieve your goal.
Best Ways to Measure Progress On Goals
All you really need to measure your goal progress is pen and paper.
Write down your SMART goal at the top of the page.
Once a week, write down the date underneath your goal, and make a note detailing your progress, your thoughts, and any adjustments that you want to make.
Do the same at the end of each month and quarter.
At the end of the year look back and compare where you are to where you were at the beginning of the year.
Personally, I have used many different methods to track my goals.
For bigger goals that last a long time – I like to use a dedicated notebook for each goal.
I find that an Erin Condren Petite Journal, coiled notebook, or softbound notebook in the Productivity Layout works well for a single project.
For super small projects that I expect to accomplish in a week or less – I just use my daily planner. Right now I am using the Hobonichi Weeks and love it so far.
In the past I have used the Full Focus Planner from Michael Hyatt. This is an undated quarterly planner that has goal setting baked in.
There are specific pages at the end of each week, month, and quarter for reflection on goal progress.
Erin Condren also has a Petite Planner specifically for this purpose. You can read my review of the Erin Condren Goal Setting Journal here.
You can also choose from a huge selection of free goal tracking worksheets in Canva – simply print them out and you are good to go.
Goal Tracking Apps – Online Goal Trackers
If you prefer online goal tracking, there are many apps on iOS or Android to help you.
Free options include Trello and Asana. These are more oriented towards project management but you easily use them to track goals.
I use iOS and a quick search of the App Store brought up these:
Goal Progress Examples
As an example of goal progress, I will use a personal project that I am working on right now.
When my children were little we used camcorders – so I have tons of home movies on tapes of all sizes.
I also have lots of family photos that I need to organize.
Originally I had set a goal of having both videos and photos organized by the end of 2022.
At the outset, I knew that this goal was not fully "SMART". But I wasn't sure what I wanted the end result to look like.
As I started working on this goal – I quickly realized that this is actually two projects – not just one.
The videos need to be handled separately than the photos.
So far, I have set up two notebooks – one for each project and started looking at the technology that I currently have to see if I can attempt to do the job myself.
In each notebook, I track my progress and specifically leave notes as to where I end each of my working sessions – so I know where to start when I pick it up again.
At the end of each week, I evaluate what I have done and what I plan to do in the coming week.
By the end of January, I hope to have a better idea of how to transfer video into a digital format, how long it will take me to go through each tape, and whether I want to edit as I go along or just get everything uploaded and then move on to editing.
Once I know these pieces, I will narrow the scope of my project and start giving myself deadlines for each piece.
This goal is a huge work in progress – but by tracking that progress I am helping myself to keep the momentum and get closer to the end goal.
Get More Done By Tracking Your Goals
As you can see, tracking your goal progress can be as simple as jotting notes down on a regular basis.
You don't need a fancy system – you just need a simple method to help you stay on track.
And when you get to the finish line – don't forget to celebrate!