The Two Tools You Need to Start Getting Organized
This post may contain affiliate links which means I make a commission if you shop through my links. Disclosure Policy
There are two essential tools that you need to bring greater organization to your life.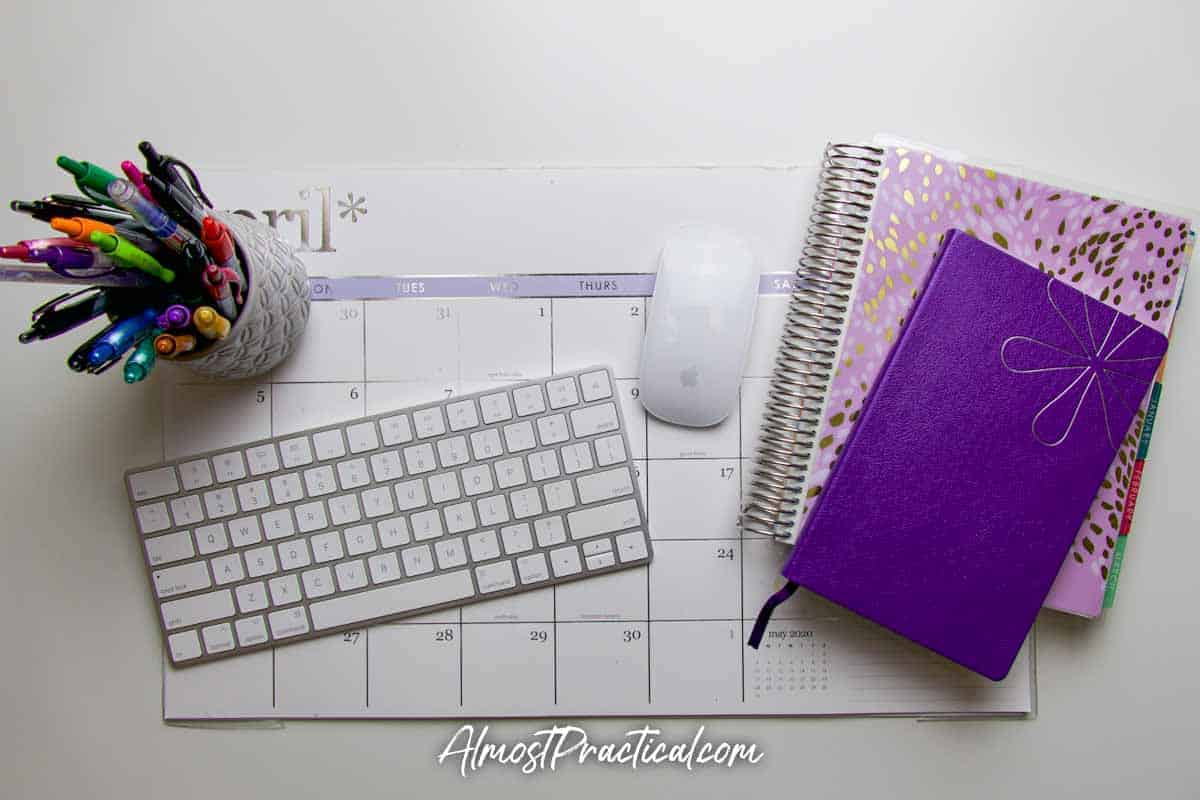 These 2 things are so simple that you might not give them the thought that they deserve.
So, I'll tell you what they are up front – but please keep reading to make sure that you are using them correctly:
a good planner or calendar
a master To Do List
1. What Kind of Planner Should You Choose?
The first tool that you need to get organized is a good planner.
Almost everybody uses some kind of electronic calendar – something like Apple Calendar, Google Calendar, or Outlook.
These are great for keeping track of appointments or events.
But keep in mind that a planner is more than a calendar.
A planner is a place for you to plan out your days, months, and years.
Yes – you absolutely can use a electronic calendar as your planner as long as you check it often and use it to plan out your free time alongside the things that you have scheduled.
You want to make sure that you are using ALL your time to get things done and get closer to your goals.
Personally, I prefer a paper planner to use along with my electronic calendar.
Read: Paper Planner vs Electronic Planner – which one is right for you?
My favorite is the Erin Condren LifePlanner (you can read my review here) – but there are so many great choices including the following:
Whichever planner you choose – here is the rule:
You MUST USE your planner daily.
2. Keep a Master To Do List
The second tool that you need is a master to do list.
This is NOT the same as your planner.
It can be a section in your planner – but it is not the little to do notes that you jot down in your day to day planning.
A master to do list is a list of all the things that you need to get done.
This includes things that you need to do now and things that you need to do in the future.
Think of it as a brain dump – a bucket to catch all your thoughts, so you don't forget about them later.
A pensieve for all you Harry Potter fans.
Every day you can pull the items from your master to do list that you want to do now and add them to your calendar or planner.
You can use a simple notebook as your Master To Do List.
Personally, I like using something pretty that is easy to carry around with me.
An Erin Condren soft bound notebook is perfect for this.
But you might prefer using an electronic to do list instead.
There are several apps you can use to capture all your to do items and then organize and sort them by project.
Here is a selection to choose from:
Whether you use an app or a simple notebook – you must follow this rule –
Your chosen Master To Do List location should be the ONE place that you use to collect all your to do items on a daily basis.
What Happens Next?
Now that you have your planner and master to do list in place, you are ready to start using them to get organized.
There are so many things to cover next – things like tackling projects and time blocking.
Stay tuned for more organizing goodness!
Pin This To Your Favorite Organization Board on Pinterest