10 Last Minute Valentine's Day Gift Ideas on Amazon
This post may contain affiliate links which means I make a commission if you shop through my links. Disclosure Policy
Valentine's Day is just 7 days away! If you haven't done your shopping yet – there is still time. Here are 10 last minute Valentine's Day gifts you can still get on time with Amazon Prime.
Sign up for a FREE Amazon Prime trial here.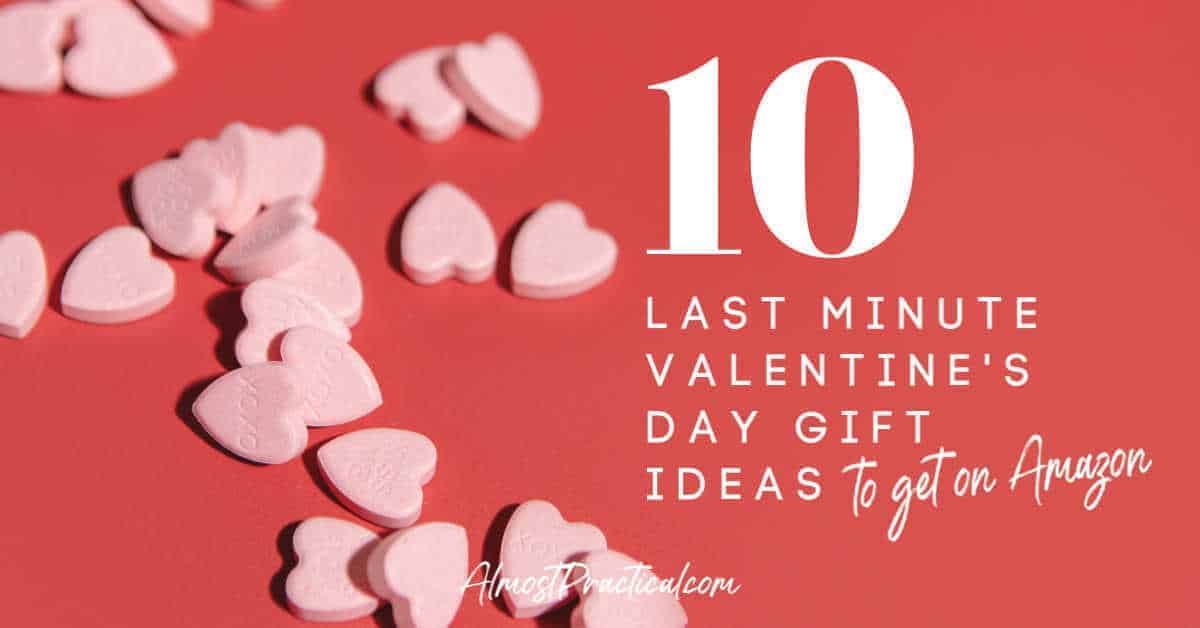 Here's the Quick List
1. Cute Heart Elephant Sculpture
This adorable elephant sculpture is actually 2 pieces.
The raised trunks interlock to form a heart – so cute!
Related: See my Valentine's Day Decor collection on Amazon here.
2. Soul Mates Mug Set
This set of Soul Mates mugs has one person blowing heart bubbles on one mug and another person receiving them on the other.
3. Freshwater Cultured Pearl Infinity Necklace
This elegant freshwater cultured pearl necklace incorporates an infinity symbol to make it unique and a true expression of everlasting love.
4. Something for Your Furry Friend
Don't forget your dog on Valentine's Day!
This red dog sweater features a cute heart and will keep your furry friend warm and cozy for the rest of the winter.
5. Starbucks Power Bank
Lots of people that are looking for a last minute Valentine's Day gift buy a Starbucks gift card.
But you can one up that by giving this Starbucks power bank instead. Every time your special someone needs to charge their phone or tablet, they will think of you!
It's a unique conversation piece – and useful too.
And it's certainly more memorable than a gift card.
6. Laser Cut Wood Valentine's Day Card
Why just give a plain old paper Valentine's Day Card?
This laser cut wood Valentine's Day card can be personalized and is something that can be displayed for a long time.
7. Valentine's Day Handbag
I love a good purse! It's my weakness.
But when I buy one for myself, I usually stick with practical colors and designs.
So – a fancy red embellished purse would make a fantastic Valentine's Day gift.
It's something your Valentine might not buy on their own but would love to have.
Related: How to Choose the Perfect Handbag
8. Valentine's Day Necktie
Maybe he'll wear hearts one day a year?
This Valentine's Day necktie is fun and not too flashy.
Perfect for your professional sweetheart.
9. Silk Valentine's Day Flowers
Flowers are a traditional last minute Valentine's Day gift.
The problem is that they don't last very long.
Why not give a beautiful silk flower arrangement instead?
Your better half can enjoy them all year long.
10. Tile Pro – Give the Gift of Peace of Mind
I couldn't help but to add one really practical Valentine's Day gift idea.
If your special someone is always losing their stuff, then I bet they would appreciate the Tile Pro much more than candy or flowers.
You are not just giving them the Tile – you are actually giving them peace of mind and the gift of time.
No more panicking and mad searching for their keys or bag or other important items.
It's something they will appreciate always!
More Valentine's Day Ideas
What is the Best Valentine's Day Gift You Have Ever Received?
Tell us in the comments below – and keep it G-Rated please! This is a family site. 🙂
Happy Valentine's Day!