The Best Halloween Candy That Is Budget Friendly Too
This post may contain affiliate links which means I make a commission if you shop through my links.
 Disclosure Policy
We've been doing Halloween for over twenty years now so I have pinpointed the best Halloween candy (and it's budget friendly, too!).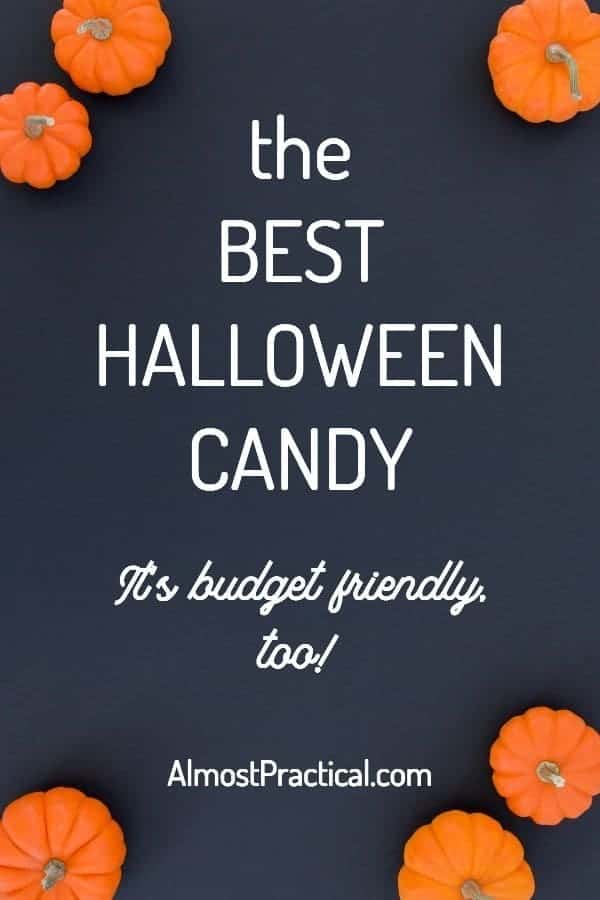 Lately, it seems that price of Halloween treats has really skyrocketed.
Huge bags of mini candy can cost an arm and a leg.
We get hundreds of trick or treaters in our neighborhood, and while I want to make the kids happy, I don't want to spend a ton of money.
A few years ago I came upon a solution that was easy on a parent's wallet and still rewarding to children who trudge through fright night working really hard to get the biggest bag of loot.
I totally found the best Halloween candy to hand out!
How Do I Know That This Is The Best Halloween Candy?
This is how I came to my conclusion:
1. My kids love it
There have been years where I did not buy AirHeads full size bars, and to say that my kids were disappointed is putting it lightly.
Then they would grill me as to WHY I didn't buy them. Sheesh! At least the candy lasted through to Halloween in those years.
2. The trick or treaters love it
So, while my kids are a good start, the real test group are the kids that come trick or treating at the door.
The excitement on their faces is priceless.
To hear them yell to their friends and random other goblins that they pass as they leave – "Hey, they have full size AirHeads!" is even better.
3. My wallet loves it
Making the kids happy is one thing but making my wallet happy is important too. These come in a box of 90 full sized bars – and you can see the most current price in the widget below:
4. You can order ahead of time
If you order from Amazon, you don't even have to leave the comfort of your home. Just keep the outside temperature in mind. AirHeads are less likely to melt than chocolate candy but if you live in a really hot climate, I would exercise your best judgment.
Also, remember that you can get free two day shipping with an Amazon Prime Free Trial.
Related: Halloween Cupcakes – Spiderweb Design
What Candy Will You Be Handing Out for Halloween This Year?
I actually have 2 questions for you.
First, I would love to know what candy you plan to hand out this October and why.
Is is something that you love, or your kids love, or is cheap (it's ok to admit it 😉 )?
Second, think back to when you were a kid. What was your favorite Halloween Candy to receive?
I loved Pop Rocks (because my parents never bought them so Halloween was the only time we got them), the very weird wax bottles candy (is it really candy?), and the very not politically correct for children gum cigars.
Those were the days.
Happy haunting!
And just so you know, this post was not sponsored by AirHeads in any way (they have no idea who I am). I just really think it is the best Halloween candy to hand out.