Inspiration for Your Cricut Valentine's Day Projects
This post may contain affiliate links which means I make a commission if you shop through my links. Disclosure Policy
If you got a new Cricut machine for the holidays, chances are you've gone a little nuts making Cricut Valentine's Day projects.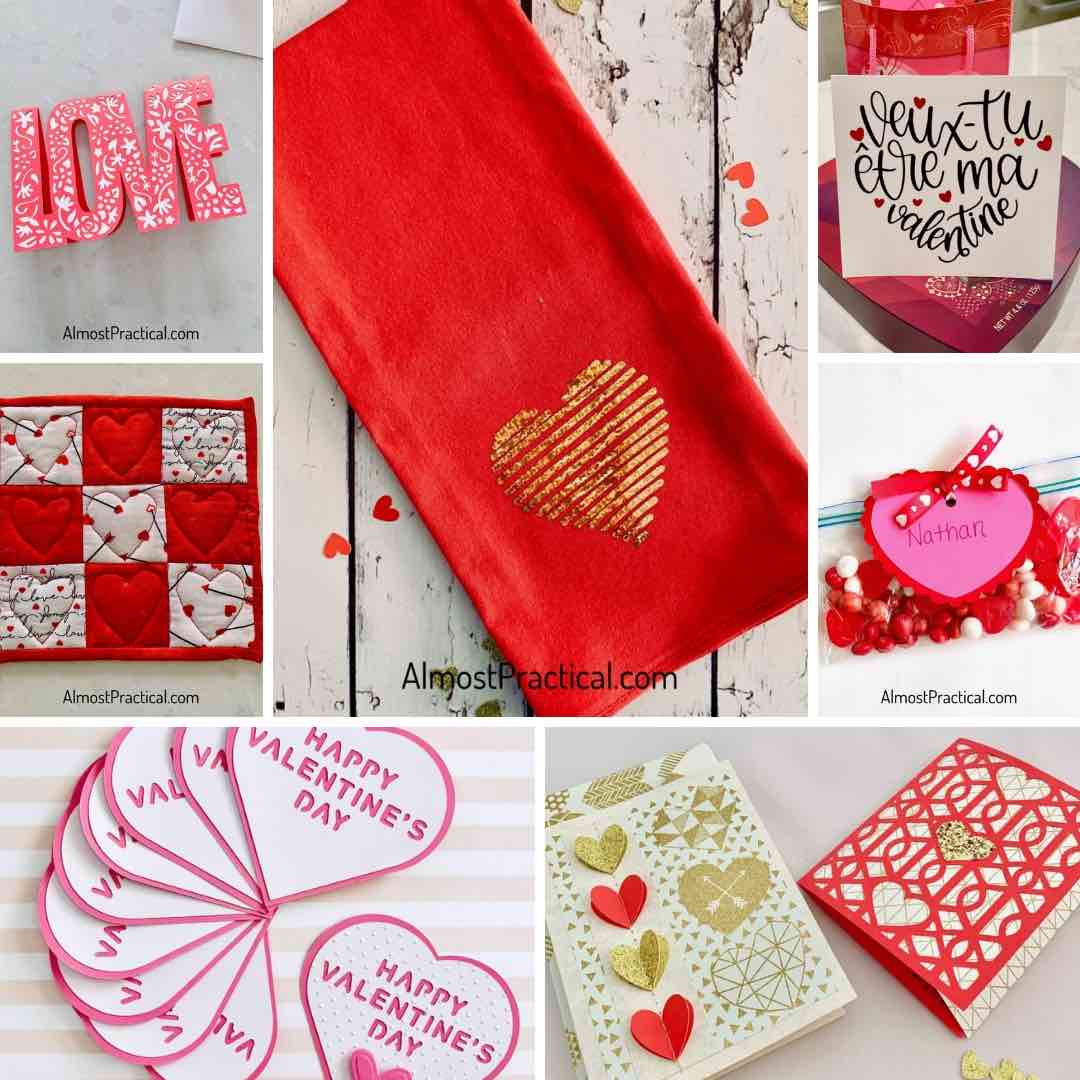 I know I have!
These past few weeks I have been buzzing around the house trying to make something for everyone on my Cricut Maker. Even though I had a Cricut Explore Air 2 before, I never used it to it's full potential.
So, with the Maker – I was determined not to let that happen again.
My goal for Valentine's Day was to make some simple projects in Cricut Design Space. I wanted to become more comfortable with it, because it can be a little intimidating.
This time around I also purchased a subscription to Cricut Access so that I would have access (I guess the service is appropriately named) to all the creative assets that I would need.
So, I am pretty excited to share some of the things that I have made for Valentine's Day.
For some of you they may seem a little simplistic. But I am quite happy with how they turned out, the things I have learned, and the progress that I made.
Related: Should I Get Cricut Access?
Cricut Valentine's Day Cards
Of course, once you buy a Cricut machine – I think you are signing yourself up to make cards for just about any and every occasion.
I made a different card for each one of my family members and then I also made 25 Valentine's Day cards for my daughter to give to her friends.
All of the cards were created using ready made projects in or existing images in Cricut Access.
I know some people upload SVG files and things – but I just wanted to keep things as easy as possible.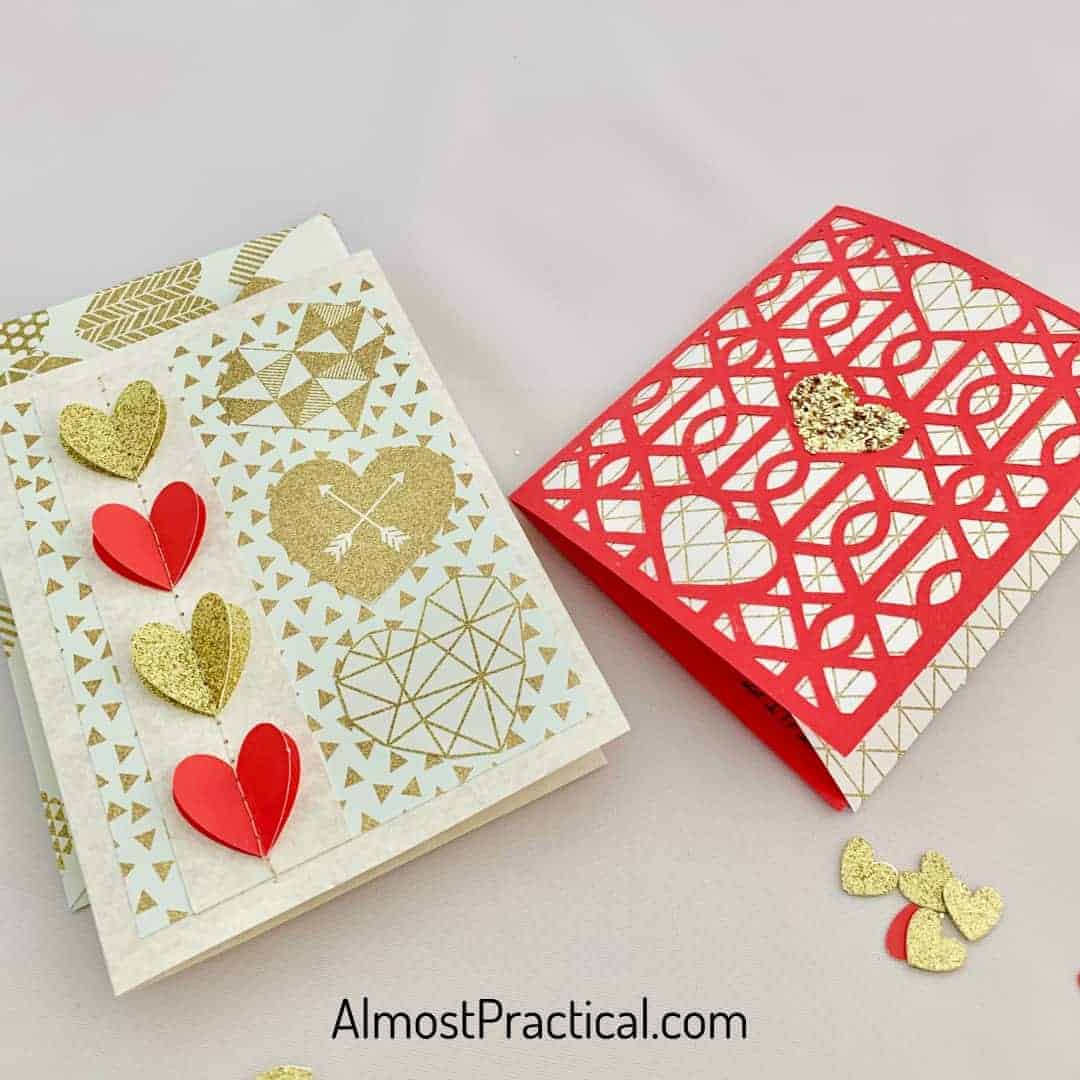 So, the above two cards I made using card stock and paper.
You can see the pattern for the one on the left here in Cricut Access.
It was pretty easy to make except that the hearts are actually sewn onto the card with a sewing machine!
I did not know that you could sew paper – but you can.
This Cricut Valentine's Day Project opened up a can of worms for me. It made me dust off my sewing machine and start learning about how to use that, too. (that led to me attempting to quilt the Valentine's Day pot holders below).
The pattern for the card on the right is here in Cricut Access. This card was more straightforward and I just added a little glitter to the center heart to make it pop.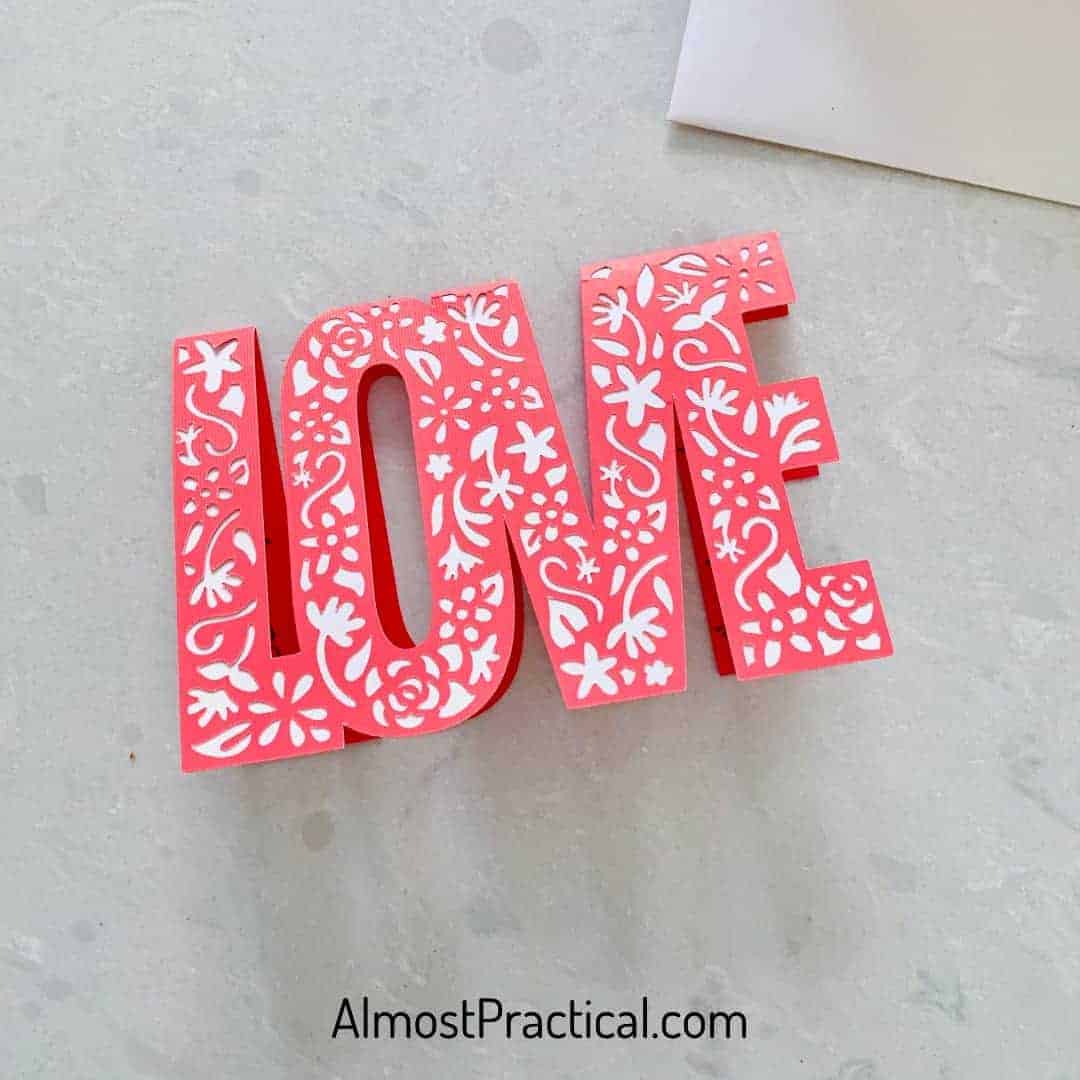 You can find the pattern for the above Valentine's Day card here in Cricut Access.
I thought it was really pretty and just cut it according to the pattern with no modifications.
The only limiting thing about this card is that there is not much room to write a sentiment on the inside – you kind of have to write around the letters.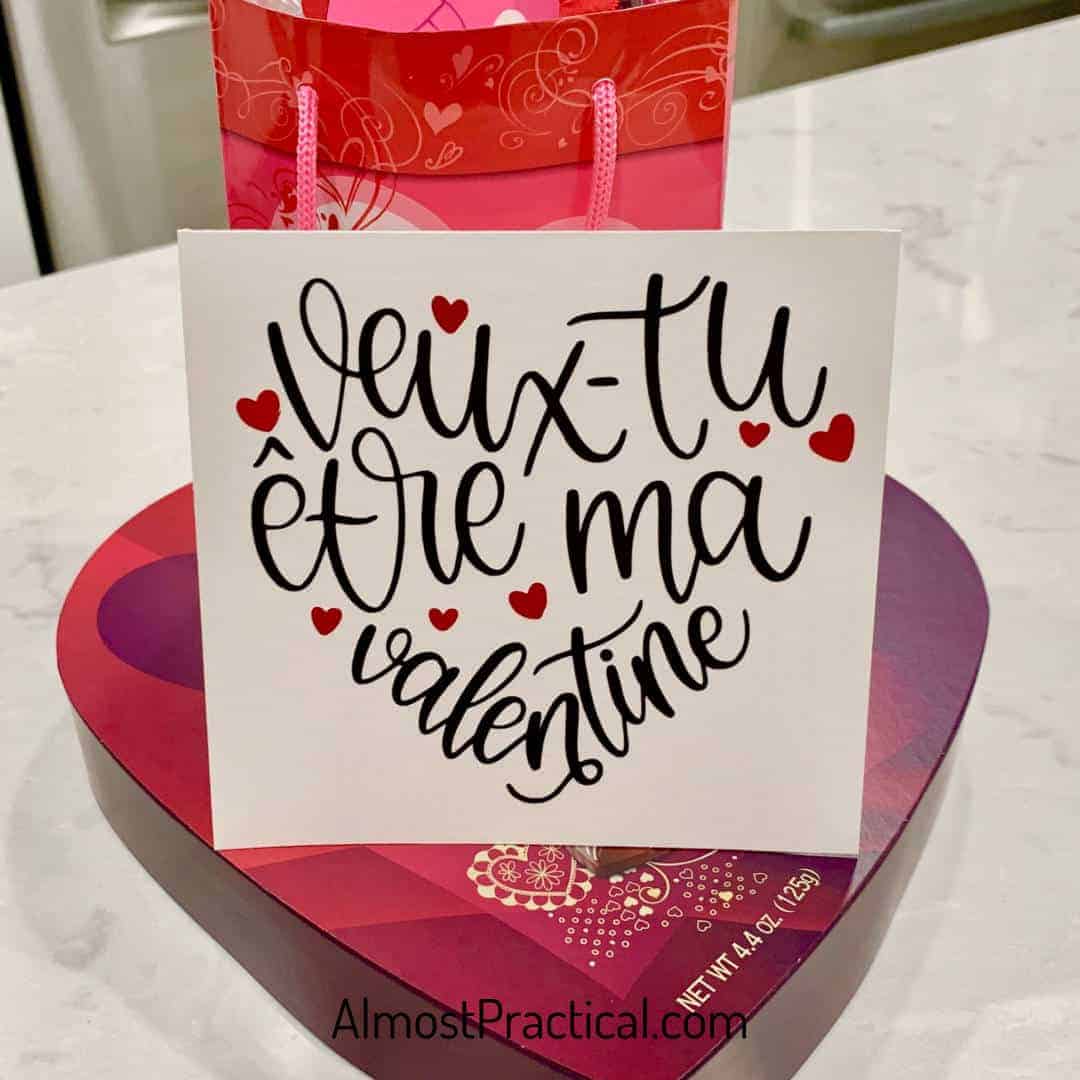 I made the above Cricut Valentine's Day card on white card stock using both the red and black permanent vinyl rolls (and also the Cricut transfer tape) that came in my Cricut Mystery Box from January 2019.
This is the image that I used in Cricut Access.
I have not worked with Cricut vinyl that much and it would have been pretty easy except for a lot of user error (sheepish grin).
On my first attempt, my card stock stuck to the mat and ripped when I pulled it off. Argh!
I also cut the square of vinyl too small for the design and had to start that again.
On my second attempt with the vinyl (I was using my Cricut Explore Air 2 for this one), I forgot to change the dial back to vinyl and left it on cardstock – which ruined the cut.
Three times is apparently a charm – and thankfully it worked out before I gave up. 😉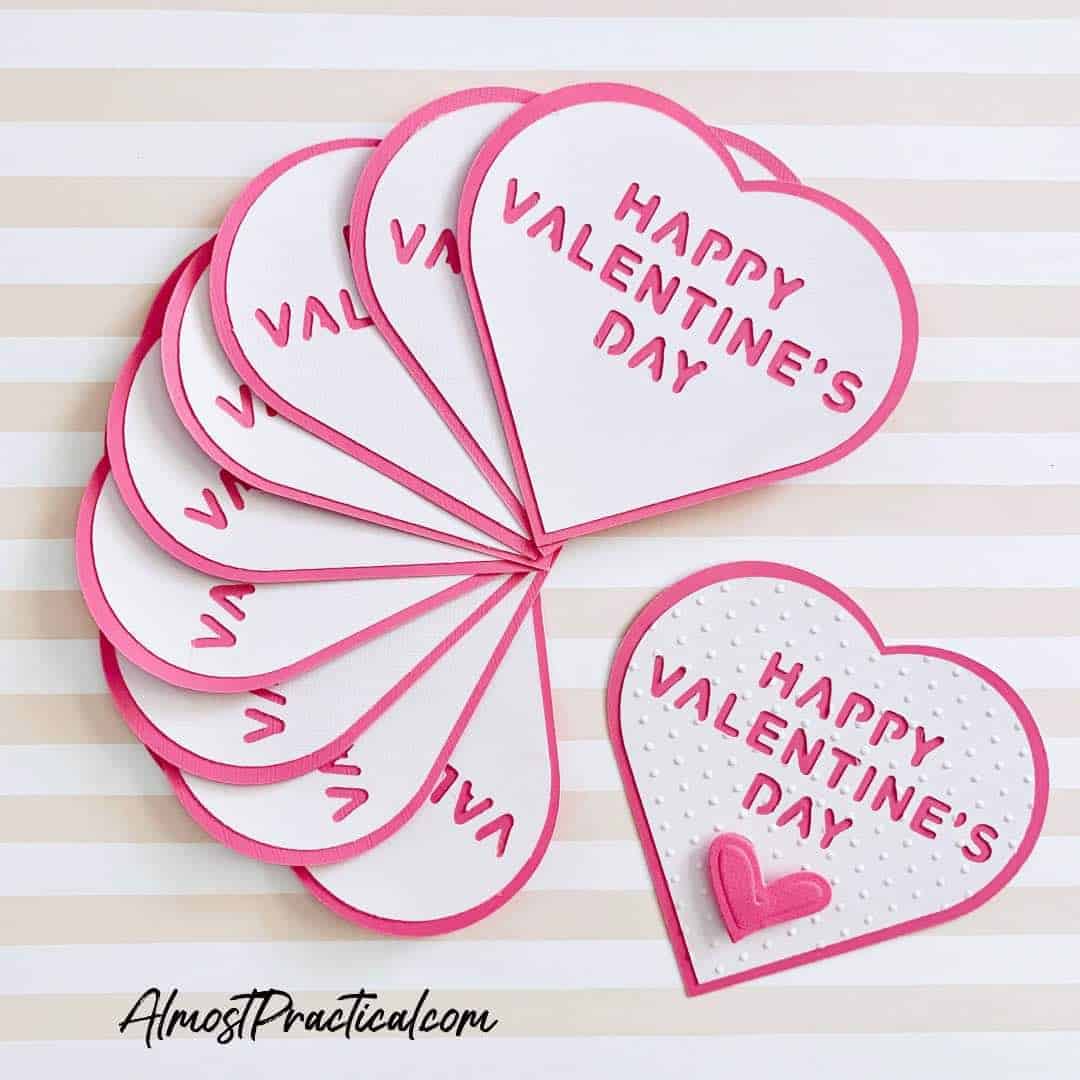 The above cards are the ones that I worked on with my daughter to give her friends. You can read all the details on how to make these simple Cricut Valentine's Day cards in this post.
Valentine's Day Treat Bag Tags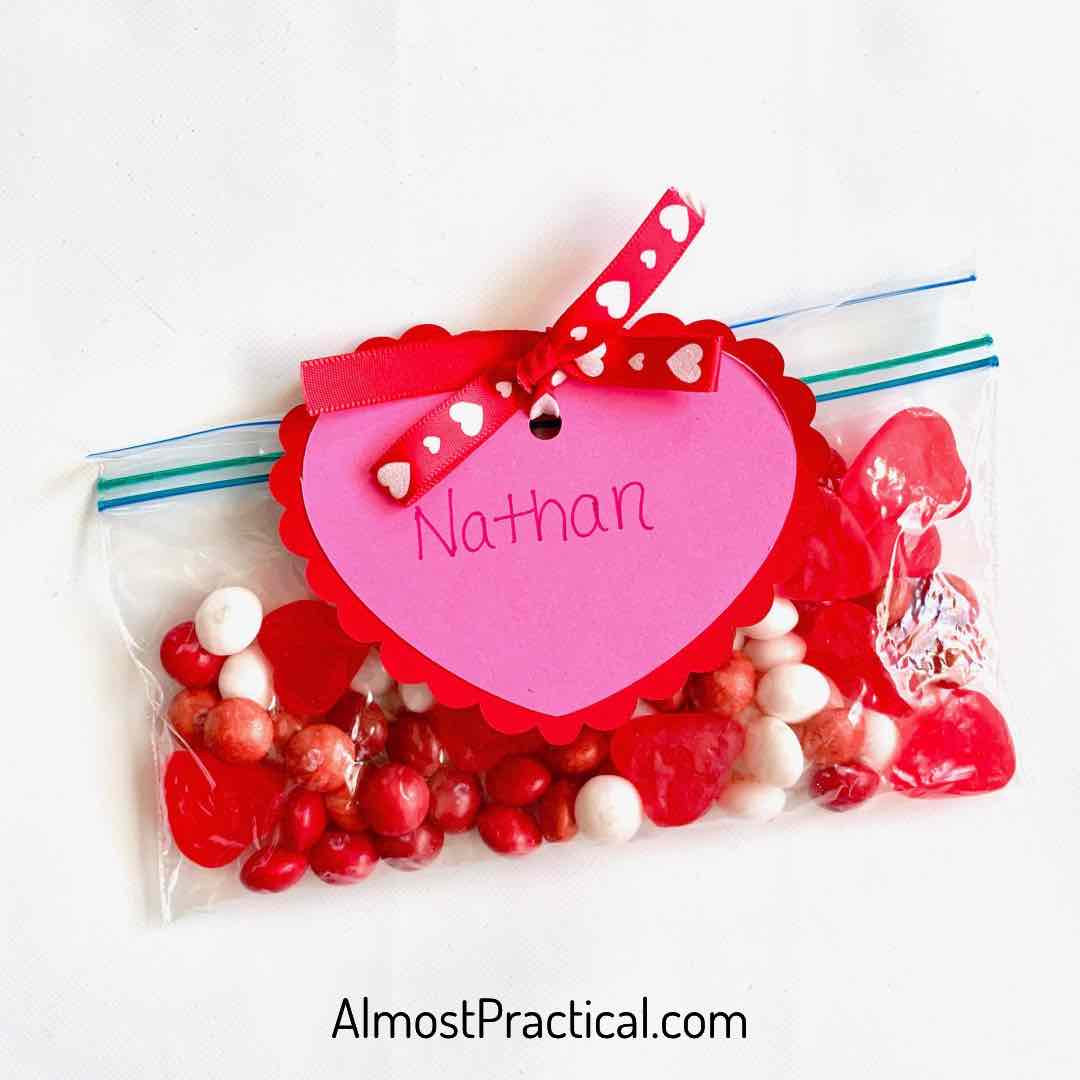 I made the above Valentine's Day Treat Bag Toppers using this image in Cricut Access.
As you can see I just used a plain zip close snack bag that you can get at any grocery store.
The topper already had a hole punch so I also made a slit in the top edge of the bag to match up. Then I threaded a pretty ribbon through both items to secure the tag to the bag.
I ended up just writing names on the tags – but if I had more time, I could have used the Cricut machine to write or cut out the names.
Valentine's Day Tea Towel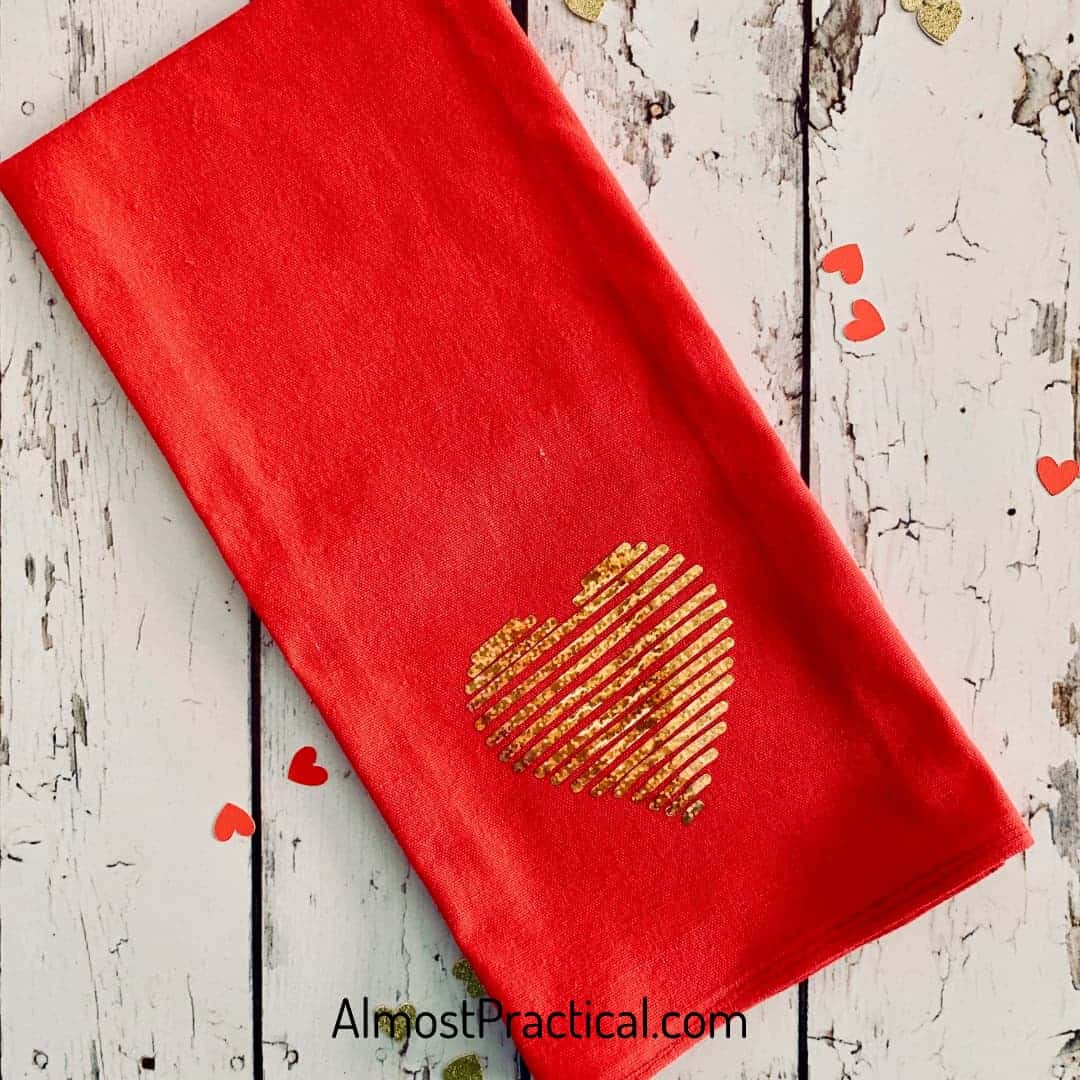 This Valentine's Day Tea Towel was a lot of fun to make.
I used this image in Cricut Access to cut a heart out of glitter iron HTV.
I then used my new Cricut Heat Press along with the heat press pad to iron the patch onto a red tea towel (which I got as part of my cheap craft supplies haul).
It came out much nicer than I anticipated and I think that it would make a great hostess gift.
Quilted Valentine's Day Potholders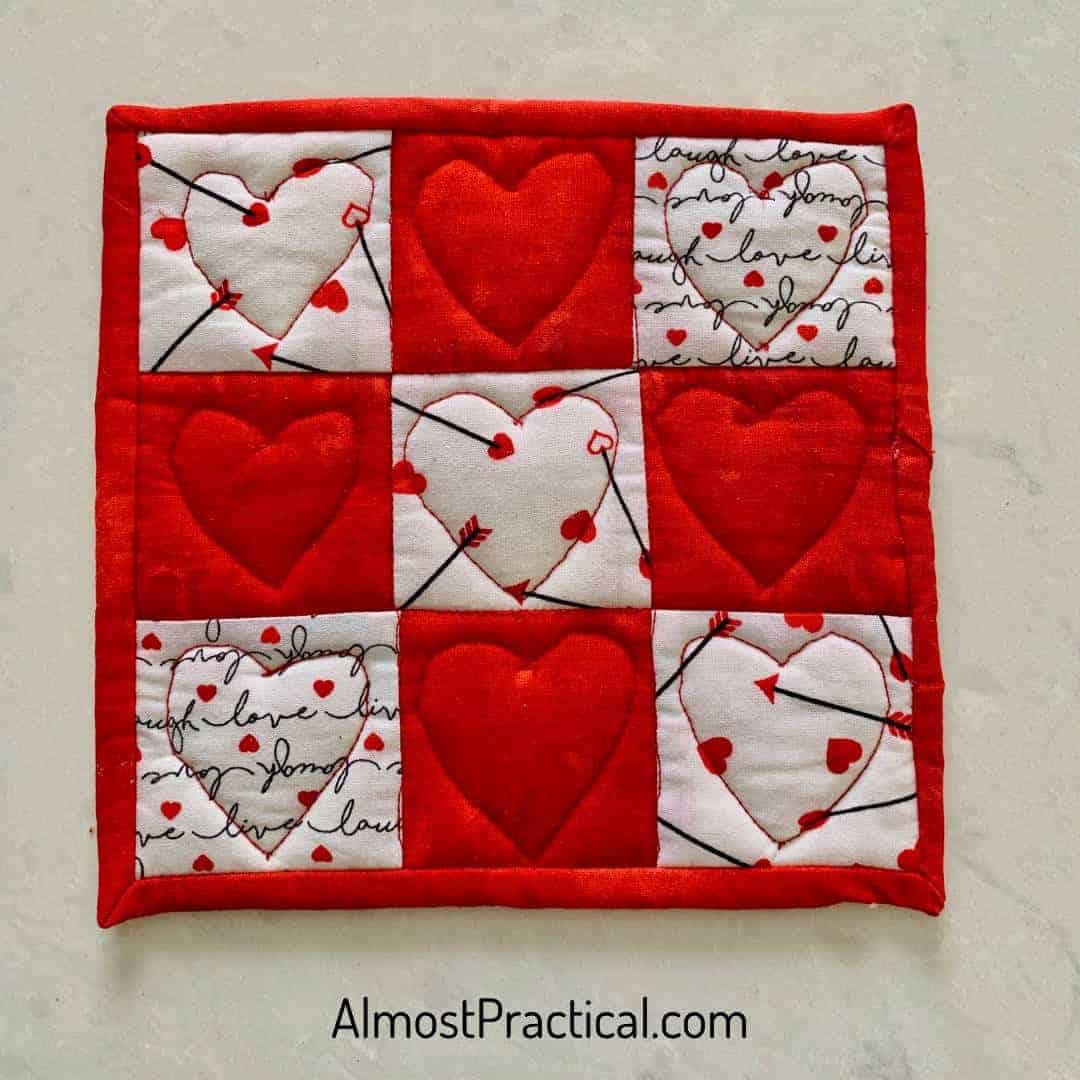 My final and most ambitious Cricut Valentine's Day project was this (I should say these – because I am in the process of making four) quilted potholder.
I got the pattern for a basic potholder 9 square potholder here on Creativebug.
But I thought it would be cute to quilt in little heart shapes – um, can I tell you that was not a good idea for a beginner?
First, I should tell you that I have absolutely no experience with quilting. None.
I will save my whole potholder story another time.
But for now I just wanted to show you my imperfect first attempt.
The one good thing that I did with this project was to make four potholders, not just one.
I did this because I thought I would give a set away to a friend.
But in reality – these are looking pretty rough. However, my fourth one is looking a lot better than my first one – I haven't finished them yet.
Making four of these potholders is giving me the practice that I so badly need.
Valentine's Day Projects You Can Make With Your Cricut
And there you have it – lots of Cricut Valentine's projects to celebrate with this year.
I made:
Valentine's Cards
Heart Shaped treat bag toppers
tea towels
and quilted potholders
I think I need to slow down just a little.
But wait … I only have one month until St. Patrick's Day!
Pin this article to your favorite board on Pinterest to refer to later.