Purse Organization Tips to Help You Feel Confident and In Control
This post may contain affiliate links which means I make a commission if you shop through my links.
 Disclosure Policy
These purse organization tips will not only help you find things in your purse but will also help you feel more poised and confident every time you leave the house.
Are you tired of never being able to find anything inside your purse? The panic is awful when you are digging through your handbag and can't find your keys, your phone, or even your wallet.
Well, it's time to take back control.
Being able to find the things that you need when you need them is the key organization and productivity – and that is your goal here today.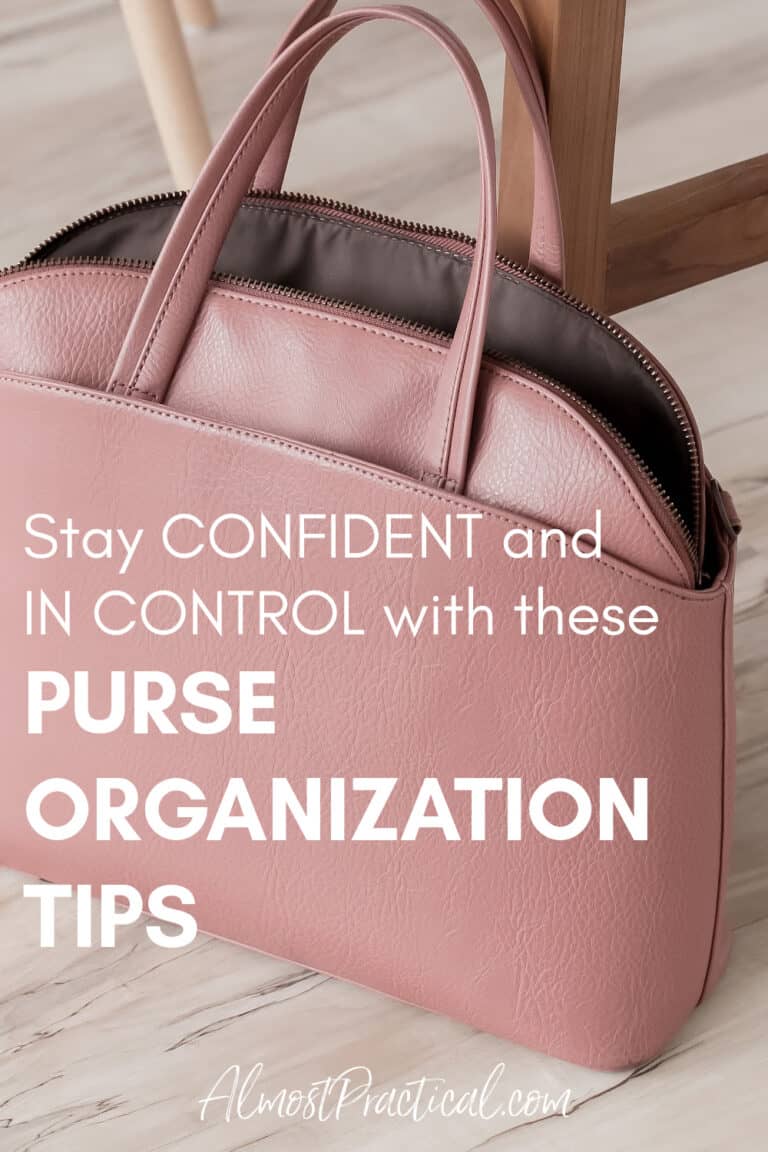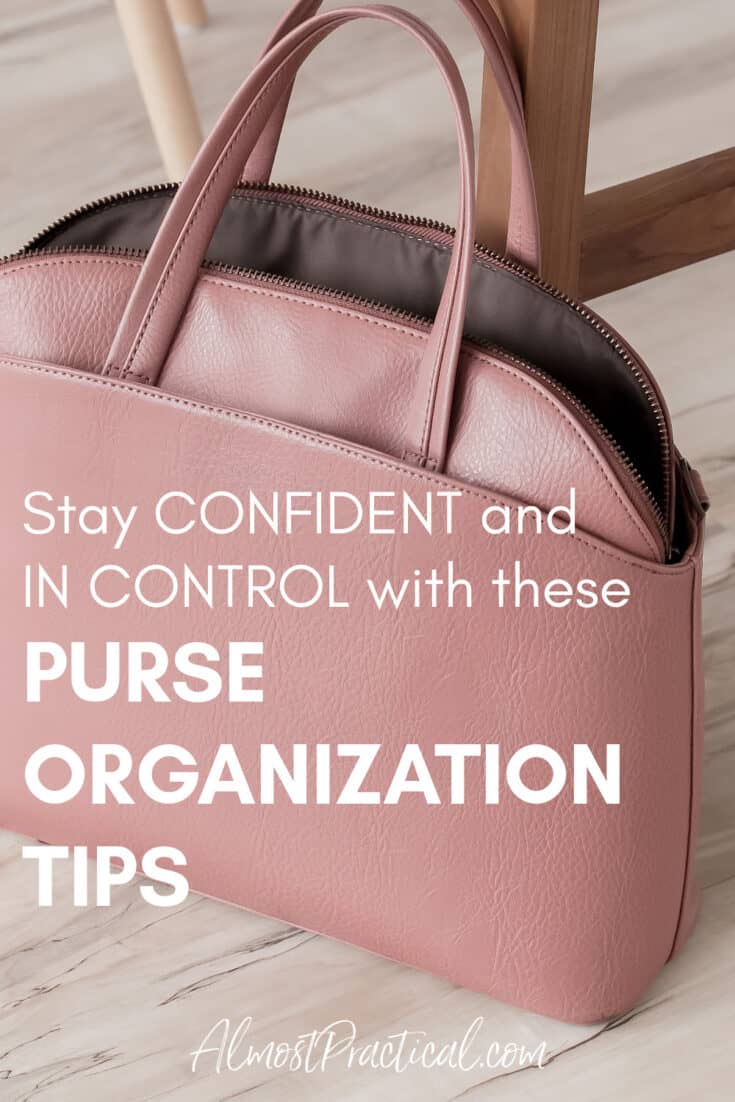 Choosing the Right Purse
You can apply the tips in this guide to any style of handbag – from a small purse to a large tote.
In fact, you should also be able to transfer your things from one purse to another on a daily basis (if you so desire) with ease.
But if you are choosing a new purse, there are some features that will make keeping your purse organized easier.
Choose a Bag with Structure
The best handbag for organization will have rigid sides and will stand up on its own. This type of bag is easier to organize than a floppy style bag for two main reasons.
First, you can easily set the bag down and look inside.
Second, when you do put your bag down the contents is more likely to stay in place rather than shift around.
Personally, I prefer a structured tote style with two handles as opposed to a single handled, slouchy hobo bag because it is easier to keep organized.
Your Ideal Bag Should Have Only One Outside Pocket
You should use the outside pocket of your bag for things that you need easy access to like your phone, your keys, etc.
If you have more than one outside pocket then you will be opening and closing different zippers as you search for that thing you need quickly.
This can add time to what you are doing and leave you feeling flustered.
Your Ideal Bag Should Have Only One Main Compartment
The same concept applies to the main compartment of your purse.
If your hand bag has two main zippered compartments – you will be opening and closing each one as you look for things like your sunglasses or wallet.
Try To Find A Bag With a Light Color Lining
Many handbags have a dark colored inner lining – and I can't figure out why. It is so counterproductive.
We've all been there – perhaps in a room with low lighting, and we are digging through our bag looking for our keys or some small item.
The dark lining makes finding anything so much more difficult.
One solution is to use the flashlight on your phone to brighten up the interior or a small purse light like this really cool light that is motion activated.
Another solution is to try and find a purse with a light color inner lining when you purchase it.
Years ago I had a small black purse with a beautiful sky blue inner lining. I could find everything in that purse!
Step 1: Create a Purse Organization Staging Area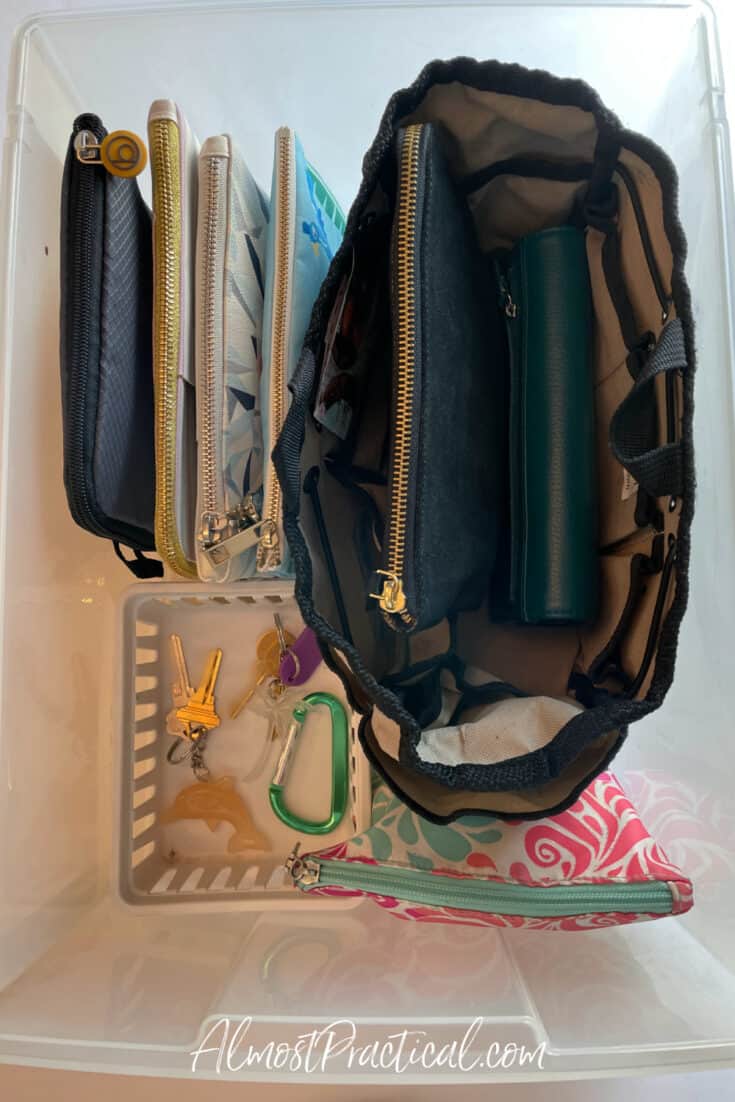 I know this sounds really complicated – but it's not.
What you need to keep your purse organized is a space dedicated to the things that you normally carry around inside of purse.
This "staging area" could be an empty drawer in your entryway table, a drawer in your nightstand, or even a plastic tub or bin.
The premise here is that you are not going to carry everything that you commonly put into a purse with you all the time.
For example, if you switch from a large purse to a smaller one, then everything that you carry in your bigger purse won't fit when you size down.
You can place these extra items into your staging area – or purse drawer as I like to call it.
Ideally, this purse drawer will be located somewhere near your door or near a closet where you store all of your purses.
I have a set of plastic drawers near my home office desk and have designated the center drawer as my purse drawer.
Step 2: Create a List of Purse Organization Categories
Before you get started on organizing your purse – take a minute to make a list of purse essentials. These are things that you normally carry with you.
Then divide your list into small groups of similar items.
For example, your list may look like the following:
Tech Stuff

Phone charging cable
Charging brick
Portable charger

MakeUp and Beauty

Powder
Lipstick
Extra Contact Lenses
Small comb/brush
Hair ties and bobby pins
Tissues

Feminine Hygiene Products
Personal Safety Products like She's Birdie
Gum/Mints/Snacks
Store Rewards Cards
Keys
Wallet
Phone
Coupons/Receipts
Face Masks
Pens/Notebooks
Reading Material
Step 3: Use Pouches for Purse Organization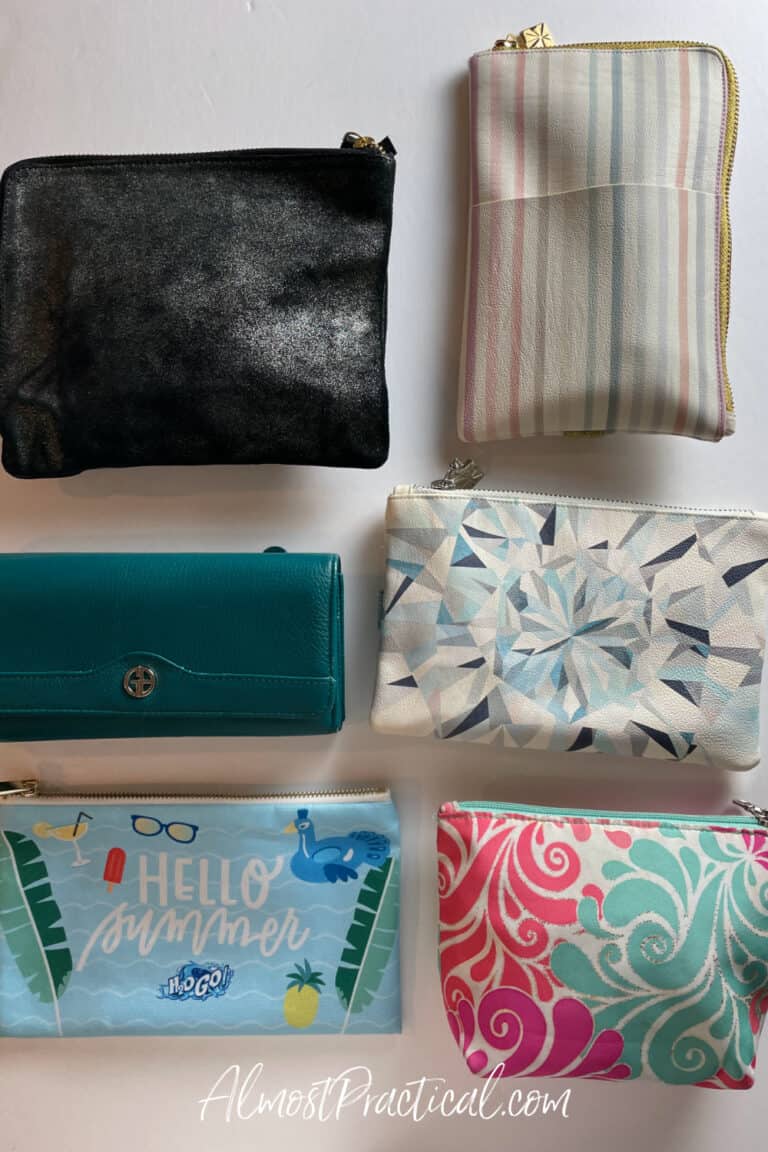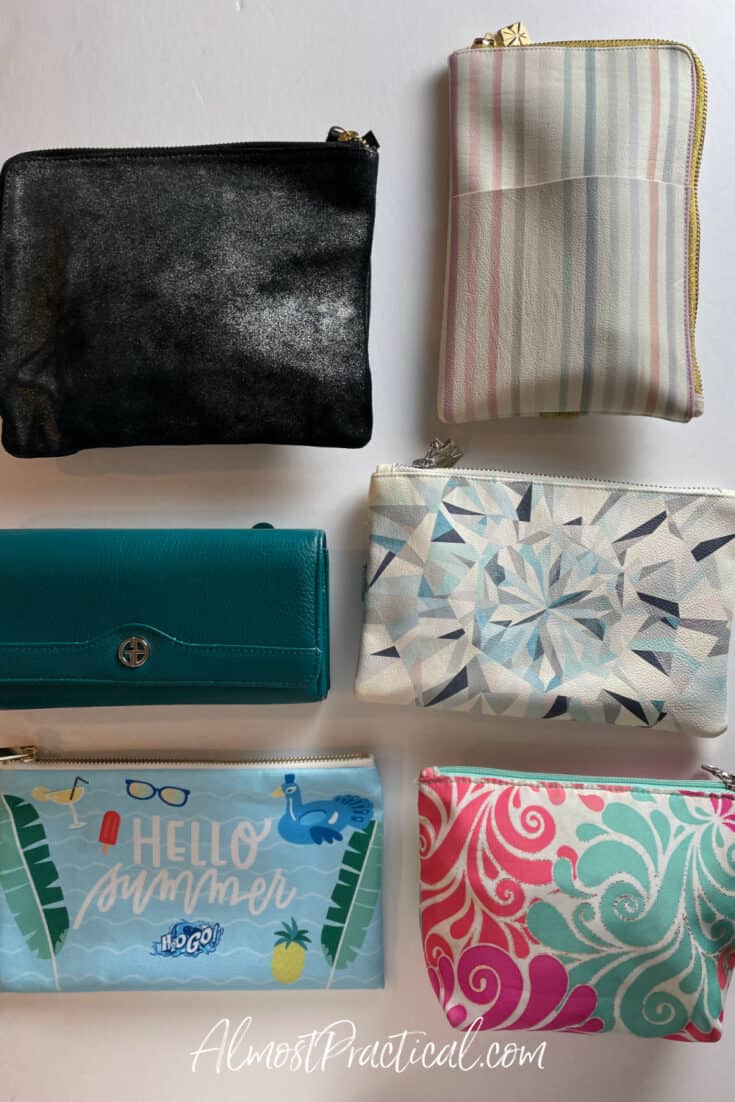 Once you have your stuff categorized, it's time to find a pouch for each category.
You can certainly go out and buy pouches, but you just might have a few lying around the house.
I found several in my home – many were free as they came with makeup purchases or gift sets etc.
Personally, I want the pouches that I use for purse organization to NOT match each other.
If my makeup is in the pink pouch, for example, and my pens are in the flowery pouch – I know at a glance which pouch I am reaching for when I look inside my purse.
Several of the pouches that I use are these Planny Packs from Erin Condren.
You may also like this set of clear pouches in a variety of sizes from Amazon for this purpose.
Step 4: Empty Out Your Current Purse and Categorize the Contents
I know this is the step that you have been waiting for. It is time to dump out the contents of your purse!
Be sure to look in every interior and exterior pocket and wipe down the insides if necessary.
Throw away or put away anything that you don't need.
Divide everything else into piles by category.
If you are missing things that you would like to have in your purse then go about finding those things in your home and bring them to the table.
Put everything that belongs in a pouch into one.
Decide where to keep things that you use often like your phone and keys.
Step 5: Put Your Purse Back Together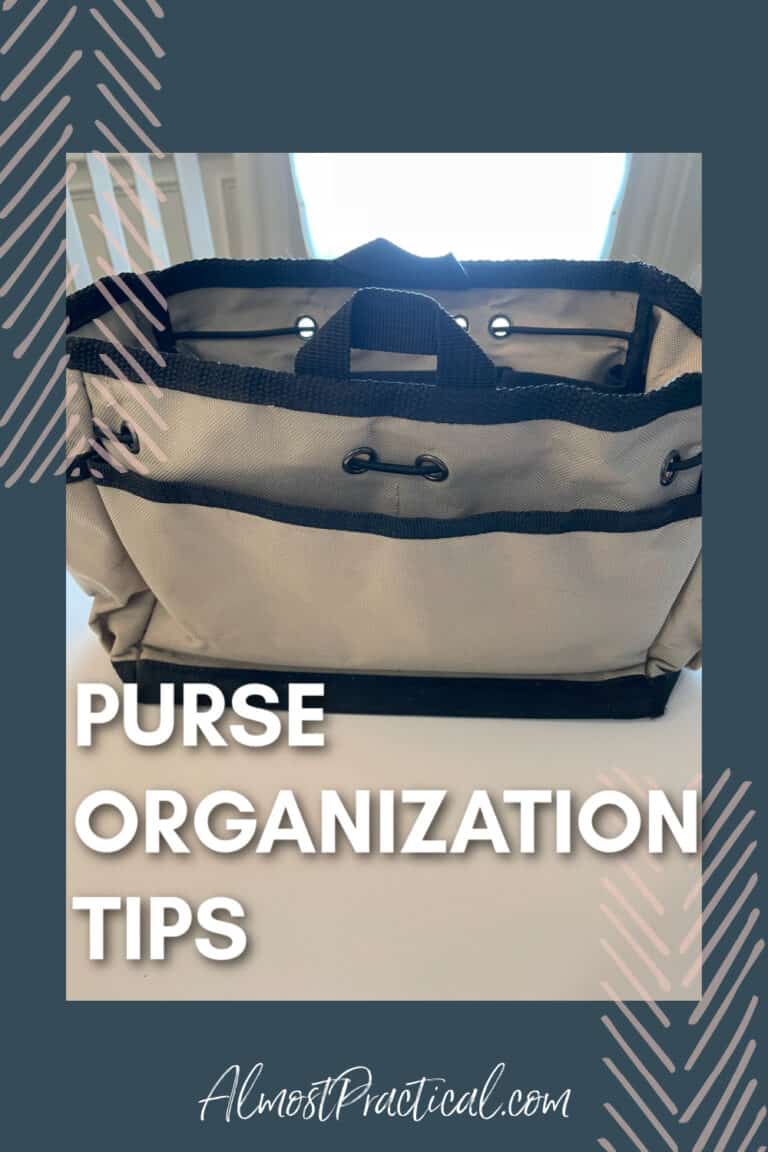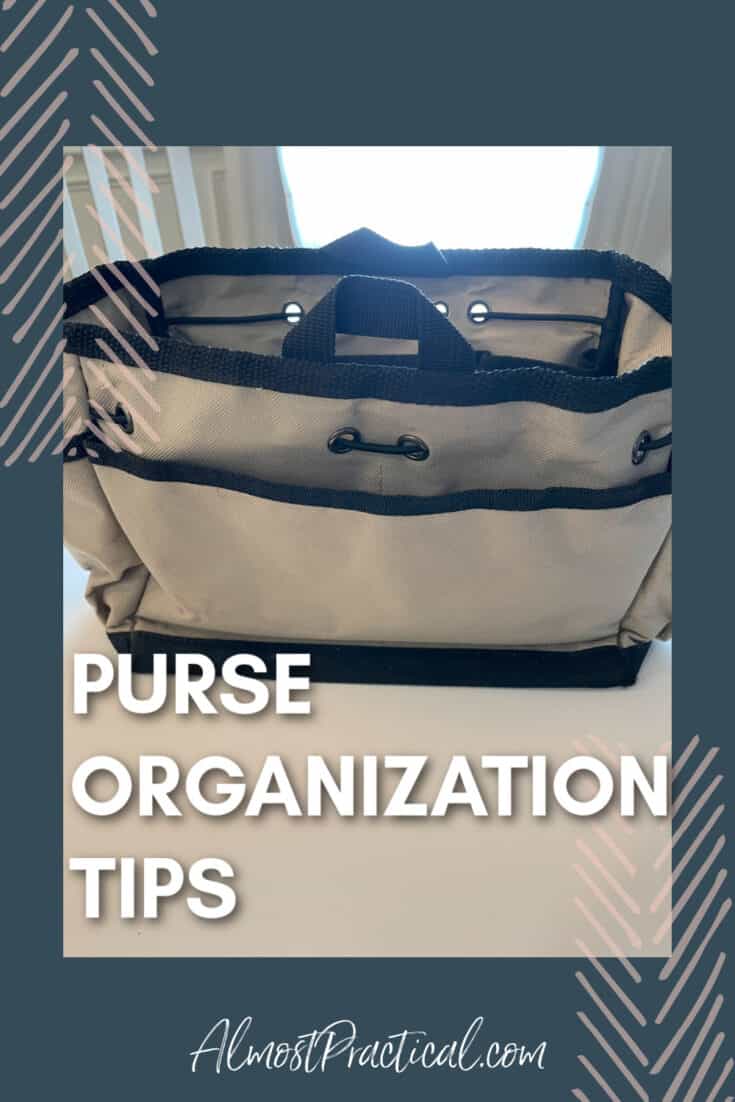 Once the contents of your purse is organized into pouches – it's time to put everything back into your purse.
If your purse is very floppy then you can add a purse organizer insert to give your handbag some structure.
Otherwise, choose which items you will need to carry with you and place these pouches inside your bag.
Place the remaining pouches in your purse staging area to grab whenever you need them.
Step 6: Store Your Handbag Collection Neatly
This pouch system of purse organization makes it easy for you to switch handbags as often as you like.
So, you will want to store your collection of handbags in your closet or in bins so that you can easily find the one that you want to use.
That's it! Your purse is organized and you are ready to go!
How Marie Kondo Organizes Purses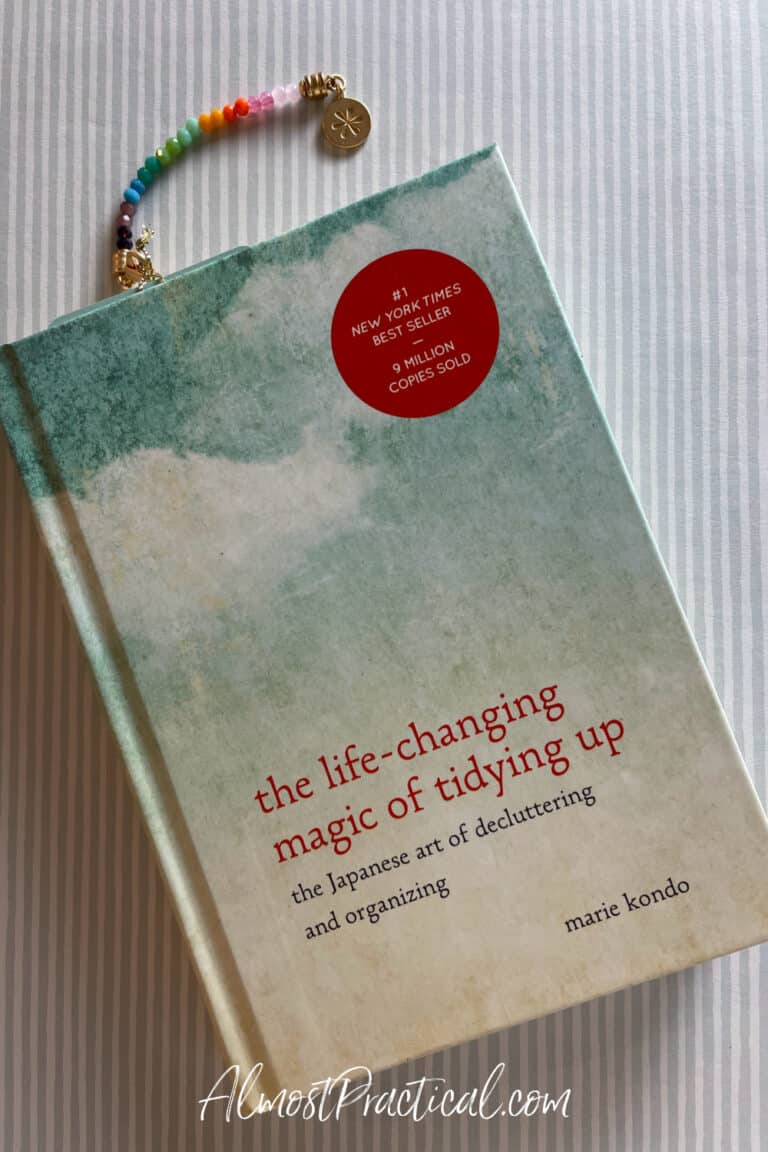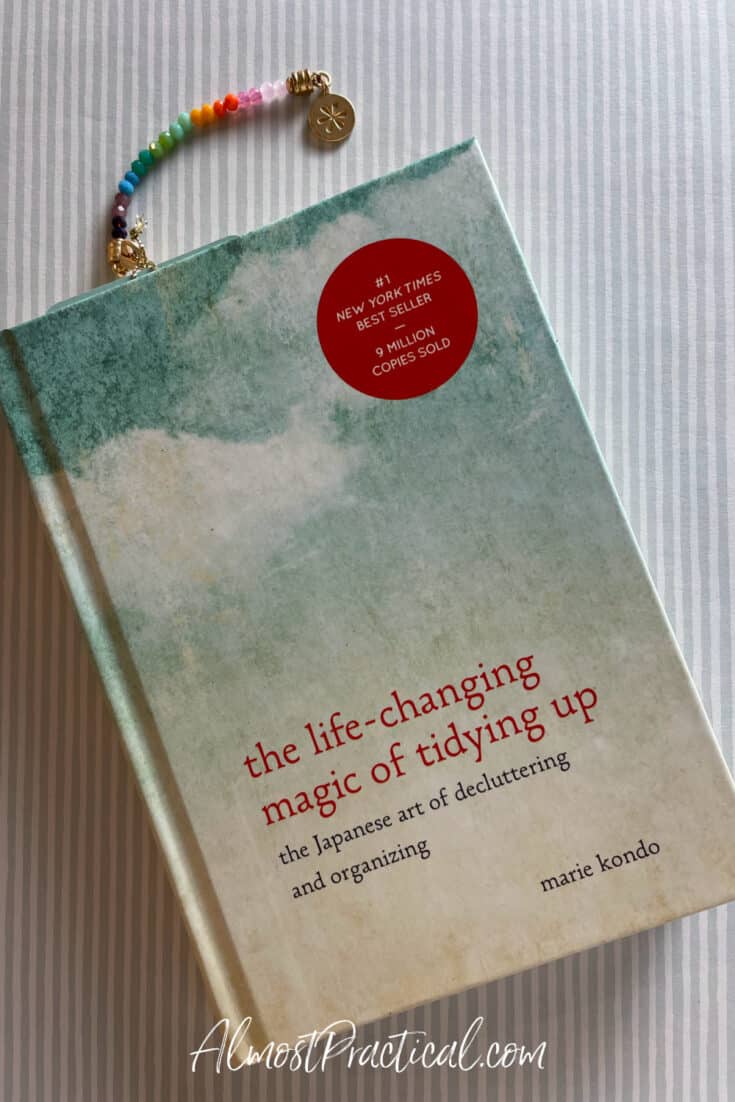 In Marie Kondo's famous book The Life Changing Magic of Tidying Up she also talks about purse organization.
Her method involves using a purse staging area – a box or drawer – where you should empty the contents of your purse every night.
By emptying your purse out each evening you will be dealing with your clutter daily and your purse will stay neat.
I haven't been able to keep up with such a routine but I do use a staging area and empty out my purse periodically.
Organize Your Purse and Increase Your Self Confidence
When you can find everything you need inside your purse when you need it, it gives you a sense of control. This in turn helps you to feel self confident.
To organize your purse all you need to do is commit some time to the project, create a staging area, divide the things you carry around into categories and place them into a system of pouches.
Finally, remember to carry only what you need and periodically empty out and declutter your handbag.
Happy organizing!