How to Organize a Hobo Style Purse
This post may contain affiliate links which means I make a commission if you shop through my links.
 Disclosure Policy
If you have a hobo style purse and are having a hard time keeping it organized, here are some tips that can help.
Lately, I have become a little obsessed with hobo bags.
I've never been a hobo bag type of gal – my go to favorite style of purse has always been a tote.
This is because – as much as I love fashion – I need my handbag to be practical.
In fact, I even have a list of criteria for picking the perfect handbag – in which I specifically say that
Two handles, long enough to carry on the shoulder, are better than one.
So why the sudden obsession with hobo bags?
Well, I do love that slouchy and casual look.
And I kind of found a purse that I loved in the form of a Calvin Klein leather hobo bag (pictured here) that met a lot of my "rules" for being very useful.
But, I had to do a little finagling to make it super practical so that I could stay organized.
If you also love hobo bags but find it hard to keep things orderly because of all the slouchiness – then these tips might help you too.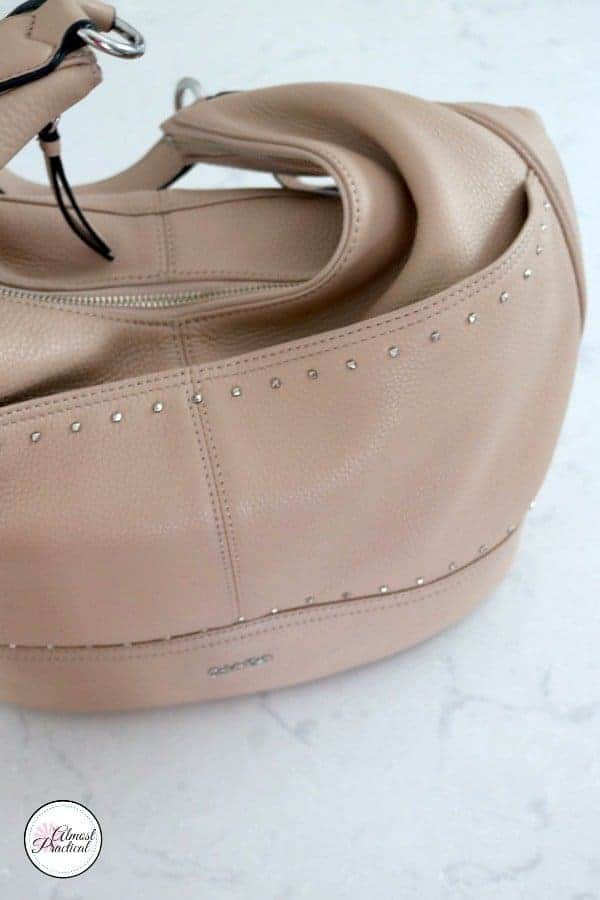 What To Look For In a Hobo Bag
By their very nature hobo bags are kind of floppy and don't really stand up on their own.
While this definitely gives you a boho chic look, it jumbles everything together inside your bag – which means it is really hard to find stuff.
A Bottom Gusset is Nice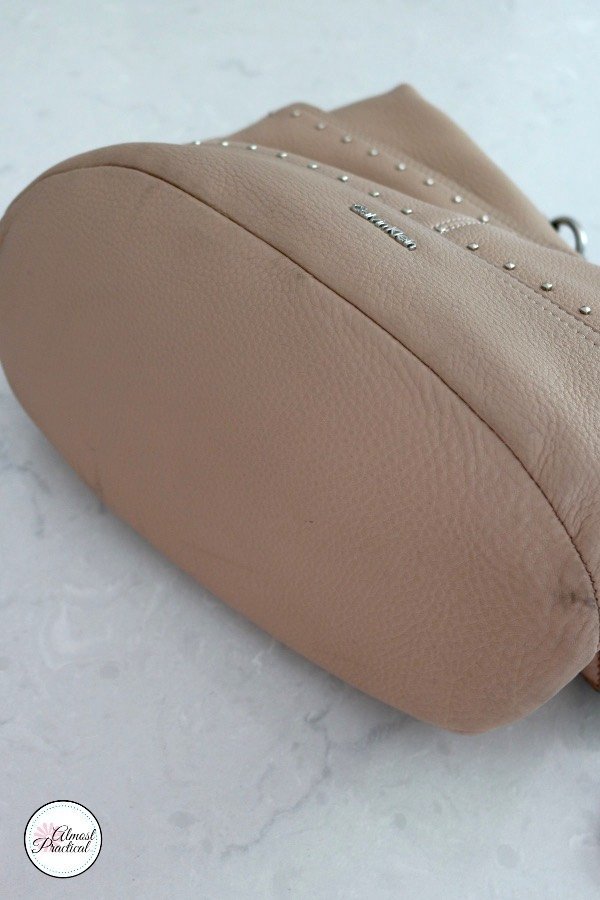 I have seen lots of different styles of hobo bags and the ones that I like best have a gusseted bottom – you can read what that means in sewing terms here.
Basically for my terms a gusset is a piece of material that creates a flat bottom for your bag or purse.
This adds a little structure to help the bag stand up on it's own.
The best gussets have four feet attached to keep the bottom of your purse off of the ground or the surface that you set it on, which keeps the bottom of your bag a bit cleaner.
One Outside Pocket
To stay organized I am an adamant supporter of one and only one outside pocket.
This is where I keep my keys and my rewards cards on a key ring.
That is all that I keep in this pocket – no matter what purse I am using.
Every since I started this practice, I never lose my keys. I always know exactly where to find them.
Now that I have driving teenagers in the house – they also know exactly where to look if they need to use the car and exactly where to put them back.
When I am out and about – it is an ingrained habit for me to put my keys in the outside pocket.
So, there is no more fishing inside of my purse or sifting through my pockets to find the keys.
This habit is seriously life changing.
Try it.
I guarantee you will never buy another purse – hobo bag or any other style – without an outside pocket again!
Only One Large Inside Compartment
Most hobo bags have one large inside compartment that zips shut.
This is also important for me to keep my purse organized.
If there is more than one compartment – I end up having to search through too many places to find my stuff.
Stick to one.
A Strap that Fits Comfortably On Your Shoulder
Make sure your hobo bag sits comfortably on your shoulder.
If you plan to use the purse in the winter – remember that you will likely be wearing a winter jacket or coat.
The Untold Secret – Use a Purse Organizer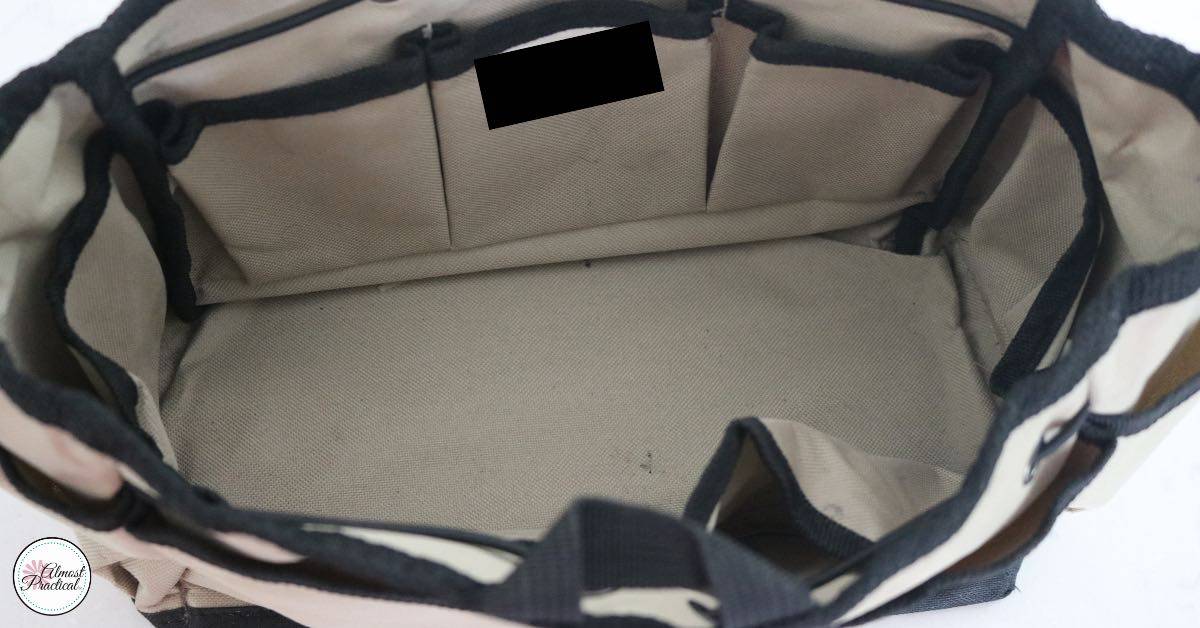 While all of the above features are important – the best way to keep your hobo bag organized is to use a purse organizer.
A purse organizer will
add structure to your bag so that it will stand on its own
provide you with plenty of inside pockets and dividers
make it easy for you to switch bags on a moments notice
Since I use a purse organizer – I no longer pay much attention to how many internal pockets a purse has built in.
It is nice to have a slot for your phone or a small zippered internal pocket for valuables – but a purse organizer really takes care of all that.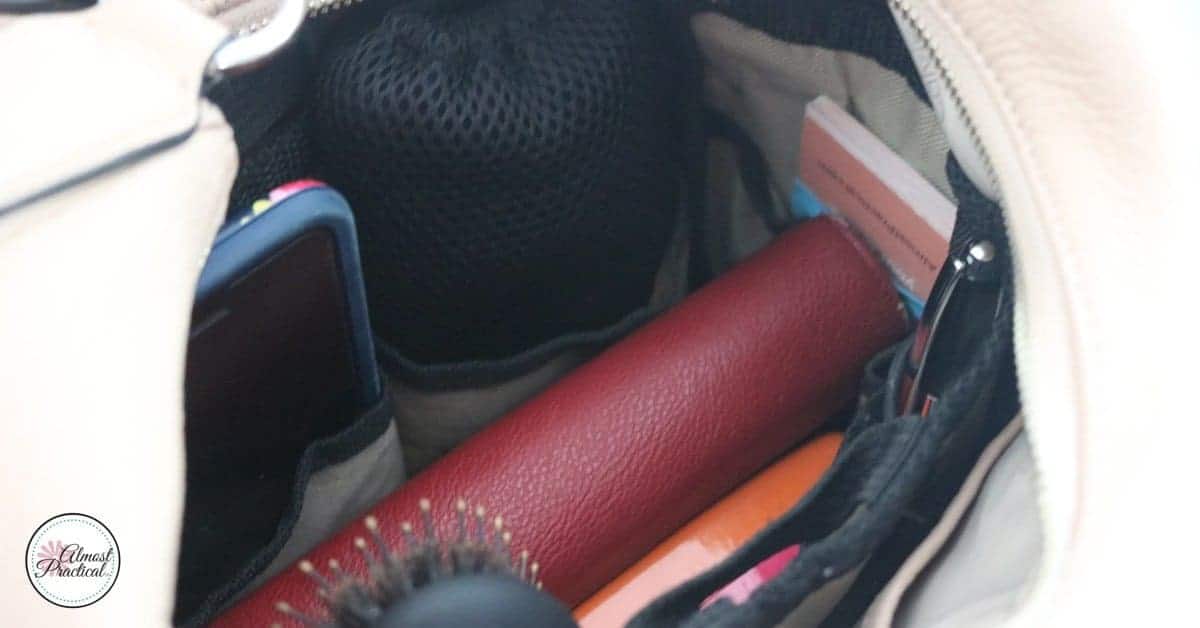 Unfortunately, the purse organizer pictured above is no longer available – but there are many choices at Amazon.
I am a fan of the KonMari method of organizing (outlined in Marie Kondo's book: The Life Changing Magic of Tidying Up).
In her book Marie Kondo talks about emptying your purse completely every night when you get home and are in for the night.
A purse organizer makes this really easy. (Just a footnote – I don't do this – although I really would like to get to the point where I can.)
You can find more of my tips for purse organization here.
Related Post: What Does Being Organized Mean?
Find the Right Hobo Bag for You
So, you see, you can stay organized if you decide to choose a hobo bag as your style of purse.
You just need to make sure that it has certain features to keep you on track. The ones I like best are:
a gusseted bottom
a single outside pocket
only one central main compartment.
It is also nice to use a purse organizer to give the hobo style purse some added structure.