I make this chole recipe at least once a week for my family. It is an Indian chick pea curry – and my version also happens to be jam packed with vegetables.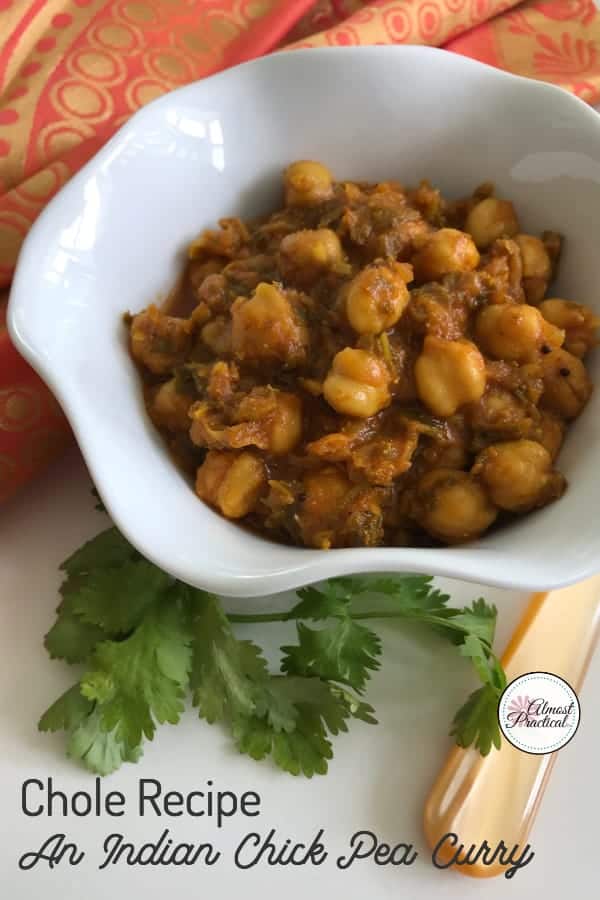 My kids don't often agree on food in my house.
Never Miss Another Recipe!
Use the form below to sign up for our newsletter and get new recipes right in your inbox.
You are signing up for to receive informational and promotional email from AlmostPractical.com. Unsubscribe at any time. See our Privacy Policy here.
Everyone has their favorites – unfortunately for me, they don't have the same favorites.
Except for my Indian chick pea recipe. They all love it.
And I love that it is:
easy to make and
full of vegetables.
Today I made it in the Instant Pot – but you can make on the stove top just as easily.
Related Posts:
What You Will Need
To state the obvious – you will need some chick peas.
Typically, I use canned chick peas but if you are good at planning ahead, you could soak dried chick peas overnight or prep them in the Instant Pot before you make this recipe.
Pictured below are some of the ingredients that I use.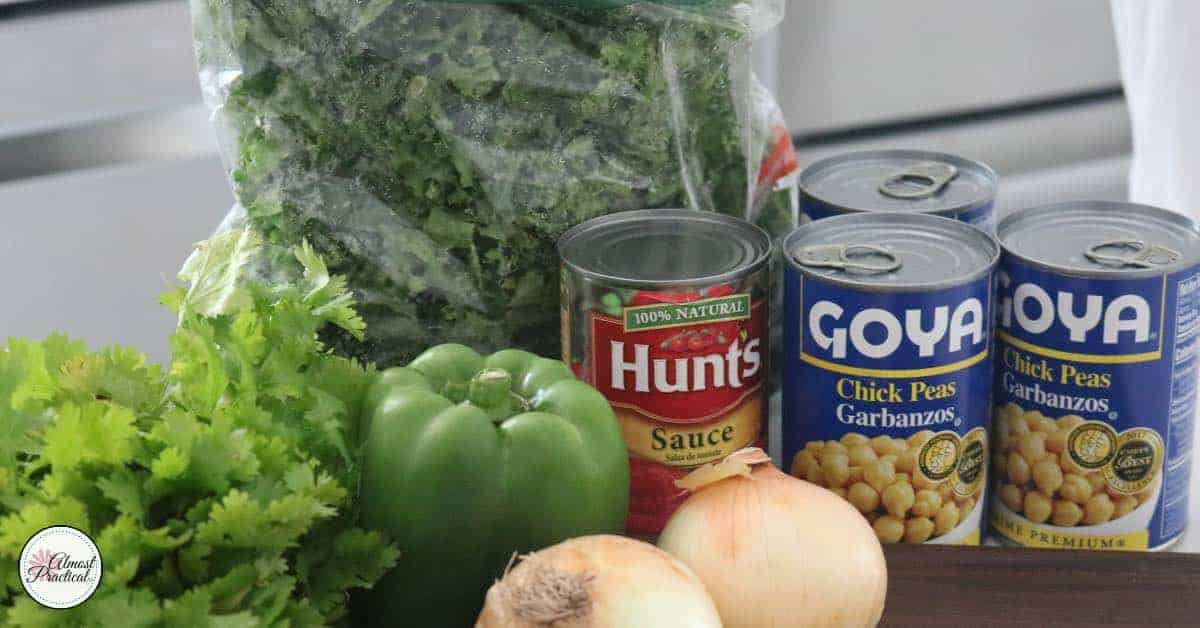 In addition to the 3 cans of chick peas, I use
a can of tomato sauce
onions
green pepper
garlic
cilantro
kale (yes, kale!)
green chili pepper
 and spices – see below
How to Make Chole
Do the Prep Work
To make this Chole Recipe I like to prep all my ingredients ahead of time.
Because there are so many good veggies – there is a little chopping to do.
I always use my Ninja food processor (it is also a blender) to do the heavy lifting.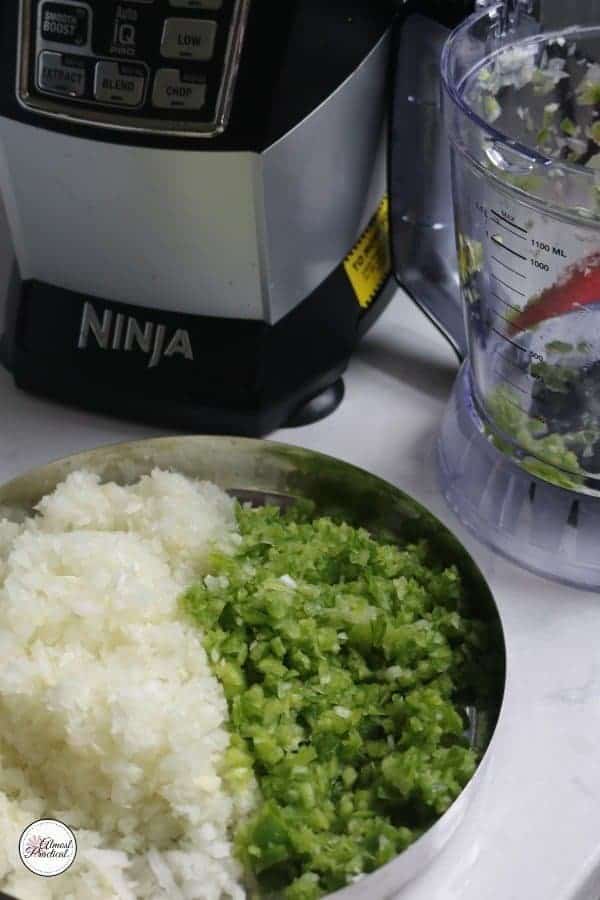 First, I pulsed the onions and garlic together and set aside – I used 2 large yellow onions and 4 large cloves of garlic which was about 2 cups chopped.
Next, I pulsed one large green bell pepper which was about 1 cup chopped.
Finally, I filled up the whole food processor bowl with kale and pulsed that into tiny little bits. (about 1 cup chopped)
I did cut a few of the vegetables by hand – about 1/2 cup of chopped cilantro and one long green chili.
You can omit the chili if you prefer a milder dish.
You can also use a fresh jalapeno if you can't find a Indian green chili which is a fresh cayenne pepper (learn more about different types of spicy peppers here).
Now, drain and rinse your 3 cans of chick peas in a colander and set aside.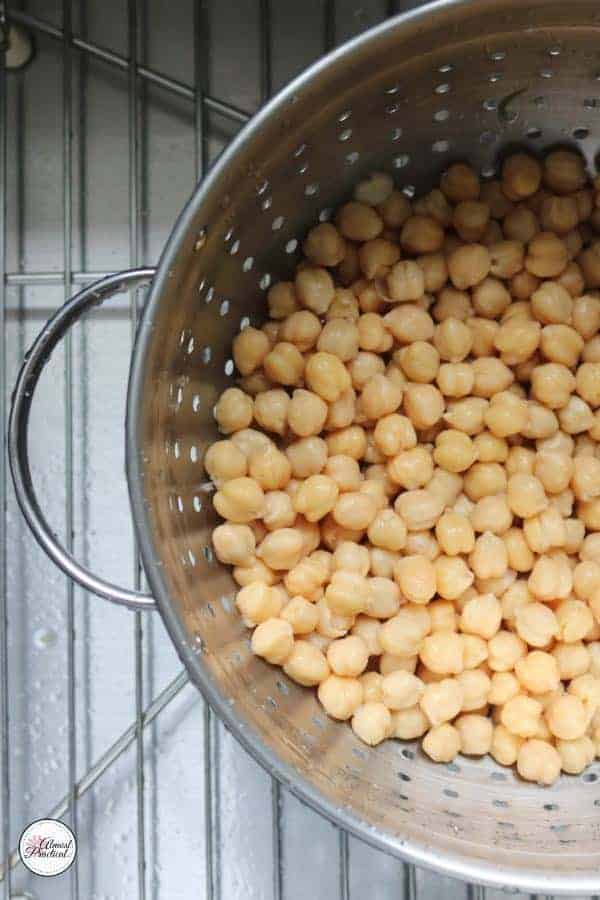 Putting It Together
Once you have all the ingredients for the Chole recipe prepped – it is time to put it all together.
Put your Instant Pot on the sauté setting and add 2 tablespoons of canola oil.
Let it heat for a minute and toss in 1 teaspoon of black (or brown) mustard seeds. When the seed start to pop add in a teaspoon of cumin seeds.
Now add the chopped onion/garlic mixture and the chopped green pepper.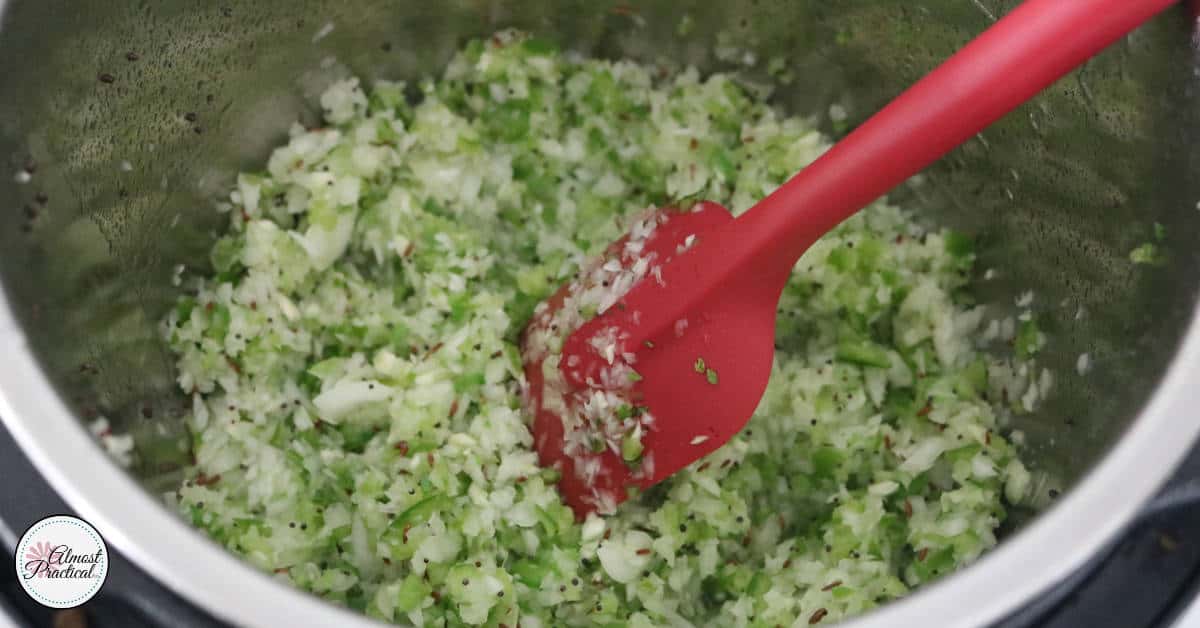 Sauté until the vegetables are softish.
More Indian Food Recipes You Might Like:
Add the chopped kale, cilantro, and green chili.
Let cook for one minute more.
Then add the drained chick peas and the following spices:
Turn off the Instant Pot.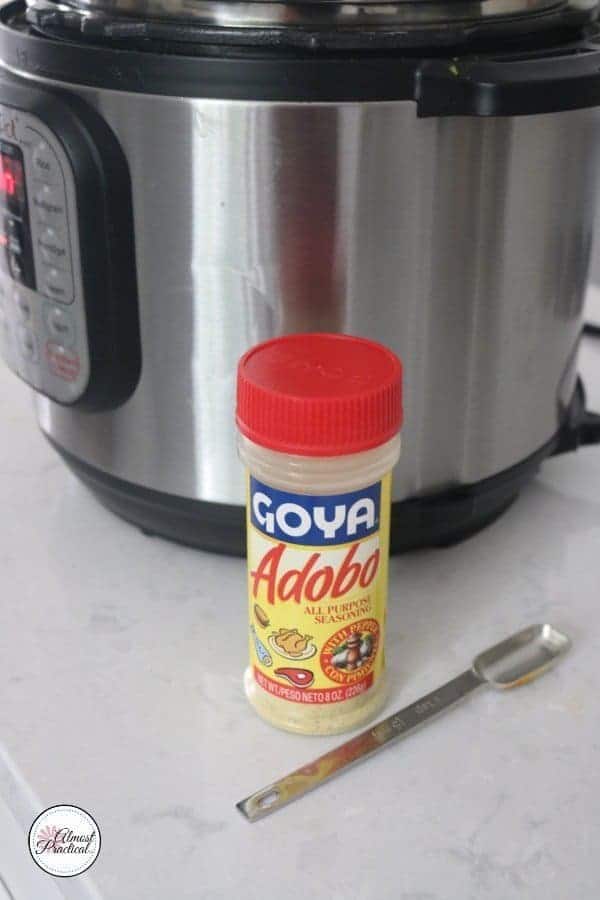 Pour in the can of tomato sauce plus 1-1/2 cups water. (I swirl the water around in the empty tomato sauce can and then the food processor bowl to get all the last bits before pouring into the Instant Pot.)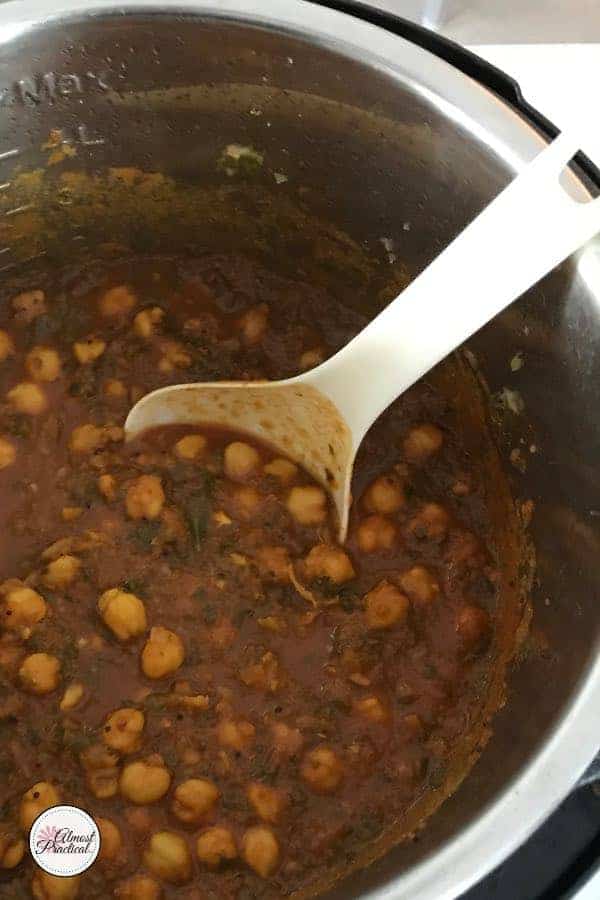 Place the lid on the Instant Pot with the vent in the closed position. Press "Manual" on the Instant Pot and set it to 4 minutes.
More Instant Pot Recipes You Might Like:
When the time is up, let the pressure drop naturally.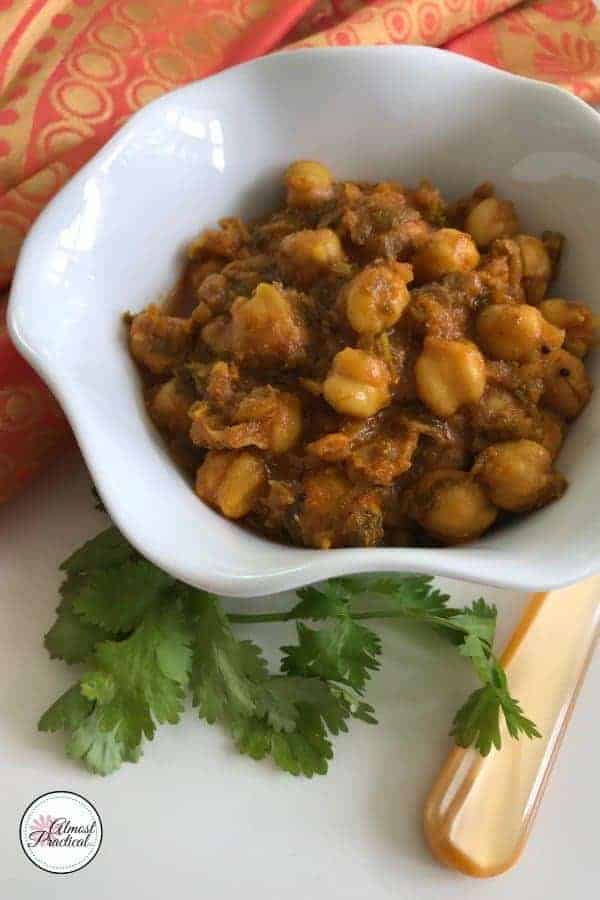 And that's it!
Serve this Indian chick pea curry over a bed of fluffy basmati rice and enjoy.
Print This Chole Recipe
Print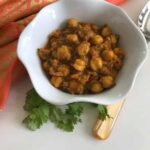 Chole Recipe – An Indian Chick Pea Curry
Author:

Yield:

6 main dish servings
---
Description
A spiced Indian chick pea curry that is full of nutritious vegetables.
---
Ingredients
2 cups chopped onion
1 cup chopped green bell pepper
4 garlic cloves, chopped
1 cup chopped kale
1 long green chili chopped
1/2 cup chopped cilantro
3 – 15.5 oz cans chick peas, drained and rinsed (about 4.5 cups)
1 – 15 oz can tomato sauce
2 tablespoons canola oil
1 teaspoon black or brown mustard seeds (not yellow)
1 teaspoon cumin seeds
2 teaspoons turmeric powder
2 teaspoons paprika
2 tablespoons cumin powder
2 tablespoons coriander powder
1 teaspoon adobo seasoning
1/2 teaspoon ground black pepper
1-1/2 cups water
---
Instructions
Set Instant Pot on Sauté setting and add the canola oil. Heat for 1 minute.
Add mustard seeds.
When they start to pop add in the cumin seeds.
Add chopped onions, garlic, and green pepper. Sauté until softened.
Add chopped kale, cilantro and green chili. Sauté for one more minute.
Add chick peas and all spices.
Stir.
Turn off the Instant Pot.
Add in the can of tomato sauce and the water.
Put lid on Instant Pot with vent in closed position.
Press "Manual" on Instant Pot and set to 4 minutes.
When time is up, turn off "Keep Warm" and let the pressure drop manually.
Serve over a bed of basmati rice.