Instant Pot Review – Pressure Cooker, Slow Cooker, Yogurt Maker, and Rice Cooker
This post may contain affiliate links which means I make a commission if you shop through my links.
 Disclosure Policy
In this Instant Pot review, we are going to get up close and personal with an amazing kitchen appliance – the Instant Pot.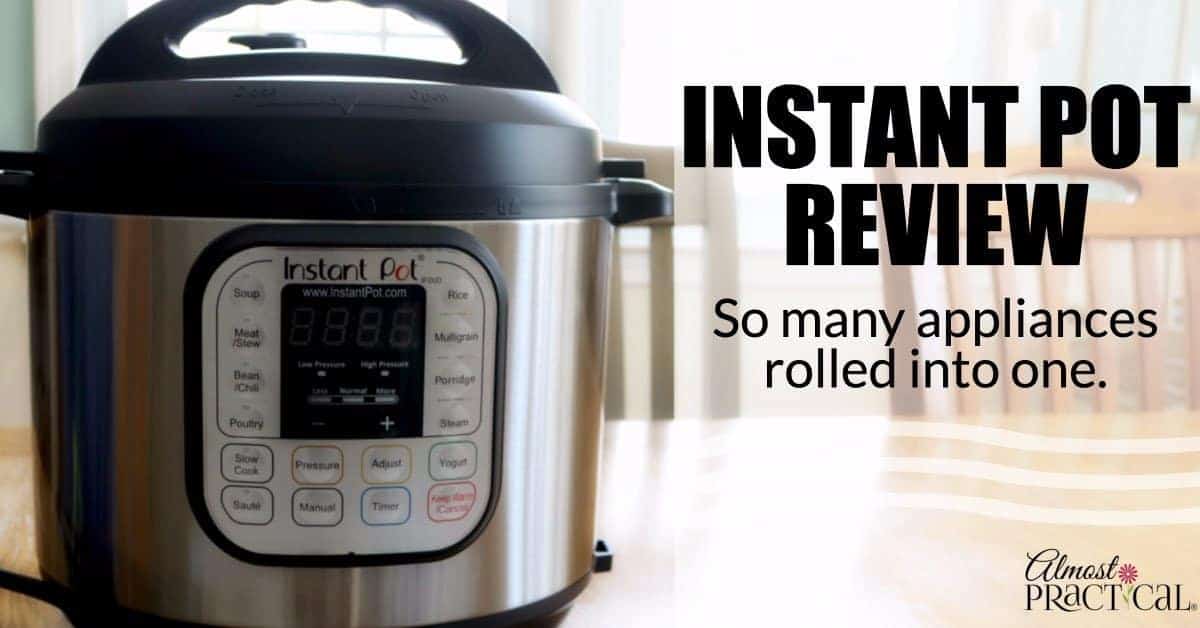 What is the Instant Pot?
Basically, the Instant Pot is an electric pressure cooker, slow cooker, yogurt maker, rice cooker, and skillet, all rolled into one.
Even though I had heard amazing things about the Instant Pot, I held off buying my own for the longest time. I already had a stovetop pressure cooker, 2 slow cookers, and a rice cooker, so it felt sort of extravagant to buy one more thing.
But as I found more and more Instant Pot recipes, I knew that it was just a matter of time. 😉
What Comes in the Box
When you order an Instant Pot, you get the appliance itself, which is the outer cooker, an inner stainless steel pot, a specialized lid, a ladle, a serving spatula, a cup for measuring rice, and a rack for steaming.
How the Instant Pot Works
When you first look at the control panel on an Instant Pot, it is a little intimidating.
There are preprogrammed buttons for soup, stew, chili, etc. However, I have found that I mostly the manual function for pressure cooking, sauté, rice, and yogurt.
Pressure Cooking in the Instant Pot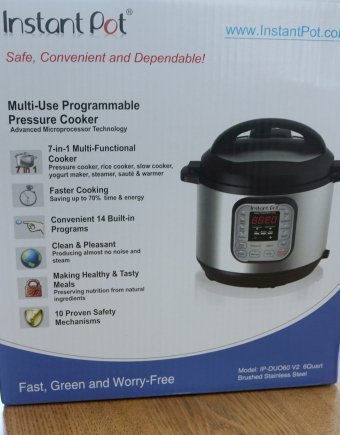 I think that pressure cooking is the most novel function on the Instant Pot. While I have had a stovetop pressure cooker forever, most of my friends don't.
So, it is a nice surprise for them to have an appliance that cooks food fast. Meats come out super tender, dry beans cook lickety split, and most things don't burn.
To use the pressure cooker (of course, you must read the instructions that come with the unit) you place your ingredients in the Instant Pot, making sure that there is plenty of liquid, set your desired pressure level and time, close the valve and the lid and let it cook.
When the time is up, the Instant Pot will beep. Then you must let the pressure drop naturally or use a quick release by turning the valve.
However, using the quick release too quickly can result in hot liquid spatter throughout your kitchen. (yes, I learned the hard way)
Pressure Cooking in the Instant Pot Still Takes Time
Cooking "fast" is a relative term and the word "Instant", I think, is a little misleading.
The Instant Pot is not like a microwave, where food is done in a few minutes.
A pressure cooker takes time to heat and reach pressure. The timer starts once the pressure is reached. Once the timer is done, a pressure cooker takes more time to naturally release pressure.
So, you generally cannot start cooking dinner in the Instant Pot five minutes before you plan to eat – you will need a longer prep and cook time than that.


Slow Cooking in the Instant Pot
The slow cooker function on the Instant Pot works pretty much like a traditional slow cooker.
You add your ingredients and set it and forget it for four to eight hours.
One thing to note is that the Instant Pot only comes with the heavy pressure cooker lid. You can use this for slow cooking too, but I prefer the glass lid that comes with traditional slow cookers. So, I ordered this glass lid for the Instant Pot separately.
Making Instant Pot Yogurt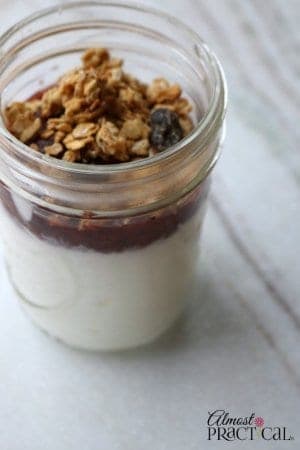 This feature totally took me by surprise. I don't have a separate yogurt maker and never in a million years did I think that I would make yogurt in the Instant Pot. But I tried it – and now my family won't eat store bought yogurt ever again.
Instant Pot yogurt is simple to make and is so creamy good. I even make fruit compotes to put on top.
One thing to note here is that homemade yogurt by nature is a bit watery. So I use this strainer to eliminate some of the water (or whey) and make a creamier yogurt. Mine comes out lighter than greek yogurt but thicker than standard yogurt.
Cooking Rice in the Instant Pot
The Instant Pot comes with a little booklet that tells you the proportions of rice and water to use for the rice cooking function.
I have used an electric rice cooker for ages because I cannot be trusted to make rice on the stovetop without burning it.
The Instant Pot works much the same way as an electric rice cooker. Super easy.
Instant Pot Models
Here are some of the Instant Pot models that are available (read this article if you are trying to decide which Instant Pot to buy):
This is the model that I used for this Instant Pot review.
It is a 6-quart pot and honestly, I think it is a perfect size. Not too big and not too small.
Keep in mind that you should only be filling up the Instant Pot to a maximum of about 2/3 full when using the pressure cooker function. So, you need that extra space at the top.
This model, the IP-Smart-Bluetooth is also a 6-quart pot like the DUO60 except that it has Bluetooth functionality. This means that you can control this Instant Pot with an app on your iPhone or Android device.
Since I work from home, I don't really need this. But I can see a scenario where you may want to use this if you are away from home when you want to start dinner.
I would just be careful with food spoilage issues.
For people that need a smaller Instant Pot, you could take a look at the IP-DUO50, which is a 5-quart pot.
Personally, I would go for the bigger IP-DUO60 (it is only 1 quart bigger and both are about the same price on Amazon), this way you won't be limited by the smaller size.
Many of the Instant Pot recipes that you find online use the 6-quart pot, so it just seems like a better choice overall – to me.
If you have a particularly large family or you cook for a crowd, the 8-quart Instant Pot may work out better for you.
Just be sure, when and if you order accessories for the Instant Pot that you get the right size – because I think that they are not interchangeable.
Instant Pot Accessories
For the most part, everything you need to start using your Instant Pot is in the box. However, as part of this Instant Pot review I am compelled to mention a few accessories that would be nice to have:
Instant Pot Recipes
While I plan to add many Instant Pot recipes to this site – here are a few that you can easily modify to cook in the Instant Pot:
What can you add to this Instant Pot review?
Do you have an Instant Pot? Tell me about your favorite features in the comments below.
Be sure to check out our Instant Pot Lovers Gift Guide here.
Pin This