How to Use Packing Cubes to Pack More in Less Space
This post may contain affiliate links which means I make a commission if you shop through my links.
 Disclosure Policy
My secret to traveling light? Packing cubes.
Many eons ago, when my children were little, I bought several sets of eBags packing cubes for an international trip.
That has been the single most useful travel purchase I have ever made.
Nowadays, I like to travel using carry-ons only – and the only way that I can make it happen is to use travel cubes.
And now Erin Condren is offering some really pretty packing cubes here. Or you can find more traditional packing cubes here on Amazon.
They are much more economical than the leading name brand and just as durable.
You can make your trip much more efficient with travel cubes, too.
This is how.
More Posts to Help You Organize Your Travel
What Packing Cubes Can Do For You
I will explain how you can use packing cubes to:
stay organized during your trip,
pack more efficiently,
unpack quickly when you get home,
and eliminate unforeseen situations.
What are Packing Cubes?
Let's start with the basics.
Packing cubes are lightweight, nylon zippered bags, that you can use to compartmentalize your suitcase or carry-on luggage.
When they are empty, they flatten to just about nothingness. But you can stuff them full and often fit more into each packing cube than into your suitcase alone.
How To Use Packing Cubes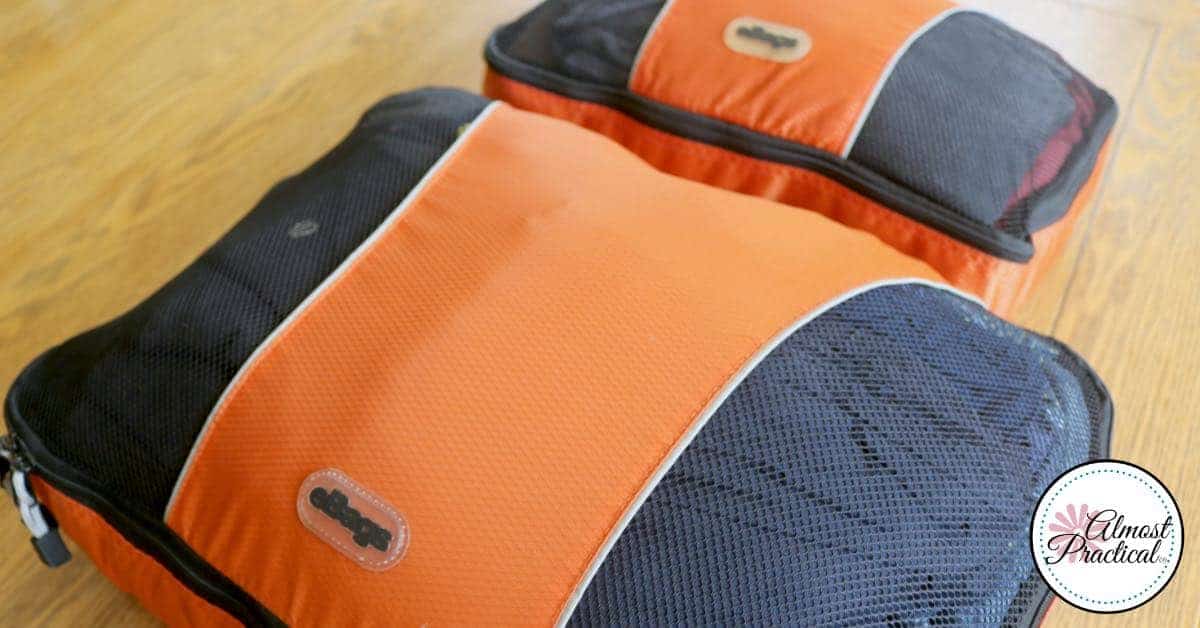 Packing cubes can help you stay organized during your travels – whether you are flying solo or packing your entire family.
I bought my sets when my children were little. In those days, we would often take one large suitcase but I wanted to keep each child's clothing separate.
The packing cubes solved the problem because I could pack one or two cubes for each kid and throw them all into one bag.
Now, we each usually take one bag each. But the packing cubes still come in handy for organizing because we can separate different types of clothing.
There is not one "right" way to use a packing cube, but here are several tips for using packing cubes to stay organized on your trip:
Packing Cube Travel Tip – Traditional Use
Use one packing cube per type of clothing:

shirts
pants
underwear
cosmetics/hairdryer/bathroom essentials
shoes

Slip one empty packing cube into your luggage for your dirty laundry.
When you arrive at your destination, unzip the packing cubes and lay them in an empty drawer.
As you use your clothing, fold it and place it in the empty cube to bring home and launder.
Packing Cube Travel Tip – Multiple Destinations
If you are going on a long road trip with multiple destinations packing cubes will be your best friend.
Pack one cube for each destination, and pack one cube with stuff that you will need at all your destinations (toiletries, pajamas, valuables, etc.)
When you arrive at each place, you can just grab the two cubes – one with the stuff you need for that night, and the one with the stuff you will need at all locations.
It may seem a little odd, but you can even use a packing cube to tote your road trip snacks.
You can leave everything else in your car.
Packing Cube Travel Tip – Families with Small Children
As I mentioned before, you can use a separate packing cube for each family member.
Also, pack a few empty cubes for dirty laundry.
Another way that these come in handy are for toys. Pack up your child's favorite distractions in one cube and have it handy at your hotel.
So, now you know how …
This Is How You Can Pack More Efficiently
The thing about packing cubes is that you can squeeze an awful lot into each individual zippered pouch.
When you zip them closed, everything inside becomes sort of compressed.
So, if you are a pack rat who is trying to use only a carry-on, this is what you need.
You can experiment with how to fit your clothing best.
But I have done everything from rolling up each individual piece KonMari style to laying pieces flat across the center of the bigger packing cubes and tucking things like socks and underwear around the perimeter.
You can then stuff several different sizes of packing cubes into your bag or luggage.
How I Used a Shoulder Bag Only
Recently, we flew to Ft. Lauderdale Florida for a 3-night trip.
All I took was a large tote bag and a purse.
Inside my tote bag I used one large packing cube for my clothing and one slim sized packing cube for all my chargers and electronic stuff (seriously).
When I arrived at my destination, I took the packing cubes out of the tote filled the tote with sunscreen, towels, and water bottles – and used the tote as my beach bag.
Talk about double duty.
Packing Cubes Make Unpacking a Breeze
It goes without saying that unpacking a packing cube is easier than packing.
Because all of your dirty laundry is in one cube – that one goes straight to the laundry room when you get home.
Shoes to the closet. Toiletries to the bathroom.
Easy.
Packing Cubes Can Help You Avoid Travel Nightmares
These are the things that no one likes to think about.
But they happen.
The Zipper on Your Suitcase Busts
Because all of your stuff is tucked away neatly in your packing cubes – your underwear will not be scattered all over the baggage carousel.
Your Carry-On is Too Big
Despite your best plans, you get on the plane and find that there is no overhead bin space available. So, you have to gate check your bag.
Because you used packing cubes, you can easily grab the cube that you need in-flight (your valuables, prescriptions, and maybe one outfit, just in case) and check the rest. Your packing cube will easily fit in front of the seat in front of you.
Your Carry-On is Too Heavy
Think redistribution.
Let's say your carry-on bag is too heavy. But the person that you are traveling with has a little more space.
Take a packing cube out of your bag and move it to your husband's or your child's bag.
You Went on a Shopping Spree
Maybe you had a great vacation and bought a few more things than you had planned.
Now, there is no space in your luggage.
Just empty a packing cube (hopefully, you remembered to take an empty one when you left), fill it with your new purchases and use it as a carry-on.
Related: How to Choose the Best Carry On Luggage for Your Trip
I Won't Travel Without Them
You can probably see why I won't take a trip without using my packing cubes.
They are great for helping me
stay organized during my trip,
fit more stuff in my luggage,
unpack quickly and easily,
avoid a travel nightmare or two.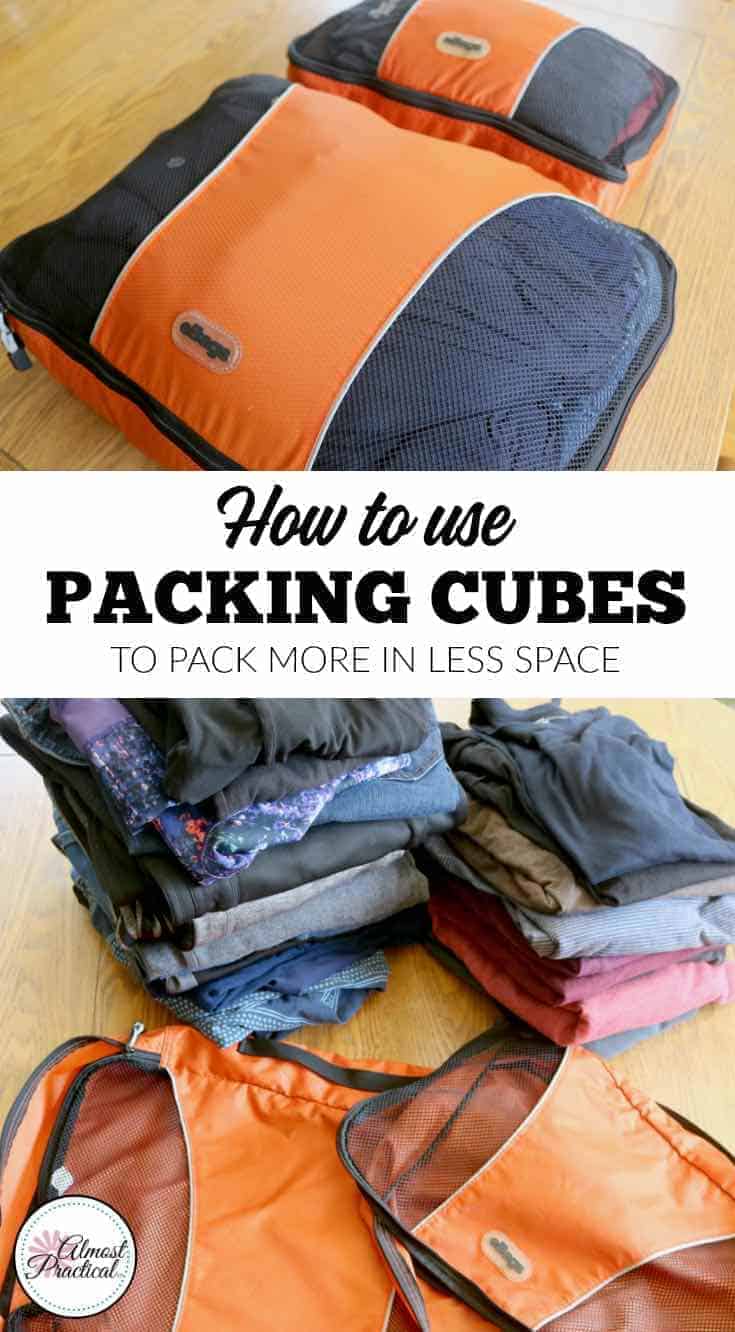 Share Your Packing Tips
Do you have a packing secret to share? Leave a comment below and tell us how you make your travels easier.