How to Choose the Right Carry-On Luggage for Your Next Flight
This post may contain affiliate links which means I make a commission if you shop through my links.
 Disclosure Policy
The carry-on luggage that you choose can make or break your trip. That is the reality of air travel today.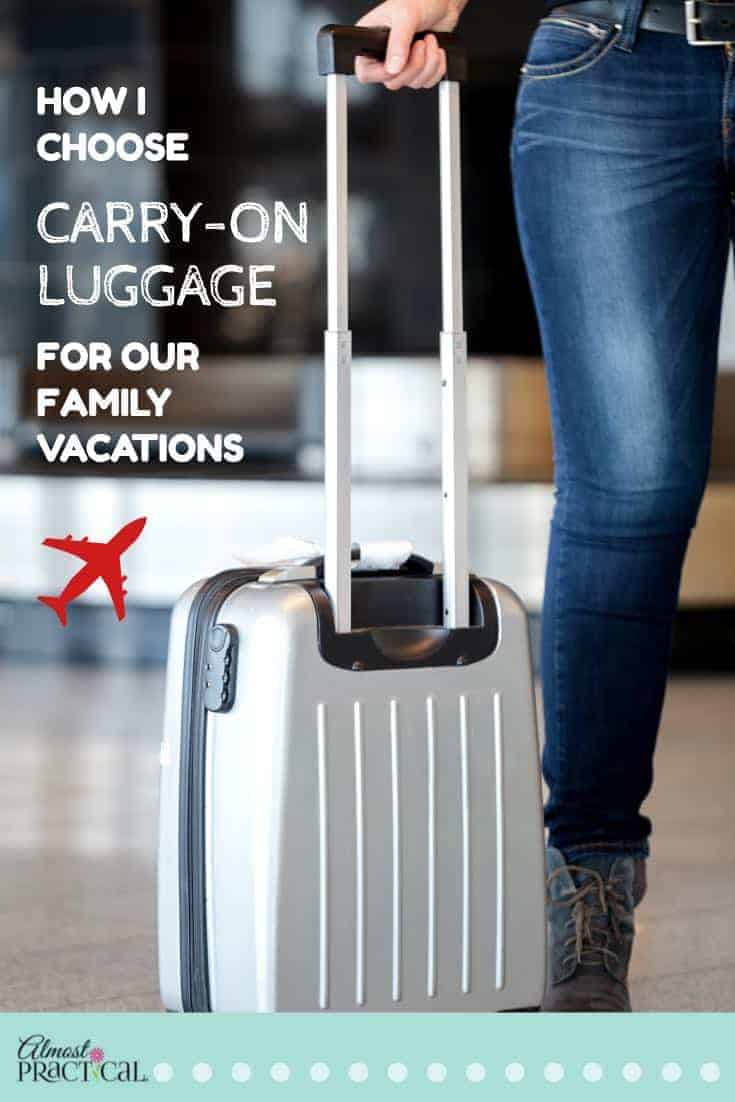 Charges for checked baggage can be steep, especially if you are traveling with a large family.
For the last few years, my family has bypassed the baggage carousel and have used carry-on bags exclusively.
It's made packing a little tricky but we have enjoyed a few advantages:
There is less stuff to lug around on vacation.
We don't have to worry about lost bags.
Unpacking is really easy and there is not as much laundry to do when we get home.
You may think that choosing what to take is the hard part of traveling light.
But that is not true.
If you follow the five tips below – you, too, will be on your way to a lighter and more stress-free vacation.
You have to choose the right carry-on luggage for the job
It may seem like choosing the biggest carry-on allowed according to your airline regulations is the way to go but that is not the case.
The fact is that every trip is different and there is not one "right" bag.
The bag that you need will vary depending on a number of factors.
How Much Stuff Do You Really Need?
Obviously, traveling light is key.
The less you take, the easier it is.
Be realistic with what you will really need vs what you want to bring along.
This bag is similar to the wheeled carry-on that I have.
Will You Be Shopping At Your Destination?
You may not need a lot – but if you plan to shop – make sure your bag is big enough to accommodate what you buy.
Usually, airlines allow a personal item and a carry-on bag – so I will often slip a string backpack into my bag that I can use on the way home. (I will take a smaller purse and place it in the string bag on the way home.)
What Model Is Your Airplane?
Now, don't roll your eyes at me. A little research goes a long way.
The whole purpose of finding the right carry-on bag is so you don't have to check it.
If there is not enough overhead space – then you will be forced to gate check your bag.
Find out the model of your airplane so you can gauge how deep the overhead bins will be.
Last week we flew home on an Embraer 190 and the overhead bins were not very deep. People were having trouble stowing their larger carry-on bags.
But you still might not have enough room because …
Where Are Your Seats and What Is The Airline Boarding Policy
Going hand in hand with knowing the model of your plane is understanding where you will be sitting and what that really means.
Some airlines board passengers from the front of the plane to the back. Others board passengers from the back of the plane to the front.
If your airline boards from back to front and your seats are all the way in the back – then you get to board the airplane first (after first class and special needs passengers, of course).
This means that many of the overhead bins will be empty and you will have your choice of space.
But if your airline boards from back to front and you are in row 1 – then the overhead bins may be full by the time you get on the plane.
Does that mean that you have to check your bags?
No, because I have one more trick to share.
Luggage or Duffel?
If you are really worried that there may not be enough overhead space for your carry-on luggage (and you don't have to walk long distances) consider taking a soft-sided duffel bag or shoulder bag instead of a wheeled carry-on.
The advantage of a soft sided bag is that you can shove it under the seat if front of you, if you are in a pinch.
Yes, you will sacrifice legroom but at least you will have your stuff.
Honestly, the style may be dated – but I really like using my Hervé Chapelier weekend size tote bag as a carry-on bag. Sadly, these are hard to find in the US anymore – but REI makes a large nylon tote that might do the trick.
It's sturdy, a good size, and I can use it at my destination as a beach tote or just to carry stuff for a day trip.
I usually use packing cubes inside to compartmentalize my stuff.
If your trip involves a lot of walking, this might not be the right option for you because carrying a heavy bag on your shoulder could hurt your back.
As you can see –
You May Need to Pick a Different Carry-On Bag
When it comes to choosing the right carry-on luggage – there is no one size fits all.
Here are 10 simple tips for traveling light on your next vacation.
Do your homework, plan ahead, and enjoy a stress-free trip!
Share Your Travel Tips
If you have a travel tip to share – tell us in the comments below.