Which Instant Pot to Buy – Pick the size and model that is right for you.
This post may contain affiliate links which means I make a commission if you shop through my links. Disclosure Policy
It can be a little tricky to figure out which Instant pot to buy because there are a few choices.
HOT NEWS: The Instant Pot DUO 60 is a Prime Day Deal – it's going on NOW! Check it out here.
Two New Instant Pot Models
UPDATE: There are now 2 new Instant Pot Models to choose from:
Not only does the Instant Pot come in different sizes, but it also comes in different models.
The one that I prefer is the 6 quart IP-DUO size and model. Since both newer models are 6 quarts as well and have some added functionality I would probably choose the Ultra if I were to buy one again.
This is why.
Let's Look at the Choices
The Instant Pot comes in 4 sizes:
To add to the confusion, there are also different Instant Pot models on the market.
You can choose from the
Which Instant Pot to Buy – Let's Start With Model
The Instant Pot basically comes in two model series.
There is the IP-DUO and the IP-LUX.
Judging from most recipes that I see online (this is not a scientific study and I could be wrong) – it seems that most people opt for the IP-DUO.
For the most part, the two models are similar except that the IP-DUO has a yogurt making functionality and the most current version of the IP-LUX has a cake and egg setting (but no yogurt).
The IP-LUX also costs less than a comparable sized IP-DUO.
I prefer the Instant Pot IP-DUO to the Instant Pot IP-LUX series because I do use it to make yogurt and I like researching Instant Pot recipes online (many of these use the IP-DUO model).
The Numbers at the End of the Model
We will be talking size soon, but I want to mention that as you look through the Instant Pot Models, you will see a number at end of each model style. This number indicates the size of the Instant Pot.
So, an Instant Pot IP-DUO60 is a 6 quart pot. Whereas an Instant Pot IP-DUO50 is a 5 quart pot. And the Instant Pot IP-DUO80 is an 8 quart pot.
The same holds true for the Instant Pot IP-LUX series. However, at this time I believe that the Instant Pot IP-LUX60 v3 is the only one in this series that has been updated to include the Cake and Egg setting.
Instant Pot Comparision Chart
I grabbed this Instant Pot comparison chart off of Amazon.com and it compares many of the features between the different models.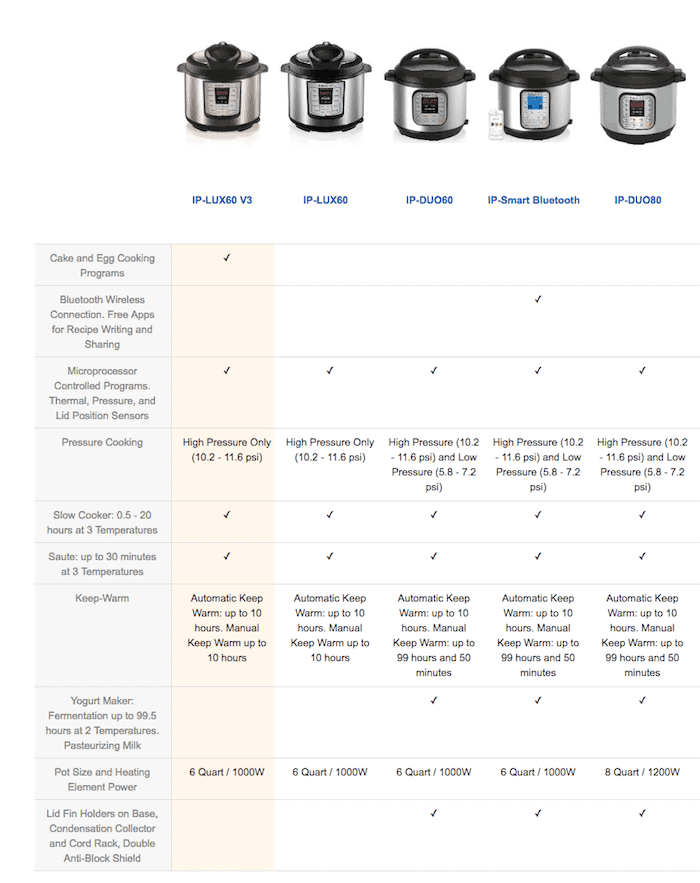 Which Instant Pot to Buy – Let's Talk Size
In general, the Instant Pot comes in 3 sizes:
5 Quart Instant Pot vs 6 Quart Instant Pot
In your quest to decide which Instant Pot to buy, if you are comparing the 5 Quart Instant Pot to the 6 Quart Instant Pot, in my opinion, the 6 quart is the way to go.
Not a Big Size Difference
First, there is only one quart of a difference in size between the two.
The footprint of each Instant Pot is pretty much the same, as far as how much counter space it will use.
More Flexibility
Given that the size difference is minimal, the 6 Quart Instant Pot offers you more flexibility.
You can certainly cook less food in a larger Instant Pot. But if the Instant Pot is too small, you certainly cannot make more.
Remember the Cushion
When you cook food in a pressure cooker, you should never fill it more than 2/3 full.
You need space at the top for the food to boil.
So, even with a 6 quart Instant Pot, you will not be filling it up all the way when you cook.
More Accessories
Because the 6 Quart model seems to be the most popular option, there are more accessories available for that size.
The Cost is about the Same
Cost could be your deciding factor. Right now, on Amazon, the cost of the 6 Quart Instant Pot IP-DUO60 is $99.99 and the cost of the 5 Quart IP-DUO50 is $97.30. (both prices are subject to change)
For less than 3 dollars more, you get the bigger size.
More Recipes
I enjoy finding Instant Pot recipes to try online. Many of these use the 6 Quart Instant Pot.
6 Quart Instant Pot vs 8 Quart Instant Pot
If you have a large family you may be debating between the 6 quart Instant Pot and the 8 quart Instant Pot when deciding which Instant Pot to buy.
There are 6 people in my family, and I find that the 6 quart size has been roomy enough.
The 8 Quart Instant Pot IP-DUO80 is roomier but there are a few things to consider when choosing between the 6 or 8 qt Instant Pot. The 8 quart unit is
taller – so you won't have much space between your upper cabinets and your Instant Pot. When you use the Quick Release function, you will have to move the Instant Pot slightly to direct the steam away from the upper cabinets.
more expensive – currently the price on Amazon is $204.99 (subject to change) which is more than twice the Instant Pot IP-DUO60.
not as common. So, it will be harder to find accessories and recipes that fit this size.
If you feel that the 6 quart will be too small, and you have the space in your kitchen, you may want to consider getting two 6-quart Instant Pots instead of the 8-quart.
The cost will still be less, and you have the option of cooking two different dishes at once (like chicken in one and rice in the other).
Related: Which Size Instant Pot is Right for My Family?
Instant Pot IP-DUO60 vs Instant Pot IP-Smart Bluetooth
The Instant Pot IP-Smart Bluetooth requires you to download an app on your smartphone or tablet, so you can "which lets you program complex cooking steps" wirelessly.
Honestly, I am not really familiar with the IP-Smart Bluetooth model. However, I can tell you what it is not.
The IP-Smart Bluetooth model works over Bluetooth, which means that you need to be near your Instant Pot to program it.
It is not an app that you would use to remotely start your Instant Pot (like when you are away from home). But rather an app that allows you to set up your cooking sequence from your phone instead of using the controls on the front of the Instant Pot.
Which Instant Pot to Buy – Choices, Choices
At the end of the day, you need to choose the best Instant Pot model for your needs.
Basically, the two areas where you need to make a decision are model and size.
Personally, I use the Instant Pot IP-DUO60 and have been very happy with it. Although, I now covet the newest 6 quart model – the DUO Plus.
If you are not familiar with the Instant Pot, it is an electric pressure cooker, rice cooker, slow cooker, sauté pan, steamer, warmer, and yogurt maker (if you get the DUO series) all in one. You can read my Instant Pot Review here.
Instant Pot Recipes
Here are a few of my favorite Instant Pot Recipes:
Need Some Accessories?
Be sure and check out our Instant Pot Gift Guide here.
Which Instant Pot Model Did You Choose?
Tell us in the comments below.