Peaches and Cream Oatmeal Recipe
This post may contain affiliate links which means I make a commission if you shop through my links. Disclosure Policy
You can enjoy oatmeal in the summer too with this peaches and cream oatmeal recipe.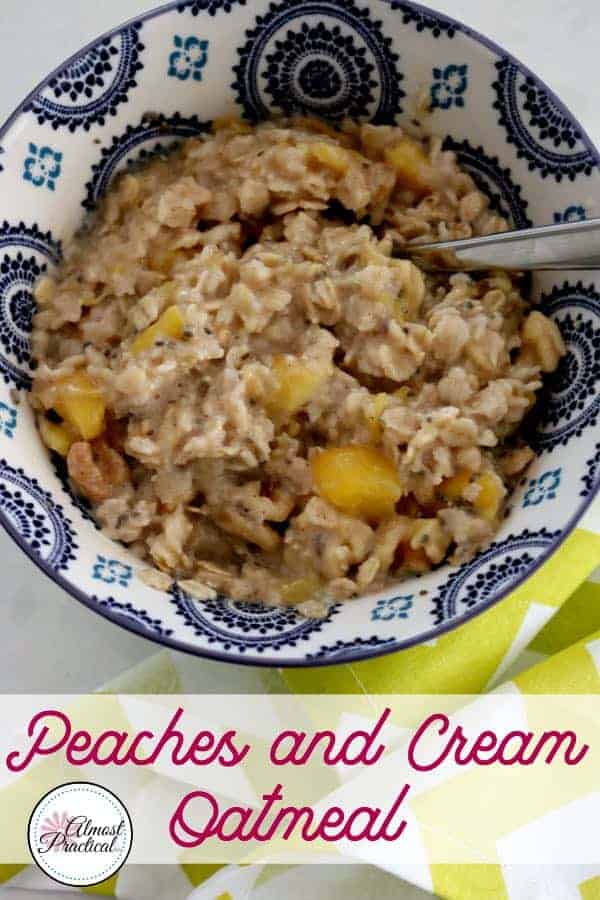 I love me some oatmeal for breakfast because it is healthy, filling, and just plain delicious.
In the summertime, you can dress up a basic oatmeal recipe with seasonal fruits, like peaches, of course.
I gave up on packaged instant oatmeal a long time ago, because it contains way too much sugar for my taste
Instead, I make mine fresh with wholesome ingredients like
fresh fruit
walnuts
chia seeds
honey
cinnamon
and let's not forget – good old fashioned rolled oats.
The creaminess in my peaches and cream oatmeal recipe comes from fat free milk, so you get all the taste without the fat.
Seriously, you won't even miss it!
How to Make Homemade Peaches and Cream Oatmeal
The first thing I do is pour one and a half cups of fat free milk, one chopped up fresh peach, one quarter teaspoon of cinnamon, and a pinch of salt to my OXO 2.5 quart saucepan.
Just A Side Note
My saucepan was part of this OXO Tri-Ply set. When we remodeled our kitchen, I wanted a new set of stainless steel pots and pans that incorporated different layers of metals for even cooking.
I was shocked at the high price from some of the bigger name brands.
So, I was really excited to find my OXO Tri Ply at a much more reasonable price.
Thus far, I have been really happy with it.
Related: How to Plan for a Kitchen Renovation
Ok … back to that peaches and cream oatmeal recipe. 🙂
Preparing the Peaches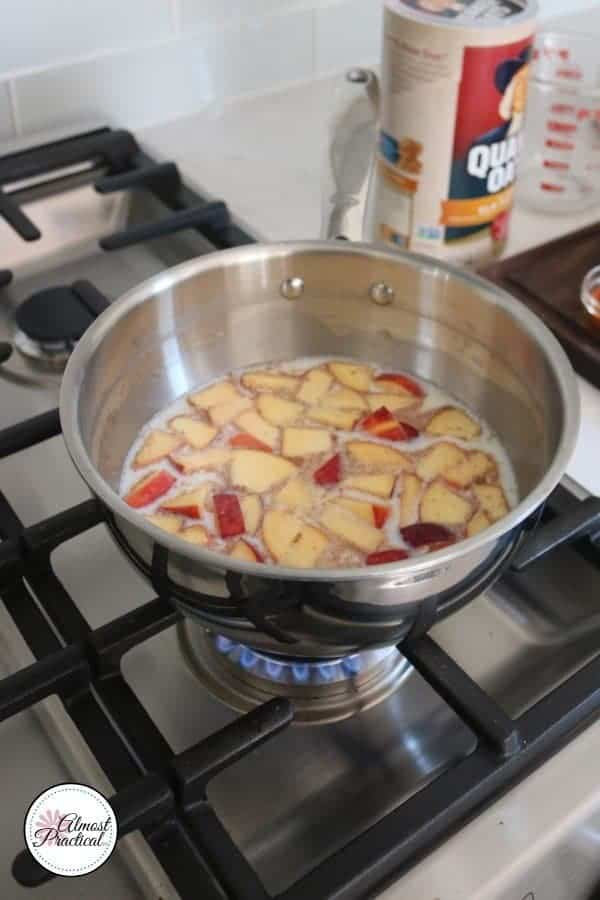 I can hear the question in your head, so I will answer it before you ask.
I just chop up the peach, skin and all.
If you really don't like the taste of the skin, you could peel the peach before chopping – but it is really not necessary.
Bring It To A Simmer
Turn your burner to medium heat and bring the milk, peaches, cinnamon, and salt to a simmer.
Then add one cup of oatmeal.
Cook at medium heat for about 5 minutes, stirring often so the oatmeal doesn't stick. (It also makes cleaning up much easier.)
Here's a hint: as the peaches cook, they will also release some water. So, at about the halfway point, if you feel that your oatmeal won't be thick enough – toss in an additional tablespoon or so of rolled oats.
Time To Serve
When the oatmeal is ready, place it in a serving bowl, and sprinkle the chia seeds and walnuts on top.
Drizzle with the honey.
Clover honey is very common but you might want to experiment with different types. I like the fragrance of a wildflower honey – it is very summery to me.
More Breakfast Recipes
Print This Recipe
Yield: 2 servings
Peaches and Cream Oatmeal Recipe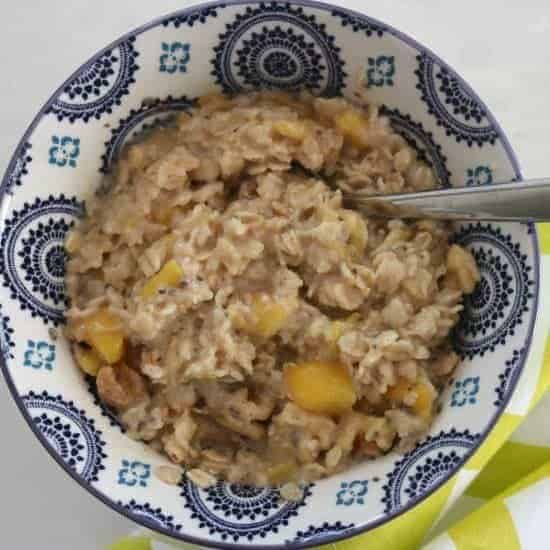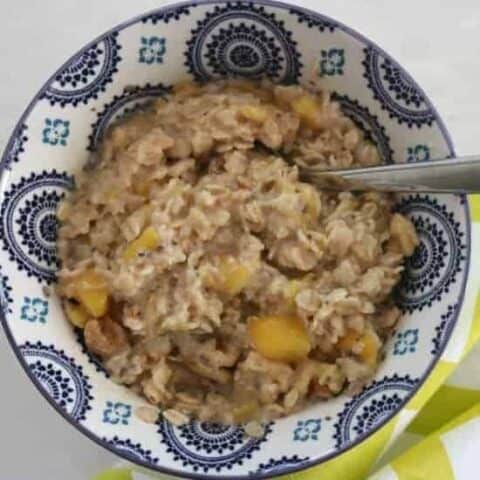 Ingredients
1 1/2 cups fat free milk
pinch of salt
1 fresh peach, chopped
1/4 teaspoon cinnamon
1 cup of old-fashioned rolled oats
1 teaspoon chia seeds
1/4 cup walnuts
1 tablespoon honey
Instructions
Put milk, peaches, cinnamon, and salt into a 2.5 quart saucepan.
Bring to a simmer over medium heat.
Add in the oats and cook over medium heat for 5 minutes stirring often.
When done, transfer to a serving bowl.
Sprinkle with chia seeds and walnuts.
Drizzle with honey.
Serve hot.