Caraway Cookware Review – Should you make the switch?
This post may contain affiliate links which means I make a commission if you shop through my links. Disclosure Policy
Disclosure: I received product from Caraway Home for purposes of this post. All opinions are my own.
I have been in the market for some new pots and pans for quite some time – so I was thrilled with the opportunity to do this Caraway Cookware review.
Caraway Cookware is a company that specializes in producing beautiful, high quality, ceramic coated cookware sets that are known for their non-stick properties.
But I was curious as to what the actual cooking experience would be like, how they compare to other non-stick pans, and whether they were actually worth it.
After trying them out for a few weeks, I can tell you that I love cooking in my Caraway stock pot and skillet.
As of now, the non-stick coating is fantastic.
However, it is vitally important that you follow the care instructions if you want your Caraway cookware to last.
Read on for my in-depth review.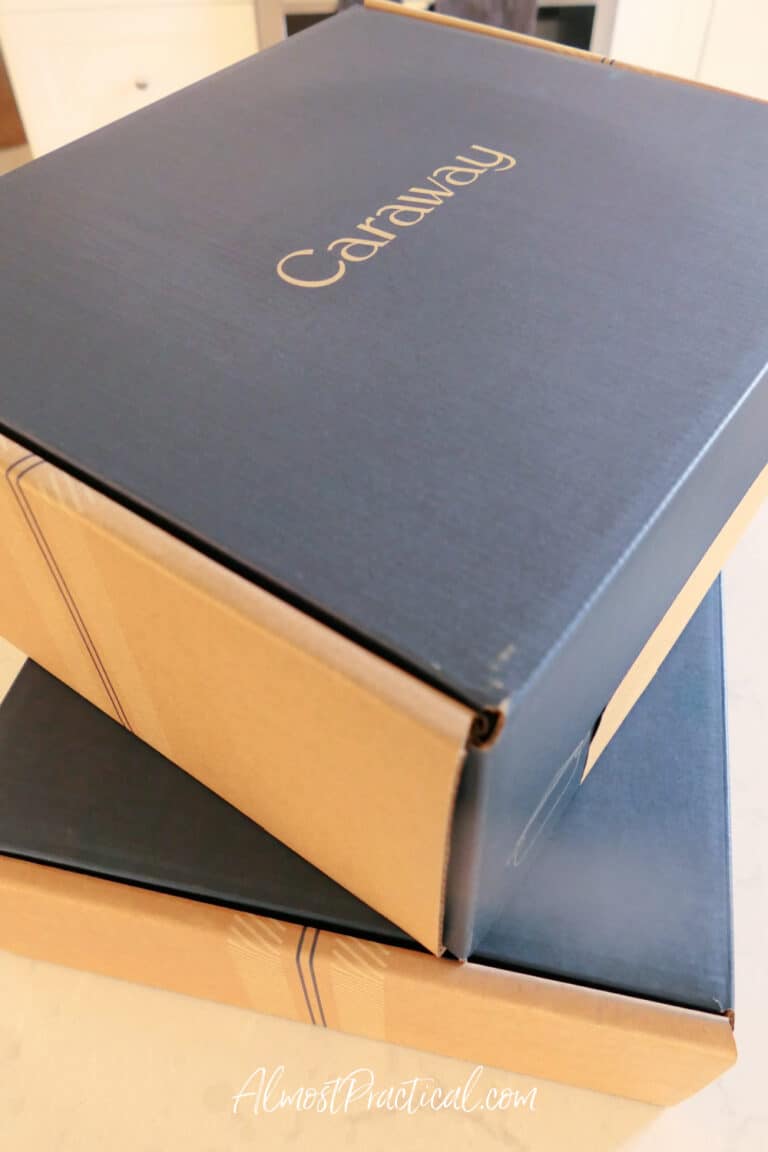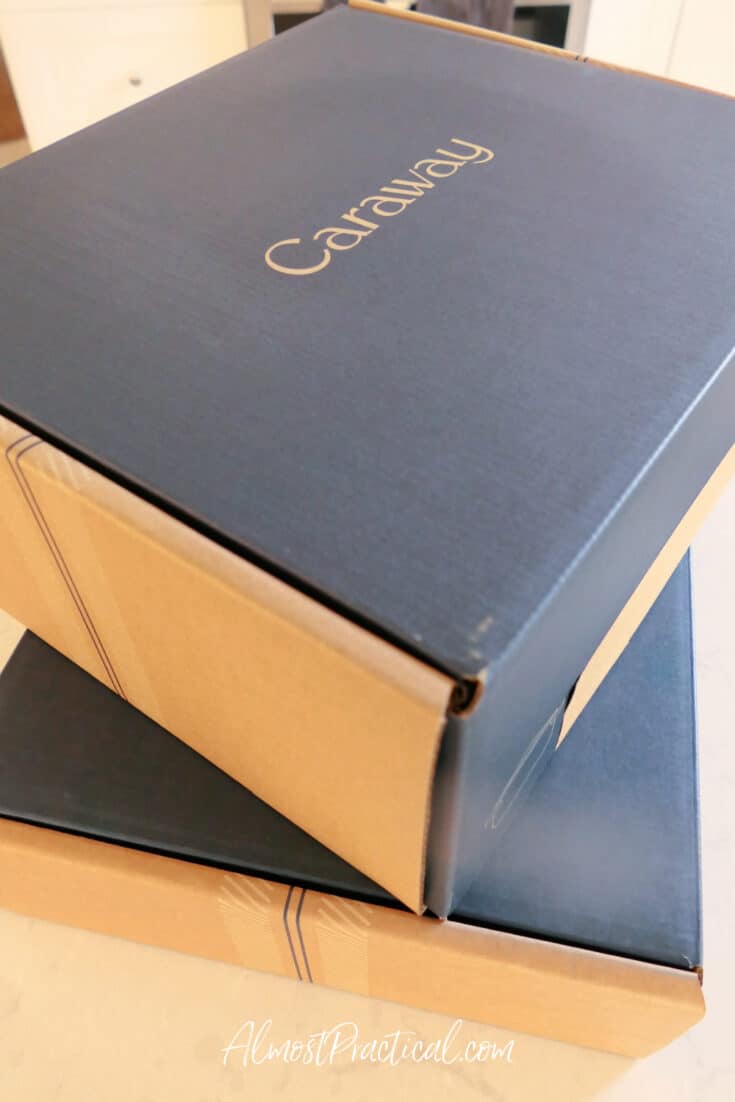 What is Caraway Cookware?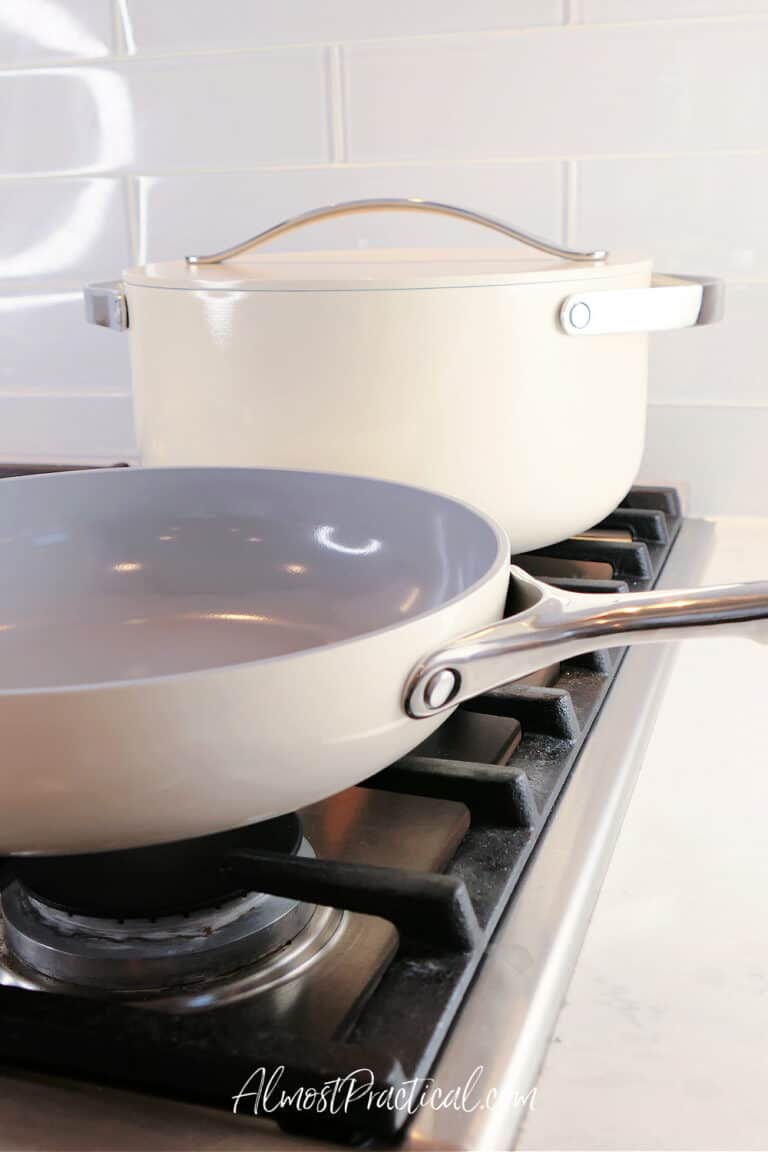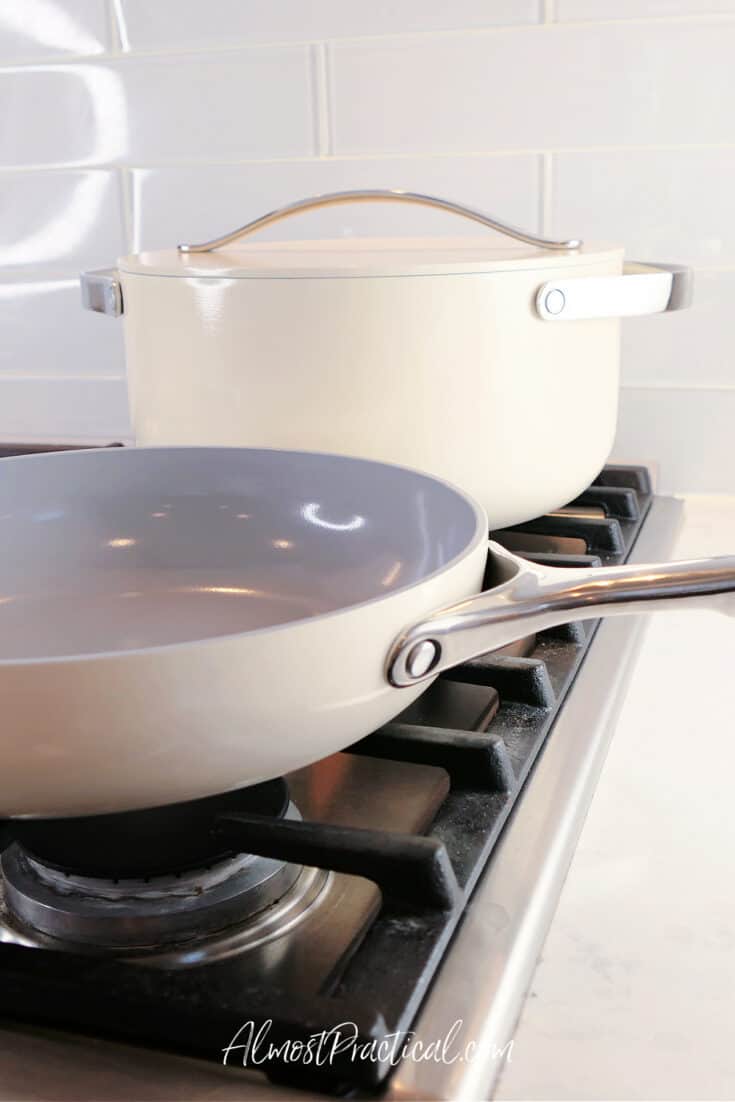 Caraway Home makes cookware and bakeware that has a ceramic coating with nonstick properties.
The cookware has an aluminum core and stainless steel handles and the bakeware has an aluminized steel body.
Both the cookware and bakeware come in a variety of pretty colors like cream, perracotta (which is a pinkish, salmony color), navy, sage, and marigold. Every so often they offer up a special edition color that is only available for a limited time.
Caraway cookware work on gas, electric, and induction stoves – and is also oven safe up to 550 degrees Fahrenheit.
In addition, Caraway makes a really cute whistling tea kettle, food storage containers, and fun kitchen linens.
You can either buy Caraway pieces a la carte or choose from several money saving bundles.
Why Is Caraway Cookware So Popular?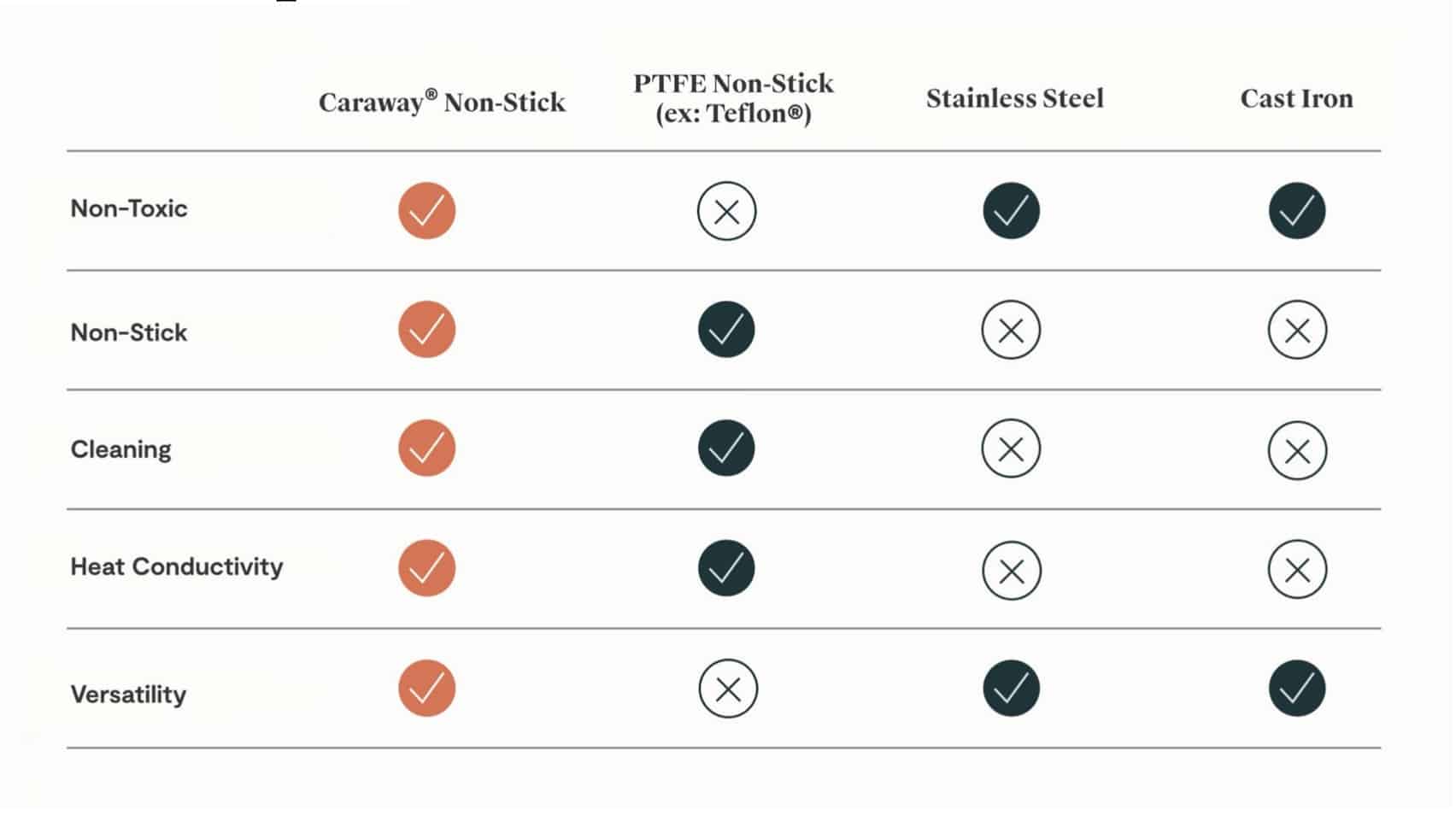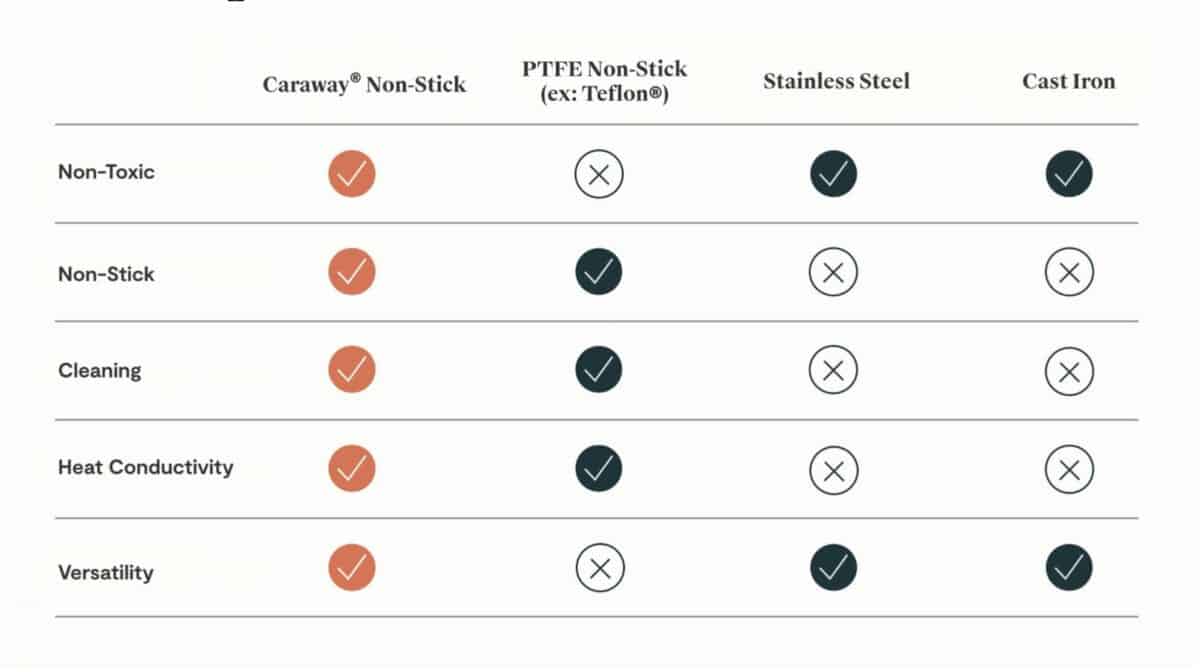 I was originally drawn to Caraway because I was looking for a Teflon alternative.
Non-stick cookware has received some bad press lately. Basically there was a risk that older pans coated with Teflon would release harmful chemicals into our food.
Since my old non-stick pans were of a questionable age and certainly not in great condition, I thought it might be wise to upgrade.
Caraway specifically states that their ceramic cookware is free from toxic chemicals like the PTFE's found in Teflon.
I think that Caraway Cookware is so popular because there are people like me who are looking to replace their old and pans with something that is safe for their health.
The chart above from the Caraway website summarizes all the benefits of their cookware
The Pots and Pans That I Received
Caraway Cookware sent me their Fry Pan and their Dutch Oven in the cream color to review. In addition to the pot or pan, each box included a cork trivet to protect my countertops.
The Dutch Oven box included a "Cleaning Eraser" as well.
Caraway Fry Pan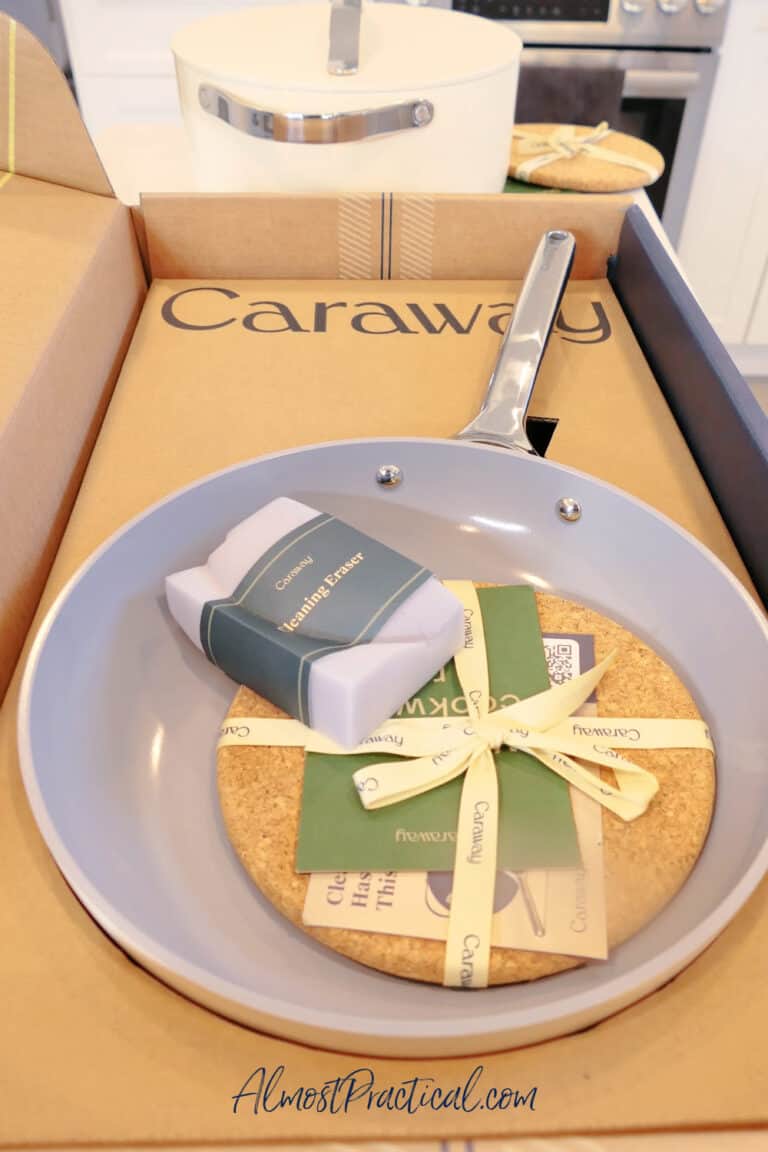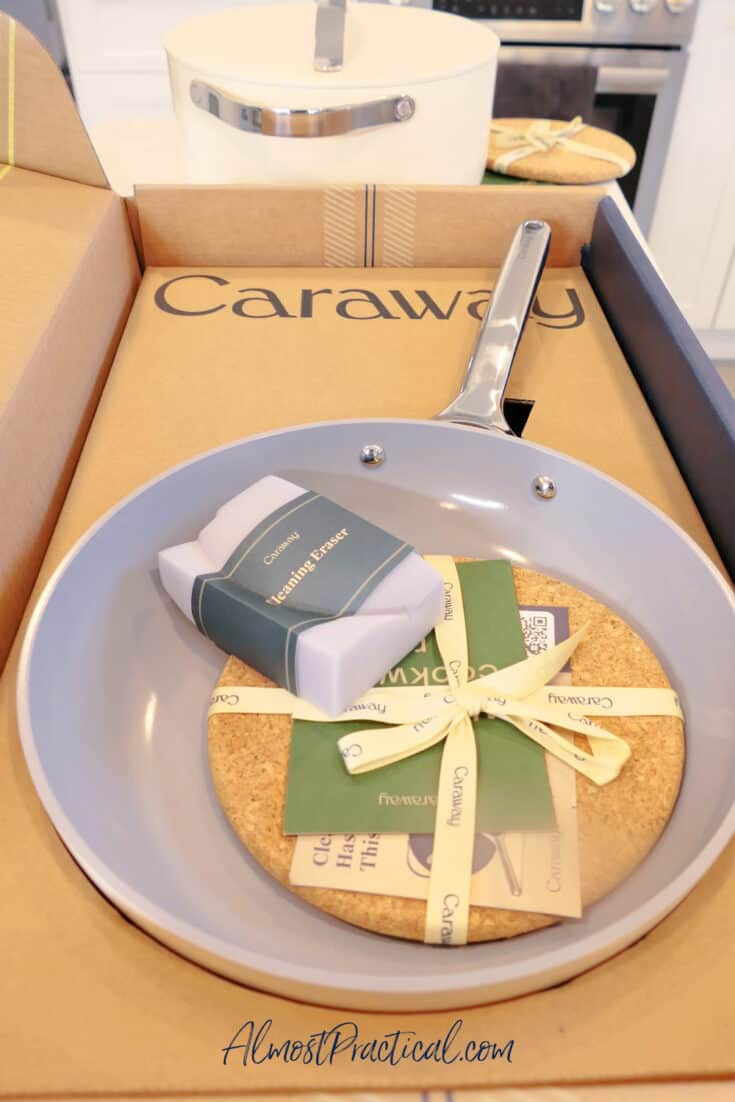 The Caraway Fry Pan is like a standard 10.5 inch skillet but maybe just slightly deeper.
It has a nice heft to it which makes it feel high end but not too heavy.
The stainless steel handle generally stays cool while cooking.
One unique feature is that the handle has a little "bump out" on the underside about four inches from the pan itself. This warns you of the zone where there handle will begin to get hot so you won't grab the handle too close to the pan.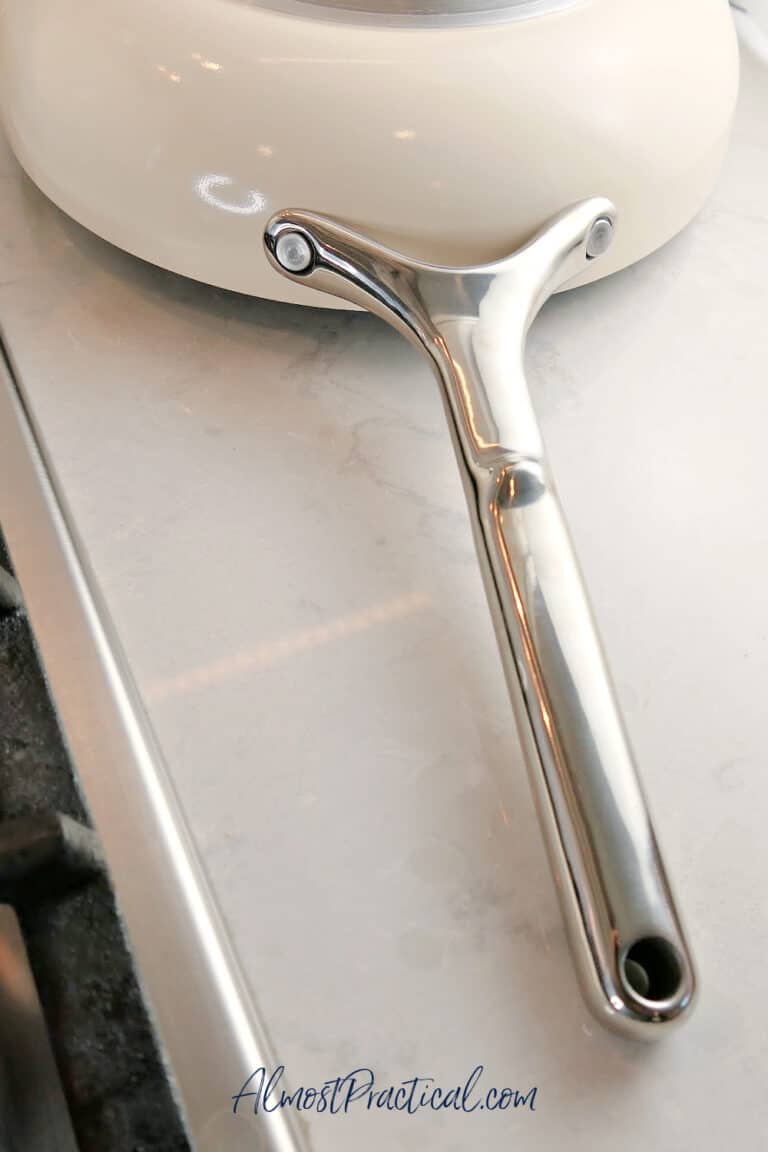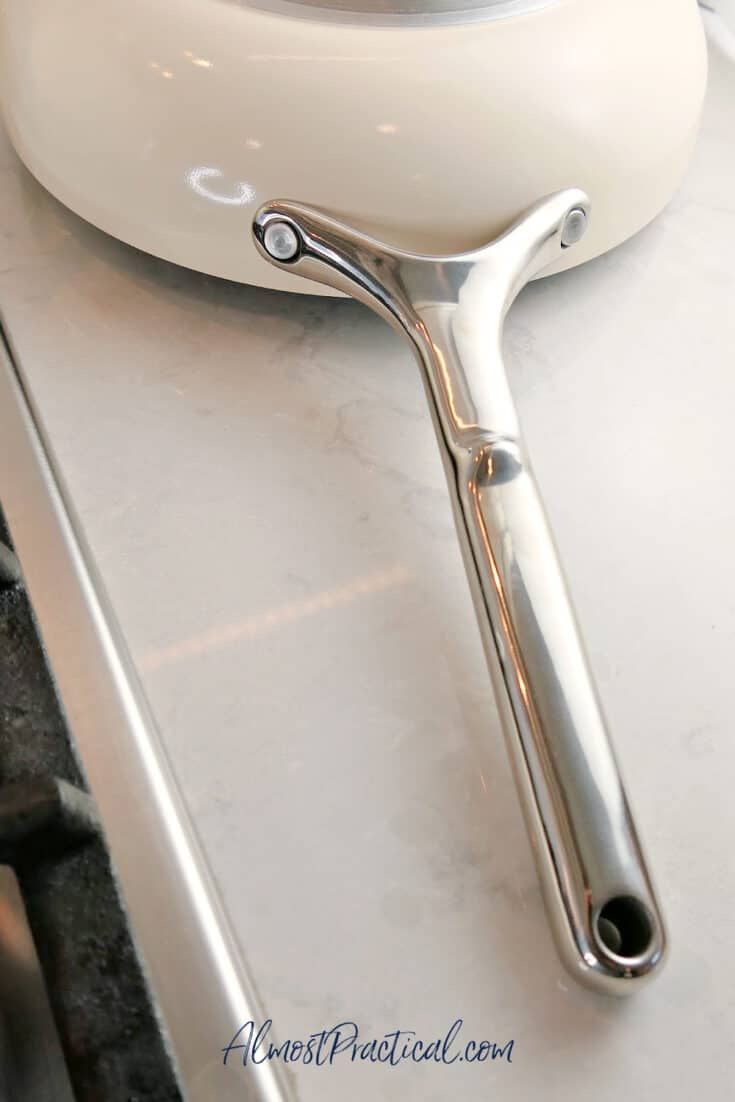 The 10.5 inch Fry Pan does not come with a lid. But the lid that comes with the Dutch Oven fits on the Fry Pan. The Fry Pan and the Dutch Oven are sold separately but you can either order both or get both pieces as part of a set.
Caraway Dutch Oven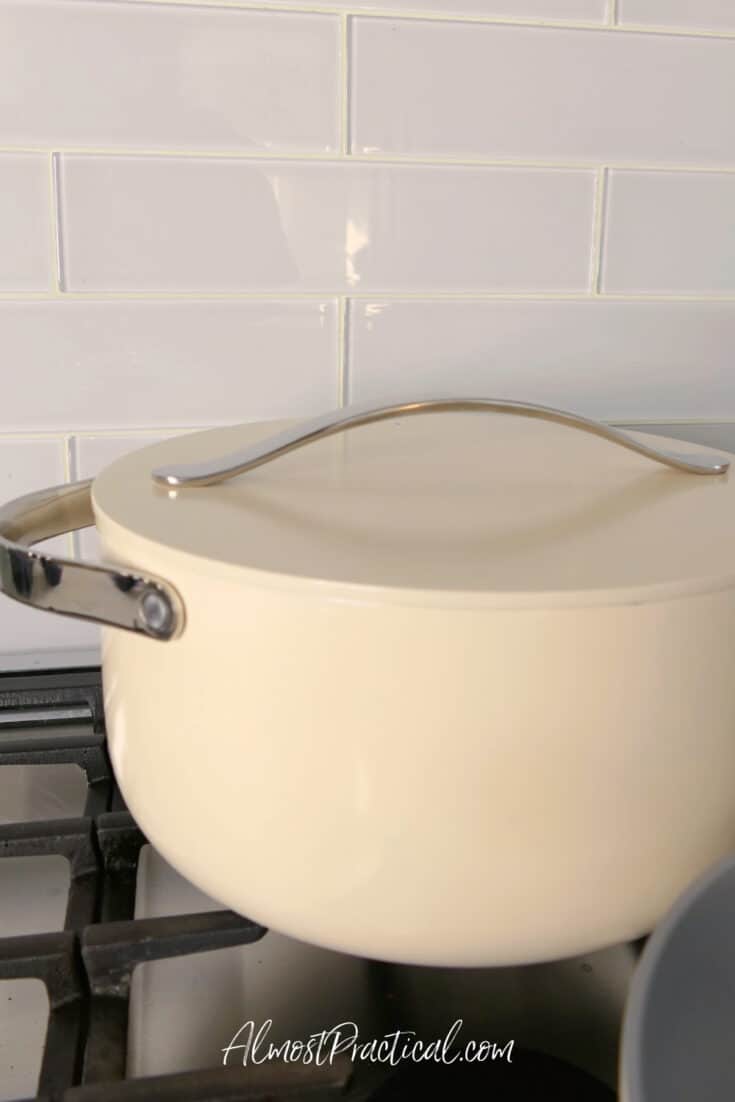 The Caraway Dutch Oven is a 6.5 quart stock pot with lid with great heat conduction and retention qualities.
It is great for making soups and stews. And you can use it for recipes that start on the stove top and finish up in the oven.
It is such a versatile cooking tool – these are some of the many things you can make in a Dutch Oven.
How to Care For Caraway Cookware?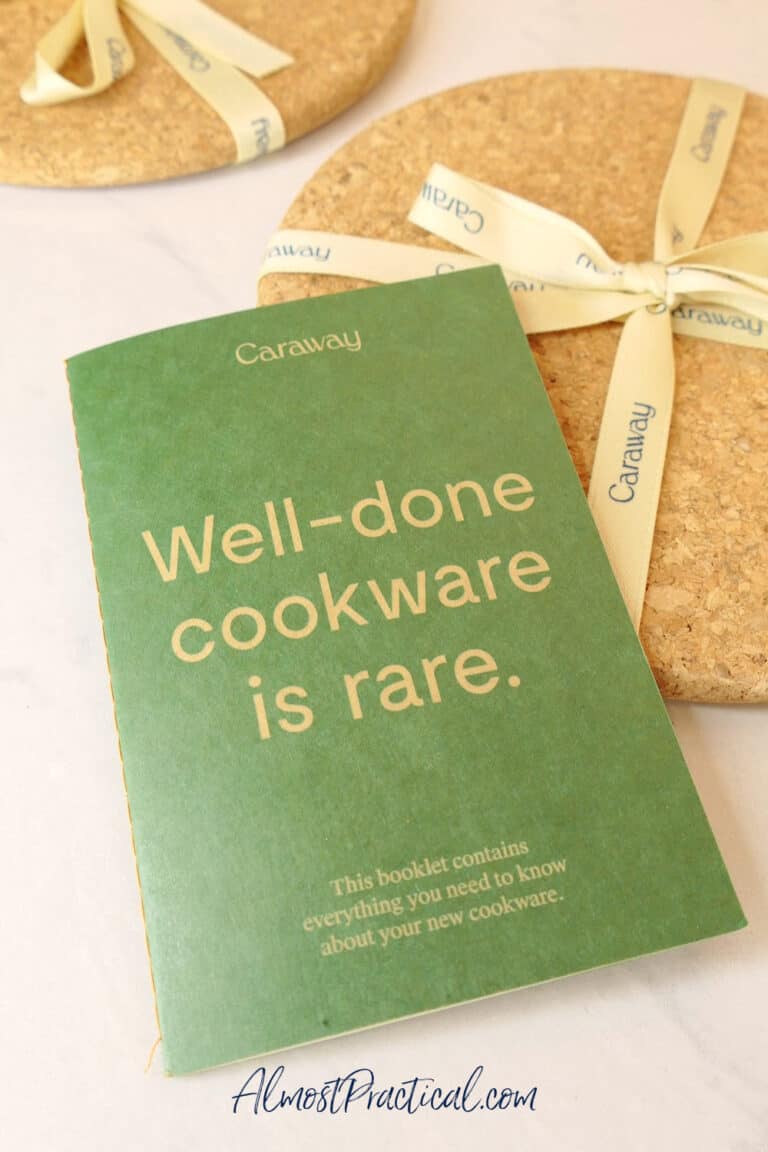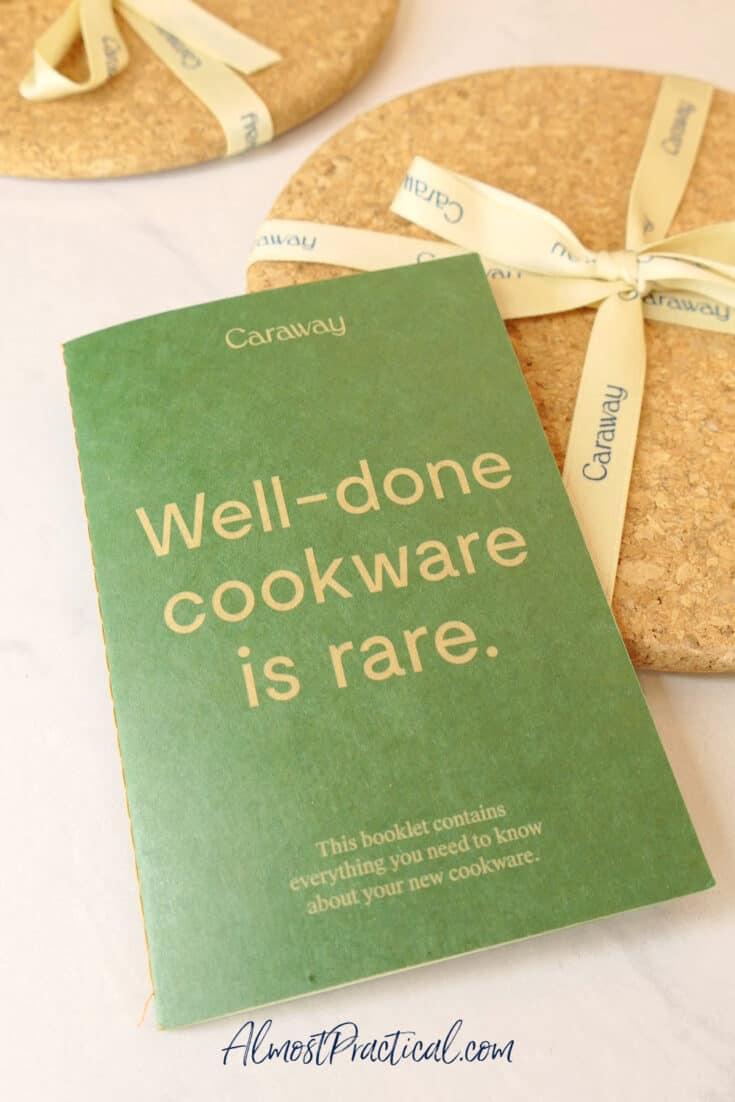 Before I started cooking in my new pots and pans, I made sure to read the included instruction booklet on how to use and care for them.
I had read many online Caraway cookware reviews that all stressed the importance of following the use and care instructions if you want your cookware to last a long time.
How to Cook With Caraway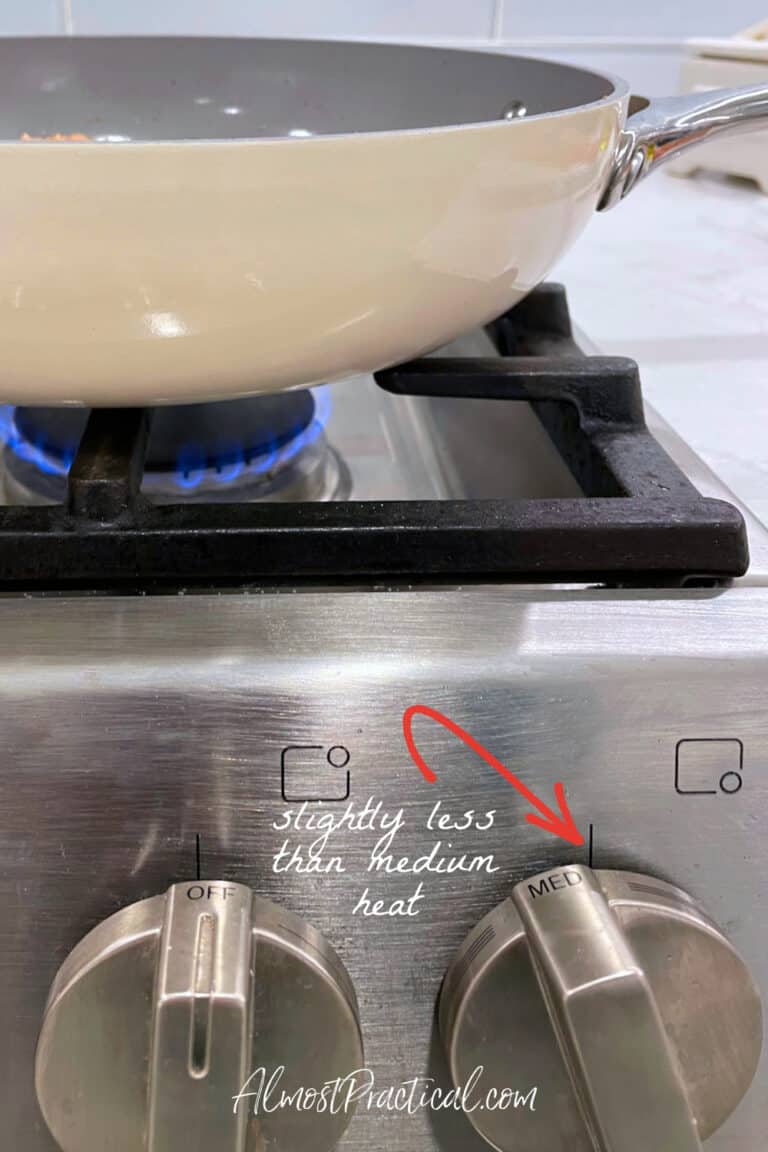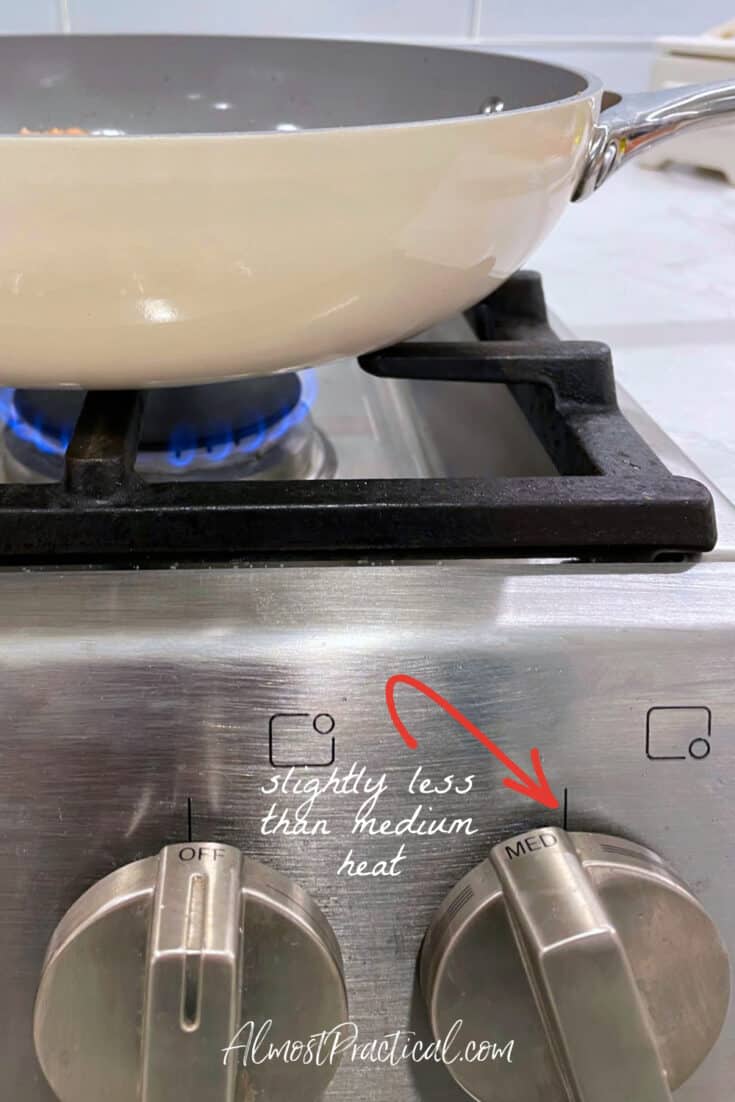 One of the most important points is to only use low to medium heat when cooking.
This is a big adjustment if you are used to firing up your burner to a higher heat.
Caraway says that their pans hold heat more efficiently than traditional pans and that overheating can cause the non-stick coating to wear away.
You don't need a lot of oil to cook in Caraway pans – just 1 to 2 tablespoons. And you can let the oil preheat for 20 to 30 seconds. You should also avoid leaving an empty pan on a hot burner.
It is also imperative to use soft wooden, silicone, plastic, or nylon utensils when cooking in Caraway pans because you don't want to scratch or damage the ceramic coating.
This means no metal cooking utensils, forks, spoons, or knives. Be very careful about this!
You should also avoid sliding your pans across your stovetop grates which could damage the stainless steel base and even cause some of the color on the outside of the pot to scratch or chip.
How to Clean Caraway Cookware
Before cleaning, make sure your Caraway Cookware is has cooled down.
The company also recommends hand washing your pots and pans with a soft, non-abrasive sponge.
For stuck on food, you can soak your pans for awhile or even simmer a little soapy water to loosen it all up.
How to Store Caraway
Stacking Caraway cookware is a big no-no. This article explains why.
A better option is to store your Caraway pots and pans vertically using the magnetic pot and lid holders that come with the cookware sets (which I really want to try!).
Unfortunately, I don't believe these storage options are sold separately, they only come as part of the sets.
Cooking in the Caraway Fry Pan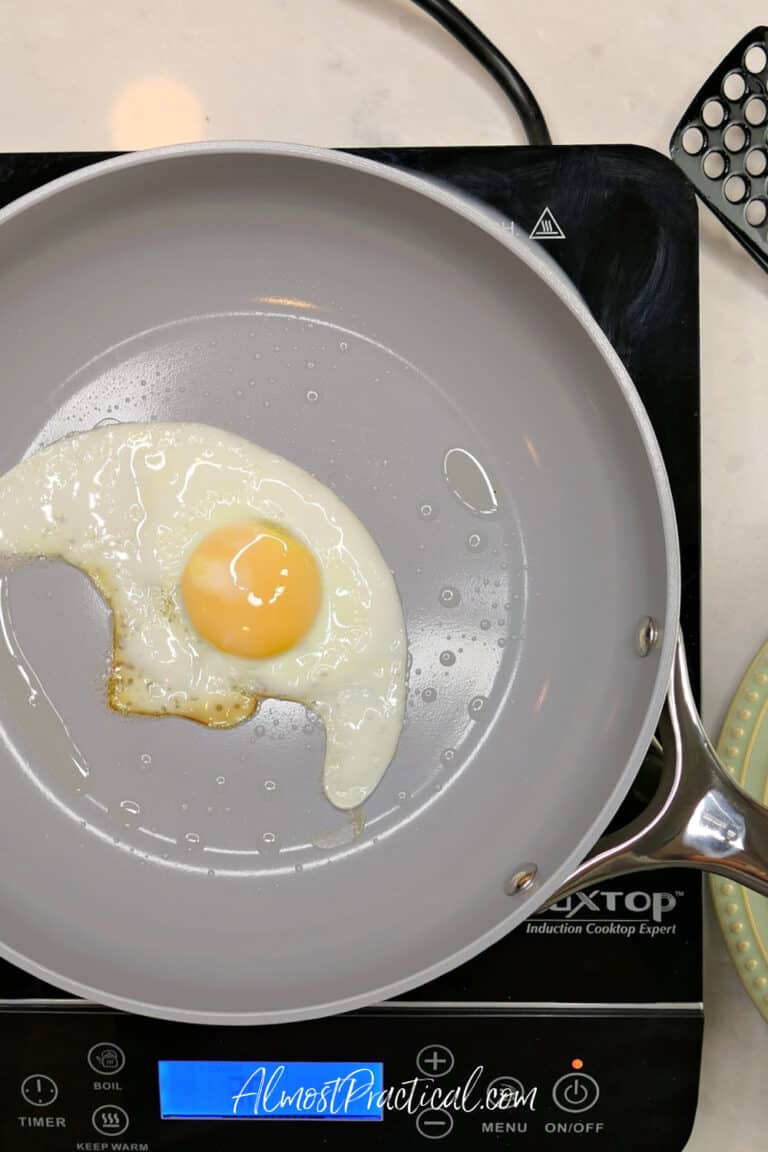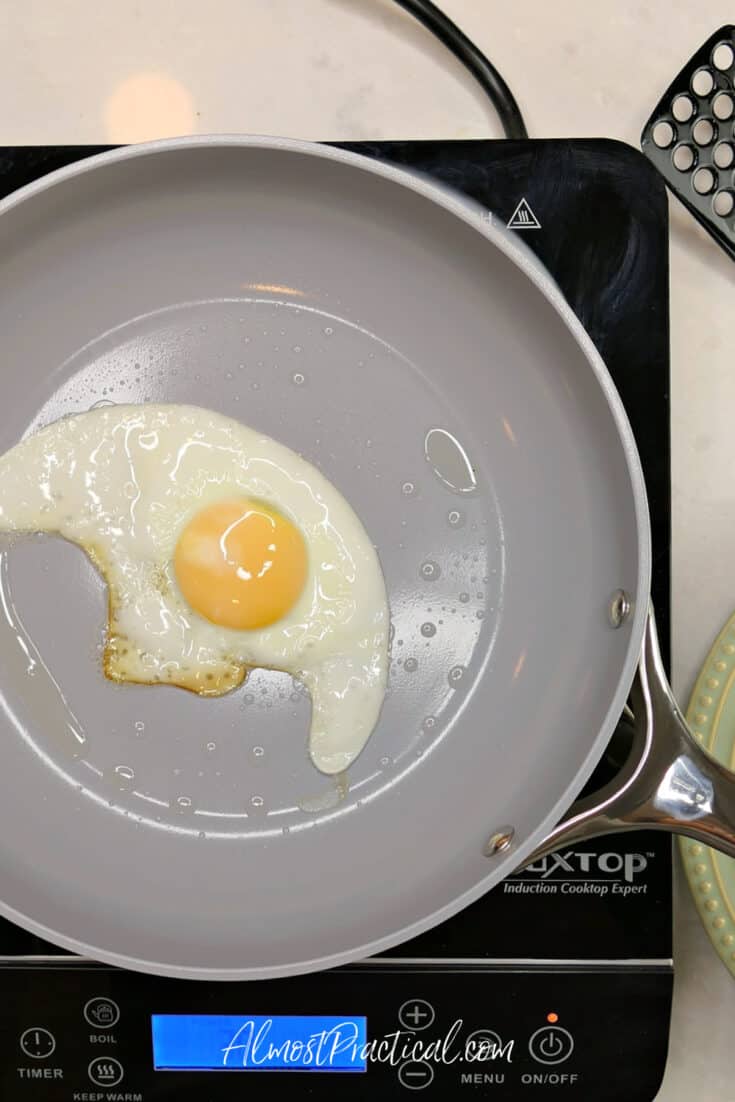 Once I had all the "rules" down, I was ready to take the Fry Pan for a spin.
I decided to start by making a fried egg.
It came out great (on my second attempt)! I used a little oil and the egg did not stick at all.
For my first attempt, I was a bit afraid to turn the heat up to medium so I kept the temperature super low. The egg came out fine but took forever.
The next time I used the Fry Pan I made some chicken breasts that I seasoned with salt, herbs, and lemon juice.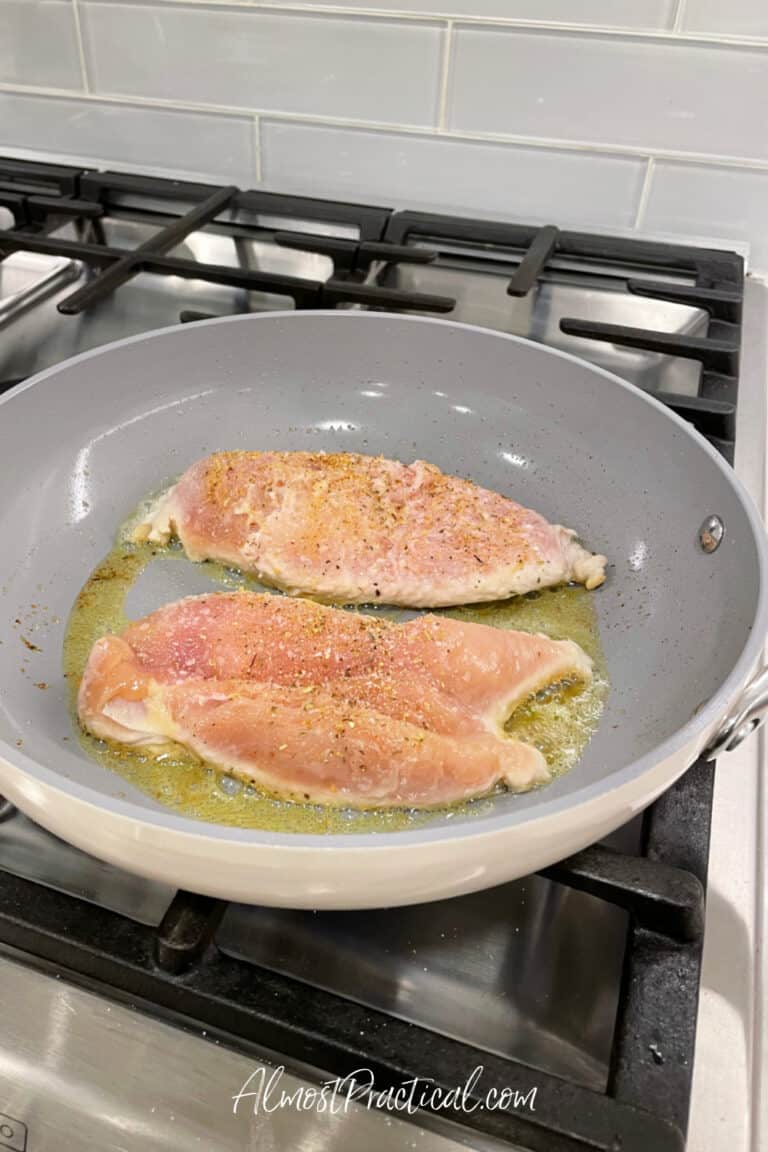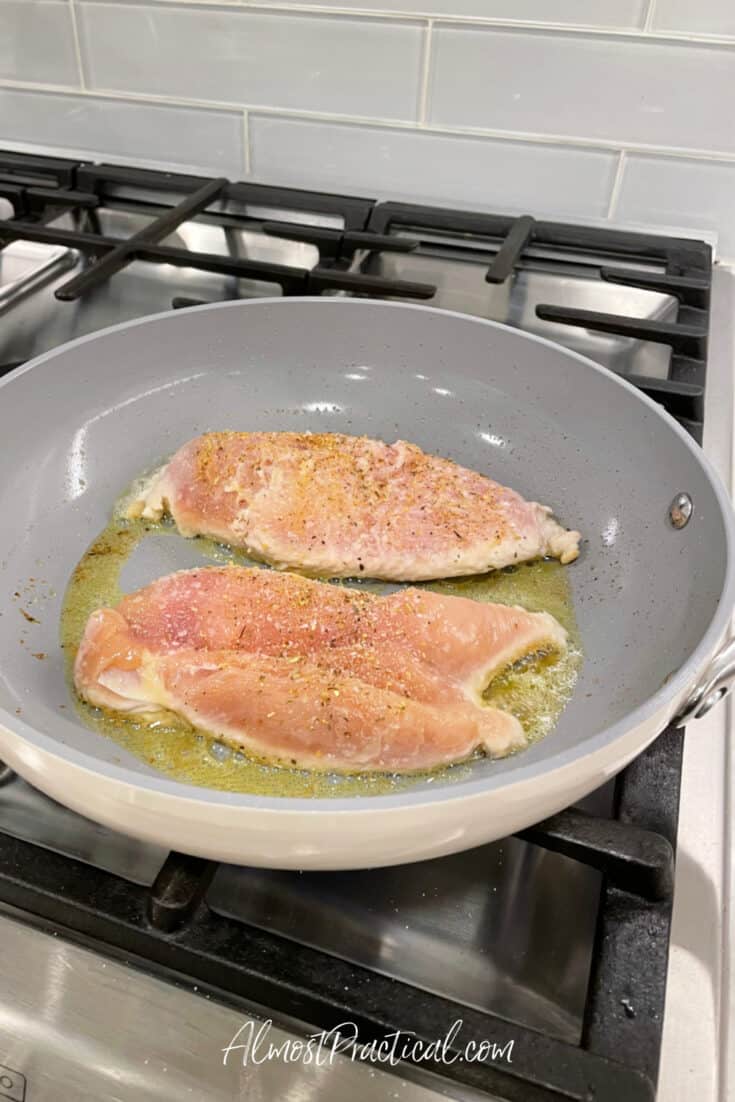 I used about a tablespoon of oil and set the heat to just shy of medium.
The chicken took a little longer to cook than it would have in a traditional pan on a higher heat.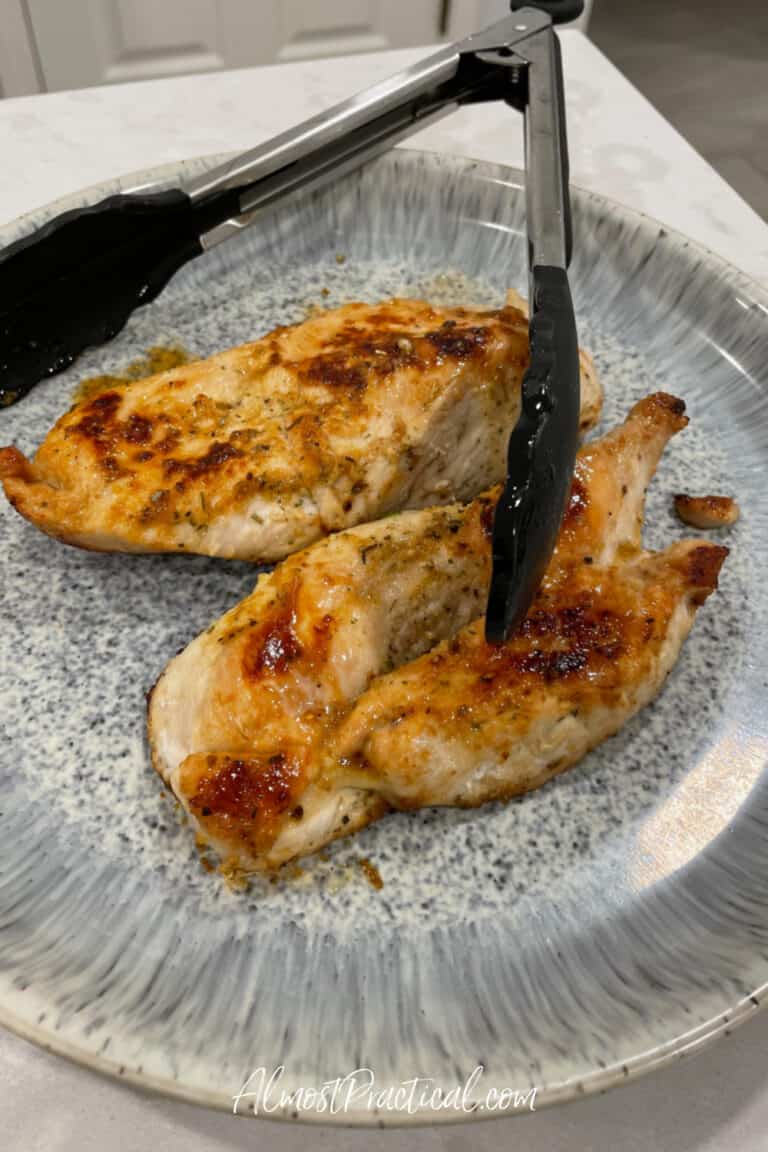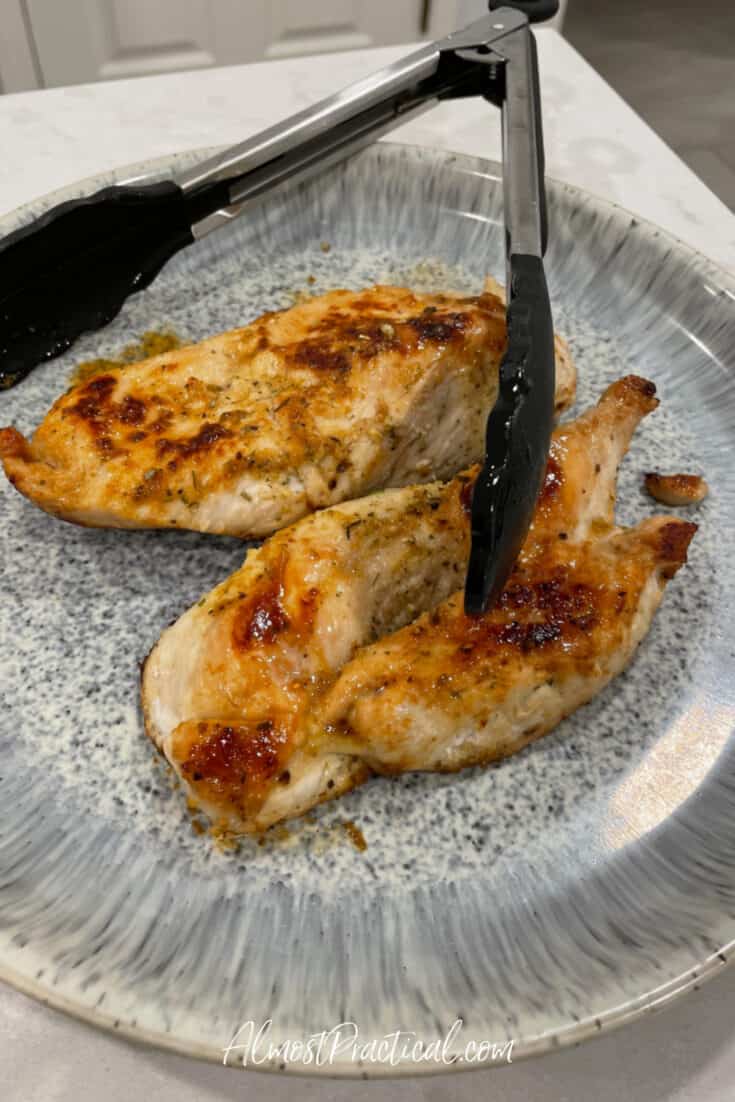 But the chicken came out so tender inside and it browned nicely on the outside without burning or sticking.
Cooking in the Caraway Dutch Oven
To test the Dutch Oven, I decided to make my vegetable soup with orzo recipe – which is sort of a cross between vegetable soup and minestrone.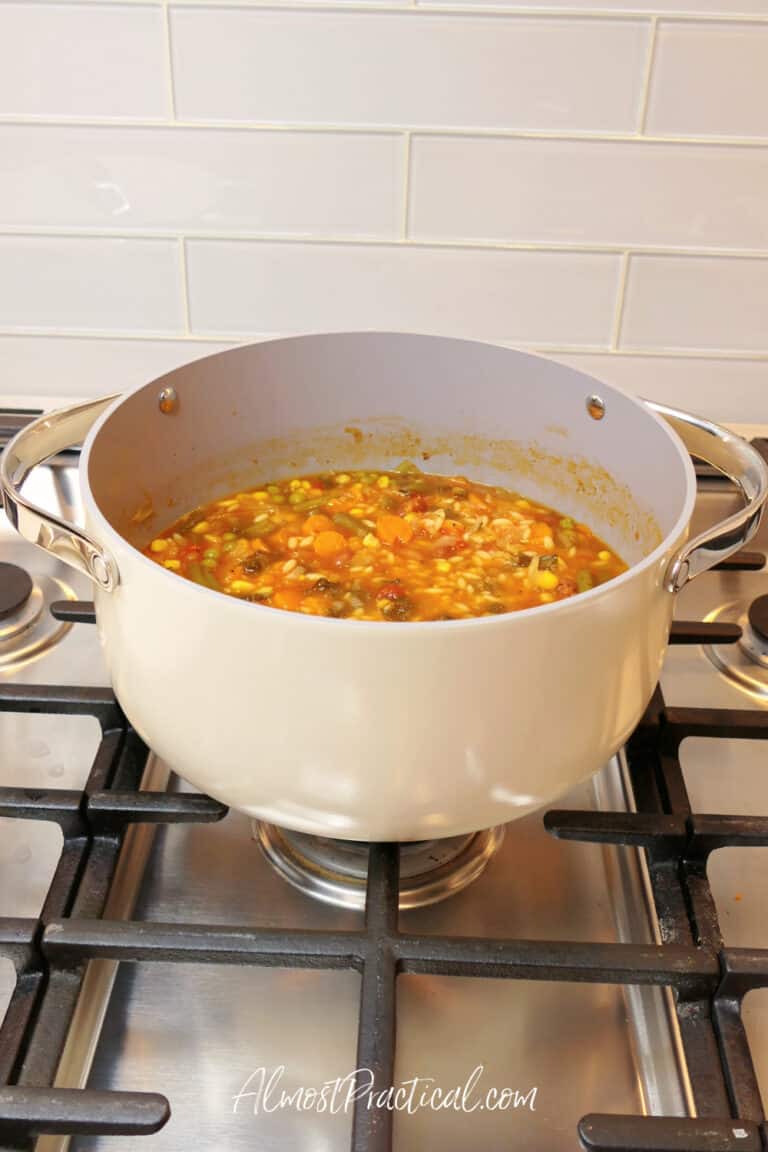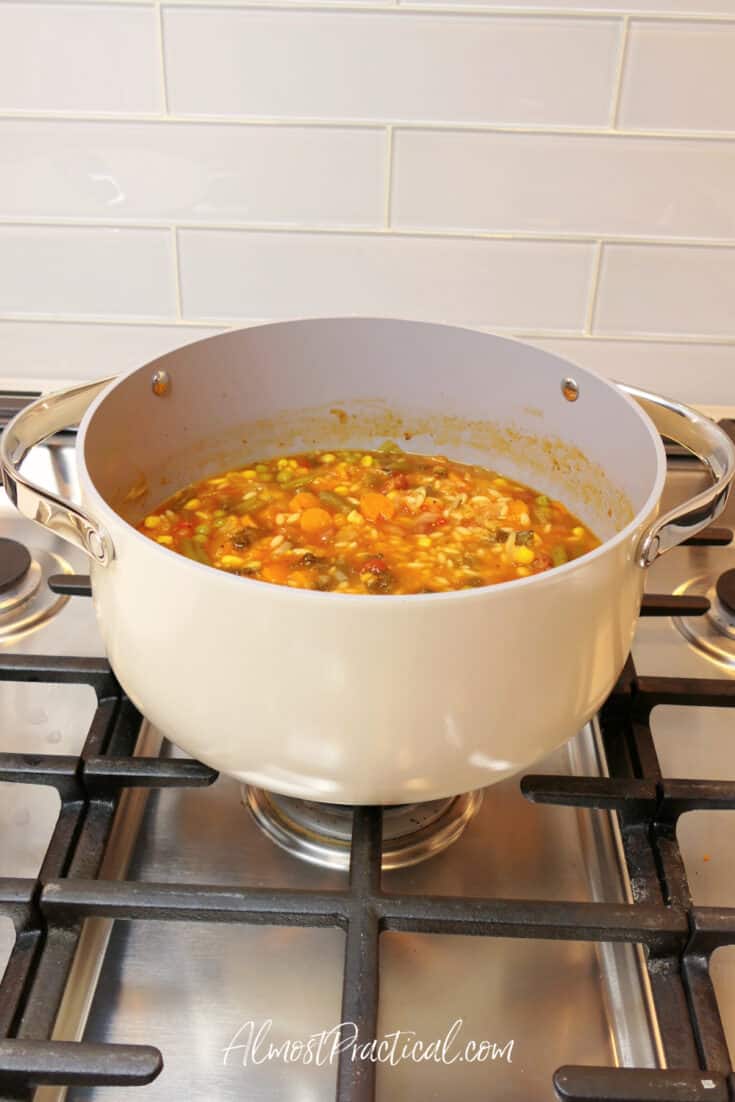 I slow simmered this for about an hour and a half (adding the uncooked orzo to the pot about halfway through).
The vegetables came out tender and the soup was delicious.
The Dutch Oven and the lid really trapped the heat inside nicely and cooked everything to perfection. I feel that the soup recipe turned out much better than it does when I make it in a standard stainless steel stock pot.
Cleaning up was a breeze.
Pros and Cons of Caraway Cookware
I've only been using Caraway for a short time but I do have a few observations to share.
First, a pro is that the cookware is beautiful and really elevates the look of your kitchen. It makes cooking fun.
Second, food takes longer to cook in Caraway pans. I am a stickler for following the rules – so I don't turn up the heat to higher than medium.
However, I think that the longer cooking times actually make the food taste better. The chicken I made was very tender and the soup was so flavorful.
Knowing that the cooking times would be a little longer, I actually planned my meals a little better. So, an indirect effect is that I felt more organized.
Third, this could be a con – is that you need to hand wash the pots and pans. For me, I always hand wash my pots and pans anyway, so this had no effect on my routine.
Fourth, storage could be a problem, since stacking Caraway pans is not recommended. Right now, I have them sitting out on my counter – and while I love looking at them, I will have to create some space in my cabinets to store them carefully.
And finally, to make them last a long time, you do need to take good care. If you are not the only cook in the house, make sure everyone knows the rules. Or save the fun of cooking in Caraway for yourself and keep the pans off limits to everyone else!
Where To Buy Caraway Cookware?
The best place to buy Caraway cookware and bakeware is on their website here.
Deals on Caraway Cookware Sets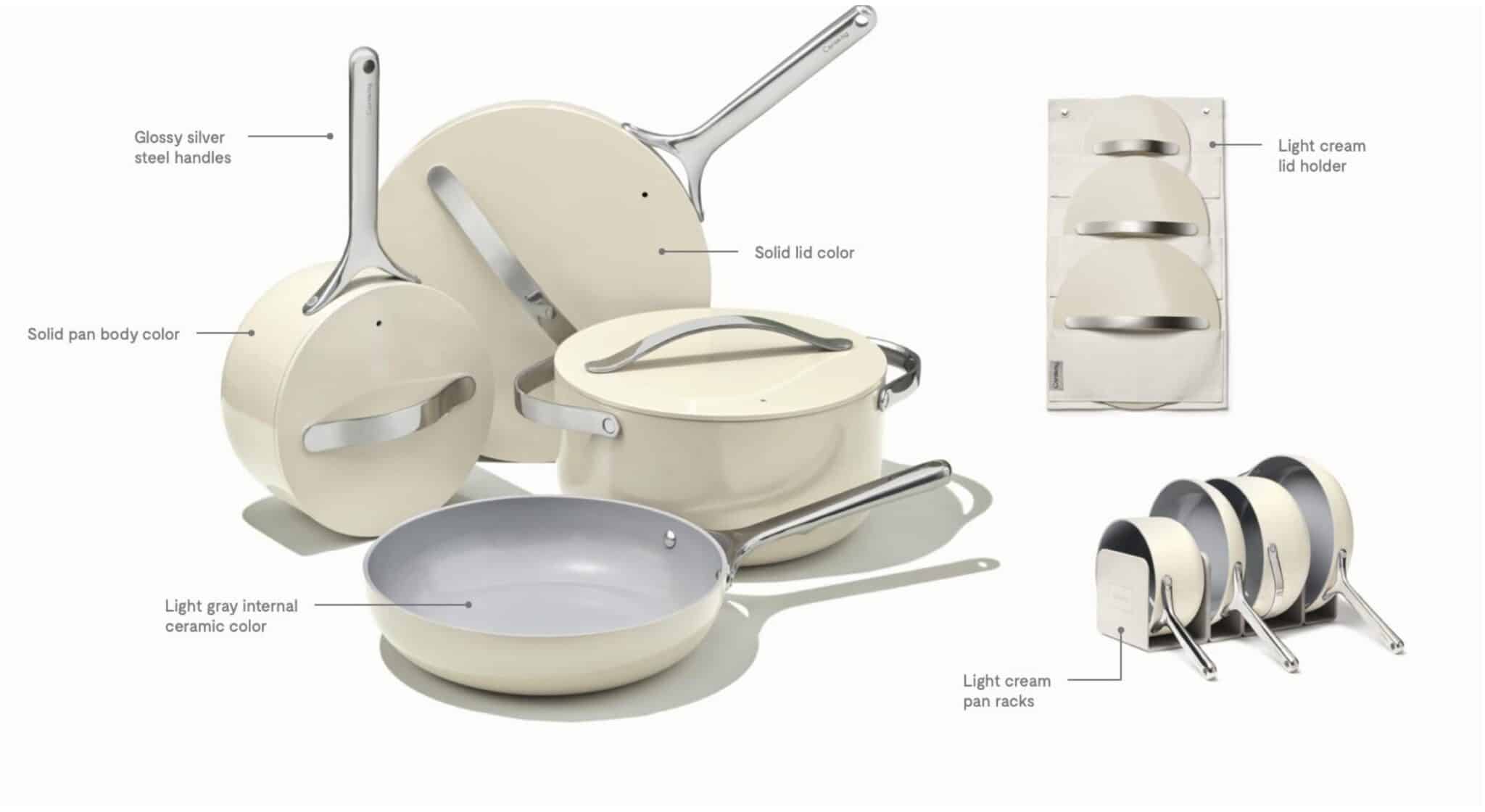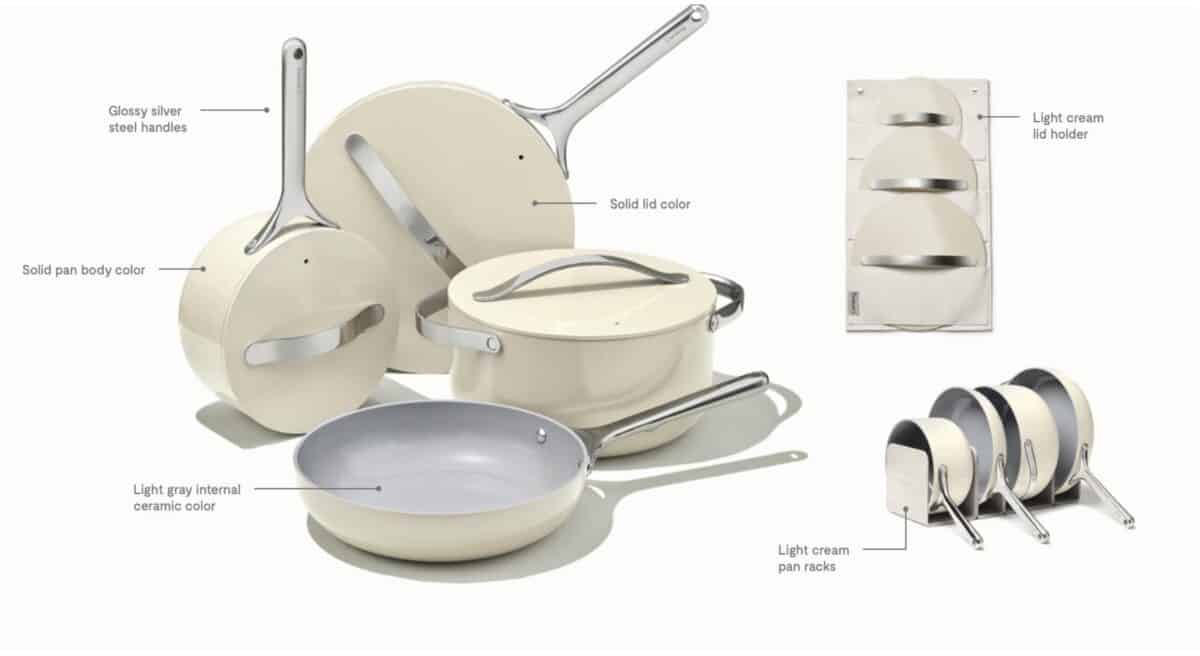 To save money on Caraway, the best thing to do is go for one of the bundles.
The best part about the bundles is that they come with the unique magnetic organizers that you cannot buy separately.
You can choose from several different options from cookware and bakeware bundles all the way up to the Kitchen Sink Bundle that includes cookware, bakeware, food storage, tea kettle, and even a set of the new minis. This bundle is definitely on my wish list!
My Overall Impression of Caraway Cookware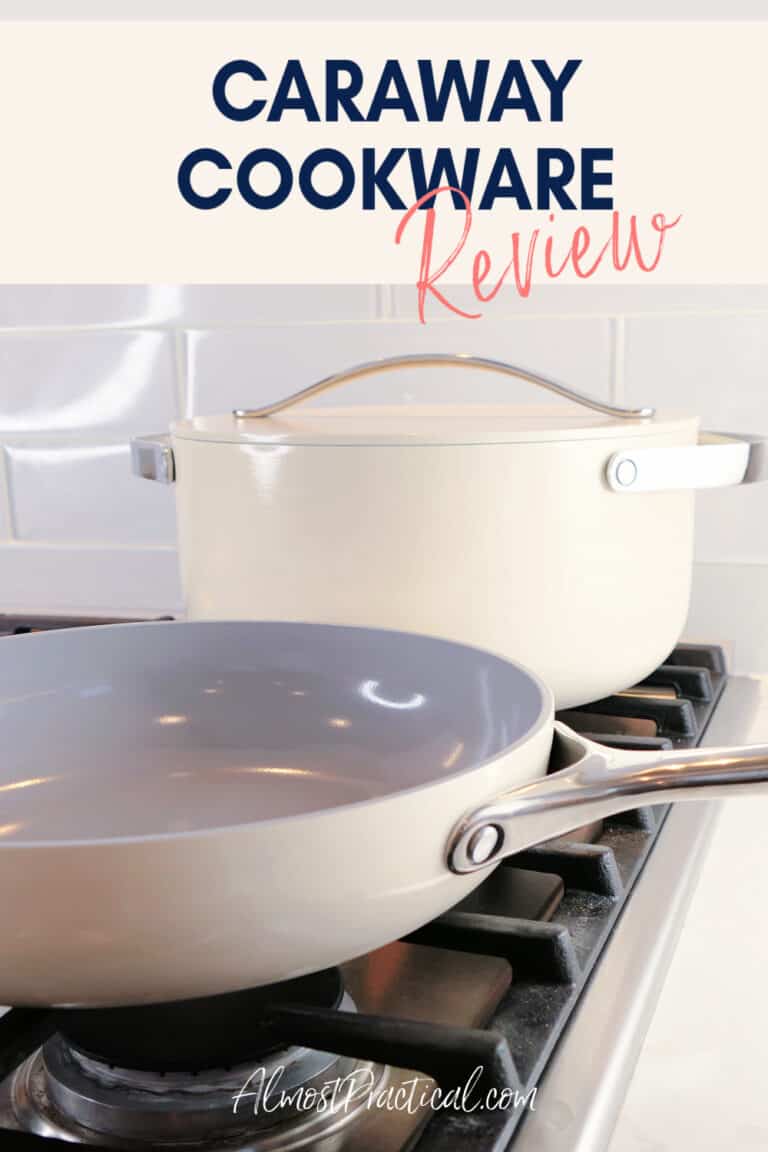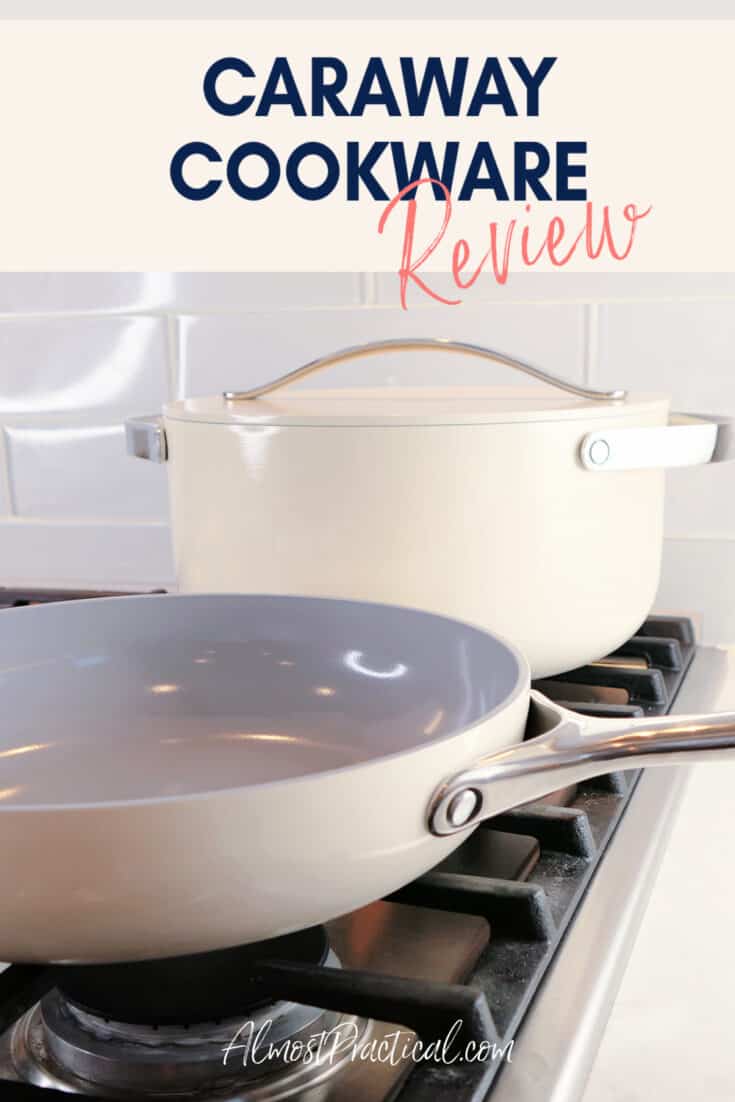 Overall, my review of Caraway Cookware is a good one.
I enjoy cooking in these pots and pans – they look great and are fun to use.
However, they do require extra care to maintain and extra time for cooking. Personally, I am ok with this.
In fact, I am willing to get rid of some of my older pans to make space for the Caraway ones in my cabinets.
I will continue to use these pots and pans over time – and plan to do a follow up post to let you know how they are holding up.
And I might even add a few more items to my collection.
Recipes I Made Using My Caraway Cookware