In a rush?
When it comes to doing dishes, I need all the motivation I can get.


Yesterday, my daughter wanted to do a "girls" day.
Her idea: "Let's get our nails done."
Now, most people would probably jump at the thought.
But honestly, manicures are not my favorite thing.
They take a long time.
Fidgety people like me mess my nails up before they dry.
And the nail polish lasts about 5 minutes, given all the work I do in the house and garden.
But usually I complain about the process but am very happy with the look when it is all done.
So here are my finished nails and I lurv them! Of course I forgot to note the color that they used, but it was a light purple nail polish from O.P.I. similar to this one.
Anyhow, back to those cute rubber gloves.
Make the Manicure Last Longer
A few months ago, I bought a pair of adorably cute rubber gloves but I had never opened them.
I don't usually mess with rubber gloves when I do dishes. (Thanks, Madge – if you don't know who Madge is then you are much too young.)
But it was time to crack these puppies open.
Aren't they cute?
These are Cuisinart rubber gloves and they are much more fancy than your run of the mill rubber gloves for doing dishes.
They have a wide cuff with a cute circle pattern and when you put them on you feel oh so elegant.
The queen of the kitchen.
Ha!
Cleaning Up Was More Fun
Ok – so I would rather be the queen of relaxation or something much more intriguing than the kitchen.
But a girls gotta do what a girls gotta do.
And using these cute rubber gloves to do the dishes was more fun than not.
So, I wanted to share them with you.
However, there is one little downside to these lovely gloves.
The One Con
These Cuisinart rubber gloves only come in one size.
Yup, one size apparently fits all.
My hands are somewhat smallish to medium sized – and the gloves fit perfectly.
But if you have larger hands or really small hands you might not get a great fit.
Where to Buy These Cute Rubber Gloves
Well, I thought I would be able to direct you right to a spot on Amazon.com where you could find these exact lovely puppies for your own kitchen.
But, alas, twas not meant to be.
They do carry the gloves I bought here – but you can't choose your color and cuff pattern. They will just send you out a random pair.
The point is you want to find a pair of rubber gloves with a wide patterned cuff  in a color that you like.
Here are few more that I found for you on Amazon:


Behind the Scenes
As a lifestyle blogger, I love to do product reviews like this one.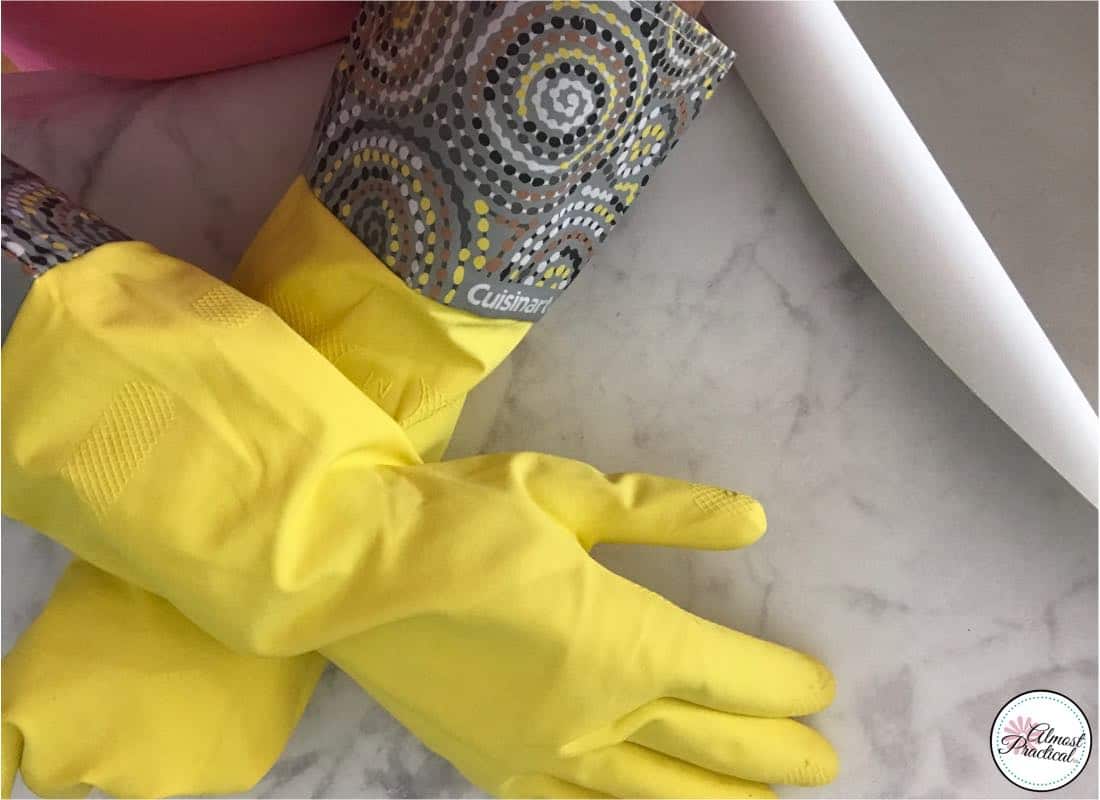 If you, too, want to give blogging a try this article will show you how to start a blog.
And if you are wondering what effort you need to put into it – these Blogging for Beginners FAQ's should help you out.
I started blogging back in 2007 as a way to create a side income while staying home to raise my four kids.
Blogging has changed a lot over the years – for one thing, it has become much more visual.
I sometimes think that holds people back from ever starting a blog.
But you really don't need fancy stuff to take good photos.
I took my photos for this post using my iPhone.
As much as I wish that I had beautiful marble countertops, I don't.
So, I use these wonderful vinyl backdrops from Ink & Elm.
I also make use of a little bluetooth remote camera trigger like this one.
Finally, I edit my photos in PicMonkey and add some text overlays (you can even get a free trial here).
I have found blogging to be a rewarding creative outlet, and if you are willing to put in the time to learn it can be a lot of fun.