The Best Wireless Microphone for iPhone – Movo Mini Di Duo Review
This post may contain affiliate links which means I make a commission if you shop through my links.
 Disclosure Policy
Disclosure: Product for this post was provided by Movo. All opinions are my own.
If you are looking for a wireless microphone for your iPhone or Android device, I think that the Movo Mini Di Duo is one of the best in it's class. It has seriously changed my life as a creator for the better. This review is a closer look at why I like it so much.
The Movo Mini Di Duo is a package of two clip on lavalier style microphones and a receiver that connects to your smartphone, along with related accessories.
One important thing to note is that there are two separate versions of the Movo Mini Di Duo – one for iPhone and one for Android. They are not interchangeable! You must buy the version that works with your phone's operating system.
For this review, I used the Movo Mini Di Duo for iPhone.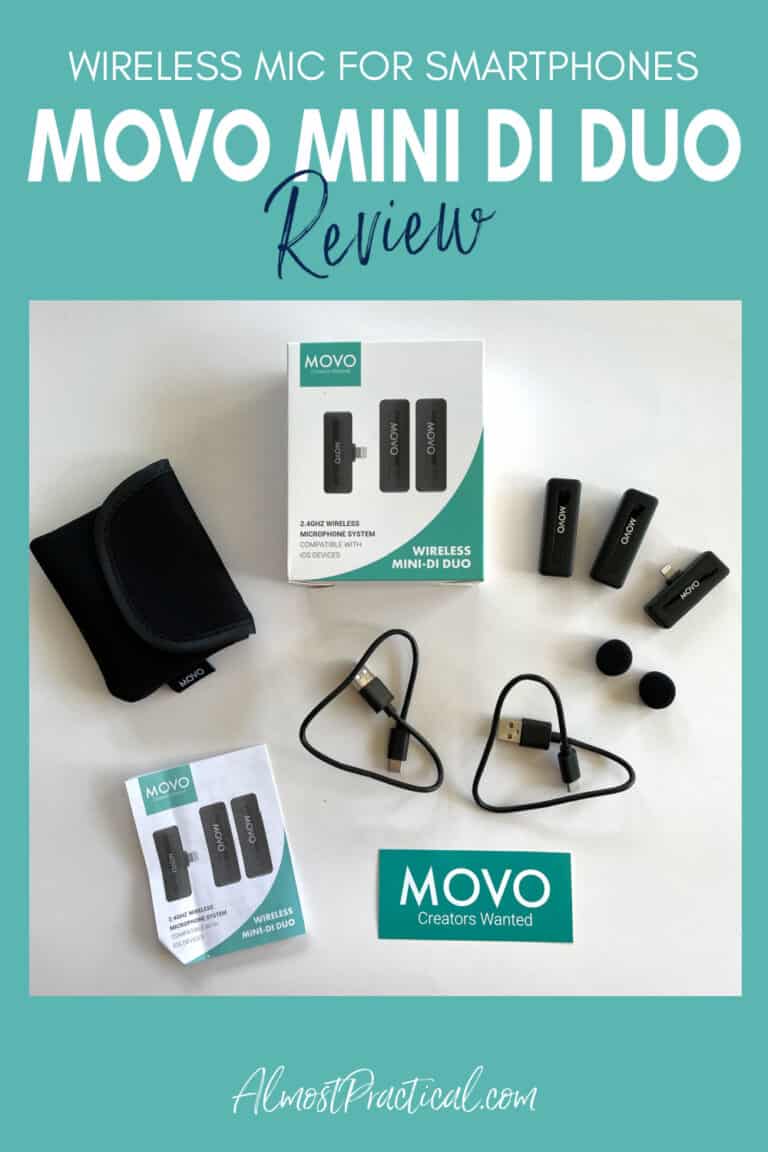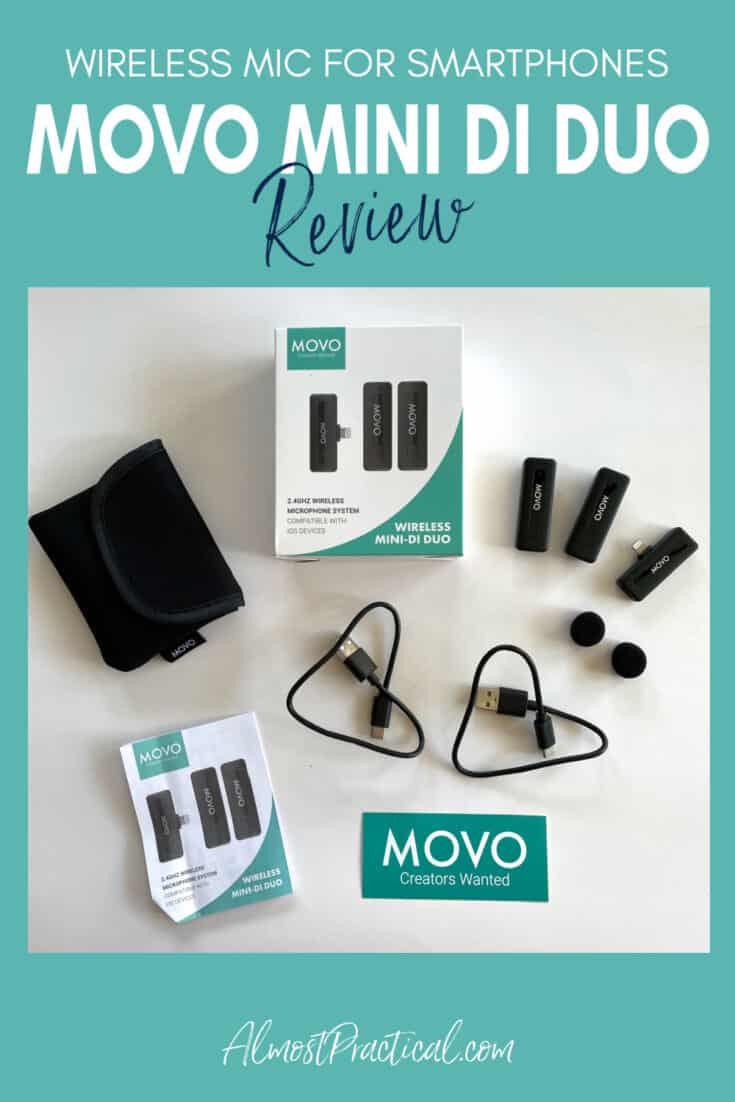 Why You Need a Wireless Mic for your iPhone
As a creator – blogger, podcaster, YouTuber, Instagram Influencer, etc. – you want the quality of your audio recordings to be excellent.
It doesn't matter how good your content is – if the sound quality is bad, people will turn you off.
And after you put all that effort into creating your podcast or video – you really do want your audience to stick around.
A wireless microphone like the Movo Mini Di Duo gives you that great sound quality and also gives you the freedom to be able to move around freely without being tethered to your iPhone.
Movo Mini Di Duo Features
The Movo Mini Di Duo has so many great features packed into a small and portable form factor:
Lightweight and extremely portable
Tiny Transmitter with a built-in omnidirectional microphone acts as a "wire-free" lapel mic
Wireless range of up to 164'
Selectable Noise-Cancellation Feature (activated by double-clicking power button)
Mute button (activated by short-pressing power button)
Operates on the 2.4GHz frequency spectrum
Battery Life: Up to 10hrs per charge
Auto Transmitter/Receiver Sync
Plug-and-play – no setup needed
High quality circuitry delivers clear, distortion-free, and noise-free audio
Receiver also has a USB-C port to allow pass-through charging of your phone while the microphone is connected
What's In The Box?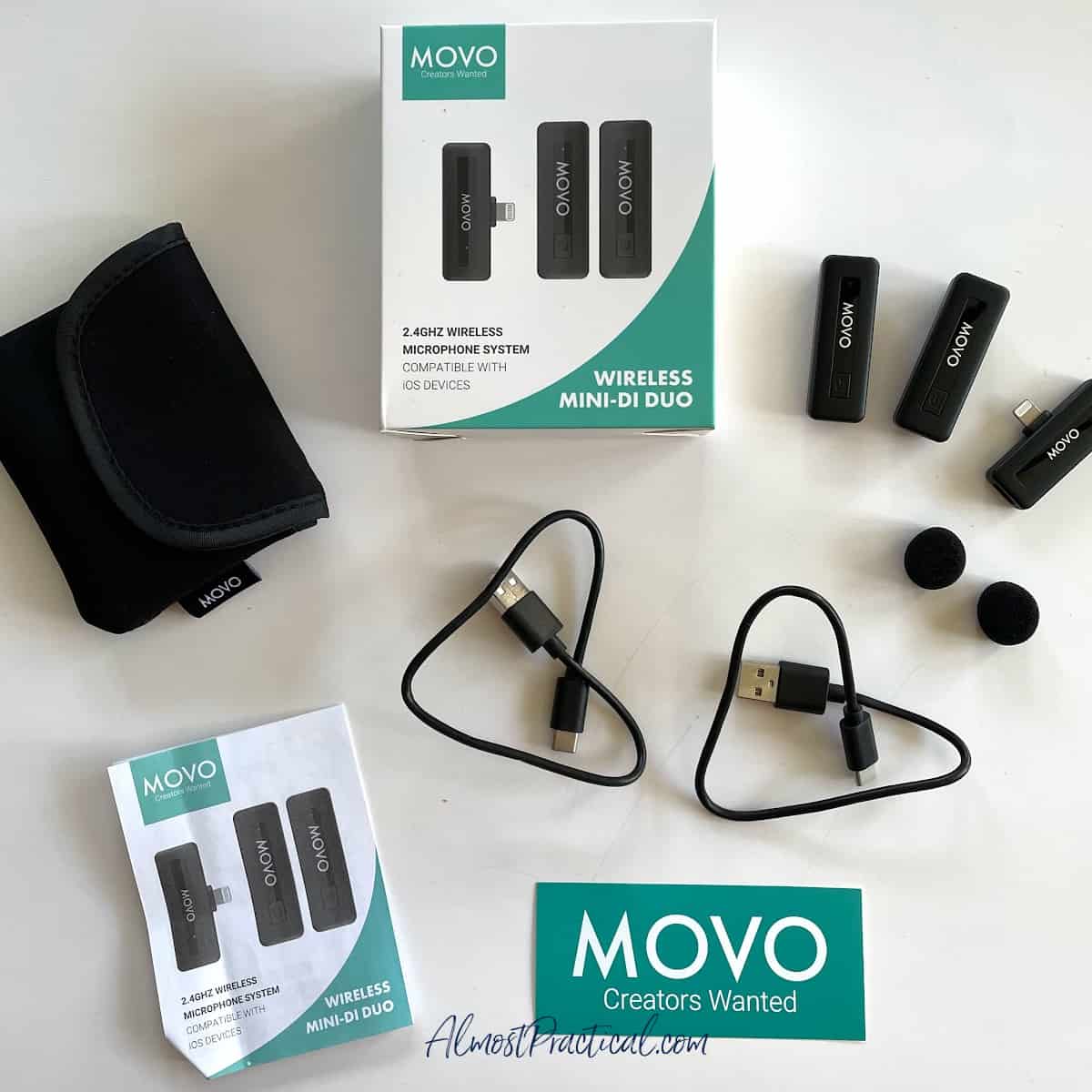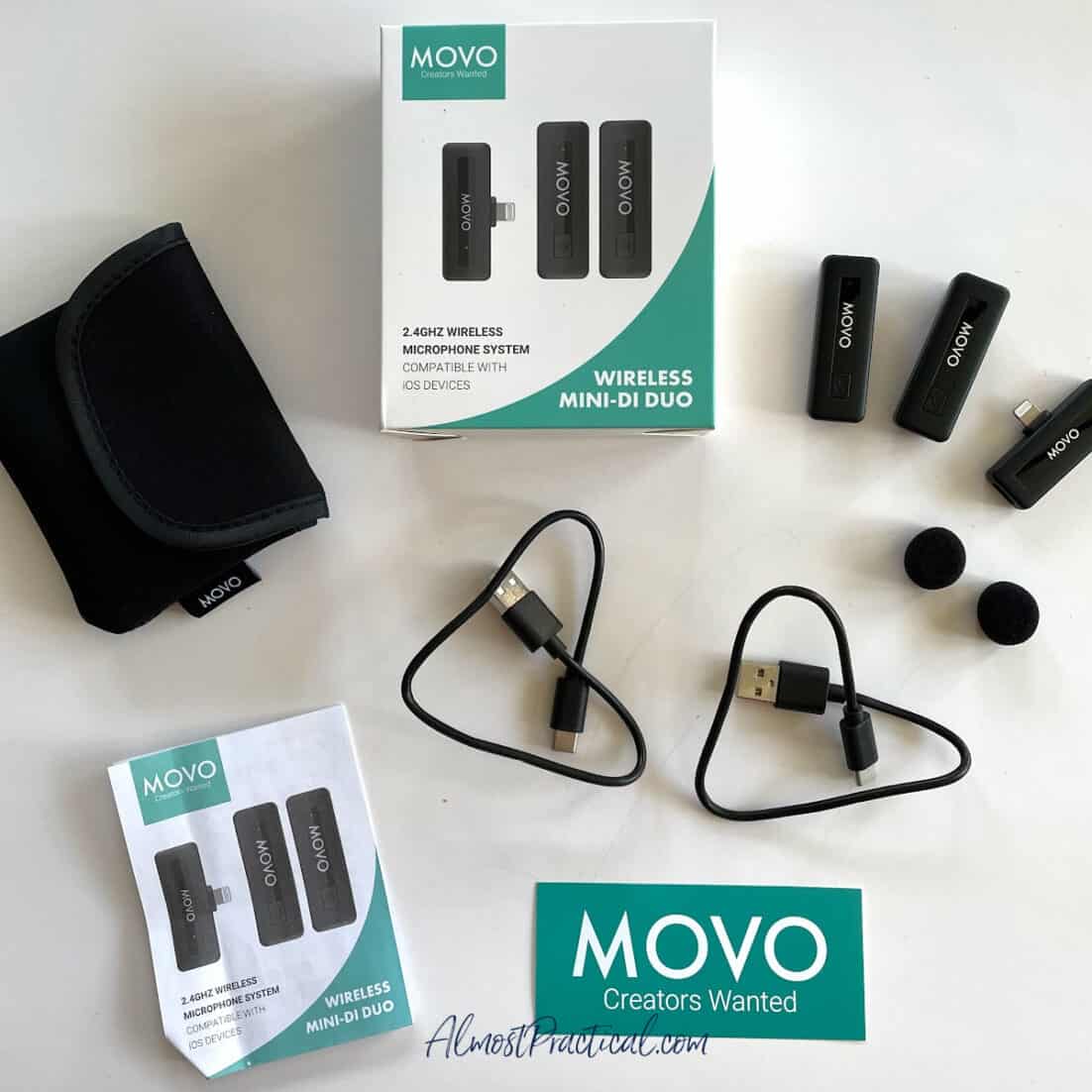 Inside the box you will find everything you need to start recording immediately.
You have 2 omnidirectional, clip on microphones. So, if you are interviewing a guest or creating a video with a partner – then you are all set!
There is also a receiver with a lightning cable type end that plugs into the charging port of your iPhone.
You get two USB to USB-C cables for charging the 2 microphones.
There are also 2 wind screens which are sponge style caps that fit on the end of each microphone.
And you get a totally cute and functional little carrying pouch – so you don't lose anything.
How Does the Movo Mini Di Duo Wireless Microphone for iPhone Work?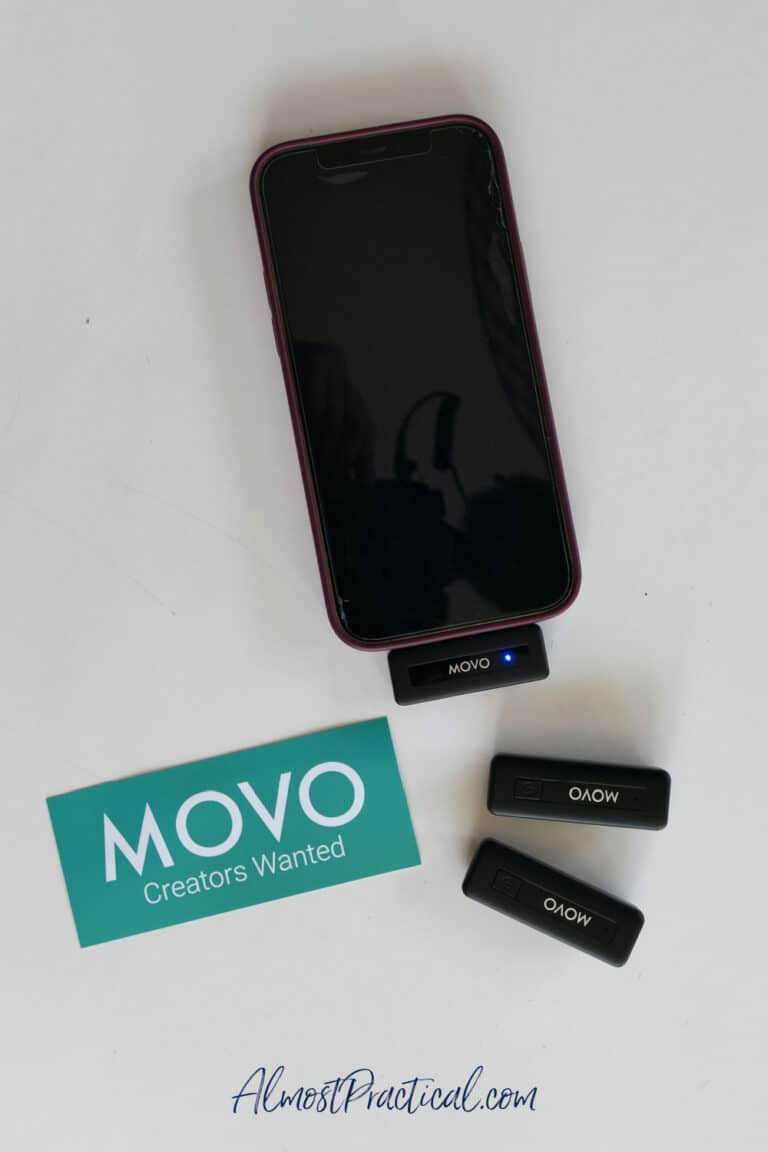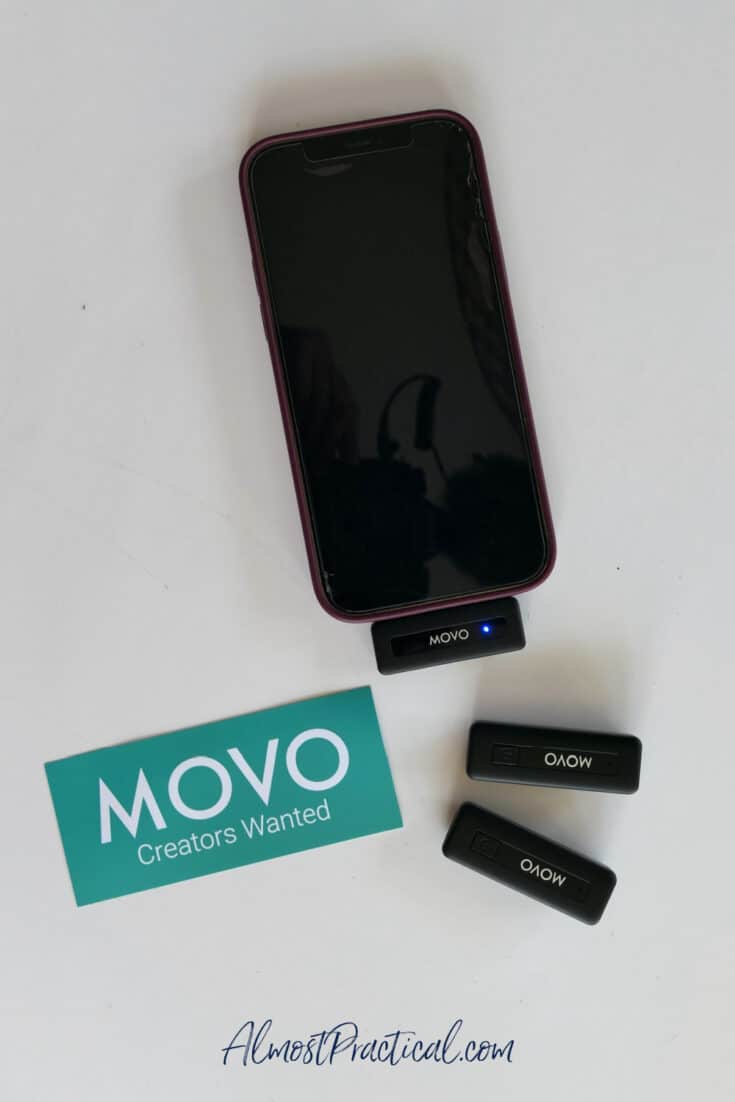 I could not believe how easy it was to set up and use the Movo Mini Di Duo wireless microphone.
First, you want to make sure that the microphones are fully charged. Just use the included cables. The USB-C end plugs into the microphone and the USB end goes into any charging brick that you have at home.
Next, you plug the receiver into the charging port on your iPhone.
The best part is that there is a USB-C port on the receiver – so if your iPhone is low on battery, you can connect a USB-C cable from that port into a charging brick for pass through charging of your iPhone. But if your iPhone is all charged up then you do not need to do this – it there merely for your convenience.
Once the receiver is plugged into your phone, you can press the power button on one or both of your microphones.
Hold the power button down for about a second and it syncs almost instantaneously with the receiver.
Now you are ready to record. I use the Camera app on my iPhone to record video and the Movo Di Duo has recorded all the audio perfectly.
One thing to note is that you must remove the receiver from your iPhone to hear the sound when you playback video.
How the Movo Mini Di Duo Has Improved My Business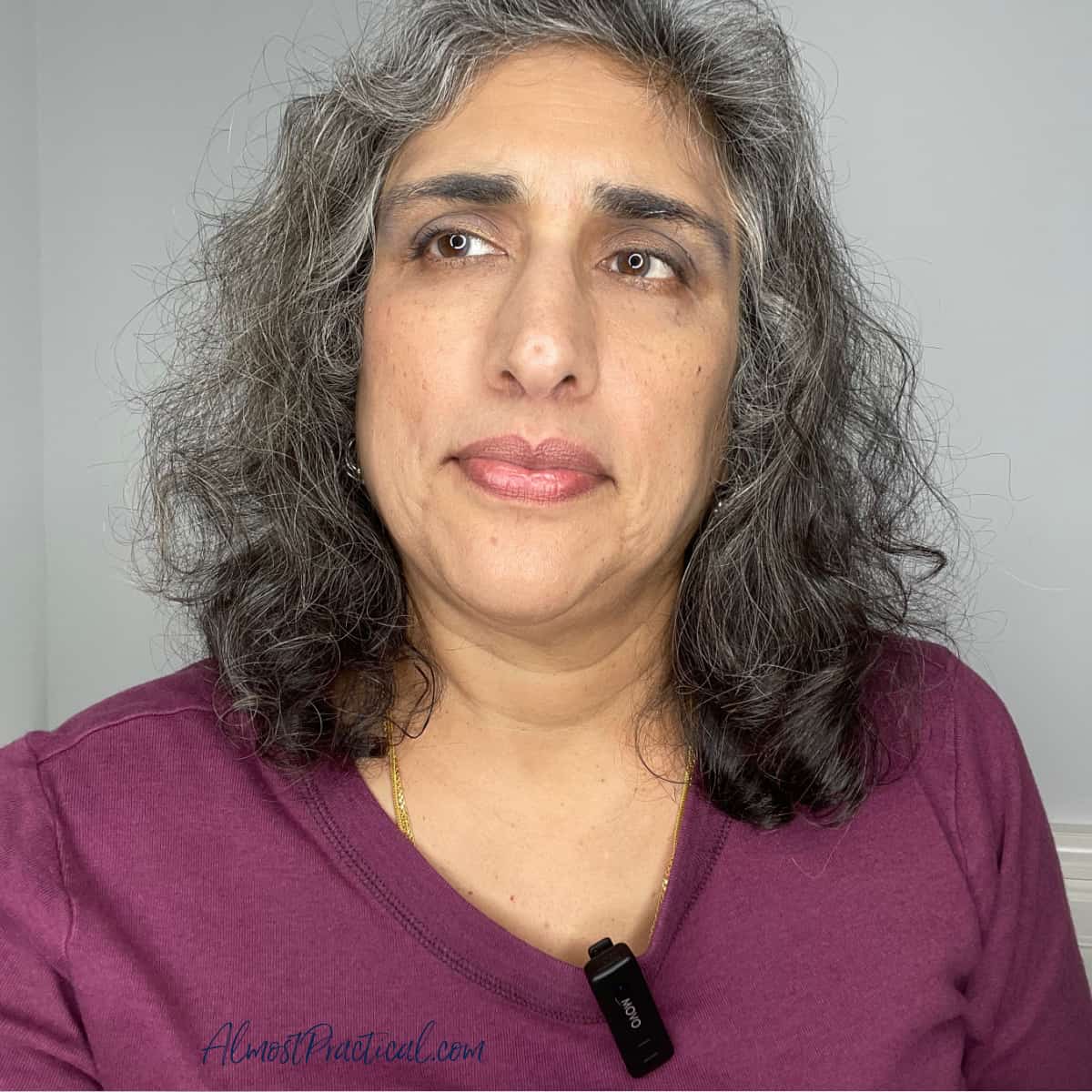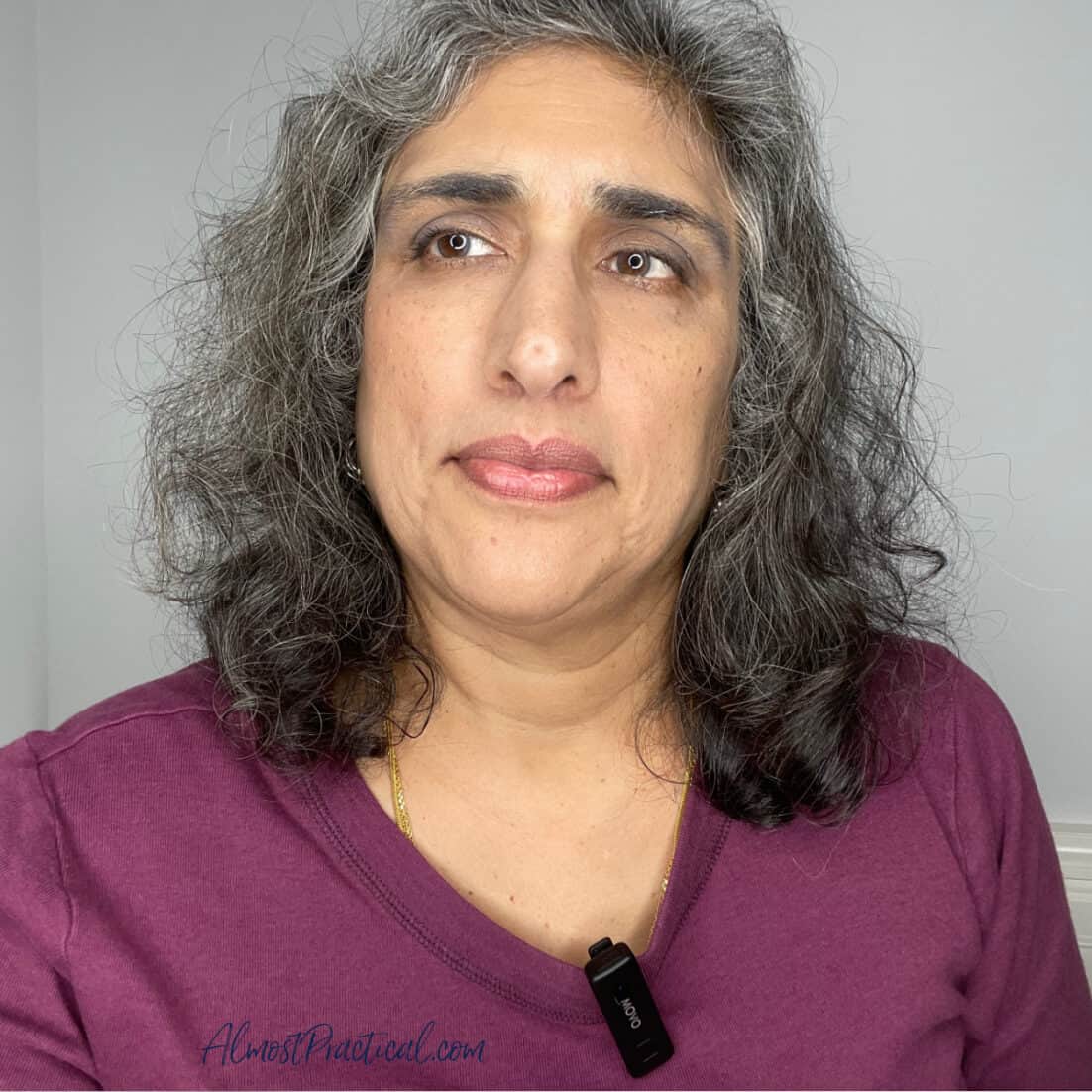 Before I started using the Movo Mini Di Duo wireless microphone for my iPhone, I did not record much video with me in the picture.
I thought it was because I was very camera shy.
But I think the reality was that I just did not have the right equipment. My home office desk is in an awkward place with poor background and lighting, so using the microphone attached to my computer was not ideal.
And every time I tethered a microphone to my iPhone, I would end up knocking over the tripod.
In the short time that I have had the Movo wireless microphone, I have recorded more videos than I have in the past year.
I even had the courage to submit a video on 5 Ways to Simplify and Declutter Our Lives to Make Us Happier (in which I used the Mini Di Duo) – to Authority Magazine for an interview.
If you would like to hear the audio quality – view that video.
It has been a game changer and I am so grateful for it.
Improve Your Online Presence with the Movo Mini Di Duo
The Movo Mini Di Duo wireless microphone will help you to improve your online presence.
It is small enough to have with you whether you are at home or on the go.
And it is super easy to use. Just plug it in, turn it on, and it connects almost instantly.
With this powerful, little microphone you will be wanting to make more content for your website, social media, and business each and every day.