How to Clean Large Stove Grates
This post may contain affiliate links which means I make a commission if you shop through my links.
 Disclosure Policy
Looking for an easy way to clean your large stove grates? Try this (but read your stove manufacturer's cleaning instructions first!).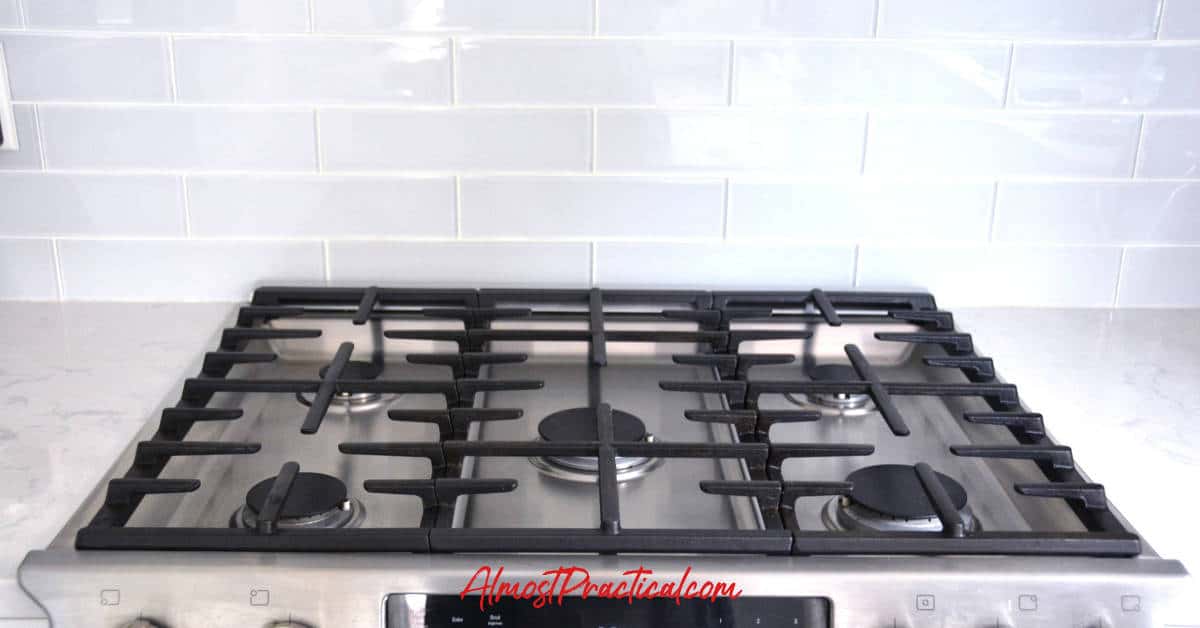 Cleaning my kitchen is not something that I look forward to – especially the stovetop and surrounding area.
Yes. I should keep up with it and wipe it down on a daily basis.
But the reality is that life gets in the way.
When I finally get around to cleaning the stovetop – well, let's just say it's a little bit greasy.
Thankfully, cleaning the actual surface isn't too bad – but those stovetop grates are another story entirely.
More Helpful Cleaning Tips
The Problem With Cleaning My Stovetop Grates
A great way to clean stove grates for a gas stove (no pun intended!) is to soak them in your sink with a bit of dishwashing liquid.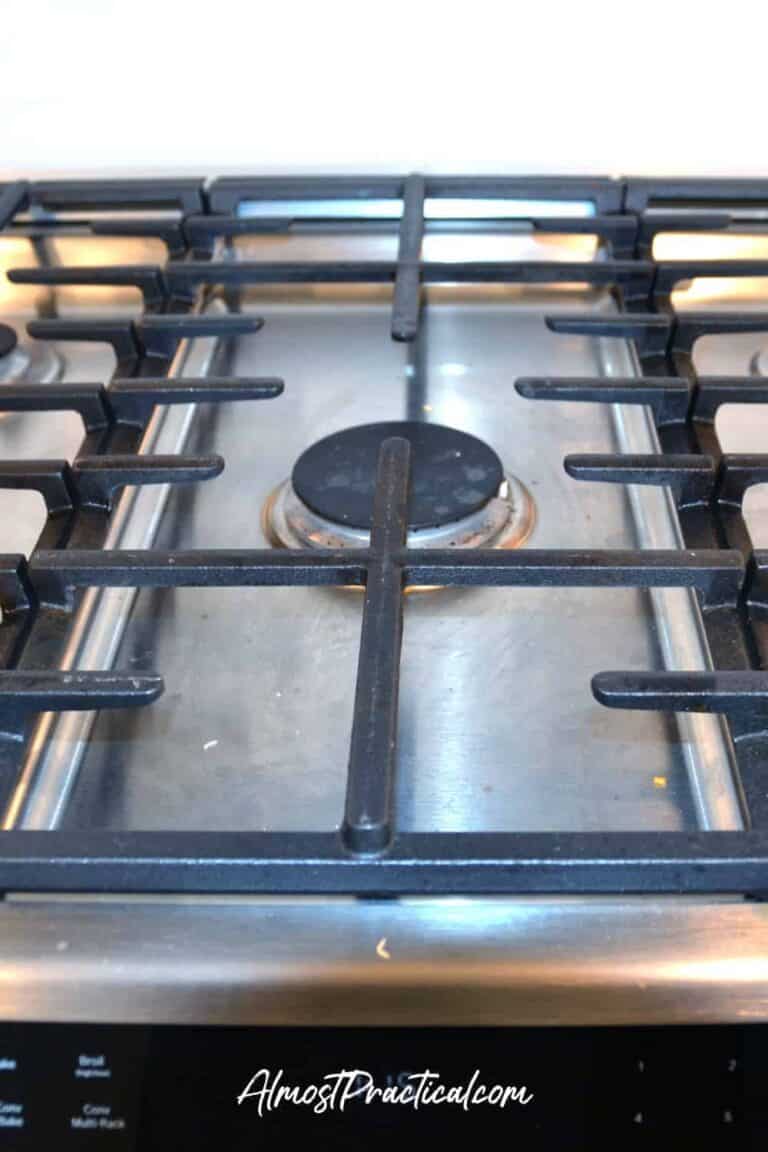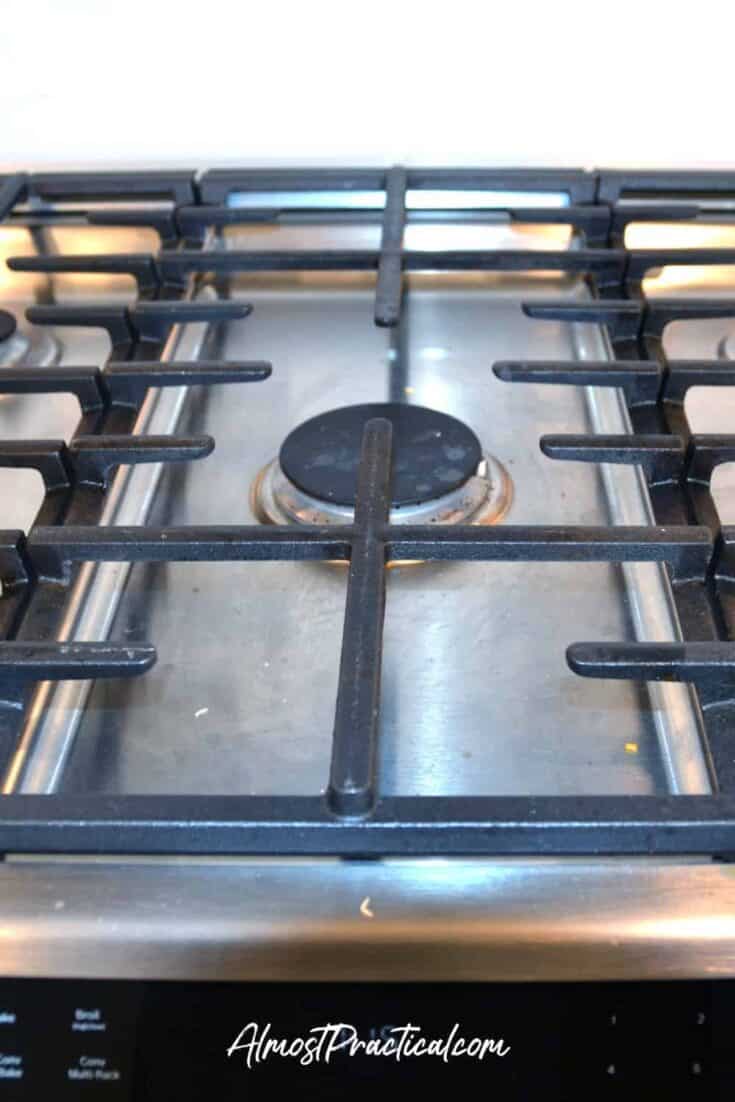 Then scrub them down with a stiff brush, and you should be good to go.
I have a Bosch dual fuel range that I love.
It has 5 burners and three long cast iron grates that go from the front of the stovetop to the back of the stovetop.
Unfortunately, the grates are longer than my sink – so soaking them in the sink is out of the question.
I have tried holding them vertically, scrubbing them down with a kitchen scrubbie, and then using the sink hose to spray them off.
Basically I ended up with a huge puddle on my counters and still sticky stovetop grates.
My Solution for Cleaning These Large Stove Grates
The best solution for cleaning these long stovetop grates – is to "semi soak" them on a drainboard (like this one) on the countertop.
You want to make sure that the drainboard you use has a good sized lip all the way around and a flat edge that drains right into the sink.
I put them on the drainboard one at a time and lather them up with Dawn dish soap.
Then I let them soak for a bit.
Finally, I use my pull out faucet to gently hose them down making sure the water only splashes on the drainboard and flows into the sink.
Should You Wash Iron Stove Grates in the Dishwasher?
Most appliance manufacturer's will tell you – NO!
If you decide to try this, check the manufacturer instructions for cleaning your particular brand and model of burner grates.
Some manufacturers specifically say NOT to wash the stove grates in the dishwasher – like this article states on the Sub-Zero site.
You may be tempted to do so if your stove grates are especially greasy or sticky – but know that you might void any warranty by doing so.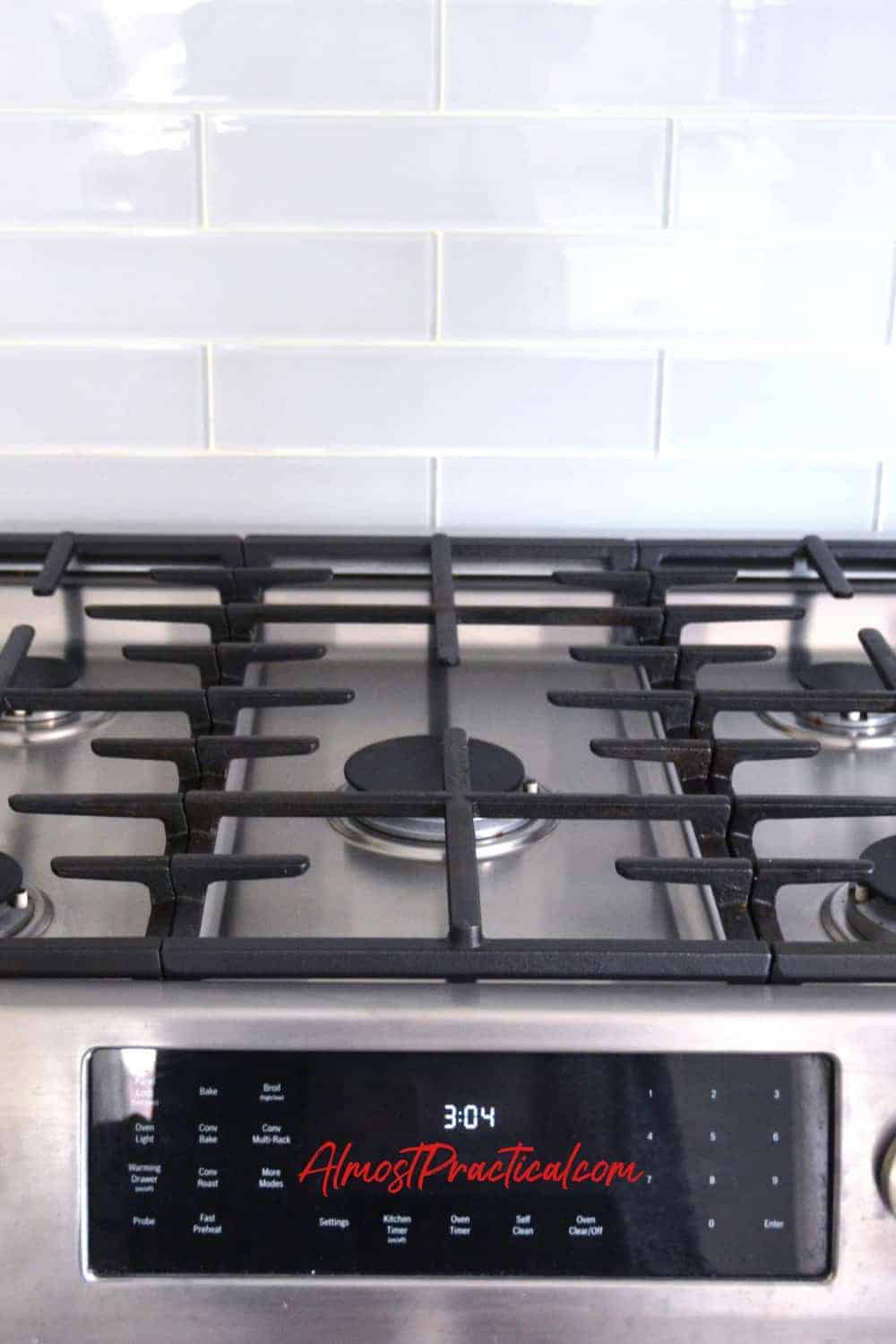 Use Your Judgment
I cannot stress enough that you should use your judgment and read the cleaning instructions that came with your stove – contact the manufacturer if you can't find them.
For me, my first choice is to wash them as best as possible in the sink or on a drainboard.
I suppose, if your sink is too small, you could soak them in the bathtub – but that is really pushing it. Cleaning the kitchen is already hard enough!
The Best Time to Clean Your Stovetop Grates
The best time to clean your stove grates is right after you cook – and after they cool down, of course!
At this point any grease will be the easiest to get off.
If you let it sit overnight or you continue to use the burners then the mess just gets caked and baked on making it harder to clean later.
How Do You Clean Long Cast Iron Stove Grates?
If you have a solution that works I would love to hear about it.
Drop me a comment below!