How To Mash Bananas – 3 Different Ways
This post may contain affiliate links which means I make a commission if you shop through my links.
 Disclosure Policy
Here are 3 different ways that you can mash bananas to use in recipes or for baby food.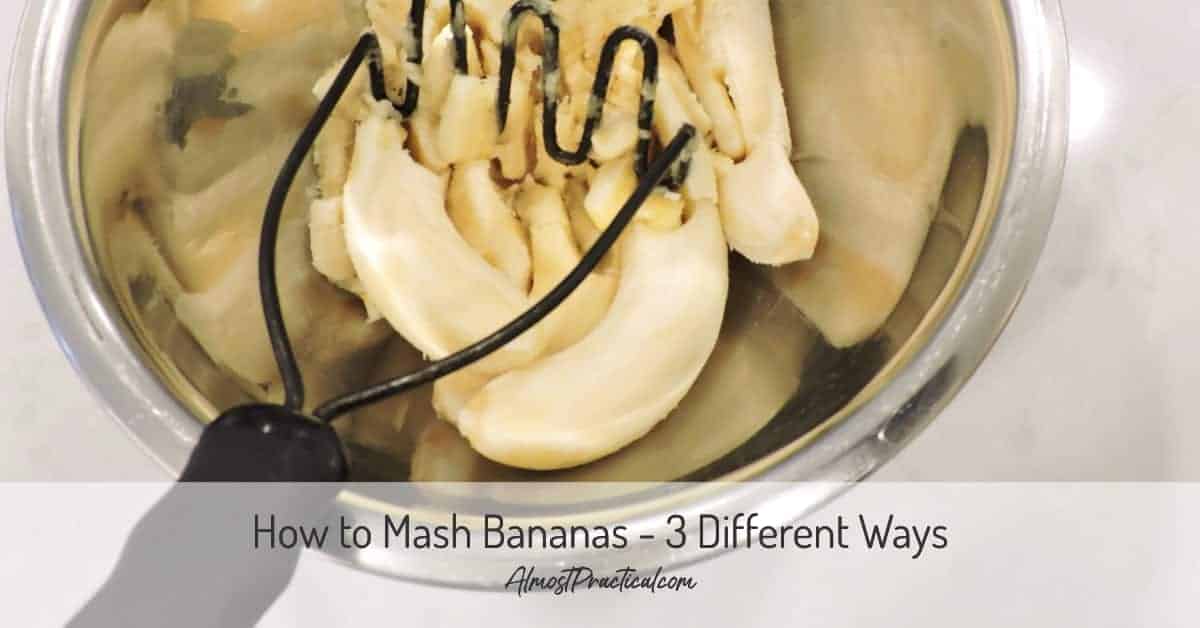 Yesterday I was making my favorite banana bread recipe – and one of my family members (I'm not naming names) offered to help.
Sure! – I said – Why don't you mash the bananas.
How do I do that? – was the response.
So, I thought I would do a quick post on how to mash bananas. Here there are 3 methods that usually us.
More Cooking Tips You Might Like
1. Use a Potato Masher to Mash Bananas
I almost always use a potato masher to mash bananas.
This method works best if the bananas you are mashing are super ripe and soft.
I usually make banana bread simply because I don't want to toss my overripe bananas – which means that the potato masher method is the easiest to use.
You want to use a "wavy" potato masher and not the style with the little squares.
Although both styles will work, I find the wavy style to be a little easier.
Simply, peel and toss the peeled, ripe, bananas into a medium mixing bowl and mash with the potato masher.
Stop when you get your desired consistency.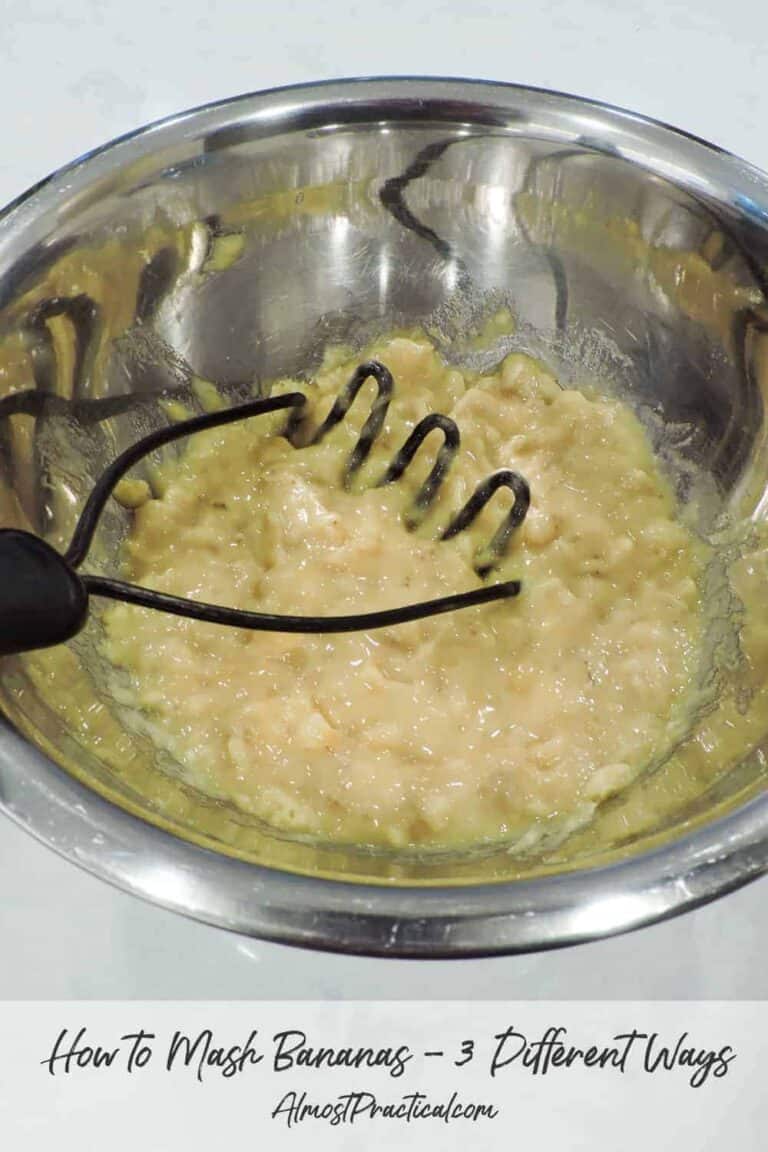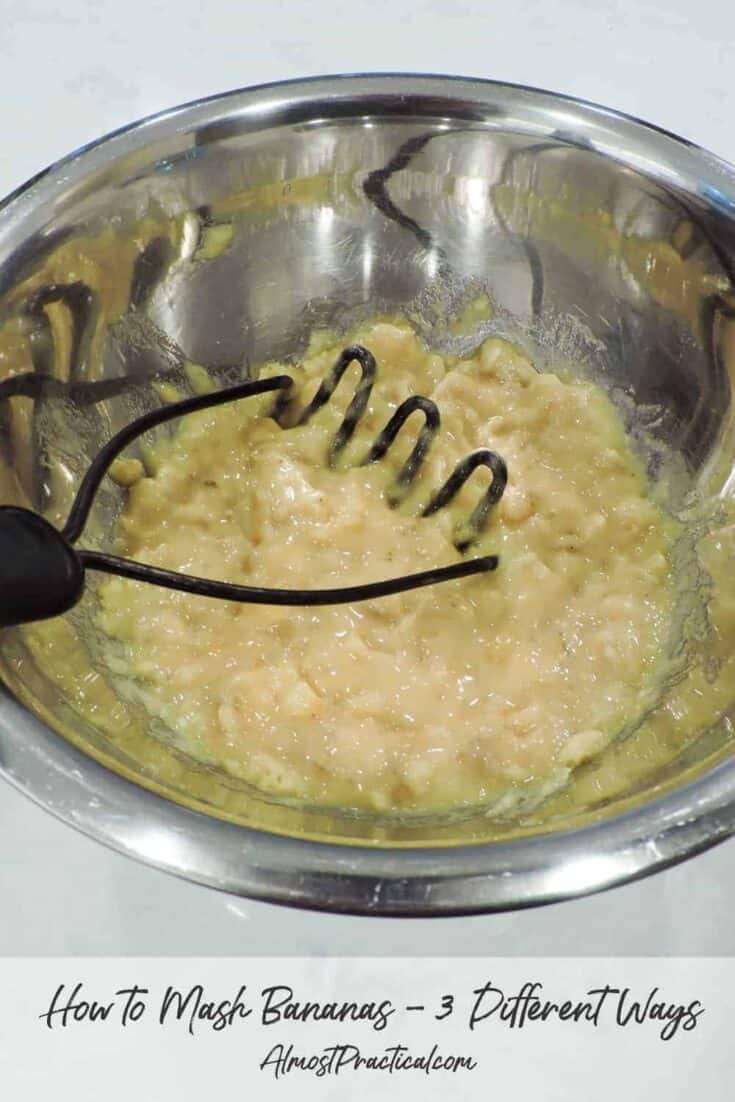 2. Use a Food Processor to Mash Bananas
The second method I use to mash bananas is to do so with a food processor.
This works best if the bananas you are using are still firm and not overly ripe.
In fact, this method is much easier than a potato masher if the bananas you are using are not super soft.
However, there is a little more clean up involved.
I use the food processor container and blade on my Ninja system for this.
First, I peel the bananas and then break them into 2 or 3 inch pieces.
I place these pieces into the food processor container and give them a few quick pulses.
Continue doing this until you get to your desired consistency.
You could use a blender instead – but you will likely completely liquify the bananas and not get the nice bits and pieces that remain if you use other methods.
3. Use a Fork to Mash Bananas
This is my fall back method when I don't have access to a potato masher or a food processor.
While this method is super easy, it certainly does take more effort.
All you have to do is place the peeled bananas in a mixing bowl and mash with a fork.
Like the potato maser method, this works best if the bananas are soft and overripe.
I find that it is harder to get an even consistency and also takes much longer to mash bananas with a fork.
Which method do you prefer?
As you can see there is not one, singular best way to mash bananas for banana bread and other recipes – there are actually 3 methods that will do the job:
Potato masher
Food processor
Fork
Which is your favorite? Let me know in the comments below.
Pin This Cooking Tip for to Your Favorite Board on Pinterest