What Is The Best Basement Lighting Color Temperature?
This post may contain affiliate links which means I make a commission if you shop through my links.
 Disclosure Policy
Wondering what the best lighting color temperature is for a finished basement? It's so hard to get it right. These are the bulbs that I used.
I decided that the best light bulbs for basements – in my opinion – were these 75 watt equivalent BR30 dimmable light bulbs in Bright White (3000K).
But making the decision wasn't easy – it took lots of trial and error.
Here's the back story on our basement.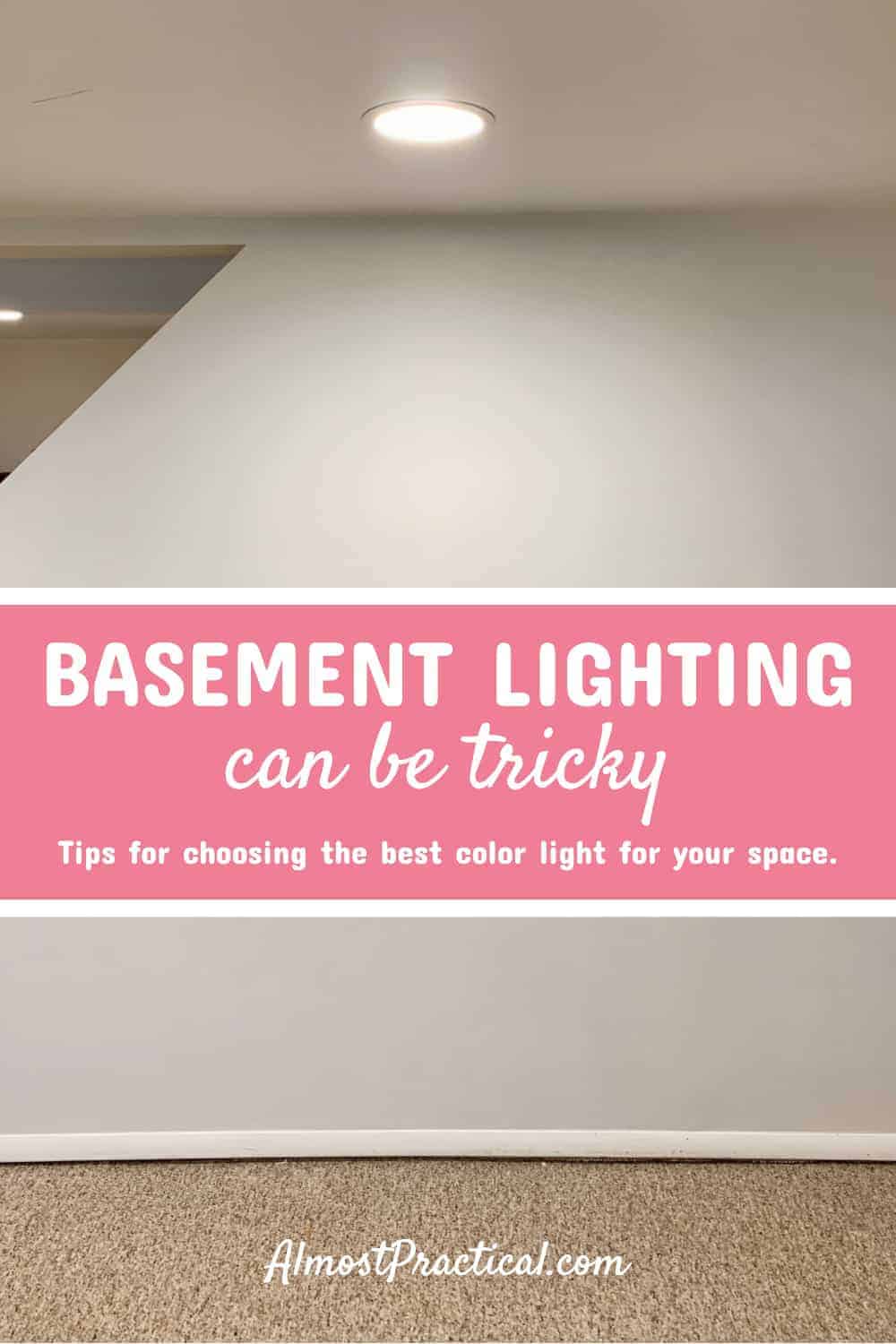 How We Use Our Finished Basement
In my house, the basement is a hub of activity.
The finished area houses:
my office and craft space
my husband's home office
and a small family room area that doubles as a place for the kids to have sleep overs.
We also have a small unfinished space for storage, utilities, and our laundry area.
From what I am telling you, you might think that this is a huge basement with lots of little rooms – but you would be wrong.
The basement is actually one large open space with a desk here, a table there, a daybed along the wall and the TV against another wall.
This space gets a little outdoor light from those small basement type windows but not a lot.
So, we have a lot of recess lights to brighten the space up.
Unfortunately, the room has always felt "yellow" to me.
Maybe it's been more obvious recently because I have been doing more photography for my blog – but it got to the point where I just hated going down in the basement.
At first I thought it was the paint color.
The basement is certainly due for a coat of paint – years ago we painted it with Benjamin Moore Linen White – which does indeed have yellow undertones.
So, I set out to find a brighter paint color with less yellow. But no matter what color I put on my test wall, the room still looked yellow.
Which made me think that it wasn't the paint at all.
Perhaps I had the wrong lighting for our basement.
Looking for the Best Basement Lighting
Over the years our recessed light bulbs have gone from traditional incandescent bulbs to CFL's (fluorescent bulbs), to LED bulbs.
I knew that switching to LED lights for the basement was an environmentally good thing to do – but because we needed so many, I would always buy a big ol' pack in bulk at Costco or BJ's.
Never once did I pay attention to the lighting temperature.
Now that I decided to focus on the lights, I pulled one down and found out that it is a 2700k LED light bulb that was also a 75W equivalent bulb.
This is a very warm light and leans toward the yellow end of the spectrum.
Aha! Maybe this was why everything looked yellow.
It just so happened that I had a few r30 bulbs in storage that were labeled "daylight" bulbs.
These were 5000K and were 65W equivalents.
I popped these into my recess lighting fixtures and – ugh! I didn't like these either.
The light was harsh and while it was lighter, it didn't seem quite as bright.
You see – I had two things going on here.
The 5000K bulbs were definitely a cooler temperature – they tended towards a blueish light – but they also put out less Lumens or brightness.
So, I decided I needed to head to the hardware store and look for something with more lumens (at least a 75W equivalent or more) that fell somewhere between the very yellow 2700K bulb and the very blue 5000K bulb.
Finding the Best Lighting for a Basement
When it comes to projects like this, I have a bit of a problem – I don't live very close to a big box hardware store, where presumably I would find a good selection of bulbs to choose from.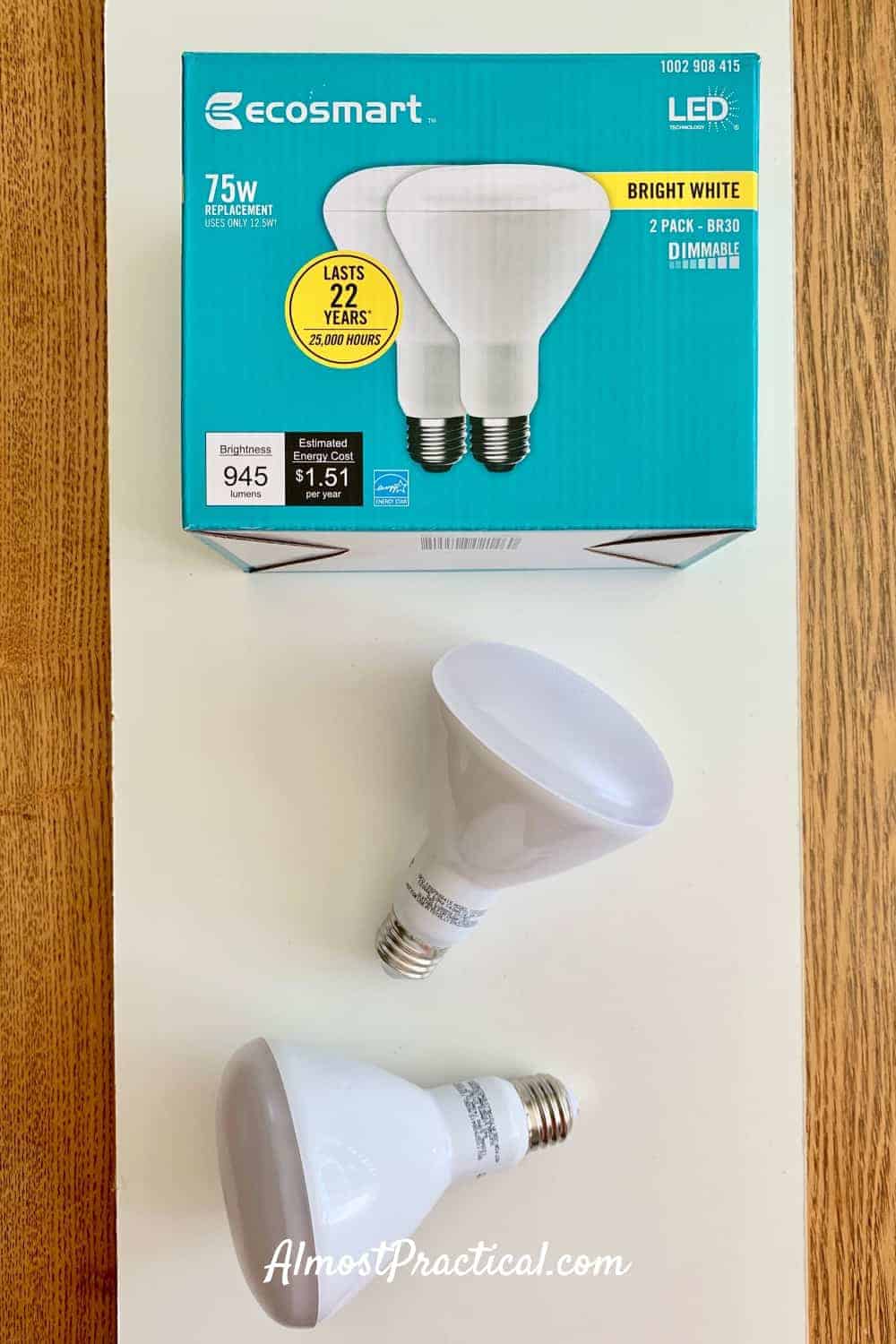 So, I made the trek to the closest one – and wouldn't you know it – there weren't many choices at all.
Most of the R30 or Br30 sized bulbs were either Soft White (which is the yellow 2700K bulb) or Daylight (which is the harsh blue 5000K bulb).
I couldn't believe it! Am I the only person that is looking for something in between?
After leaving that store I went to the Home Depot, and while they had a bit more of a selection – they really only had one choice that fit my requirements for what I was convinced would be the best basement lighting color temperature for my space.
I crossed my fingers and bought 14 of the bulbs that I mentioned above – these 75 watt replacement BR30 in Bright White (3000K).
Luckily, I was right!
I replaced all of the warm yellow light bulbs in the basement and then held my breath as I flipped the switch.
The light color temperature was absolutely perfect!
It's warm enough to not feel institutional but bright enough to energize my workspace and not make the whole room look too yellow. (I still might paint the basement, though – especially now that I can see it so well)
The Right Basement Light Bulbs For You
If you are unhappy with your basement lighting, I suggest you take stock of your current situation.
What exactly don't you like about your current lighting?
Is it too dim, too bright, too yellow … etc?
How will you be using your space – meaning is it a rec room where you want a nice ambiance or a work room where you want bright lights?
Can you put your lights on a dimmer so that you can adjust the lighting if needed?
Once you know exactly what problems you want to correct for and how you plan to use your space. then you can go about picking the best basement light bulbs for your space.
Keep in mind that finding bulbs somewhere in between Soft White and Daylight is a bit difficult. Amazon has something with similar specs here but they are called "Cool White" instead of "Bright White" – and they also have a much wider variety of choices than what I found in my brick and mortar stores.
I hope this article helped you to find the right bulbs for your basement. Leave a comment below and tell me what you ultimately chose.
And if you are also looking for some good options in outdoor flood lights then the article here will help.