Outdoor Flood Lights – 3 Good Options
This post may contain affiliate links which means I make a commission if you shop through my links.
 Disclosure Policy
Are you shopping for outdoor flood lights for your home? Here are 3 good options that you can consider.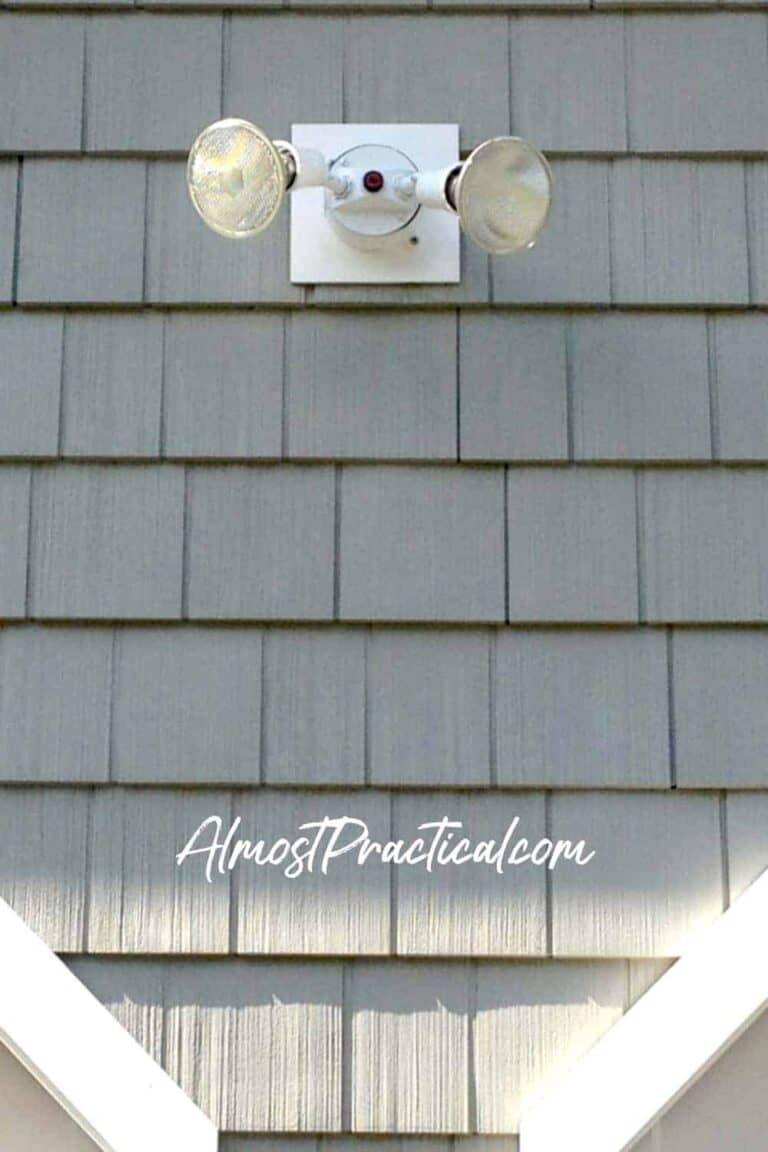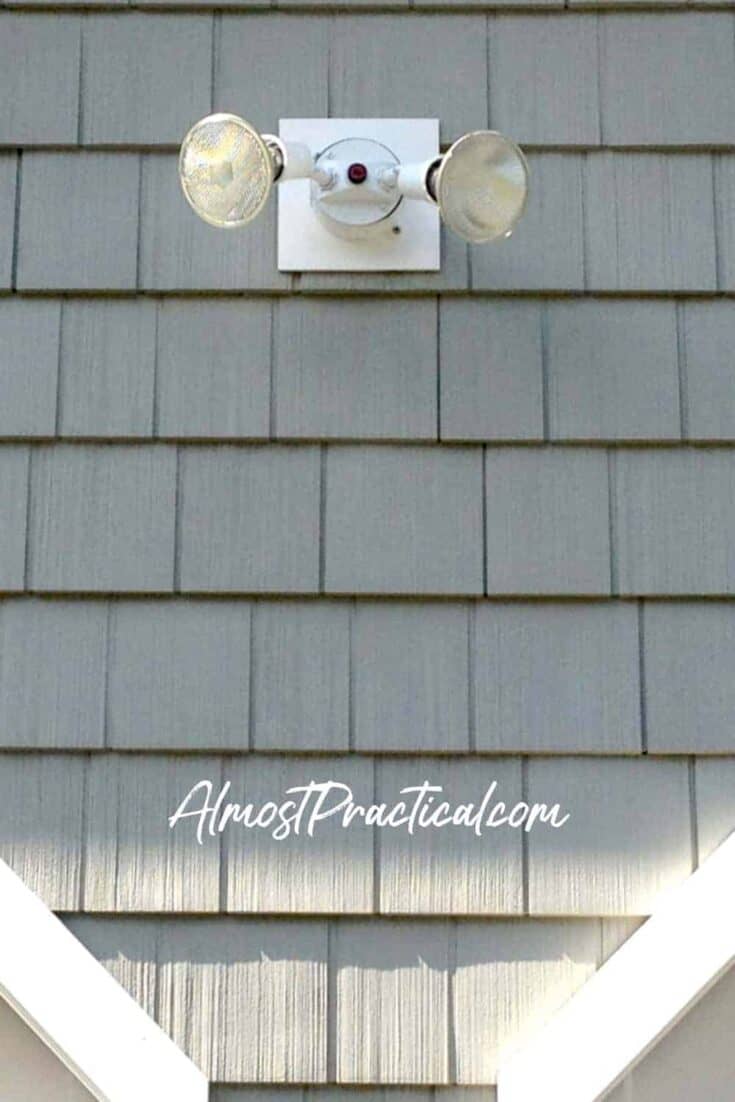 I can tell you that when you do a home renovation – you find yourself buying things that you never even gave a thought to before – things like automatic flood lights.
3 Options for Outdoor Flood Lights
Why We Were Upgrading Our Old Outdoor Flood Lights
We inherited our old flood lights from the previous owners of our home.
There was a motion sensor attached that had never worked.
And being "just a bit" forgetful – I would always end up leaving the outside lights on during the day – and kick myself for it.
Since we were having the siding replaced on our home, I thought that this would be a great time to do something about the flood lights as well.
My first thought was to get motion sensing flood lights that actually worked.
Option 1: Motion Sensing Flood Lights
But when I started looking into flood lights with a motion sensor – I quickly realized that this was not the right solution for me.
Originally, I thought that motion sensor lights would be great.
They turn on automatically when they sense movement, and they turn off when the motion stops.
But I quickly found out that there were limitations that I did not like.
The Problem With Motion Sensor Outside Lights
First, many automatic flood lights with motion sensors DO NOT have a manual override.
This means that you cannot turn the lights on and off when there is no motion.
So, if you are expecting company one evening – you can't just turn on the lights to help your visitors find your house easily.
And if you hear a noise outside at night, you can't manually turn the lights on and peek out the window to investigate.
I also found that the motion sensor lights were a bit more expensive than the next option.
Option 2: Dusk to Dawn Flood Lights
Like the name implies, dusk to dawn flood lights have a photocell that senses the sunlight.
They turn on automatically at dusk and turn off automatically at dawn.
No more forgetting to turn the lights off!
And, dusk to dawn lights also have a manual override.
So, if you want darkness outside at night – you can turn them off with a flip of the switch.
The only thing that you can't do is turn the lights on during bright daylight.
Assuming that you would never really want to do this – this flood light is perfect for saving energy and for having light when you need it.
Recently, I found dusk to dawn outdoor flood lights at Home Depot for about $15 (bulbs not included) – so the price is much more reasonable than the motion sensor lights.
If you are handy, electrically speaking – you can probably change out your old fixture yourself.
But if not – it's a pretty simple install and any electrician should be able to hook it up for not too hefty of a charge. (no pun intended!)
I could not find the exact model that I bought online – but here is a similar model of dusk to dawn flood light at Amazon.
Option 3: A Hybrid Flood Light
This flood light option marries the best of both worlds.
There is now a combo LED flood light that has both a motion sensor and a photo cell (for dusk to dawn functionality).
When we did our home renovation, I did not see a product like this – and LED lights were just emerging into the mainstream.
I think that this flood light could be a good option.
However, there are mixed reviews on Amazon and the price is higher than just the plain dusk to dawn option.
You Now Have 3 Choices in Flood Lights
If you are looking for outdoor flood lights, you now have 3 choices:
motion activated,
dusk to dawn,
or a hybrid light.
Motion activated lights are generally more expensive than dusk to dawn, and they usually do not have a manual override – so the lights only come on when there is motion.
Dusk to dawn lights are more affordable, come on at night, and are great for forgetful people like me. You can switch them off at night if you want darkness – but you cannot turn them on in the daylight.
The hybrid option combines the best features of the above two options. They are more costly than the dusk to dawn lights and more in line with the cost of the motion sensor lights.
UPDATE: I recently saw LED bulbs that have a motion sensor AND a light sensor built in to the actual bulb. Technology keeps changing!
Do You Have An Outdoor Light Fixture With A Practical Twist?
Tell us about it in the comments below.