Tile Wainscoting for the Bathroom
This post may contain affiliate links which means I make a commission if you shop through my links.
 Disclosure Policy
Subway tile wainscoting is a great choice for a bathroom. It has a beautiful look and it also protects your walls. Here are some things to consider before you install yours.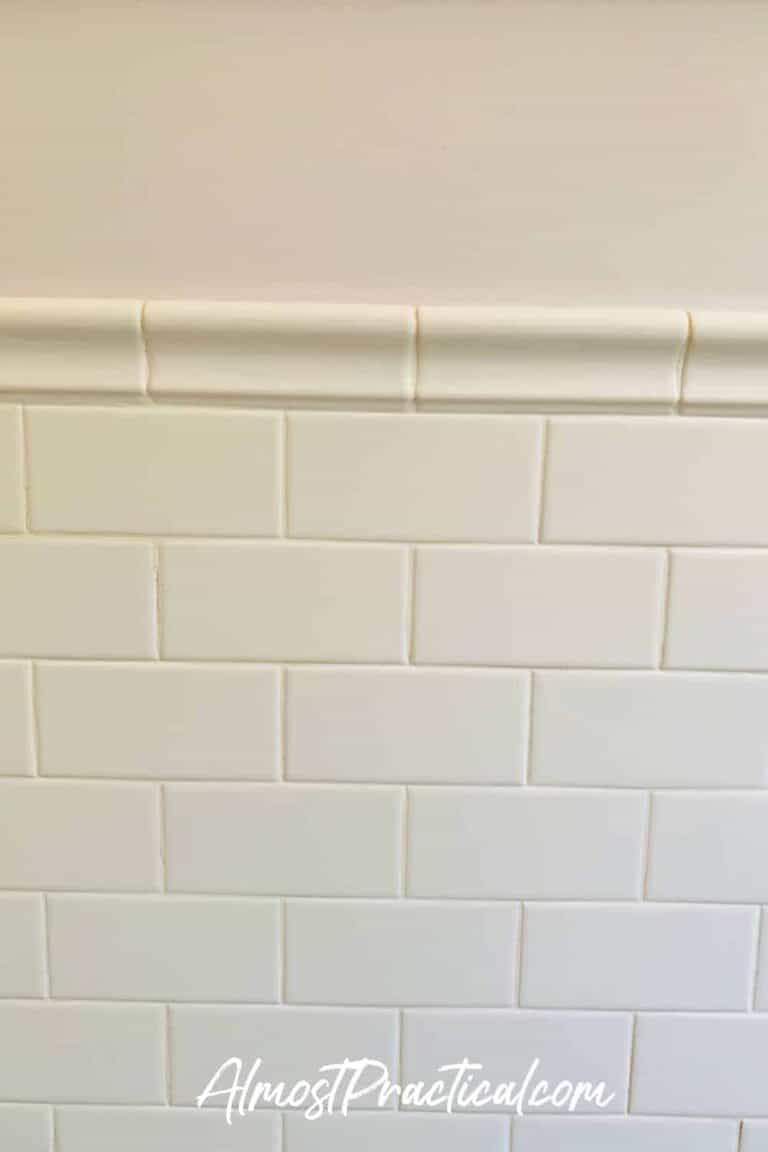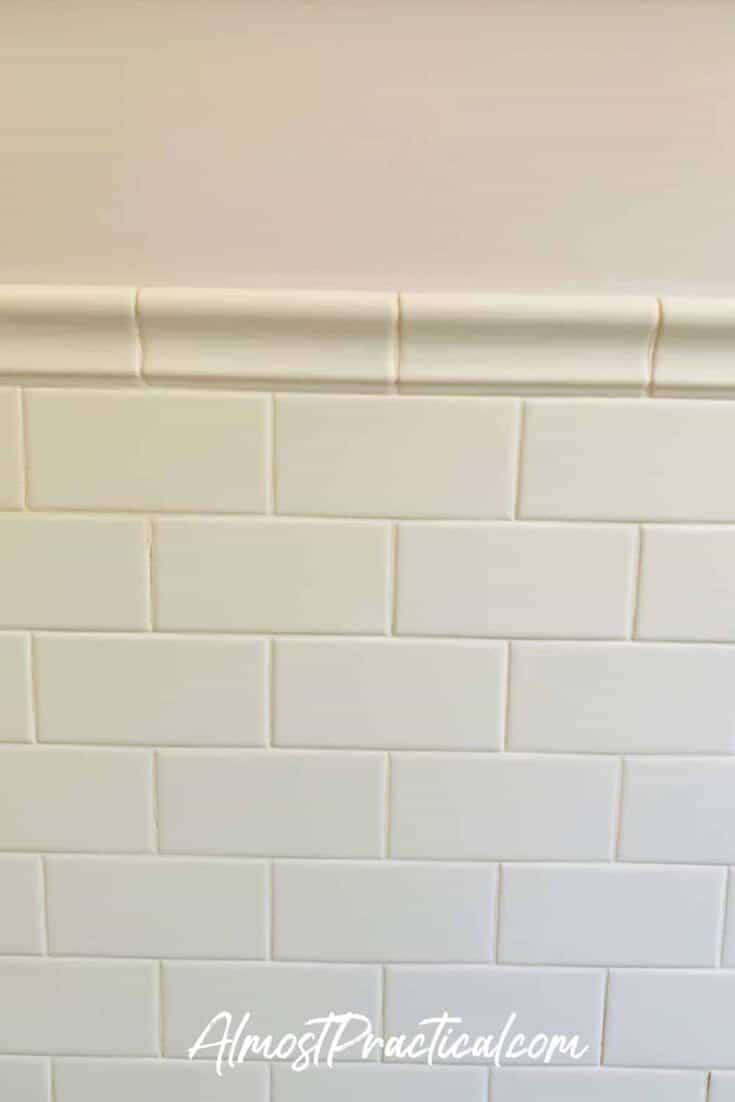 In our recent bathroom renovation I decided to go with a subway tile wainscot around the entire room (it is a small bathroom).
Having been through it – I can probably help you answer some common questions about the right height, material, etc.
What is Wainscoting?
Wainscoting is a permanent type covering that you put on your wall – usually on the bottom part.
This purpose of this covering is to protect your wall but it also looks really nice and is often a decor element in modern bathrooms.
Wainscoting can be made of any material, but the most common in bathrooms are wood or tile.
In my bathroom the wainscoting serves both purposes.
Before our bathroom renovation, the wall beneath the towel bar was streaked with moisture lines caused by water dripping off of people's hands as they reached for the towel after washing their hands.
It was an eyesore.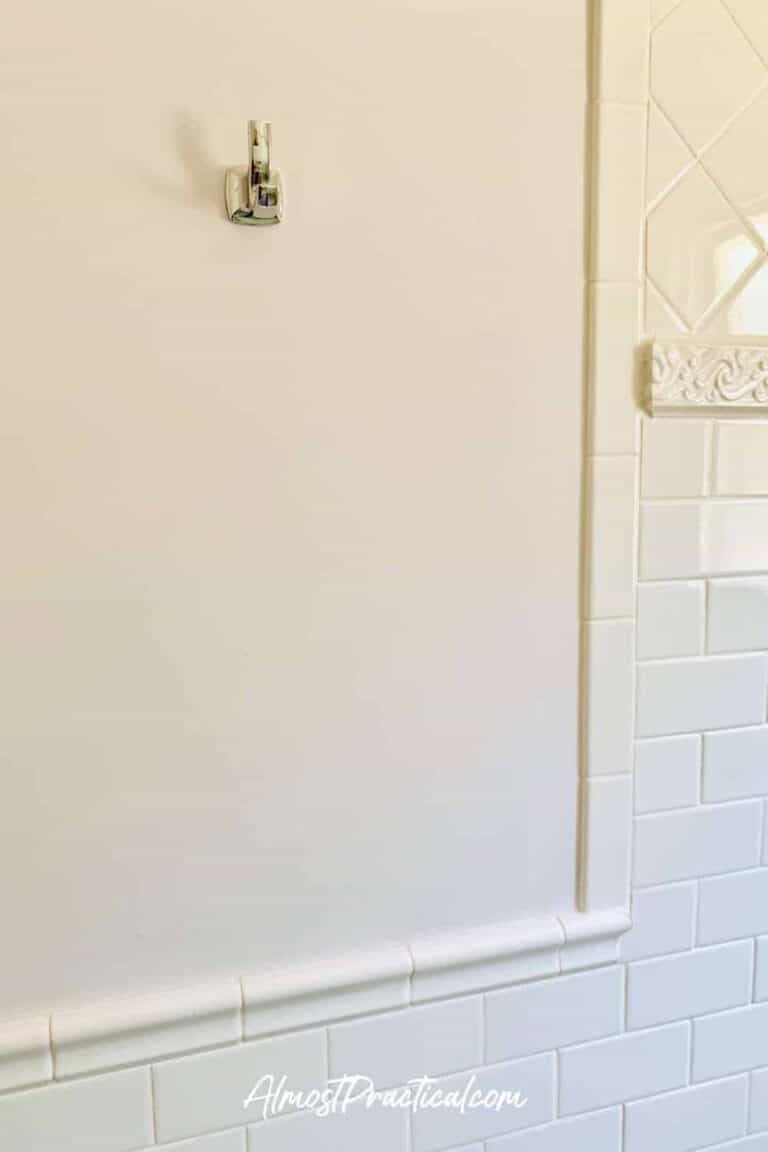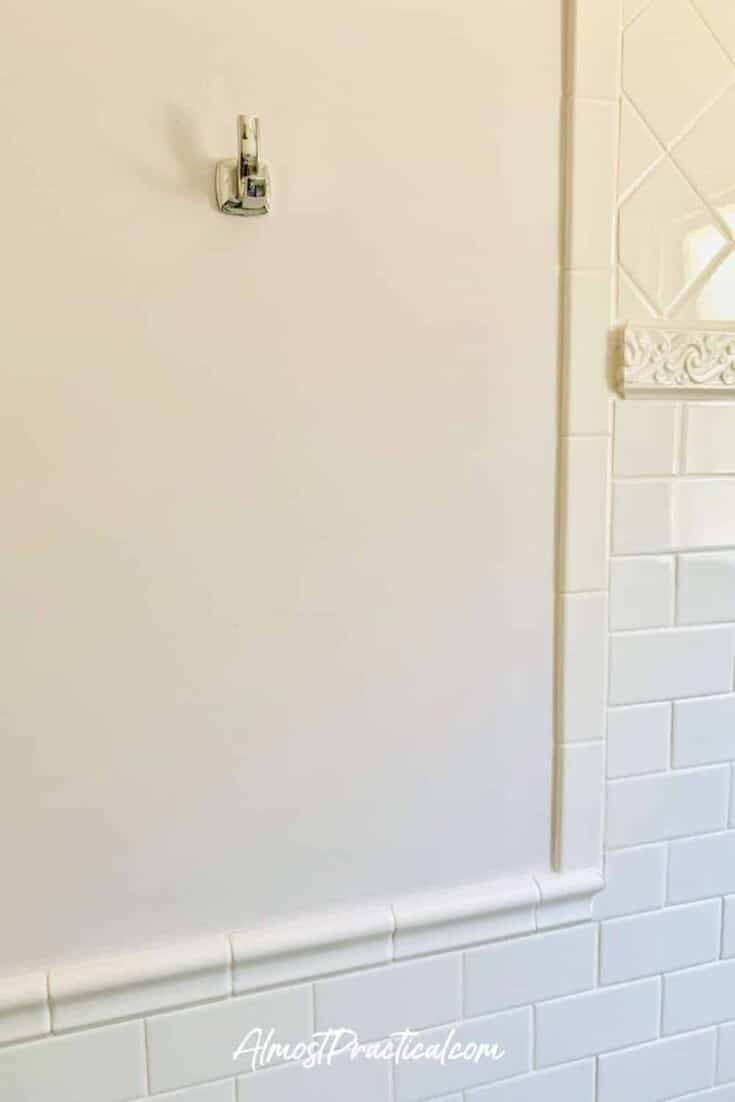 Now that we have the subway tile wainscoting, we just wipe down the the wall beneath the towel hook (we replaced the bar 😉 ) – easy!
The Best Tile Wainscoting Height
"How high should you make tile wainscoting in a bathroom?" is a question that someone asked me recently.
I don't think there really is a standard answer – but there are a few things to consider.
The Positioning of Your Wall Outlets Makes a Difference
Wait – wall outlets are a factor in the height of your tile wainscoting?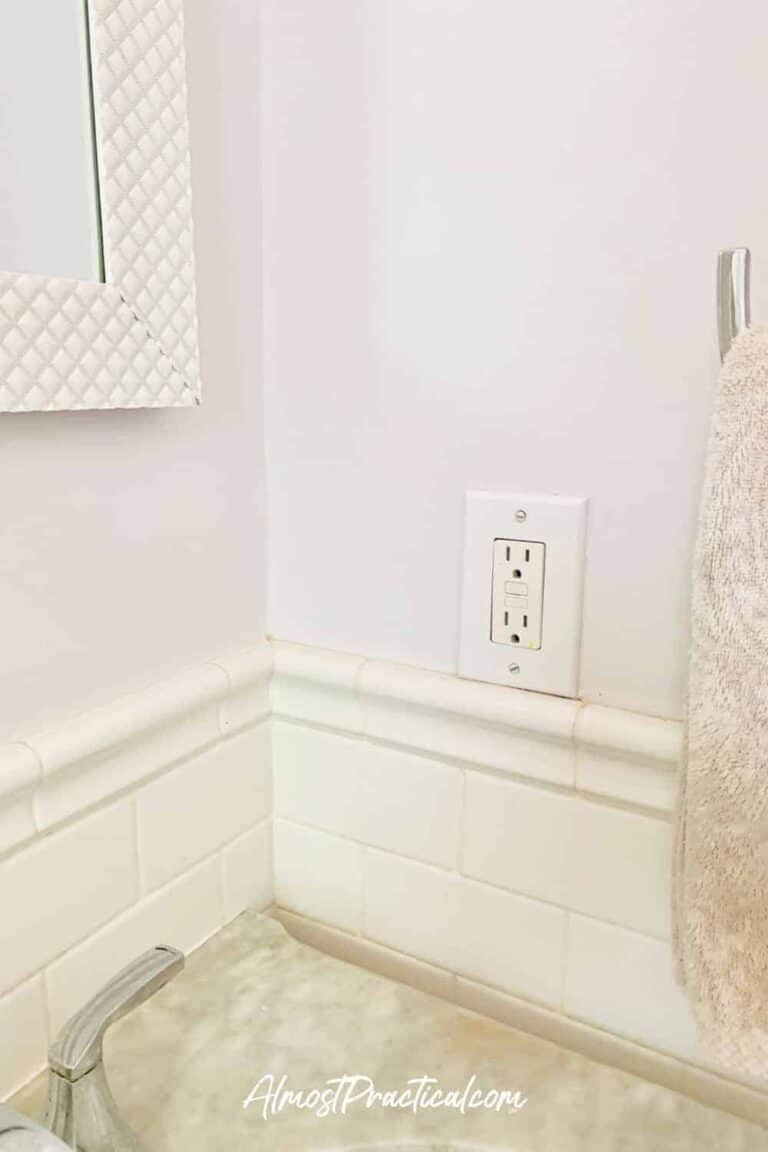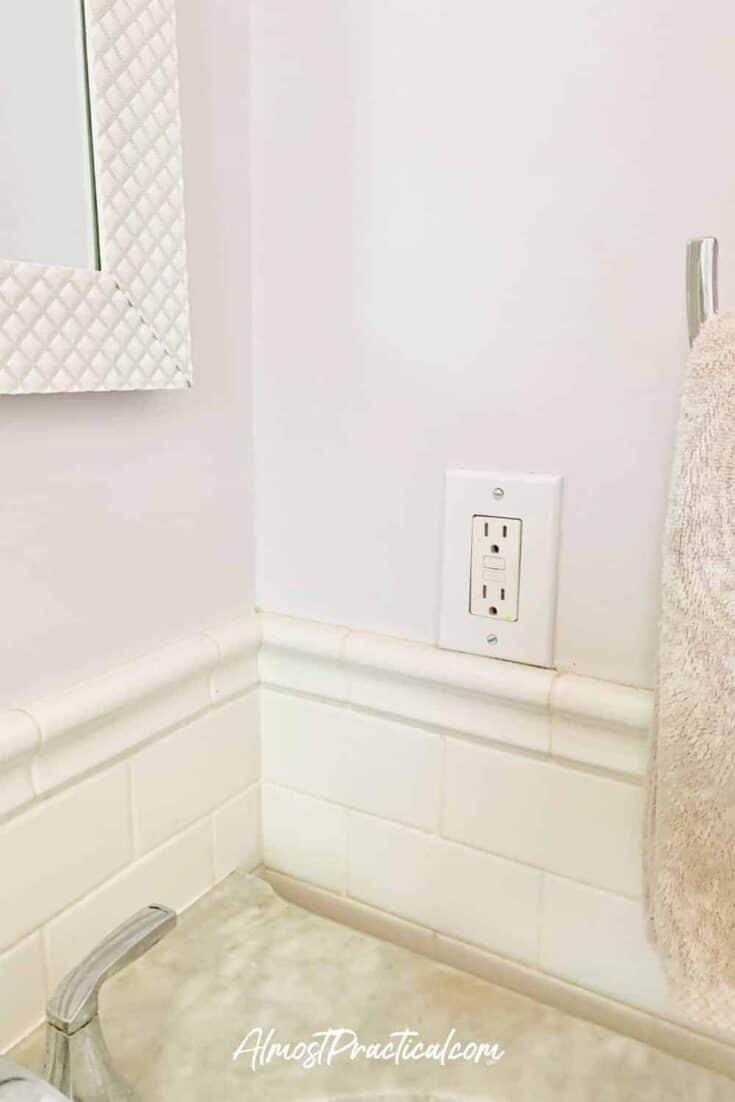 Yes – you will want the wainscot to end underneath your lowest counter height wall outlet or light switch.
Otherwise you will need to cut holes in the wainscot to accommodate the outlet or switch.
Will You Use Your Wainscoting as a Tile Backsplash?
If your wainscot is tile, then it can serve a dual purpose by working as the backsplash behind your sink.
But only if it is high enough.
Take Wall Hangings and Mirrors Into Consideration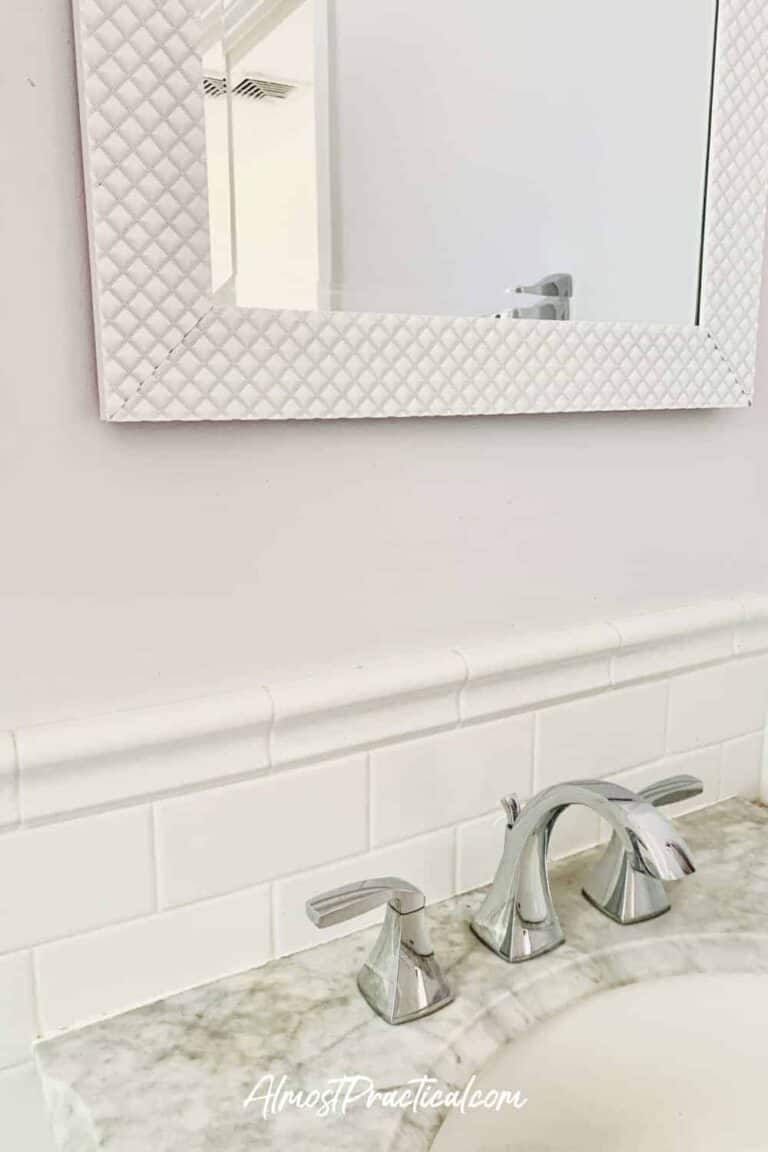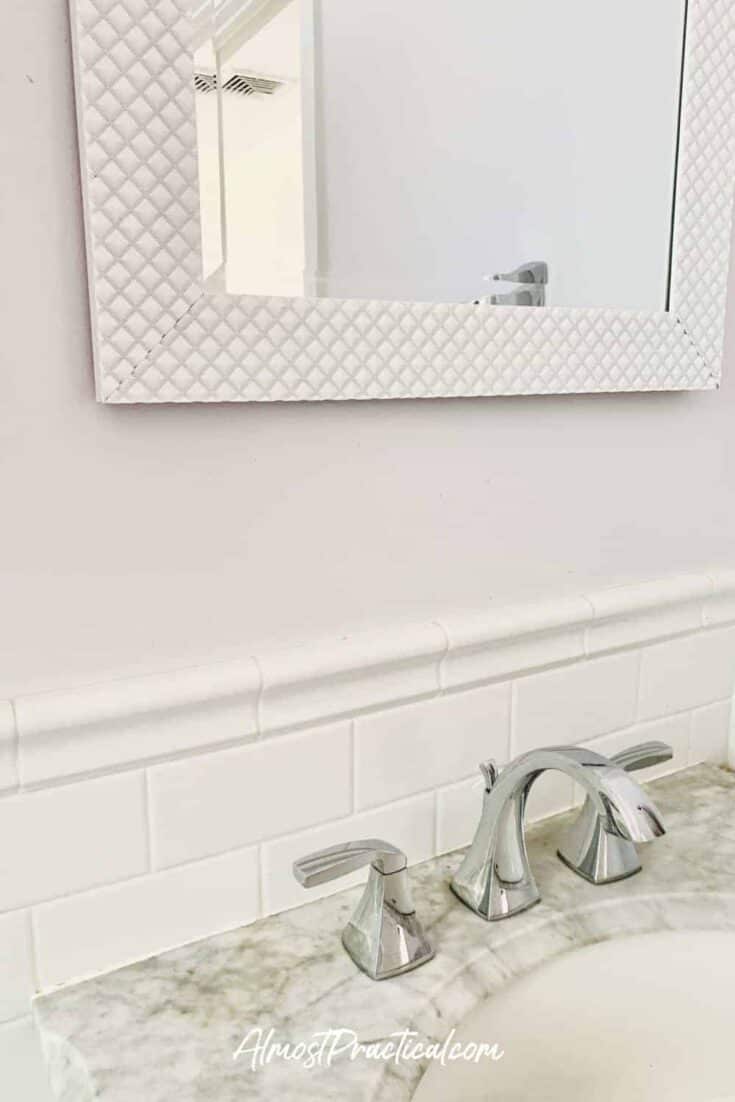 If you are hanging a mirror above your sink, you will need to make sure that the height of the wainscot doesn't interfere with the wall hanging – or it might look funny.
The Tile Wainscoting Height That I Chose
For our bathroom, I went with a 42 inch high white subway tile wainscoting.
This measurement met all of the above criteria in our space.
Typically you will see wainscoting somewhere between 3 and 4 feet high on the bottom part of the wall.
What Material is Best for Wainscot?
If you want to put your wainscot to work for you – your choice of material will be important.
Wood is nice – and if you paint it with a nice moisture resistant paint, it should hold up for a good amount of time before you need to repaint.
But, if you use wood in your bathroom, it should be away from a direct water source (like the faucet or wet towels) because maintenance will be difficult.
Personally, I feel that tile wainscoting is a better option for a bathroom.
It requires no painting and you just wipe off to clean.
Since our space was really small, we were also able to keep the cost down.
Because, tile can get expensive. Just sayin'.
We used a simple white subway tile wainscoting in our small bathroom and it looks gorgeous.
The pictures that I include here don't do it justice.
Other Considerations
Once that beautiful wainscot is attached to your wall – you will have a hard time convincing yourself to drill through it.
We bought a freestanding toilet paper holder instead of a wall mounted fixture for this exact reason.
And if you also have a tricky situation of having a window in the shower area like we did – then these tips will help you deal with that too.
What is the Best Option for You?
Wainscoting in a bathroom is both functional and decorative.
Make sure you choose the right material and keep in mind that the ideal height depends on many factors that will be unique to your space.
Your Tips
If you have any tips to add – I'd love to hear them in the comments below.