Apple iPhone 12 Storage Options – How Much is Enough?
This post may contain affiliate links which means I make a commission if you shop through my links.
 Disclosure Policy
You have made the big decision to upgrade to the new Apple iPhone 12 or iPhone 12 Pro. Now you need to decide on how much storage is going to be enough. What capacity do you really need?
It's a tough call. Here are some things to think about as you narrow down your choices.
You will need to understand your options, be familiar with your current usage, and be clear on how you plan to use your new phone.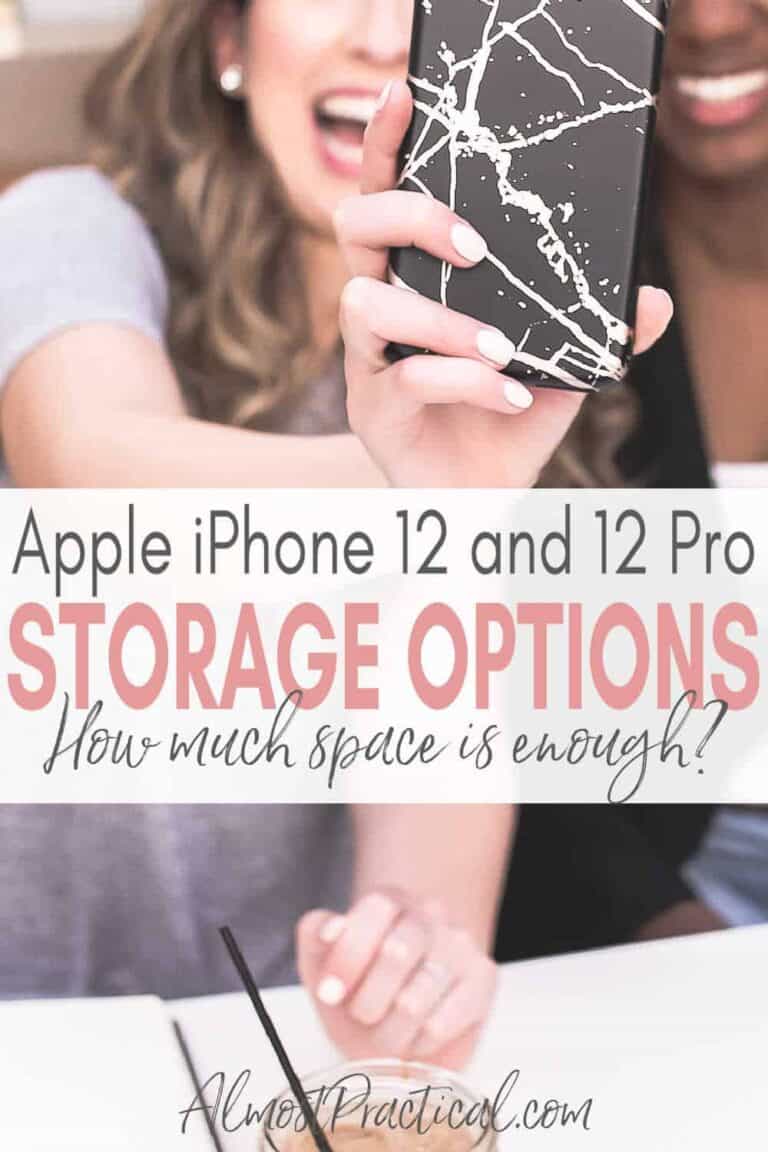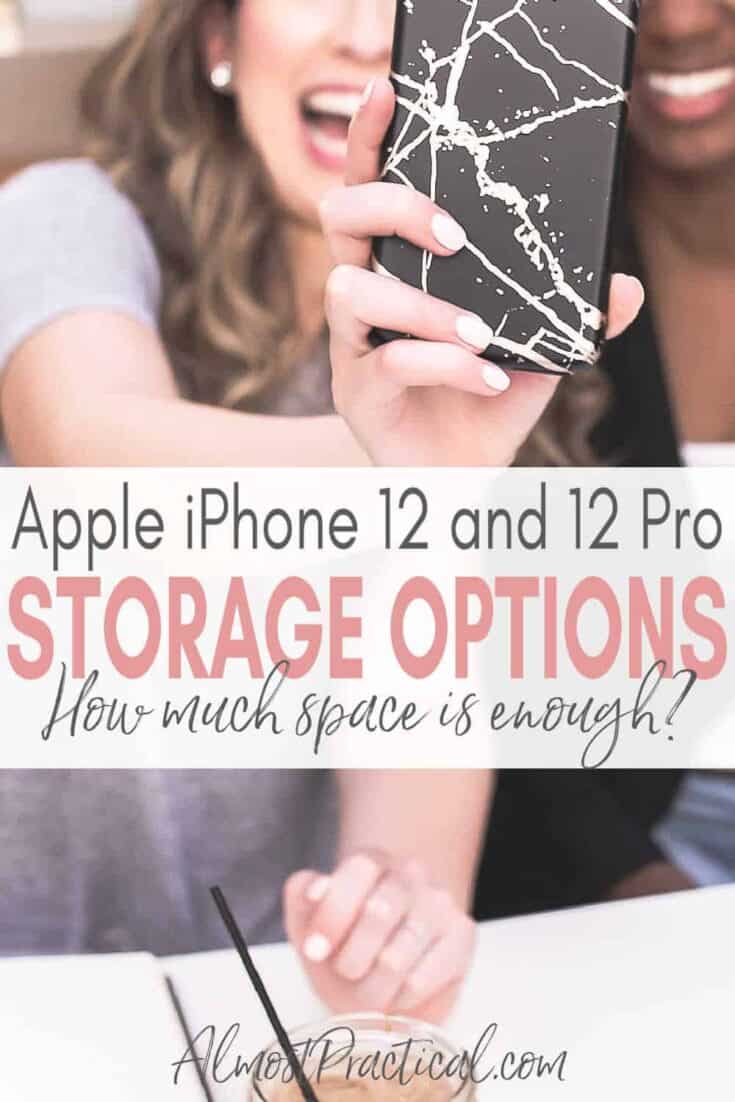 Your Available Options
Currently, the Apple iPhone 12 and 12 Pro come in a variety of different capacities.
iPhone 12 – 64 GB, 128 GB, and 256 GB
iPhone 12 Pro – 128 GB, 256 GB, and 512 GB
Your Current Usage
If you currently have an older model iPhone, get a handle on how much storage your current phone has and how much of that space you have used.
This can help you to decide if you need more – or possibly even less space on your new phone.
You certainly don't want to pay for space that you won't use, but you never want to feel that you can't use your phone because there is no more space left.
To find out what capacity your current phone has, do this:
Open the Settings App on your iPhone
Click on "About"
Scroll down and you will see an item called "Capacity"
This is the maximum amount of space on your phone
Now find out how much space you are actually using by doing this:
Right under the Capacity option from above you will see a line item called "Available"
This is how much free space you have on your iPhone
The difference between the Capacity number and the Available number is the amount of space that you have used.
To see what apps are using the most space do this:
Go back to the main menu in the Settings App
Scroll down until you see the option for iPhone Storage and tap on that
This screen will show you how much space is being used by each of your apps and their data.
You may be surprised to see apps that you no longer use taking up valuable space.
These may be things you don't want to use on your new phone so before you switch you can take the time to clean some of these up.
Based on your findings – you may already have the answer as to which capacity is right for you.
How You Plan To Use Your Phone Going Forward
The amount of space that you need on your phone depends on how you use it.
Photos, Videos, and Music
Apple gives you lots of option for storing your biggest space hogs in the cloud – namely photos, videos, and music.
You can subscribe to one of their iCloud plans – even their roomiest 2TB plan is reasonably priced and choose to optimize the storage on your device when doing this.
For example, my Photos take up more than 200GB in my iCloud account but only use a little over 5GB on my Apple iPhone.
If you haven't been doing this in the past but plan to do so on your new phone then perhaps you won't need to splurge for more space on your device.
Apps and Games
If you have a ton of apps on your phone and lots of games then more space might be something that you will need.
Not only do the apps themselves take up space, but also the data that goes along with them.
iMovie Projects
Even though you can use your iCloud space to optimize storage for the videos that you take – if you use iMovie to edit these videos on your iPhone, then the projects will take up space on your device too.
You can transfer these projects to your Mac to free up some space or – when the project is complete, you can save the finished video to your camera roll and delete the project (which means that you cannot further edit it).
But just be aware that if you use iMovie a lot, you will need space for this.
Offline Media: Movies, Music, Books, Notes, etc.
Most entertainment apps that you use allow you to stream your media.
You can stream Apple Music, Prime Videos, Netflix – and so many more.
When you stream your content, it doesn't take up space on your iPhone.
But, if you download content to use when you are offline then these will take up space.
For example, if you travel and download movies from Netflix to watch during your flight, these movies will take up space.
If you use Evernote, and download notes to use offline when you don't have access to wifi, these will take up space.
So, if you store things on your phone – you will need ample space.
iMessages
Another thing that takes up a lot of space that you might not think about is iMessages.
If you are an iMessage power user and you are exchanging lots of photos and media then you will need more space.
How Much Space Do YOU Need?
You are not going to like what I have to say – because I know you want me to tell you the answer.
But the answer does depend on your usage and your judgment.
Personally, I am a middle of the road kind of person. If you give me three options, I tend to go with the one in the middle.
For the iPhone 12, the lower end of 64GB seems a little tight to me. But it might not be for you.
For the iPhone 12 Pro, the lower end of 128GB (which is the middle option on the iPhone 12) may seem ok at first – but remember that it does have the better camera and so your photo and video files may take up more space.
One thing to help you keep perspective as you go through all this is to compare it to your computer or laptop's hard drive.
How much space do you have on your computer? Some of these have capacities of 512GB which is the upper end of the iPhone 12 Pro. That is a lot of space, for sure.
The bottom line is that you need to
become familiar with the storage options on the new iPhone 12 and iPhone 12 Pro,
look at how much space you have used on your current older iPhone, and
get a handle on how you plan to use your new iPhone.
If you tend to stream your media and use just a few apps then the lower end may work for you.
If you don't have iCloud storage space or other cloud options or if you never delete anything then a roomier model may be what you need.
No one can tell you how much space you need but now you have a few ideas to help you make your decision.
More Tech Tutorials and Reviews You Might Enjoy