Homemade Vegetable Soup with a Kick
This post may contain affiliate links which means I make a commission if you shop through my links.
 Disclosure Policy
This delicious homemade vegetable soup recipe is flavorful and just a touch spicy (although you can omit the spice, if you like).
It's super easy to make – which is one of my main criteria when it comes to cooking.
You can easily double the batch and keep the leftovers to eat for dinner or lunch another day during the week.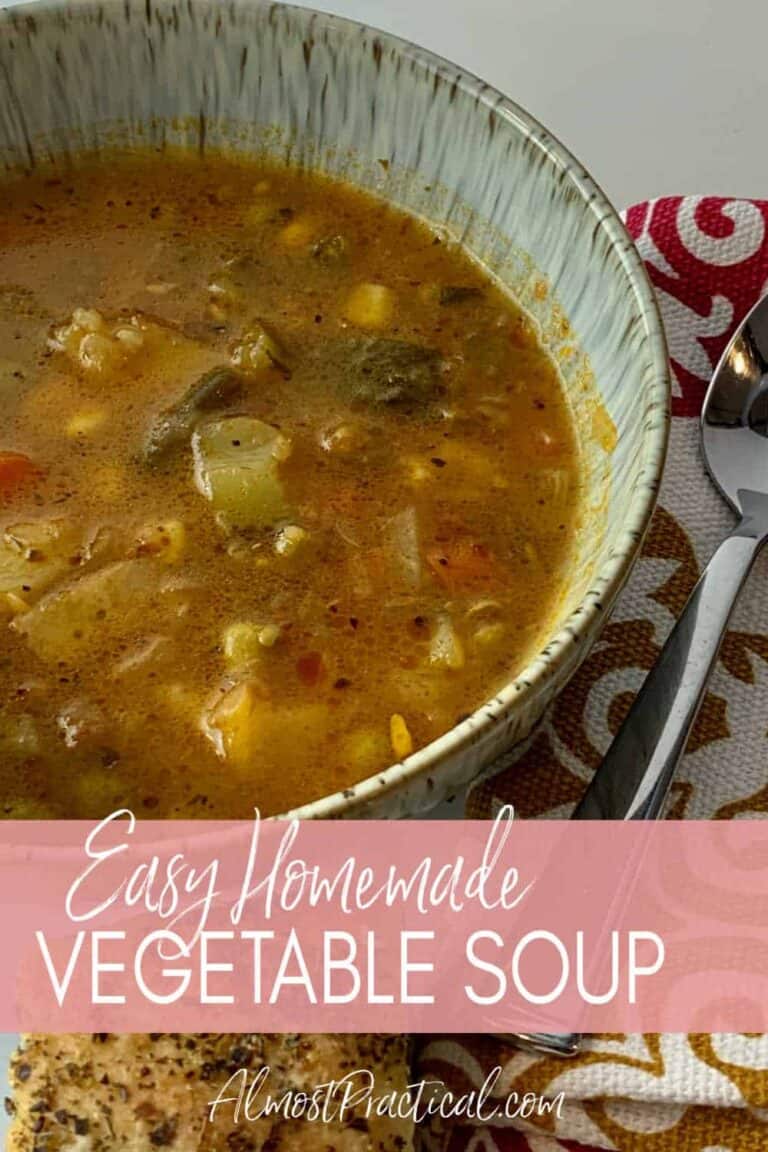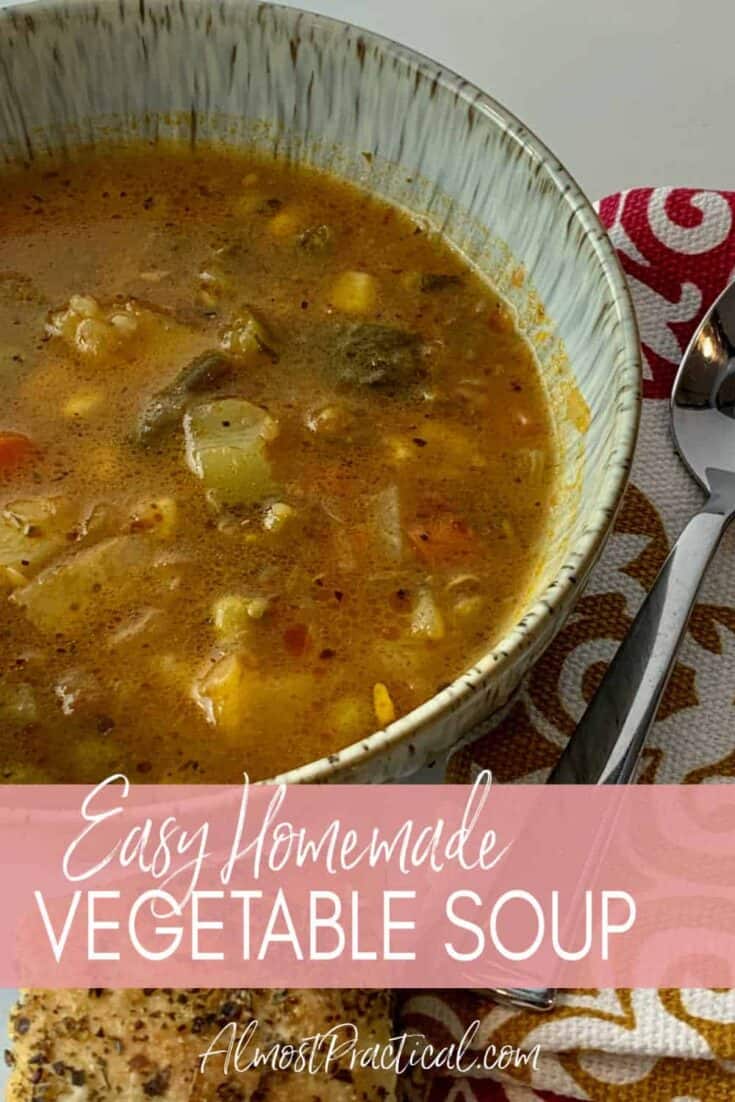 What You Need to Make This Vegetable Soup
I use a mix of fresh and frozen vegetables – you can use the ones that I use or toss in whatever you have on hand.
Flexibility is the key. Who has time to run to the grocery store when everyone is hungry? 😉
And, in case you missed it, I did say frozen vegetables.
You can send the Pinterest police after me – but, hey – frozen is easy and when you are putting it all in a soup anyway …
These are the vegetables that I used in that bowl of soup that you see above – along with the way that I prepped them.
Yellow onion and garlic clove – put them in my Ninja food processor together and pulsed until all chopped.
Fresh yellow potato – diced
Fresh carrot and celery – diced
Frozen corn,
Frozen peas,
Frozen green beans,
Fresh tomato, pureed in the previously mentioned Ninja food processor
Fresh zucchini, diced
Fresh cabbage, shredded – basically just sliced it thin using a knife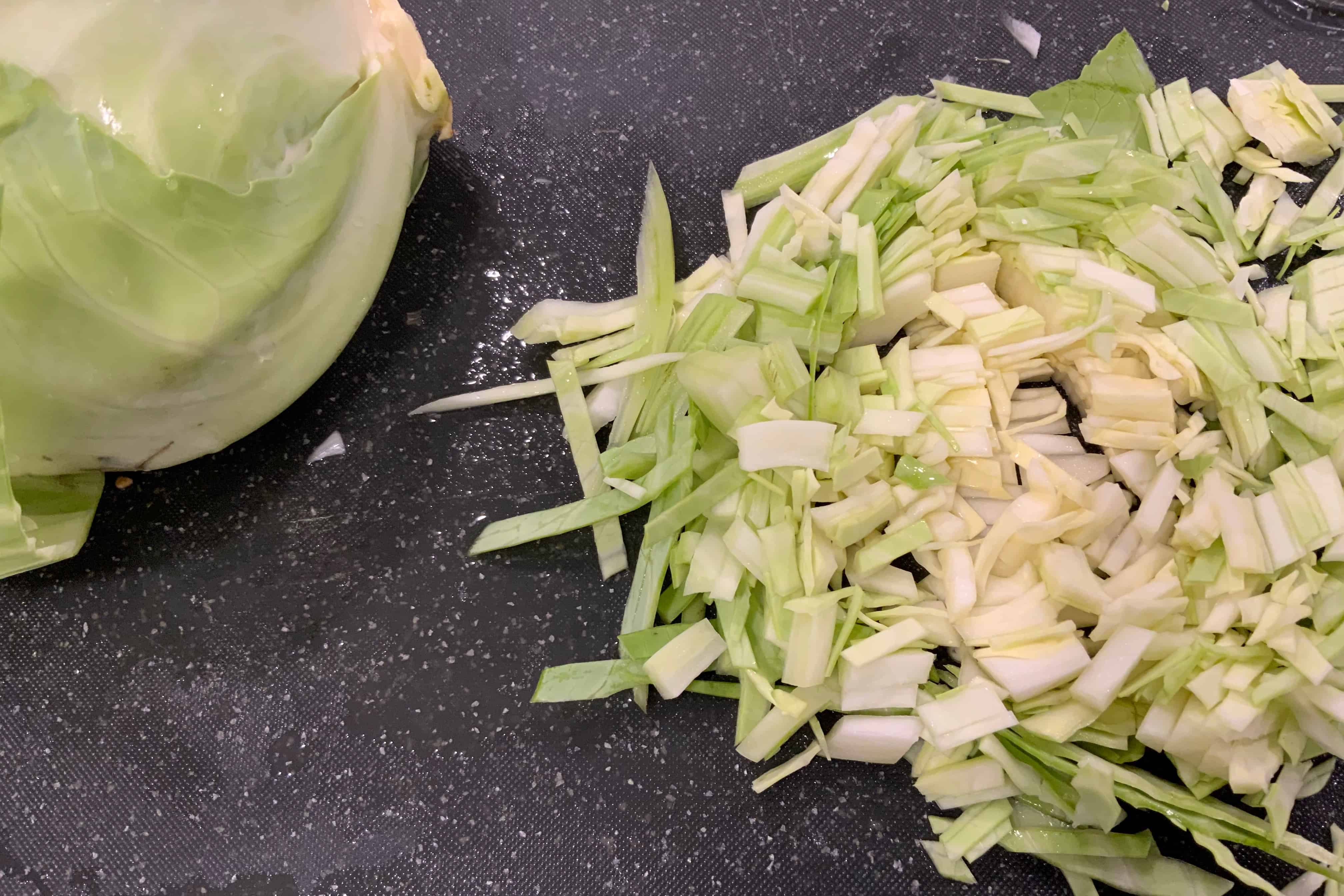 How to Make the Soup
The good news is that prepping all those veggies is the hard part.
Putting the soup together is easy.
Heat some canola oil in a large dutch oven or stock pot. I use OXO Tri-Ply Stainless and I really like it.
Sauté the onions and garlic until the onions are translucent.
Then simply add ALL of the other ingredients to the pot and bring them to a boil.
Once the soup is boiling, cover the pot with a lid and reduce the heat to medium-ish.
You want the soup to maintain a slow boil – more than a simmer but NOT a high rolling boil.
The soup has to get hot enough for the vegetables to cook through and get nice and soft.
Cook the soup for about an hour or until the vegetables are done.
You can add more broth if it starts to evaporate during cooking.
That's it.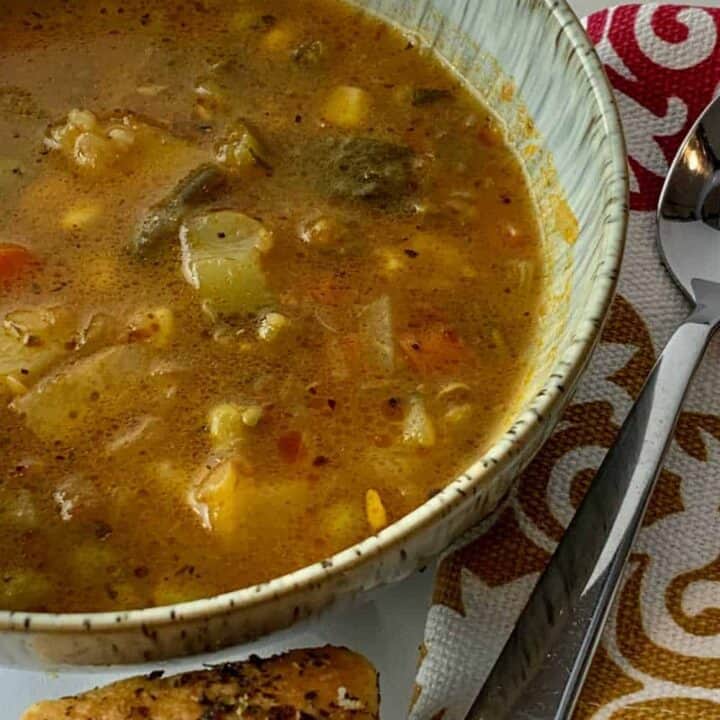 Homemade Vegetable Soup with a Kick
Total Time:
1 hour
30 minutes
This homemade vegetable soup is so flavorful and easy to make - a little crushed red pepper packs a punch, but you can omit it if you don't like it too spicy.
Ingredients
1 tablespoon canola oil
1 large yellow onion, chopped
1 clove garlic, chopped
1 medium yellow potato, chopped
1 large carrot, diced
1 rib celery, diced
1/2 cup frozen green peas
1/2 cup frozen corn
1/2 cup frozen green beans
1 medium tomato pureed in food processor
1 small zucchini, diced
1/2 cup cabbage, shredded
1/2 tablespoon tomato paste
5 cups vegetable broth
1/2 teaspoon black pepper
1/2 teaspoon Italian Seasoning
1/2 teaspoon dried parsley
1/4 teaspoon crushed red pepper
salt to taste
1 bay leaf
Instructions
Sauté onion and garlic in canola oil over medium high heat until translucent - about 5 minutes.
Add remaining ingredients (vegetables, broth, and seasonings).
Bring to a boil.
Cover pot with lid and reduce heat to medium and let slow boil for about an hour or until vegetables are cooked through.
If broth evaporates and soup gets too thick, you can add more broth as necessary.
Ladle into bowls and serve hot.
Recommended Products
As an Amazon Associate and member of other affiliate programs, I earn from qualifying purchases.
Nutrition Information:
Yield:

4
Serving Size:

1
Amount Per Serving:
Calories:

171
Total Fat:

4g
Saturated Fat:

0g
Trans Fat:

0g
Unsaturated Fat:

4g
Cholesterol:

0mg
Sodium:

1390mg
Carbohydrates:

30g
Fiber:

6g
Sugar:

9g
Protein:

6g
Occasionally, you will find nutrition information provided with recipes on AlmostPractical.com - this information is created from online calculators and is an ESTIMATE only. I am not a nutritionist or registered dietician. Nutritional information can vary depending on the brands and the actual ingredients that you use. By using this site and it's contents, you agree to hold harmless AlmostPractical.com and its owners for any loss or damage you incur that results from your use of the nutritional information provided by this site.
Keep It Easy
As you can see, chopping all the fresh vegetables is the hardest part of this homemade vegetable soup recipe.
You can substitute frozen vegetables for fresh to cut down on your prep time.
Overall, my family loves this flavorful soup all year round.
Enjoy!
More Soup Recipes You Might Like