Big List of 30 Gifts for Minimalists
This post may contain affiliate links which means I make a commission if you shop through my links. Disclosure Policy
Finding gifts for minimalists is tough.
By their very definition, they don't like having lots of stuff.
Some people are minimalists by choice – they like having less clutter in their lives.
Others are minimalists by circumstance – they live in a small space and don't have room for more belongings.
So, what kind of gift can you get for that special minimalist on your list that they will truly appreciate?
Your best bet is to ask them to give you a list of what they want.
But if you want it to be a surprise, you should stick to a few categories of items that minimalists will enjoy.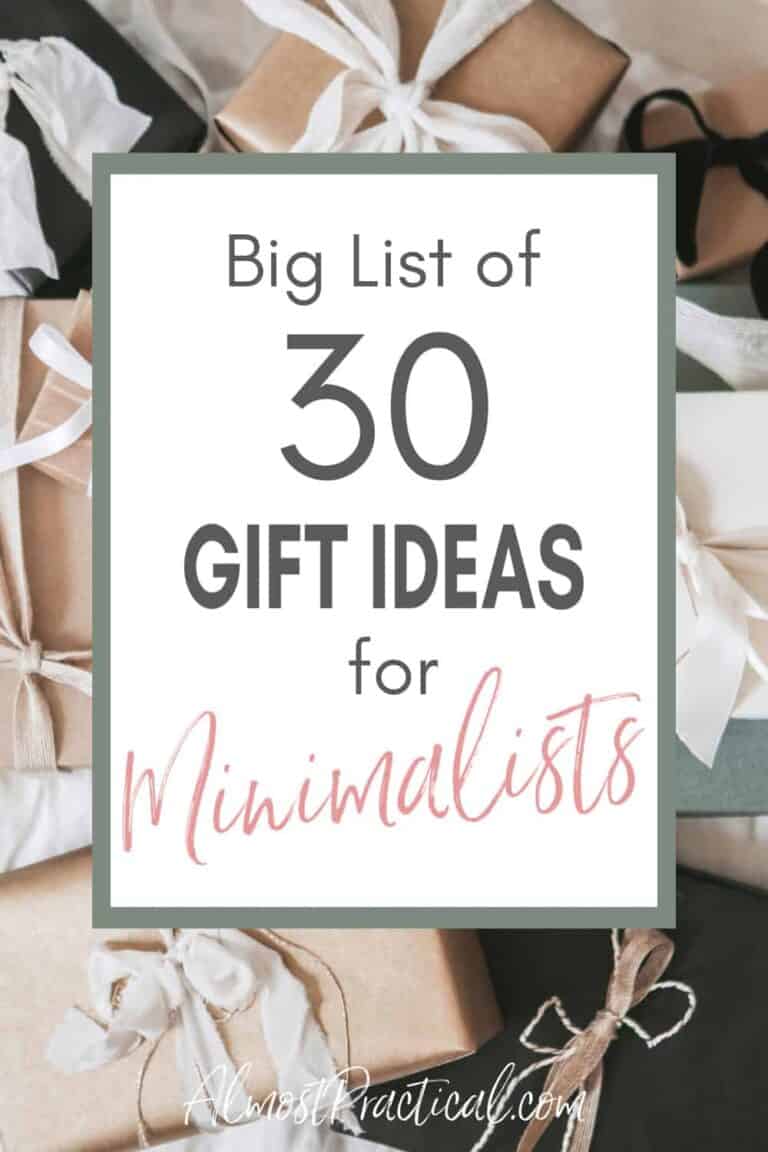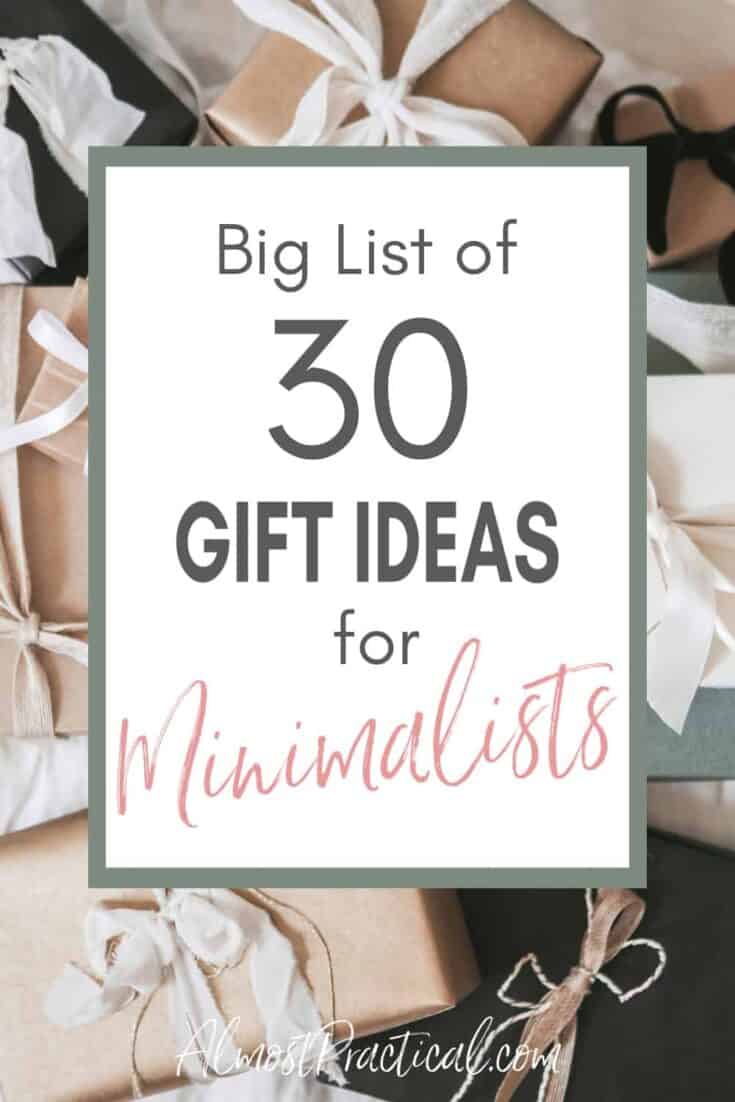 Categories of Gift Ideas for Minimalists
Gifts Minimalists Will Enjoy
Here is a list of 50 ideas that your minimalist friend might like.
Consumables
Consumables are things that you use up. They don't last long so the clutter they create is temporary.
Here are some consumables that make for great gifts.
1. FTD.com – I'll start with the most obvious. Almost everyone appreciates a fresh bouquet of flowers. The best part is you can even send the gift of flowers last minute.
2. Harry & David – Personally, I love Harry & David gifts because they include a good mix of both healthy items (fruits and nuts) and more indulgent items (candy and cakes). They even have a Fruit of the Month Club for the gift that keeps on giving.
3. HelloFresh – HelloFresh is a meal subscription service that takes the stress out of meal planning and grocery shopping. The kits are delivered to your door along with the easy recipe.
4. SplendidSpoon – this is a different take on the meal subscription box. Instead of sending you ingredients, they send you prepared healthy, plant-based, gluten-free meals for breakfast and lunch.
5. GreenChef – GreenChef is a meal kit that caters to different diets like Keto, Paleo, Plant Powered and more
6. Ghirardelli Chocolates – even minimalist chocolate lovers will love a huge gift basket of fine Ghirardelli Chocolates
7. Godiva Chocolates – along those same lines nothing says "you are special" like a box of Godiva Chocolates
8. FirstLeaf Wine Store – a bottle of wine always goes great with chocolate and won't last long enough to add clutter to your home
9. CookiesByDesign – send a beautiful and unique cookie bouquet
10. Magazine Store – on the surface, a magazine gift subscription may seem like clutter, but it is easy to recycle or donate magazines after you read them – so they don't have to sit around collecting dust.
11. Flaviar – for those who appreciate fine spirits – this quarterly subscription will send a tasting box and a Premium bottle plus so much more
12. California Wine Club – you can customize the length and intervals of this subscription – and the wine lovers on your list will appreciate being able to try new varieties throughout the year.
Self Improvement
13. Aaptiv Online Fitness Membership – Workout from the comfort of your own home with this motivational fitness app.
14. Rosetta Stone – give the gift of a new language – if your friend has been wanting to learn something new – Rosetta Stone has great online training in a huge selection of foreign languages
15. Creativebug Subscription – crafting, DIY, and minimalism are polar opposites. Craft supplies can clutter up a space quickly. Often minimalist crafters will only have supplies on hand to make a certain project. So, if you are buying for someone that likes to make things, consider a subscription to Creativebug – a site that offers step by step tutorials for all sorts of different DIY projects.
Technology to Make Life Simpler
16. 1Password – 1Password is a password manager that helps you to organize your passwords and keep them secure. It works across platforms – Windows, Mac, iOS, and Android
17. TextExpander – this is one of my favorite apps on my Mac – I can fill in forms and even write whole form letters with just a few keystrokes. It saves me a ton of time and doesn't take up any space. My link will get you 20 percent off.
18. Evernote Personal – Evernote is an awesome notetaking app that I have used since it first came out. It can help to organize your digital life. The Premium version is much more robust than the free version – so give the gift of Evernote – it will be appreciated.
19. Amazon Kindle Paperwhite – An Amazon Kindle is a wonderful gift for someone who loves to read but doesn't have space to keep a library of books in their home. With a Kindle you can have your entire library on the go in one little device.
20. Amazon Prime Membership – Amazon Prime is not just about free shipping. You also get Amazon Prime Video (which is a great Netflix alternative) and other services too. Did you know that you can gift a Prime membership? This is something they will use all year round.
Experiences
While we are staying home more right now – travel will pick up again. So if your minimalist friend likes to see new sights and do new things – then some of these services would make for a good gift.
21. The Entertainment Book – this classic book that is chock full of coupons to local restaurants and travel discounts will make them appreciate you all year long
22. Fandango Gift Cards – if you have a movie buff on your list then they will appreciate a Fandango gift card and an evening out
23. LivingSocial – you might know of LivingSocial as a great way to get discounts on services and travel – but did you know that you can give your voucher as a gift? So, it's a win-win – you get a discount and the minimalist on your list gets a great gift! Just be aware that if they don't like what you got – you will have to do the return.
24. CityPass – if you know your friend will be traveling to a specific destination, then giving the gift of sightseeing is always fun
25. City-Sightseeing – also offers tours including the Hop-On-Hop-Off experiences
26. TodayTix – When things open up again – you can go see a show. Or stream unique performances straight to your living room right now.
Things
When it comes to getting things for minimalists, I really hesitate.
Everybody has different priorities and tastes. What might seem like a great gift to you may not be appreciated by someone else.
Your gift will have a greater chance of hitting the mark if it is high quality. Name brands, real gold or silver (not costume jewelry), understated and elegant – that is what you are going for.
But if you want to give something as a present then here are a few ideas.
27. Jared Jewelry or Kay Jewelers – Quality jewelry can be a safe bet. Avoid cheap costume jewelry and pick something timeless.
28. Christmas Ornaments – High quality Christmas ornaments like this crystal and light sapphire snowflake from Joanna Buchanan are a nice idea. They don't take up a lot of space and are very useful during the holiday season.
29. Erin Condren Pocket Planner – My guess is that most minimalists use the calendar on their phone to manage their schedules. However, sometimes it is nice to have a paper planner that you can slip into your bag where you can jot down quick notes or thoughts. The Erin Condren Pocket Planner is a cute little planner that is both small and functional.
30. GiftCards.com– This choice is boring, I know. But if you really don't know what to get, it's better to give money to a minimalist and let them pick something that they really want.
The Best Gift of All
These gift ideas for minimalists may help you find something for that hard to shop for person.
Ideally, something that can be consumed or used – like food, self improvement services, technology, dining or experiences, and even a few small things – would be most appreciated.
But the best and most valuable gift of all is the gift of your time.
Making a phone call, getting together for a cup of coffee, even if it is socially distanced, or going out of your way to do a favor for a good friend, really show your people that you care.
Enjoy!